Here's a review on Mozilla Firefox Lockwise – showing its benefits, features and how to download it.
The Lockwise app is a privacy tool from Mozilla, which is specially designed for storing Firefox passwords (and logins). So, if you're the type who forgets passwords easily, this piece's for you. Read on!
What Is Firefox Lockwise?
Firefox Lockwise (formerly Lockbox) is a mobile app/add-on, which saves passwords and synchronizes logins with the browser (Firefox). Put aptly, the app stores login credentials of Firefox users, and syncs them with the browser. This way, your login credentials are automatically prompted, when and where required.
The privacy app was released (by Mozilla) with exclusive support for Android and iOS.
Furthermore, Lockwise is similar to Chrome's Smart Lock feature; which saves and synchronizes logins (usernames and passwords), as well as users' browsing history.
In a nutshell, Firefox Lockwise is a privacy app, specially designed for saving and syncing login details of Firefox (browser) users. It basically serves as an alternative to the browser's built-in password manager.
Editor's Update: Mozilla announced end-of-support for the Firefox Lockwise app (Android and iOS) on December 13, 2021.
However, you can check out 8 Best Firefox Lockwise Alternatives [Tested, Reviewed & Ranked]
Is Firefox Lockwise Secure?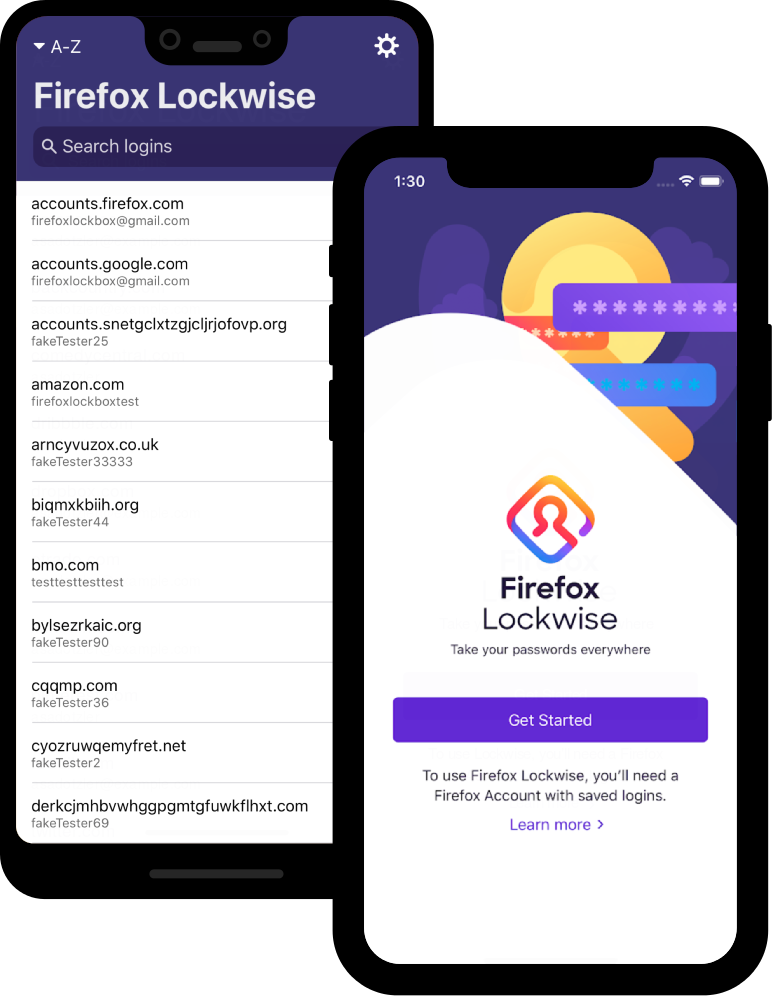 The essential part of any password manager is its security. Even more, if it has excellent security features, can you trust them with your passwords?
Like good password managers, the Firefox Lockwise protects your passwords by encryption. As such, even Mozilla does not know your password nor read your data. Also, when your login and passwords are synced across all your devices, they are protected by encryption.
The Lockwise uses the best encryption type; end-to-end AES 256-bit! What's more, you can further secure your Lockwise with a Face ID/Touch ID on any compatible device.
Below is a rundown of the Firefox Lockwise mobile security technology
A tamper-resistant block cyber technology AES-256-GCM encryption type
onepw (one password) protocol to sign in to Firefox account and obtain encryption keys
PBKDF2 and HKDF with SHA-256 to create the encryption keys from the Firefox account username and password.
So, yes, Firefox Lockwise is very secure. Firefox Lockwise is a very safe and secure password system for two main reasons. The first reason is that neither a hacker nor Mozilla has access to your passwords. The Lockwise system – though put in place by Mozilla – sort of operates with its own mind. It is meant to serve the device owner alone. And this is applicable to each individual user.
Secondly, aside from Lockwise not been easily accessible to third-party, the technology behind it is protected by a sophisticated encryption system that is almost impenetrable. In simple terms, Firefox Lockwise is protected by 256-bit encryption.
If that is not convincing enough, then you should be aware that Lockwise also give you the opportunity to set up FaceID or TouchID on devices where such options are available.
Benefits & Features Of Firefox Lockwise
As a privacy tool, you can worry less about forgotten passwords, as all your passwords are made available to you when needed. However, Lockwise's benefits transcend password storage and synchronization. Hence, this section will probe further into the key features and benefits of the app.
Traditional browsers prompt you to input your login credentials each time you want to access an account. With Firefox Lockwise, however, your login details are saved and synchronized with your browser.
Essentially, signing into your accounts becomes smooth sailing, and you're able to save valuable time in the process.
This feature allows you to search for a login credential, from a pool of stored logins. There is also an option on the app's UI – to copy and export username/password, if/when required.
Firefox Lockwise supports up to five languages, including English, French, Spanish, German and Italian. Hence, if you have your login credentials stored in any of these languages, you're duly covered.
The privacy app is supported on notable mobile platforms, with the exception of Windows Mobile.
How To Download Firefox Lockwise
You can download Lockwise from App Store (iOS) or Google Play (Android). Also, download Firefox Lockwise for Mozilla Firefox web browser.
READ ALSO: Browser Compartmentalization: How to Compartmentalize Your Web Browsers
How Do I Use Lockwise In Firefox?
The best part about the Firefox Lockwise is its ergonomic interface. With an easy four-step process, you can get Lockwise all started up. Below are the steps.
Step 1: Sign up for Firefox Accounts
Well, if you have one, you can skip this step
Step 2: Sync your logins in Firefox
Desktop
Click on the menu button
Click the arrow next to your Firefox email
Select "Sync Settings."
Check "Logins."
Android and iOS
Tap the menu button on your Firefox browser
Select "Settings."
Tap your Firefox account to open Sync settings
Check "Logins"
Then proceed to step 3.
Step 3: Install or setup Firefox Lockwise
For Desktop; Manage password
Click on the Firefox Account icon on your taskbar
Click "logins and password."
iOS and Android
Download Firefox Lockwise from App store or Google Play store
Android
Go to Firefox Lockwise menu
Tap "settings."
Toggle "Autofill"
On the AUTOFILL SERVICE, menu, tap Lockwise radio button
iOS
Open "Settings" on your phone
Tap "Passwords &' Accounts"
Select "AutoFill Passwords"
Select "Lockbox"'
Deselect "iCloud Keychain."
Frequently Asked Questions
How Do I Get Rid Of Firefox Lockwise?
Well, you cannot get rid of Lockwise in the real sense of it. However, you can remove your Firefox account where all of your passwords are stored, from Lockwise.
If you want to remove your account via mobile, here is how you should go about it;
Removing Lockwise from iOS devices
The first thing you should do is to open Lockwise. Tap 'Setting' at the top right-hand corner of your screen.
From the setting, click Account
Then tap on 'Disconnect firefox clockwise
Proceed to confirmation by tapping 'Disconnect'
Removing Lockwise from Android devices
Open the Lockwise for android
Click on the Firefox Lockwise menu
Next, click on 'Account'
Then proceed to 'Disconnect Firefox Lockwise'
Removing Lockwise from Desktop devices
As mentioned earlier, this built-in password manager cannot be completely removed from your device. What you can do is disconnect your Firefox account from Lockwise. However, if you are running a much older version of Firefox (version 69 and below) then you should go into your account settings. To get here, click on the Lockwise icon at the top right corner of your screen. Click on Account, then you can proceed to disconnect.
Does Firefox Lockwise Generate Passwords?
What Firefox Lockwise does is to help you house and recall all of your passwords across platforms. In other words, Lockwise performs the function of a safe keeper. Just that it only secures the password in this instance.
You would not have to rack your brain in order to log in to your different accounts based on your online activities. What Lockwise does is to be the brain for your passwords. It automatically inserts the passwords once you are on the corresponding platform.
How Do I Use Firefox Lockwise?
Lockwise is an integral feature of Firefox web browser. Therefore, in order for you to activate Firefox Lockwise, you would have to create a firefox account.
Once you have a firefox account, the next thing is to enable password saving.
To do this:
Click on the hamburger sign () at the top of your screen.
Then click 'Option', go to privacy and security.
Under login and password, check the box that states "ask to save login and password for websites".
Then, tick "autofill addresses".
Now, under history, check the boxes that state 'remember browsing and download history' and 'remember search and form history'.
You can proceed to save changes.
What Does Firefox Lockwise Do?
The sole function of the Firefox Lockwise feature can be summed up in one sentence – making your life easy online. It is usually advisable that you should not use a single password across all of your online activities. This saves you from been hacked cross-platform simultaneously.
But here comes the twist to it all. Maintaining multiple passwords is not an easy task, and it can get really problematic a times.
Lockwise saves you the stress of having to rack your brain over and over each time you need to access any of your online accounts. All of your passwords are stored in a central location and they are provided by Lockwise whenever you need to access any.
Where Is Firefox Lockwise?
Locating Firefox lockwise is not a hard task at all. Lockwise is usually situated in the toolbar section of your firefox browser.
Where to locate the toolbar? The toolbar is located at the topmost part of your firefox browser. Right in the toolbar is the key icon that represents Lockwise.
Can I Use Firefox Lockwise In Chrome?
It is currently not possible to deploy Firefox Lockwise in the chrome browser. The reason for this is that both Firefox and Chrome are distinct web browsers.
For chrome, it has its own password-saving feature as provided by Google. Additionally, all forms of added features (usually referred to as chrome extensions) can only be downloaded and added from the chrome online marketplace.
To this end, Firefox Lockwise does not fit in. You cannot use Lockwise on chrome.
How Do I Export Login And Password From Lockwise?
To export your passwords and login details from Firefox Lockwise, you simply have to apply these steps.
Navigate to the top of your Firefox browser and click on the menu rubrics
In the menu option, click on 'Passwords'. Right here, the lockwise about:login page opens up in a separate tab
Click the lockwise menu option, then proceed to 'export logins'
Once clicked, a pop-up box comes up warning you that your password details will be generated in a readable format.
Follow through with the export. Your file will be downloaded in a .csv readable format
Firefox Lockwise Vs LastPass – Is Firefox Lockwise Better Than LastPass?
In terms of features, LastPass outshines Firefox Lockwise considerably. But when you consider the interface and structure of this built-in password manager, it looks more modern.
To access Lockwise, you already know that the key icon in the toolbar opens the door to the dashboard. LastPass on the other hand has separate classifications based on the type of information. LastPass saves passwords, credit card information, addresses, and notes separately.
In addition to this, LastPass provides you with a more secured browsing option (browser within the browser) for all forms of bank transactions.
Is Firefox Lockwise On GitHub?
Lockwise is open-source software, and its source code is available on Github. As you might want, you can decide to install it on all of your devices across mobile, desktop, and tablet. Being an open-source project also means that developers continually make contributions to the software, and bugs are easily fixed.
To support user protection, Firefox is closely linked to Have I Been PWned. Which helps you to easily know if there is any form of a data breach on personal data.
How Do I Import Login And Password Into Lockwise?
To import login and password into lockwise, it is important that you use a .csv file format and the information contained must be structured in the manner below:
 "url","username","password","httpRealm","formActionOrigin","guid","timeCreated","timeLastUsed","timePasswordChanged"
Once everything is in place, follow the steps listed below:
Click on the menu rubrics to see menu options
Click on passwords. Another tab will open that contains the about login page
Further click on the Lockwise option menu
Click Import from a file
Choose the appropriate file from your device and upload it.
Firefox Lockwise Vs KeePass – Is Firefox Lockwise Better Than Keepass?
There is no clear distinction between Lockwise and Keepass. Aside from the fact that they both perform the same function, the mode of operation for both password managers is closely the same.
Both Keepass and lockwise are open-source software that are constantly been worked on by a dedicated online community of software professionals.
The most important thing here is that you find what works well for you.
How To Manage Passwords On Firefox Desktop With Firefox Lockwise
As the default password manager for Firefox, you just have to get comfortable with Lockwise if you are a firefox user (or you have the intention of using firefox).
To manage Firefox Lockwise on desktop, do this:
Navigate to the menu option on the Firefox home page.
Click the password option
From the about:login tab that opens, you can easily make password modifications. You can edit, password, delete passwords, and manage accordingly.
Where Can I Download The Firefox Lockwise APK File?
If you are interested in using the Lockwise mobile version for Android, you are very much certain to get it in the Google Play Store. Just like any of your regular mobile applications, just do your search in the Play Store, download the app, and install it.
As required, you will need to either login into your existing Firefox account, or you would have to create a new one in order to use the Lockwise app.
Does Firefox Lockwise Have Android And iOS Apps?
The Firefox Lockwise app has versions for Android and iOS. For Android users, Lockwise is accessible and available for download via the Google Play Store. For users on iOS, Lockwise can be easily downloaded from the Apple Store.
Running the app is quite easy. Just go to the respective store, download the Lockwise application, install, then do the setup (sign in or create a new account).
Share your thought about Firefox Lockwise below.
---
RELATED: