In this post, we will show you the Namecheap VPN review.
VPNs are intermediary server networks that act as a protective shield protecting users' IP addresses, locations, personal and financial details, browsing history, etc., while connected to the internet. 
Several VPN services abound, but we will be reviewing a newer VPN service: Namecheap VPN services in this post.
What Is Namecheap VPN?
Namecheap VPN is a US-based VPN service established in 2018. like other VPN services is a Virtual Private Network through which users' data traffic is routed to allow users to stay protected and anonymous online and enjoy other functionalities, including data encryption and censorship bypass.
Interestingly, Namecheap is no new player in the cyber industry. It is a brand name with solid footage in the web hosting industry, providing web hosting solutions for several millions of websites worldwide. 
Namecheap is a proponent of secure and private internet. Hence its decision to join the VPN industry in 2018 doesn't come as a surprise.
Namecheap VPN Features
Simple User Interface
It has an intuitive user interface that favors less tech-savvy users, as well as IT inclined users. At the top-right are menu options that let users configure its VPN client to meet their needs. At the bottom of the screen is a very visible 'Connect' button that connects users automatically to the fastest server. Users can also choose from a list of 75 server locations and over a thousand server options.
VPN protocol
Namecheap VPN uses the OpenVPN and IKEV2 VPN protocols to offer its users robust services and security. Users who prefer the IKEv2 VPN enjoy faster and reliable bandwidth, although it is not supported on many platforms, unlike the OpenVPN protocol, which is supported on multiple platforms but slower. OpenVPN also provides users with TCP, UDP, and Scramble options. Thus, users can choose to improve security over connectivity speed with the scramble option.
Encryption technology
Namecheap VPN uses a military-grade AES-256 bit encryption protocol, which is the industry's most robust encryption protocol. Thus, users enjoy protection from hackers, spies, or snoopers monitoring public Wi-Fi networks.
Multiplatform support and unlimited device protection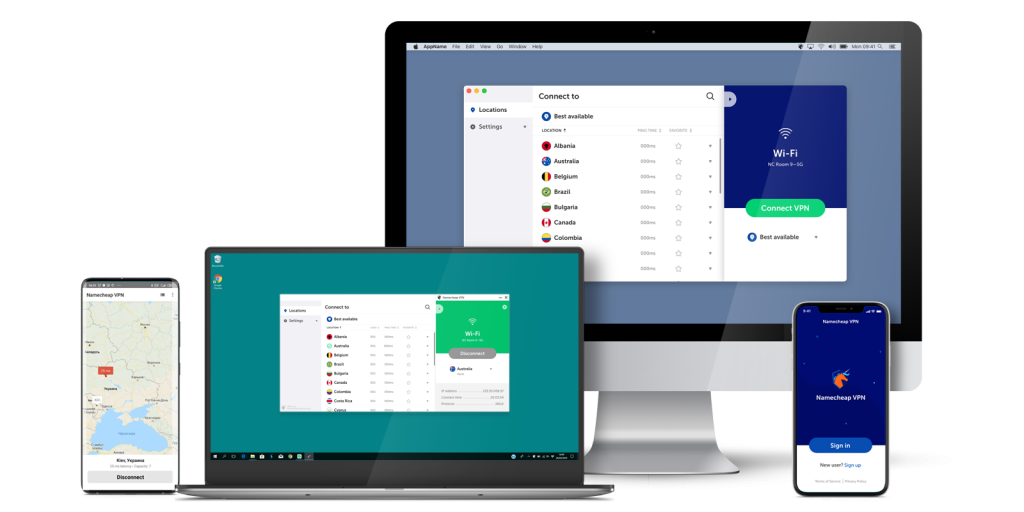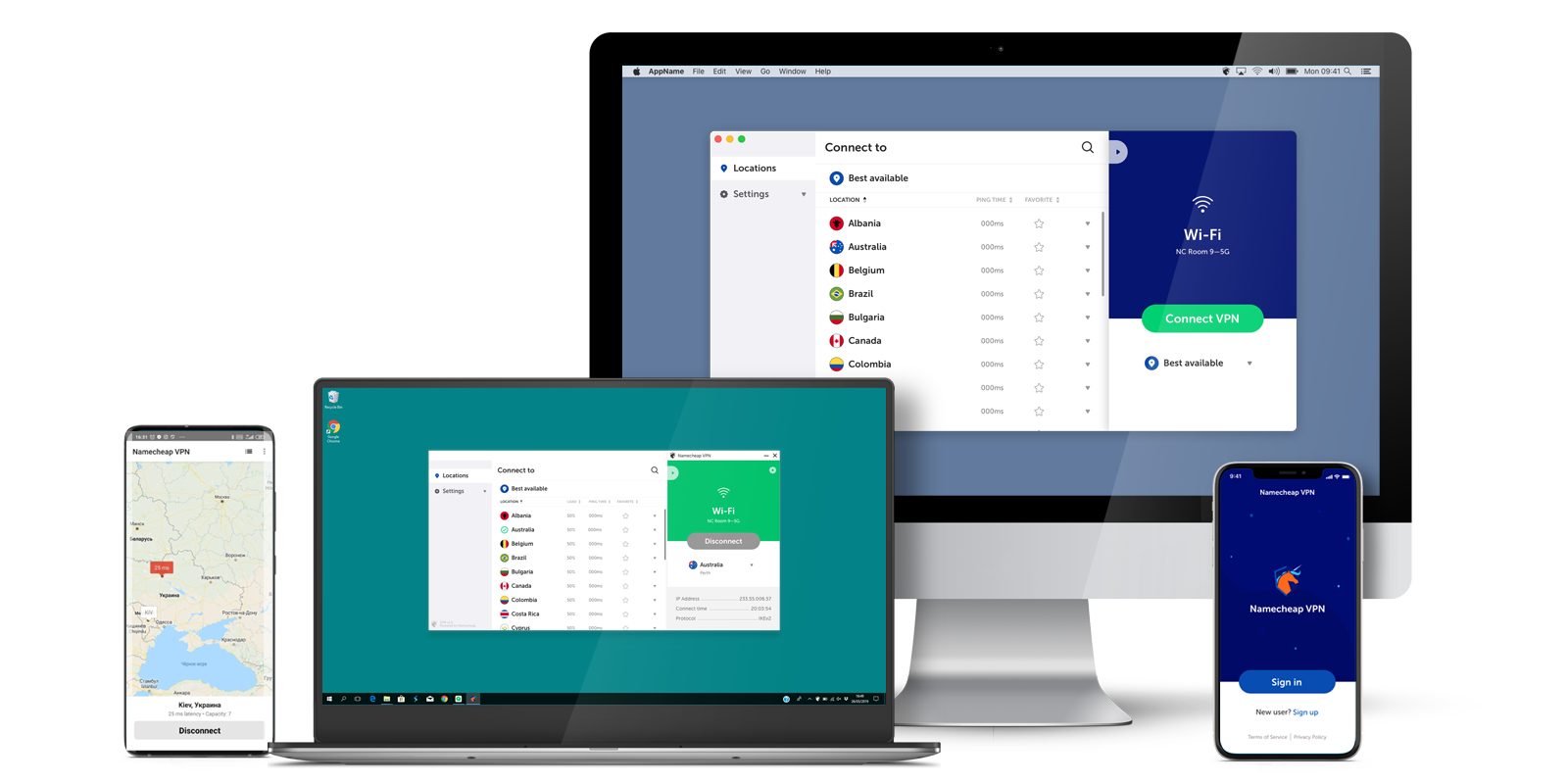 This VPN service provider supports various devices and OS, including Android, Windows, iOS, Router, etc. Router support gives users the advantage of protecting multiple devices at the expense of one subscription. 
Additionally, Namecheap offers its users unlimited device connectivity. Thus, a large household can enjoy VPN protection from a single subscription without connecting to a router.
IP and DNS leak-proof 
From all tests conducted, there was no IP, DNS, or webRTC leak detection. Thus, users can continue to enjoy online anonymity and protection from online trackers who use users' browsing history to serve them adverts.
Bypassing internet censorship and unblock geo-restrictions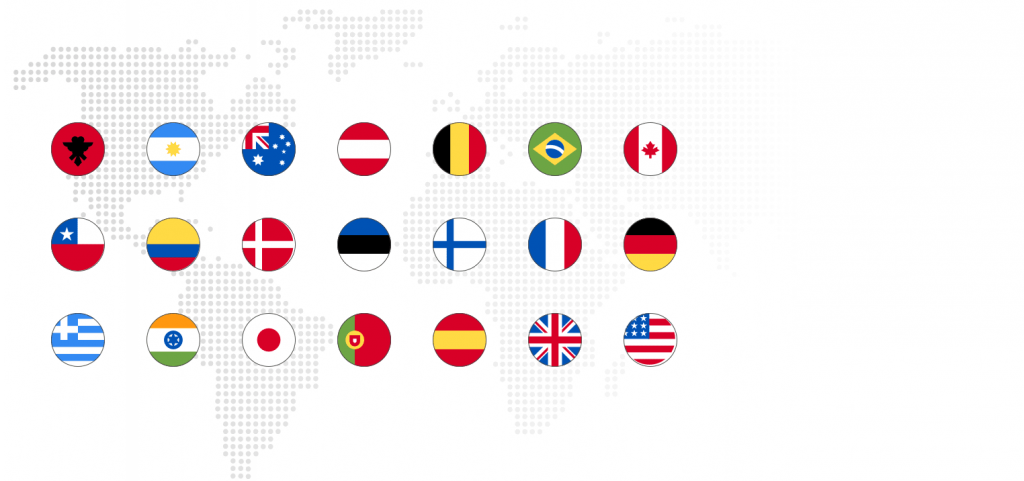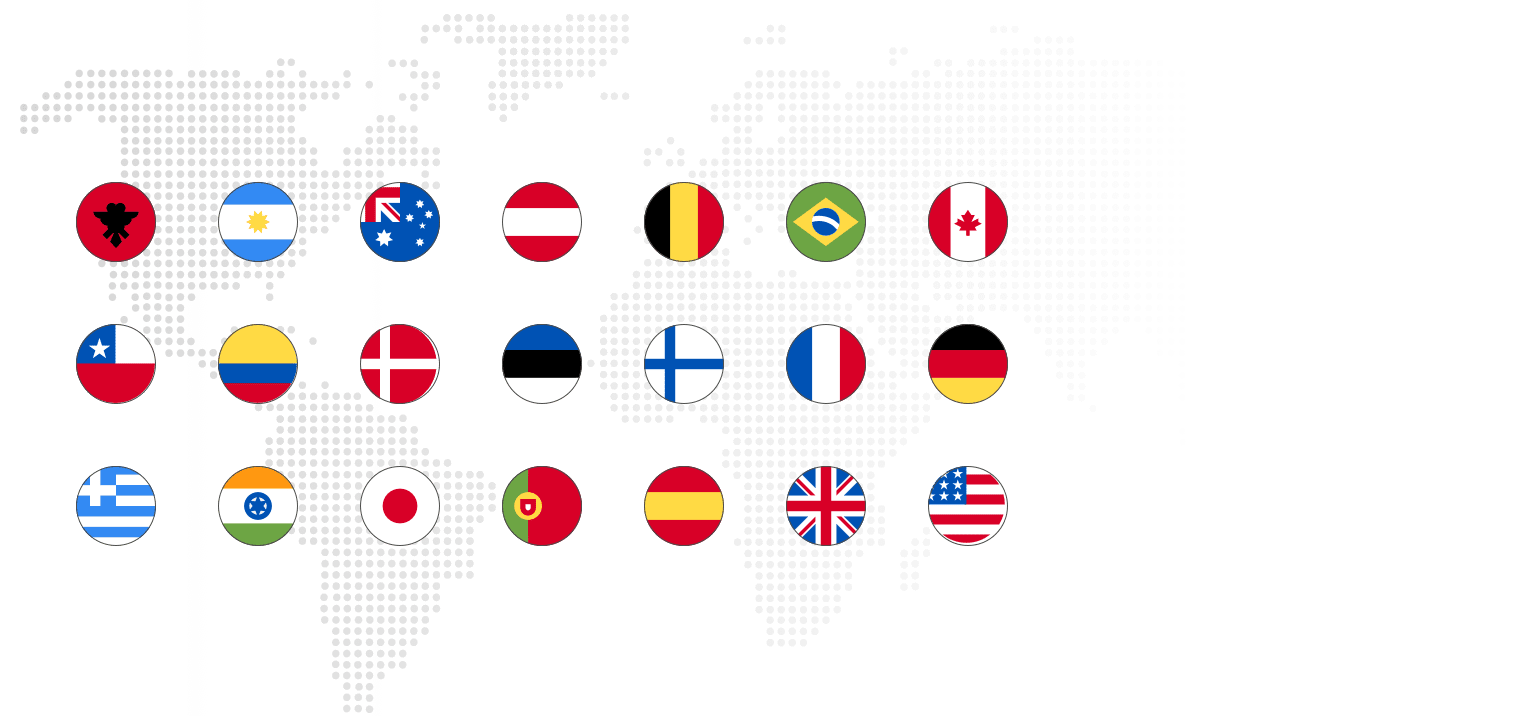 Like other top-ranking VPNs, Namecheap also can bypass internet censorship and unblock geo-restrictions. From multiple tests conducted, Namecheap overcame internet censorship and unblocks geo-restricted streaming services such as Netflix, Hulu, Spotify, etc. 
Hence, users at work, school, or countries where internet usage is censored can enjoy unrestricted access to censored websites. For users in geolocations where popular streaming are geo-restricted, using Namecheap can give them unlimited access to stream any content or media of their choice by bypassing geo-restrictions.
Speed and performance
Speed and performance vary with factors including server locations, connectivity distance, etc. However, from tests conducted, Namecheap recorded a decent ping rate, upload, and download speed. 
For this Namecheap VPN review, we also tested its upload and download speed.
The recorded ping rate, upload, and download speed for a US-based server location is as follows.
Ping: 21ms

Download speed: 80.52Mbps

Upload speed: 88.34Mbps.
Logging policy
Namecheap is committed to providing its users with privacy and security. Thus, it does not keep a log of users' data. Although Namecheap is headquartered in the US, where there are strict data monitoring policies, it does stick to its commitment to protecting users' privacy by not keeping users log.
Servers and locations
Namecheap VPN has over a thousand servers in more than 75 countries. Additionally, Namecheap has dedicated servers optimized for streaming and torrenting activities.
Kill switch technology
VPN users do experience random server disconnection. When this happens unknowingly, users' data can be leaked and exposed to online threats like other internet users face. Namecheap's kill switch technology cut off network connectivity when the test device was disconnected from the VPN server, effectively blocking out incoming and outgoing data traffic. 
Technical Details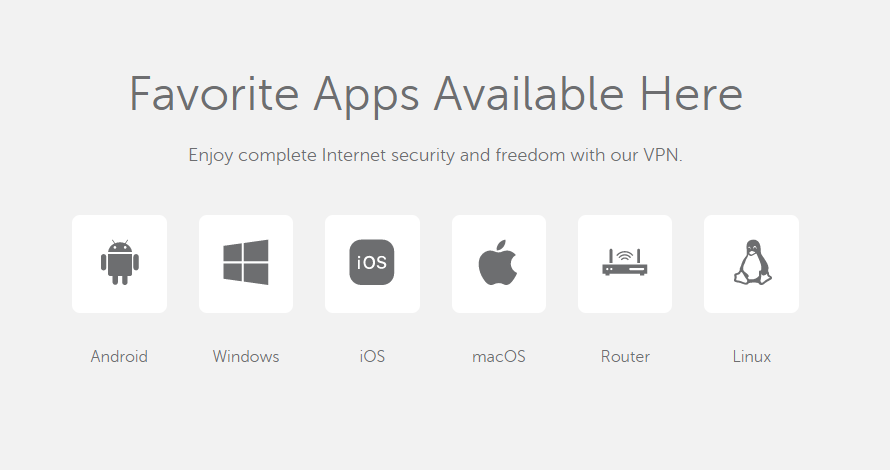 Supported devices and OS:

Windows, Mac, Android, iPhone, Linux, Router.

Pricing model:

Monthly, 1-year, and 3-year subscriptions

Customer types:

Individuals, businesses, and corporate organizations

Mobile applications:

Android, iOS
Namecheap VPN Chrome Extension
Thankfully, Namecheap VPN supports Google Chrome and other Chromium-based web browsers. Hence, users can download its chrome extension. For help in setting up and configuring Namecheap VPN with Chrome OS or Chrome browser, visit the Namecheap VPN's official website.
How To Download Namecheap VPN
Namecheap VPN client is available for download across all supported OS platforms. Thus, Android, iOS, Windows, Mac, Linux users, etc., can download its clients from Namecheap's official web page or their respective app stores.
Is Namecheap VPN Free?
Namecheap is not free, but it offers users 100% off on its monthly plan for two months and a 30-day moneyback guarantee. 
How To Get Namecheap VPN Free Trial
In this Namecheap VPN review, we will also show you how to get its free trial, without hassles.
Namecheap VPN free trial is available for users that subscribe to Namecheap's monthly plan. Also, users who download the Namecheap VPN client from the iTunes or Google Play Store get a 14-day free trial in addition to 100% off on its monthly plan.
Namecheap VPN Pricing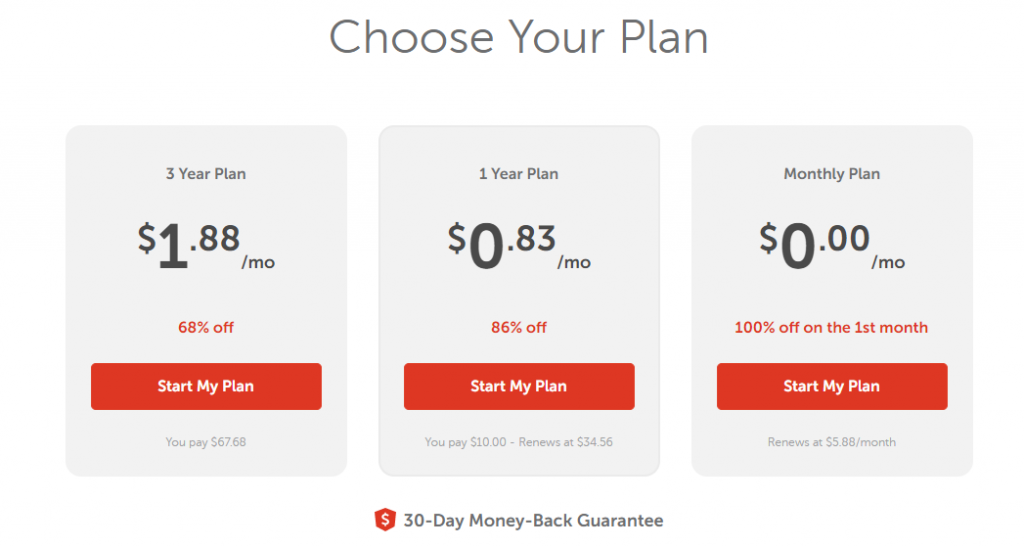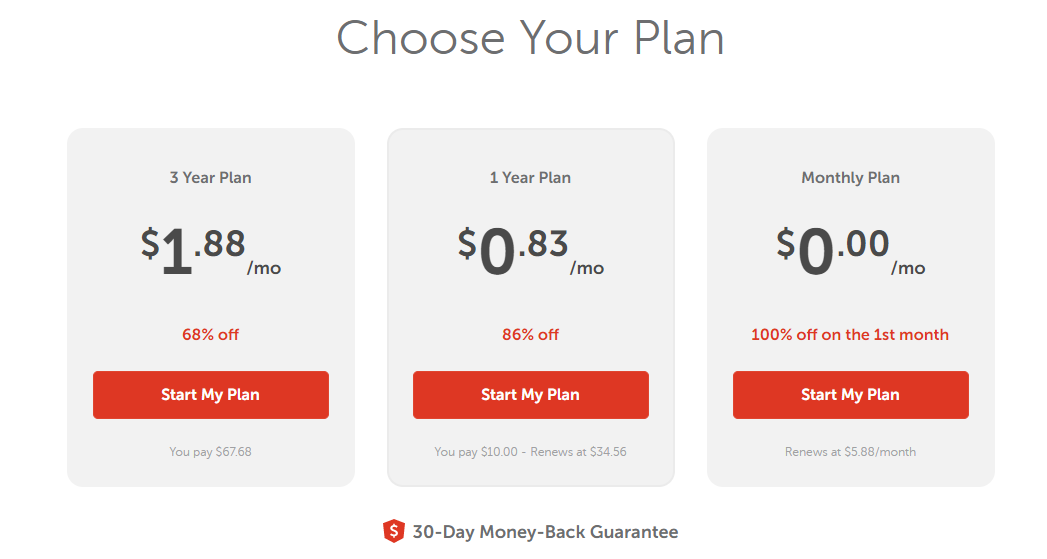 Namecheap offers one of the affordable VPN services with flexible price plans, which include:
Monthly Plan:

$0 for the first month, and renews at $5.88 per month. 

1-year Plan:

$0.83 per month for a one-time yearly payment of $10.

3-year Plan:

$67.68 for three years at a monthly price of $1.88.
Is Namecheap VPN Safe?
Namecheap VPN is safe for use. It uses the IKEv2 VPN and OpenVPN protocols to secure users' data. This way, your online activity remains anonymized from snoopers, hackers, and ISPs. 
Conclusion
There you have it, the Namecheap VPN review.
Overall, I will recommend Namecheap VPN for its robust encryption protocols and data scrambling technology, unlimited bandwidth, fast connectivity, optimized servers, and affordable subscription costs.
---
INTERESTING READS