In this post, we will show you the Surfshark Antivirus review. Surfshark now includes an antivirus program in its new Surfshark One package; that's pretty exciting news for Surfshark VPN users knowing that you don't have to subscribe to a standalone antivirus package.
Hang in there with me as I give you a complete review of the new Surfshark Antivirus package, revealing some of its essential features you might have to watch out for.
This Surfshark antivirus review will cover Surfshark antivirus features, user interface, subscription plans, customer services, and more.
READ ALSO: Best Antivirus For 2023
Surfshark Antivirus Review: What Is Surfshark Antivirus?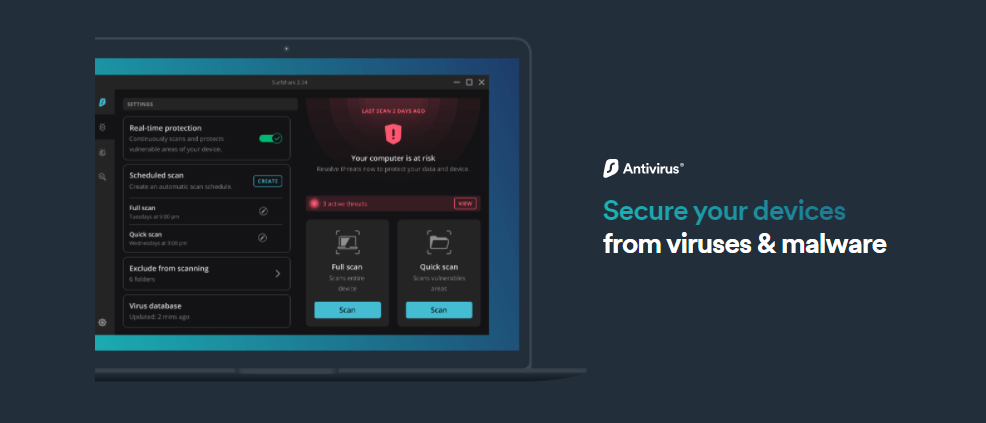 Surfshark Antivirus is a robust, all-in-one cybersecurity solution from Surfshark, a top VPN provider known for its strict privacy policies, wide-reaching VPN servers, and high-speed VPN connectivity.
At first glance, Surfshark includes an antivirus program in its package for comprehensive cybersecurity protection. While Surfshark VPN protects your data and privacy, its Antivirus program keeps your devices safe from malware invasions like viruses, trojans, spyware, ransomware, etc.
Surfshark Antivirus is designed to protect you in real-time by continually monitoring your files and apps for malware. Additionally, its flexibility allows you to exclude some files and folders from scanning.
Overall, Surfshark Antivirus is a lightweight and robust antivirus that is fast and ultra easy to use. It comes with Surfshark One, a cybersecurity suite that includes a VPN, a private search engine, and a data breach monitoring tool.
86% OFF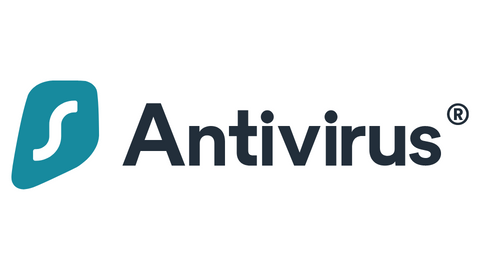 Surfshark Antivirus
A 360-degree solution for all threat categories.
==>> Get Surfshark Antivirus
How Does Surfshark Antivirus Work?
Surfshark Antivirus works by scanning your devices for malware using its lightweight and Machine Language-Integrated antivirus engine to detect malware, including viruses, trojans, ransomware, backdoors, keyloggers, spyware, etc. 
It also prevents malware from running automatically on your devices by continually scanning your device, inbound, and outbound data traffic in real-time for malicious codes.
Surfshark Antivirus uses a powerful and lightweight antivirus engine that does not slow down your system performance even when performing a full system scan. The Surfshark Antivirus engine gets daily virus database updates to protect your devices from new and evolving malware threats.
Surfshark Antivirus Features
A powerful and speedy antivirus engine for Windows and Android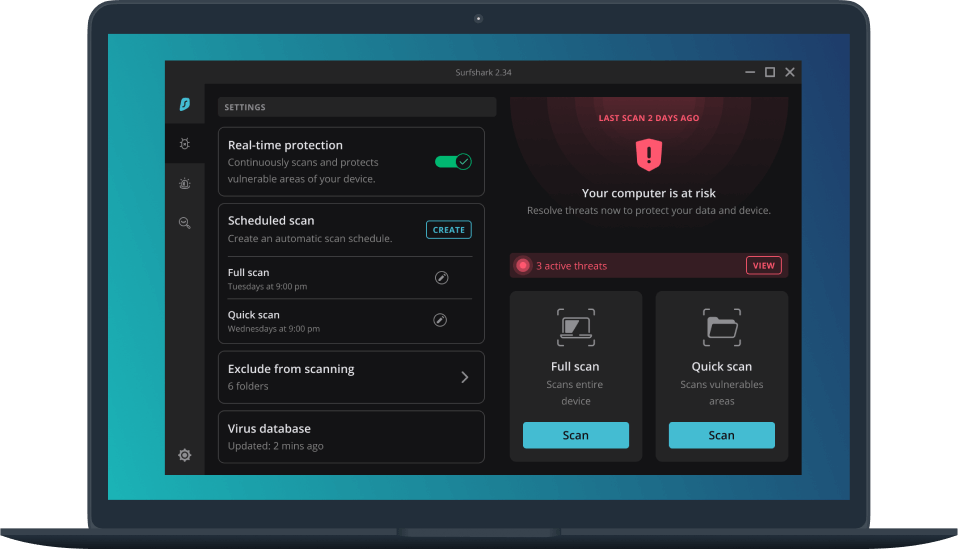 Surfshark's antivirus engine integrates advanced AI and Machine Language to protect users' devices from malware, including viruses, backdoors, trojans, cryptojackers, etc. The antivirus engine is light and fast, using up minimal system resources.
Surfshark uses heuristic detection techniques to detect and eliminate continually changing polymorphic antiviruses. For malware that might want to install automatically, Surfshark blocks such from happening by continually scanning your inbound data traffic in real-time.
Surfshark's antivirus engine offers you flexible scanning options, which include Full or Quick system scans. In addition, you can also use its drag-and-drop feature, which is one of a kind, to include or exclude one or more folders from antivirus scanning.
READ ALSO: Best VPN For 2022
Surfshark Alert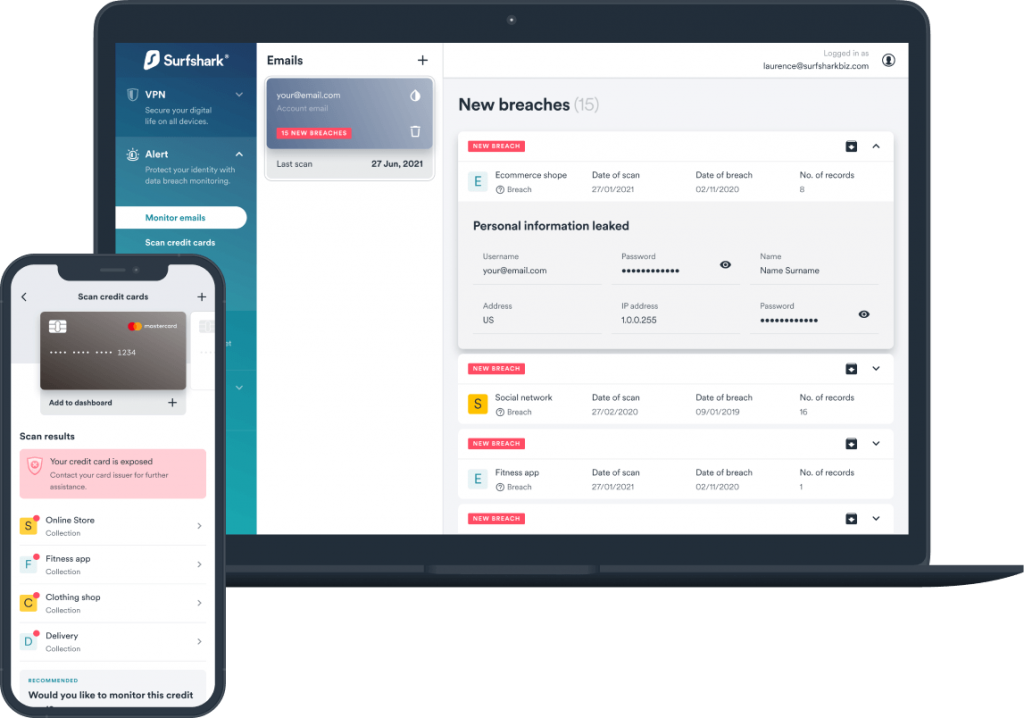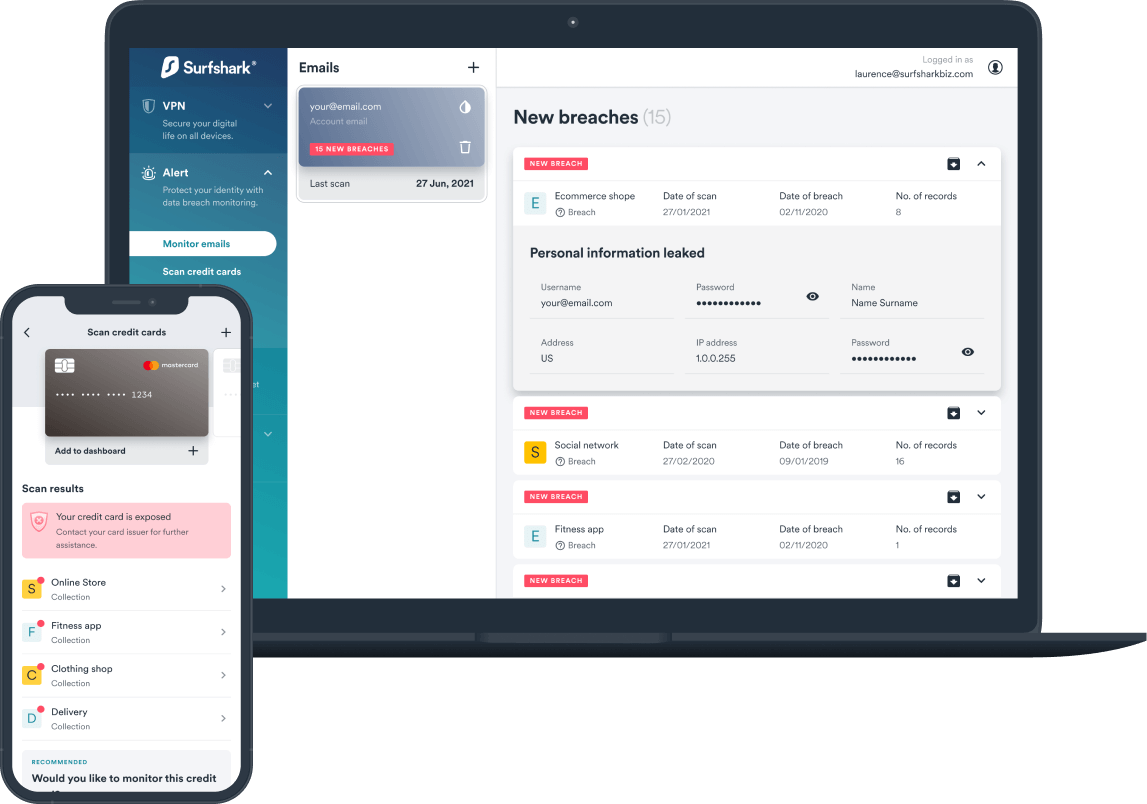 Surfshark Alert is built to monitor your personal data online and alert you if any of your information appears in data breaches.
Data breaches happen when devices and networks are compromised in several ways, including weak passwords, hacking, DDoS attacks, etc.
To protect you from data breaches, Surfshark Alerts monitor the web by continually scanning the web for leaked data from your device, which can include your email addresses, credit card details, Social Security Number, and other Personally-Identifying Information, etc., and alerts you by sending you reports each time there's a data breach affecting you.
Surfshark Search


Surfshark Search is Surfshark's private search engine that protects you from trackers and cookies collectors. It is light, private, ad-free, and it displays only organic traffic.
In addition, Search engines use cookies to track and monitor users' activities online and serve users with tailored adverts using data collected from browsers and search engines. Surfshark Search is available on macOS, Windows & Android.
Surfshark VPN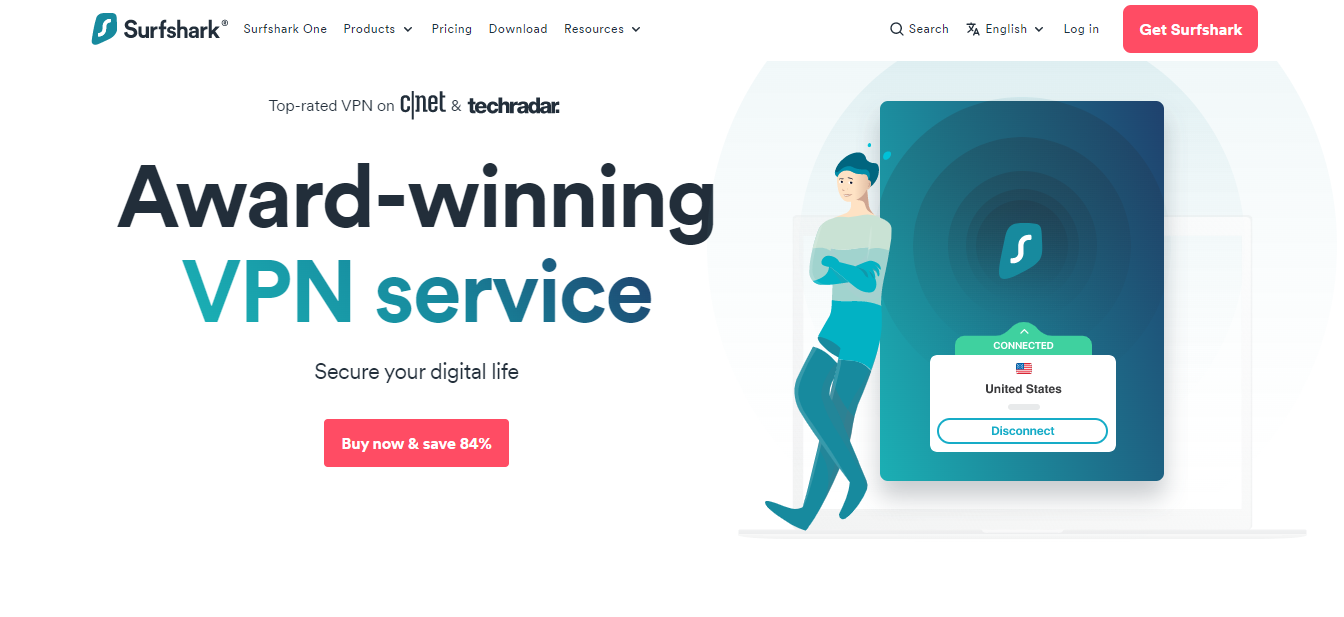 Surfshark has robust security features, above-average speeds even on distant servers, and allows you to connect multiple devices simultaneously to one Surfshark subscription, making it the best choice for large families and business owners. 
If you're new to VPN, you need not worry about usability because the Surfshark VPN has apps for all major platforms, including Android, iOS, Windows, Mac, and Linux.
These apps have a user-friendly interface that makes them easily navigable for new users and less tech-savvy individuals. 
Surfshark has a presence in over 90 countries and over 3200 servers, making it a VPN with one of the widest server spreads worldwide. Its 3200+ VPN servers are swift and optimized for fast, safe, and anonymous browsing. 
Its servers give you access to popular streaming platforms like Netflix, HBO Max, Disney+, ESPN Plus, DirecTV, HboTV, Hulu, CBS Sports Network, BBC iPlayer, Peacock TV, and much more. 
Security-wise, Surfshark uses a combination of industry-standard, a top-grade encryption protocol, a strict no-logs policy, and a kill switch to ensure the safety and security of your data during transmission and when connected to public WiFi networks.
Surfshark uses the AES-256-bit military-grade encryption protocol, which has remained unbeaten even by the most powerful supercomputer available. Hence, even if your data is intercepted, it cannot be decoded by the most powerful computer available presently. 
A strict no-logs policy means that Surfshark does not log your IP address, the sites you visit, or other information that can compromise your privacy, security, and anonymity.
In the case where your VPN connection drops, Surfshark's kill switch disconnects you from the internet, therefore, preventing accidental data leakage. 
Interestingly, Surfshark has additional security features that stand out from the pack. Such features include: 
MultiHop servers: this feature double-encrypts your data for maximum security by channeling your data through 2 Surfshark servers.
IP Rotator: this feature changes your IP address at regular intervals without disrupting your VPN connection.
CleanWeb: this feature prevents you from accessing malicious websites and also keeps out ads.
Built-in speed test: this feature allows you to connect to the server with the fastest speed by displaying server speeds.
Bypasser: This feature lets you decide what apps to exclude or connect to the VPN service on the same device. 
Surfshark VPN is a top VPN service like CyberGhost VPN, PIA, NordVPN, and other top VPN service providers. You're sure to get more value for your money with superior streaming and torrenting ability, robust security features, excellent speeds, and other innovative features.
Incogni
Incogni is Surfshark's data removal tool designed to give you control of your data and who can access it. At the moment, Incogni is not part of the Surfshark One bundle which includes Surfshark Antivirus.
Getting in touch with data brokers and requesting that your data be deleted from their database is very much possible, but you wouldn't want to spend your entire life chasing after data brokers; that's where Surfshark Incogni comes in.
Surfshark Incogni team has the right legal knowledge and experience to contact data brokers and ensure they take off your data from their database. 
Moreso, Incogni has a database of more than 145 data brokers and has also developed effective strategies for taking down clients' data from the databases of data brokers.
Getting started is in 3 simple steps:
Sign up for a Surfshark Incogni account using accurate information about yourself

Give Surfshark Incogni the legal backing it needs to make a data removal request on your behalf and also seek legal action against any data broker who refuses to comply with your request by signing the 'Power of Attorney document.

Choose a subscription plan and proceed to make payment.
Surfshark Incogni works by scanning the databases of data brokers for your data, after which it will request on your behalf that all your data be deleted from their databases.
You can monitor the progress of Surfshark Incogni right from your dashboard, where you can view the list of all data brokers holding your data, the number of contracted data brokers, and completed and rejected requests.
Choosing Surfshark Incogni as a preferred data removal tool gives you the following advantages:
Restores your data privacy

Saves you time

Detects all data brokers holding information about you in their databases

Has an intuitive dashboard where you can monitor the progress of data request removals and display relevant analytics. 

An automated data removal request that requires no input from you other than signing up with accurate personal and contact information.

Risk-free 30-day moneyback guarantee

Asks for fewer data compared with other data removal services.
One subscription, 5 Protection
For a subscription package of $3.98 per month, it is worth noting that you can enjoy protection for five devices, including PCs and Android.
Therefore, you do not have to worry about multiple subscriptions for multiple devices or family members; bring them under the Surfshark Antivirus cover.
Device Scanning
Surfshark Antivirus scans devices faster than most top antiviruses I have tested; this is due to its lightweight and speedy antivirus engine, which uses minimal system resources like low CPU usage. 
The quick scan I performed was just too fast, finishing within 5 minutes, while the full system scan took me less than 30 minutes to complete, and thanks to Surfshark Antivirus subscription, five device protection, you can scan not just one device, but up to 5 at once!
Its drag-and-drop feature is also an impressive feature that makes it easy to customize scans by choosing what files and folders to scan or not. In addition, you can perform scheduled full or quick system scans – so you can scan your devices when it's comfortable for you. 
Notably, Surfshark Antivirus scored well on AV-Comparatives.
Nonetheless, while preparing this Surfshark Antivirus Review, we tested it against many files for an independent analysis.
For the test: Surfshark Antivirus has a high detection rate scoring 99 out of 100 for malware detection; It detected 248 out of the 250 infected test files, which contain viruses, trojans, ransomware, spyware, etc.
This is an exceptional malware detection rate that makes Surfshark Antivirus a reputable antivirus in the antivirus market. 
Real Time Protection
Surfshark's Real-time protection continually scans all inbound and outbound data traffic in real-time for malicious codes. This feature works like a Firewall to screen out all malicious web data traffic that can infect your devices with malware.
Whether you're downloading, browsing the net, or installing an app, Surfshark's real-time protection gets you covered against malware infection in real-time.
READ ALSO: Full Private Internet Access VPN Review
How To Install Surfshark Antivirus On Windows PC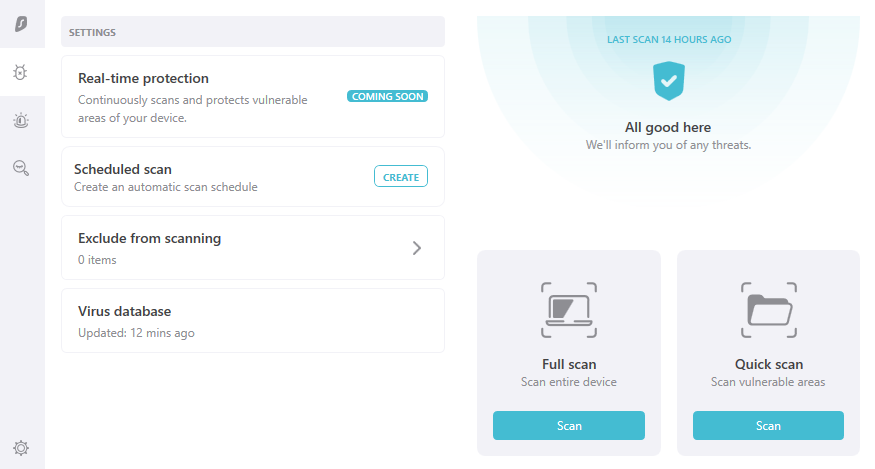 Surfshark is available for Windows 10 and other newer versions; however, we believe that in no time, we will have Surfshark Antivirus for Mac OS, Linux, and other major Operating Systems.
How To install and use Surfshark Antivirus on Windows PCs:
Download the Surfshark app from its official website and install it on your device
Subscribe to Surfshark One package
Click on the antivirus icon and select a 'Full scan' or 'Quick scan.' full scan will scan all your files and folders, while a quick scan will scan your Desktop, Documents, and Download folders. Additionally, you can enjoy its flexibility by customizing your scan to scan only selected folders.
You can continue other activities on your PC while it scans your system in 'background mode.'
After completing the system scan, the program will alert you of detected malware, and it will recommend that you resolve the malware issue by deleting the detected malware files.
Use Schedule scan for regular scanning of your PC to keep you protected round-the-clock.
Surfshark For Android (Mobile Protection)


For mobile protection, Surfshark Antivirus is available for Android devices only; however, in no time, it will roll out its mobile protection for iOS devices.
It will protect your Android devices from auto-install malware; it will also scan your files and apps in real time for malware.
Malware is designed to take control of users' devices by bypassing the permission protocol to gain access and control; therefore, Surfshark Antivirus will protect your Android devices from common malware like:
The adware or pop ups that serves you unsolicited ads.
Spyware that captures and transmits important data or input to an unauthorized third party.
Potentially unwanted applications, which are meant to slow down your device, take control of your browser and collect data from your device.
Unknown apps which may or may not be harmful to your device
Possible fake software that lies about your device's antivirus status to trick you into installing it
Security/privacy risks that run programs or activities automatically on your device without your permission.
How To Install And Use Surfshark Antivirus On Android Devices:
It is easy to use; in a few simple steps, you will get this security application up and running on any of your Android devices.
Install the Surfshark app from Google Play Store.
Launch the app and tap on the Antivirus tab.
Tap on the Scan button to initiate a full system scanning. You can also use the 'Schedule scan' feature to schedule device scans at regular intervals.
Toggle on the 'Real-time protection' to enable it to monitor files and installed apps in real-time.
Scan downloaded APKs and other files using Storage Scan.
To clean detected malware; the program will notify you of malware and will ask that you delete or uninstall the malware app.
Surfshark Antivirus Apps
Surfshark Antivirus is available on major platforms, including Windows, Mac, and Android. At the moment, Surfshark Antivirus does not have a Linux OS version.
Windows App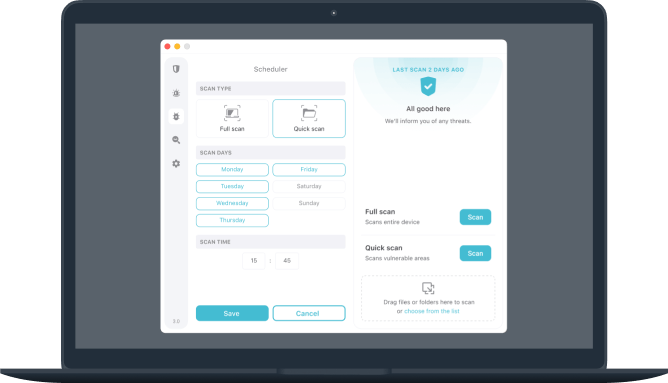 Downloading and setting up Surfshark's Windows app is straightforward, requiring no special technical skills. It has an intuitive and user-friendly dashboard with easily navigable features.
The antivirus section has well-laid-out features; on the left side are 'Real-time protection,' 'Scheduled Scan,' with options that allow you to exclude certain files and folders from scanning, and 'Virus database.' 
At the right is a display of 'Full scan' and 'Quick scan' options; the quick scan also lets you select folders or folders to scan by dragging and dropping.
At the left margin is an arrangement of all Surfshark One tools; at the top, you have the VPN icon, followed by the Antivirus, Alert, Search, and Settings icons, making it easy for you to navigate any of Surfshark's tools.
Android App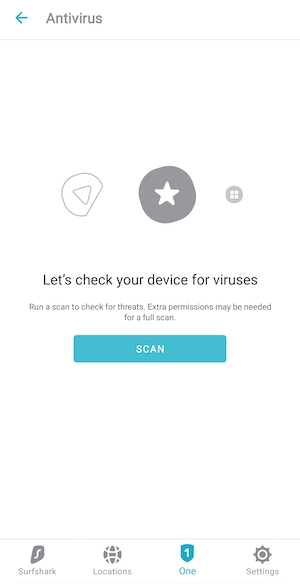 The Android app also offers you an intuitive and navigation-friendly interface. At the bottom of the screen are four sections: Surfshark, Locations, One, and Settings.
Tapping on the 'Surfshark' connects you to Surfshark's VPN. 
On the VPN dashboard, you will find a display of your IP address and a 'Kill switch.' 'Locations' displays a list of all Surfshark's servers and their country of location; you can select and connect to any server of your choice.
However, depending on your need, you should connect to the nearest server for guaranteed high-speed connectivity.
The 'One' section is a bundle of other tools, including 'Search,' 'Alert,' and other antivirus tools. You can make adjustments in the 'Settings' section, letting you customize Surfshark to suit your needs.
Mac OS App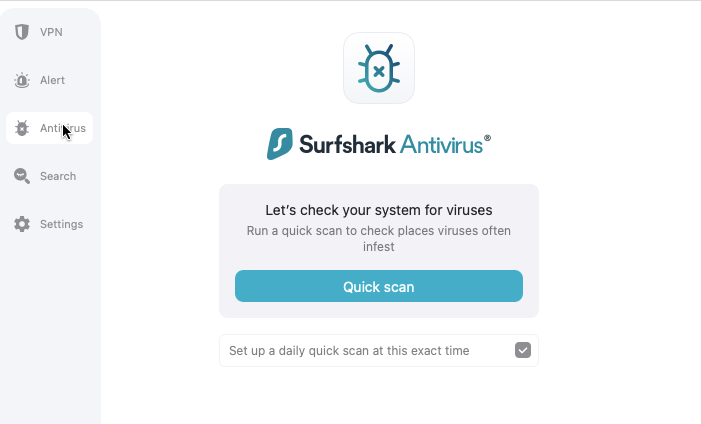 The Mac OS app has a much more minimalistic design than its Android version. 
However, it has a similar arrangement of Surfshark tools lined up at the left-hand side of the app, much like its Windows version; therefore, a glance at the left-hand side shows you a display of the 'VPN,' 'Alert,' 'Search,' and 'Settings' icons. 
Its antivirus engine has features similar to its Windows counterpart, allowing you to schedule scans with the option of excluding any file or folder of your choice, performing a full system scan, or a quick scan.
The Mac OS app has a much more simplified interface than the Windows version but has fewer features.
Customer Service 
Surfshark gives you access to various support services, excluding phone support. It has a vast repository of FAQs that address issues and questions you will likely ask as a VPN or Antivirus user. 
There are also tutorials, videos, screenshots, and self-explanatory troubleshooting guides on what to do if you encounter any issues or challenges, making it needless to contact support.
Much like other notable VPN service providers, Surfshark does not offer phone support; therefore, you're not missing anything. 
If you need to get in touch with the support team, doing so via their email handle is pretty efficient, as you're sure of getting a response within 3 hours. However, LiveChat is a better option for a faster resolution, connecting you to a friendly human support representative within 15 seconds.
Although I find it odd that a human support service would ask if I am doing great, I was impressed that I could get instant answers from a human rep friendly enough to ask about my welfare while providing answers to my questions.
Surfshark Antivirus Pricing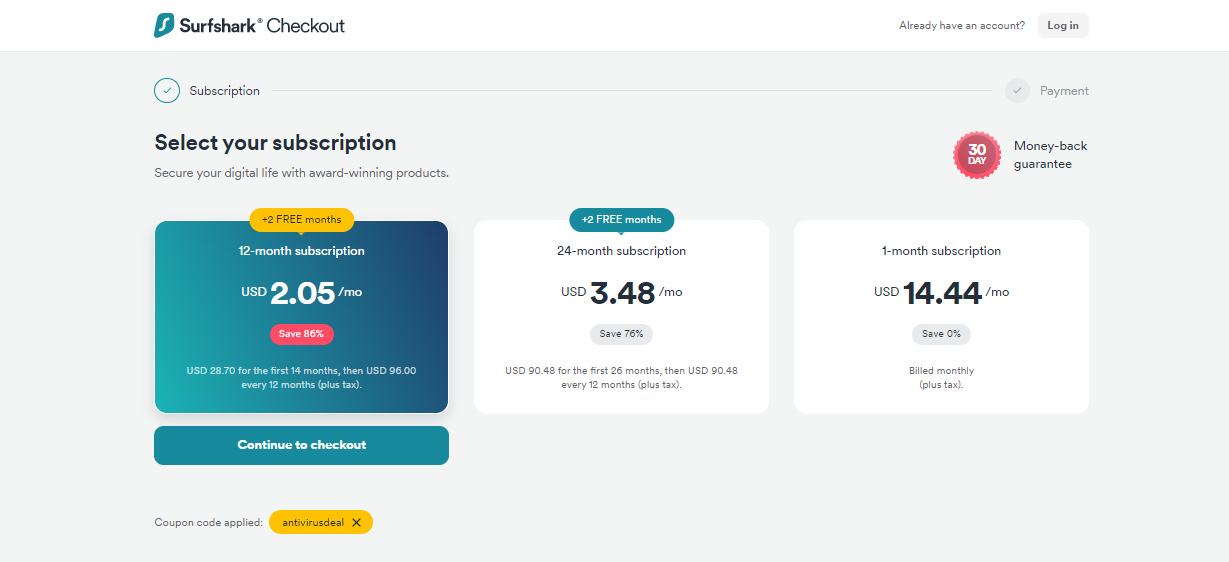 At the moment, Surfshark Antivirus has a $3.98 per month starting price. This is quite affordable, given that one subscription covers five devices simultaneously.
Here are the Surfshark Antivirus pricing options:
1 Month Plan – $14.44 per month
12 Months Plan – $5.48 per month (for the first 12 months)
24 Months Plan – $3.98 per month (for the first 24 months)
86% OFF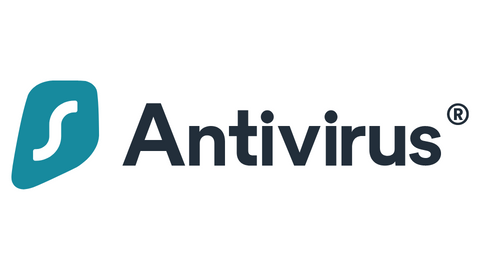 Surfshark Antivirus
A 360-degree solution for all threat categories.
===>> Get Surfshark Antivirus
How To Pay For Surfshark Antivirus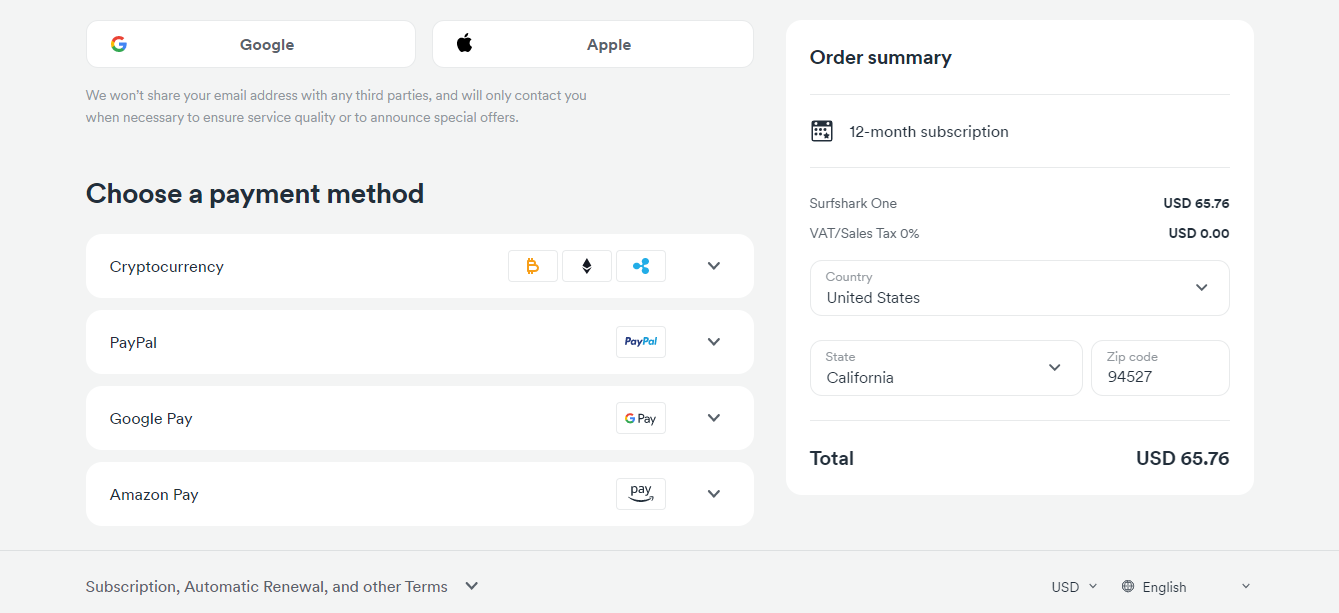 Paying for Surfshark Antivirus is a quick and easy process. There are several payment methods available to choose from, including Google Pay, Amazon Pay, PayPal, and cryptocurrency.
To pay for Surfshark Antivirus using Google Pay, simply select the option during the checkout process. You will then be prompted to enter your Google Pay account details and complete the payment.
If you prefer to use Amazon Pay, you can do so by selecting the option during the checkout process. You will need to enter your Amazon account details and complete the payment. This option is convenient for those who already have an Amazon account set up.
Another option available to you is to use PayPal whether you have an account or not. During the checkout process, you will be prompted to enter your credit card details such as card number, expiration date, and security code. Once you have entered this information, your payment will be processed.
Conversely, you can also make payments via cryptocurrency i.e. Bitcoin, Ethereum, and Ripple.
When it comes to the plans available for Surfshark Antivirus, there are several options to choose from. You can opt for a month-to-month plan, a year plan, or a 2-year plan. The longer the plan you choose, the more money you can save in the long run.
Whether you prefer Google Pay, Amazon Pay, PayPal, or cryptocurrency, you can rest assured that your transaction will be secure and easy to complete
Choose the plan that suits your needs and budget to enjoy enhanced online security with Surfshark Antivirus.
Surfshark Pros And Cons 
There are many features to love about Surfshark, but not without a few cons, which aren't major enough to dwarf the pros of using Surfshark.
Pros
Surfshark offers you the best competitive price for its cybersecurity bundle: the Surfshark One, which includes a VPN, Antivirus, and Surfshark Alert. 
The Surfshark Antivirus engine is fast, carrying out a full scan within 7 minutes while offering you options of selecting files or folders for a scheduled or quick scan.
Its VPN offers you much more features than the average features you get with most VPN providers without compromising on speed and security. 
One feature I found impressive is Surfshark's multi-hop connections, which doesn't seem to slow down the VPN speed to a crawl while routing your data through two VPN server.
Surfshark's availability on many platforms makes it an ideal service for use across a wide selection of devices and OS, including Gaming consoles, TVs, desktops, mobile devices, browser extensions, and much more.
Its customer service is impressive, offering instant responses, which is much faster than most premium VPN services. 
Surfshark's user interface is worth mentioning; It's a super friendly user interface that makes navigation easy even for less tech-savvy individuals. 
Cons
Surfshark has a great streaming speed, but streaming Netflix seems to be much of an issue with occasional lag, which can be resolved by changing servers. 
Asides from that, Surfshark needs to establish a stronger social media presence despite having great customer support services.
Surfshark Antivirus Review: Ratings
Ease of Use
Surfshark Antivirus is ultra-easy to use; it has a friendly and simplistic user interface that is less cluttered for easy navigation. Even Reddit users confirmed that Surfshark's features are well-arranged as buttons for easy navigation; hence users can easily access them.
I give Surfshark Antivirus a 5 over 5 rating for ease of use.
Apps
There are Surfshark apps for macOS, Android, and Windows devices. These apps have an intuitive user interface with icons and tabs well-arranged for easy navigation. You can easily navigate between its menus without any help or guidance.
Again, for apps, I give Surfshark a 5 over 5 rating.
Pricing
Surfshark is relatively affordable. Apart from providing both privacy and security features in their bundled offer, their 12 month plan cost $3.98 per month, which makes it one of the most affordable antivirus software in the market.
In terms of pricing, Surfshark is rated 4.5 over 5.
Customer Support
I will rate Surfshark's customer support as excellent for its fast response. Also, I am well-pleased with Surfshark's Live Chat and support team for fast, professional, and friendly responses to issues and inquiries.
For customer support, Surfshark is rated 5 over 5.
86% OFF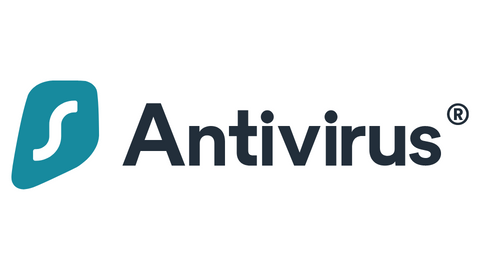 Surfshark Antivirus
A 360-degree solution for all threat categories.
===>>Get Surfshark Antivirus
Surfshark Antivirus Review: Frequently Asked Questions
Does Surfshark Have Antivirus Software?
Yes, Surfshark has a stand-alone antivirus software. Its antivirus software is bundled together in its One package. There's an Antivirus tab for accessing Surfshark's antivirus feature on the interface.
Is Surfshark One An Antivirus?
No, Surfshark One bundle is a cybersecurity suite. The Surfshark One package comes with an Antivirus, a VPN, a Private Search Engine, and Alert for all-around cybersecurity protection. You can learn more about Surfshark One by checking out this review. 
Is Surfshark A Chinese Company?
No, Surfshark is not a Chinese company. Surfshark is owned by Surfshark Ltd, a VPN service provider based in the British Virgin Islands. Thankfully, Surfshark has VPN servers that work well for unblocking websites restricted by the Chinese firewall.
Is Surfshark One A Good Security Bundle?
Surfshark One is an excellent cybersecurity bundle, perhaps the best so far. For $3.49 per month, you enjoy premium quality VPN and antivirus bundled together in addition to robust cybersecurity features and privacy tools to make the internet a safer place.
Does Surfshark Antivirus Work On Mac Computers?
Yes, the Surfshark Antivirus program works well on Mac PCs. You can download and install Surfshark for Mac OS and start enjoying robust antivirus protection for your device.
What Is Surfshark VPN?
Surfshark VPN is a virtual private network that can hide your IP address. This helps to keep your privacy safe and encrypted while you browse the web.
With a VPN plan, you are provided with unlimited simultaneous connections to unblock geo-restricted streaming services such as Apple TV, Amazon Prime Video, Hulu, etc.
By using Surfshark VPN, you can protect yourself from intrusive cyber-attacks and data theft.
Surfshark VPN also offers a number of other features that make it a powerful tool for online privacy.
One of the best things about Surfshark VPN is that it is extremely versatile and it has a fast connection speed. You can use it to protect your privacy while you browse the web, stay anonymous while using public Wi-Fi, and protect your data while streaming music and video.
Surfshark VPN also has a variety of other features that make it an ideal choice for online security. For example, it offers a number of security and privacy features that make it difficult for hackers to access your data.
Additionally, Surfshark VPN has a strict no logs policy, which means that your browsing history and personal information will never be stored or monitored. Also, you can check out our Surfshark VPN review for more information about its VPN service.
86% OFF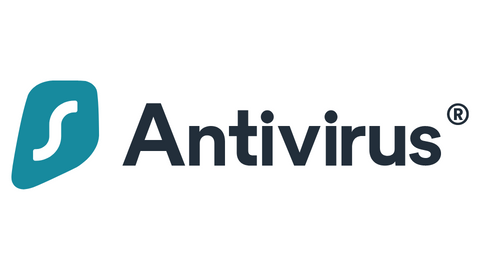 Surfshark Antivirus
A 360-degree solution for all threat categories.
===>>Get Surfshark Antivirus
Best Surfshark Antivirus Alternatives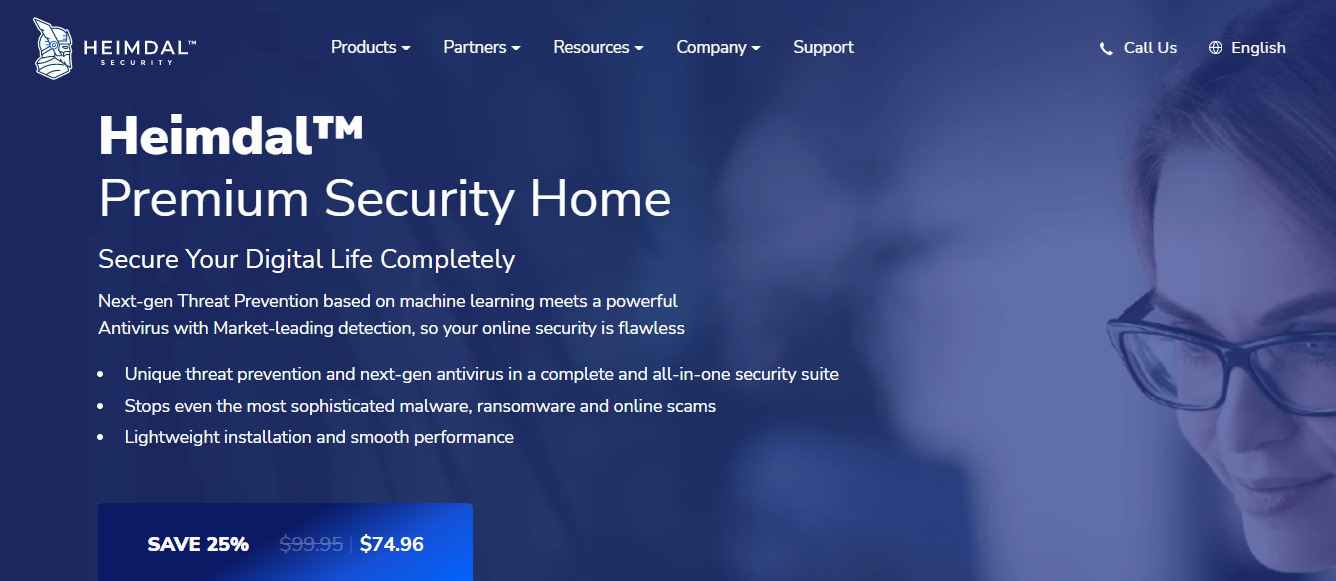 One of the best Surfshark Antivirus alternatives is Heimdal Security. It provides you with advanced protection against malware as a top-tier antivirus program. 
Some features you will love about Heimdal Security include its Firewall, Advanced packet inspection, X-Ploit Resilience, and Gaming mode.
Its Firewall and packet inspection protect your network from advanced malware threats, man-in-the-middle, and exploit attacks.
Its X-Ploit Resilience (automatic software updater) installs Heimdal updates to your system without disrupting your activities or using additional resources.
Although Heimdal Security is a good alternative and major competitor to Surfshark, it does not offer a comprehensive cybersecurity bundle compared to the Surfshark One bundle, which includes an antivirus, a VPN, and other security features.
60% OFF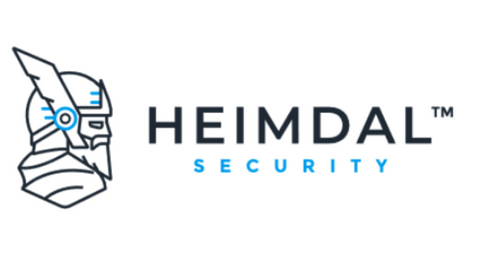 ⇒> Get Heimdal Security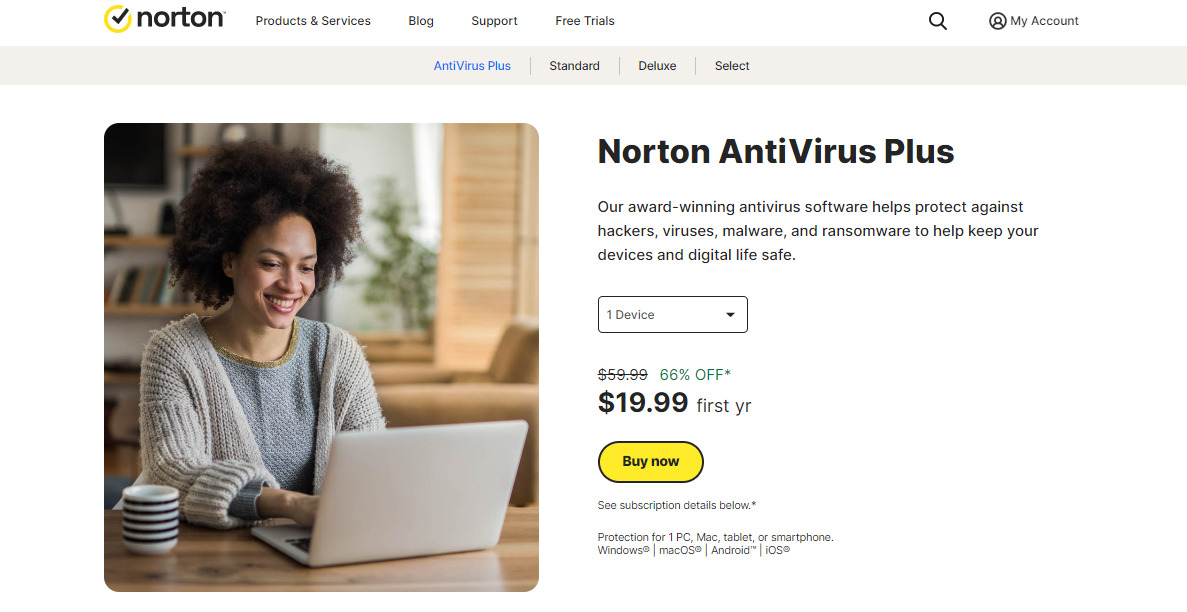 Norton Antivirus is a premium antivirus suite with one of the most powerful Av engines, and it offers way more security tools and features compared with Surfshark, although both have powerful antimalware engines with high detection rates. 
Like Surfshark, Norton's antimalware engine is light and speedy, using minimal system resources. Also, it has a password manager and robust parental controls.
Although Norton's VPN gives you excellent speed and robust security features, its server spread is not as widespread as Surfshark's 3600+ servers distributed in more than 91 countries; it does not operate a strict 'no-logs' policy, and it has a narrow range of streaming abilities. 
Also, Norton Security packs most of its extra security features on separate apps for mobile devices, making it cumbersome and taking up way more space on devices than necessary.
66% OFF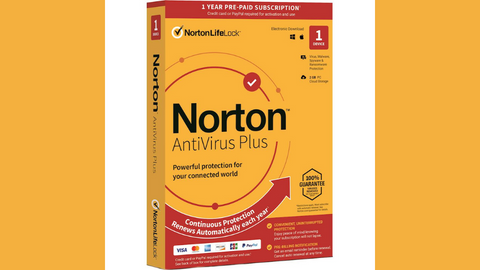 Norton Antivirus Plus
Your award-winning cybersecurity solution for complete device protection.
Your award-winning cybersecurity solution for complete device protection.
Show Less
⇒> Get Norton Antivirus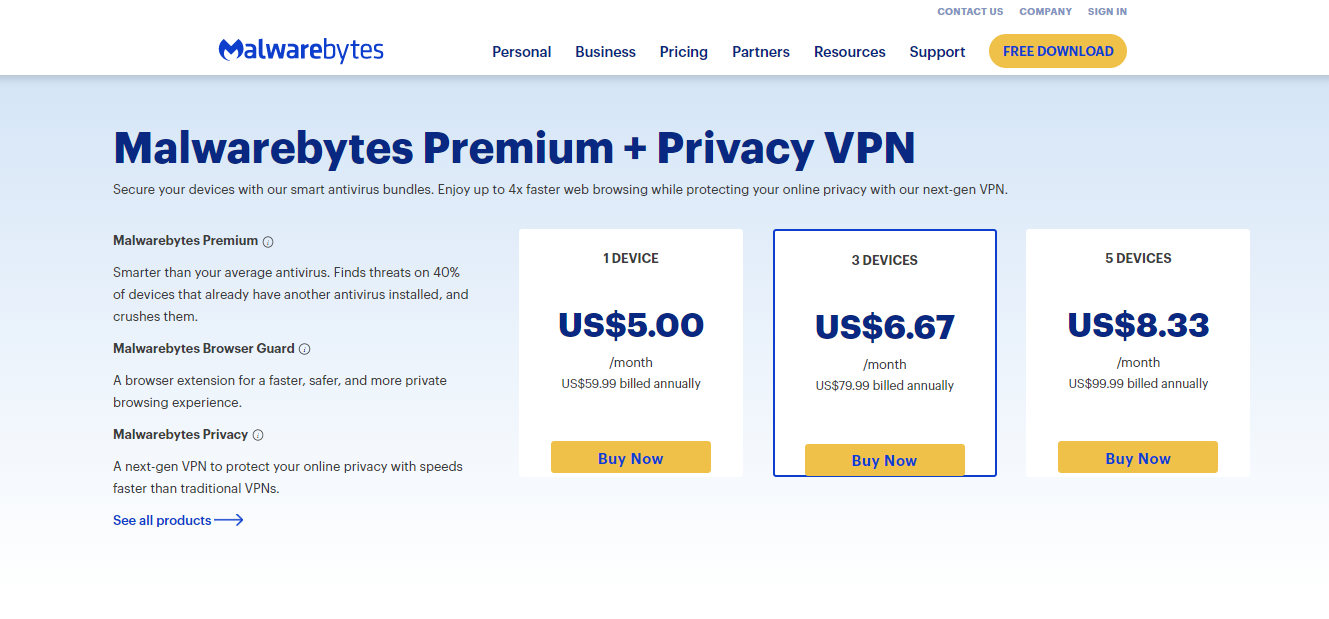 One of the alternatives to Surfshark Antivirus is Malwarebytes. 
Malwarebytes has a simplistic interface with a powerful antimalware engine with a high malware detection rate above 95%, making it one of the best antimalware suitable for real-time protection.
Although Malwarebytes have additional security features, it is nowhere comparable with the wide range of security features packed by Surfshark. 
However, one of the Malwarebytes tools I love is the Browser Guard, a browser extension compatible with most browsers. The Browser guard locks trackers, pop-up ads, and phishing sites and prevents advanced attacks. 
Conversely, Malwarebytes is still a good choice for users who might prefer a simplistic and far less-burdened antimalware engine. 
Comparing Malwarebytes to Surfshark, Malwarebytes offers a relatively more flexible antivirus package that allows users to choose between a Premium+ and Privacy Plan. 
The Privacy Plan is Malwarebytes' subscription package that includes a VPN. 
⇒> Get Malwarebytes
Is Surfshark Antivirus Worth It?
Yes, Surfshark Antivirus is a valuable antivirus software that can keep your device safe from viruses and online threats. This powerful antivirus software is designed to provide top-notch protection to your device against malware, spyware, and other online threats.
One of the most significant advantages of using Surfshark Antivirus is its ease of installation. The software can be easily installed on your device, and the user-friendly interface makes it easy to use even for beginners.
Additionally, Surfshark Antivirus is part of the Surfshark One bundle which offers you a comprehensive suite of features that are designed to enhance your online security. These features include real-time scanning, automatic updates, a private search engine, a data breach monitoring tool, Surfshark's VPN, and malware protection.
Another great feature of Surfshark Antivirus is its affordability. Despite its robust security features, Surfshark Antivirus is priced competitively, making it an attractive option for long term users who are looking for high-quality antivirus software that won't break the bank.
So, what are you waiting for? Install Surfshark Antivirus today and enjoy peace of mind knowing that your device is protected from online threats. Not to mention, you have responsive customer support to help you in getting started.
Wrapping Up The Surfshark Antivirus Review
Surfshark Antivirus is a lightweight and robust antivirus that offers you flexible scanning options, including full or quick system scans, and is included with Surfshark One, a cybersecurity suite that also includes a VPN, a private search engine, and a data breach monitoring tool.
Surfshark Antivirus comes with all the standard internet security features like real-time protection, scheduled scans, etc., as well as other features like data breach alerts, an artificial intelligence engine, etc.
Surfshark now strengthens your cybersecurity by keeping your devices safe with its new Surfshark One Package while protecting your online data and identity with Surfshark VPN.
With a starting price of $3.49 per month, I will say Surfshark Antivirus is quite affordable, causing no stress on your pockets while you enjoy high-level protection for both executable and non-executable files, documents, and folders in real time.
Overall, this new cybersecurity tool is recommended for its effective malware protection, fast and flexible system scans, and multiple device protection at a very affordable rate.
Each subscription covers five devices. Also, you enjoy protection from viruses, trojans, spyware, worms, ransomware, backdoors, bootlockers, etc.
If you're a security-minded user who wants to keep your devices safe from malware and cybercriminals, then Surfshark Antivirus is the right choice for you.
We hope you enjoyed this Surfshark Antivirus review. If you have any questions, feel free to reach out via email or leave a comment below.
86% OFF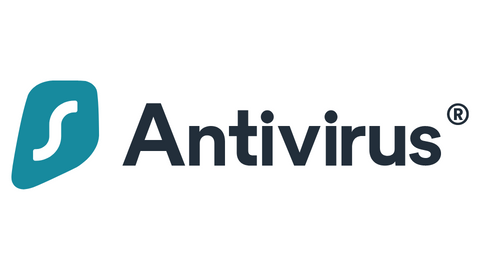 Surfshark Antivirus
A 360-degree solution for all threat categories.
===>>Get Surfshark Antivirus
---
INTERESTING POSTS