Here is the RoboForm review.
How many times do you remember your passwords without checking for it? While you're thinking about it, this is a full review of RoboForm – Secure Password Manager.
In this review, everything you need to know about RoboForm will be discussed.
A password is used to guarantee privacy. People set passwords on devices and websites alike. Forgotten passwords are a regular thing for a lot of internet users. There are a ton of websites ranging from social media platforms to regular blogs that require you to sign up before you get access to its contents.
Therefore, some people have come up with different password practices. Some people resort to the archaic way of writing their passwords in a diary, book, or sticky notes. This method is not secure because anybody with access to your writing accessories could come across your password.
Another unhealthy practice is using a weak password like a name or date of birth because it is easy to remember. Sadly enough, people use the same weak password across many platforms. This practice makes it easy for hackers to gain unauthorized access to your information.
However, there is a better and stress-free way to manage your passwords without you having to worry about forgetting them. Thanks to technology, we now have password managers like RoboForm.
Without further ado, let's proceed with the RoboForm review.
What Is RoboForm?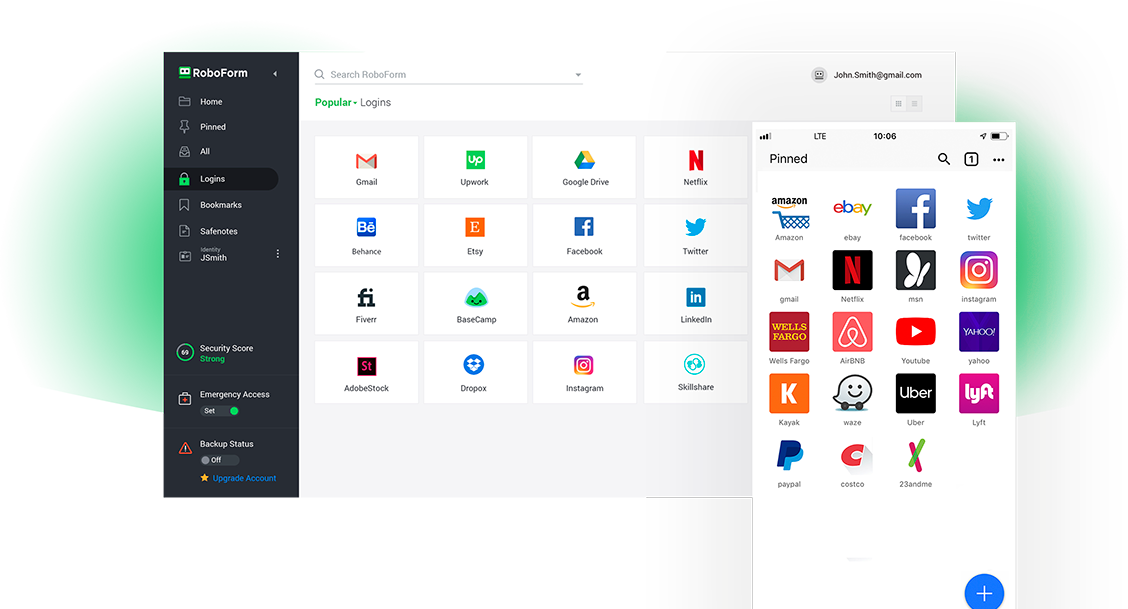 RoboForm is a password manager that has been around since 2000. Over the years, RoboForm has evolved from the regular password manager to be a leading name in password management.
You can see RoboForm as your virtual assistant to help you memorize passwords and form data. RoboForm has outstanding features that give it an edge over other password managers. For instance, you can get comprehensive details about your passwords in the app's security center.
You can store your data in a logical and organized manner using the fully customizable folders in the app. There is no way your passwords can be compromised with RoboForm because it stores data locally on your device and uses local military-grade encryption to keep them secure. If you are security conscious, you can also enable fingerprint authentication.
With RoboForm, you can have an emergency contact that will have access to your account after a set interval. RoboForm automatically syncs your data across multiple devices and has browser extensions for popular browsers.
RoboForm offers a variation of its products to users – RoboForm Free, RoboForm Everywhere, and RoboForm Family for personal users while RoboForm Business is for business owners. This ensures you pay for only what you need. RoboForm is easy to use and has 24/7 customer support. Also, its pricing plans are pocket-friendly.
RoboForm's Products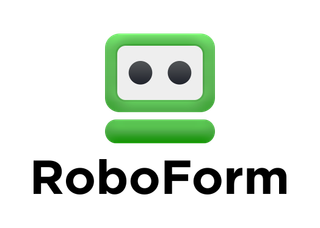 RoboForm's free plan is basically for those who want to test its features. With RoboForm Free, you get unlimited logins, password auditing, automatic form filler, and access to the password generator.
However, this plan doesn't support multiple devices. You'd have to upgrade to the "Everywhere" personal plan if you want your passwords to be synced across all your devices.
This is the least priced product among RoboForm's products. RoboForm Everyday is the password manager for individual users.
RoboForm Everywhere has several other features like identity forms, password generator, two-factor authentication, password audit, and secure folder sharing. With this product, you can enjoy all RoboForm's services across several devices.
It automatically syncs your data so you don't need to shuffle between your phone and computer just to get a password. It also includes information backups and 24/7 support for its paying users.
The major difference between RoboForm Family and RoboForm Everyday is that RoboForm Family allows up to five different users. If you want to share passwords with your family members, this is the product for you.
RoboForm Family offers pretty much the same features as RoboForm Everyday except for some extra management elements. You can also enjoy 24/7 support, information backup, and secure log-in sharing just like the Everywhere plan.
The Business package comes with added features for business owners. This product provides support for businesses ranging from small businesses with 1-10 members to multinational companies with 1000 workers.
Apart from the basic Everyday features, Business users enjoy many more features like centralized employee onboarding, centralized policy deployment, secure group sharing, role-based access permissions, unlimited number of administrators, additional two-factor authentication, active directory integration, password audit for users, and dedicated tech support.
READ ALSO: 7 Tips to create a Strong HackProof Password
Pros and Cons
Since you have an oversight of what RoboForm is, let's look at some pros and cons of the password manager.
Pros:
It can be accessed offline
Emergency contacts
Roboform syncs automatically across many device types and browsers.
It identifies weak and duplicate passwords in security center.
It includes digital inheritance and secure sharing.
Manages passwords of other applications on your device.
Comprehensive filling of web forms.
24/7 customer support
Affordable pricing plans
It is easy-to-use
Cons:
Its two-factor authentication is limited. RoboForm's fingerprint authentication only works with a Windows Biometric Framework device
It also has limited import capability.
There are many details to fill when setting it up and this can be too much for beginners.
READ ALSO: Full Review of GlassWire Firewall Software – Extreme Network Monitoring
RoboForm Features
Asides credentials and password management, RoboForm has other features. Let's glance through a few of them.
Free Version: RoboForm allows you to use its free version without placing a limit on the number of times you can use it or the amount of data you can save.
Top-Notch Security: RoboForm uses AES 256 bit encryption and only decrypts your data locally, at the device level. This means that the company has no way to access your passwords or data. You can add extra security to your account by using Two Factor Authentication.
Password Generator: RoboForm's password generator can help you to generate random, strong, and unique passwords with a click on your device.
Smart Form Filler: It saves you the stress of filling forms by automatically filling the forms with your details.
Browser Extensions: RoboForm has developed browser extensions that can be easily integrated with popular browsers like Firefox, Google Chrome, Microsoft Edge, and Safari.
Data Sharing: With RoboForm, you can confidently share your passwords and data with anyone you choose to.
World-Class Support: RoboForm's support team has very friendly and professional staff with fast response time.
Cross-Platform: You can use RoboForm on Windows, Mac, Linux, Chrome OS, iOS, and Android.
Pricing
RoboForm's prices are pocket-friendly. You can always use the free plan if you don't need the premium features.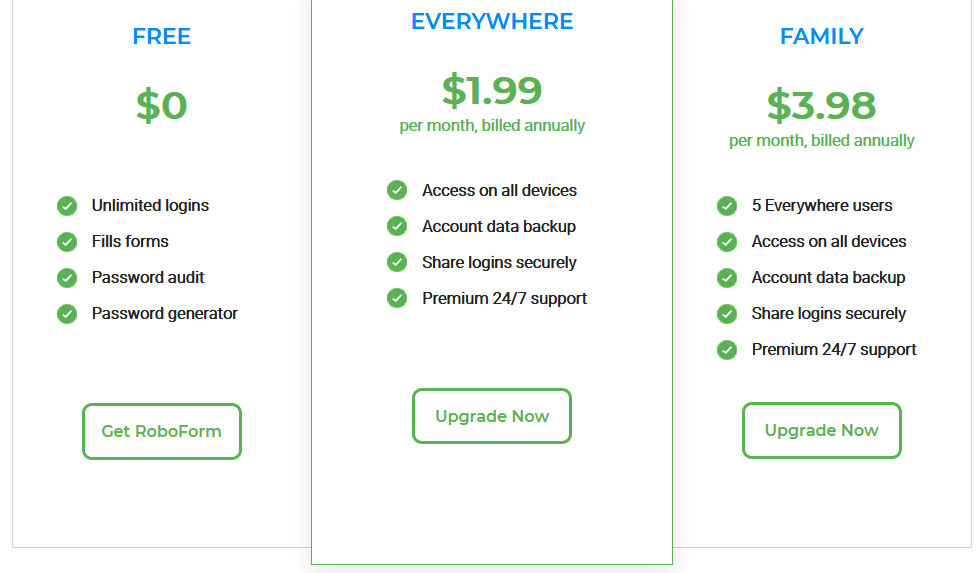 To subscribe to RoboForm Everyday, you'll only need to pay $23.88 per year ($1.99 monthly). RoboForm Family allows you to use up to 5 users at a rate of $47.75 yearly ($3.98 monthly).
As a business owner, you only have to pay for the RoboForm Business according to the number of employees you have. RoboForm Business charges $29.95 yearly ($2.50 monthly) per user employee accounts.
Support Details
You can always contact RoboForm support via free online support, live chat during working hours (this requires a separate subscription) or request a callback on any support issue. Its support team has a fast response time. You can also open a ticket here.
You can also go through RoboForm's articles in the help center or read its manual. Connect with Roboform on social media via Facebook, Twitter and Youtube.
Conclusion
With this RoboForm review, you should be able to identify its exciting features and make a purchase decision. Although RoboForm is one of the secure password manager available; however, it incorporates unique pricing plans tailored for both individual and multiple usages.
Get RoboForm Free
RELATED POSTS