Here, we will show you the Incogni review.
Surfshark is very popular for its VPN and is very particular about people's privacy. To help customers delete their data from different online databases and regain control of who should have access to their data, Surfshark created a new privacy tool called Incogni. 
So, what exactly is Incogni? How does it work? How do you get started? Is it safe? Well, these questions and more will be answered in today's Incogni review. 
If you don't miss out on any detail, read till the end.
What Is Incogni?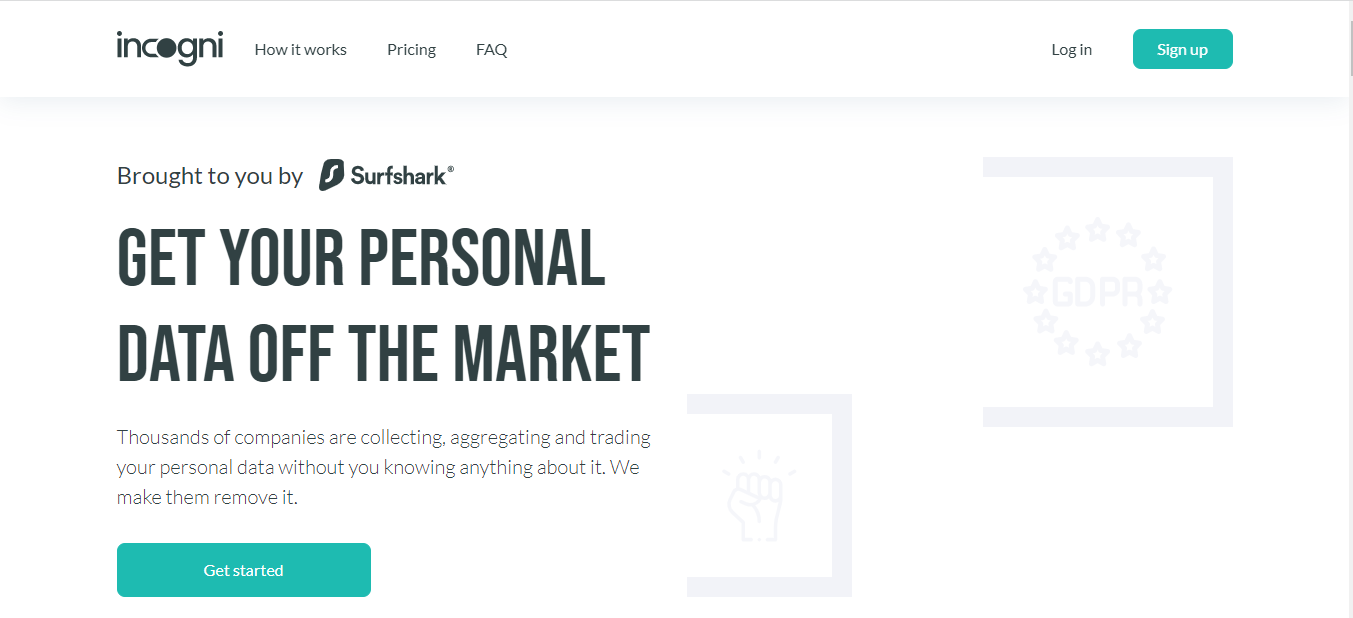 Incogni is a privacy tool built by the RnD team of the cybersecurity company, Surfshark. It is aimed at securing the digital lives of people and enhancing their privacy.
This privacy tool acts as a proxy and upon customers' request periodically sends official data removal requests to data brokers. The process of the request can be followed by users through an online dashboard. 
They will get to know how many companies were contacted, which company is in the process of deleting the data and which companies have agreed to delete it.
Incogni is a Surfshark tool, but it's different from the popular Surfshark VPN. You can't log in to an Incogni account with a Surfshark VPN account and vice versa.
===>> Get Incogni
How Does Incogni Work?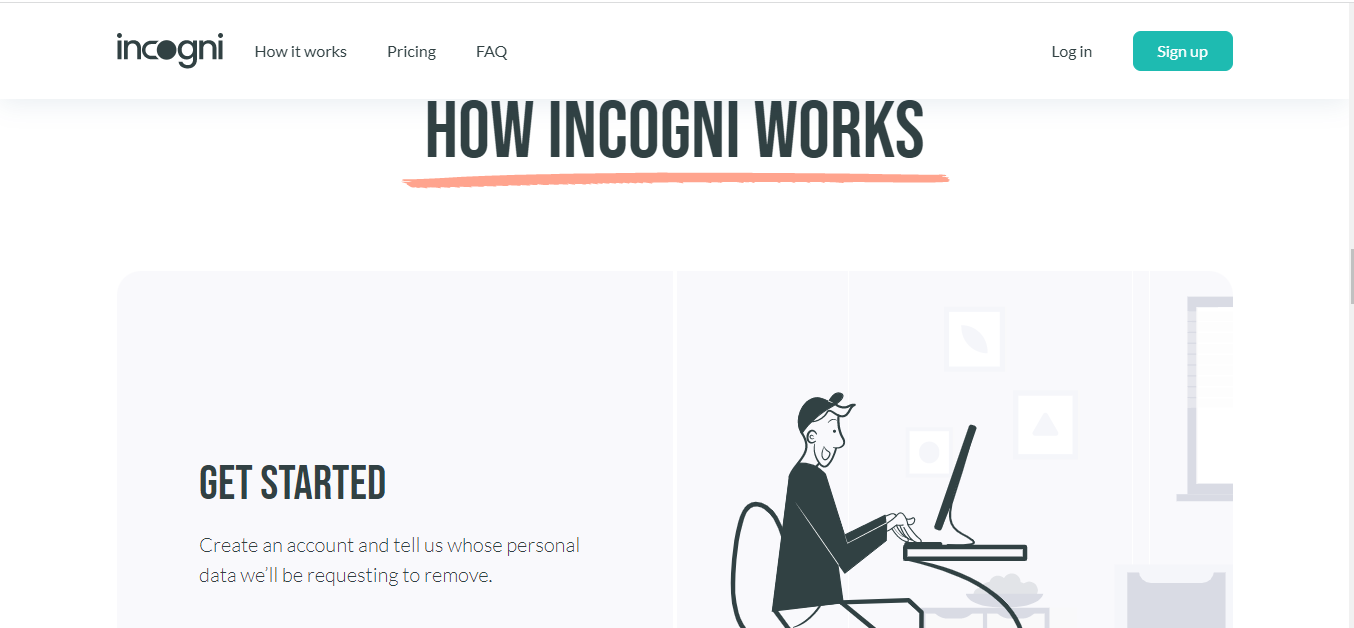 Once you've registered by filling out a contact form, signing a power of attorney document, and confirming your email, the Incogni team, using your details, contacts data brokers.
Then Incogni predicts which broker will have your data using an algorithm and then, on your behalf, sends requests that they delete your personal data from their databases.
After the request has been sent, it then reports the responses of the data brokers but can't validate that your data has been removed. However, the requests are made in line with the General Data Protection Regulation (GDPR) and the California Consumer Privacy Act (CCPA), which come with massive fines when flaunted.
These data removal requests will be sent as often as required. At present, Incogni can only send these requests to more than 130 brokers, and they plan to increase the number in the future.
How To Get Started With Incogni
Click on Get Started and in the redirected page create an account by providing your email address and password. You will need to retype the password for confirmation. Once you've created an account, you will receive two emails. The first welcoming you and the other requesting that you verify your email address. 

Click on the Verification mail and verify your email address.

Next, fill out the contact form with your full name and address. This is to help Incogni in sending out the data removal requests on your behalf.

Sign the limited power of attorney document. This grants Incogni the limited power to make the requests in your name.

Subscribe for either the monthly or annual plan and you are good to go. 
Incogni Features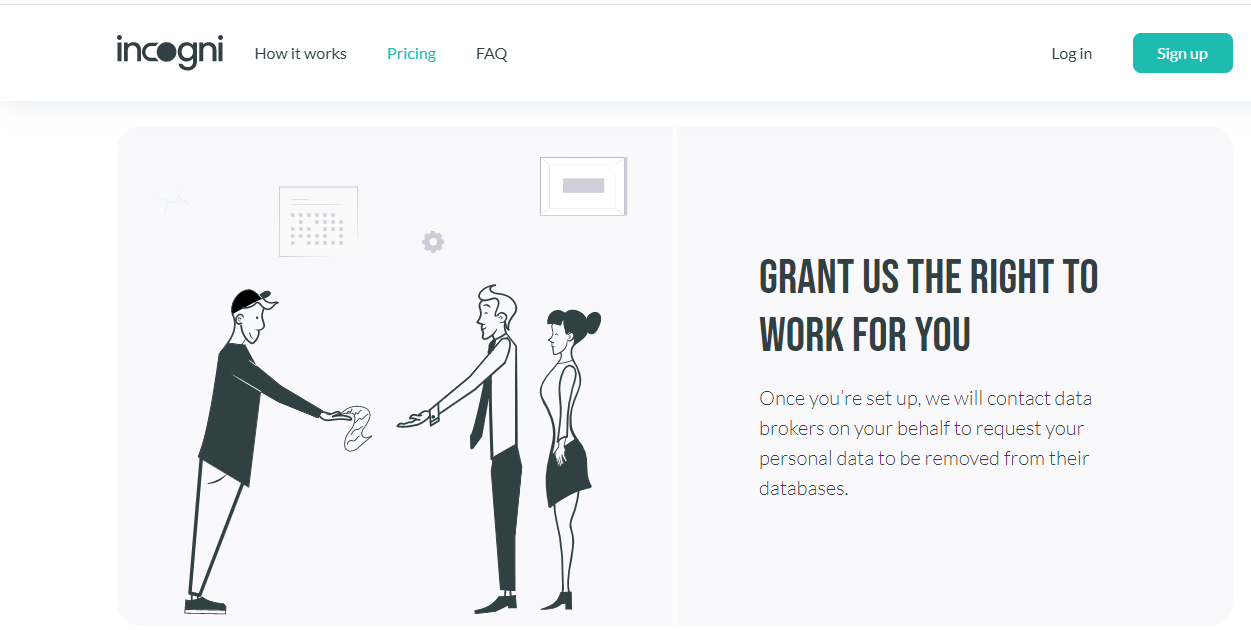 Easy to Set up
The process of starting up with Incogni is not difficult at all and you can complete the process at any time you want. Following the whole request process can be done for your browser and you don't need to do anything, Incogni will do all the work for you.
Accessible from any Device or Browser 
The Incogni online dashboard can be accessed from any device, be it a mobile device or desktop, and on any browser. This includes Chrome, Edge, Firefox, Linux, Windows, macOS, iOS, and Android. All that would be required is your email address and password to log in.
Privacy Recovery
Data brokers are always watching and taking as much personal data as they can get. They also don't mind because they know going through the process of reclaiming your data is long and stress-free.
Additionally, Incogni helps you to recover your privacy and ensures that these data brokers delete your data from their database. This is typical since Incogni is powered by Surfshark, a privacy-focused company.
Response Tracking
Users have the opportunity to track the response and know which company has been contacted, which has complied with the request, which is still in progress, and which was rejected. The response is displayed in the dashboard as All, Completed, In Progress, and Rejected. Incogni also ensures that status summaries are sent from time to time to users via email.
Incogni Apps & Extensions 
Incogni doesn't have any app or extension. However, users can monitor the progress of the data removal requests through an online dashboard. Regularly, Incogni also sends status summaries to users via email.
READ ALSO: What Is A Data Broker? [Including Best Data Removal Service]
Incogni Customer Support & Resources

If you have any questions regarding this data protection service or you need to send your feedback, you can reach the Surfshark support via email at any time.
In fact, for this Incogni review, we sent inquiries at different times and we got response from their customer support team almost immediately. There is also a Help Center where you can find answers to common questions. The FAQ section is also full of detailed questions and answers.
Incogni Pricing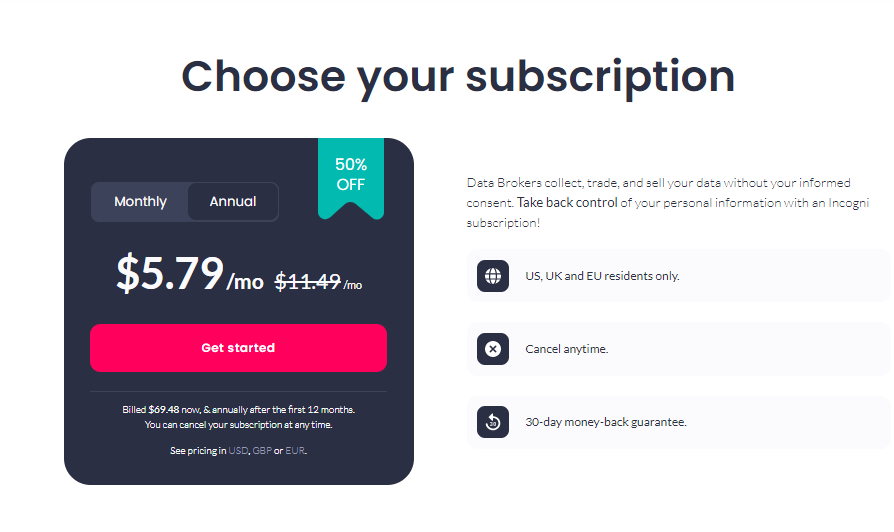 Incogni is a premium service, and it doesn't have any free versions. You can subscribe monthly or annually, and the monthly plan costs $11.49. However, the annual plan is more affordable and helps subscribers save 50 percent. It costs $5.79/month, which is $69.48 annually.
You can cancel your subscription at any time and it comes with a 30-day money-back guarantee.
===>> Get Incogni
Incogni Pros
Easy to set up and use

Wildest geographical coverage

It is available for the US, EU, UK, and Switzerland 

Sends official removal requests on users' behalf to data broker companies

Supports data removal results for over 130 data brokers 

Responses can be tracked

30-day money-back guarantee

Subscription can be canceled at any time

Repeats removal requests.
Incogni Cons
No free version

You can not access your Surfshark VPN account from Incogni and vice versa. Although they are from the same company; they are two systems that are not linked together.
Incogni Review: Frequently Asked Questions
Is Incogni Safe?
Incogni is a new privacy tool in the cybersecurity market, but it is completely legitimate. Several companies collect, aggregate, and trade the personal data of people online without them being able to do anything about it. Incogni makes these companies remove people's data from their online databases. Your data in the hands of data brokers is what's unsafe. It's already out there, and Incogni only helps you delete them, without retaining any itself.
Is Incogni Legit?
Although Incogni is a new privacy tool in the cybersecurity market it is very much legit. It helps customers to get their personal data off the hands of brokers. It's a tool from Surfshark, a leading cybersecurity company that is renowned for having one of the best VPNs. The new Incogni tool further reaffirms the company's objective of maintaining user privacy.
Is Incogni Free? 
Incogni is not free but based on monthly or annual subscriptions. The platform offers a specialized service that is expensive to maintain. As a result, the service can not be free. Nevertheless, users can also opt out of their subscription at any time and, upon purchase, can try the privacy tool out for 30 days and get their money back if they don't like it.
What Regions Is Incogni Available In?
Incogni is available in the US, EU, UK, and Switzerland at the time of writing this Incogni review. Not many competing companies have this much coverage. The service is dependent on the local data handling legislation. As a part of the CR Digital Lab Initiative, Incogni works together with several companies to develop a Data Rights Protocol for customers to exercise their rights over their data under the CCPA (California Consumer Privacy Act).
Wrapping Up The Incogni Review 
Incogni by Surfshark is a privacy tool that acts as a proxy and sends out data removal requests to several data brokers at the same time, reporting on their responses. It's a new tool that is safe and legit, but it is not free. While it has pros and cons, it is, overall, an excellent data privacy tool.
===>> Get Incogni
---
INTERESTING POSTS