Here, we will show you the Incogni review.
Surfshark is very popular for its VPN and is very particular about people's privacy. To help customers delete their data from different online databases and regain control of who should have access to their data, Surfshark created a new privacy tool called Incogni. 
So, what exactly is Incogni? How does it work? How do you get started? Is it safe? Well, these questions and more will be answered in today's Incogni review. 
If you don't miss out on any detail, read till the end.
What Is Incogni?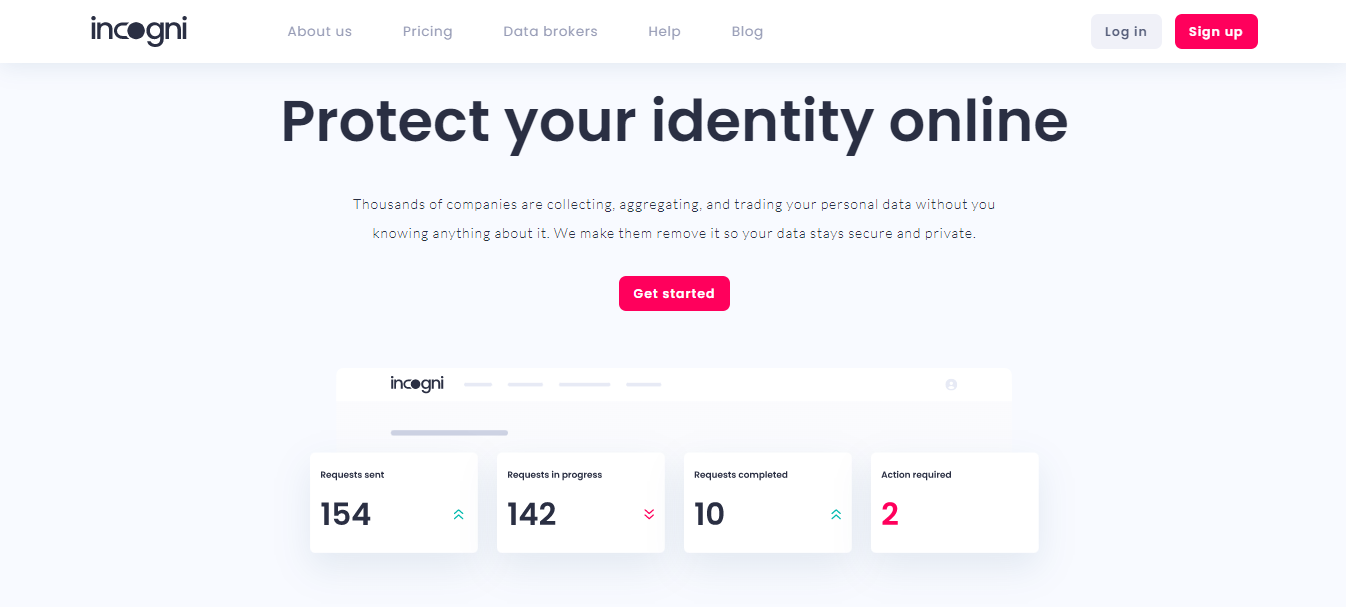 Incogni is a privacy tool built by the RnD team of the cybersecurity company, Surfshark. It is aimed at securing the digital lives of people and enhancing their privacy.
This privacy tool acts as a proxy and upon customers' request periodically sends official data removal requests to data brokers. The process of the request can be followed by users through an online dashboard. 
They will get to know how many companies were contacted, which company is in the process of deleting the data and which companies have agreed to delete it.
Incogni is a Surfshark tool, but it's different from the popular Surfshark VPN. You can't log in to an Incogni account with a Surfshark VPN account and vice versa.
===>> Get Incogni
---
Only for Black Friday, take and keep your personal information off data broker sell-lists with a 60% off a one-year subscription to Incogni. Use code INCOGNI60 at checkout before the 4th of December 2022 and claim this special discount while you can!
---
How Does Incogni Work?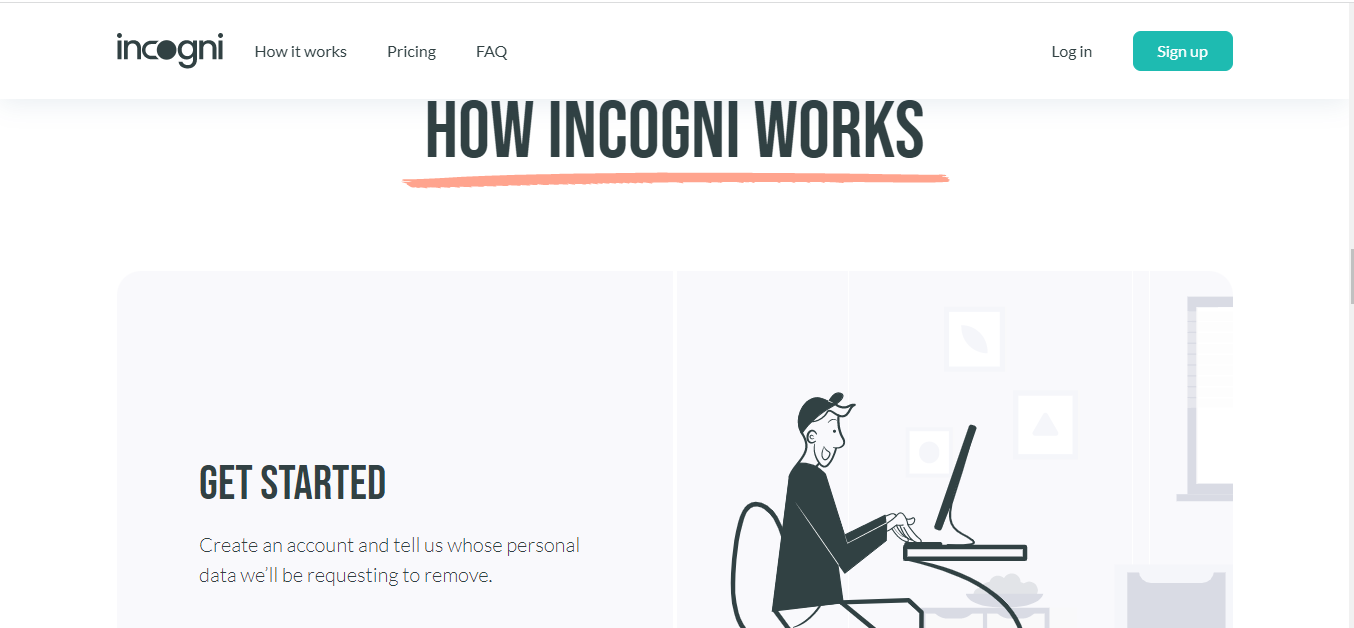 Once you've registered by filling out a contact form, signing a power of attorney document, and confirming your email, the Incogni team, using your details, contacts data brokers.
Then Incogni predicts which data broker will have your data using an algorithm and then, on your behalf, sends requests that they delete your personal data from their databases.
After the request has been sent, it then reports the responses of the data brokers but can't validate that your data has been removed.
However, the requests are made in line with the General Data Protection Regulation (GDPR) and the California Consumer Privacy Act (CCPA), which come with massive fines when flaunted.
These data removal requests will be sent as often as required. During the process of writing this Incogni review, we observed that Incogni can only send these requests to more than 130 data brokers, and they plan to increase the number in the future.
How To Get Started With Incogni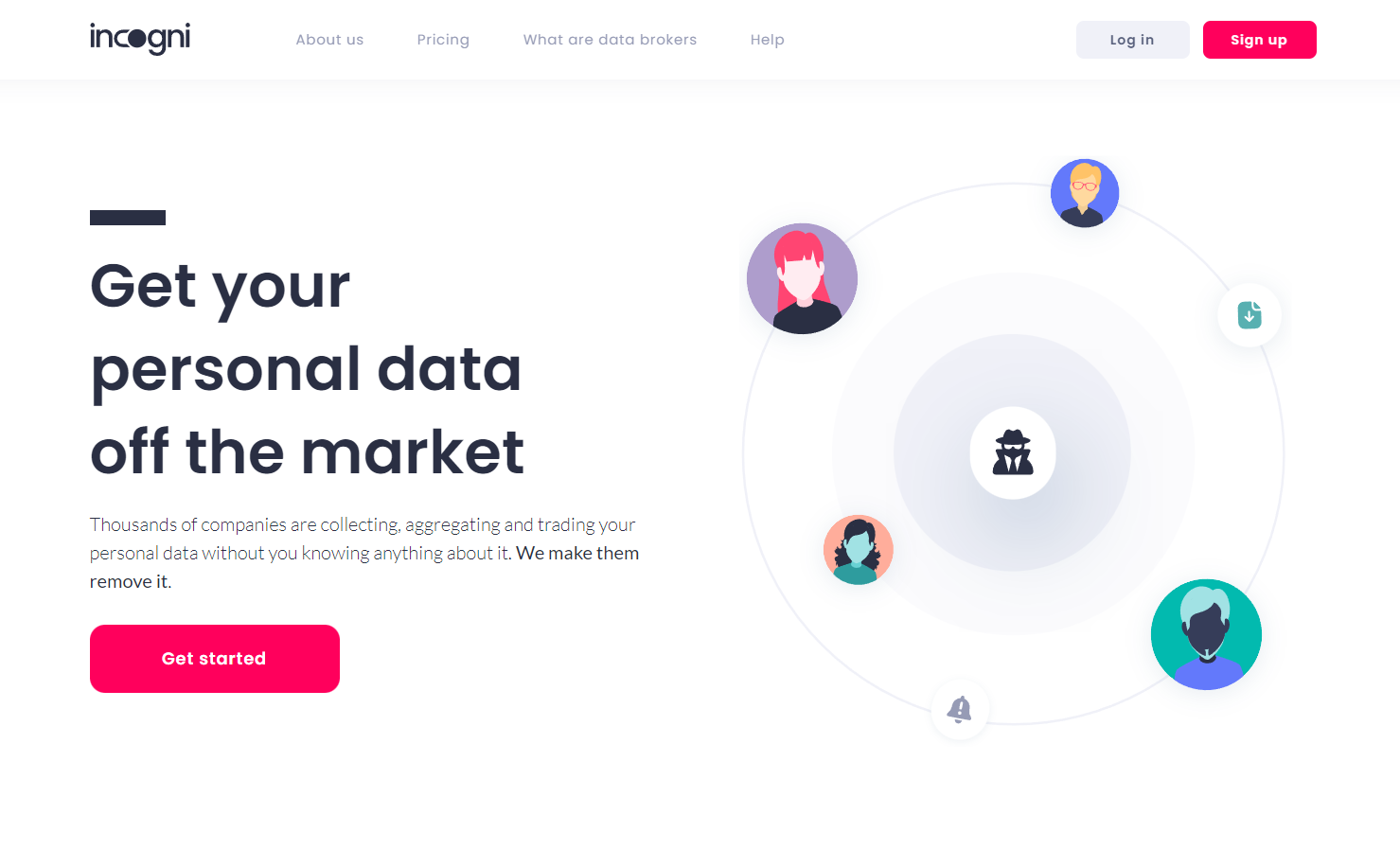 Click on Get Started and on the redirected page, create an account by providing your email address and password. You will need to retype the password for confirmation.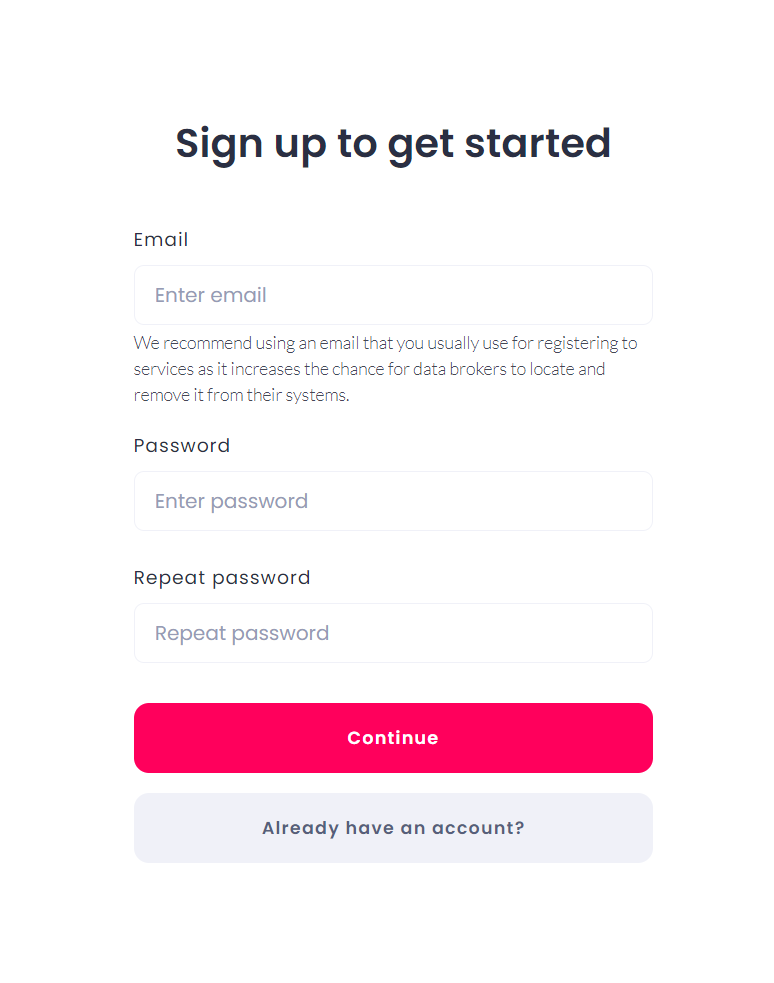 Next, fill out the contact form with your full name and address. This is to help Incogni in sending out the data removal requests on your behalf.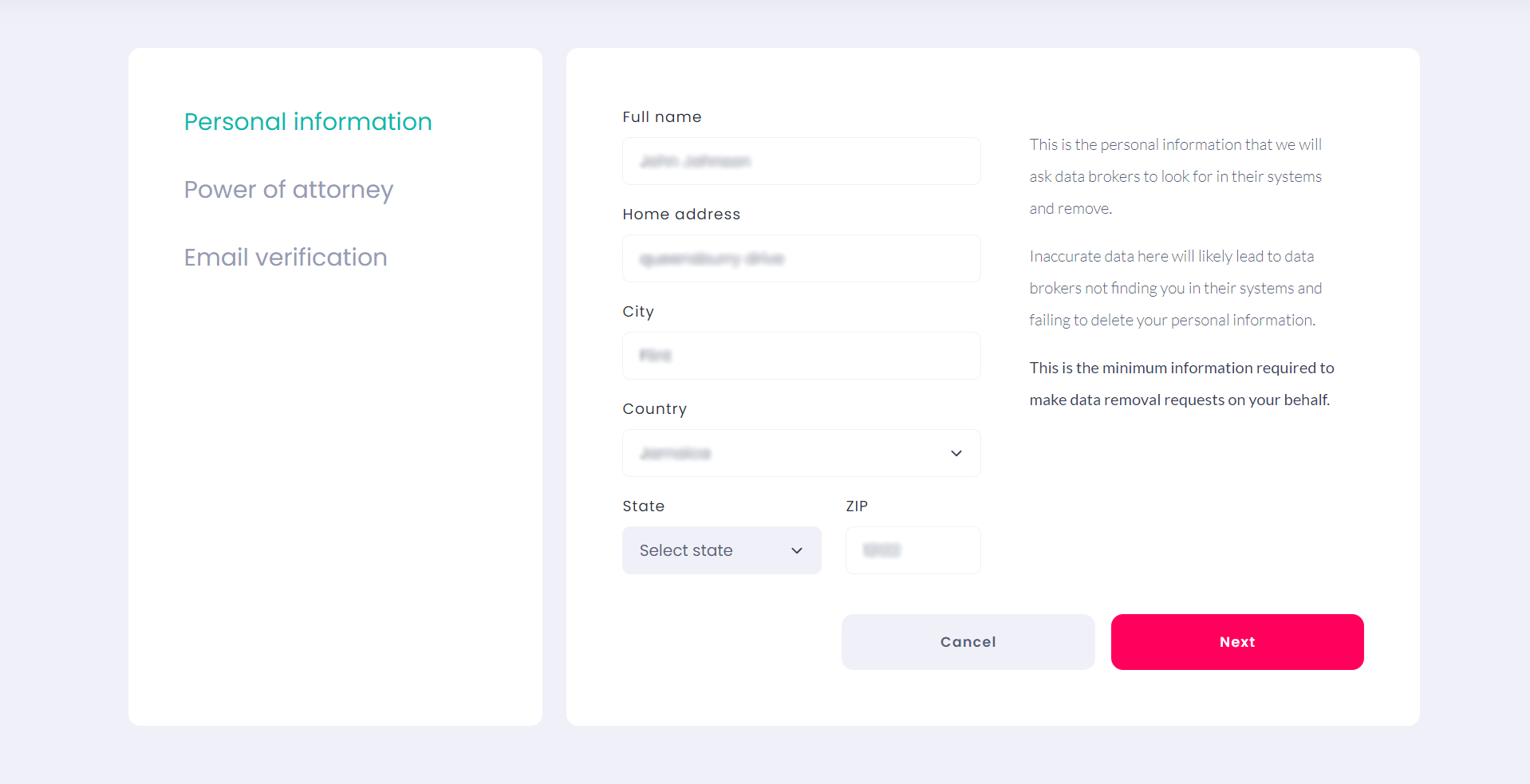 Sign the limited power of attorney document. This grants Incogni the limited power to make the requests in your name.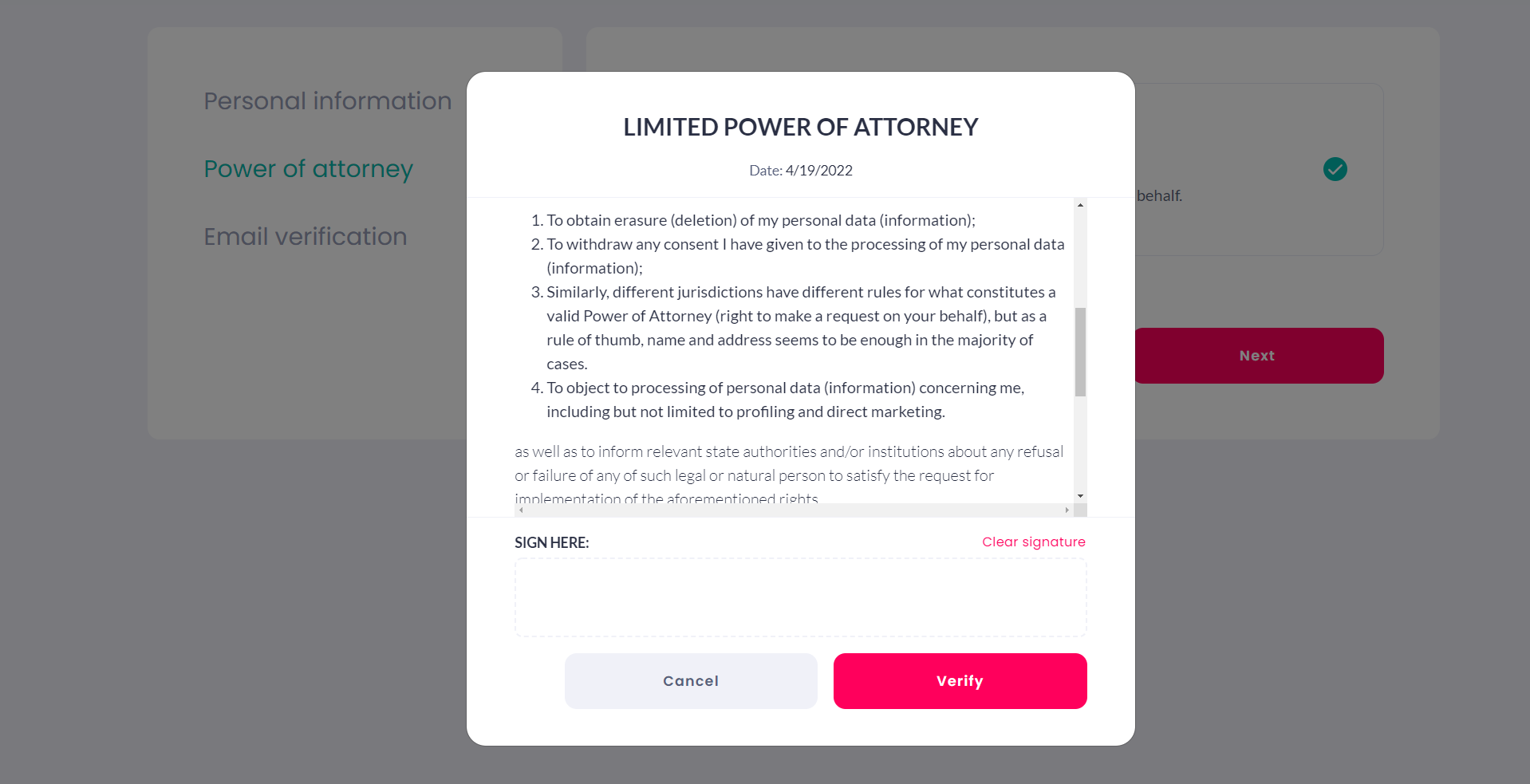 Once you've created an account, you will receive two emails. The first email welcomes you and the other email requests that you verify your email address.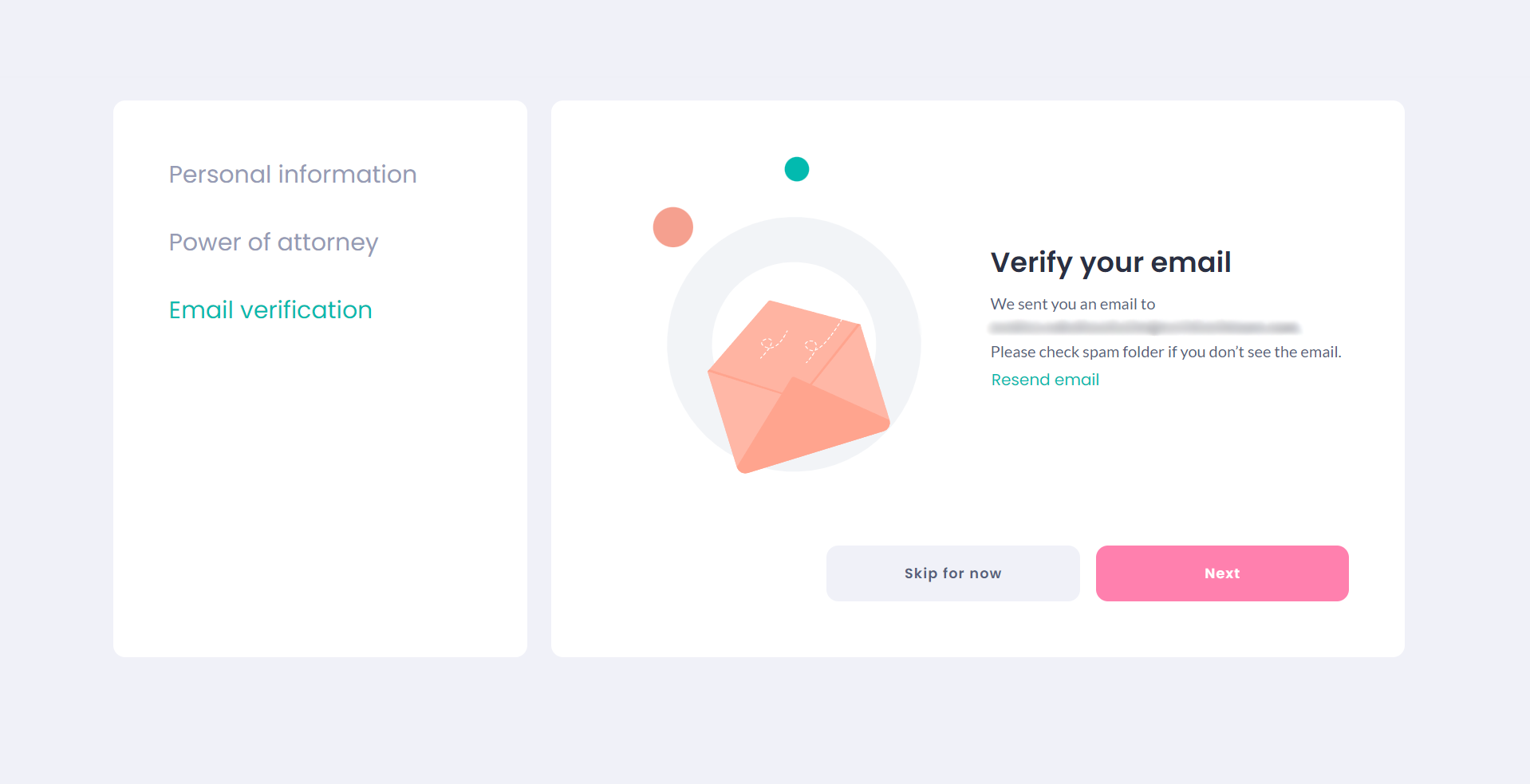 Click on the Verification mail and verify your email address.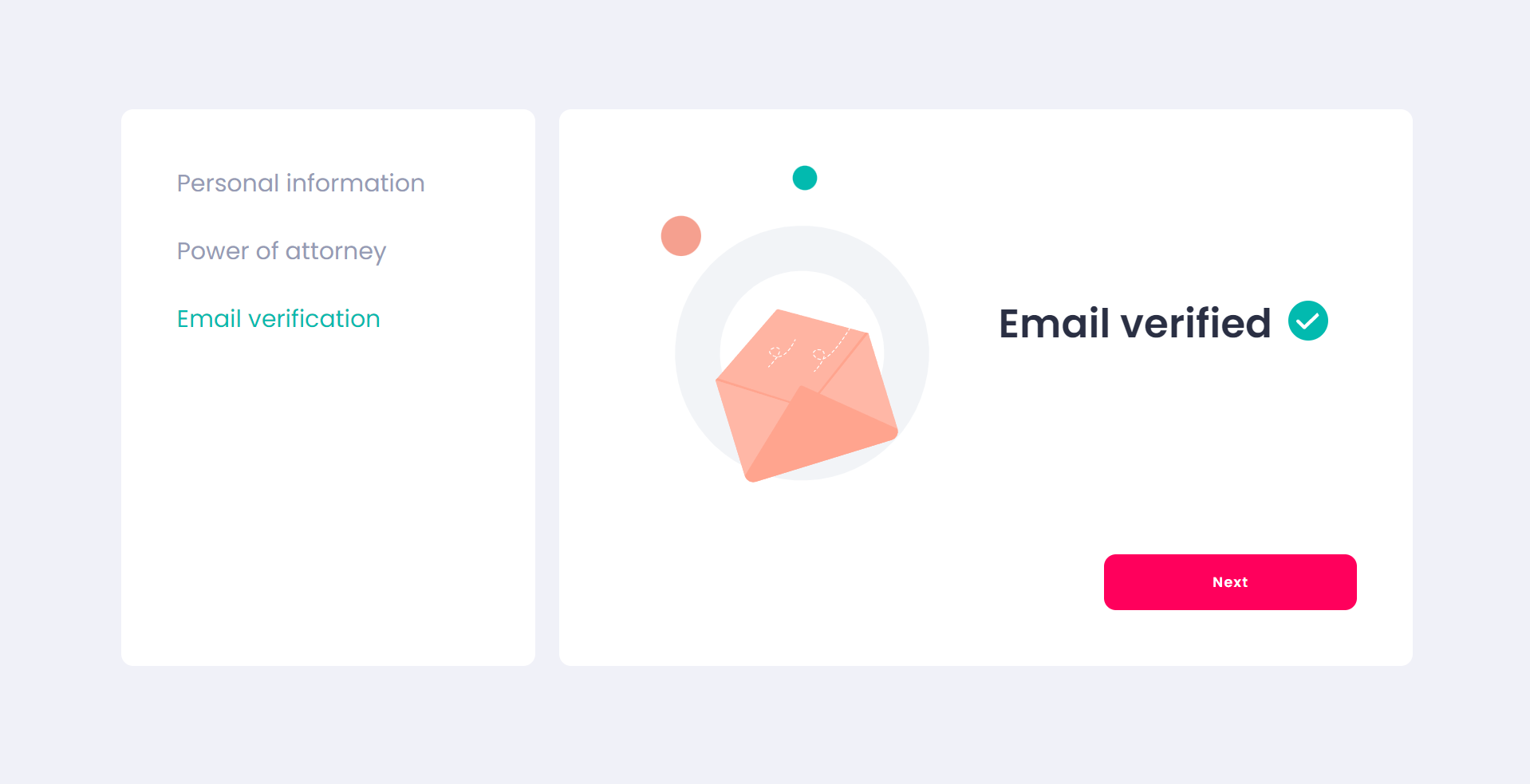 Subscribe for either the monthly or annual plan.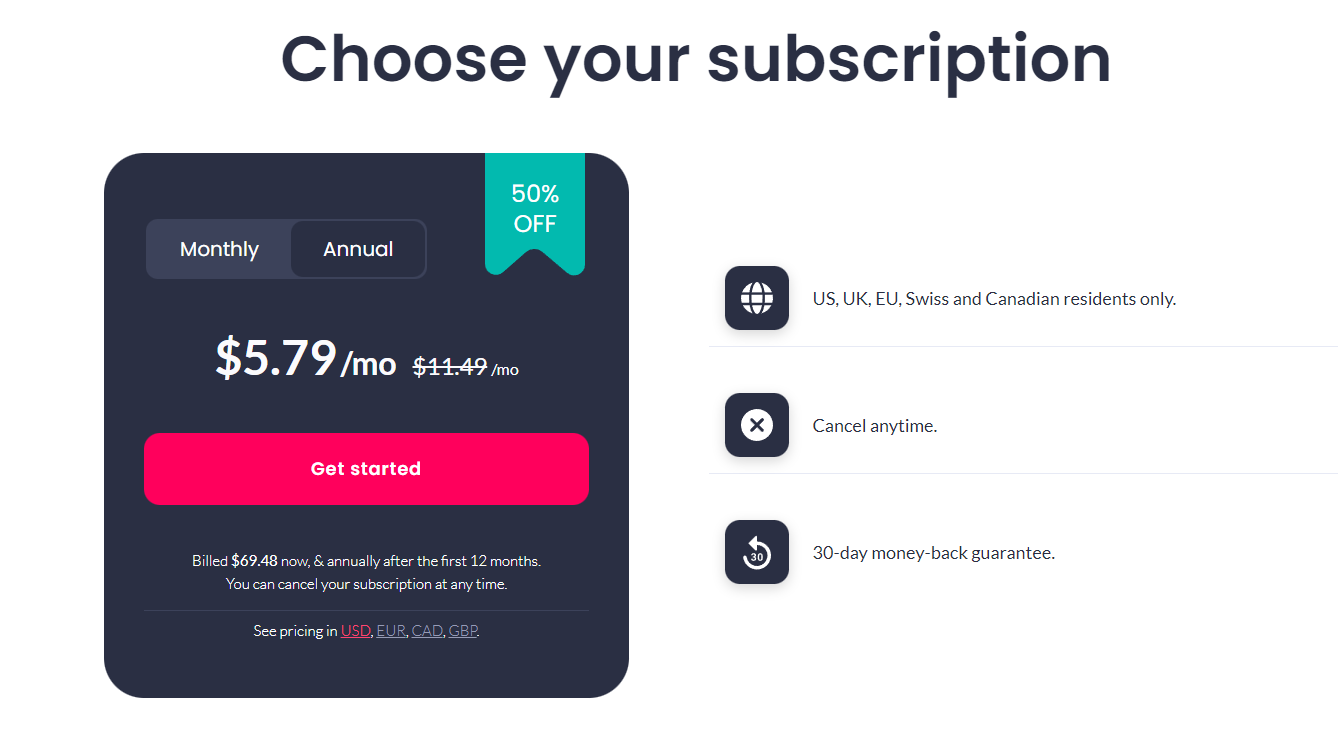 Once the payment is confirmed, you are good to go.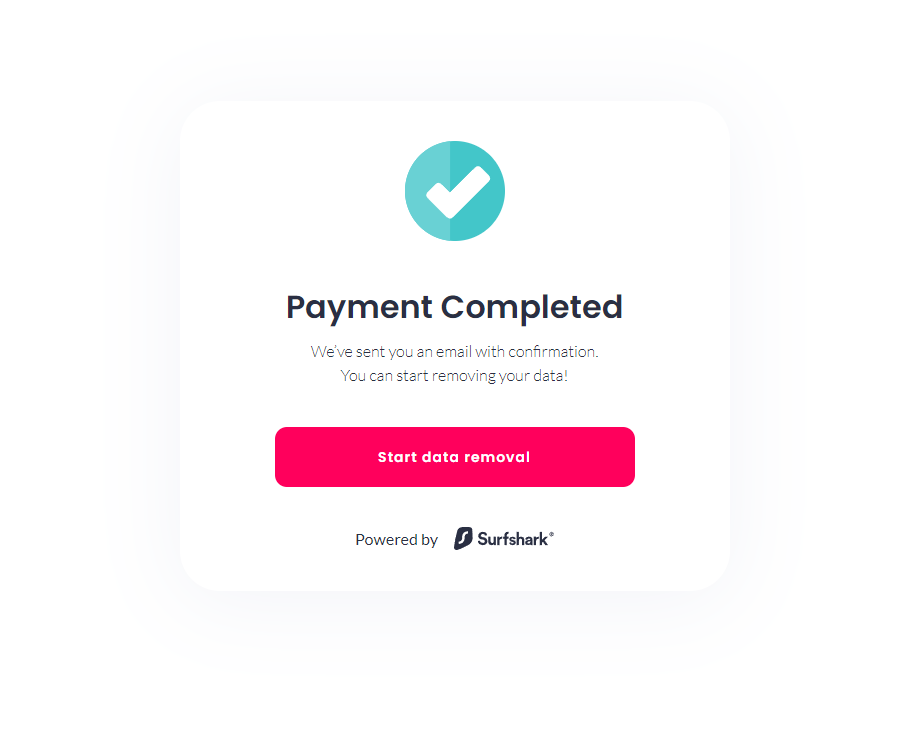 ---
Only for Black Friday, take and keep your personal information off data brokers sell-lists with a 60% off a one-year subscription to Incogni. Use code INCOGNI60 at checkout before the 4th of December 2022 and claim this special discount while you can!
---
Incogni Features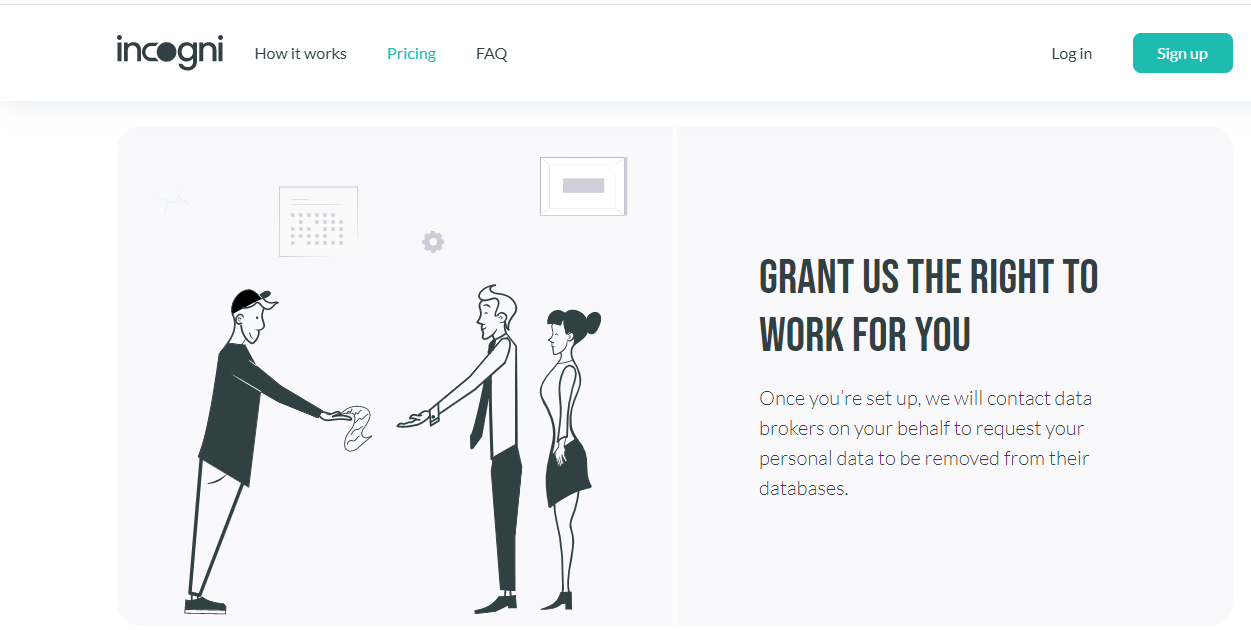 Easy to Set up
The process of starting up with Incogni is not difficult at all and you can complete the process at any time you want.
In fact, for this Incogni review, I was able to set up my Incogni account within 5 minutes and authorized Incogni to remove my personal information from public data broker platforms.
Following the whole request process can be done for your browser and you don't need to do anything, Incogni will do all the work for you.
First, you'll create an account using your email. The website will prompt you to enter a password, which you'll repeat for confirmation. Afterward, you click the continue button.
Note that you can only complete this quick registration process if you're in a supported country. As you'll find out later on, Incogni is only available in select countries.
To complete your registration, Incogni will send a verification email to your inbox. All you have to do is open the mail and click on the verification link. Once the link loads, you'll get a message that your account is confirmed.
Then, you have to complete the remaining registration steps. This includes entering your name and other details, which the tool will use to find your data across the web.
Intuitive Dashboard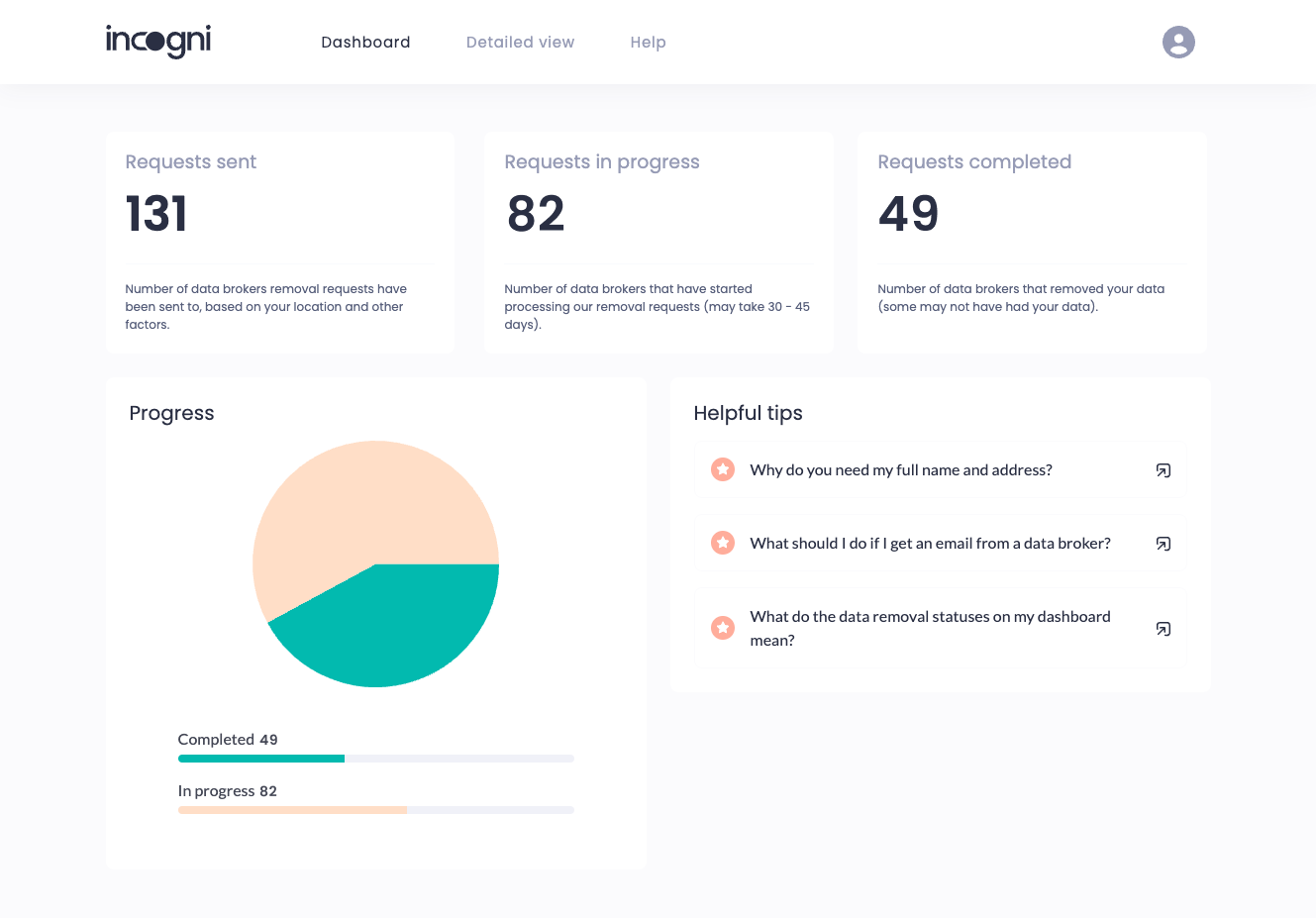 One of the first things you'll notice after creating your Incogni account is the intuitive dashboard. Thanks to this, you can start using the tool right away without much learning.
From the dashboard, you get an overview of your data removal requests. The top section of the dashboard displays four sections: All, Completed, In Progress, and Rejected. Already, you can deduce what these sections represent.
The All section displays all data brokers that you can reach via Incogni. The Completed section displays all successful data removal requests and the associated data brokers.
Meanwhile, the In Progress section displays data removal requests under processing, and the Rejected section displays failed removal requests.
Furthermore, the dashboard supports a detailed view. When you switch to the detailed view, you get a more in-depth overview of your data removals.
In particular, you get details of the data brokers, including what type of data they collect and your request status with each one.
Notably, the detailed view gives you a data sensitivity rating of each broker. This rating is displayed using skulls. What it represents is the level of sensitive data a broker collects. Hence, data brokers that collect highly private data will have the most skulls.
Accessible from any Device or Browser 
The Incogni online dashboard can be accessed from any device, be it a mobile device or desktop, and on any browser.
As at the time of composing this Incogni review, we confirmed that supported web browsers include Chrome, Edge, Firefox, Linux, Windows, macOS, iOS, and Android. All that would be required is your email address and password to log in.
However, note that Incogni doesn't have a downloadable application. In other words, you can only use the tool via a browser. There are no Android or iOS applications to install on your mobile phone.
Nevertheless, the Incogni dashboard is optimized to work on both mobile and desktop browsers. It adjusts to fit the screen on any device. All you need is a modern browser like Chrome, Firefox, Opera, Safari, or Edge.
Privacy Recovery
Data brokers are always watching and taking as much personal data as possible. They also don't mind because they know going through the process of reclaiming your data is long and stress-free.
Additionally, Incogni helps you to recover your privacy and ensures that these data brokers delete your data from their database. This is typical since Incogni is powered by Surfshark, a privacy-focused company.
Incogni starts recovering your privacy from Day 1 after you register. After supplying your personal details, the tool messages all data brokers it connects for identification.
You should start getting responses from the data brokers. Typically, the data brokers will identify your data on their website and start the removal process. Complete data removal will take around one month with Incogni.
This is a lot faster than if you contact the data brokers yourself. Not to mention, the tool contacts many data brokers at a time. That's not all. Incogni also sends you weekly updates reports, keeping you informed on the progress of your removal requests.
Automation
Imagine sitting in front of a computer all day, messaging data broker after data broker to remove your data. You can define that with one word: Stress.
You don't have to manually send official data removal requests by using Incogni. Thankfully, Incogni will send data removal requests on your behalf to data brokers with your personal data using the power of attorney.
The tool automates the entire data removal process. After you finish setting up your account and supplying your personal data, you can shut down your computer and do other things.
Incogni will automatically contact the data brokers, keep track of the removals, and inform you when it's completed. You don't even have to log in to your dashboard if you don't have the time. You'll get emails from time to time, updating you on the status of your data removals.
Furthermore, Incogni performs regular rechecks. That a data broker deleted your information from their website doesn't mean they won't upload it again.
Therefore, Incogni automatically rechecks the data broker websites from time to time to ensure your data isn't re-uploaded.
Response Tracking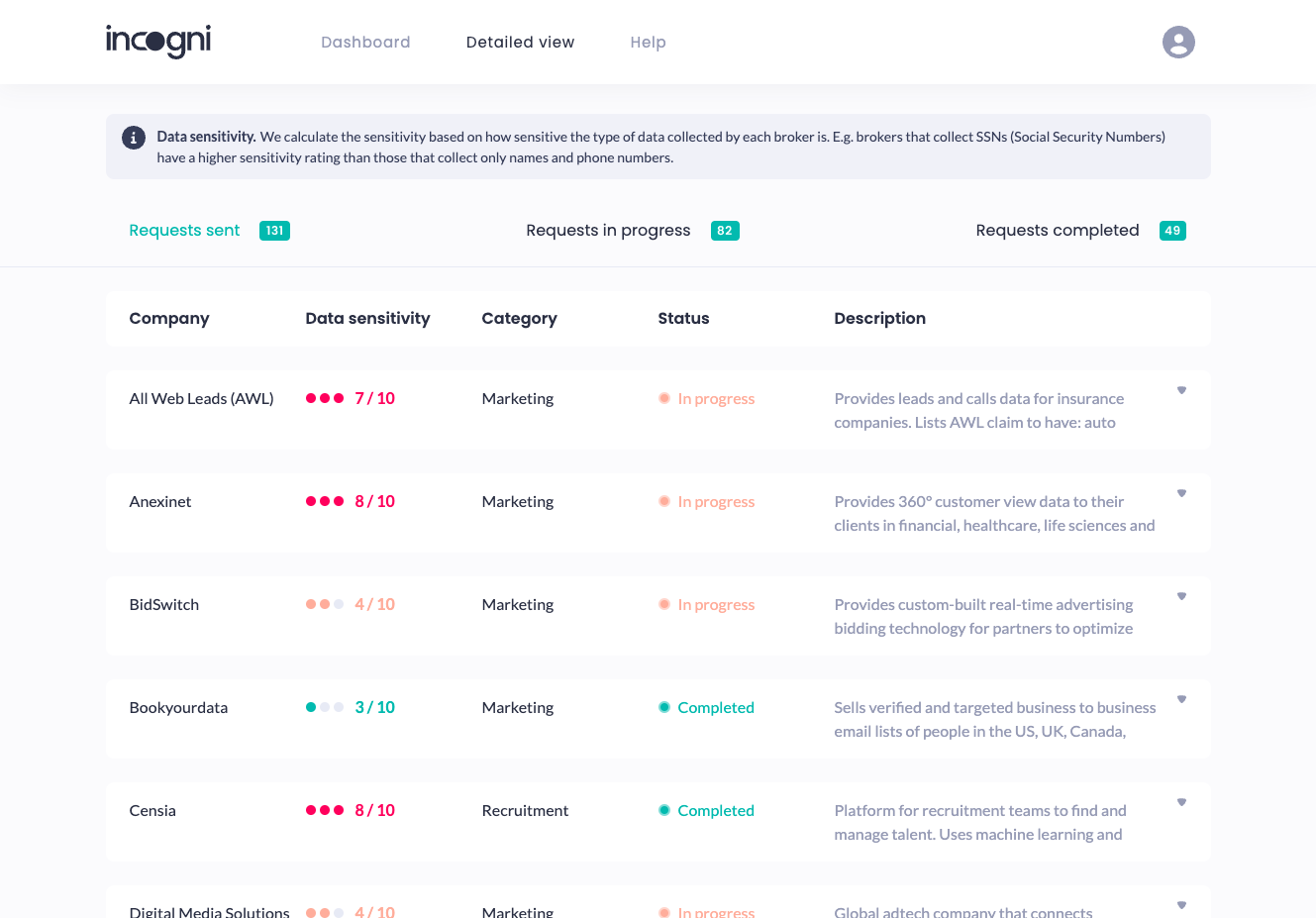 Users have the opportunity to track the response and know which company has been contacted, which has complied with the request, which is still in progress, and which was rejected.
The response is displayed in the dashboard as All, Completed, In Progress, and Rejected. Incogni also ensures that status summaries are sent from time to time to users via email.
Most data brokers delay in handling data removal requests. This is usually because they get lots of requests to deal with. However, other data brokers are simply slow and unwilling to remove data on their websites.
Nevertheless, the data rights protocol demands that data brokers respond to removal requests within forty-five days. Therefore, Incogni will follow up on the requests until there's a response. If there's none, the tool will issue a re-request.
Incogni Apps & Extensions 
We discovered that Incogni doesn't have any app or extension during this Incogni review. However, users can monitor the progress of the data removal requests through an online dashboard. Additionally, Incogni also sends status summaries to users via email frequently.
READ ALSO: What Is A Data Broker? [Including Best Data Removal Service]
Incogni Customer Support & Resources

If you have any questions regarding this data protection service or you need to send your feedback, you can reach Surfshark support via email at any time.
In fact, for this Incogni review, we sent inquiries at different times and got a response from their customer support team almost immediately.
There is also a Help Center where you can find answers to common questions. The FAQ section is also full of detailed questions and answers.
Incogni Pricing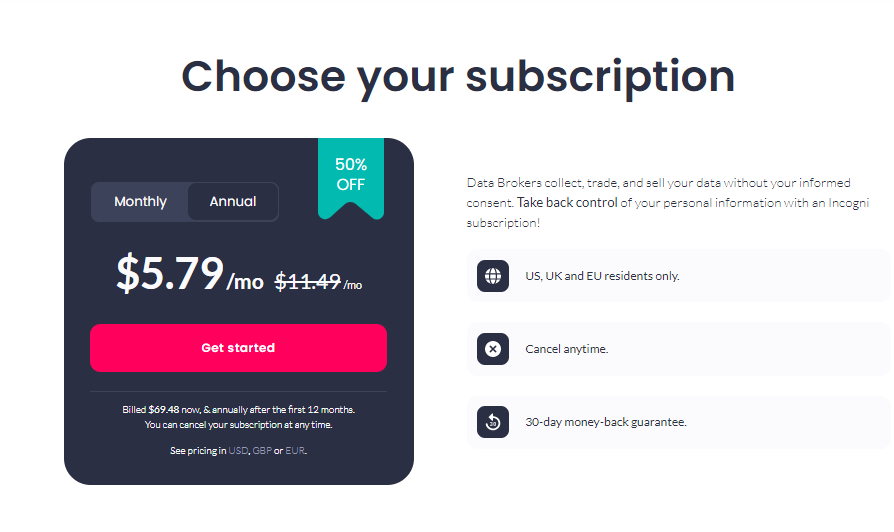 Incogni is a premium service, and it doesn't have any free versions. You can subscribe monthly or annually, and the monthly plan costs $11.49.
However, the annual plan is more affordable and helps subscribers save 50 percent. It costs $5.79 per month, which is $69.48 annually.
You can cancel your subscription at any time and it comes with a 30-day money-back guarantee.
===>> Get Incogni
---
Only for Black Friday, take and keep your personal information off data broker sell-lists with 60% off a one-year subscription to Incogni. Use code INCOGNI60 at checkout before the 4th of December 2022 and claim this special discount while you can!
---
Incogni Review: Which Incogni Pricing Plan Should You Go For?
You'll agree that you'll save money when you pay for Incogni annually than if you pay monthly. Therefore, the annual pricing plan is ideal to subscribe to. But it's not only because it helps you save money.
It's ideal to pay annually because most data removal requests take more than a month to complete.
As mentioned earlier, data brokers are mandated by protocol to reply within forty-five days. If your subscription expires while you're yet to get a response, your data will remain on the broker's website.
Furthermore, after a data broker removes your data, it's still possible for them to reupload it. This is why Incogni performs regular checks to confirm your data isn't back on their sites.
Incogni can only perform these routine checks for your data if you have an active subscription.
Therefore, you need a subscription that runs for months if you want to take full advantage of Incogni services.
At $11.49 monthly, it would be expensive to pay for Incogni month after month. On the other hand, the annual plan will cost you $5.79, which is fifty percent off the monthly plan.
Can You Cancel Your Incogni Subscription?
The good thing about an Incogni subscription is that you can cancel it at any time. By default, the subscription will automatically renew.
However, canceling subscriptions is more advisable for monthly than annual subscriptions. If you cancel your annual subscription, you may be at a loss.
Annual subscriptions are charged at once. Incogni annual subscription costs $5.79 per month, which means you'll pay $69.48 at once for twelve months.
If you cancel your subscription before the twelve months are complete, you won't get a refund. Thus, you'll be at a loss.
For example, suppose you cancel your subscription after five months. In that case, you've only used $28.95 worth of your subscription. You'll be at a loss of $40.53, which is a lot.
If you must cancel your annual subscription, do so towards the eleventh or twelfth month. That way, you get more value for your money.
Canceling your Incogni subscription is easy, although it's a manual process. You have to message the Incogni support team via email at support@incogni.com. In your message, state your intent — to cancel your subscription.
You should get a response within twenty-four hours after you send the email. The support team will walk you through a straightforward process to finalize your subscription cancellation.
Does Incogni Store Your Data?
To remove your data from data broker websites, Incogni requires you to provide some information. Hence, you may wonder if the platform stores your data. The answer is yes.
Incogni does store your data, but at no risk on your part. In addition, you can request removal at any time.
Incogni collects three types of data from you. It collects your device information, personal data, and account information. The most sensitive of the three is personal data.
However, note that Incogni only requests your personal data so it can identify it on data broker websites. In other words, without knowing your data, there's no way the tool can remove it on broker websites.
Before you supply your data and Incogni begins to scan data broker websites, you usually need to sign an authorization form. Hence, the platform isn't taking your data without your consent. This proves that the platform is legal.
In some cases, you may need to provide further information. This is typical if Incogni finds your info on websites with more than regular info. Once again, it's up to you to decide if you want to share this information or not.
Furthermore, be rest assured that Incogni won't sell your data to third parties. It's ironic even, considering the platform offers a service to remove your data from third-party platforms.
As hinted earlier in this Incogni review, you can request the removal of your data at any time. Usually, this is when you cancel your subscription.
Incogni will delete all personal information you provide once you cancel your subscription. You can re-enter them if you re-subscribe in the future.
===>> Get Incogni
Incogni Pros
Easy to set up and use

Wildest geographical coverage

It is available for the US, EU, UK, and Switzerland 

Sends official removal requests on users' behalf to data broker companies

Supports data removal results for over 130 data brokers 

Responses can be tracked

30-day money-back guarantee

Subscription can be canceled at any time

Repeats removal requests.
Incogni Cons
No free version

You can not access your Surfshark VPN account from Incogni and vice versa. Although they are from the same company; they are two systems that are not linked together.
Incogni Review: Frequently Asked Questions
What Are Data Brokers?
Data brokers are companies that collect and sell information about individuals, including health history and credit scores. This data is usually collected from public sources, such as the internet or websites that you access which suffered from data breaches.
In essence, data brokers collect data from public records, online activity, and social media profiles. Some of the information they collect includes:
name
address
phone number
email addresses
social media profiles
your interests
buying history, etc.
In fact, they may even have access to your medical records.
Your personal data is valuable to data brokers as it can be used to target advertising campaigns at you and create a detailed picture of your life. This can lead to a feeling of being followed and monitored by companies, as well as issues around privacy.
The data brokers then sell this information to companies that use it for marketing campaigns or other purposes. The buyers of this data do not always make public what they do with the information, so there is no way to know exactly how it is being used.
However, Incogni can help you to send official data removal requests to these data brokers to help you keep your personal information safe.
Is Incogni Safe?
Incogni is a new privacy tool in the cybersecurity market, but it is completely legitimate. Several companies collect, aggregate, and trade the personal data of people online without them being able to do anything about it.
Incogni makes these companies remove people's data from their online databases. Your data in the hands of data brokers is what's unsafe. It's already out there, and Incogni only helps you delete them, without retaining any itself.
Is Incogni Legit?
Although Incogni is a new privacy tool in the cybersecurity market it is very much legit. It helps customers to get their personal data off the hands of brokers.
It's a tool from Surfshark, a leading cybersecurity company that is renowned for having one of the best VPNs. The new Incogni tool further reaffirms the company's objective of maintaining user privacy.
Is Incogni Free? 
Incogni is not free but based on monthly or annual subscriptions. The platform offers a specialized service that is expensive to maintain.
As a result, the service can not be free. Nevertheless, users can also opt out of their subscription at any time and, upon purchase, can try the privacy tool out for 30 days and get their money back if they don't like it.
What Regions Is Incogni Available In?
Incogni is available in the US, EU, UK, and Switzerland at the time of writing this Incogni review. Not many competing companies have this much coverage. The service is dependent on the local data handling legislation.
As a part of the CR Digital Lab Initiative, Incogni works together with several companies to develop a Data Rights Protocol for customers to exercise their rights over their data under the CCPA (California Consumer Privacy Act).
Is Incogni Worth It?
Is using a service like Incogni worth it? Well, considering the dangers of your personal data being exposed on the internet, you'll agree it's worth it. Online privacy is a key part of cyber security, and a platform like Incogni is reliable for that.
Incogni is a relatively affordable service, as you pay less than $6 per month with the annual plan. With the features it comes with, you get value for your money.
It'll take you days to remove your data from around fifty to a hundred data brokers. Meanwhile, Incogni works with four thousand data brokers. If you attempt to remove your data from up to four thousand data brokers manually, it could take years.
Aside from saving you time, Incogni is efficient. You have higher success chances of removing your data from broker websites with the service than on your own.
---
Only for Black Friday, take and keep your personal information off data broker sell-lists with 60% off a one-year subscription to Incogni. Use code INCOGNI60 at checkout before the 4th of December 2022 and claim this special discount while you can!
---
Best Incogni Alternatives
There are tools similar to Incogni. How does this Surfshark tool compare to them? Find out in this section as we look at three Incogni alternatives:
DeleteMe is one of the most popular online data removal tools. The platform works to remove your personal data from Google and many other data broker websites.
How DeleteMe works isn't much different from how Incogni works. First, you submit your information, then the tool searches for your data on Google and data broker websites. If found, it begins the removal process.
Afterward, DeleteMe continues scanning and detecting your data all year round. If your data reappears on data broker websites, it'll identify and remove it.
DeleteMe has been in the industry for close to eight years. As a result, they are more than experienced to handle your data removal requests. In addition, the platform has a top-notch support team you can depend on for any problems you have.
However, you'll spend more with DeleteMe than with Incogni. DeleteMe costs $10.75 per month with the annual plan, while Incogni costs less than $6. In addition, DeleteMe has no monthly plan.
2. Privacy Bee
Privacy Bee does more than simply remove your data from broker websites. It helps you manage your online privacy by choosing companies to trust and those not to.
The tool monitors your sensitive data on the internet 24/7. It works with tens of thousands of data broker websites to identify your data.
Privacy Bee will ensure every data broker featuring your data removes it. The tool takes the extra step of calling on the law for stubborn data brokers.
The Privacy Bee dashboard is simple, so you'll find it easy to use. But Privacy Bee is relatively expensive to use if you are on a budget as you can see from this Incogni review. The platform costs $197 per year, which is almost three times what you pay with Incogni.
Like the previous alternative, you don't have the option to pay per month.
3. OneRep
OneRep is another simple alternative to Incogni. Like Incogni, it removes your data from data brokers who sell your data to third parties.
OneRep compares to Incogni in terms of pricing, as it costs only $8.33 per month. There are family plans and business plans that can help you save money.
However, the platform doesn't remove your data from many websites like Incogni. With Incogni, you can remove your data from over 4,000 data broker websites. Meanwhile, OneRep only removes your data from around 150 websites.
Wrapping Up The Incogni Review 
Incogni by Surfshark is a privacy tool that acts as a proxy and sends data removal requests to several data brokers simultaneously, reporting on their responses.
It's a new tool that is safe and legit, but it is not free. While it has pros and cons, it is, overall, an excellent data privacy tool.
Nevertheless, I will recommend that you get Incogni because it is affordable, user-friendly, privacy-centric, and effective for removing your personal information from data broker websites.
What do you think about this Incogni review?
===>> Get Incogni
---
INTERESTING POSTS