PasswordManagers.co recently carried out a survey tagged Cybersecurity Exposure Index (CEI) 2020 and results revealed the countries most vulnerable to cyber threats and also the least vulnerable ones. In this survey, 108 countries were analyzed and ranked with a focus on cyber threats like phishing attacks, malware, and Trojans. This involves countries across America, Europe, Africa, and Asia-Pacific. 
The risk of cyber threats for each of the countries was rated from 0 – 1 signifying low to high risk. From the Cybersecurity Exposure Index (CEI) results, Europe happens to be the continent at fewer risks of cyber threats with a 0.329 score, and about 70.73% of all analyzed countries in the continent being less exposed. Coming after Europe was North America with a 0.462 score. 
The African continent happens to be that which is most at risk of cyber threats with a 0.643 score. Up to 75% of African countries analyzed were highly exposed. Asian-Pacific countries come as the continent most at risk of cyber threats after Africa with 60% of the countries being exposed.
Read Also: Cyber Threats: How To Secure Your Computer Against Cyber Threats
Most countries in North America – about 66.67% of them – fell under medium, low, and very low-risk categories. For South America, it was different with about 40% of the countries coming under high and very high-risk categories. In addition, 50% of South American countries fell under the medium-risk category.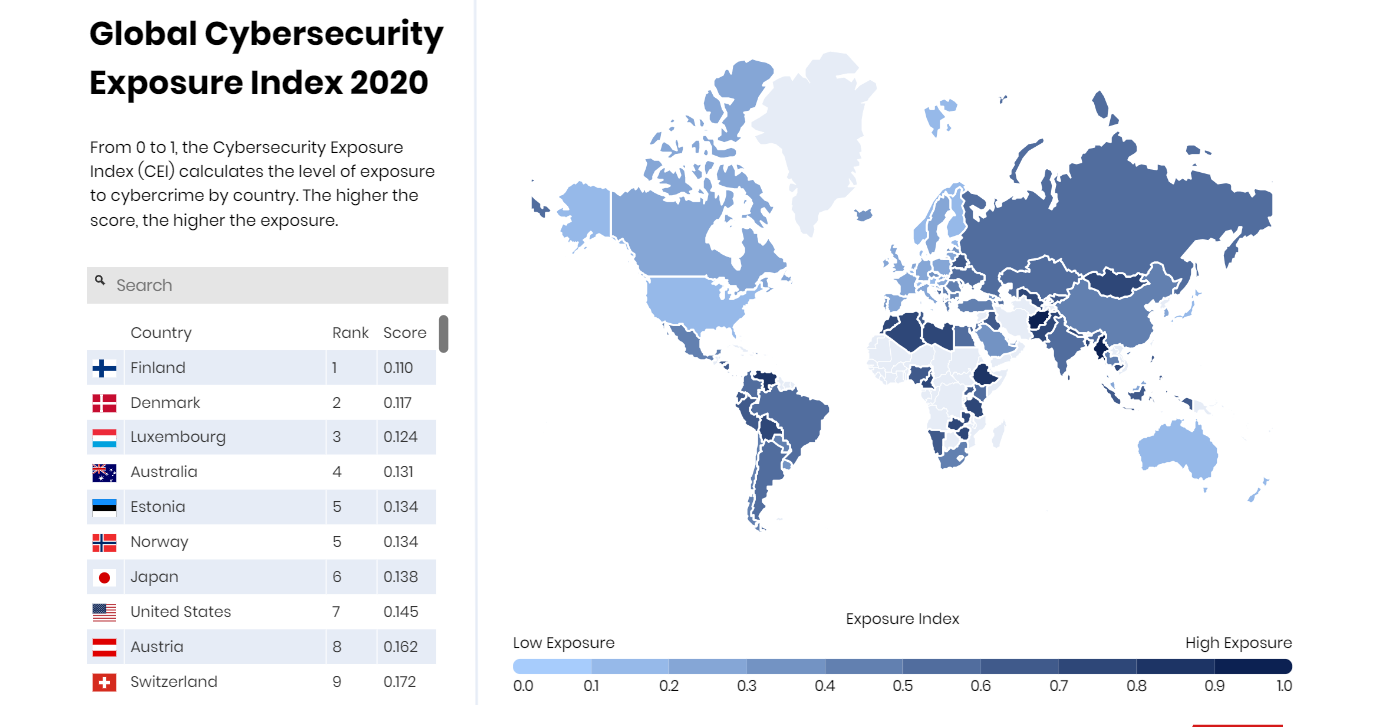 Speaking on the matter, Josh Frisby, PasswordManagers.co's founder said "As each country begins to adapt to a new, unprecedented, post-COVID 19 world, cybersecurity becomes increasingly imperative to secure digital infrastructures. We've compiled data of five of the most significant types of end-point and cloud cyberattacks alongside the level of commitment to cybersecurity across 108 countries"
Further speaking, he added "Cybersecurity is imperative to secure digital infrastructures, devices, and identities, and while some countries may be more exposed than others, the commitment to protect against cybercrime should dominate the priorities of every organization and individual. Depending on where you reside, you may be more or less exposed to cybercrime but, by taking the appropriate steps, such as using a password manager to securely store your credentials, browsing the web via a VPN when using unsecured public Wi-Fi, and employing security software, you substantially increase your protection against cyberattacks"
RELATED POSTS