Read on for an honest and unbiased CyberGhost VPN review, one of the top VPN service providers.
With the rise in cyber-monitoring and other cybercrimes, everyone is looking for software that would ensure their security and privacy online, so they turn to VPN providers. There are several VPN providers and CyberGhost VPN is one of them.
This CyberGhost VPN review will provide you with all your need to know about the VPN service. We will be looking at what this VPN service is all about and how it works. We will also be telling you if it is safe, legal, and free.
Furthermore, we will be reviewing the CyberGhost features, pricing, apps, extensions, pros & cons, and customer support.
What Is CyberGhost VPN?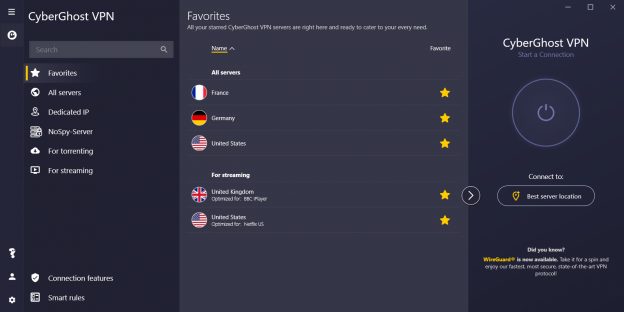 CyberGhost VPN (Virtual Private Network) is a VPN service founded by Robert Knapp and a legal property of Kape Technologies. It was launched in 2004 making it one of the oldest VPN services. It is an internet anonymization service with its headquarters in Bucharest, Romania, and it is one of the best VPN services in the world.
The CyberGhost security suite is impressive and includes industry-leading security protocols, like OpenVPN, IKEv2, WireGuard® protocols, 256-bit encryption, and an automatic kill switch to ensure the security and privacy of users.
When it comes to streaming, It is a reliable VPN you can use to bypass geo-restrictions. It also has NoSpy servers for extra security.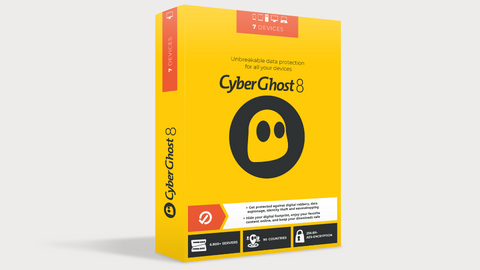 84% OFF
How Does CyberGhost VPN Work?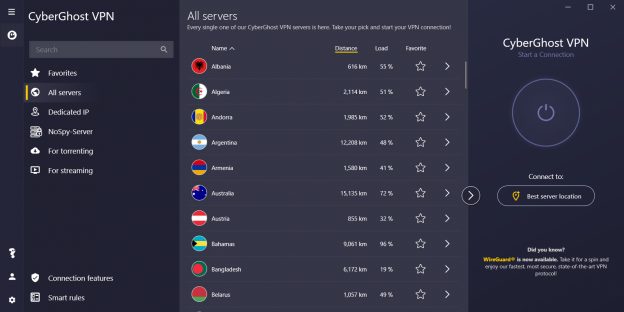 CyberGhost VPN works by creating a secured network between your device and any website you access. It is a reliable VPN service that keeps your IP address hidden and uses an encrypted VPN tunnel (a remote VPN server) to reroute your internet traffic.
This keeps you safe online, safeguards your digital identity, and prevents third-party tracking or monitoring. It uses virtual servers, not dedicated servers.
How To Download And Install CyberGhost VPN
The CyberGhost VPN is free to download on both desktops and mobiles. It is available on Windows, Mac, Linux, iOS, and Android.
You can download its apps on your iOS and Android devices from the Apple Store and Google Play Store, respectively.
To download and install CyberGhost VPN on your desktop, follow the following steps:
Visit the CyberGhost VPN page.
Click on My Account and log in with your username and password.
In the VPN Download Hub, click on the download button next to the device you want it installed to.
Once you've clicked on the download button, scroll down to the pop-up that appears and click on Save.
After it saves, click on Open Folder. It redirects you to the Downloads folder where the application has been saved.
Double-click on the installation file and at the prompt select Yes.
Go through the Terms and Conditions before clicking on Accept & Continue. This should begin the installation process automatically.
Once the installation is finished, wait for a few seconds and the application will open.
Note: Before writing this CyberGhost VPN review, I tested it on all my digital devices to test CyberGhost VPN leaks DNS or IP addresses but it didn't. In fact, you can try out the CyberGhost Chrome extension and use an IP address checker to confirm.
CyberGhost VPN Features
CyberGhost VPN has all the right features that make it a great VPN app. These features allow users to enjoy different security benefits, regain their digital privacy, and access different global content,
The CyberGhost VPN features include:
CyberGhost VPN's automatic kill switch removes all the traffic online and ensures that your data doesn't get exposed at all. If your VPN connection drops, the kill switch ensures that your data is protected and unexposed.
CyberGhost allows you to connect specific apps and websites to the VPN even while using the internet for other things. It also allows you to set up services, so they get to use your details at all times.
CyberGhost doesn't monitor, keep or track what users do while they are online. That is, the online connections and activity logs of users are not stored. To ensure this, CyberGhost moved its headquarters to Romania, a country that is not a member of any surveillance or data sharing alliance.
Ad/Malicious Content Blocking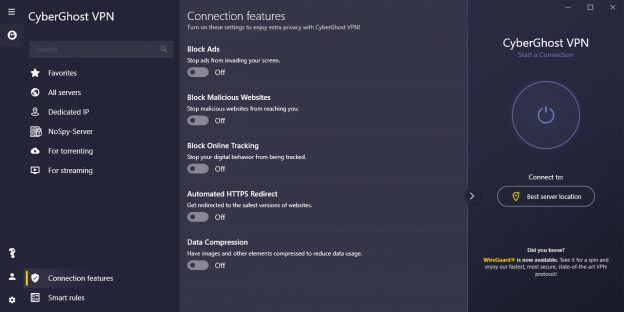 CyberGhost VPN allows users to browse the web freely without any form of interruptions from malware websites and malicious ads. The risk of users getting scammed is eliminated because all phishing attempts are avoided.
On all devices, users enjoy end-to-end security with the CyberGhost VPN. All their online activities are protected with military-grade AES 256-bit encryption and world-class protocols. They also get to surf the web peacefully knowing that no government, cybercrook, advertiser, and digital creep can access their data.
Lightning-Fast Connection
With the CyberGhost VPN, you can say goodbye to slow connection, long page loading time, endless buffering and lag.
To ensure this the global server network is being optimized, upgraded, and expanded routinely. Beyond browsing, you get to play games online, download content, and stream in full HD and not worry about your connection or download speed.
When DNS and IP leaks occur, even with the additional protection that a VPN gives, personal information is exposed. CyberGhost VPN has its very own DNS server that defends users from exposed DNS requests so they never have to worry about DNS leaks.
Streaming-Optimized Servers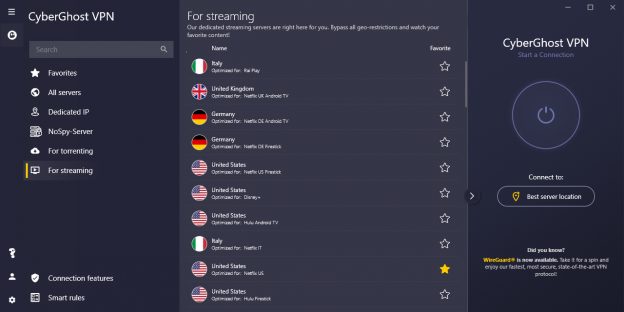 CyberGhost servers are streaming-optimized. That is, the CyberGhost VPN servers are built for top video performance. It doesn't matter what device you use, you can tune in and experience a smooth and buffer-free stream of your favorite content anywhere and at any time.
In terms of personalization, the streaming servers go a step further. There are VPN servers optimized for specific streaming services for unblocking Disney+, Netflix, Amazon Prime Video, YouTube, BBC iPlayer, Pandora, Hulu, FoX, ESPN, and many more.
CyberGhost VPN ensures that users have private internet access to global content. It allows you to sidestep network blocks and bypass internet censorship.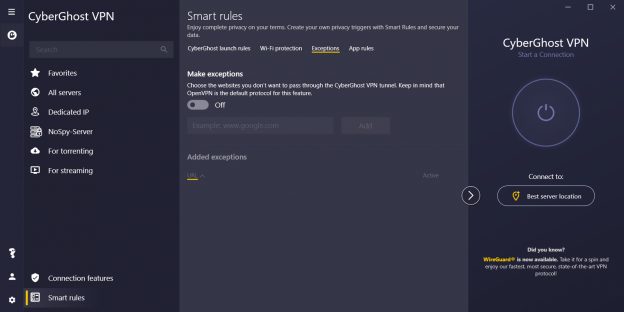 Smart rules is a CyberGhost feature that allows you to automatically customize the user interface. This customization makes CyberGhost work to your preference. It also allows you to connect CyberGhost, based on your need, to a preferred server.
You can reach out to the CyberGhost support team anytime, 24/7, either via email or live chat. No matter what your question is regarding the VPN or if you are having issues such as connection problems, there is a multilingual team, that speaks no less than 4 languages, available to help you.
CyberGhost keeps you protected whenever you connect to public WiFi networks or unsafe networks.
9000+ VPN Servers in 90 Countries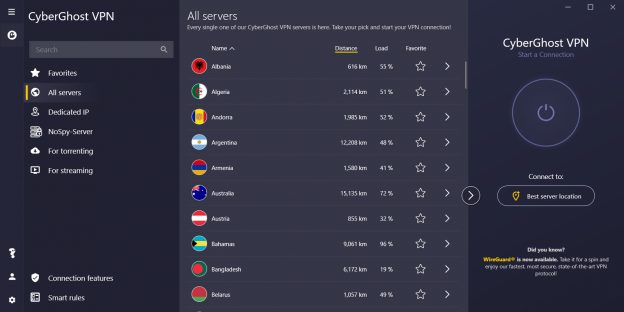 There are over 9000 VPN servers in 90 countries around the world. These optimized CyberGhost NoSpy servers grant you access to services you want and bypass all network blocks. They allow you to play games online, stream videos, and torrent at top speeds.
7 Devices Protected Simultaneously
With 1 subscription you get to protect up to 7 devices at the same time and still enjoy a fast connection on all devices. This makes the VPN perfect for family use or a household with several devices.
CyberGhost VPN Apps & Extensions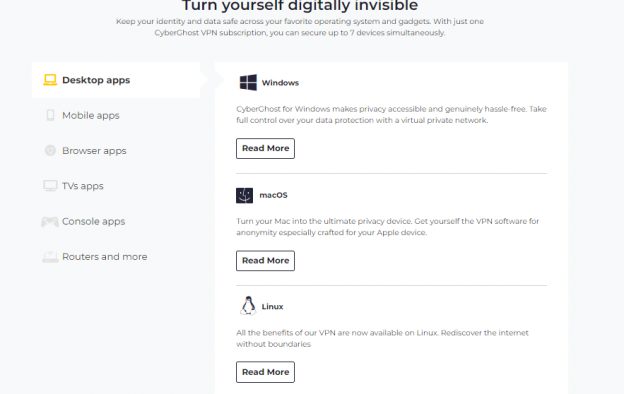 CyberGhost VPN is available for all the major devices and platforms; Mac, Windows, Android, iOS, Linux, Chrome, Firefox, Android TV, Fire Stick & TV, Apple TV, Samsung TV, Wii U, Roku, PS4, Router, and others.
That way, you can enjoy identity and data security on whatever operating system or gadget you use. And with just one subscription, you get to secure up to 7 devices at the same time.
CyberGhost VPN apps and extensions are specially crafted to suit and they all include the benefits of the VPN. They make security attainable and privacy genuinely hassle-free. They are also free for download.
CyberGhost VPN Customer Support & Resources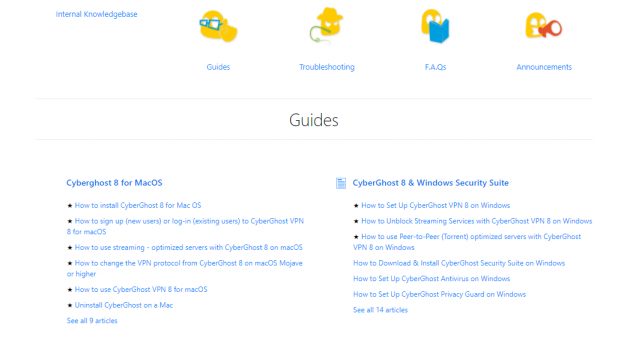 In this CyberGhost VPN review, we used several methods to reach their support team before making a premium subscription and even afterward. I can say that CyberGhost has an incredible multilingual support team that provides customer support 24/7. They can be reached via email or live chat and email. The support also includes FAQs and product guides that provide answers to questions that VPN users might have.
It doesn't matter the device you are using, The CyberGhost support platform has guides and articles that provide solutions to whatever issue you might encounter. In a situation where you can't find the answer to what you are looking for, you can chat with them right away.
Whether you want to get help deciding which server or servers would be best for you, troubleshoot connection problems, or learn about the CyberGhost VPN No-Logs policy, the support team is there for you.
The CyberGhost VPN resources include articles on the following: what is a VPN, money-back guarantee, free VPN vs paid VPN, privacy tools, privacy hub, fastest VPN, transparency report, cookie cleaner, and DNS leak test.
CyberGhost VPN Pricing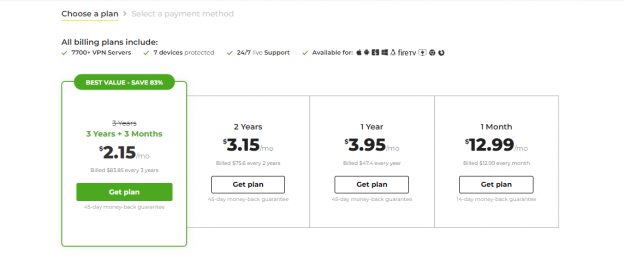 The CyberGhost VPN has four pricing plans and all of them allow users to connect with over 9000 VPN servers around the globe, provide 24/7 live support, and keep up to 7 devices protected simultaneously.
These plans also include DNS and IP leak protection, OpenVPN, IKEv2, WireGuard® protocols, unlimited bandwidth and traffic, and automatic kill switch.
They support a variety of platforms and devices including computers, mobile devices, routers, smart TVs, web browser extensions (proxy), game consoles, streaming consoles, and others.
The plans and pricing include:
2 Years Plan: $2.03 per month + 4 months free, billed $56.94 for first 2 years and yearly thereafter
6 Month Plan: $6.99 per month, billed $41.94 every 6 months
1 Month – Billed at $12.99 and comes with a 14-day money-back guarantee.
However, if you wish to upgrade your VPN experience, you can get a dedicated IP address for $3.75/month.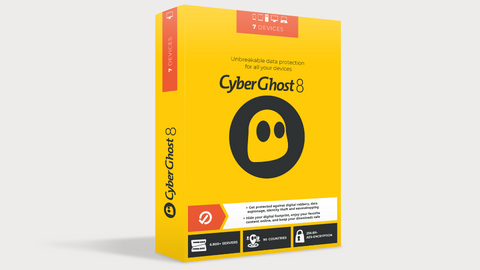 84% OFF
CyberGhost VPN Review Reddit Rating
For this CyberGhost VPN review, we will be rating the CyberGhost VPN based on reviews from TrustPilot, Quora, and Reddit. The rating will be in terms of its features, apps, pricing, and customer service. Here we go!
When comparing the features on the CyberGhost VPN apps with those on other VPN providers, the features are great and are enjoyed by subscribers of every plan and on any device. It consists of all the features you want from a VPN provider.
It contains unique security features, a strong choice of protocols, and military-grade encryption. In terms of speed, it is really good and it is more secure for torrenting but some of its servers are not really fast for streaming when compared to other VPN providers.
As regards features, the CyberGhost VPN rating is 4.8/5.
CyberGhost VPN has an application for any device or platform you might think about. It is available for computers, routers, mobile devices, and many more, so you can protect your data and personal information on whatever device or operating system you have.
The VPN apps are easy to use and also easy to install. They provide users with top protection online, privacy, and also lightning-fast connection. So, for apps, we will give CyberGhost a 5/5 rating.
In terms of pricing, CyberGhost VPN long-term plans are affordable and not expensive when compared with other similar VPN providers. It also has a 45-day money-back guarantee policy that refines your money with no question asked.
However, in comparison with other providers, its short-term plan is a little expensive and offers just 14-days for users to get their money back. There is also no free plan.
This made us conclude that in regards to pricing, CyberGhost VPN has a 4.6/5 rating.
Their customer service is packed with 24/7 support for users. It allows users to receive support via a live chat or email in more than 4 languages.
Its support page provides users with product guides, articles, FAQs, etc. The resources are detailed and simple to understand. Here, we are rating the CyberGhost 5/5 for customer service.
CyberGhost VPN Pros And Cons
CyberGhost VPN Pros
Easy to install and use
Lightning-fast connection
Unique security features
Multiple servers across the globe
Headquartered in Romania, a country that is not a member of any surveillance or data sharing alliance
Strong choice of protocols and encryption
Multi-platform and device support
Strict No-logs policy
Ideally priced for those seeking long-term plans
Great for streaming and unblocking Hulu, Amazon Prime Video,  BBC iPlayer, Disney+, and major Netflix libraries including Netflix UK, Netflix US, Netflix DE, and Netflix FR
24/7 customer support
Automatic kill switch
WireGuard tunneling protocol
7 devices can be connected and protected simultaneously
CyberGhost VPN Cons
Limited free version
The short-term plan can be pricey
No P2P on mobile apps
Get CyberGhost VPN
Frequently Asked Questions
For this CyberGhost VPN review, let us answer some of its FAQs.
Is CyberGhost VPN Safe?
Yes, CyberGhost VPN is a safe VPN service. In fact, it has strong encryption ciphers and tunneling protocols. Its military-grade 256-bit encryption allows users to protect their data and encrypt their information with a 256 character long key. It also includes DNS leak protection, adware and malware blocker, and an automatic kill switch. All these and more make it a highly secured VPN that you can use on your digital devices.
Is CyberGhost VPN Legit?
Yes, CyberGhost VPN is legit and it is a trustworthy VPN service. However, some countries discourage the use of VPNs. Before downloading and using the software, ensure that the laws of your country allow the use of VPNs.
Is CyberGhost VPN Free?
Yes, CyberGhost VPN is free to download and you also get to enjoy a 24-hour free trial. Once you've downloaded the application on your device, to enjoy the CyberGhost features, you will need to create an account and subscribe to one of the plans, whichever suits your budget. You can try CyberGhost VPN risk-free for 24 hours and its 45-day money-back guarantee for the plans that are longer than 11months and a 14-day money-back guarantee for the monthly plan. With this, you can enjoy CyberGhost VPN free for 14 or 45 days and then you get a refund if you didn't find the application suitable and efficient.
What Are The Best CyberGhost VPN Country Servers To Connect To?
CyberGhost VPN has over 9000 servers in 90 countries around the world including France, Germany, Canada, United States, United Kingdom, China, Ukraine, Switzerland, Sweden, South Korea, Spain, Poland, Japan, Norway, Australia, Netherlands, Italy, Denmark, Finland. These servers allow CyberGhost to offer a reliable VPN service with unlimited bandwidth and blazing-fast speeds that take care of buffering, proxy errors, and throttling for internet service providers.
When choosing the best country server to connect to, you must consider geographic location and performance. You will need to manually select the server if you want an IP address that is linked to a geographical location. However, you can use results obtained from the in-app ping to determine the server with the fastest location.
Speed is however dependent on the number of users loaded to a server. The more the users, the more the server will be in use, and the lower the speed for each VPN user. This also means more anonymity for each user.
What Are The Top Geo-restricted Streaming Sites That CyberGhost VPN Can Unblock?
CyberGhost VPN can unblock top geo-restricted streaming sites like Netflix, NBC, BBC iPlayer, FoX, Hulu, Disney+, Amazon Fire TV, Crunchyroll, ESPN+, YouTube Premium, Comedy Central, CBS, Globo, Channel 4, TF1, NBC, Amazon Prime, RTL Play, Canal+, ORF, HBO Max, BBC One, BBC Two, Kodi, GEM, Pandora, Zattoo, 7TV, RTL, MolotovTV, 6play, Hotstar, Eurosport, ARD, 2DF, TFI, Yle, SRF TV, Firestick, ITV, TV4Play, RTS, ZDF, YouTube TV, MTV, and many more.
The streaming-optimized CyberGhost VPN servers load these sites instantly and you can stream your favorite content for as long as you want without any form of interruption.
Can Police Track CyberGhost VPN?
No, police can't track CyberGhost live, encrypted VPN traffic. This is because CyberGhost doesn't keep logs and protects users' connections. However, the police and other law enforcement agencies can request logs and information about an IP address supposedly linked to an investigation.
Does CyberGhost VPN Keep Logs?
No, CyberGhost VPN doesn't keep logs. The VPN has a strict no-logs policy and ensures that the privacy of users is never compromised.
CyberGhost VPN has no idea of what users do online after they connect to any of CyberGhost servers, nor does it know how much bandwidth users have used. According to CyberGhost founder, Robert Knapp, "The only way to secure your data is not to store it."
Is CyberGhost VPN Good for Gaming, Torrenting, and Streaming?
Yes, CyberGhost VPN is good for gaming, torrenting, and streaming.
CyberGhost helps users to prevent DDoS attacks, geo-restrictions, malware, IP throttling, and high ping. Once it is installed on your gaming console, all you need to do is connect to a server and can play restricted games at top speed and not worry about unprotected networks or lags.
CyberGhost VPN tags itself as 'the best VPN for torrenting. This means that you get to download torrents safely, quickly, and anonymously. Even more, downloading torrents with CyberGhost VPN can be done on any device and operating system. It has an encrypted VPN tunnel that makes it easy to avoid ISP throttling and access restricted torrent domains.
The streaming-optimized servers allow you to stream any of your favorite content from over 30 different geo-restricted streaming sites including Netflix, BBC iPlayer, Amazon Prime Video, Disney+, ESPN, Kodi, Hulu, HBO Max, Crunchyroll, and Yle. This means that you get to experience seamless, smooth, and safe streaming.
Best CyberGhost VPN Alternatives & Competitors
For this CyberGhost VPN review, we will be looking at the four best alternatives to CyberGhost VPN.
1. Surfshark VPN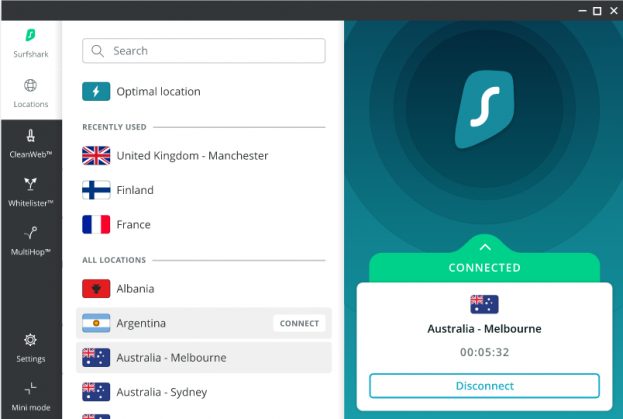 Surfshark VPN is a top-rated VPN service provider that protects users' data and privacy, secures their access to local content around the globe, encrypts their internet activities, and protects all their devices with over 3200 servers in 100 countries around the globe.
With this CyberGhost VPN alternative, you get to enjoy VPN, Antivirus, Search, and Alert, all at the same time. Its features include Wireguard, OpenVPN UDP / TCP, and IKEv2/IPsec, 256-bit AES encryption, ad-block, kill switch, strict no-logs policy, split tunneling, private DNS & leak protection, two-factor authentication, RAM-only servers, and independently audited.
Surfshark VPN allows users to connect unlimited devices simultaneously to one account and provides maximum protection for all of them. These devices include Windows, macOS, Linux, Android, iOS, Fire TV, Firefox, and Chrome.
Surfshark VPN has three plans, which include:
24 months (+2months FREE) – Billed at $2.30/month. Upon first purchase, it is billed at $59.76, then annually starting after 26 months. This plan incorporates a 30-day money-back guarantee.
12 months – Billed at $3.99/month. Upon first purchase, it is billed at $47.88, then $59.76 annually starting after 12 months.
1 month – Billed at $12.95/month.
Get Surfshark VPN
2. Ivacy VPN

Ivacy VPN is another CyberGhost VPN replacement that enables users to safeguard their digital presence by providing features that ensure users' security and privacy.
When you get any of the Ivacy VPN apps, you enjoy ultra-fast speed, military-grade 256-bit encryption, and multi-logins of up to 10 devices simultaneously with one subscription. It is suitable for small businesses, enterprises, and individuals.
It has over 9000 servers in 90 countries around the world and unblocks Netflix, Disney+, BBC iPlayer, Kodi, Hulu, Amazon Prime Video, HBO Max, and other geo-restricted streaming sites. Its VPN app is available for devices like iOS, Android, macOS, Windows, Linux, and browsers like Chrome and Firefox.
Its features include split tunneling, DNS leak protection, unlimited bandwidth, malware protection, advanced IPsec & IKEV protocols, P2P support, no browsing logs policy, high speed downloading, smart connect feature, and an internet kill switch.
Ivacy has three plans, all with a 30-day money-back guarantee. They include:
5 Years Plan (+ free password manager) – Billed at $60 ($1 per month)
2 Year Plan – Billed at $47.76  ($1.99/month).
1 Year Plan – Billed at $29 ($2.41/month).
1 Month Plan – Billed at $9.95 per month.
Get Ivacy VPN
3. FastVPN (Namecheap)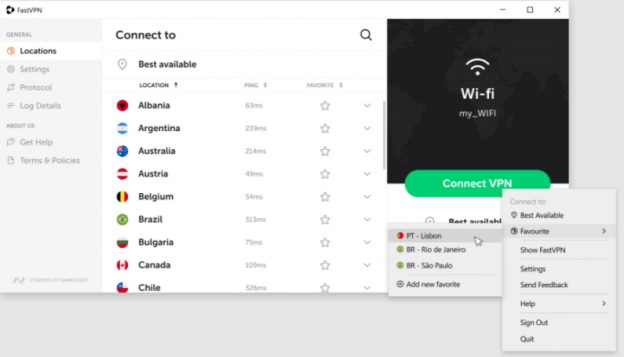 FastVPN is a VPN service facilitated by Namecheap, a top web hosting service. It is a secure and fast way to ensure that your internet freedom is protected. It also ensures great browsing, streaming, working, and gaming experience for users without any limitations.
Its features include unlimited bandwidth, a strict no-logs policy, public Wi-Fi security, and 24/7 customer support. It hides your IP address and allows you to connect unlimited devices simultaneously with just one subscription.
FastVPN is easy-to-use and is available for all devices including Windows, Android, iOS, macOS, Linux, and Routers. It is also used to unblock geo-restricted streaming sites that house your favorite content.
FastVPN has two plans and both plans include a 30-day money-back guarantee.
1 Year Plan – Billed at $2.88/month. $12.00 (65% off) for the first 12 months, then afterwards, $34.56 annually.
1 Month Plan – Billed at $0.00 for the first month, then afterwards, $5.88 monthly. That is the first month is 100% free.
4. PureVPN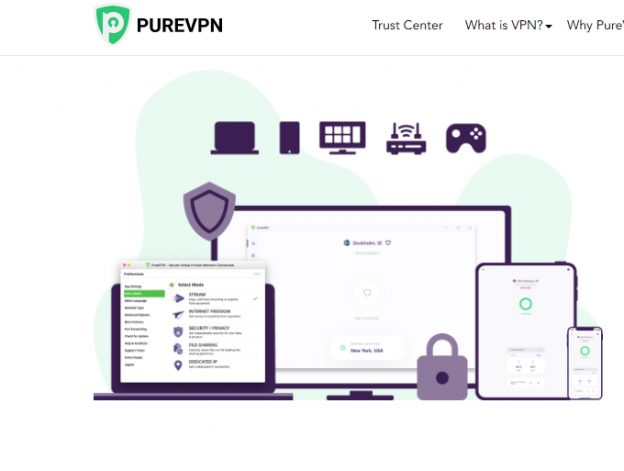 PureVPN provides security and privacy to users and ensures that they remain anonymous and free online with an AES 256-bit encrypted network. It eliminates all censorship and internet restrictions.
Its fast-speed connection allows you to experience seamless and smooth browsing, streaming, gaming, and downloading. This is possible through the 9000+ servers located in over 90 countries.
The VPN app is easy to use and available for all your devices, including Android, iOS, Mac, Windows, Linux, Routers, Xbox, Firefox, Chrome, Android TV, Amazon FireStick, Microsoft Surface, Roku, Kodi, Boxee box, and Raspberry Pi.
PureVPN has unique features that make it a great VPN provider. These features include 10 multi-login, no-log policy, split tunneling, port forwarding, dedicated IP address, internet kill switch, and 24/7 live chat.
PureVPN has three plans, all with a 31-day money-back guarantee. They are:
5 Years Plan – Billed at $89.95 ($1.50 per month)
24 Months Plan – Billed at $1.99/month. $47.76 for the first 24 months, then afterwards, $69.95 annually.
12 Months Plan – Billed at $35.88 ($2.99/month).
1 Month Plan – Billed at $10.95 per month.
Get PureVPN
Wrapping Up The CyberGhost VPN Review
To conclude this CyberGhost VPN review, I will say that no matter your device and location, CyberGhost VPN protects your digital identity. Its multi-server provides users with smooth gaming, torrenting, streaming, and browsing experience and bypasses limitations.
As you can see from this CyberGhost VPN review, it is a safe, legit, and affordable VPN service. No matter your budget, you can get a CyberGhost VPN plan that meets your needs.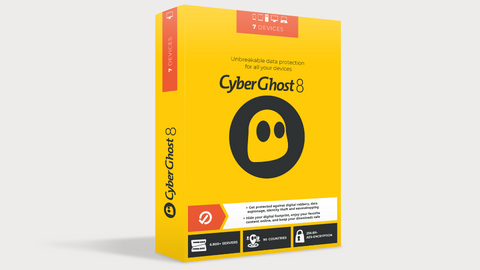 84% OFF
---
INTERESTING POSTS