If you are looking for the best BullGuard Antivirus alternatives, this post is for you!
As an internet security company, BullGuard provides solutions to keep individuals and small businesses safe online. The antivirus solution is one of their most popular products.
BullGuard Antivirus uses AI and machine learning to keep user devices free from viruses, malware, ransomware, and spyware. The antivirus costs about $60 for the first year.
While the software is excellent for detecting viruses, it lacks some features some customers would want. 
For example, BullGuard Antivirus isn't optimized for Apple devices. It lacks an iOS application and the macOS app is limited.
Furthermore, some users complain that the interface is outdated.
If the BullGuard Antivirus program doesn't meet your interest, here are the best alternatives to BullGuard that you can use:
Best BullGuard Antivirus Alternatives
1. Heimdal Security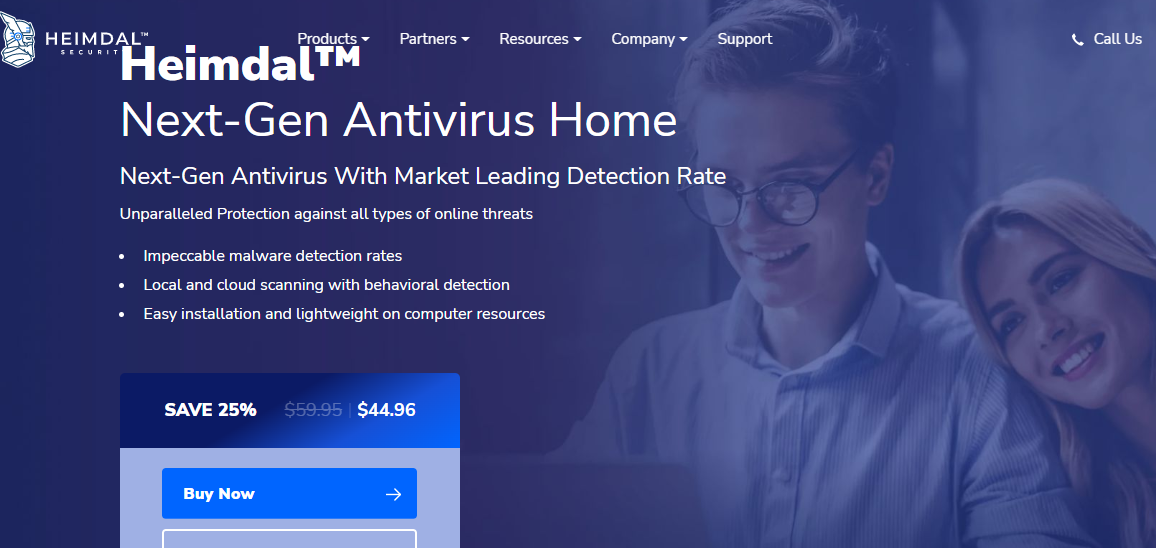 The first mention on our list of the best BullGuard Antivirus alternatives is Heimdal Security.
Heimdal Security is a platform for complete protection. It's an antivirus and also threat prevention, access management, and vulnerability management software.
The Heimdal Antivirus is lightweight and easy to install and use. It uses local signature-based scanning to detect viruses, ransomware, data leakage, and exploits among others.
With real-time cloud scanning, the software prevents foreign threats from infecting your device. Here's how it works; unknown files in your local storage are sent to Hemidal's secure cloud system for real-time scanning.
Furthermore, the software isolates potential harmful files in a sandbox for thorough checking. It also stops malicious communication by detecting if the files attempt to access your device via a backdoor.
Heimdal Security Antivirus ensures your firewall is always on.
Heimdal Security Pricing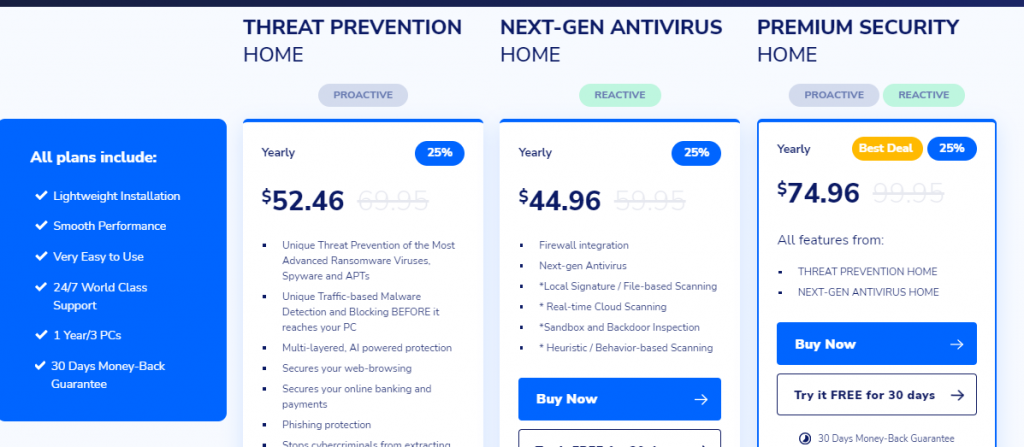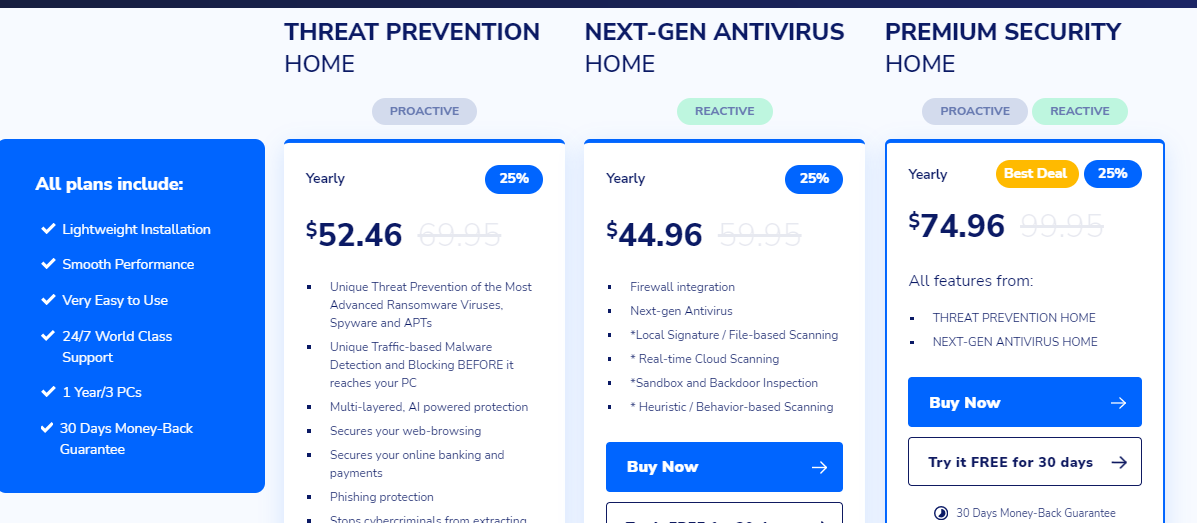 Heimdal Security Antivirus currently costs $44.96 but you can get it for $34.98 by using the link below. Note that you can try the software free for 30 days before paying.
==>> Get Heimdal Security
2. Norton Antivirus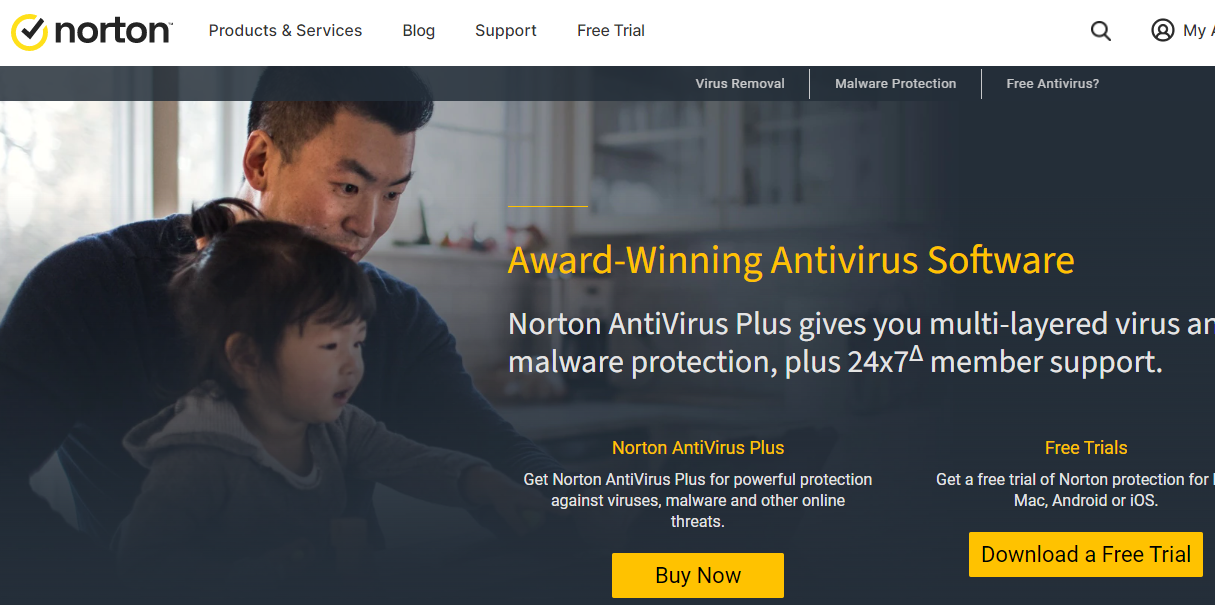 With Norton, you have the best BullGuard Antivirus alternative for your PCs and mobile devices.
Norton Antivirus employs emulation to check if a file could become a future threat. The file is run through a lightweight virtual machine once you attempt opening it. This is done in nanoseconds so you don't notice a thing.
CHECK OUT: Best Antivirus For 2023: Windows, Mac, Linux, iOS & Android
You can save power with this antivirus. It features a Power Eraser that scans your device for high-resource-consuming programs; you can stop such programs with just a click.
The antivirus comes with additional features such as a VPN, password manager, and a smart firewall.
Norton Antivirus Pricing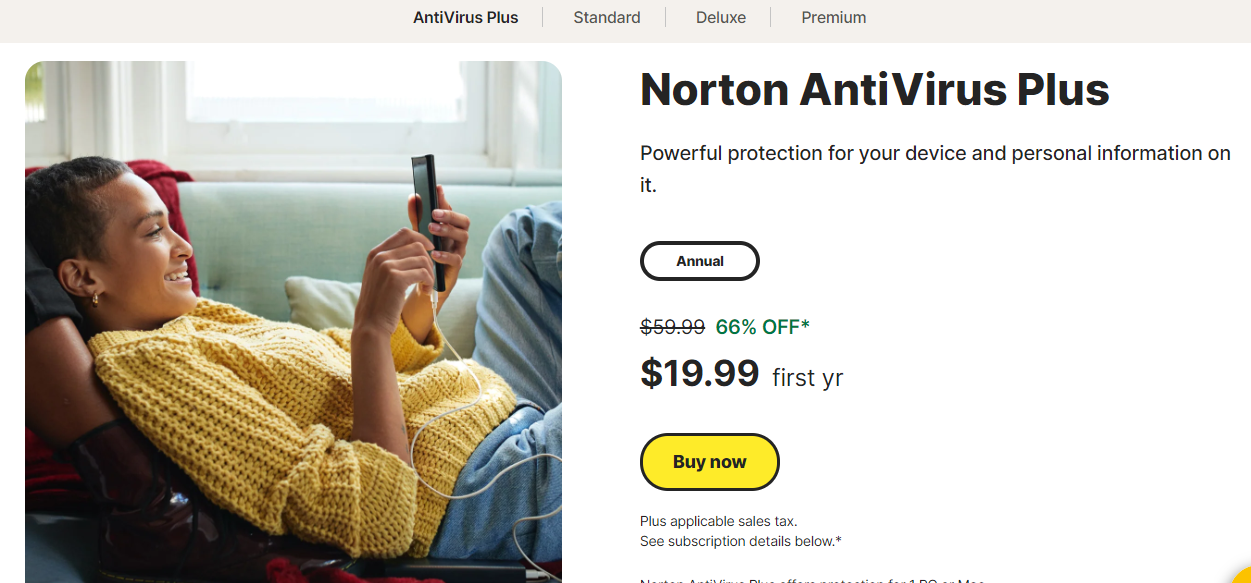 Norton Antivirus costs $19.99 per year for 1 PC. In addition, you can download the free trial version to test the software.
==>> Get Norton Antivirus
3. McAfee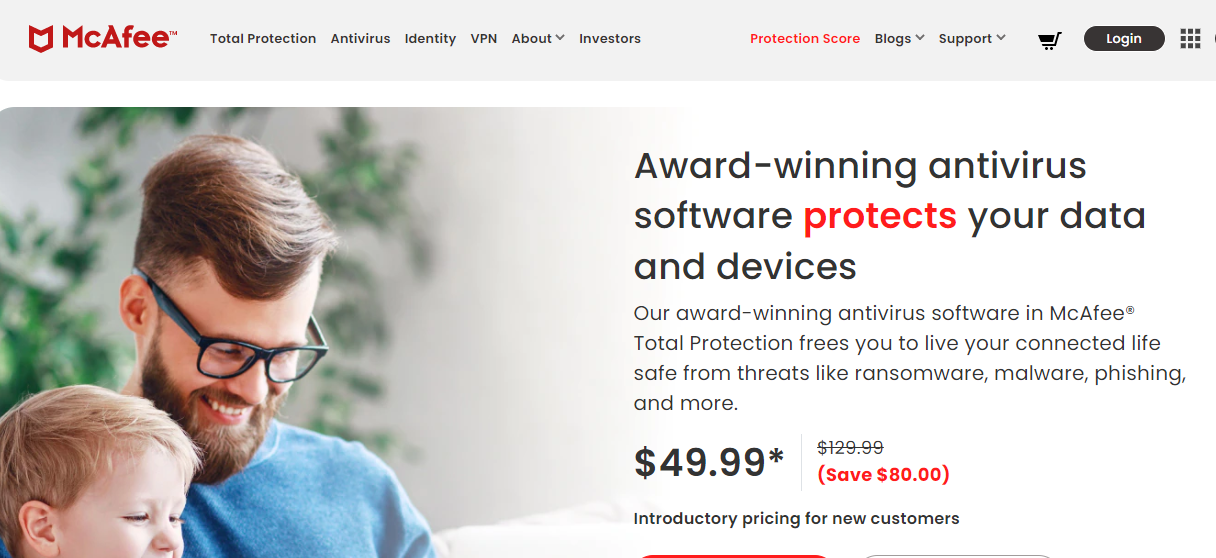 McAfee aims to make online protection simple. The software company offers personalized protection, identity monitoring, online privacy, and device security solutions.
With the McAfee antivirus, you get 24/7 real-time threat protection. It's easy to use and stays up to date with the latest virus and malware.
It's an ideal BullGuard alternative if you have multiple devices to protect. The Antivirus Plus Plan lets you protect up to 10 devices. It also comes with a firewall, password manager, and file shredder.
McAfee Pricing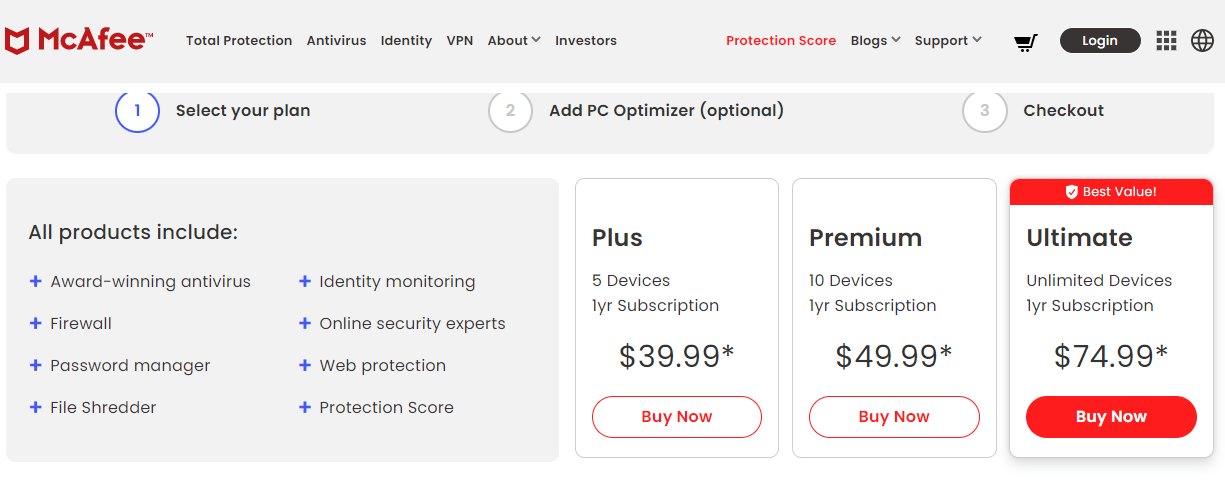 You have four pricing plans to choose from with McAfee. The plans include:
Antivirus Plus Plan:

$29.99 for one year subscription

Plus Plan:

$39.99 for one year subscription

Premium Plan

: $49.99 for one year subscription

Ultimate Plan

: 74.99 for one year subscription
==>> Get McAfee Antivirus
4. AVG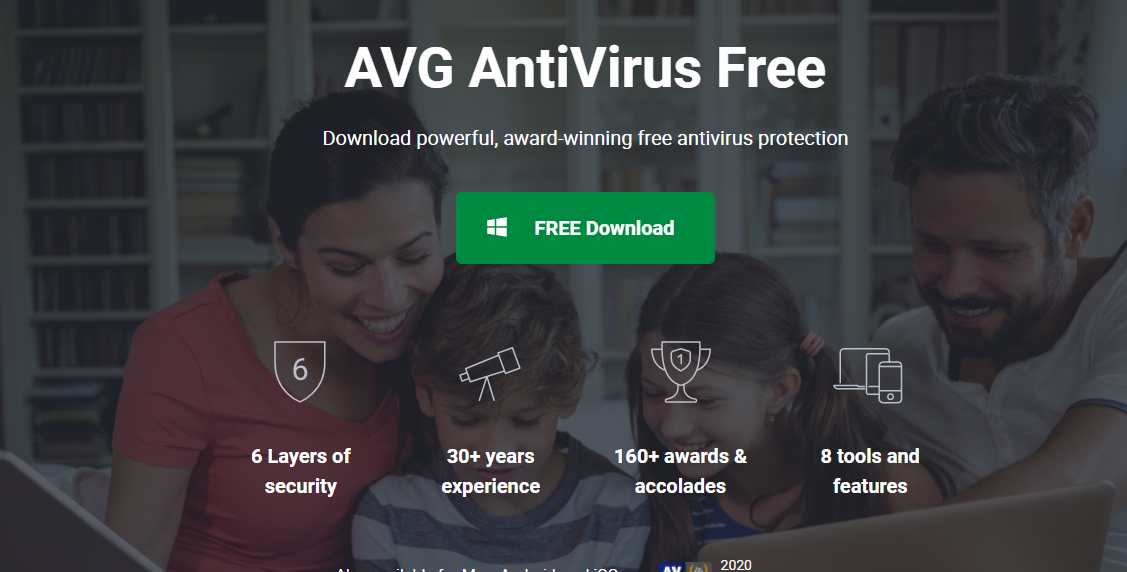 Looking for a free BullGuard alternative? if yes, AVG is a good option. This free yet powerful anti-virus is available for PC, Mac, and mobile devices. You'll find this antivirus easy to use thanks to the friendly UI.
AVG employs 6 layers of protection to stop viruses and all types of malware. The software features an expansive virus database that updates in real-time so it identifies the latest threats.
It protects against phishing by auto-blocking unsafe links and web pages. This best BullGuard Antivirus alternative also works as an email shield; it can auto-block malicious emails capable of stealing data.
AVG Pricing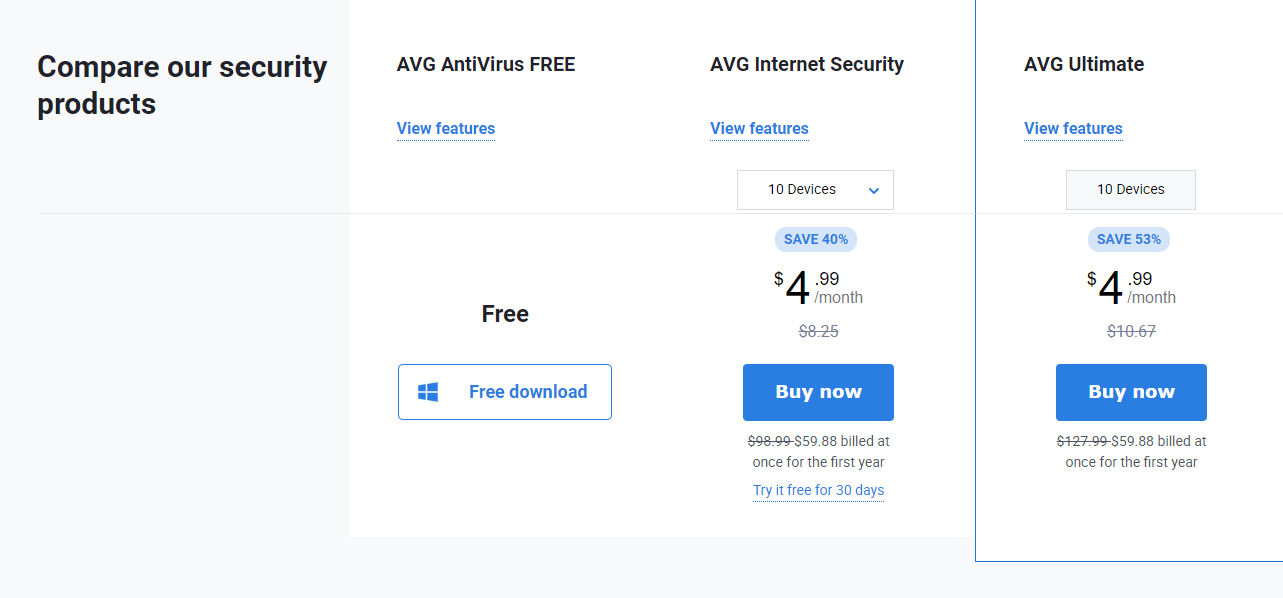 AVG antivirus is free to use but only for personal and family use. For business and commercial use, you must use a paid plan. There are two premium plans (for 10 devices) including:
AVG Internet Security:

$59.88 per year

AVG Ultimate:

$59.88 per year
==>> Get AVG Security
5. ESET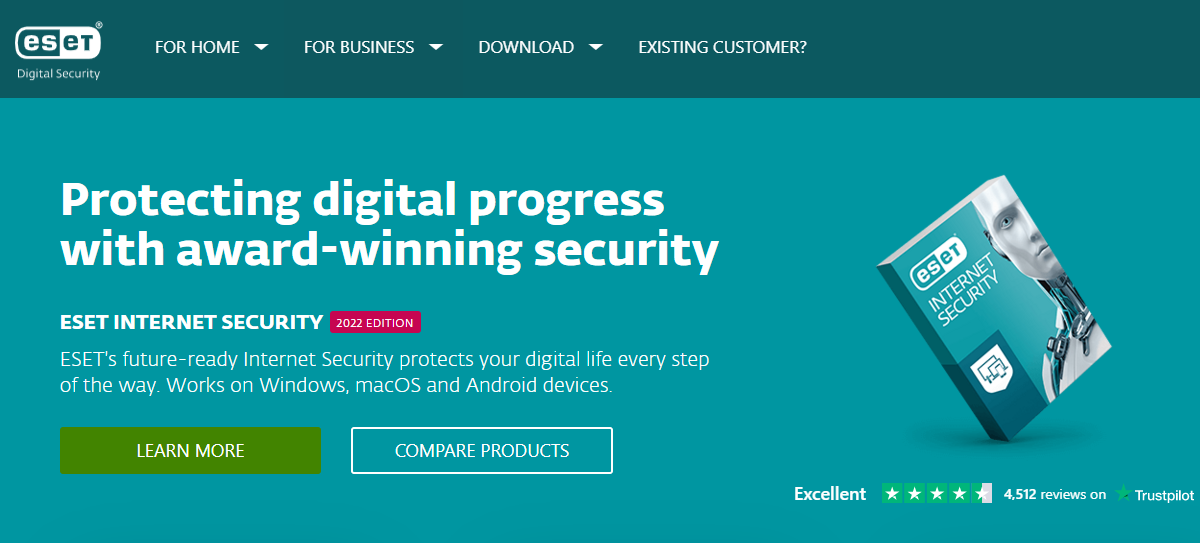 Here's a BullGuard alternative that supports all major device types except iPhones. The antivirus is available for home, business, and enterprise use. So far, more than 110 million people use ESET.
This antivirus can block and remove varieties of online threats. It's an install-and-forget program as, after installation, it runs automatically in the background without interrupting other activities.
Aside from protecting against viruses and malware, ESET protects against phishing, script-based attacks, exploits, and UEFI threats.
ESET Pricing
You can download the ESET free, limited version, or a paid version with any of the following plans:
Ultimate Protection Plan:

$59.99 per year

Advanced Protection:

$49.99 per year

Essential Protection:

$39.99 per year
Note that the above prices are for 1 device. Additional devices cost just $10 each for all plans. In addition, you can use the 30-day free trial before paying.
==>> Get ESET Security
6. Vipre Antivirus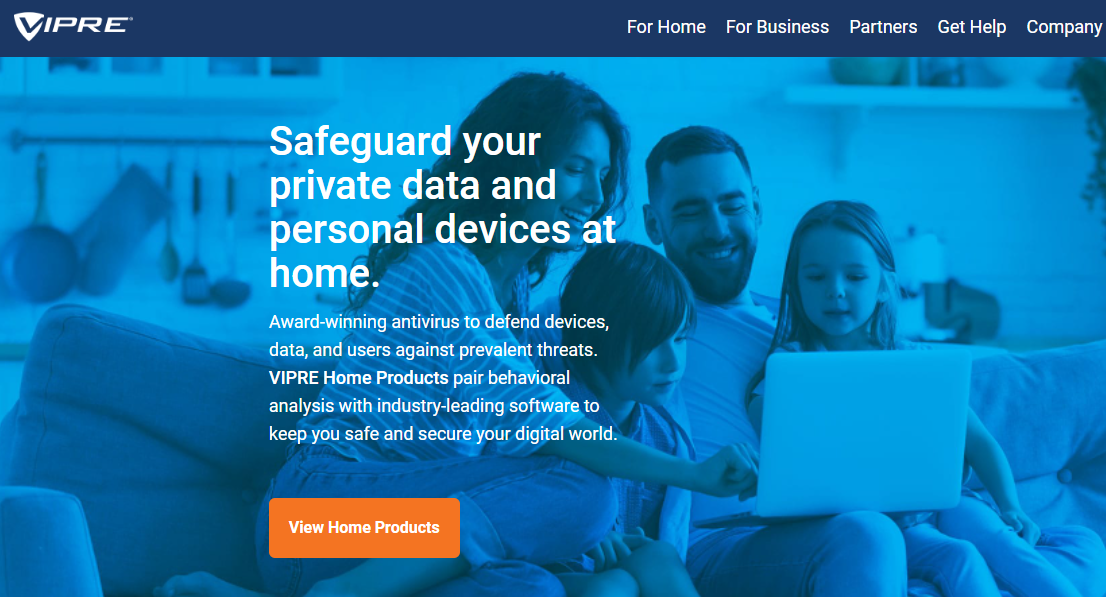 Here is another antivirus like BullGuard.
Top brands like Epson, Samsung, Deloitte, and Glencore use Vipre Antivirus. It's a favorite software, especially for businesses, due to its simplified approach.
Typically, Vipre Antivirus scans and removes viruses, malware, spyware, and ransomware from your devices. It works in real-time so you're always safe and it's fast.
Vipre offers businesses an exclusive cloud-based email and endpoint security solution. It's easy to deploy and use with security awareness training for businesses.
You can use Vipre on Windows, Mac, iPhone, and Android.
Vipre Antivirus Pricing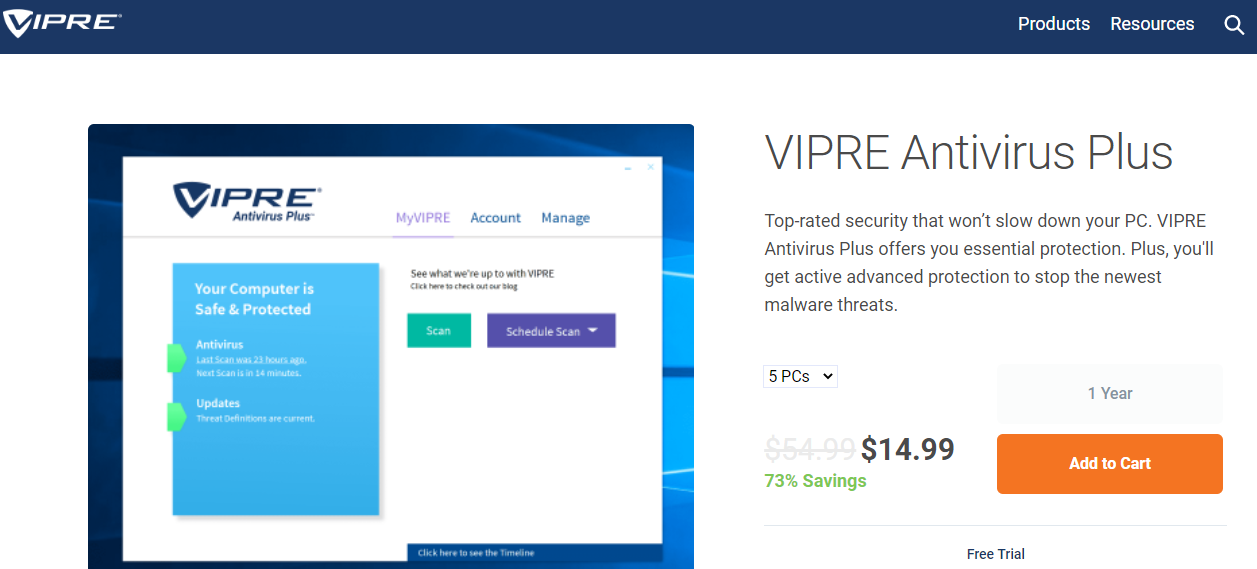 Vipre features a single, simple plan for home users:
Antivirus Plus Plan
1 PC: $9.99 per year

5 PCs: $14.99 per year

10 PC: $17.99 per year
Plans for business users are custom; you have to contact the Vipre sales team to get a quote.
==>> Get Vipre Antivirus
7. Malwarebytes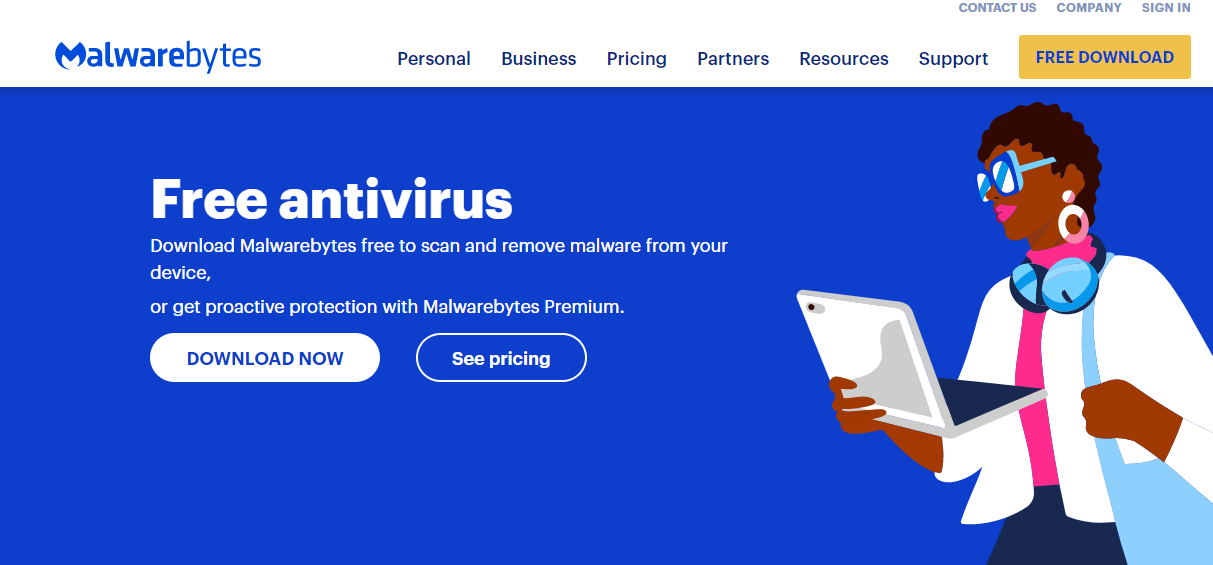 Malwarebytes is another free BullGuard alternative. However, it's only free for Windows PCs. You must pay to use it on Mac computers, Android, iPhone, iPad, and iPod devices.
This anti-virus features multiple malware-crushing layers. It uses a proprietary ransomware attack technology to protect files and data from harmful programs.
Malwarebytes will not strain your device as it uses less than 50% CPU resources. You can activate Play Mode, which turns off notifications and updates, to make the software invisible.
Malwarebytes Pricing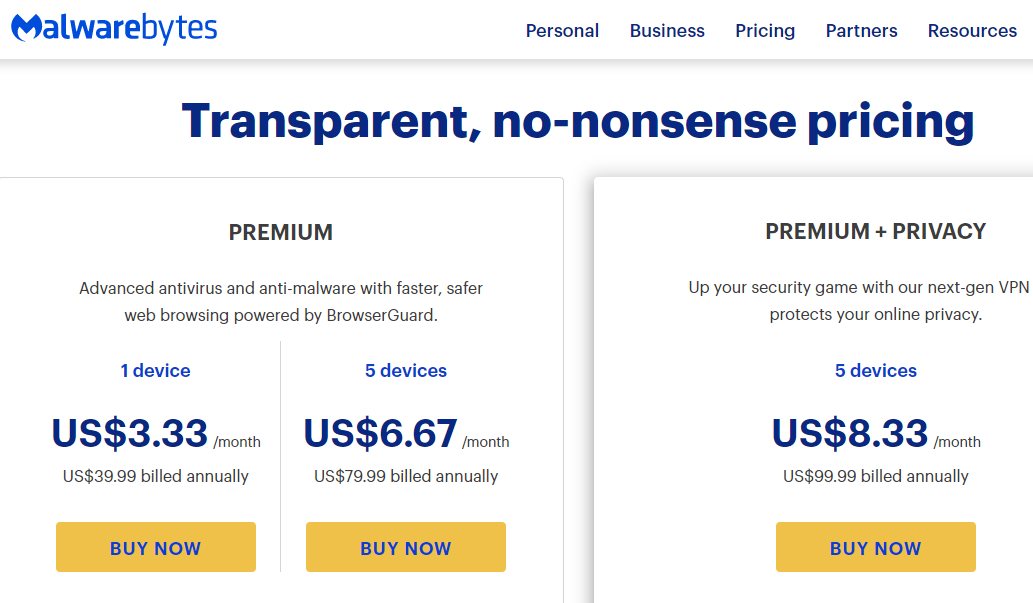 With the free Malwarebytes app, you can scan and remove malware and virus from your Windows device. For further protection on other devices and against phishing, exploits, and others, you can go with any of the following plans:
Premium Plans
1 Device Plan: $39.99 per year

5 Devices Plan: $79.99 per year
Premium + Privacy Plan
5 Devices Plan: $99.99 per year
A free 14-day trial is available for all plans.
==>> Get Malwarebytes
8. Trend Micro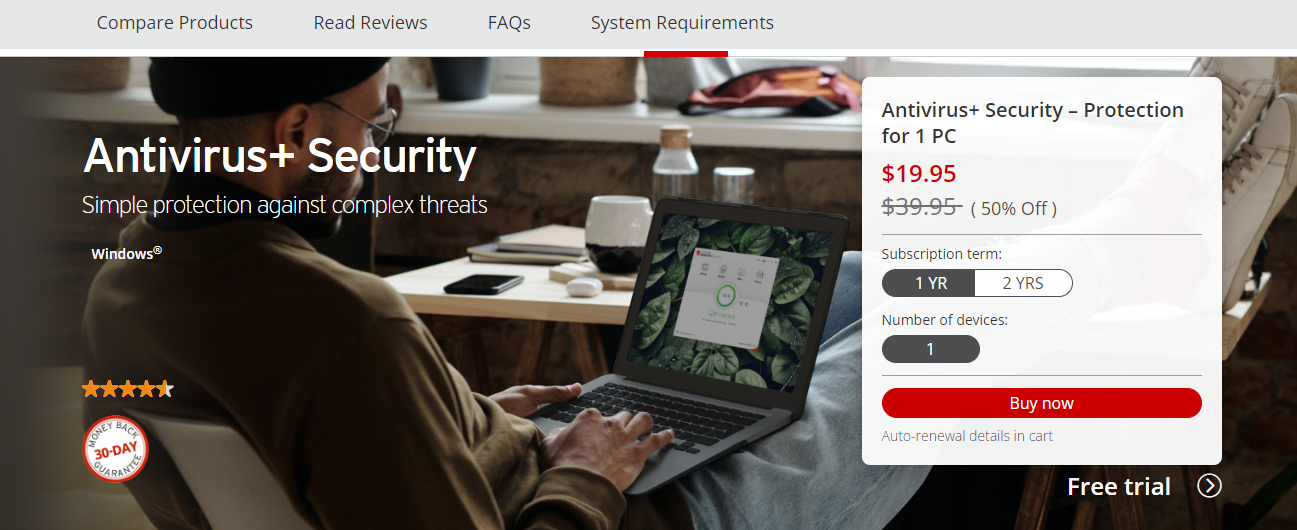 Trend Micro provides simple protection against complex cybersecurity threats. It will stop malware, malicious files, and applications from entering your device. With a friendly UI, clear status reports, and intuitive settings, this is an easy-to-use antivirus.
Trend Micro is the best BullGuard alternative for safe browsing. The software automatically blocks harmful websites targeting your personal data. In addition, it flags malicious emails – for example, phishing emails.
Trend Micro Pricing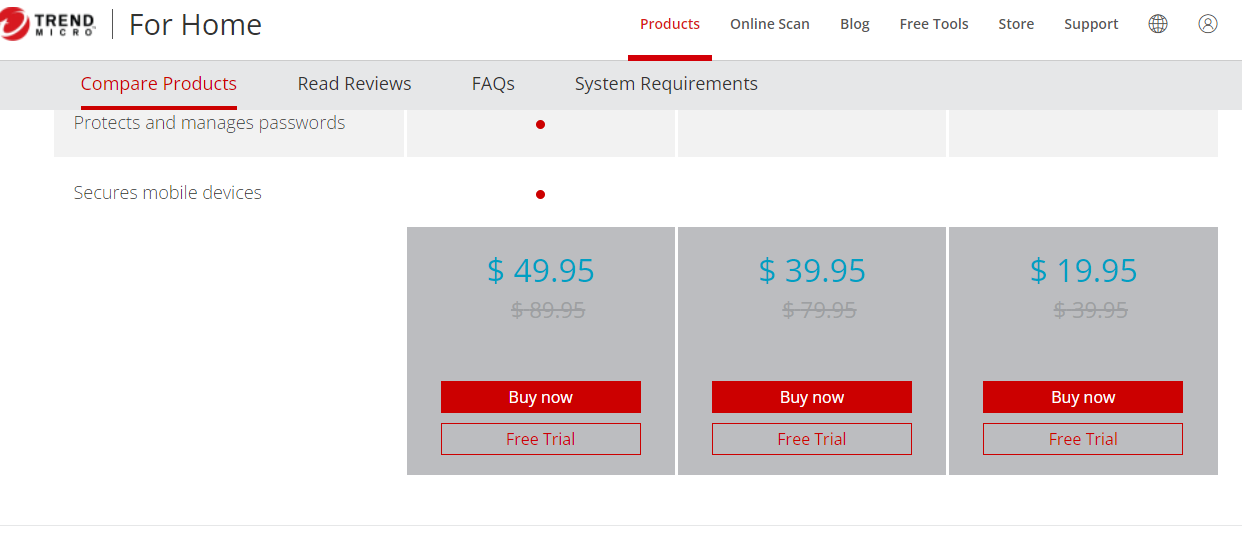 Trend Micro features three product/pricing options for three different security levels. They include:
Basic Plan (Antivirus + Security) 1 device: $19.95 for a year subscription

Better Plan (Internet Security) 3 devices: $39.95 for a year subscription

Best Plan (Maximum Security) 5 devices: 49.95 for a year subscription

Premium Security (10 devices): $59.95

for a year subscription
Note that the first two plans are only available for Windows devices. If you use a Mac, iPhone, Android, or Chromebook, the Best Plan is your only option.
==>> Get Trend Micro
9. Panda Security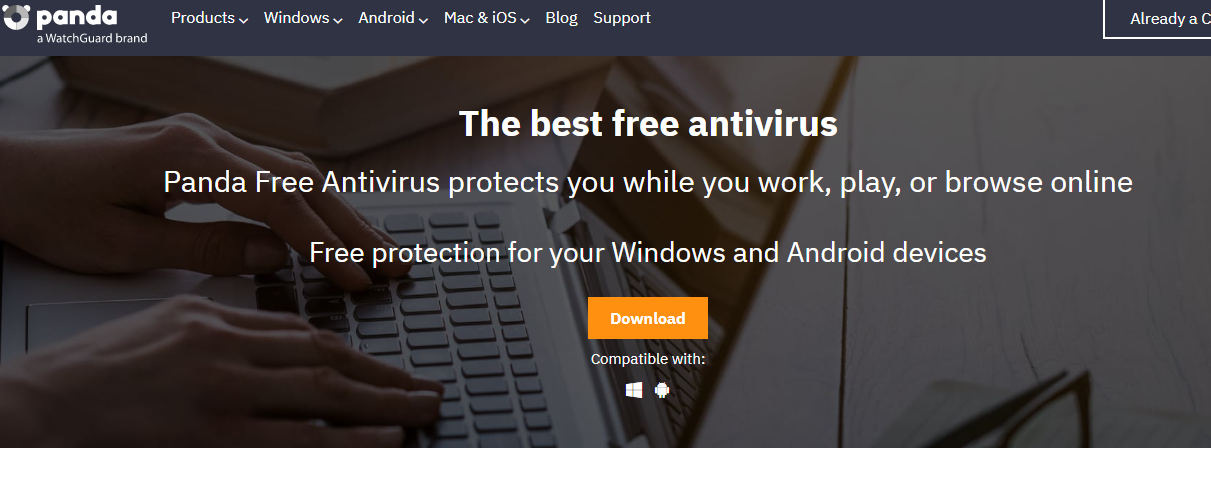 Another BullGuard antivirus replacement on our list is Panda Security.
Panda Security offers a freemium antivirus solution. The free antivirus is available for Windows and Android devices only. On the other hand, the premium version is available for Windows, Android, Mac, and iOS.
This antivirus will protect you against viruses, help you browse securely, keep your data & password safe, and help you monitor your device. Notably, it comes with a VPN for anonymous browsing.
Panda Security antivirus runs quietly, with minimum impact on your device as its operations are cloud-based. The location monitoring option is only available for mobile devices.
Panda Pricing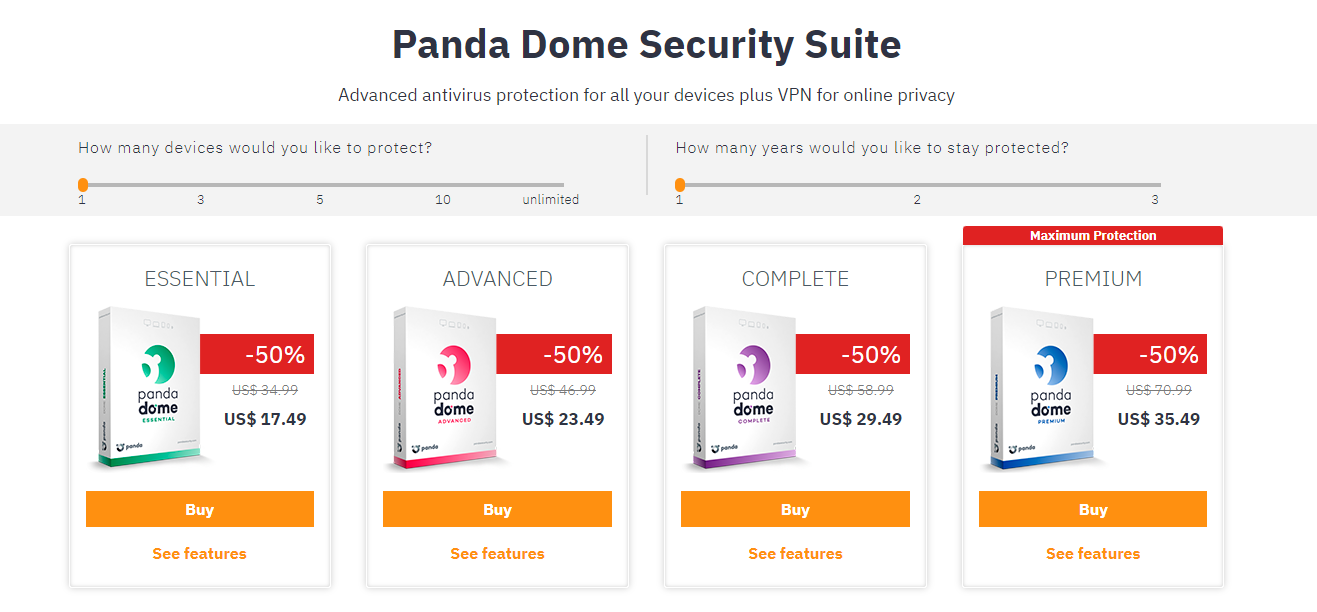 If you're not using the free antivirus version, here are the available premium options:
Panda Dome Essential Plan: $17.49 per year

Panda Dome Advanced Plan: $23.49 per year

Panda Dome Complete Plan: $29.49 per year

Panda Dome Premium: $35.49 per year
Note that the first month is free for all monthly plans.
==>> Get Panda Security
10. G DATA Security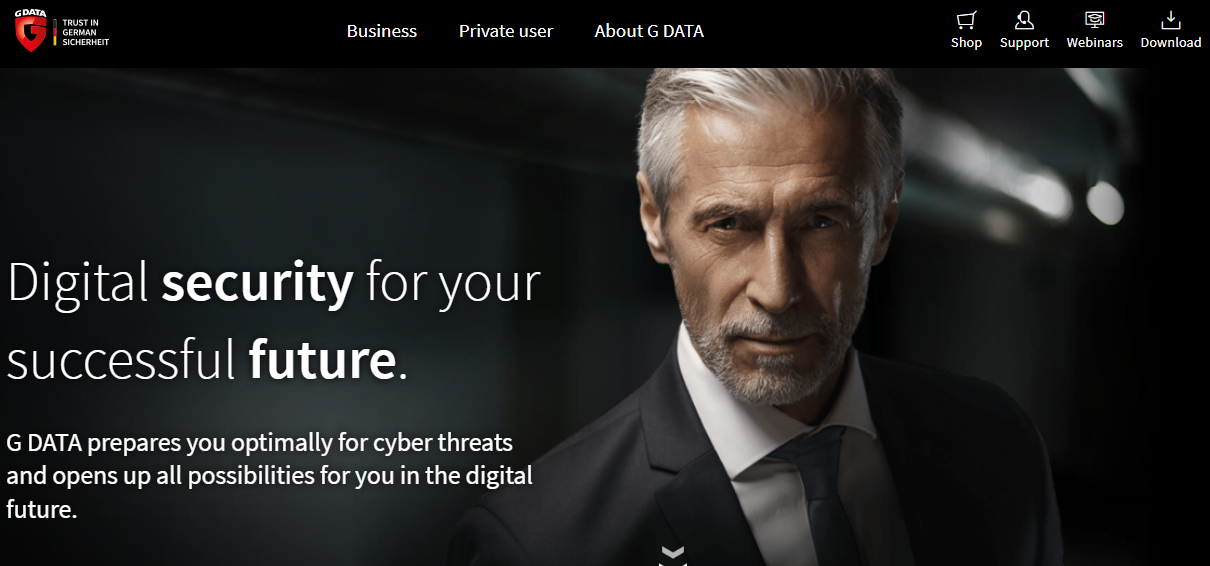 This is an innovative antivirus software for business and private users. It features Next-Gen tech – DeepRay and BEAST – which uses AI and behavioral analysis to detect malware.
G Data Security antivirus comes will scan your devices for viruses, scan emails for phishing and other suspicious content, and protect against ransomware. It also monitors and detects conspicuous in installed apps.
Notably, the G Data BankGuard is an exclusive feature to protect you while banking and shopping online.
G Data Security has antivirus applications for Windows, Mac, and Android. It's not the best BullGuard alternative for iPhones.
G Data Security Pricing

G Data Security pricing plans are based on device count. Also, you can pay for 1 year or 2 years with an 8% discount. The pricing plans include:
1-year Pricing
1 device: $29.95

3 devices: $39.95

5 devices: $49.95
2-year Pricing
1 device: $54.95

3 devices: $74.95

5 devices: $94.95
==>> Get G Data Security
11. Surfshark Antivirus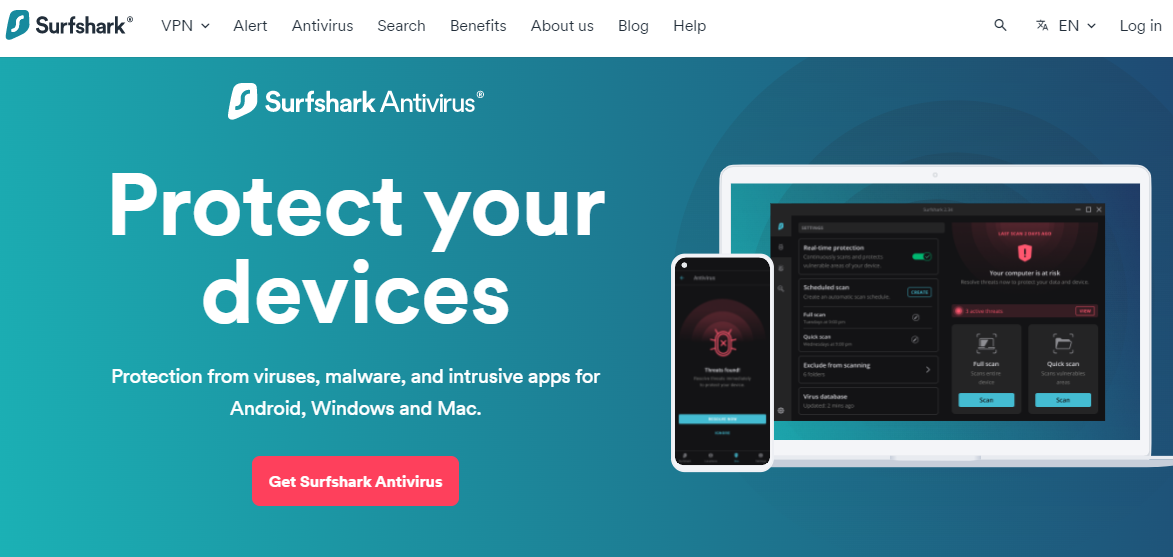 Surfshark is popular for its VPN. However, the security company has an antivirus that's just as reliable. This antivirus is available for Windows, Android, and Mac. It has features to protect devices from viruses, malware, and intrusive apps.
With the Surfshark antivirus, you get real-time protection. It protects your device as you download, open, and view files, apps, and others.
You can perform manual scans or schedule automatic scans. In addition, you can customize scans – for example, you can exclude specific files and folders.
Surfshark Antivirus Pricing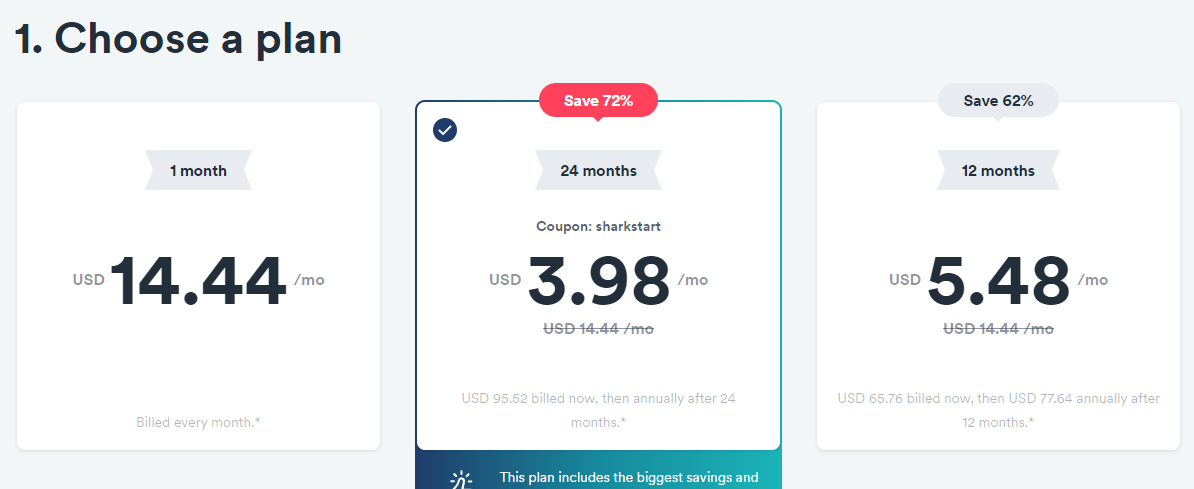 Surfshark antivirus is sold in a bundle, Surfshark One, along with other Surfshark products – VPN, Search, and Alert. Hence, paying for the antivirus means paying for all. The plans include:
1-Month Plan: $14.44 per month

12-Month Plan: $5.48 per month (billed at $77.64 per year; $66.76 for the first year)

24-Month Plan: $3.98 per month (billed at $95.52 per year)
==>> Get Surfshark One
12. Kaspersky Antivirus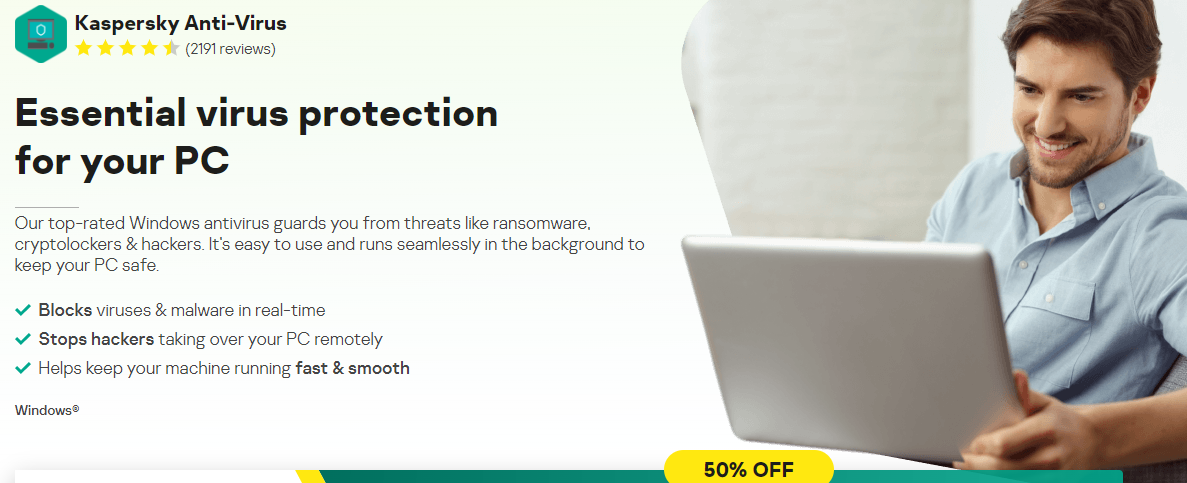 Kaspersky is one of the best BullGuard antivirus alternatives for Windows. You can still use the antivirus on other device types, Mac and Android, but as a part of Kaspersky Internet Security. The exclusive antivirus software is only available for Windows.
As a real-time antivirus, Kaspersky protects your device from malware, ransomware, spyware, file-less attacks, and other advanced cyber threats. It also protects you from phishing by blocking fake websites and suspicious emails.
Ultimately, you can optimize your devices' performance with Kaspersky.
Kaspersky Antivirus Pricing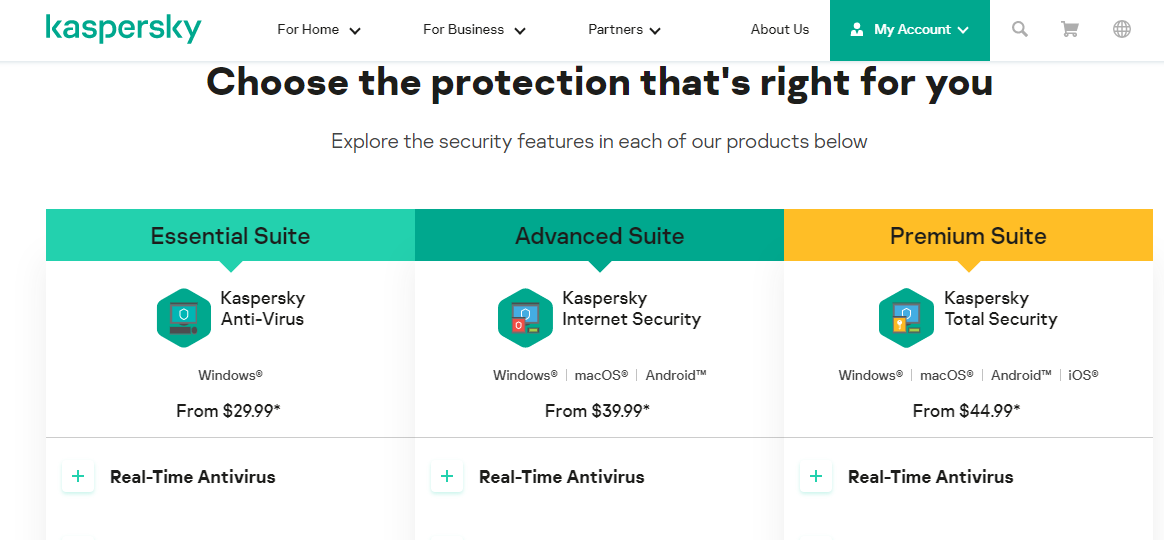 Depending on the devices you want to protect, here are the Kaspersky pricing plans to choose from:
Kaspersky Antivirus

: starts at $29.99 for the first year for 3 PCs

Kaspersky Internet Security

: starts at $39.99 for the first year for 3 PCs

Kaspersky Total Security

: starts at $49.99 for the first year for 3 PCs
==>> Get Kaspersky Antivirus
13. Avira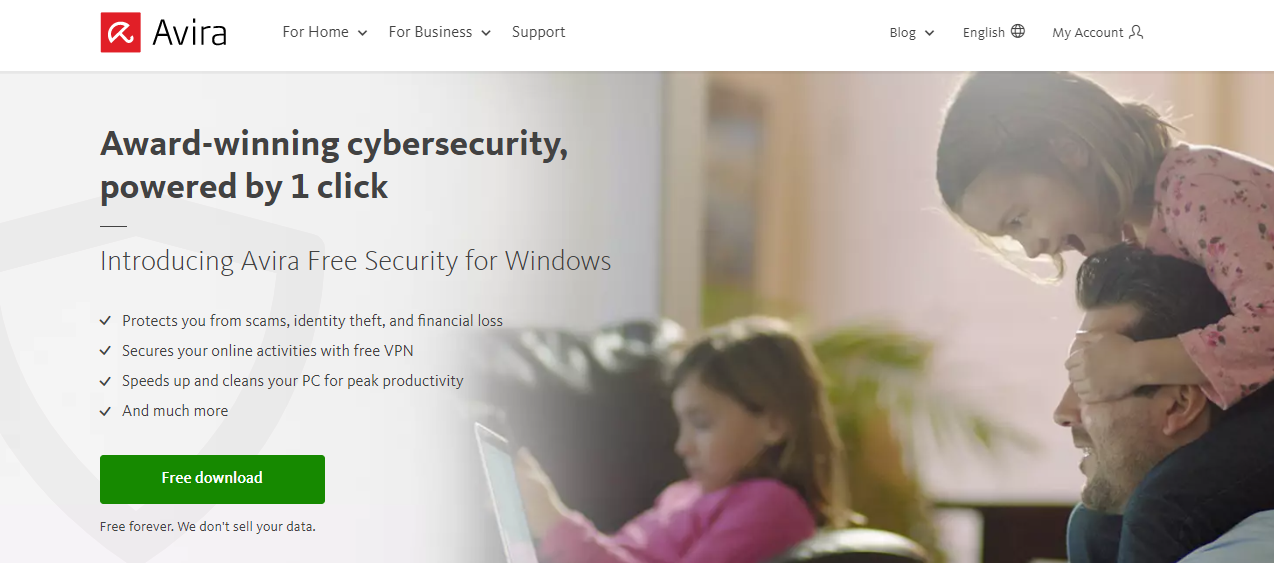 Avira is an advanced antivirus software that will protect your devices from modern and complex threats. It's a BullGuard alternative available for Windows, Android, Mac, and iPhone.
This antivirus can scan and detect viruses, spyware, malicious email attachments, and other malware. Furthermore, it provides browsing protection, banking protection, WiFi protection, tracking protection, and breach alerts.
With automatic updates, the software is always up to date and it works without slowing down your PC. Advanced plans like F-Secure Safe and F-Secure Total come with a personal VPN, Killswitch, and online identity monitor.
Avira Pricing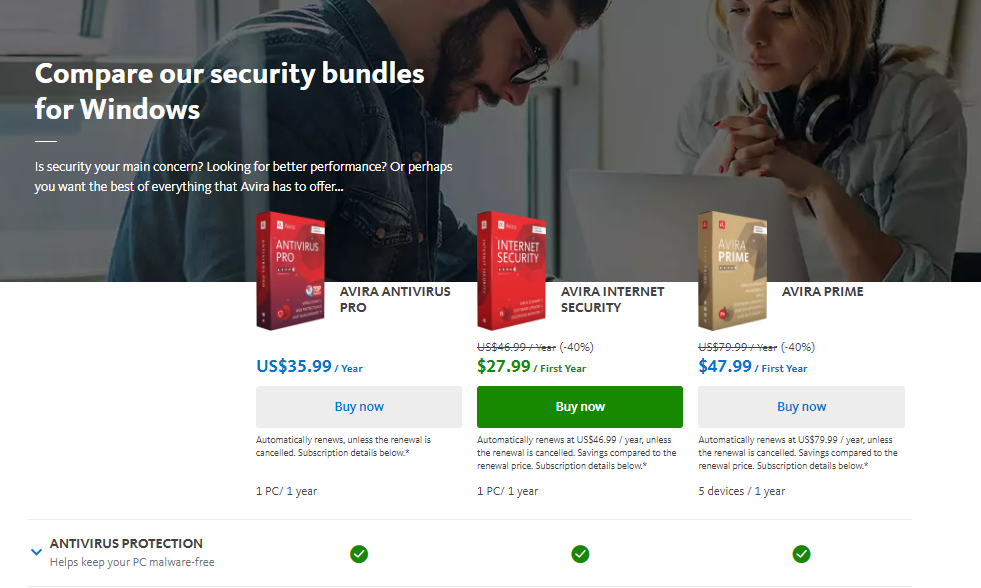 You can use this advanced antivirus software for free. Alternatively, you have three main pricing options to choose from:
Avira Internet Security – $27.99 per year for 1 PC
Avira Antivirus Pro – $35.99 per year for 1 PC
Avira Prime – $47.99 per year for 5 PCs
All plans come with a 60-day money-back guarantee. 
==>> Get Avira Internet Security
14. Total AV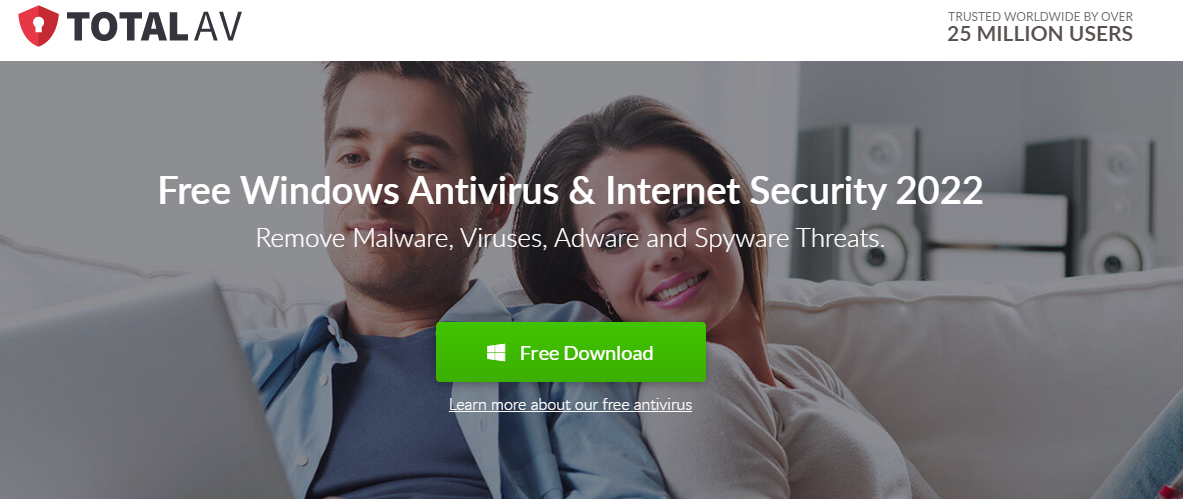 With its anti-malware engine, Total AV is competent in keeping your digital life safe. It's an antivirus you can use for free on Windows, Mac, iPhone, and Android devices.
Total AV features a spyware remover and adware cleaner to keep your devices free from threats. The Advanced WebShield provides protection while browsing, especially against malicious websites.
Furthermore, Total AV features a data breach search database. Through the database, you can easily check if your private information has been compromised. This best BullGuard Antivirus alternative also works as a PC optimizer with features like the junk cleaner and browser cleanup.
Total AV Antivirus Pricing

Total AV antivirus is free but Total AV Antivirus Pro is not. You can rely on the free antivirus but, the pro version does a lot more.
Features like real-time protection, smart scans, and PUA protection are only available with the Pro option. It costs $119 per year for 3 devices. However, you pay just $29 for the first year.
You can purchase Total AV Antivirus Pro as a part of Total AV Internet Security and Total AV Total Security for $145 and $179 per year respectively. The first year costs $39 and $49. 
==>> Get Total AV
15. Bitdefender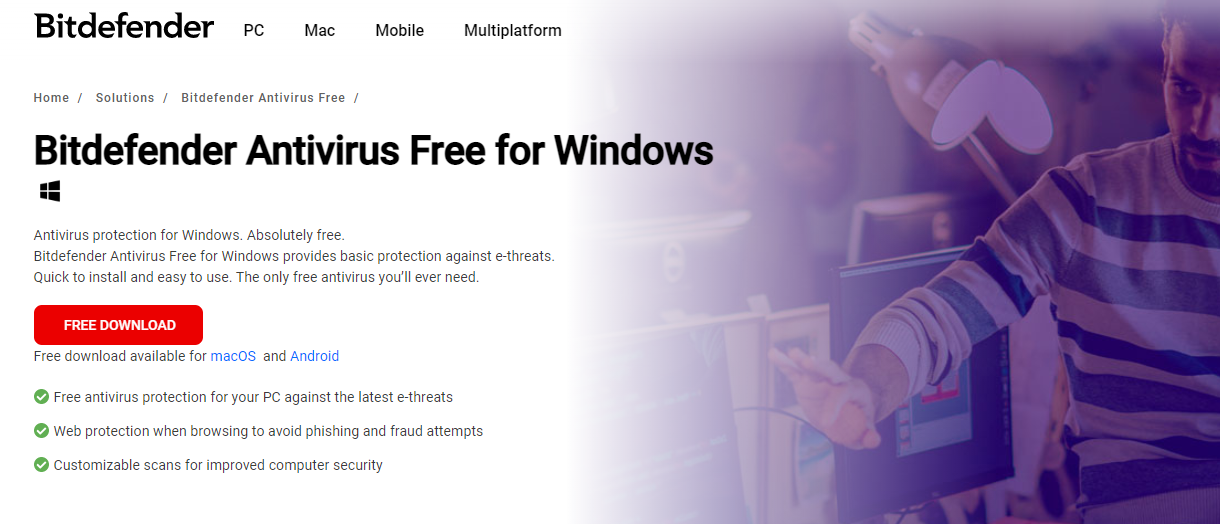 Last, but not least, on our list of best BullGuard antivirus alternatives is Bitdefender.
Bitdefender is tagged "the Only Free Antivirus You'll Ever Need." However, like most other free BullGuard antivirus alternatives on this list, Bitfender free software is limited.
Nevertheless, it's worthwhile free antivirus as it protects against all the latest viruses. It also prevents you from online threats, blocking phishing and fraudulent activities.
This BullGuard Antivirus alternative is easy to install and the intuitive user interface makes it easy to use. You can download and use Bitdefender free on Windows, Mac, or Android.
Bitdefender Pricing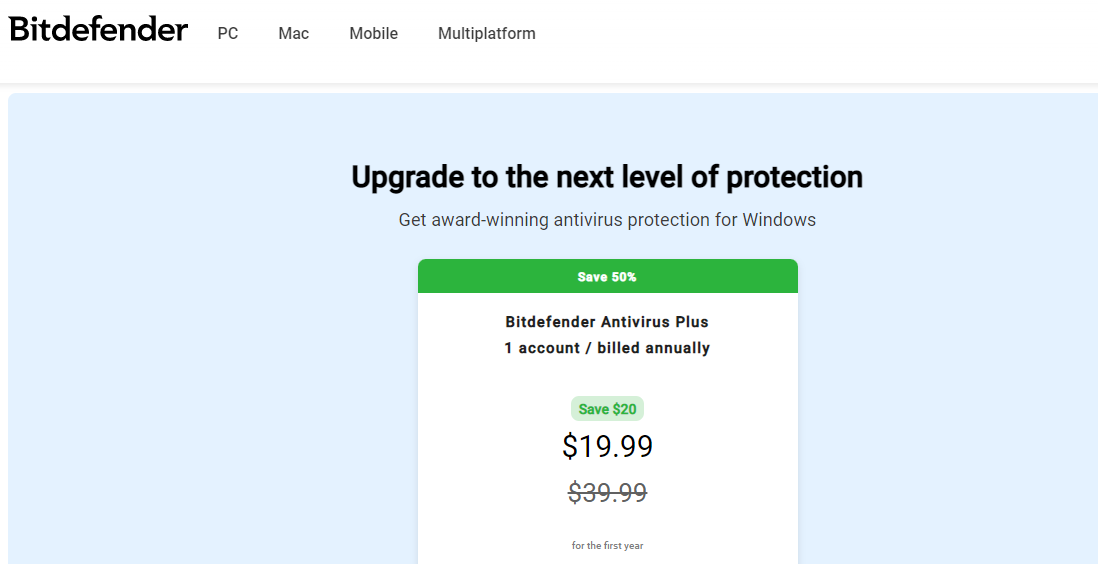 The free Bitdefender antivirus will scan your device for viruses and protect you online. With the Plus, premium plan, you can keep your device safe from ransomware, protect your network when public, mask your online profiles, and more.
Bitdefender Antivirus Plus costs $39.99 per year but you pay $19.99 for the first year. Don't forget that pricing is subject to change.
==>> Get Bitdefender
Conclusion – What is the Best BullGuard Antivirus Alternative?
Which, out of the 15 software above, will you pick? Well, they are all reliable BullGuard antivirus alternatives, and ultimately, it depends on what you need. Nevertheless, I'll recommend Heimdal Security Antivirus.
Heimdal Security Antivirus has everything you'll need in an antivirus software. It's dependable, easy to use, and although the price is above the competition, you get value for your money.
---
INTERESTING POSTS