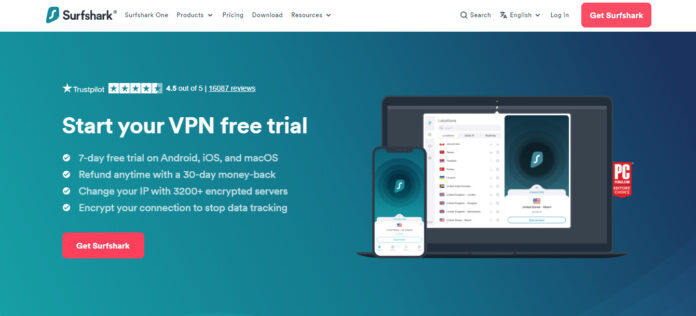 Today, we will show you how to get the Surfshark VPN free trial and use it.
If you've done your research on VPNs, then you probably know that Surfshark is one of the best virtual private networks out there. That's why so many people want to get Surfshark free trial to see if it's right for them.
After all, not everyone can pay for a VPN subscription. Some people just want to test the service first before handing over their credit card details and giving away money for something they might not even like.
Fortunately, getting a free trial with Surfshark is pretty simple since they offer one directly from their website. Keep reading this article if you want to learn more about how you can get Surfshark VPN free trial.
Surfshark VPN Free Trial Overview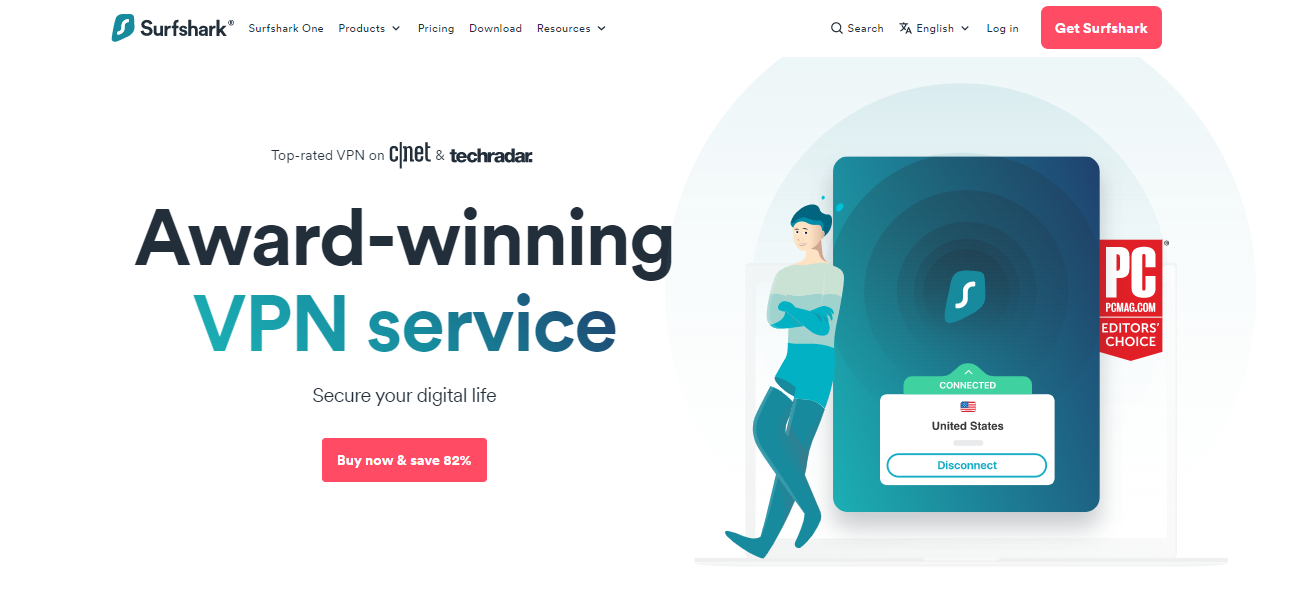 A free trial period is offered by many VPN services. A free trial period allows you to sample the service before paying for a subscription.
You can also use a free trial period to test a VPN service without committing to a long-term subscription.
There is no such thing as a free VPN service. Even though some VPNs offer a free trial, they will eventually ask you to pay for their services at the end of the trial period.
A free trial period is a risk-free way of trying out a VPN service without any commitment. We recommend you use Surfshark VPN Free Trial. This will help you test the performance of the VPN service before actually buying it.
==>> Get Surfshark VPN Free Trial
How To Get Surfshark VPN Free Trial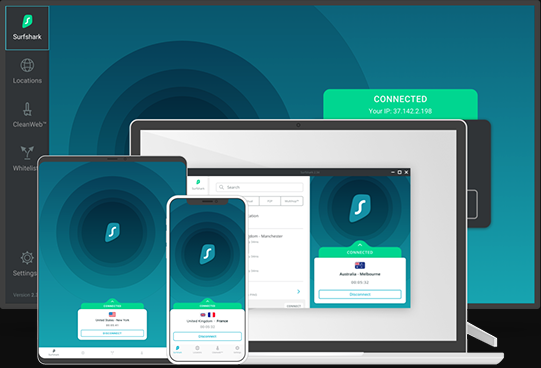 Surfshark is an easy-to-use VPN service that offers a free VPN trial for iOS, macOS, and Android devices for a 7-day period.
Follow the steps below to get the Surfshark VPN free trial:
First off, visit the Surfshark VPN website here and choose "Get Started".

You will be asked to enter your email address and select a password.

Afterward, you'll be taken to the next page where you can select your preferred subscription plan.

If you're looking for the Surfshark VPN free trial, you have to choose "Try Surfshark for free!" from the drop-down menu.

Then, you'll be asked to provide your email address and select a password.

You'll also have to enter your name and select your preferred plan.

After you've filled up the form, you'll be sent a verification email.

You must click on the link inside the email to activate your account.

You'll then be taken to the dashboard page where you can download the Surfshark VPN client.

Once you've downloaded the client, you can start using the Surfshark VPN service for free.
Note: The free trial lasts for 7 days, after which you have to purchase a subscription to continue using the VPN service. 
READ ALSO: Full Surfshark VPN Review
Benefits Of Surfshark VPN
Here are some of the benefits of Surfshark VPN:
User-friendly interface
Surfshark has a user-friendly interface that makes it easy to use for both beginners and experienced users. You can also use it on multiple devices simultaneously.
Strong encryption
Surfshark uses the strongest encryption available in the industry. It's even stronger than government-grade encryption. The encryption protocol used by this VPN service is AES-256, which is considered unbreakable.
No logging policy
Unlike many other VPN providers, Surfshark has a strict no logging policy. This means that it does not keep any record of your browsing history or online activity. Therefore, even if a government agency requests your data, Surfshark won't have anything to give.
Good server coverage
This VPN service has servers in over 100 countries. Therefore, you can unblock geo-restricted content from anywhere in the world.
READ ALSO: How To Install Surfshark VPN On Your Devices
Is Surfshark VPN Worth It?
Yes, Surfshark VPN is worth it and you'll agree too if you test the free trial. 
First of all, Surfshark ensures a clean web experience. You can browse the internet free from ads, malware, trackers, and phishing. 
There are several VPN servers to use so you can mask your IP address and browse with foreign ones. The VPN collects no logs and it ensures DNS and leak protection.
Next up is the whitelister. With this, you can specify websites and applications that can bypass the VPN. The VPN also has a Kill Switch for quick termination of browsing activities if the connection drops.
You can count on its security as it uses AES-256-GCM encryption and IKEv2/IPsec and OpenVPN protocols. With Camouflage Mode, no one, not even ISPs can detect the VPN. 
Finally, you can connect an unlimited number of devices with just one subscription and Surfshark has applications for several device types. There are applications for Android, iOS, Windows, macOS, Linux, Firestick, and browser extensions for Chrome and Firefox. 
==>> Get Surfshark VPN Free Trial
Surfshark VPN Subscription Plans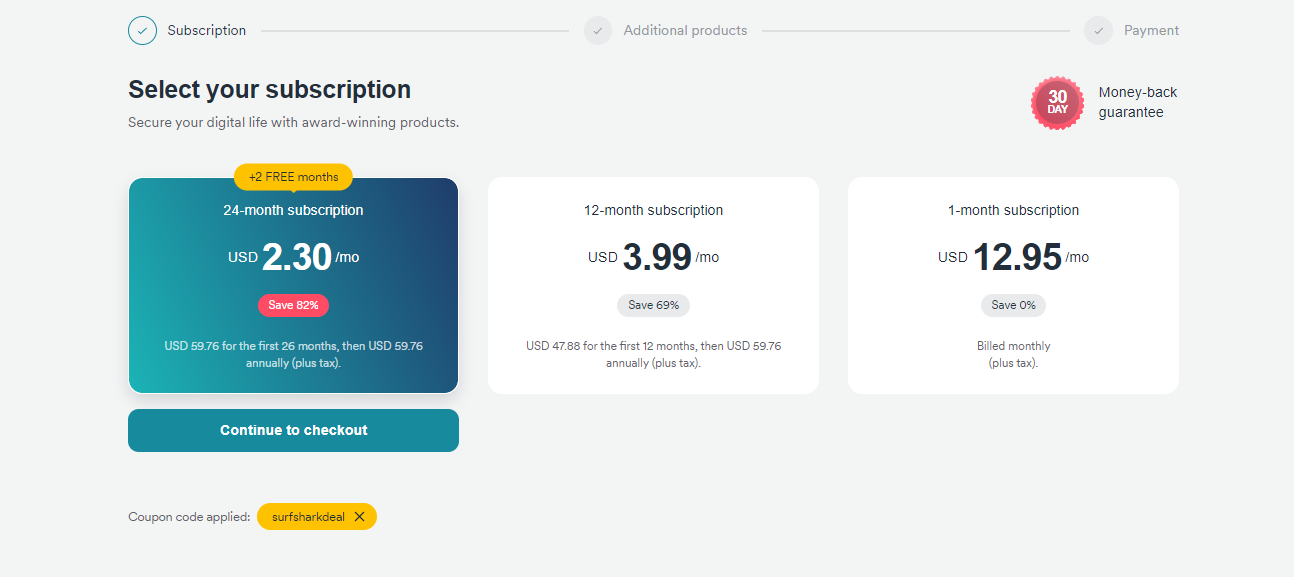 If you choose to continue using Surfshark after your free trial, you have several subscription plans to choose from. Here are the Surfshark VPN subscription plans:
1-month plan – $12.95 per month 
12-month plan – $47.88 per year ($3.99 per month)
24-month plan (+2 free months) – $59.76 every 2 years ($2.30 per month)
As you can see, Surfshark subscription plans are very affordable. It won't cost too much to keep up with it. The highest plan is charged at $2.49 per month which is about 81% OFF the normal price. 
==>> Get Surfshark VPN Free Trial
Is Surfshark VPN Free?
No, Surfshark is not a free VPN service. However, you can get Surfshark VPN free trial for a period of 7 days that allows users to test out the features and benefits of the VPN before committing to a paid subscription.
In order to use Surfshark VPN, you will need to sign up for a paid subscription by clicking on this link. Surfshark offers a variety of subscription plans, so you can choose the one that best fits your needs.
With a paid subscription, you'll get access to all of Surfshark's features, including unlimited data usage, military grade encryption, and 24/7 customer support.
Bottom Line
The Internet was created as a free and open platform for all. Sadly, it has become a place where people can steal your data and infect your devices with viruses.
A VPN is a secure tunnel between you and the internet. It keeps your data safe from prying eyes and hackers. VPNs also unblock geo-restricted content.
Therefore, if you're looking for a VPN service, we recommend you to use Surfshark VPN. It has a free trial with a 7-day money-back guarantee. This will allow you to test the service thoroughly and find out if it's right for you. Surfshark also has a user-friendly interface and strong encryption.
You have nothing to lose with the Surfshark VPN free trial, on the contrary, you are able to access all their VPN features, and probably opt for long-term plans.
Nevertheless, Surfshark VPN is the perfect VPN service for usage on multiple devices. So, you may consider opting for any of their premium pricing plans.
---
RELATED POSTS