This is an honest NordVPN review, a popular virtual private network service provider.
NordVPN is always among the list of best VPNs in the internet space. If you're wondering why the hype, find out from this review if NordVPN is truly deserving of your buck.
What Is NordVPN?
NordVPN is a Virtual Private Network established in 2012 to make the internet a better virtual world to live and operate in.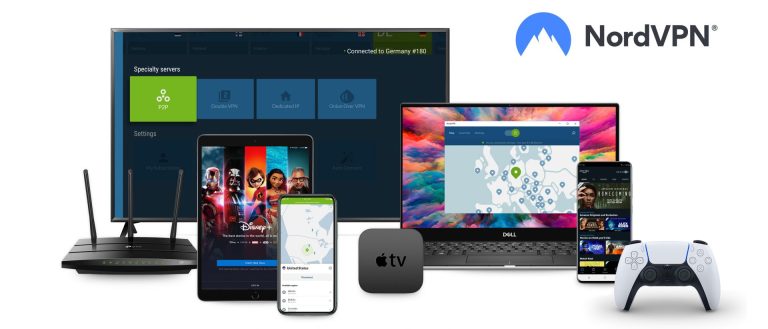 Using NordVPN protects your internet connection, data traffic, and privacy while online by acting as an intermediary between your device and the website you're visiting.
When you connect to the internet via a NordVPN client, the VPN client channels your inbound and outbound data traffic through a secure virtual tunnel created between the website you visit, the NordVPN server you're connecting to, and your device.
Hence, at no point is your data exposed to unauthorized third-party interference. Therefore, by connecting to the internet via NordVPN, you enjoy data safety, identity, and privacy protection, making you an anonymous internet user with no worries about being tracked.
Based on regular usage and extensive tests I have performed on NordVPN, I will discuss the features that make NordVPN a choice VPN service provider for the majority.
Read on for the NordVPN review.
==>> Get NordVPN
NordVPN Features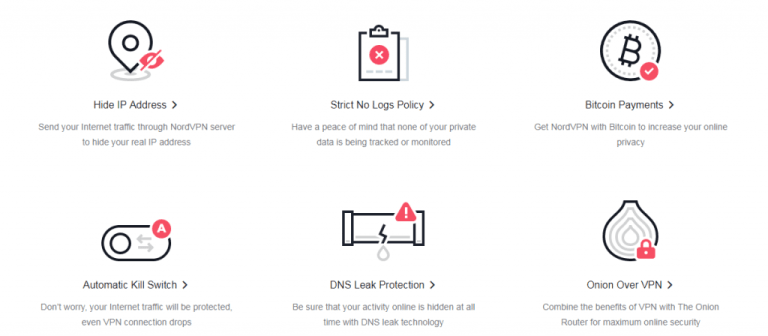 Simple User Interface
For me, it starts with the interface, how easy it is to access NordVPN's features. If all you want is to enjoy a secure internet connection, clicking on the 'Quick Connect' button connects you to the best server for speed and security optimization.
As a security-conscious or an IT person, you can play around with NordVPN's features lined up on the left side of the screen. You will find a list of servers optimized for speed, security, torrenting,  streaming/downloading, and country servers you can choose to connect to.
Overall, It is easy to navigate and find your way around on NordVPN's interface, with all features well-lined out.
VPN Protocol
This is where NordVPN differs from other VPN providers. NordVPN uses its proprietary NordLynx VPN protocol as its default protocol.
The NordLynx is an improvement of the WireGuard VPN protocol, which is noted for its speed at the expense of security, a feature NordVPN improved upon to ensure users enjoy high-speed and robust security. NordVPN also offers you a choice of OpenVPN and IKEv2 VPN protocols.
Still, the default NordLynx remains the best in terms of speed and security, almost doubling the speed of other VPN protocols based on comparative speed tests conducted.
Encryption Technology 
NordVPN uses the AES-256 bit encryption protocol to protect users' data traffic from unauthorized interference/decryption. This type of encryption protocol is so strong that it will take more than a million years to crack using the world's fastest supercomputer.
Aside from the AES-256 bit encryption protocol, NordVPN has a double VPN feature that double-encrypts your data traffic by channeling it through two VPN servers,  a feature similar to The Onion Network. Although this feature can slow down your speed a lot, you can get decent speed to keep you going.

Multiplatform support
NordVPN supports a number of devices and OS, including Windows, Mac, iOS, Android, Linux, Router, Android Smart TV, etc. I have tried NordVPN on some devices and OS; it always works because it's a cross-platform service provider. 
Device connectivity 
NordVPN allows for six (6) simultaneous device connectivity, which is fair enough to cover a large household or multiple devices.
You can extend this feature to secure your Wi-Fi network and enjoy more device connectivity beyond the limited number of six devices by configuring your Router with NordVPN. 
IP address, WebRTC, and DNS leak-proof
In all of the tests conducted, there has not been any issue of IP leakage via WebRTC or DNS. This is because NordVPN has its private DNS, which it uses as a  caching system to prevent leakage and other exposure vulnerabilities which can compromise your IP address, the website you visit, and other identifying information.
Bypassing Internet censorship
NordVPN is one of the few VPNs that can bypass China's Great Firewall, thanks to its obfuscated servers which camouflages your data traffic to get through China's Great Firewall.
However, you have to install NordVPN before traveling to China if you intend to enjoy access to Facebook, Twitter, Instagram, YouTube, etc., while in China.
Additionally, I have used NordVPN to bypass internet restrictions or censorships created by governments, schools, or other organizations to restrict users' access to certain websites, E.g., Social media, websites with sensitive information, and porn websites.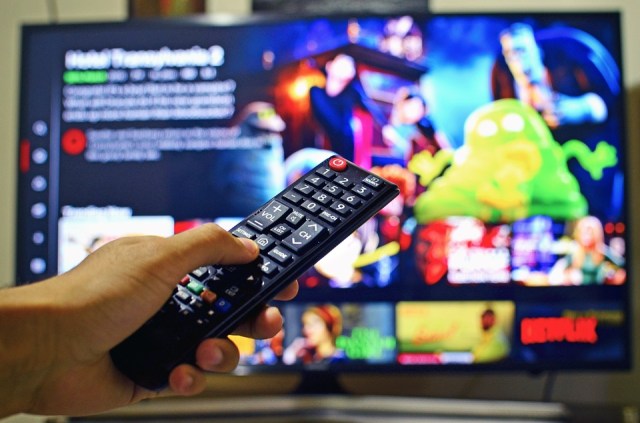 Unblock Geo-blocked services
Services like Netflix, Hulu, YouTube TV, Sling TV, ESPN+, Disney+ SBS Australia, etc., are geo-blocked. This means you cant access contents from geo-blocked services if you do not reside within the geographical location where the services are available.
With NordVPN, I was able to unblock 20 geo-blocked services, including Netflix US and others listed above, while outside the US. Therefore, if you're outside of the US, NordVPN is one VPN you can use to access multimedia services and content from the US and other countries worldwide.
Speed and Performance
As noted earlier, using NordVPN, I recorded extremely fast upload and download speeds than is achievable with OpenVPN or other types of VPN protocols.
Thanks to NordVPN's NordLynx VPN protocol, which is optimized for speed, thus making it possible to achieve twice the speed of other VPN protocols.
For this NordVPN review, tests conducted puts the average speed of NordVPN at 118Mbps per second, depending on the distance from your chosen NordVPN server.
Logging policy 
NordVPN is based in Panama, a country that is not part of the 5,9, and 14 eyes alliance. This implies that NordVPN is not under compulsion to keep users' information and logs.
NordVPN is a service dedicated to internet freedom, operates a strict no-logs policy; therefore, you can be assured that NordVPN won't be logging your details on their servers since they have no cause to do so.

Servers and Locations
NordVPN has 5,459 servers in 59 countries. Some of these servers are dedicated obfuscation servers, p2p, double-VPN servers, etc. With a presence in 59 countries, you can enjoy full VPN services, including online gaming with no lags.
Kill switch Technology
Kill switch technology is another aspect NordVPN is excelling at. The Internet Kill switch worked effectively by shutting me off the internet when the VPN connection dropped due to an unstable internet connection.
The App Kill Switch lets you select the apps to restrict from Internet connection if your VPN connection goes off. E.g., you can configure your browser to disconnect you from the internet if the VPN connection drops.
Both features effectively protect you from accidental leakage after disconnecting from the internet or VPN disconnection due to an unstable internet connection.
Technical Details
Supported devices and OS:

Windows, Mac, Android, iPhone, Linux, Router.

Pricing model:

Monthly, and yearly, and 2-year subscription packages

Customer types:

Individuals, businesses, and corporate organizations

Mobile applications:

Android, iOS
NordVPN Chrome Extension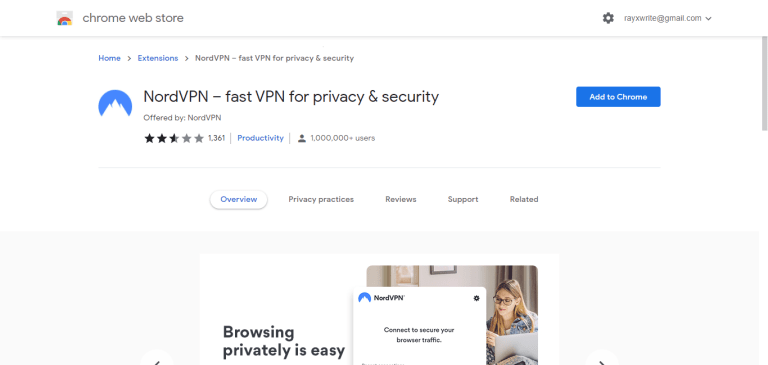 NordVPN has a Chrome extension; hence you can download the NordVPN chrome extension on any chromium-based browser.
Is NordVPN Free?
NordVPN is not free, but it offers a 30-day moneyback guarantee for users who feel NordVPN is not for them.
NordVPN Pricing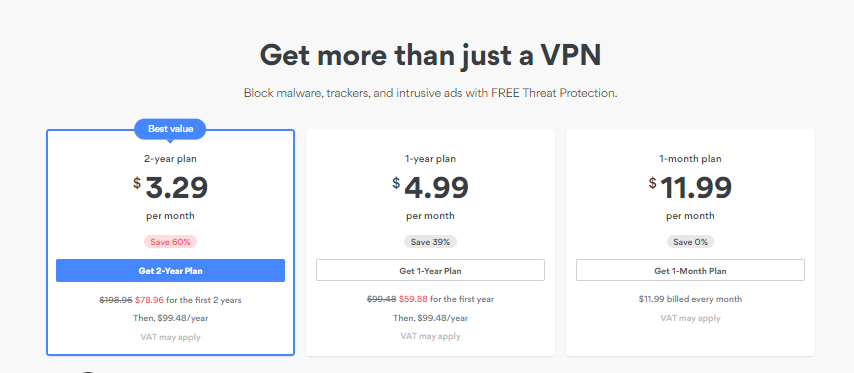 I find NordVPN's monthly subscription to be a little on the high side at $11.99 per month; however, opting for the two-year plan gives you affordable access to quality VPN services offered by NordVPN. 
Monthly Plan:

$11.99  per month

1-year Plan:

$4.99 per month for a yearly payment of $59.88

2-year Plan:

$3.29 per month for a 2-year payment of $78.96
==>> Get NordVPN
NordVPN Review: Frequently Asked Questions
Is NordVPN Legit?
Yes, NordVPN is a legit and reliable VPN service. NordVPN is a highly respected name in the VPN industry, and it has earned that reputation by offering a high-quality product with robust security features.
NordVPN is one of the few VPNs that can bypass the Great Firewall of China, making it a good choice for users in China who want to access blocked websites. NordVPN is also one of the few VPNs that offers a true no-logs policy, meaning that your activity is never tracked or monitored.
Is NordVPN Worth It?
NordVPN is a great investment. It's one of the most popular VPNs on the market, and for good reason. It's fast, it's secure, and it's easy to use. It's also one of the most affordable VPNs, starting at just $3.49 per month. NordVPN is a great choice for anyone looking for a VPN, whether you're a beginner or an experienced user.
Is NordVPN Owned By China?
No, NordVPN is not owned by China. It is owned by the Lithuania-based, Tesonet. While NordVPN does have offices in the Netherlands, the United Kingdom, and Panama, its headquarters are located in Panama. This explicitly indicates that NordVPN company is not subject to Chinese law or regulation. In addition, the company does not have any ties with the Chinese government. Also, NordVPN is not part of the n-eyes intelligence sharing alliances (where n = 5, 9, or 14)
Is NordVPN Safe?
NordVPN is a safe VPN service that you can rely on for a private and secure online browsing sessions. In fact, you can check their privacy policy if you have any doubt. So, you can utilize any of the NordVPN apps across all your devices to enjoy a high degree of privacy and data protection while online.
A Final Thought On The NordVPN Review
There you have it; I hope that this NordVPN review helps you to make a good decision on what you stand to gain by subscribing to the NordVPN service.
Besides, you can obfuscate your online location by simply connecting to any of the NordVPN country server of your choice. Also, if you get stuck with technical issues like configuring NordVPN on a router or Linux device, you can utilize their FAQ page or contact their support team.
==>> Get NordVPN
---
INTERESTING POSTS