In this post, I will show you the Surfshark VPN review.
Whenever you access the internet, you must stay protected, and VPNs are among the best options for that.
VPN encrypts your traffic, masks your real IP address, lets you browse anonymously, and unlocks restricted websites.
The problem many internet users seem to have is picking the right VPN service. It's understandable, considering that there are hundreds of VPN services available.
However, many VPN users confirm that Surfshark VPN is one of the best available. Others say it is the best. Is that true?
You can find out in this post as we carry out an in-depth Surfshark VPN review. Let's begin with an overview of the service. 
What Is Surfshark VPN?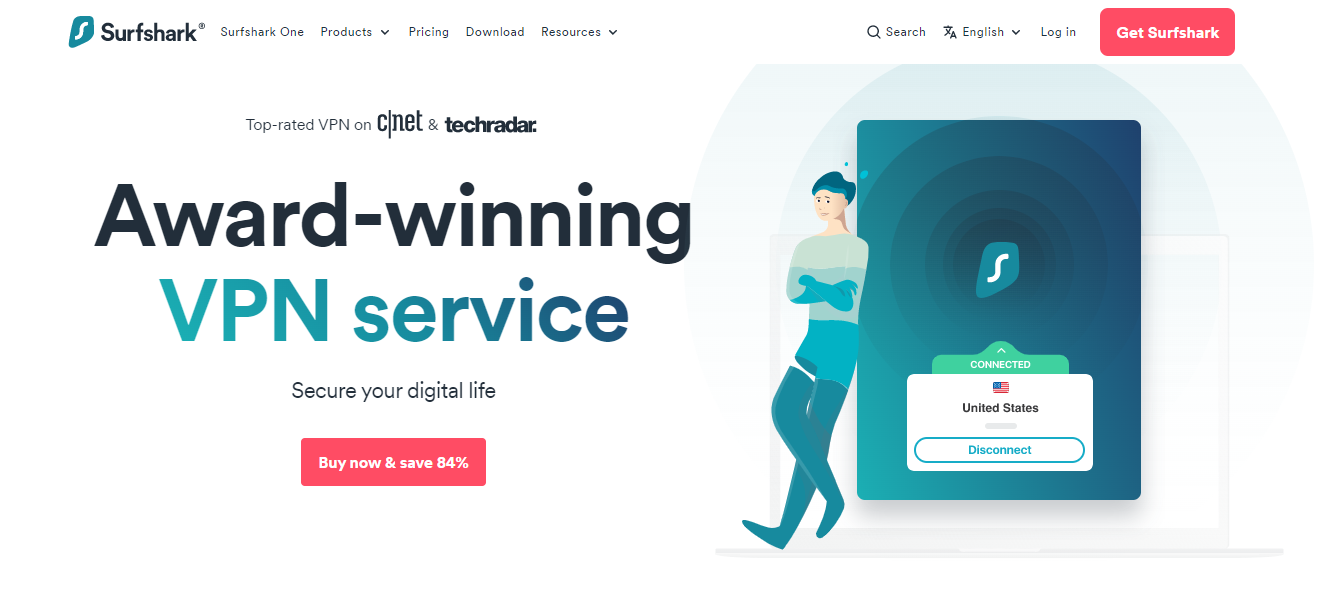 The Surfshark company aims to help customers prioritize data security. They do this by providing a software suite — Surfshark One — which consists of a VPN, Antivirus, private search tool, data removal tool, and a data leak detection tool.
However, these tools are also sold individually. In other words, you can pay for just the VPN rather than purchasing the entire suite.
So far, Surfshark boasts more than 12.4 million downloads of all apps and more than thirty industry awards. These prove the reliability of their software, and it's a big feat for a company that launched in 2018.
The Surfshark VPN was the first software in the suite, which is why it's the most popular to date. TechRadar, CNET, and other top industry publishers rated the VPN among the best.
When you opt for the VPN, you get access to features that protect your privacy, secure your identity, and prevent trackers from monitoring your activities.
==>> Get Surfshark VPN
Benefits of SurfShark
Here are the benefits of using Surfshark VPN;
Online Privacy: Surfshark VPN lets you go completely private online. The VPN hides your IP address which means your computer cannot be traced or identified. It also hides your privacy from your internet provider in camouflage mode so that they do not detect that you are using a VPN. Surfshark VPN has a no-logs policy so they do not store your session details.
Complete Internet Access: Surfshark VPN has over 3,200 servers in over 100 countries. You can connect to any of these servers and access any website; including those restricted to your region. The VPN also works across 10 Netflix regions; it lets you watch your favorite Netflix movies anywhere you are.
Clean Browsing Experience: As one of the best AdBlock VPNs, this VPN service lets you enjoy a clean browsing experience. It automatically blocks malware and phishing sites so you are less at risk of hackers. Also, it features an ad blocker that prevents ads from displaying on your screen as you browse. This will also help you save mobile data.
Unlimited Connection: Other VPNs might have a limited amount of devices that you can connect but it's different with Surfshark. The VPN allows you to connect as many devices as you want at a time; it has an unlimited connection. You can connect with your macOS, Windows, Android, and iOS devices.
Reliable Support: You can get support at any time you need if you encounter any issues using Surfshark. There is a live chat feature on the website you can use to easily send messages to the support center. There is also a FAQ page where you can instantly find answers to some questions you have.
Getting Started With Surfshark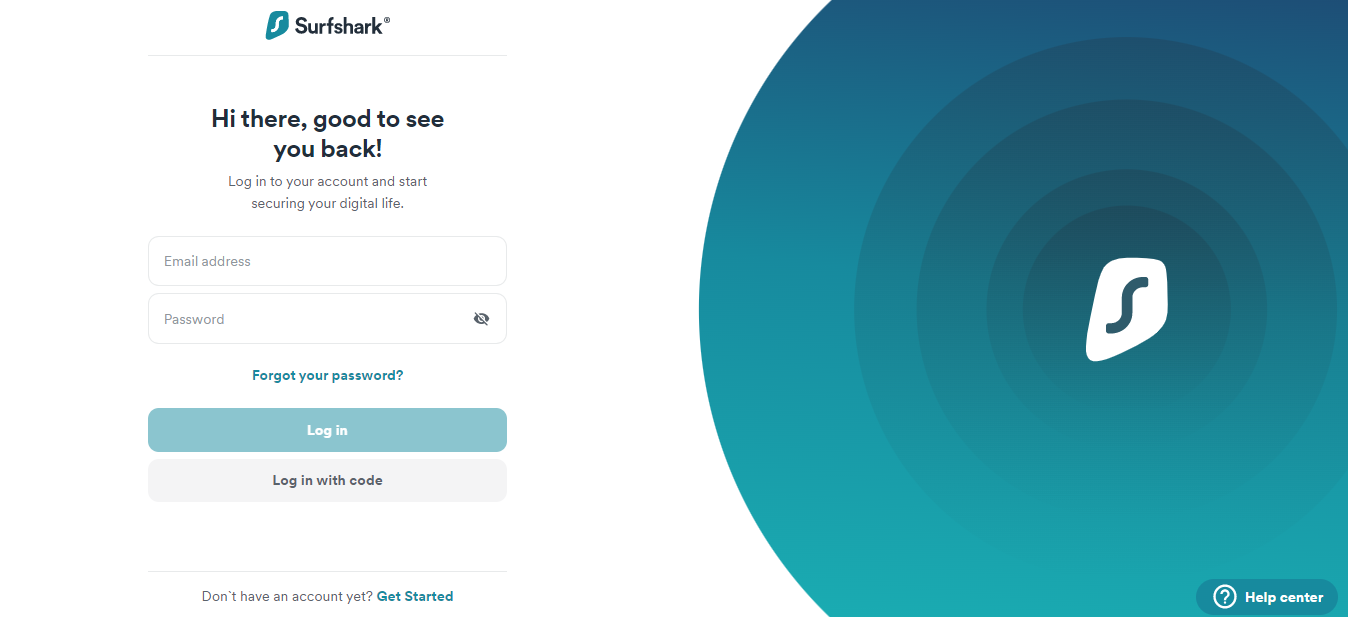 Surfshark VPN is a premium VPN service. Thankfully, it is quite affordable, as you'll find in the pricing section of this Surfshark VPN review. As a result, you have to choose a preferred pricing plan to create an account.
After selecting your plan, you select your preferred language and payment currency, then proceed. You can use Surfshark VPN almost anywhere, as the software supports sixteen languages and six currencies.
Before you pay for the VPN, you can choose to pay for the entire Surfshark One suite. You can opt for it if you need the other tools, as it'll help you save money. Otherwise, you can skip it.
The final step before you get access to the VPN is to make the payment. You have five payment options with Surfshark, including Cryptocurrency, PayPal, Apple Pay, Google Pay, and Amazon Pay.
==>> Get Surfshark VPN
Once your payment is successful, you immediately get access to the VPN and start browsing securely.
Let's look at the features you get.
Surfshark VPN Features
People who opt for Surfshark VPN as their preferred VPN cite the features as the deciding factor. Check them out below to confirm:
Servers And Server Locations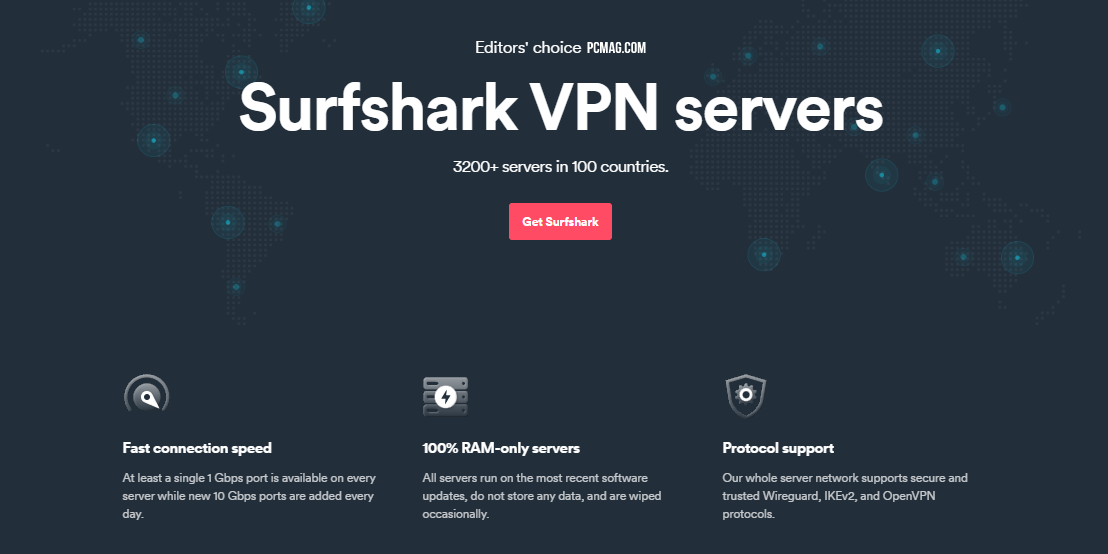 A VPN's strength is often measured by the number of servers it has. If that's your deciding criterion, then Surfshark VPN passes with an A.
With Surfshark VPN, you get more than 3,200 servers in more than 100 countries. What's interesting is that the servers span continents, including the Americas, Europe, the Middle East, Africa, and Asia Pacific.
In the Americas, you get access to VPN servers in the United States, Brazil, Mexico, Canada, Columbia, and Chile, to name a few. Top locations in Europe include France, Italy, Spain, Portugal, the UK, Sweden, Switzerland, and Germany.
If you want to browse with Middle Eastern and African servers, the top options include Algeria, Nigeria, South Africa, the UAE, and Saudi Arabia.
For Asia Pacific, you have Hong Kong, India, Japan, South Korea, Singapore, and Indonesia, among others.
Fast Connection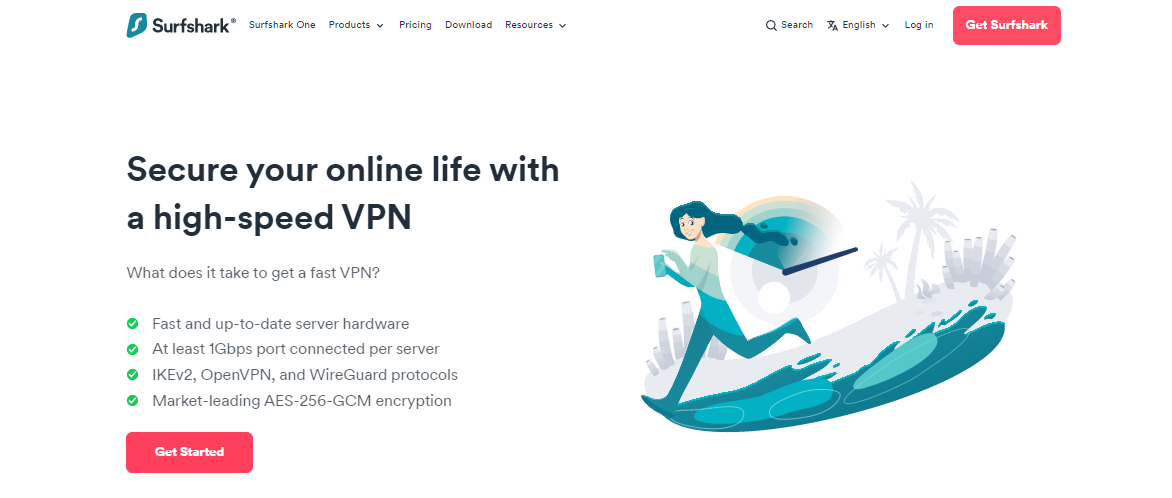 Not only does Surfshark VPN have thousands of servers around the globe, but it also ensures these servers are fast. Thus, you can browse at the speed of light.
The VPN provides a minimum of 1 Gbps port in every server. Note that Gbps transmits up to a thousand MBs per second, which is ultra-fast for a VPN. In addition, you'll never run out of Gbps ports, as the VPN adds at least ten new ports daily.
Furthermore, Surfshark VPN is lightweight, which contributes to its speed. The VPN uses RAM-only servers, which do not store any data and are regularly purged. With the AutoConnect feature, activating the VPN is fast as well, as you don't have to launch the app.
In fact, during the process of crafting this Surfshark VPN review, we can attest to it as a fast VPN service for uploading and downloading files. Also, it is ideal for streaming, online gaming, and even web conferences.
NoBorders Mode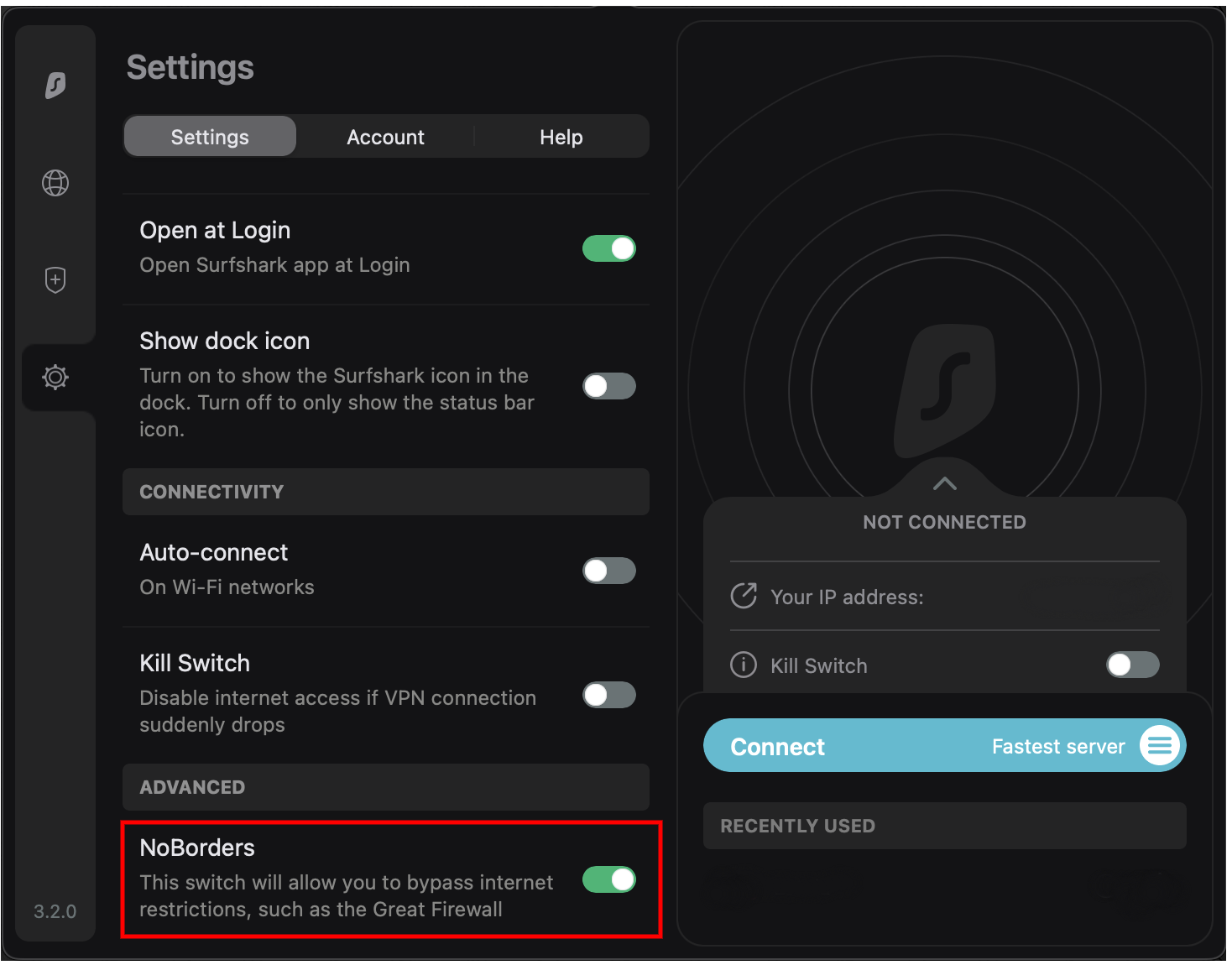 With Surfshark VPN, no one can block you from accessing any website because of your location. You can unblock any website by simply switching to a compatible server location.
This means you can access restricted content on platforms like Netflix, YouTube, Facebook, Amazon Prime, Hulu, and others.
Suppose you don't want the VPN to affect all your browsing. In that case, Surfshark also gives you an option with split tunneling. Split tunneling allows you to select which traffic goes through the VPN and which doesn't.
For example, you can set your Netflix to use the VPN and your browser not to on the same device. When you use your browser, it'll be as if a VPN isn't activated.
CleanWeb
To help you maintain your online security, Surfshark comes with a CleanWeb feature. This feature allows you to browse the internet without worrying about ads and malware.
If you're unaware, many hackers exploit digital adverts to infect victims with viruses and spyware. You can fall victim by simply clicking on the ad. But with the Surfshark VPN CleanWeb feature, this won't happen.
Aside from protecting your privacy, the CleanWeb feature also helps you save money since online ads consume data. Also, you can browse faster, as no ads mean your browser will load fewer resources.
MultiHop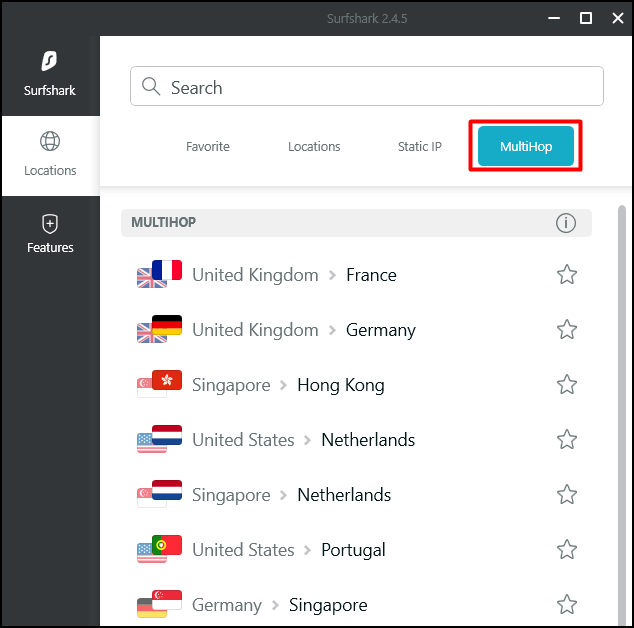 Surfshark MultiHop lets you use two VPN servers at the same time. It's an ingenious feature that you won't get with many VPNs, and how it works is simple.
For example, you can connect to a VPN in the US and the UK at the same time, just as we did while testing it for this Surfshark VPN review. This means your browsing range now spans North America and Europe.
You can unblock websites restricted to the two regions, but the main advantage of activating MultiHop is security.
MultiHop means your traffic has double mask layers, making it even harder for online trackers to monitor your activities.
Furthermore, it can help you browse faster as the VPN will auto-select the fastest server between the two.
IP Rotator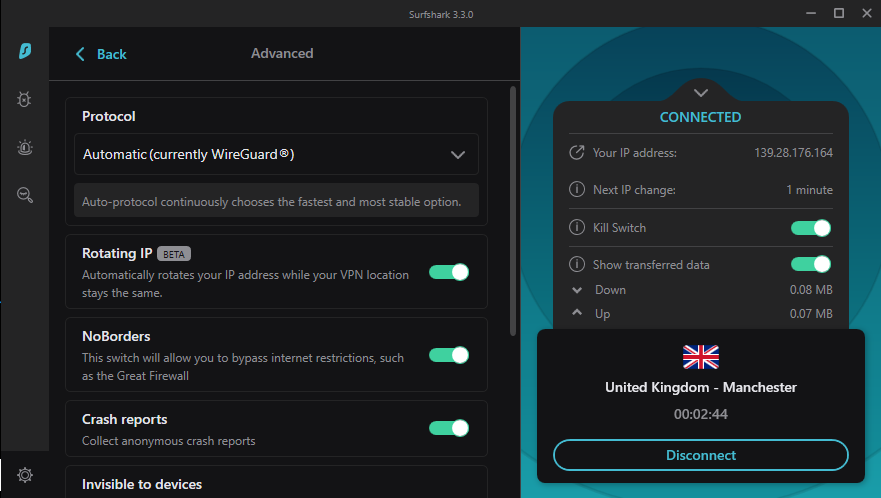 It's possible to rotate your IP address with Surfshark, thanks to the native Nexus technology. It's an SDN technology that connects you to a server with multiple IP addresses.
From time to time, the IP address changes, so you don't use the same one for a long time. This feature will improve anonymity and, most importantly, prevent IP bans.
It makes Surfshark VPN a must-have if you perform advanced tasks like web scraping, crawling, ad testing, and multi-account management. For such tasks, you often need a proxy, but not anymore if you have Surfshark.
What more? The VPN will soon launch its IP Randomizer tool.
DNS & Leak Protection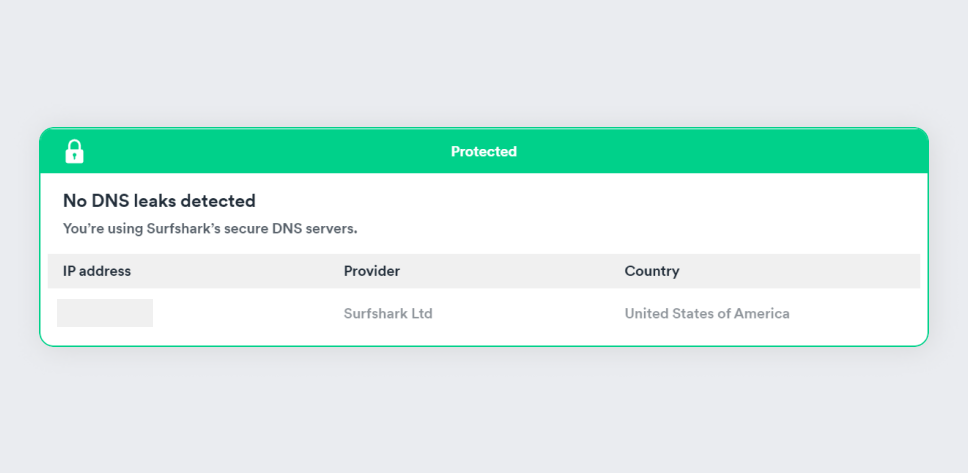 DNS & leak protection is a relatively standard feature among VPNs. However, Surfshark VPN goes a little further.
Once you connect your device to a Surfshark VPN server, it automatically blocks all DNS requests your device sends. Instead, all your traffic goes through an encrypted tunnel.
Each Surfshark VPN has a dedicated DNS with leak protection. The VPN further fortifies its servers with support for the IPv4 stack.
Furthermore, Surfshark comes with a built-in Smart DNS. The main advantage of the Smart DNS is that you can use the VPN on devices that don't support VPNs. Examples of such devices are Apple TV, PlayStation, and Xbox.
Supported Devices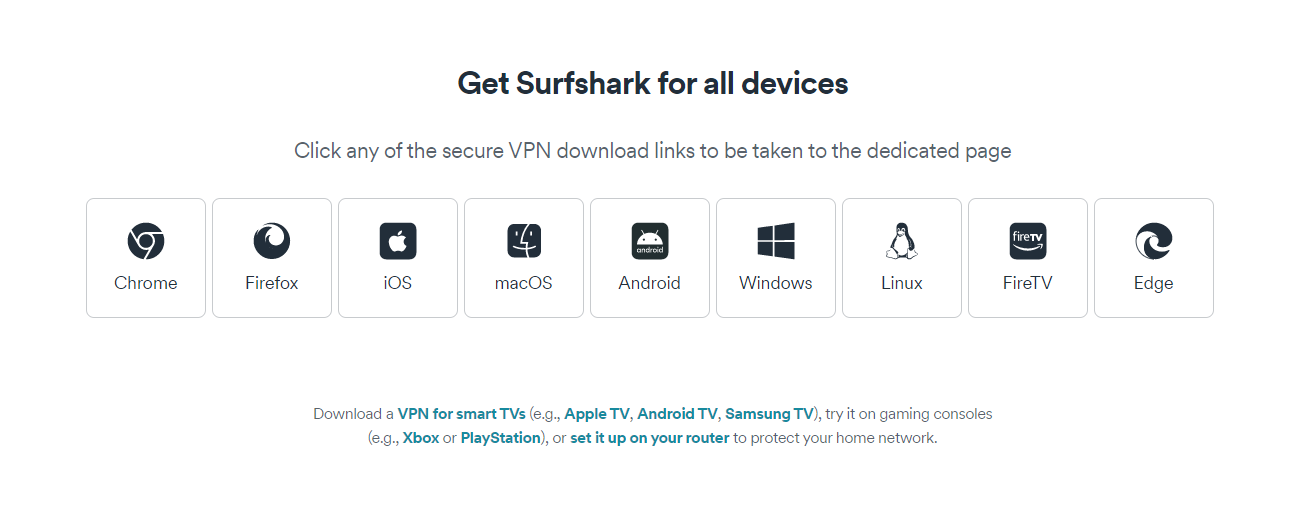 Surfshark VPN is compatible with six major devices. These include Android, iOS, Windows, macOS, Linux, and FireTV. In addition, the VPN has browser extensions for Google Chrome, Mozilla Firefox, and Microsoft Edge.
There's more. Surfshark VPN will work on routers and, as mentioned previously, on PlayStation and Xbox with Smart DNS.
However, what's most interesting is that the VPN has no device limits. You can use Surfshark VPN on unlimited devices simultaneously, irrespective of your pricing plan.
With this, it's no surprise that it's a popular VPN choice for families and business teams. Everyone gets to secure their devices with one subscription.
Camouflage Mode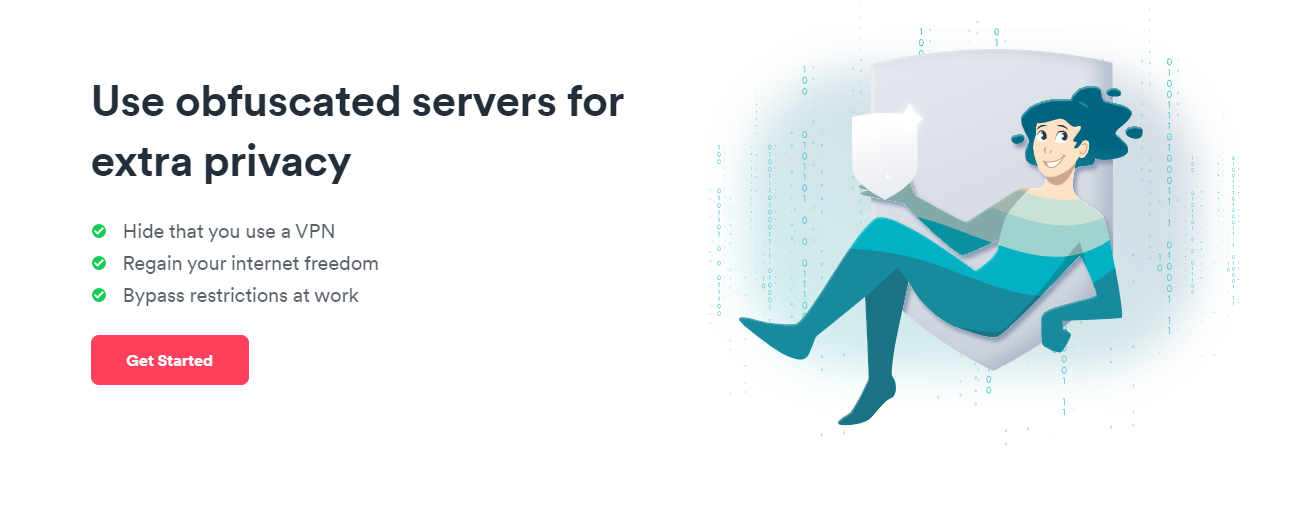 Most websites will block your IP address if they notice you're browsing via a VPN or Proxy. With Surfshark VPN Camouflage Mode, you don't have to worry about such.
Camouflage Mode makes your internet connection appear like someone not connected to a VPN. Rather than use the VPN ports, it routes your traffic via your regular network ports. At the same time, it doesn't affect the privacy and security protection you get.
Surfshark Camouflage Mode works due to the OpenVPN protocol the VPN supports. It automatically activates once you connect to a UDP or TCP protocol from the settings.
Top-Level Security
Surfshark is unarguably one of the most secure VPNs you can use. You can confirm this from some of the already mentioned features like Camouflage Mode, DNS & Leak Protection, MultiHop, and CleanWeb.
Going further, Surfshark uses AES-256-GCM encryption. If you're familiar with encryption technology, you'll know that AES 256 is the industry standard.
Surfshark also maintains a strict no-logs policy. Hence, while the VPN blocks third parties from accessing your browsing data, it also restricts itself from accessing it.
Also, two-factor authentication ensures that no one can access your account without your approval. Finally, Surfshark is an independently audited VPN, which gives no room for bias.
Multiple VPN Protocols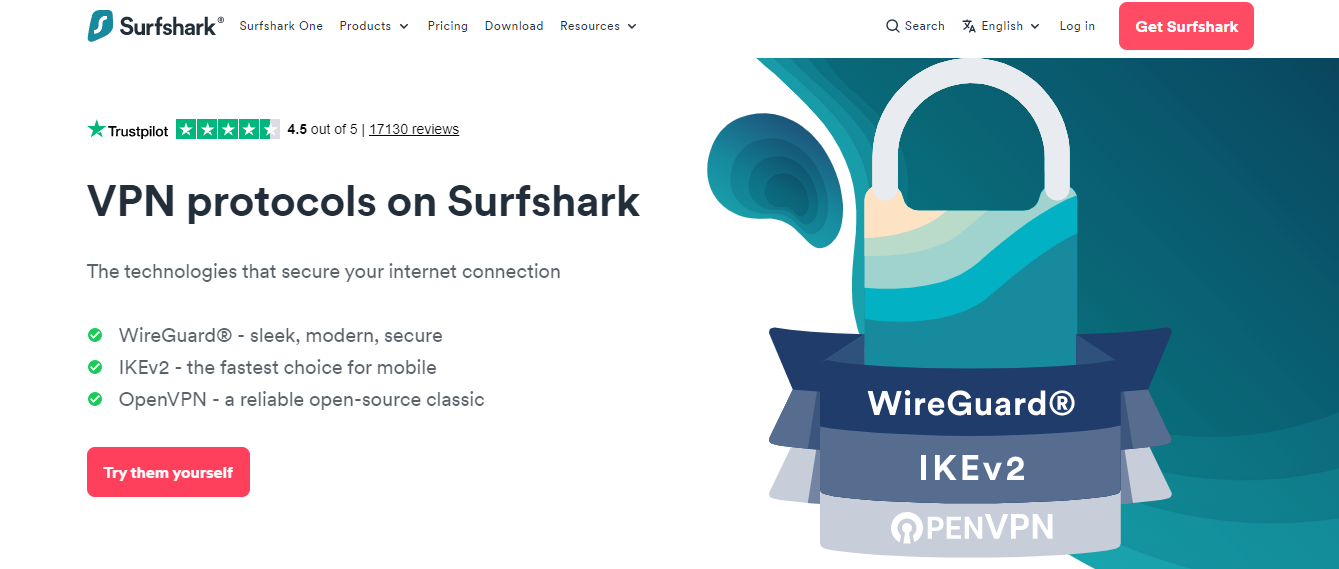 You have three VPN protocols with Surfshark, including WireGuard, IKEv2, and OpenVPN. Each of these protocols has advantages and will come in handy for the right use case.
WireGuard is a lightweight protocol that encourages fast browsing. IKEv2 is a protocol for mobile devices, ensuring that the VPN works optimally on Androids and iPhones. The third protocol, OpenVPN, enables the VPN to work on routers.
You can easily switch between protocols from the Protocol tab in the settings.
Kill Switch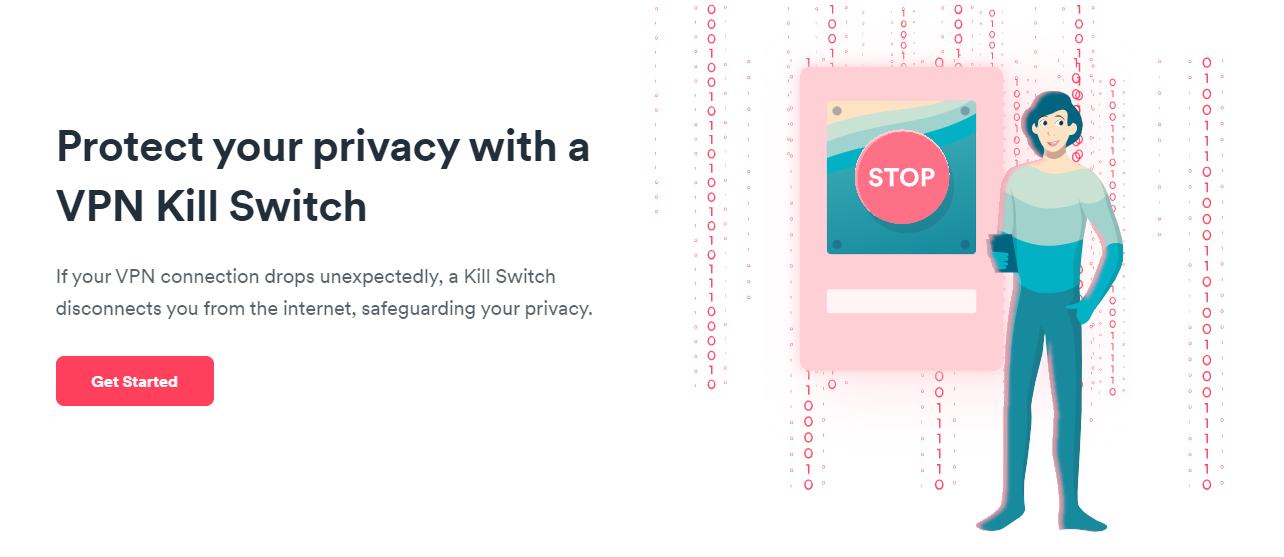 Your VPN connection often depends on the strength of your internet connection. If your network drops, it could disrupt your connection to the VPN server, giving hackers an opportunity to attack.
To stop this from happening, Surfshark comes with a simple Kill Switch. When your network drops, tap the kill switch, and it'll end all internet connections.
To further keep you secure, you can activate the Kill Switch to work automatically. In such a case, the VPN will monitor your internet network and end all connections the second it drops.
With such a feature, you don't have to worry about IP exposure and identity leak.
Integrations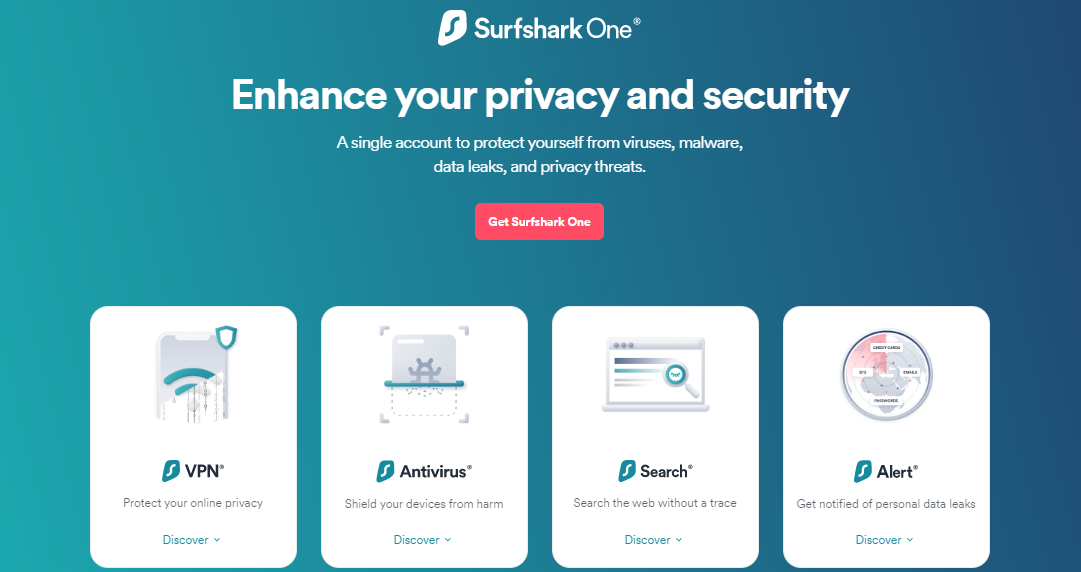 As a VPN, Surfshark doesn't need to integrate with third-party tools. As a matter of fact, the primary essence of the VPN is to keep you safe from third parties.
Yet, it doesn't limit you to just the VPN as you get other tools. This is thanks to the Surfshark One suite. As mentioned before, you can purchase the VPN alone or as part of the suite.
With Surfshark One, you get an antivirus, search tool, and alert tool, in addition to the VPN. As you probably know, the antivirus tool will protect your devices from viruses and malware.
The search tool provides an alternative to Google, Bing, and other search engines. It lets you search the web anonymously, and you get accurate and relevant results.
On the other hand, the alert tool will monitor the web for data leaks. It'll notify you if it spots your personal data on any website.
==>> Get Surfshark VPN
Surfshark VPN Apps And Browser Extensions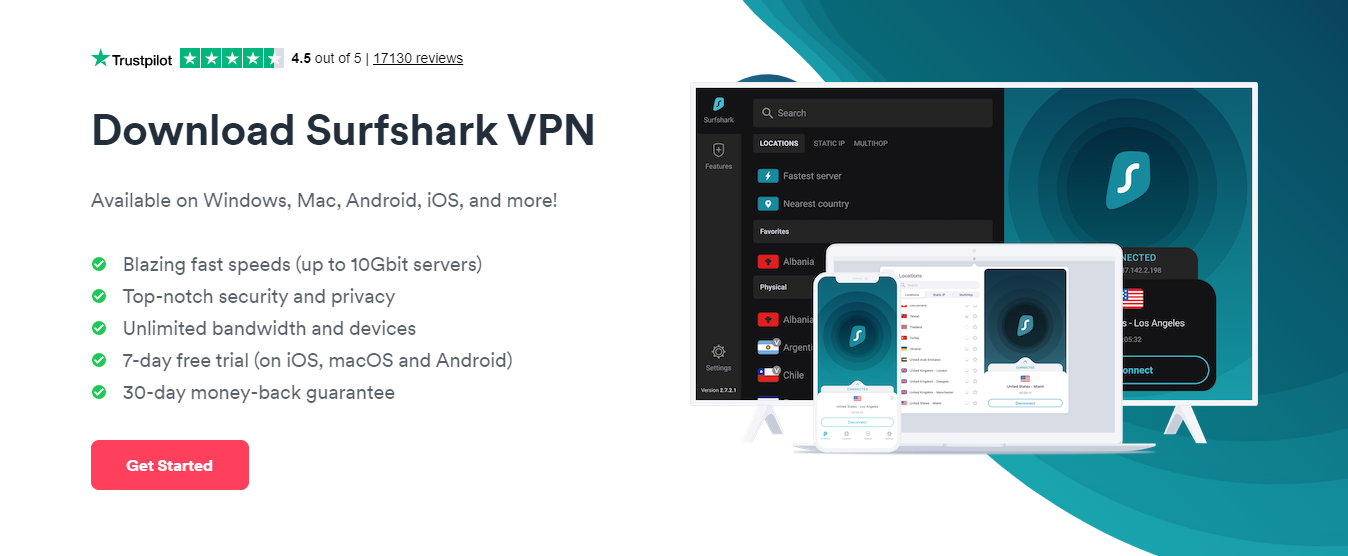 Surfshark VPN has apps for most devices and operating systems including Android, iOS, Mac, Linux, Chromebook, and Windows. 
Surfshark provides dedicated apps for smart TVs like FireTV, Apple TV, Samsung TV, Android TV, etc.
Also, you can set up Surfshark VPN on your router without hassles.  
During the process of writing this Surfshark VPN review, I discovered that all of the Surfshark VPN apps are easy to install and use, and they provide the same features and functionality. They also have browser extensions for Google Chrome, Microsoft Edge, and Firefox. 
These apps have the same user interface so regardless of which device you're using, you'll have access to the same features and settings.
Surfshark VPN Speed And Performance
In simple terms, Surfshark VPN is fast and reliable. Being an innovative company, Surfshark is taking on the big names in the VPN industry head on, promising a secure and fast service.
The first impression of the service is really nice. The software is well-designed and simple to use. It has all the features you would expect from a VPN, such as unlimited bandwidth, security protocols, and multiple server locations.
The most important thing for a dependable VPN is speed, and Surfshark does not disappoint here. 
Before working on this Surfshark VPN review, I conducted my tests from several locations in Europe and America, connecting to different VPN servers.
On my 100Mbps connection, I found that the average download speed was 96Mbps and the average upload speed was 93Mbps across all locations.
These are excellent speeds for a VPN service! I am very satisfied with how fast Surfshark VPN is. I would recommend it to anyone looking for a fast and reliable VPN service at an affordable price.
Surfshark VPN performance is excellent and it stands by its claims. It is swift thanks to its fast VPN servers and ideal for online anonymity due to its no-logging policy.
24/7 Customer Support
As a Surfshark VPN user, you get access to a 24/7 support team. You can reach the support team via Live Chat on the website or app or by sending an email. Whichever you go for, you'll get a prompt reply.
Aside from the Live Chat and email support, you can also get help from the Surfshark Help Center. It features guides on using Surfshark and troubleshooting. The Help Center also features an FAQ section.
If you want to learn more about using the VPN, including tips and tricks, you can join the Surfschool. All of these resources are free.
Surfshark VPN Pricing: How Much Does Surfshark Cost?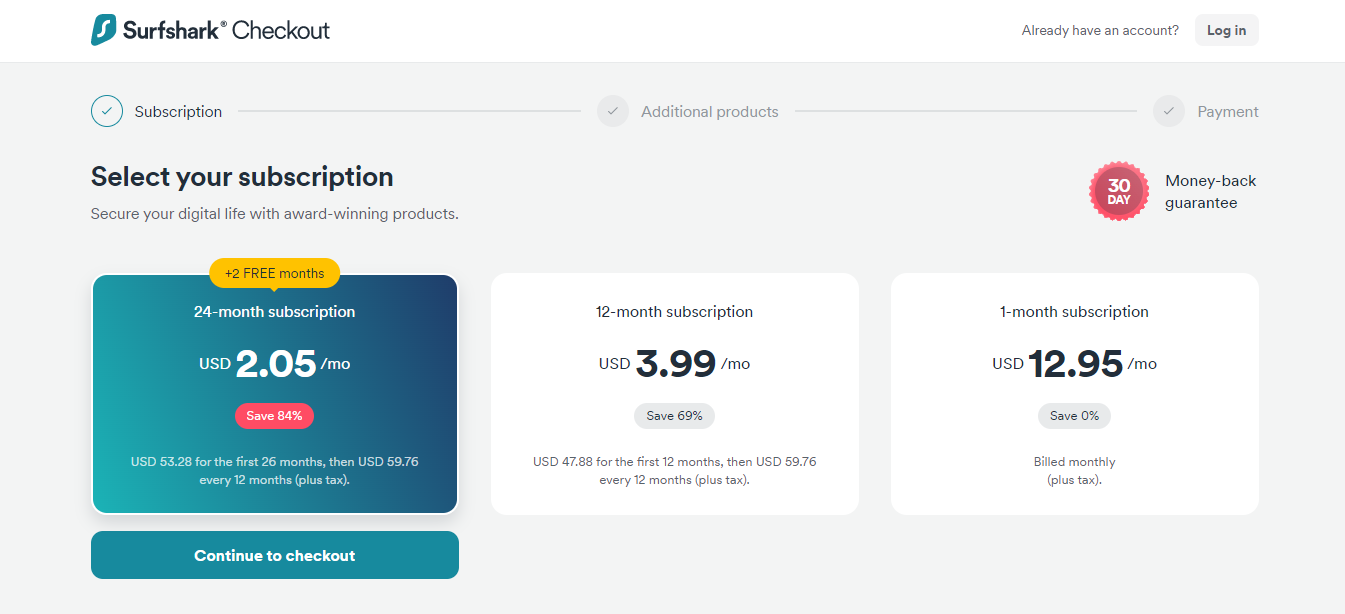 As mentioned before, Surfshark VPN is not expensive. Its affordable pricing plan is one of the main reasons many people opt for it.
At the moment of crafting this Surfshark VPN review, here are its pricing plans:
1 Month Plan:

$12.95 per month
12 Months Plan:

$47.88 every year. You save 69% on the monthly plan with this plan.
24 Months Plan:

$53.28 every two years. You save 84% on the monthly plan with this plan. In addition, you get two free months, so the total duration is 26 months.
==>> Get Surfshark VPN
Surfshark may not have a free plan or free trial, but it offers a 30-day money-back guarantee.
Hence, you can get your money back within a month if the VPN doesn't meet your expectations. However, it's unlikely that it won't, considering the VPN's top-notch features.
Surfshark is one of the few VPN services that allow users to pay for subscriptions using cryptocurrency. The accepted cryptocurrencies are Bitcoin, Ethereum, and Ripple.
==>> Get Surfshark VPN
Surfshark VPN Compatibility
The Surfshark VPN is compatible with the following mobile and desktop platforms;
Windows: Windows 7 and later versions
macOS: macOS 10.12 or later versions
Linux: Ubuntu and Debian
iOS: iOS 9 or later versions
Android: Android 5.0 or later versions
You can download Surfshark VPN apps directly from the Surfshark official website and supported app stores. The VPN also has browser add-ons for Google Chrome and Mozilla Firefox web browsers. It is also compatible with Amazon Fire TV Stick.
Surfshark VPN Pros
Affordable pricing plans

Thousands of servers across over 100 countries

Easy to use

Fast connection

One-click kill switch

Part of the Surfshark One Suite

Ad blocker

Split tunneling

Supports unlimited devices

24/7 customer support
Surfshark VPN Cons
No free trial

Split tunneling is not available on iOS
Surfshark VPN Review: Frequently Asked Questions
Is Surfshark VPN Legit?
Surfshark VPN boasts millions of users. The VPN also garners praise from top industry publishers like TechRadar, CNET, and PCMag. Not to mention, the VPN has many awards.
With all of these, it's clear that Surfshark VPN is legit. The VPN has a 4.5-star rating on TrustPilot from over 16,000 customer reviews to further confirm its legitimacy. Only a few VPNs are rated higher.
Is Surfshark VPN Trustworthy?
Yes, Surfshark VPN is trustworthy. It is a reliable VPN service that can be used to protect your privacy, maintain your security, and get back your internet freedom.
Their privacy policies and practices ensure that their users' privacy is protected. Not to mention, they have a 'no logs policy', which means they do not keep any records of their users' activity. They also use high-level encryption to protect users' data. 
Furthermore, their company is based in the Netherlands, which has strong user privacy laws.
Overall, Surfshark is safe to use because it has all the features you need to protect yourself online and stay anonymous. 
I highly recommend it because you can freely access geo-restricted or censored content on the web without being tracked and spied on.
Is Surfshark VPN Safe?
Since its launch, Surfshark is yet to record any security breaches on its systems. This isn't the same for some VPN companies that have fallen victim to hackers.
Aside from that, Surfshark VPN uses only up-to-date encryption standards, robust servers, advanced protocols, and DNS leak protection to keep you safe.
To protect your VPN account, it offers two-factor authentication and a strict no-logs policy. Therefore, the safety of Surfshark VPN is unquestionable. It's one of the staunchest VPNs in the market.
==>> Get Surfshark VPN
Surfshark VPN Ratings
How does Surfshark VPN rate so far? Based on this Surfshark VPN review, check out its ratings below:
Features
Surfshark VPN is a feature-rich tool, which you can confirm from the list of features reviewed above. It comes with all the features you'll need in a VPN and notably supports all major devices. Hence, it gets 4.8/5.
Ease of use
You can connect to a Surfshark VPN server with a single click. The auto-connect option secures your device even without you launching the VPN app. Furthermore, the Kill Switch lets you end all connections instantaneously. Therefore, for ease of use, the VPN scores 5/5.
Pricing
Surfshark VPN is affordable, so much that you can pay as low as $2.05 per month. However, the VPN doesn't have a free trial, which some users would prefer. As a result, it scores 4.5/5.
Total Rating Average: 4.8/5.
3 Best Surfshark VPN Alternatives
To confirm if Surfshark VPN is the right VPN to use, it's ideal to compare it with other top options in the market. Hence, before concluding this Surfshark VPN review, let's consider 3 best Surfshark VPN alternatives.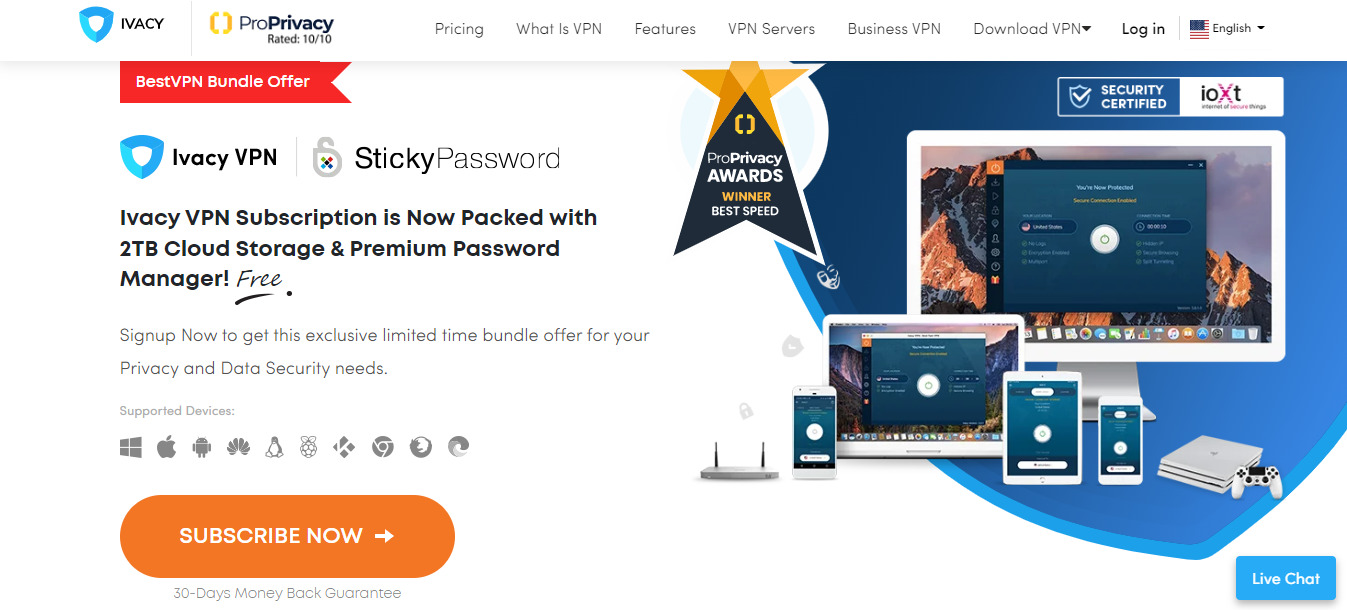 Ivacy is not much different from Surfshark. Both VPNs are premium without a free trial or free accounts. It's also worth noting that IvacyVPN is slightly more affordable.
Ivacy has server locations in over 100 countries, uses 256-bit encryption, has a kill switch, supports split tunneling, and secure DNS. The VPN also supports all major platforms and has a 24/7 support team. 
However, one significant advantage of using Surfshark over Ivacy is the support for unlimited devices.
With Ivacy, you can only secure up to ten devices simultaneously. You must pay for a new subscription to secure more than ten devices.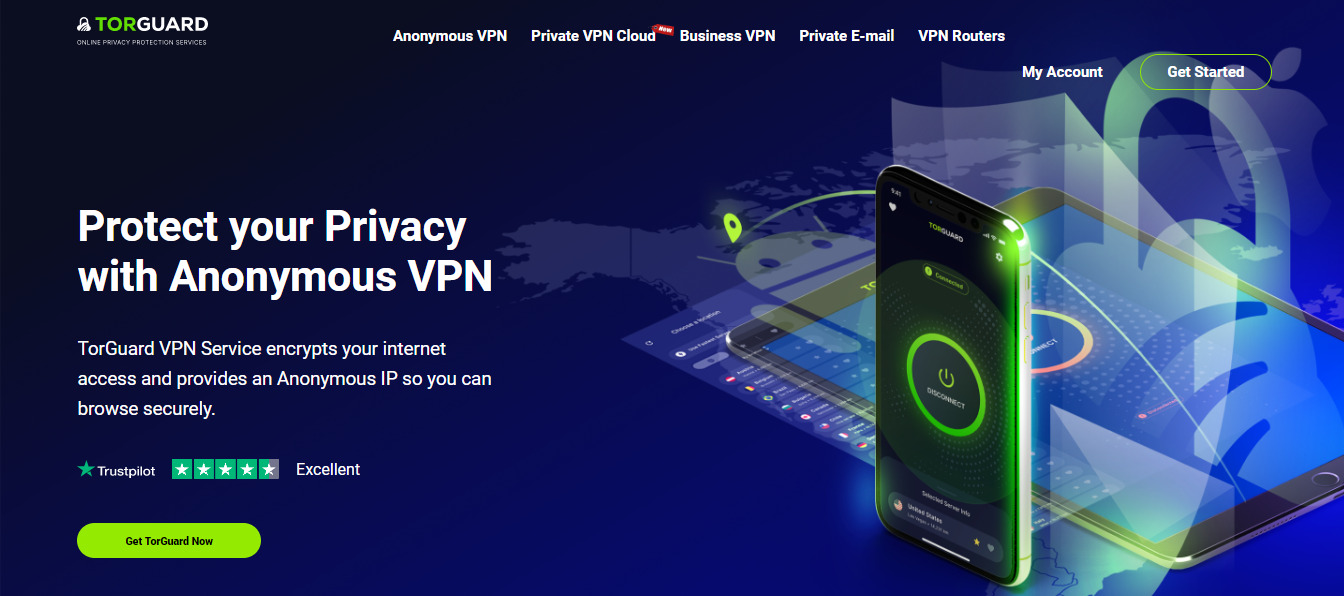 TorGuard VPN is known as a VPN that prioritizes anonymity. As a result, it's a popular VPN for security.
The VPN employs not only 256-bit AES encryption but also DNS, IPV6, WebRTC, leak blocking, kill switch, and more to keep users secure.
Furthermore, TorGuard VPN doesn't compare to Surfshark VPN when it comes to coverage. TorGuard VPN has 3,000+ servers in 50+ countries. Meanwhile, Surfshark VPN has 3,200+ servers in 100+ countries.
Also, while Surfshark VPN lets you protect an unlimited number of devices, TorGuard VPN limits you to 12.
In terms of compatibility, Surfshark is the better VPN as well. You can only install TorGuard VPN on Windows, Mac, Linux, Android, and iOS. Surfshark VPN supports these devices and also FireTV.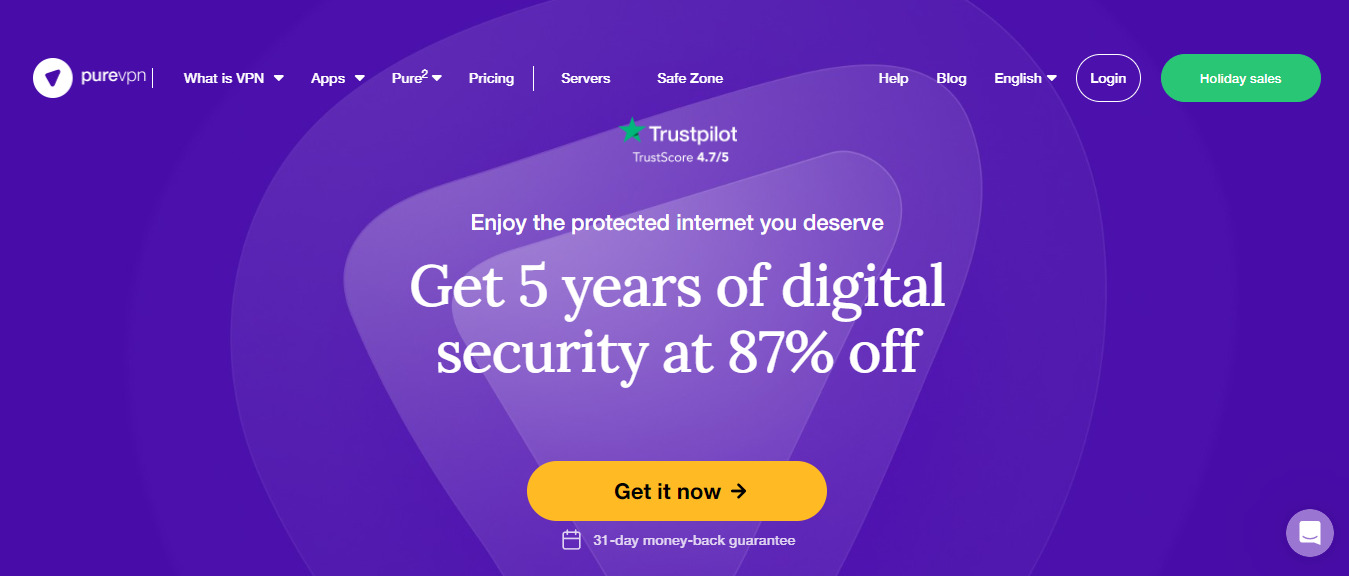 PureVPN boasts a global VPN network of over 6,200 servers. It has features you get with Surfshark, including 256-bit encryption, no-log policy, split tunneling, and 24/7 support.
Like Surfshark, PureVPN is compatible with a range of devices. However, you don't get unlimited logins as you get with Surfshark. Instead, the VPN limits you to 10 devices per account.
PureVPN may have more server locations than Surfshark, but it doesn't cover more countries. While Surfshark servers span over 100 countries, PureVPN has servers in around 80 countries.
Furthermore, PureVPN lacks some of Surfshark's notable features like the integrations, CleanWeb, MultiHop, and IP Rotator.
Is Surfshark VPN Worth It?
Is Surfshark VPN worth it? The answer from the above Surfshark VPN review is yes. No matter what you need a VPN service for, you can count on the Surfshark VPN.
Surfshark VPN is rated as an ideal VPN for three main reasons. First, it has thousands of secure VPN servers. Second, it's super affordable, and third, you can use it on almost any device.
A Final Word On The Surfshark VPN Review
If you're looking for the best VPN, then look no further than Surfshark VPN. This VPN service proudly offers more than 3,200 servers in more than 100 countries, making it the most popular VPN in the world.
You can choose to connect to any server in the world. You can unblock any website by simply switching to a compatible server location.
There's also MultiHop, a feature that lets you connect to two VPN servers at the same time. And last but not least, the platform has a cleanweb feature that protects you from malware and ads.
As you can see, the software has many features, which is why it's the best VPN for streaming, P2P, and online anonymity on the market.
==>> Get Surfshark VPN
---
INTERESTING POSTS