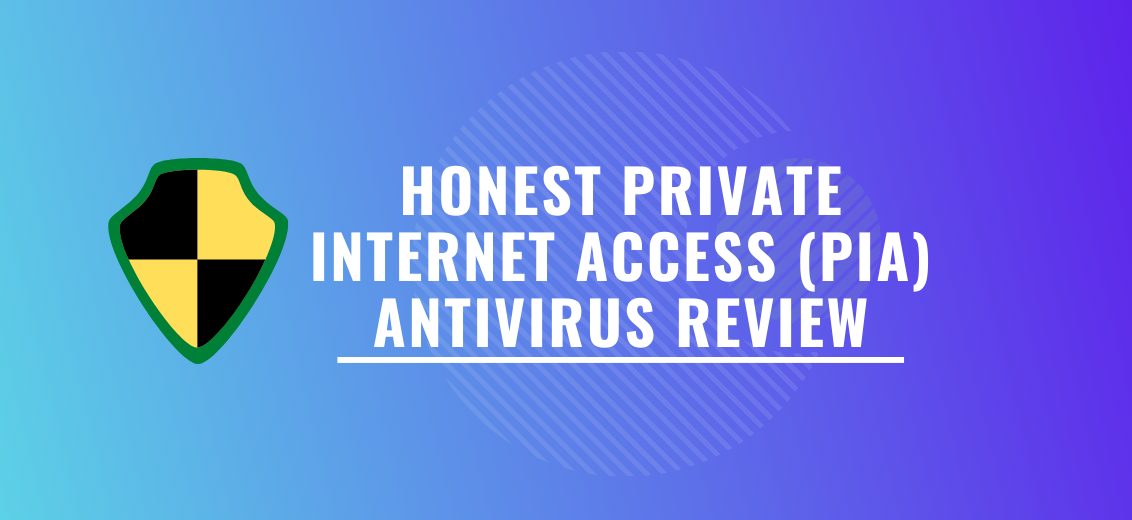 Here's the Personal Internet Access (PIA) antivirus review.
PIA users will be pretty much excited knowing that PIA VPN now includes an antivirus package in its VPN suite. This new move from PIA has brought to an end the era of stand-alone antivirus subscriptions for PIA users.
Will PIA antivirus offer you something new and exciting? Keep reading to discover some of PIA's unique features that might get you excited.
Now, let's get started with the PIA Antivirus review.
What Is PIA Antivirus?

PIA is a US-based VPN service provider known for its strong stance on internet privacy. With its new antivirus package, you can now enjoy complete cybersecurity protection for all your devices.
While PIA VPN keeps you safe and anonymous online, the included antivirus package will offer your PC and other devices complete protection from viruses and other malware like cryptojackers, ransomware, spyware, worms, trojans, etc.
Like PIA VPN services, PIA antivirus will protect you from all types of malware without collecting data that might compromise your data privacy; this makes PIA antivirus a privacy-conscious antivirus that lets you control what data is sent to PIA's cloud database.
PIA Antivirus Features
24-7 Malware protection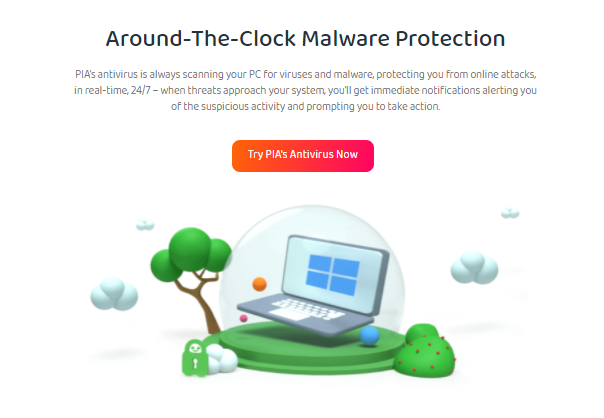 PIA antivirus's approach to malware protection is totalitarian. Protection is 24/7 in real-time; PIA antivirus monitors your device in the background and sends you an instant notification if it detects any suspicious activities in your device. Our technical team at SecureBlitz ran several malware detection tests, and they were quite impressed with the result; PIA antivirus detected all suspicious activities without giving off false-positive notifications.
PIA Antivirus Engine
PIA antivirus uses a powerful AV engine with a cloud-based virus database. The antivirus scored an almost perfect score of 9/10, thanks to its advanced AI, Machine Language, and heuristic detection techniques which make the PIA AV engine a robust antivirus engine capable of offering 24/7 total protection against malware infections. A unique feature we discovered about PIA's robust AV engine is its ability to fix and strengthen inbuilt computer defenses against malware that might want to exploit your device's vulnerabilities.
Flexibility
Flexibility is one of PIA antivirus's strong points. A tap on the 'Scan' icon will start a full system scan; however, you have the flexibility of customizing your scan options to include or exclude any files or folders in your custom scan options.
A DNS-based ad blocker
PIA antivirus' Web Shield protects you from malicious websites, ads, and trackers. We activated the Web Shield on our test devices and compared it with the control device; the Web Shield screened denied access to websites it considered as malicious and also shielded out annoying ads. You can create exceptions for websites you consider safe.
Round-the-clock update of PIA's virus definition database
PIA has a cloud-based virus definition database it updates in real-time to continually protect you from existing and novel malware.
A robust quarantine system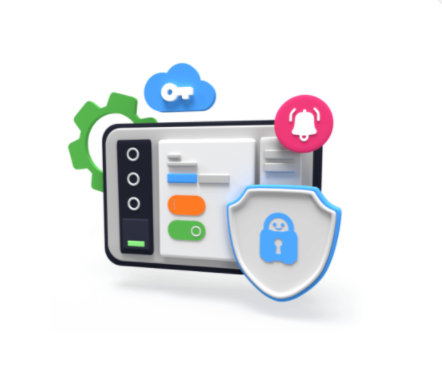 PIA antivirus isolates and quarantines all detected malware to prevent it from affecting your system. You can choose to delete detected malware rather than quarantining it but from our tests. Your devices enjoy the same level of malware protection whether you quarantine or delete detected malware.
Comprehensive Report
For every scan and activity carried out on your devices, you get comprehensive reports. You can easily view details of files and folders scanned. We just couldn't dispute PIA's meticulous and easy-to-reach documentation style.
How To Install PIA Antivirus On Windows PC
Presently, PIA antivirus is only available for Windows 7 and higher versions, and it requires that the Windows PC have a minimum free space of 500MB, 2GB RAM, with internet connection.
Sooner than you might expect, PIA antivirus will be available for other operating systems including Mac, and Linux.
Here's how to install and use PIA antivirus on your Windows PC:
Make a PIA VPN subscription
Add 'Antivirus' add-on at the point of checking out
Download and install the PIA app from the link sent in your mail after subscribing, or download from their official website.
Click on 'Antivirus' and select a suitable scan option. A full system scan will scan every file and folder on your PC, while a quick, custom scan will scan only selected files and folders.
While scanning in background mode, you can continue with other tasks, including gaming, etc.
On completing the scan, you will be prompted to 'Quarantine,' or 'Delete' detected malware.
Schedule system scan for daily, weekly, or monthly to enjoy all-round system protection.
PIA Antivirus Pricing
PIA offers yearly, 3-year, and monthly plans with the 3-year subscription plan
3-Year Subscription: $79, at $2.19 per month, giving you a 78% discount. Plus free antivirus package.
1-year Subscription: $39.95 at $3.33 per month
1-Month Subscription: $9.95 per month.
How To Get PIA Antivirus
PIA antivirus is an antivirus add-on for PIA VPN subscribers; It was developed to offer PIA users total identity and device protection. Therefore, to enjoy the Antivirus PIA, you should subscribe to any of the PIA VPN subscriptions and add 'Antivirus' at checkout point because it isn't possible to subscribe to the Antivirus PIA as a stand-alone antivirus.
Get Private Internet Access VPN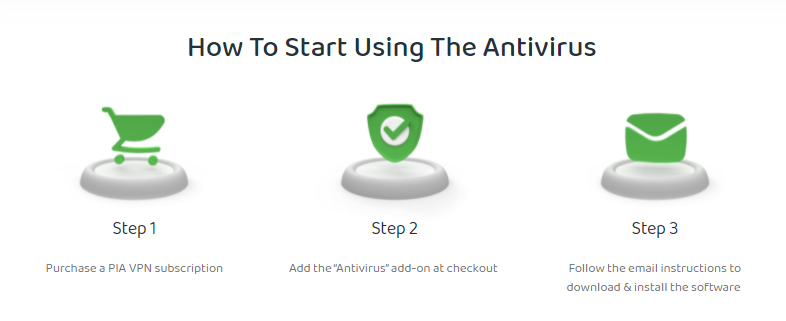 Is PIA Antivirus Legit?
PIA antivirus is a legit antivirus program tested by our technical team. It's an antivirus program from Private Internet Access, a reputable antivirus provider known for data privacy and protection, speed, and affordability. Additionally, PIA is one of the few exceptional VPN providers that operates an open-source code for its software; hence, it has gained the trust of over 15 million users.
Wrapping Up The PIA Antivirus Review
The new Antivirus PIA offers you total protection for your device while you enjoy the same level of protection online in real-time.
Enjoying a VPN and antivirus subscription at $2.19 per month for a 3-year plan, I did say this is one of the most affordable packages for a VPN and an antivirus altogether.
Considering that with a PIA subscription, you enjoy total protection on unlimited devices, what other way to enjoy affordability than a PIA 3-year subscription?
Based on this review, I will recommend PIA as a standard cybersecurity tool with a strong antivirus engine that offers complete protection against malware like viruses, spyware, bootlockers, ransomware, cryptojackers, keyloggers, backdoors, etc.
---
INTERESTING POSTS