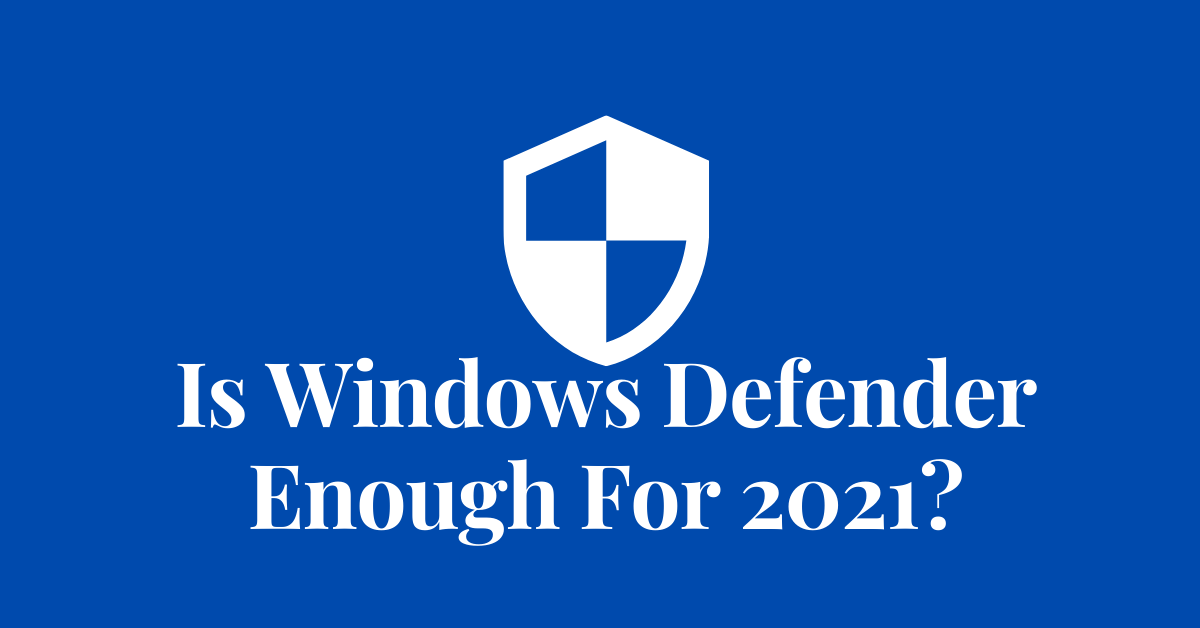 In this post, we will answer the question – is Windows Defender good enough for 2021? Also, we will reveal its effective use cases as well as alternatives.
With the increasing spate of cyber attacks, which have become much more sophisticated than ever before, PC users have been asking; would Windows Defender be enough come 2021? Follow us, as we attempt to provide a credible answer to this question.
Windows Defender is the proprietary antivirus program for Windows PC. And it comes pre-installed on modern PCs, particularly Windows 8/8.1/10.
However, the antivirus has been viewed as somewhat "substandard", compared to other notable AV programs. This, coupled with the increasing sophistication of cybercriminals, has raised questions over the reliability of the software.
Nonetheless, in spite of the widespread assumption, WinDefender remains one of the best out there. And while the program has been below-par in the past, recent upgrades have significantly jacked up its performance.
However, the controversial question is still hanging over it: Is Windows Defender enough for 2021? Read on!
Windows Defender: What Is It About?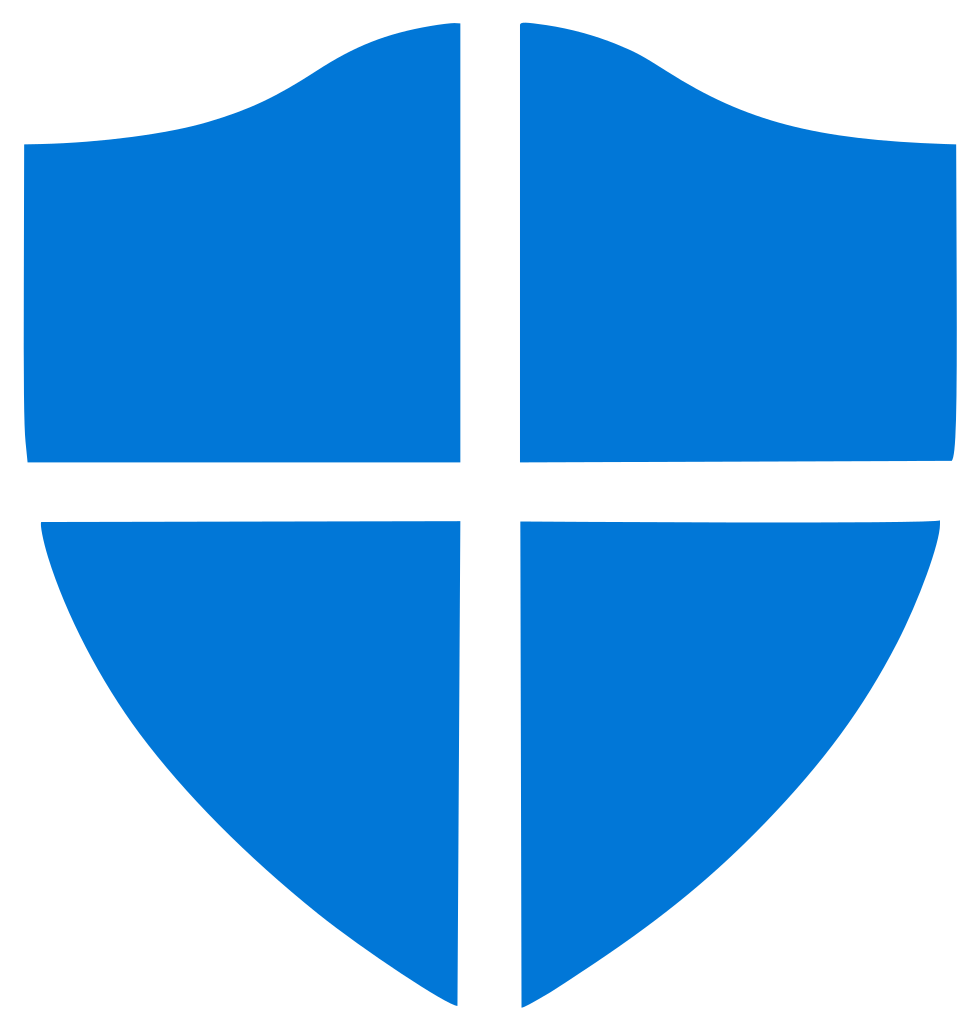 As pointed out earlier, Windows Defender, formerly Microsoft Security Essentials, is the proprietary antivirus program from Microsoft; such that it comes built-in on Windows 8/8.1 and Windows 10.
What this indicates is that a typical PC user today has a free antivirus software for his security needs. The question then is: Is it enough or a more advanced AV program is required? Let us take a closer look at what Windows Defender has, vis-à-vis what it's lacking.
Windows Defender is a free antivirus software, designed for PCs. It hosts a unilateral engine, which detects and removes viruses; just like a typical antivirus.
Typically, you get to enjoy the following services for free;
virus & threat protection;

network firewall;

app and browser control;

performance upgrade;

system health optimization; and

more
The above functions sum up what is obtainable in other notable antivirus programs, with few exceptions nonetheless. And though, it's fallen short of standard in the past, it remains one of the best today.
In the past few months, WinDefender has gone through significant upgrades, and its overall reliability rating has gone higher than ever before.
In April 2019, AV-Test carried out its reliability test on the newly upgraded Windows Defender. During the test, it was discovered that the program is able to detect 98.8% zero-day attacks and 99.9% of malware. These metrics are more or less what is obtainable in other standard AV programs today that facilitates monitoring identity.
In essence, if you take into account the proprietary advantages offered by Windows Defender, you'd find out that it's the most ideal antivirus program for you.
Is Windows Defender Enough For 2021?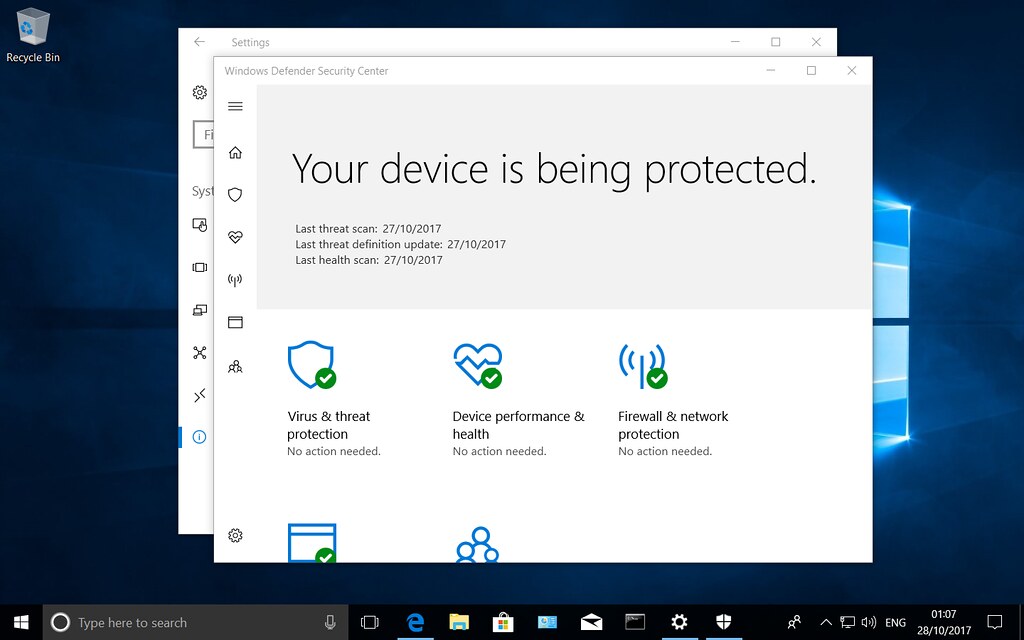 Despite the recent upgrades, which put Windows Defender on par with other standard AV programs, it's still not robust enough. In fact, no stand-alone antivirus program is standard enough for your cyber/system security needs today. The question then is; why is it so?
Over the past few years, cyber attacks have evolved from the traditional injection of viruses into host computers; today, malware, adware, spyware, ransomware and trojans constitute the major attack elements. And most of these malicious programs, if not all, easily bypass the rigid security setup of most antivirus programs.
Furthermore, malware are highly "deceitful", in that they often disguise themselves as regular apps, plugins or extensions. In fact, a number of malware are disguised as antivirus programs, or bloatwares and add-ins of security programs. This makes malware very difficult to detect or prevent. And where there is infection, they remain hidden, such that you won't know what hit your PC.
In a nutshell, Windows Defender is good enough for an antivirus program. However, due to its rigid virus protection engine, which often fails to detect malware, it is not enough today.
Is Windows Defender Enough for Windows 7, 8, and 10?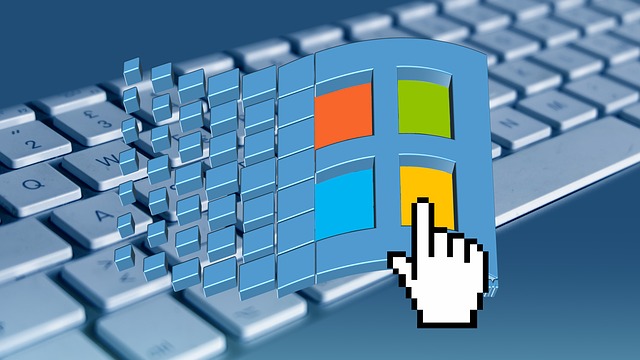 Though Microsoft stopped providing support for Windows 7, the windows defender application will still run on it if installed. However, it is not an ideal antivirus that you should rely on for the Windows version. The reason is simple; Microsoft no longer provides support, and you won't get any software updates. If there are bugs or vulnerabilities in the application, it could be putting your PC at risk.
For Windows 8 and 10, the windows defender will perform much better. As stated, the application is built-in in these versions, and by default, its real-time protection is activated.
It is highly rated in scanning and detecting viruses. The application also has the capability of protecting these systems from ransomware and phishing on websites. Parents can take good advantage of the parental control feature to monitor their kids who use Windows 8 or 10 PCs.
READ ALSO: Best Parental Control Software for 2021
Is Windows Defender Enough for Virus Protection?
The WinDefender application is an antivirus, so it is only reasonable for it to offer antivirus protection. Performing system scanning with Windows Defender on your PC can expose viruses and other threats that may be present. Though the performance may not be well compared to what you get from major antivirus programs, it won't disappoint.
WinDefender already being part of the Windows OS on your PC enhances its performance. Some third-party antivirus software might slow or make your PC lag while operating, but WinDefender won't.
You can perform a full virus scan or a custom scan for specific files and folders. The custom scans can be carried out by simply right-clicking and selecting the scan option, just like other simple antivirus programs.
However, Windows Defender can only fully protect your PC from viruses if it is up to date. As a result, you should ensure that you install updates as Microsoft releases them.
Is Windows Defender Enough for Malware Removal?
At first introduction, Windows Defender could do almost nothing against malware. Currently, Microsoft has improved on that, and it can now detect malware threats.
If you wish to use the WinDefender application to remove malware from your computer, it is ideal to use the offline mode. Typically, the built-in Windows Defender scans with the internet, and while at this, some malware like rootkits can hide offline within the OS. You can use the Microsoft Defender Security Center in an offline mode.
If you select the WinDefender application as the default protection app on your PC, it will provide real-time malware detection if connected to the internet. Major antivirus applications will still perform better than Windows Defender in terms of malware removal, but what Windows Defender offers can be counted on.
READ ALSO: 10 Best Antivirus for a Basic Laptop [Must Read]
Is Windows Defender Enough for Small Business?
Windows Defender has some excellent security features that small businesses will find worthwhile. Basically, its ability to detect viruses and malware is already protection that you so need. Furthermore, the Windows Defender application works sync with the Microsoft Defender Security Center for better performance.
With this synchronization, you can get more out of Windows Defender. The Microsoft Defender Security Center is a platform from which you can monitor the security affairs of all computers in your organization. It shows you reveal software with vulnerabilities and scores of configuration and exposure. You also get reliable security tips that you can implement and alerts on possible threats.
Microsoft applications your business computers utilize can be connected to Microsoft Defender Security Center. From the reports section, detailed graphs and charts are featured for a proper understanding of your computer's security status. Also, you can protect your files by encryption with labels.
However, as a small business, it is not recommended that you rely entirely on Windows Defender for protection unless you have very few computers. It is recommended that you invest money in one of the best antiviruses for small businesses.
What Are the Limitations of Windows Defender?
Over the years, the Windows defender application has been improved several times by its developers. Despite these, some limitations exist which might affect user experience.
First of all, it is not very user-friendly. The dashboard looks a bit complex, and those who are accessing it for the first time often usually have problems with navigation. Microsoft tried to make the interface look advanced and professional, but they went too far and made it difficult.
Also, the process of activating and deactivating the application whenever necessary is a confusing one. Microsoft Defender Security Center detection consistency is also not impressive. Yes, it can scan for viruses, but it might miss out on some threats.
If your preferred browser is Firefox or Google Chrome, WinDefender won't help much against online viruses and phishing. In this aspect, it is very functional with the Windows traditional browser (Internet Explorer). Though you can install the add-on and extension for the third party browsers listed, it won't be very efficient.
The parental control protection feature also has a similar limitation. You can use it to monitor only browsing activities on Microsoft browsers.
WinDefender might lag your PC while scanning, and users complain that it scans relatively slow. On some high performing PCs, it's speed is somewhat improved but still not fast when compared to other antiviruses.
Finally, if you would love an antivirus with a password manager or a VPN, Windows Defender has none. There are not many extra features.
READ ALSO: 15 Best VPNs For Coronavirus Quarantine Holiday
Do I Need Antivirus Software If I Have Windows Defender?    
While you have Windows Defender on your PC, you can still install other antivirus software. To set the records straight, Windows defender is a good antivirus software you can rely on. But, from the limitations above, you can see areas where the application performs poorly.
Therefore, you might need to install another antivirus software to deal with these limitations, especially if you need more functionality and a better user experience. However, note that installing and activating another antivirus software makes Windows Defender automatically deactivated.
Other antiviruses will be ideal if you do a lot of downloading on the internet. Preferably, you should consider a paid antivirus software. 
Are Windows Defenders and Windows Firewalls Enough for My PC?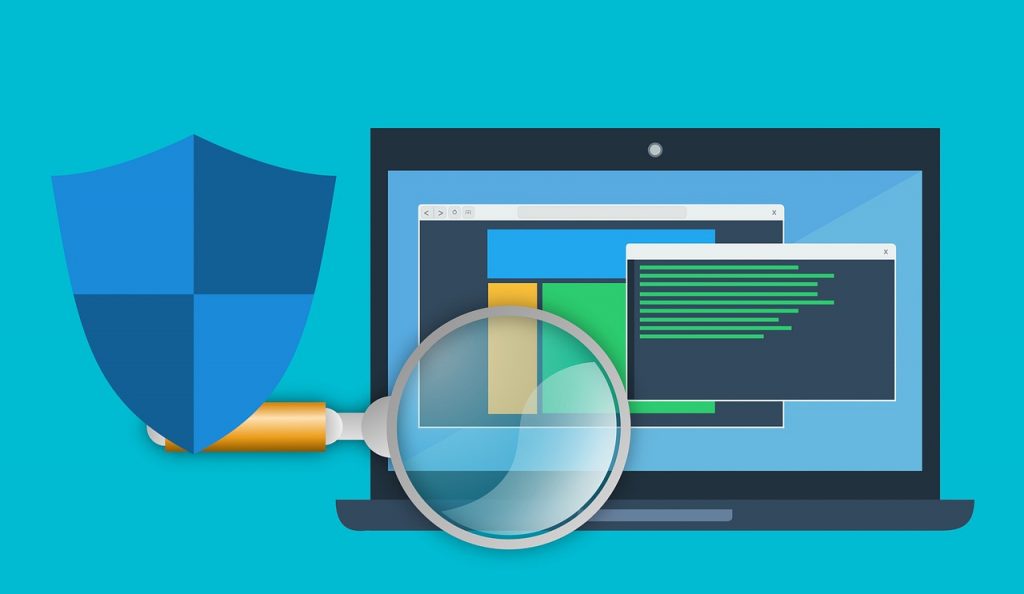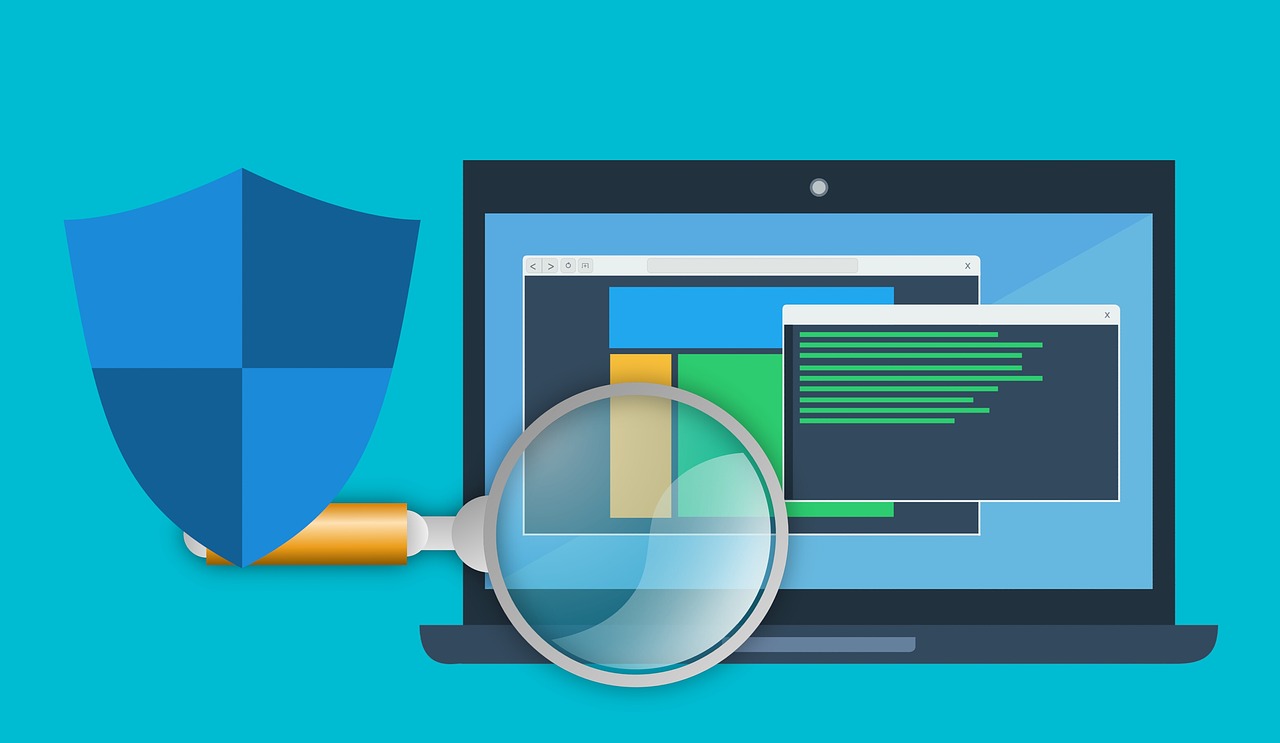 To answer the question, you should note that both Windows Defender and Windows Firewall offer value. If they are enough or not depends on the features you wish to utilize.
Microsoft Defender Security Center has the Windows Firewall (Currently Windows Defender Firewall) integrated into Windows 8 and 10. Whereas some fallbacks can question the protection offered by Windows Defender, the Windows Firewall application is more than enough for your PC. You might need another antivirus but, you can entirely rely on Windows Firewall.
The function of the Windows Firewall is to protect you on the internet. It filters data and information you receive to prevent the entry of harmful files and programs into your PC. Some programs try to communicate via firewalls, which is risky, and the windows firewall is capable of blocking them. Besides, other computers and networks that try to connect to you without permission are blocked.
If you wish to create advanced rules, you can do so with the Windows Firewall. With this, you can determine which programs on your PC can access the internet and which do not. You can do almost anything a third-party firewall can do with Windows Firewall, which is why it should be enough for your PC. However, the Windows Firewall application has one similar limitation to the Windows Defender, which is an unfriendly user interface.
Best Third-Party Antivirus to Pair With Windows Defender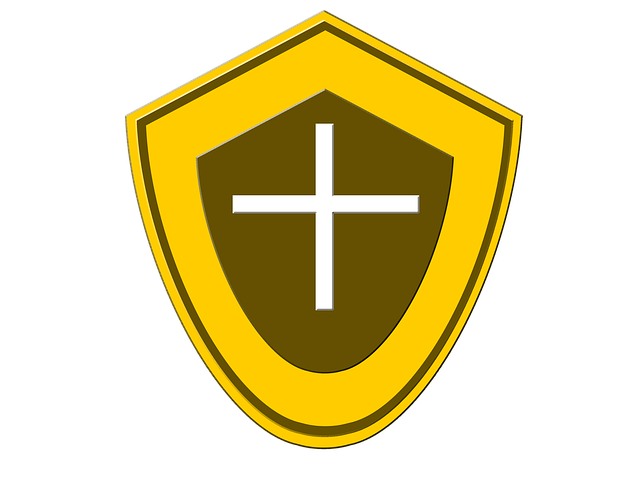 The obvious downside of Windows Defender, which is basically in the area of malware detection, is obtainable in other standard AV packages. Forget the hype; no antivirus program offers absolute protection against malware, which is the key element of cyber attacks today.
Therefore, to reinforce your system and internet security setup, you need a stand-alone "anti-malware" package – to augment Windows Defender.
READ ALSO: 12 Best Free Antivirus Software for your Windows PC [Not Free Trial]
There are myriads of anti-malware packages out there, many of which are available for free. Of the available ones, Malwarebytes conveniently stands out. However, due to its relative popularity, you can't take away its unmatched effectiveness.
Additionally, here are some recommended antivirus programs you can use to replace Windows Defender:
Summarily, Windows Defender is enough to serve your "virus protection" needs; however, you should consider getting a third-party antivirus program or antimalware as a backup. Nonetheless, it's recommended to get a standard anti-malware tool, like Malwarebytes, as a support program.
Note: This post has been updated for freshness.
RELATED ARTICLES: