Do you plan to use Heimdal Security to safeguard your PC from viruses and malware, or rather fight them? Here is a detailed review of Heimdal Security – its features, benefits and other vital information you need to know.
Cyber-attacks are on an all-time high and it takes more than vigilance to stay safe from cyber-attacks. Cyber-attacks could come in different forms such as phishing, malware, password attacks, and others. Also, your PC could get infected by Trojans and viruses from downloading infected files or clicking a malicious link.
Virus and malware attacks can affect the functionality of your computer. While some malware affects your computer by running in the background, others manifest themselves publicly (doing all sorts to your computer).  If you have had any experience with viruses, you'd agree that it can be very frustrating.
Antivirus programs can be used to tackle viruses and malware. However, most antivirus programs can't fully combat these agents of cyber attack because they are limited in functionality.
This is why you need a security suite because it is often better to prevent the attacks than looking for a solution. Heimdal Security has risen through the rank of security software due to its use of "Next-Generation Technology". With Thor, Heimdal security guarantees absolute safety for its users.
What is Heimdal Security?
Heimdal Security was launched in 2011 to join the fight against cybercrime. Heimdal Security protects its users from advanced malware attacks by making use of next-generation technology to keep your information and intellectual property safe.
Heimdal Security started with developing security add-ons for antivirus software. With the widespread success of its add-ons, Heimdal Security decided to upgrade its services to combat the rising incidence of cybercrimes by launching its Thor series.
A traditional antivirus only has a layer of security but Heimdal Security stepped up its game by offering an antivirus and a traffic monitoring application in one package. Heimdal Security has four major products namely Heimdal Thor Free, Heimdal Thor Vigilance, Heimdal Thor Foresight, and Heimdal Thor Premium.
Heimdall Security has two classes for all products excluding Thor Free – Home (for individuals) and Enterprise (for organizations). Let's take a brief look at what these products offer.
Thor Free
The Thor Free package increases your PC's security by monitoring and automatically updating outdated applications. Outdated applications are often vulnerable to cyber-attacks; therefore Thor Free helps you update your applications in the background.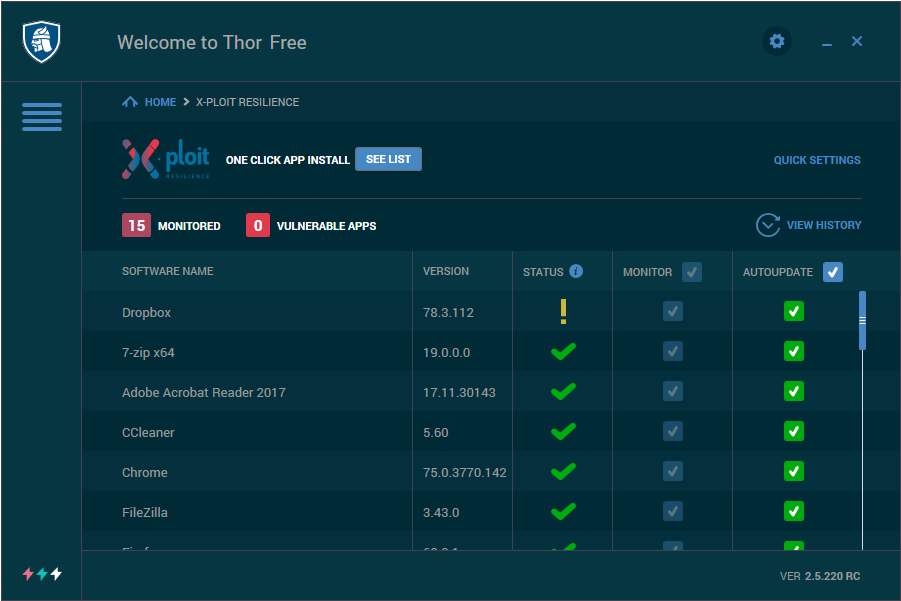 It saves you the stress of constantly checking for outdated apps and it prevents you from downloading infected updates. Thor Free also provides you with free and fast installation of popular applications with a single click.
And you guessed right. It's absolutely free to use!
Thor Vigilance
Thor Vigilance is Heimdal's antivirus system. Thor Vigilance protects you from malware and viruses by using some of the most sophisticated malware detection technology. It also offers a comprehensive range of scanning options (seven options) you can find in any antivirus.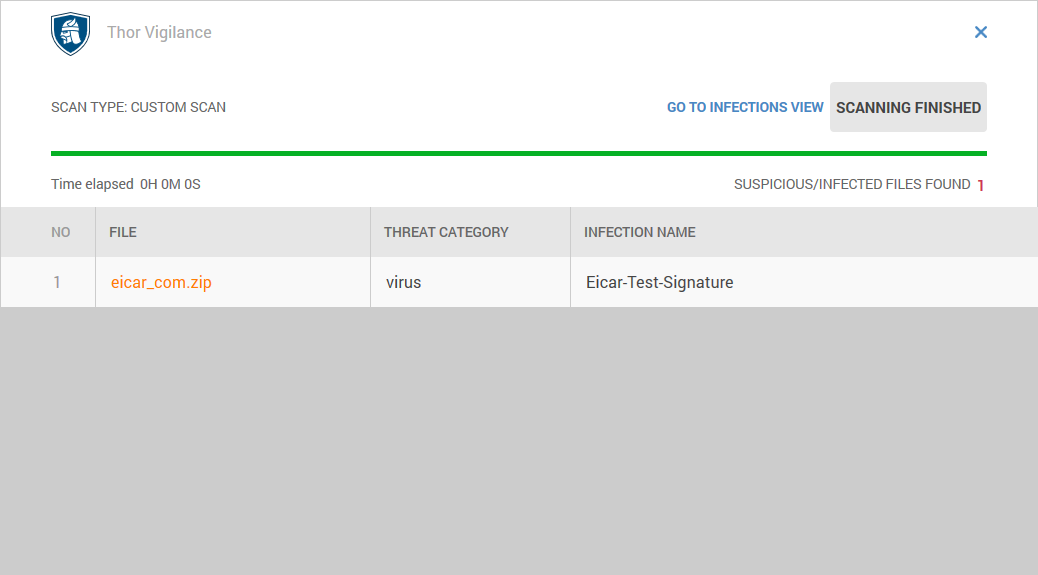 Thor Vigilance makes use of signature code to scan your local files to detect malware, viruses, data leakage, and other threats. Unknown files are sent to its cloud system for more scanning. It also makes sure your firewall is on at all times to protect you from online threats.
Thanks to Thor Vigilance, home and enterprise users can have access to next-generation technology that is absent in regular antivirus applications.
Thor Foresight
Heimdal Security created Thor Foresight as a proactive internet security add-on for antivirus applications. Thor Foresight protects you from cyber-attacks by scanning your internet traffic for malicious content and filtering out cyber threats before they reach your computer.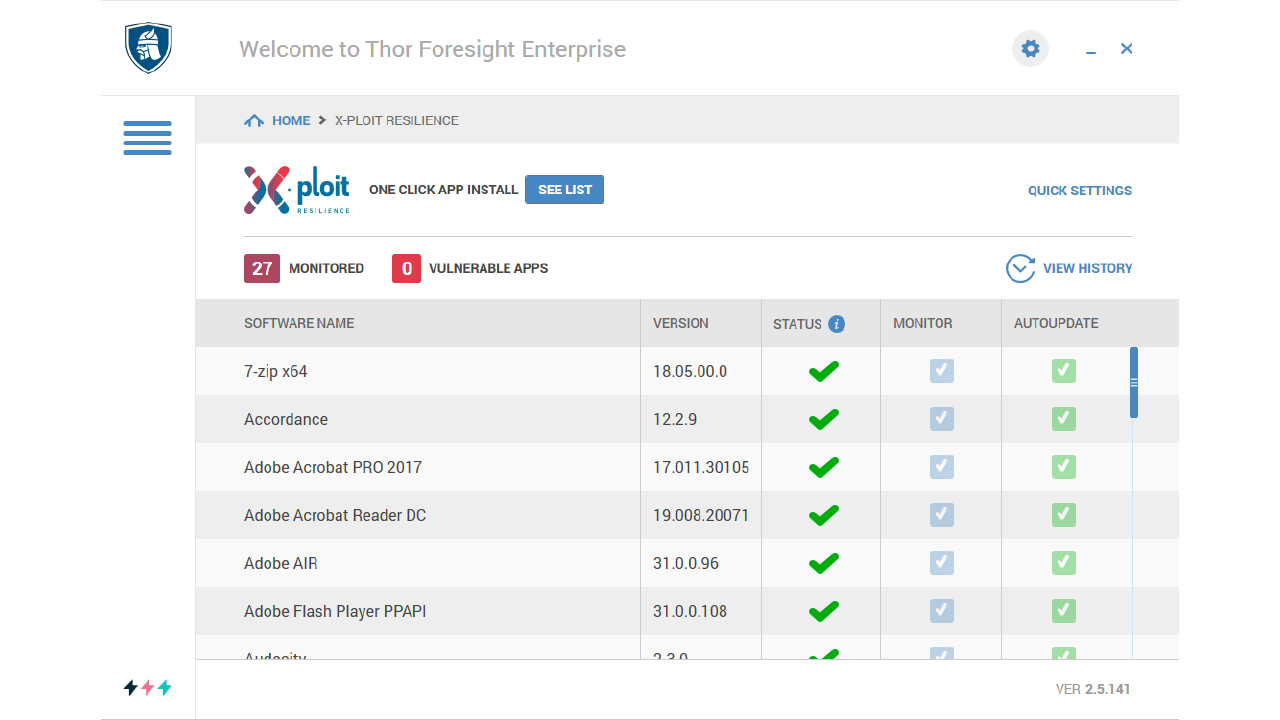 Apart from being fully compatible with any antivirus in the market, Thor Foresight provides three layers of protection – Xploit Resilience, VectorN Detection, and Darklayer Guard.
Xploit Resilience is responsible for automatic updates of your applications. It also offers Compliance, Vulnerability, and Software Asset Management.
VectorN Detection identifies malware that no Antivirus or Endpoint platform can detect by using Machine Learning Detection.
Darklayer Guard is a two-way traffic filtering engine that blocks network communication at DNS, HTTP, and HTTPS level to mitigate Zero Hour exploits, next-generation attacks, Ransomware C&C's, and data leakages.
This is a unique product that stops second generation attacks that no antivirus can detect from coming close to your computer. Thor Foresight is available for home and enterprise users.
Thor Premium is the ultimate product in the hierarchy of Heimdal Security's products. It's just as it's called – Premium. This product contains a combination of Thor Vigilance and Thor Foresight.
Thor Premium is considered one of the best products on the market that can provide you with all-round protection against malware.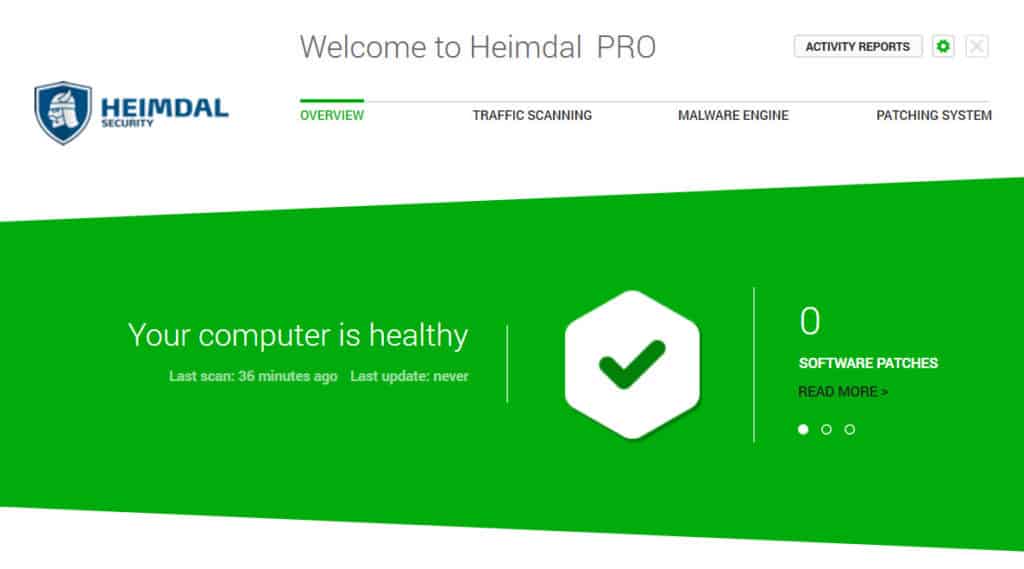 While Thor Foresight is a unique product, Thor Vigilance is not the best stand-alone antivirus. However, both products put together with additional next-generation protection layers in Thor Premium is a highly recommended security solution you might want to use.
Thor Premium offers you reactive protection against malware on your local computer alongside proactive protection to keep threats away from your computer as you surf the internet. It also patches your installed applications automatically to ensure that there is no window for cyber attacks.
Even though all the products are packed into this supreme product, it is very easy to use and navigate for beginners.
Benefits of Using Heimdal Security
Listed below are a few benefits of Heimdal Security.
Security from all forms of cyber attack: Heimdal Security suite protects you from all sorts of malware hidden in e-mails, instant messages online ads and malicious links. It also provides different layers of security between your computer and infected content.
Optimal Performance: Heimdal Security uses very little memory while running scans in the background. It doesn't eat into your RAM as it scans files, allowing your computer to run smoothly. This is good because you can do other things with your computer while Heimdal Security is running.
Automatic patching of third-party apps: Heimdal security takes care of automatically updating your outdated and vulnerable third-party applications. It checks for new updates every two hours. Heimdal Security also patches vulnerabilities in your operating system.
Ease of Use: Heimdal Security suite is very easy to use as a beginner. It also doesn't require any tech knowledge to install. Its user interface is very rich and user-centric.
Multiple Computers: Heimdal Security allows you to use a single subscription across multiple computers, depending on the number you pay for while subscribing.
Flexible Payment Options: Heimdal security is flexible with its payment plans. You can opt for the monthly pay-as-you-go license. It also offers a 30-day free trial period for all products.
Features of Heimdal Security
Heimdal Security suite offers a wide range of features to protect your computer from cyber threats. The available features differ between its products, but here are major features to take into consideration:
Traffic-based Malware Protection: This is a unique feature of the Heimdal Security suite. It monitors your incoming and outgoing traffic to ensure no malicious file finds its way into your computer.
Heimdal Security filters and blocks websites that contain malicious content. However, some legitimate websites also get flagged as a result of some suspicious behavior. The good news is you can always white-list such websites.
Sandbox & Backdoor Inspection: Heimdal security prevents malicious files from inhabiting your computer by using sandbox inspection. It does this by isolating suspicious files before inspecting them.
It then quarantines threats that are found during inspection to study their behavior. This helps it to recognize the threats in the future.
Automatic Software Updates: Heimdal Security suite eliminates security holes in third-party software by automatically checking the software on your computer for any required patches or updates. Outdated software is often exploited by hackers to plant some form of malware on your computer.
Pricing
Heimdal Security has different pricing plans to suit your needs. However, you can try out any of the products free for 30 days, excluding Thor Free – since it's free!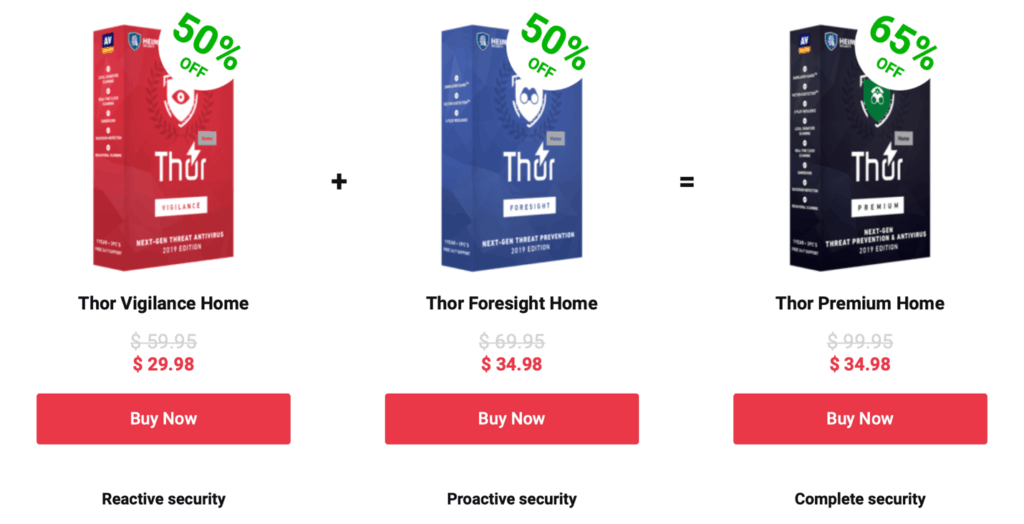 Thor Vigilance: This next-generation antivirus is the cheapest product in the Heimdal Security suite. If you only need a traditional antivirus, you can download Thor Vigilance for $49.95 per annum.
Thor Foresight: This is a required add-on that complements the work of your antivirus. If you have viable antivirus software, you can get this proactive security add-on for $59.95 yearly.
Thor Premium: This ultimate plan provides you with proactive security from Thor Foresight and reactive security from Thor Vigilance for just $89.95 per year. If you are just starting, or need a complete security package, this is the plan for you.
Note: These prices are for home users. As a business user, you'd have to register or contact support for prices.
Support Details
Heimdal Security doesn't have a live chat feature on their applications. However, they made up for that with support e-mail system that responds within twenty four hours. Home users can access support via support@heimdalsecurity.com while Enterprise users should send all queries to their dedicated support mail corpsupport@heimdalsecurity.com.
For phone support, dial +45 7872 3416 to speak with a support personnel. You can also reach online support or open a ticket on their website. Also visit Heimdal Security's blog to stay updated on cyber security.
Connect with Heimdal Security on social media by following the links – Twitter, Facebook, LinkedIn.
Conclusion
If you have used any of Heimdal Security's products, kindly share your experience by dropping a comment below.
RELATED:
12 Best Free Antivirus Software for your Windows PC [Not Free Trial]
Is Windows Defender Enough for 2020?
What is the difference between a Virus, Malware, Adware, Trojans, and Ransomware?