Here is the FastestVPN review. Is FastestVPN as fast as it claims? Is this VPN worth its salt for its speed and security? Find out more about FastestVPN from this review.
What Is FastestVPN?
FastestVPN is a VPN service launched in 2016 and headquartered in Cayman island. The VPN service promises unrivalled speed, robust security measures, and additional features, including 2TB of cloud storage space and a password manager. 
In addition, FastestVPN is a VPN service that makes the internet a safer place via the use of private networks that acts as a buffer between you and the places you visit online. This protects your privacy and also shields you from cyberattacks and other internet negativities including hacking and data monitoring. 
Overall, FastestVPN offers users an array of features that protect their privacy online, make them anonymous, and provide extra security layers.

How To Get Started With FastestVPN
The following steps will walk you through getting started with FastestVPN
Visit

FastestVPN official website

and choose a subscription plan

Enter your email address and select a payment method

Make payment and get a username and password

Download and run the appropriate FastestVPN App for your device 

Launch your VPN app and choose a server to connect to; tap the 'Connect' button to start enjoying VPN protection.
FastestVPN Key Features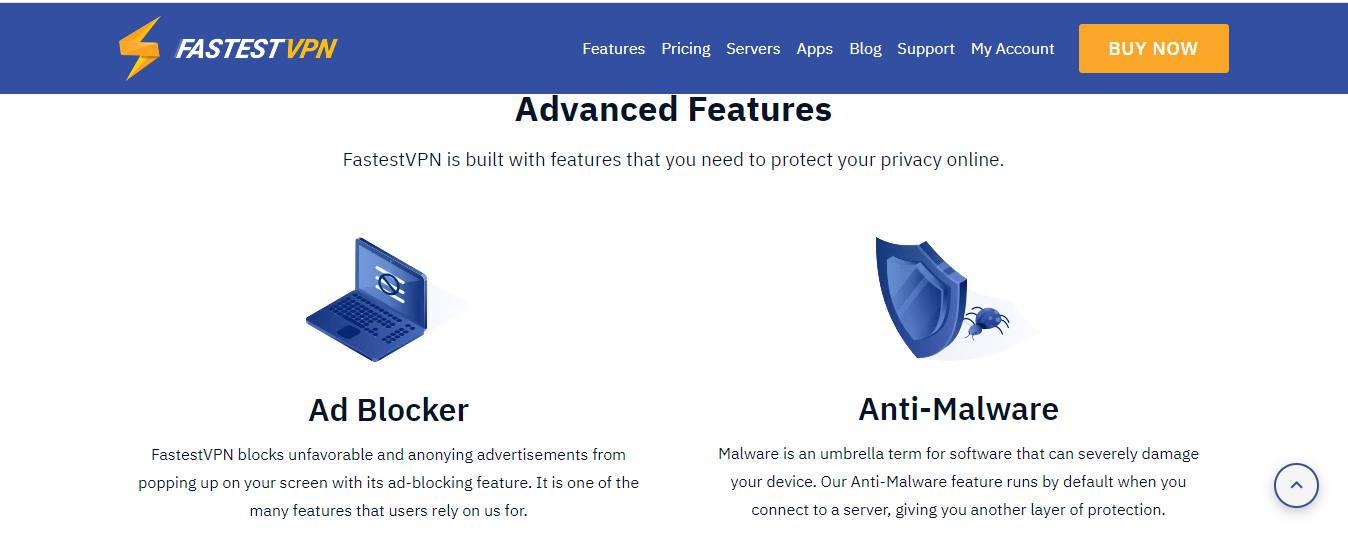 User Interface
FastestVPN has a user-friendly interface that makes it easy for less technologically savvy users to navigate FastestVPN's feature-rich apps. Users can switch between servers easily right from the interface, activate split tunneling, and enjoy other features without needing an assistant.
VPN Protocol
FastestVPN uses the OpenVPN as its default VPN protocol; users can choose from its multiple VPN protocols, including IKEv2, IPSec, OpenConnect, and L2TP.
OpenVPN: This is an industry-preferred VPN protocol for its speed and security. Being open-source means it is continually examined and strengthened. For FastestVPN, this is not a default option; hence users have to go through the pains of setting up OpenVPN protocol manually on their device. However, users can make the setup easy by following FastestVPN's tutorials for setting up OpenVPN for their devices.
IKEv2: This is a speed-optimized VPN protocol that prioritizes speed over security. FastestVPN uses the IKEv2 as its default VPN protocol. Personally, this is a VPN protocol preferred over OpenConnect for its balance of speed and security.
OpenConnect: This is a VPN protocol is an open-source, high-speed VPN protocol. Although this type of protocol is outdated, it is still preferred for its speed. 
L2TP/IPsec: This is one of the oldest VPN protocols optimized for speed but is often a poor choice for security-conscious people.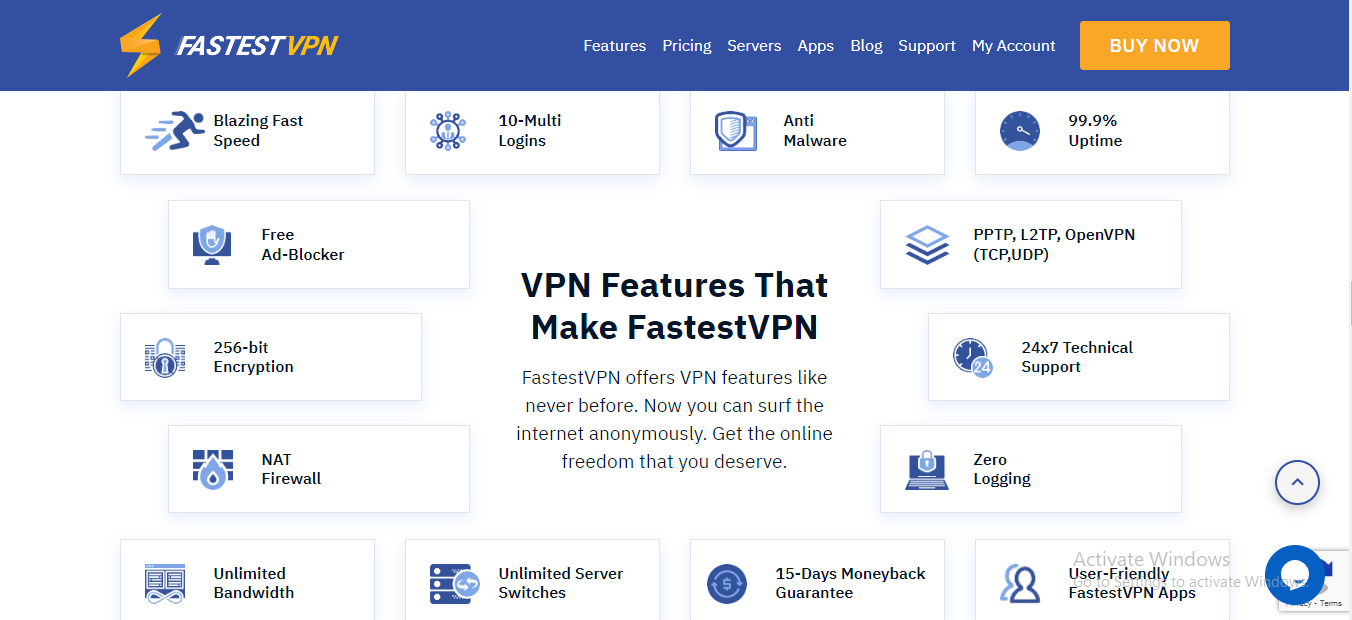 FastestVPN Servers
FastestVPN has about 250+ VPN servers in 40 countries and 52 locations. Interestingly, all FastestVPN's servers are optimized for streaming, downloading, and torrenting. 
Additionally, FastestVPN has good server coverage in the US, Europe, and Asia. However, server coverage in South America is poor, with less than 5 servers in South America and non at all in Africa. 
Unlike most VPNs, FastestVPN has a server in Russia; although I couldn't connect to it, therefore, there's no way to test its speed and unblocking abilities.
Encryption Protocol 
FastestVPN uses the Industry-standard 256-bit military-grade encryption protocol to encrypt and protect inbound and outbound users' data traffic from third-party interception, even when connected to unsecured public WiFi networks. 
This implies that your data traffic cannot be decrypted even by the world's most powerful computer; hence, your data and online privacy stays protected from cyber threats.
Torrenting 
FastestVPN has all of its servers optimized for anonymous, high-speed torrenting. I had a really good torrenting experience on its US and EU servers during this FastestVPN review. 
However, torrenting on FastestVPN's Australia, South Korea, Singapore, Hong Kong, and India servers was a nightmare as they offered me the slowest torrenting speed I have ever recorded.
IPV4, 6, DNS, and webRTC leak protection 
For this FastestVPN review, I tested its leak protection features using www.ipleak.net and www.whatismyipaddress.com; I didn't experience any leaks; there was no IP address, location, or device info leakage. 
It is reassuring to know that FastestVPN has its own private DNS server to prevent any leakage via DNS; hence there's no issue of DNS leakage. Also, all of FastestVPN's apps have webRTC blocking enabled to prevent webRTC leaks.
Kill Switch
FastestVPN recognizes the importance of Kill Switch; hence all its apps come with the Kill Switch functionality.
A kill switch prevents accidental data exposure by instantly tripping off your internet connection when your VPN connection cuts off suddenly.
FastestVPN's Kill switch worked on Windows, Mac, iOS, and Android devices. However, for android devices, the Kill Switch is compatible with other protocols except for IKEv2 and OpenVPN protocols.
NAT Firewall
The NAT Firewall is a built-in feature of all FastestVPN's servers to protect you from malicious data traffic by acting as a gateway for all data traffic to your device, thus effectively blocking out all malicious or unwanted data traffic. 
The NAT Firewall feature gives FastestVPN an edge over other VPN providers since only a handful of VPN providers have servers with built-in NAT Firewalls to offer users an additional security layer against cyber threats.
Ad Blocker
FastestVPN's adblocker blocks out annoying ads. This is not a feature common with most VPN providers; this puts FastestVPN in the preferred list of VPNs. 
I tested this feature on Facebook, YouTube, and other websites I visit commonly, and there was not a single ad popping up on my screen.
Smart Tunneling 
Smart Tunneling is FastestVPN's split tunneling feature you can use to select what app on your device uses the VPN service. I tested this feature by excluding my banking apps from using the VPN; while my VPN was on, I could do transactions successfully on my banking apps without triggering any security alert from my bank (due to a change of IP address and location), while watching Netflix US. However, this feature is only available for FastestVPN's mobile apps. 
Strict No logs Policy
FastestVPN does not log users' info or online activities as clearly stated in their policies.
However, FastestVPN logs users' email addresses for billing and account registration purposes. This information is deleted as soon as a user deactivates his email address.
Simultaneous device connectivity
FastestVPN allows up to 10 simultaneous device connections to a single subscription. It also supports WiFi routers; hence you can extend FastestVPN services and protection beyond 10 simultaneous devices by connecting your devices to a FastestVPN-protected router. 
Additionally, you can add 20 more devices to a single subscription; however, FastestVPN will charge you $1 each for extra devices. This is a great option if you have a large household or you desire to use a VPN service for your businesses.
FastestVPN Apps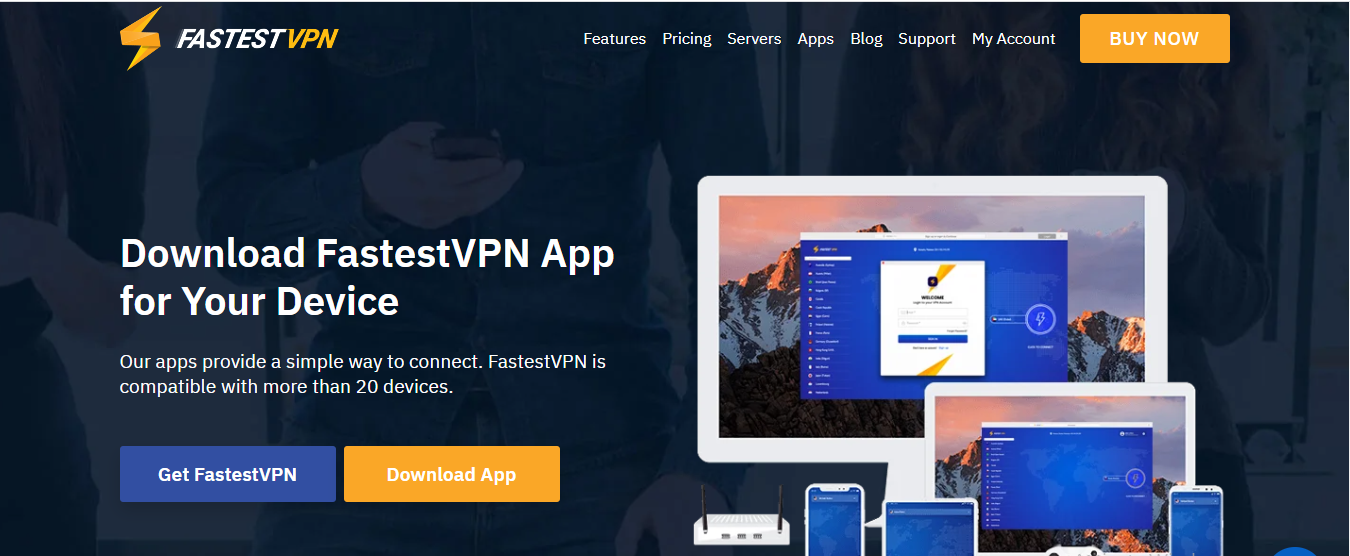 FastestVPN is compatible with more than 20 apps, devices, and platforms, including: 
Windows

macOS

Android

iOS 

Routers

Chromebook

Playstation 

Xbox

Firestick

SmartTVs

Apple TV

Kodi 

Chromecast

Nintendo

Browser extensions.
FastestVPN offers detailed installation guides for all its apps; therefore, as a new user, you will find every resource you need to walk you through installing, configuring, and using FastestVPN's apps and services.
FastestVPN Review: Test Results
Speed And Performance Test
For a relatively new VPN, I am impressed with its performance. Testing its UK server, I recorded a significant speed drop from a base speed of 268Mbps to 108Mbps; also, there was a significant ping reduction from a base ping of 30 to 25Ms, which makes FastestVPN ideal for gaming and torrenting. 
Servers in the US and Europe performed well, recording an average speed of 150Mbps. However, servers in Australia, Japan, and India experienced significant speed drops to an average of 10Mbps, and higher pings.
Streaming Performance
I was impressed with FastestVPN performance; it not only unblocked Netflix US, UK, Canada, Peacock TV, HBO Max, Spotify, and other streaming platforms but had a fast buffering speed. 
Although I experienced difficulty unblocking Amazon Prime, Hulu, BBC iPlayer, and ESPN, I remain optimistic that FastestVPN will improve in its unblocking abilities.
FastestVPN Customer Support And Resources
FastestVPN offers reliable customer support services via the following channels:
LiveChat

: support service is available 24/7 on this channel, and the response time is fast. 

Email support

: Response via email at its fastest will take 1 to 2 hours to get a response; overall, replies do not go beyond 24 hours.

FAQ

: FastestVPN's FAQ answers your questions, solves your issues, and provides you with every resource you need to get started with FastestVPN. 
FastestVPN Pricing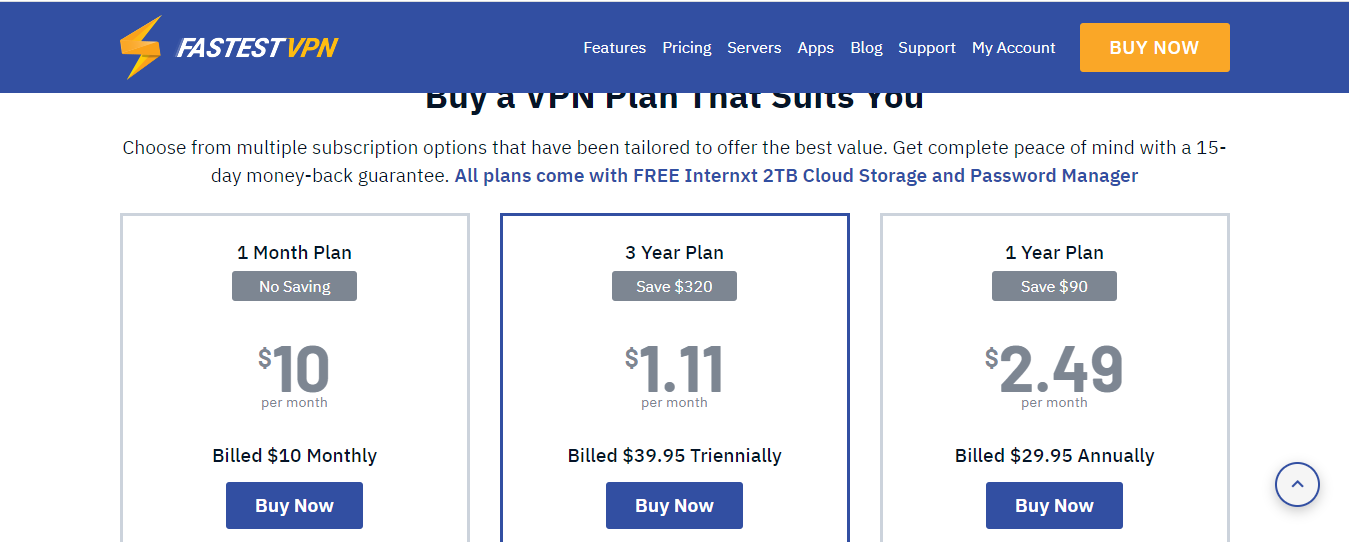 At $1.11 per month for its 3-year plan and extra features, including a password manager and 2TB cloud storage space, FastestVPN is easily the most affordable VPN service that offers you more for less. 
However, FastestVPN's monthly plan is not competitive at $10 per month, but you also get a free password manager and 2TB storage alongside, thus giving you more features and services than you will get for other VPN providers.
Compared with other VPN's yearly plans, FastestVPN's annual plan at $2.49 per month is quite affordable, and like other plans, it comes with Hulk Password manager and 2TB storage space. 
Additionally, FastestVPN offers you a range of customizable plans and pricing to suit your needs.
Note: all plans come with a 15-day moneyback guarantee. This is a far cry from the 30-day moneyback guarantee offered by other VPN service providers. Testing their refund policy, I had to make a refund request manually on the 15th day, and surprisingly, I was given a refund within a week.
Is FastestVPN Safe?
Yes, FastestVPN is 100 percent safe. It offers users additional security features not common with most VPN providers, and it uses the strongest VPN encryption protocol to protect users' data from cyberthreats.
A Final Word On The FastestVPN Review
In terms of server strength, FastestVPN does not compete favorably with other top VPN providers; however, its added features below make it a recommended VPN of choice for those desiring affordability, speed, extra security measures, and other freebies.
Optimized for speed, streaming, downloading, and P2P torrenting 

Cheapest plan

NAT Firewall and Kill Switch for added security

Strict No-logs policy

Headquartered in Cayman island, a country with a friendly data policy and not part of the 5-9-14 eyes alliance

Free Password Manager and Free 2TB cloud storage space

Additional simultaneous device support
---
INTERESTING POSTS