In this post, we will be showing you a review of Airo Antivirus for Mac which is a powerful, reliable, and intelligent antivirus you should consider for your Mac OS.
Before we go down to the full evaluation of this software, let's define a few terms.
What is Antivirus Software?
An antivirus software is commonly known as anti-malware software. It is designed to detect, prevent, and take actions to either remove or disarm malicious software from your computer. Such malicious software could be Trojan horses, viruses, and worms. Furthermore, a good antivirus software will also detect, remove, or prevent spyware and adware from your computer.
However, Antivirus software perform their duty by checking your computer for known types of malware and viruses. Hence, it is imperative always to update your Antivirus regularly. Antivirus software also searches for malware that are variants of a known "family" or related to a common codebase. Lastly, they scan for previously unknown viruses by searching for known suspicious behavior or file structures.
READ ALSO: Best Antivirus For 2022
What is Airo Antivirus for Mac?

Airo Antivirus is an Antivirus software designed for Mac Operating Systems. The singular goal of the Airo Antivirus company is to keep your computer ahead of every malicious threat. Specifically, they believe in focusing and concentrating attention on only one thing; protecting your Mac OS.
It is ergonomic, efficient, and neatly designed. An outstanding feature of the Airo antivirus is its AI technology that learns faster than new malware and virus threat. Also, they boast of their skilled, in-depth research and talented employees as nightmare to hackers. 
Although it scans your computer at a low pace, you can be sure of an excellent clean-up. That, are a few of the results we got after a thorough evaluation. However, the pricing of the Airo Antivirus might want to make you look away. Also, it is short of some features the competition offers.
Benefits of the Airo Antivirus
Some viruses are very sophisticated. Hence, even after delete, as soon as your operating system becomes active, it duplicates itself. However, with the Airo antivirus software, you can create a boot-time scan. That is, the Anti-virus software will restart your computer and deactivate your operating system. Then, it will scan your entire drive for viruses and other malicious software. Simply because your operating system is disabled, it will remove sophisticated viruses.
The Airo antivirus software provides you security in the form of real-time scanning. That is, you can actively scan through your computer drive for malware, viruses, and suspicious programs or files. Upon detection, the Airo Antivirus does not automatically delete such files or programs. Specifically, the Airo Antivirus quarantines the files and allows you to decide what to do with them.
Nevertheless, quarantined files cannot interact with any data on your computer. As such, even keeping viruses or malware in a quarantine folder is safe. 
The Airo Antivirus also affords you scanning of individual files or programs for malware and virus. For a start, opening an infected file might cause a proliferation of viruses on your drive. However, you cannot scan the entire drive because you installed a program or saved a file. As such, we recommend scanning each application as soon as you install them and each downloaded files. Unlike some antivirus software, the Airo antivirus affords you this function.
Bonus Benefits:
When worms or viruses infects your computer, it can transfer such malware to other computers. Also, transferred worms and viruses go with sensitive information from your drive. Then, this sensitive information is uploaded to specific networks. Those networks are called "Botnets." Botnets steal sensitive information like credit card numbers and send them to hackers. These hackers, in turn, either use that information or sell them to third parties. However, the Airo Antivirus secures your Mac from such worms and botnets.
Removable Device scanning 
As explained earlier, your Mac can become infested by interacting with an infected file. However, this infected file can also come from removable devices you plug to your computer. Anyway, the Airo Antivirus automatically scans any drive you connect to your computer for malware and viruses. Also, it allows you to initiate a full scan on such a drive. Hence, providing comprehensive security from virus and malware.
Key Features of Airo Antivirus for Mac
While using your computer, the Airo Antivirus runs a real-time scan and detection. Further, this real-time protection in done background, without affecting your performance speed. Also, it scans websites in the background as you work online. Then, the Airo Antivirus blocks every malicious sites and software from infecting your computer. The excellent feature of the Airo Antivirus scans is that it does not slow your system down. 
Furthermore, some antivirus protects computers by comparing each file to their database of known viruses or worms. As such, you will need to keep on updating the program to beat the latest virus. Conversely, the Airo Antivirus uses algorithms that keep constant search for suspicious file activities related to Trojan or Worm. 
The Airo Antivirus comes with a self-learning brainpower AI technology. This unique feature makes it stand out among the competition. Also, AI technology tirelessly collect data to identify and recognize new malicious activities. As such, it puts you up to speed with the latest virus, bug threat, and malicious software in the industry. Furthermore, Airo Antivirus provides you with a fast and smooth Mac protection experience. 
Several antivirus software harms your game FPS and rendering time. Whereas, the Airo Antivirus does not.  
The Airo Antivirus has a browser extension called the "Airo Web Guardian." Precisely, this extension monitors all your web activity to ensure your safety from phishing attempts. First, it prevents phishing scams from stealing your sensitive and personal information. Secondly, it stops a remote attempt to hijack your webcam, keyboard, or mouse. Also, it keeps your backdoors closed from suspicious files and malicious spyware that ruins browsing experience and Mac performance. Furthermore, the Airo web guardian scans all downloads to ensure maximum protection from malware and virus. 
Airo Antivirus Evaluation
The SecureBlitz team conducted several evaluations on the Airo Antivirus. That to appraise its performance, speed, and security level. Below are the results
Performance test:
We stuffed a Mac Computer with different malware samples to test its malware detection ability. The Airo antivirus detected all the test malware we stuffed into it. However, the mode of detection was different. I mean, for some malware, this antivirus detected it upon arrival. While for other malware, it will require launching the program or opening the file to detect it. Also, users of this antivirus gave kind remarks about its malware detection. 
To conclude, the Airo Antivirus has one of the most reliable malware detection in the industry.
System performance speed test
The Airo Antivirus claims not to affect the overall computer's performance. Well, we put that to the test. Our result showed that the claim is valid. Specifically, we made a quick scan on an Apple MacBook Pro, 2.8GHz, Quad-core CPU. From the task manager, CPU usage for the antivirus was 18%. At that level of CPU usage, you can still do other powerful tasks. However, those powerful laptop will neither freeze your PC nor make your processes crawl. 
Scan test:
The speed of any antivirus software does not affect its overall detection ability. However, it is not too much luxury to ask for speed and good overall performance. Our team scanned 810,000 files with the Airo antivirus. The scan lasted a few minutes above four hours. Well, that is pretty slow as compared to other competitors.
Apple has a sandboxing protection rule that prevents antimalware programs from accessing the majority of your computer's folders. However, certain antivirus can find their way to getting more scanned folders than others. The Airo antivirus is not top in the list of such antivirus software. Albeit, for every scanned folder, it delivers accurate detection. 
Rating
There are specific features a good antivirus should have. Some features are seen as bonuses. Although, the Airo Antivirus excellently delivers those essential features. However, it does not come with any bonus. Our rating for the Airo Antivirus is 9/10.
Pricing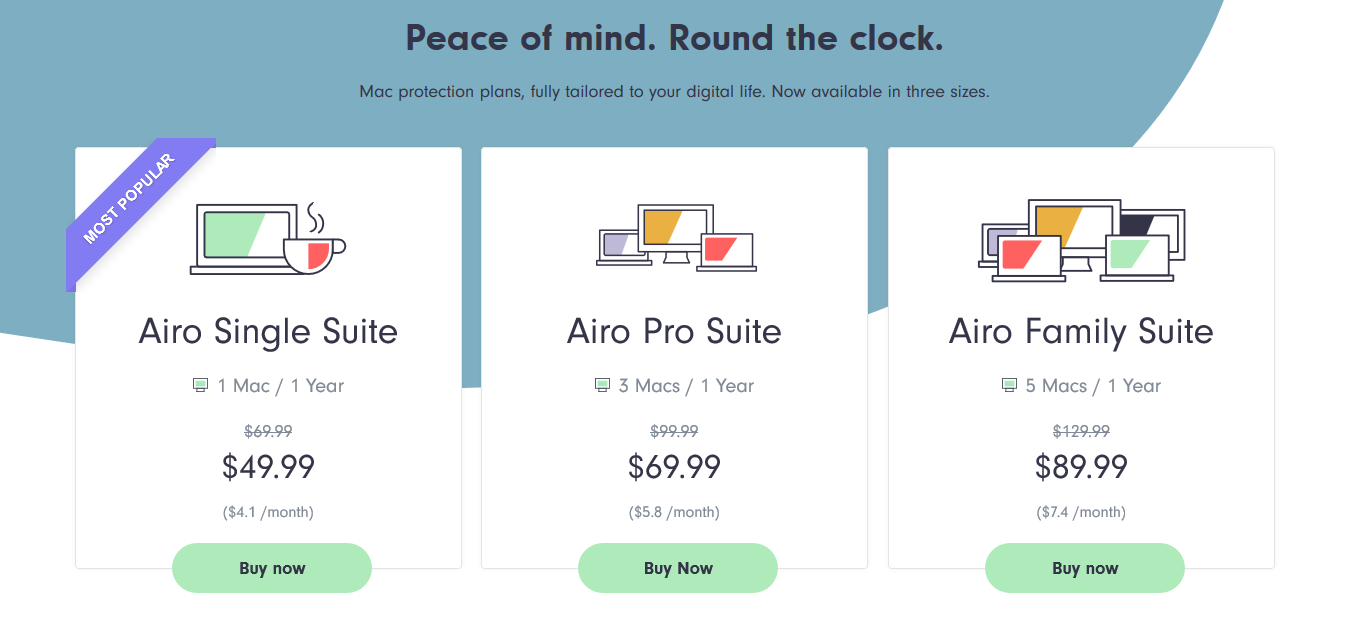 Airo Antivirus for Mac comes with three pricing plans. Namely, Airo Single Suite, Airo Pro Suite, and the Airo Family Suite. All of these plans span for a year but a varying number of computers. 

| | | | |
| --- | --- | --- | --- |
|   | Airo Single Suite | Airo Pro Suite | Airo Family Suite |
| Number of devices | 1 | 3 | 5 |
| Price per year | $49.99 | $69.99 | $89.99 |
| Real-time protection | Yes | Yes | Yes |
| Anti-malware | Yes | Yes | Yes |
| Anti-spyware | Yes | Yes | Yes |
| Virus Removal | Yes | Yes | Yes |
| Identity protection | Yes | No | No |
| Anti-adware | Yes | Yes | Yes |
| Anti-spam | No | No | Yes |
Technical Details
OS requirement: OS X El Caption (10.11) and higher

Minimum RAM: 4GB

Minimum Disk Space: 700MB
Conclusion
The Airo Antivirus provides excellent and intelligent protection from malware, virus, worms, and suspicious files or programs. It is efficient in performance and worth its price. 
RELATED:
What is the difference between a Virus, Malware, Adware, Trojans, and Ransomware?