Several VPN service providers have taken over the cybersecurity market. In this post, we will answer the question – is VPN4Test safe? Also, we will reveal the best VPN4Test alternatives.
There are questions that require more than a 'Yes or No' answer. That kind of answer will not just be sufficient for it. This question is one of them. Therefore, we are going to answer it with reasons, more than a Yes or a No.
Virtual Private Network (VPN) is a service that changes your IP address to a Secure Server. It also allows you access to blocked websites. Much more, it keeps you anonymous by encrypting your data from spying organizations. Even your government. Also, by hiding or changing your location. Additionally, It secures your network from cyber threats as well as affords you access into geo-restricted sites.
Because there are notorious VPN providers who sell your data, you've asked rightly about this one. However, how we seek to answer the question – is VPN4test safe? – is by comparison. That is, we will compare the features and privacy policy of VPN4Test to others. By others, I mean both safe and unsafe VPNs.
What unsafe VPNs do?
Sell your data to advertising firm
To get more money, some VPN providers sell your session data to advertising firms. This is not only unsafe, it defeats one aim of using a VPN; Privacy!
Contain adverts
You might think this is not unsafe. Well, if those ads contain malware or spyware, your device will be infected or unsecure respectively.
Save your session data
Relatively unsafe VPNs save your session data to their database. Even if they promise not to sell it, they still have your data.
READ ALSO: Best VPN for Gaming You Should Consider in 2020
What safe VPNs do?
Never sell nor save your data to any firm
Very safe VPNs will never provide anyone nor any firm with your session data. More so, they do not save your session data to their database. Hence, as you disconnect from the internet, your session data should vanish.
A few safe ones might keep partial logs for troubleshooting purposes.
Provide excellent network security
Of the safest, they provide end to end, AES 256-bit encryption. Also, spilt tunneling, kill switches, own DNS, Double VPN and IPv6 leak protection.
Auto swap server location frequently
If you must remain anonymous, your server location should be changed frequently. Making tracking from any spy agency impossible.
What Are The VPN4Test Features? Is VPN4Test Safe?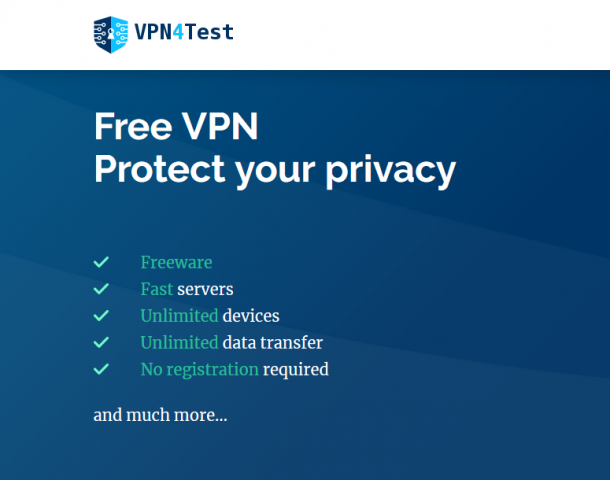 TOR routing option
This feature will bounce your internet requests and data. They do that via a vast and extensive network of servers around the world.
Zero log policy
VPN4test keeps minimal data about user. Although no activity or connection logs are saved.
Own DNS
VPN4test run their own DNS servers to improve privacy. They also claim not to show third parties your session data.
Kill Switch
The VPN4test has a selectable option for kill switch. If selected, the software will disable network when connection is dropped. Therefore, improving security.
Keep Swapping
With VPN4test, there is a selectable option for keep swapping. That is, it automatically changes the server location at random time intervals. Specifically between 40 to 140 minutes.
Double VPN, P2P, TCP, TOR
All of these UDP protocols affords you extra network security.
In summary, although the VPN4Test site does not state its encryption type we consider it safe. It might not be your extremely safe VPN but it ticks more than a few boxes for you. Its Zero log policy does not even allow them save your session data. The only data they save is your personal data. Specifically, your email address, cookies and software/service usage data.
READ ALSO: Full Ivacy VPN Review – Affordable, Faster & Secure VPN You Should Consider
Furthermore, its kill switch, DNS and Keep Swapping takes its security level beyond average. To say nothing of its double VPN and other UDP protocols. It might not be as powerful as the NordVPN or ExpressVPN but it is relatively safe.
VPN4Test offers staunch security with the Kill Switch, DNS and Keep Swapping features. Also, there are UDP protocols like Double VPN, P2P, etc. The VPN may not be as powerful as NordVPN or ExpressVPN but it is safe.
How To Set up VPN4Test Account
Though you can use the VPN without registration, you need to create a VPN4Test account before you can access all the VPN features. This can be done fairly easily by following the below steps:
Visit the VPN4Test official website
Click on Get Started
Enter your email address
Complete the CAPTCHA
Click on Create A New Account
Your account password and activation link will be sent to the email address you entered. Open your mail and click on the activation link. Once your account is activated, you'll get a success message. With this, you can proceed to download and use the VPN.
How To Download VPN4Test Apps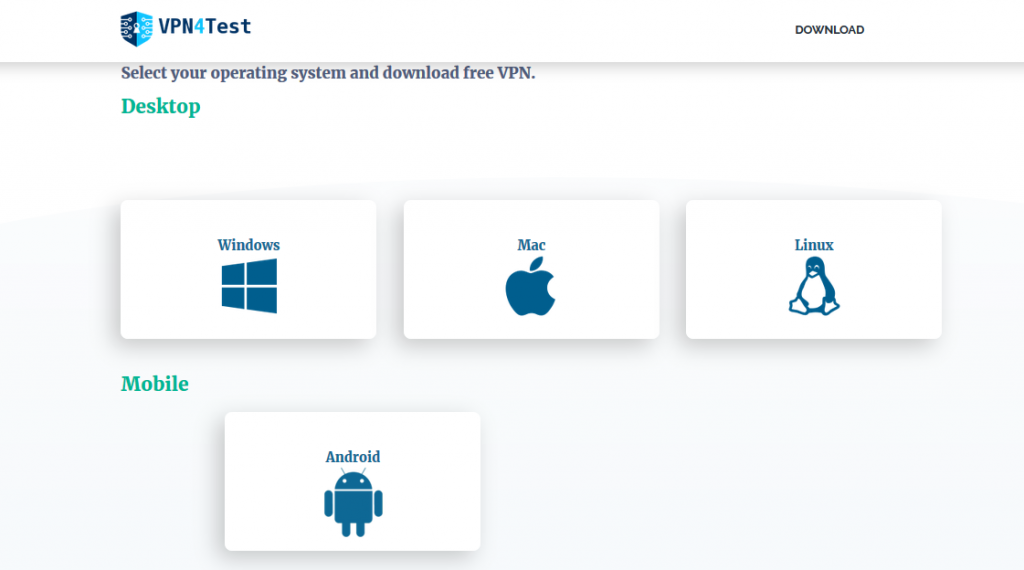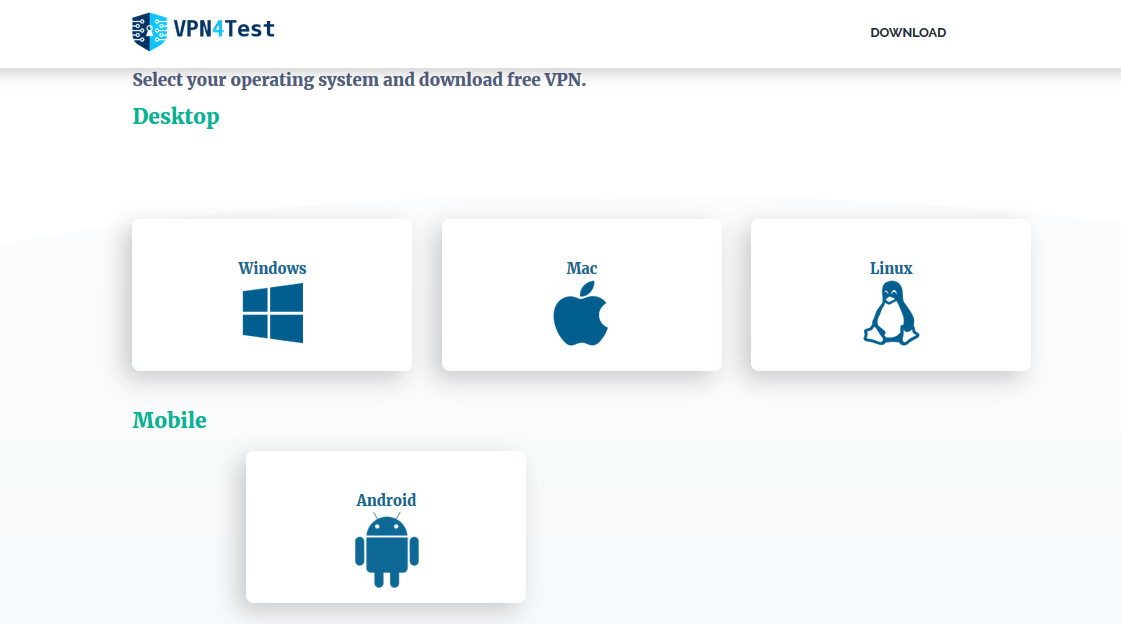 VPN4Test has applications for Windows, Mac, Linux and Android devices. You can download any of these apps for your device OS from the website. However, before you can download the apps, there are requirements your device should meet. Check them below:
Windows: Requires Windows XP or higher versions with 64-bit
Mac: Requires Mac OS X 10.6.8 or higher versions
Linux: Requires Linux Distro with 64-bit
Android: Requires Android 4.2 or higher versions
If your device meets the requirements, then you can proceed to download. Here's how to do that:
After downloading, install the application, log into your VPN4Test account and connect to a VPN server.
READ ALSO: 4 of the Best VPN for Upwork (with dedicated IP address)
Does VPN4Test Have a Chrome Extension?
If Google Chrome is your favorite browser, you should know how useful Chrome extensions can be. Undoubtedly, Chrome extensions give you a better browsing experience but unfortunately, VPN4Test does not have one. Nevertheless, the VPN4Test application running on your PC still lets you enjoy its features across all browsers including chrome. If you want a VPN for Google Chrome, then you might have to consider some alternatives.
10 Best VPN4Test Alternatives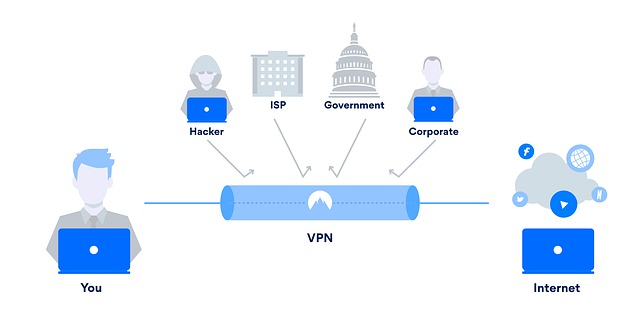 VPN4Test is a safe VPN with features that you can count on. However, it's still got some cons. The VPN is provided by the company – Ice Wall – and no contact address is provided. We do not know who they are or where they are. In addition, iOS device users will be unable to make use of the VPN as there is no application for the OS. Not to mention the absence of a chrome extension.
Listed below are the ten best VPN4Test alternatives.
One of the best VPN4Test alternatives is CyberGhost VPN. It has applications for Windows, Mac, Linux, Android, iOS, and FireTV. Featured servers are more than 6,100 and the servers are present in more than 88 countries.
CyberGhost is a no-log VPN and connection is secured using premium 256-AES bit encryption. Also, it is easy to use as all you need is just one tap to connect. If you ever need help, the support team is available 24/7 to attend to you.
READ ALSO: Full Review of CyberGhost VPN
Ivacy VPN is a worthy VPN4Test alternative thanks to its speed and security features. There are over 100 server locations with over 1,000 servers. The high speed ensures that you can load web pages and download faster. Notably, the bandwidth is unlimited.
The VPN uses military grade 256-Bit encryption and IKEV and Advanced IPSec protocols. With Ivacy VPN, you can also enjoy Dedicated IP and Port forwarding features. It is available for all major mobile and desktop platforms, browser extensions are available too.
READ ALSO: Full Review of Ivacy VPN
PureVPN enables you to access the internet with high speed, while staying anonymous. With over 2,000 VPN servers and over 300,000 IP addresses, the VPN offers global coverage. PureVPN is a Hong Kong based VPN and collects no log from users.
You can use PureVPN on 10 devices with just a single subscription. The application can be downloaded on iOS, Android, Windows, Linux, and Mac devices. Also available are Firefox and Chrome browser extensions.
READ ALSO: Full PureVPN Review
This is one of the best VPN4Test alternatives you can use to privately access the internet. It hides your location and other sensitive data saving you from prying eyes on the web. You can connect with over 1040 servers in over 60 countries.
SurfShark VPN can also block annoying ads, and protect your device from malware. It follows a strict no-log policy so none of your data is collected or stored. The VPN works on Windows, Mac, Linux, iOS, and mobile devices.
READ ALSO: Full Surfshark VPN Review
BullGuard VPN was launched as a partnership between BullGuard and NordVPN. The VPN is one of the most affordable premium VPNs you can get. Also, it is easy to use and has reliable features.
Your data is secured using military grade encryption so none get leaked. With added protection, the VPN prevents data leaks even when the connection drops. BullGuard VPN is compatible with all major mobile and desktop operating systems.
Features like fast servers, unlimited device protection, and a no-logs policy makes Zenmate VPN one of the best VPN4Test alternatives. The VPN is made in Germany and has over 74 servers in various countries.
Zenmate VPN hides your IP address and encrypts data you send and receive. With this, you can browse the internet without leaving any trace. You can protect Windows, Mac, Linux, iOS, and Android devices with Zenmate VPN. This protection extends to browsers such as Chrome, Firefox, and Opera via extensions.
READ ALSO: Full Review of ZenMate VPN
Just as the description states, this VPN is for private internet access. Private Internet Access VPN has about 3386 servers that encrypt your data and hides your identity on the internet. It does not collect traffic logs and has unlimited bandwidth.
The VPN4Test alternative is easy to use and can be set up instantly. It supports P2P, OpenVPN, PPTP, and other protocols. You can use it on up to 10 devices at a time.
READ ALSO: Full Private Internet Access VPN Review
Another entry on our list of the best VPN4Test alternatives is TunnelBear VPN. It is an easy to use VPN service and it works across multiple platforms; desktop and mobile. There are servers for about 23 countries that you can connect with and browse privately. The servers are relatively fast so you can access the internet at high speed.
TunnelBear uses strong encryption technology to secure users' data. The VPN releases security audits regularly so you can rely on their security.
READ ALSO: Full Review of TunnelBearVPN
This is a VPN service that offers end-to-end encryption of users data. It allows you to connect to the internet securely and browse through with anonymity. Also, you can access restricted websites as it masks your local IP.
You can get Avira Phantom VPN on Windows, Mac, Android, and iOS platforms. The VPN has both free and premium versions available.
Panda Dome VPN has recorded over 30 million installations since its launch. The VPN features numerous servers which are fast and secure. Data you send are well encrypted and none is stored or shared.
You can browse any content on the internet with Panda Dome VPN as it bypasses restrictions. This VPN is compatible on mobile and desktop with applications for Android, iOS, Windows, and Mac.
Note: Some of these VPN services provide both free and premium versions.
Conclusion – Is VPN4Test Safe?
VPN usage requires careful examination as the use of malicious VPN apps can be a threat to your digital life. Apart from answering the question – is VPN4Test safe? – we also showed you the best VPN4Test alternatives that you can use.
Hope you are able to decide whether to use VPN4Test on your Windows, Mac or mobile devices?
READ ALSO: 15 Best VPN For Coronavirus Quarantine Holiday
Note: This post was originally published in November 2019, but has been updated for freshness and accuracy.
---
INTERESTING POSTS