In this post, we will review the TunnelBear VPN. Also, we will show you its benefits, key features, pricing, support details, and more.
TunnelBear is a VPN service provider with one of the most straightforward user-interface. Established in 2011 by Ryan Dochuk, but later acquired by McAfee in March 2018.
What is TunnelBear?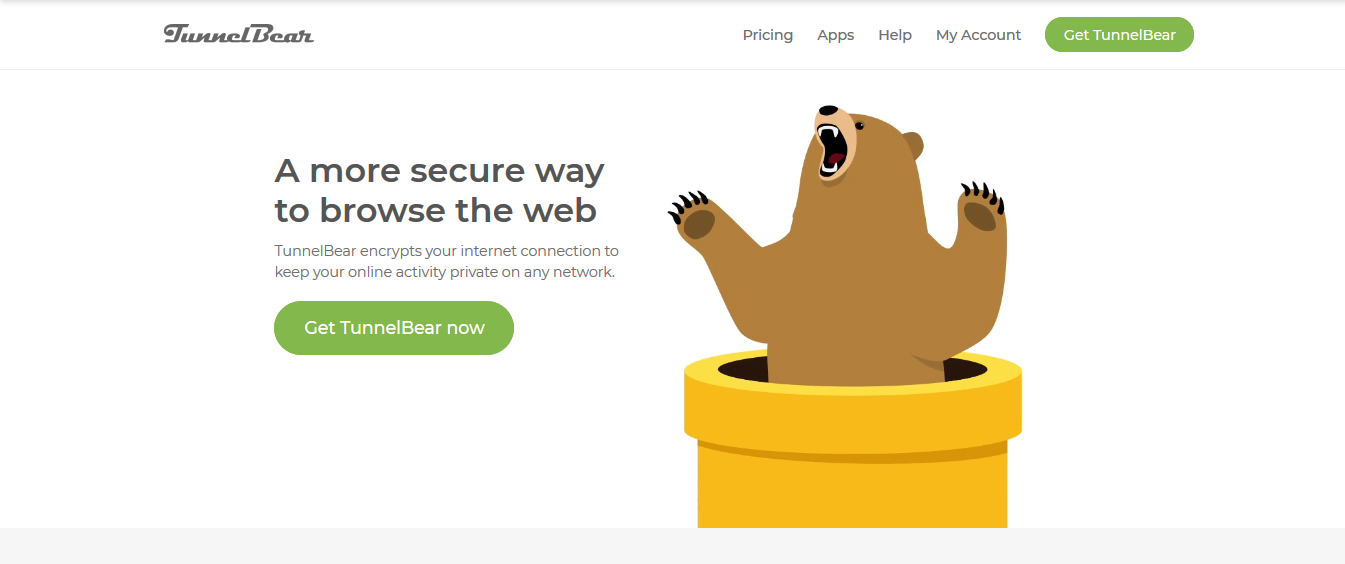 TunnelBear is a VPN service provider through which you channel your data traffic to enjoy privacy, security, and anonymity advantages.
It was established in 2011 in Toronto, Canada. It has servers present in 23 countries of the world.
TunnelBear is one of the most accessible VPN services to use with its simple interface.
To enjoy VPN protection, all you need do after installing TunnelBear is a simple click on the connect button.
A Click on the 'Connect' button assigns you an automatic IP address and location, but as a premium subscriber, you can change your location and IP address to any of TunnelBear's servers in 23 countries around the world.
Benefits of TunnelBear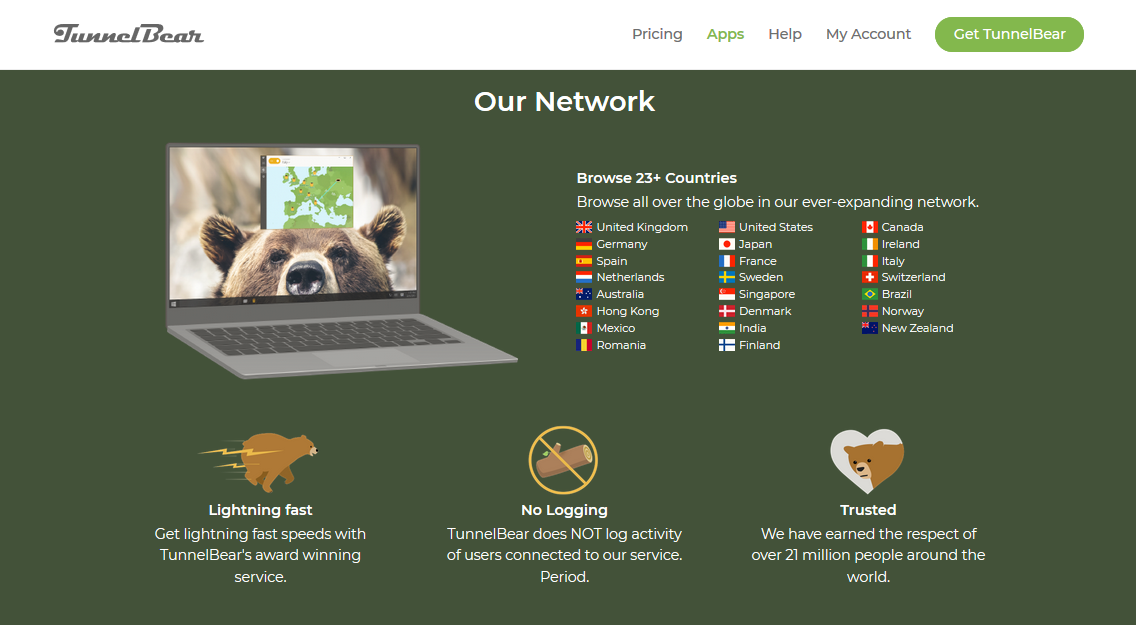 Everyone connecting to the internet needs a VPN connection. However, reasons might vary quite well, but it doesn't vary outside of the fantastic benefits you enjoy from connecting to TunnelBear VPN services.
Connecting to a VPN service might be to stream geo-restricted contents, enjoy internet anonymity, access the internet safely and remotely in countries censoring internet connections, etc.
Below are some of the benefits of using TunnelBear VPN services
Masks your IP address and location
Connecting to the TunnelBear VPN service masks your IP address by changing your IP address and location to a TunnelBear-assigned IP address in your location of choice. You can choose to connect to any of TunnelBear's servers located in more than 23 countries.
The IP address and location masking make you appear anonymous online, a feature quite crucial in protecting your privacy.
Prevents Online Tracking
TunnelBear blocks trackers from tracking your internet activities by changing your IP address and also keeping other info that may be used to track you safe and secure from online trackers.
Ad companies like Google etc. use online trackers to serve you adverts. But connecting to the Internet through TunnelBear VPN protects you from all forms of online tracking.
From our experiences with TunnelBear, it shielded out adverts much like an ad-blocker but works by covering our internet footprints.
100% protection on public networks
Connecting to Public networks like the Wi-Fi in schools, parks, coffee shops, etc. puts you at risk of data compromise because data sent over a public network without encryption can be intercepted at any point.
TunnelBear keeps your data safe and secure by encrypting data sent over public networks with a 256-bit encryption protocol.
Using TunnelBear VPN, you can connect to the internet using public networks without the fear of data theft or compromise.
Access to Geo-restricted websites
Some websites are geographically restricted to a particular country or region. This implies that once you are outside of that country or region, you cannot have access to contents or services from such websites.
TunnelBear VPN enables you to bypass geographic restrictions and access contents or services from such websites whenever you're outside of such regions. Thanks to TunnelBear VPN servers located in more than 23 countries of the world, you can bypass geo-restrictions and enjoy services or contents from your favorite sites.
High-speed video streaming
TunnelBear bypasses speed throttling by your internet service provider. Hence you can download or stream videos and other media contents at a faster speed.
TunnelBear has dedicated servers for streaming services. Connecting to any of the dedicated servers to stream online media does not significantly reduce your download speed. In most cases, we recorded 80% of the standard download speed without using VPN, well, we would say that's quite an impressive download speed for TunnelBear.
Bypassing internet censorship
TunnelBear has proved its worth in bypassing internet censorship in countries where such operates. If you live in such regions, you can use TunnelBear VPN to communicate and air your views and opinions without the fear of government wrath.
Using TunnelBear VPN services enables you to connect to the internet as an anonymous user with an unknown IP address from a location outside of your country. Hence, you can always count on TunnelBear to appear invisible online.
Safe torrenting
Torrenting with TunnelBear has never been this good. Torrenting with TunnelBear gives you 100% privacy and anonymity by encrypting your data traffic through 'the Bear Tunnel.' Hence your ISP or other third parties cannot decrypt your data.
Also, TunnelBear's dedicated torrent servers give you a high download speed while torrenting.
Features of TunnelBear VPN
GhostBear
GhostBear is a stealth mode feature of TunnelBear that enables you to bypass VPN firewalls in countries like China and Iran where VPNs are outlawed.
GhostBear gets around VPN firewalls by hiding OpenVPN and making it invisible to governmental monitoring bodies, ISPs, etc.
With GhostBear, you can enjoy VPN services in countries like China and Iran without any limitations.
VigilantBear
VigilantBear is an automatic kill switch feature of TunnelBear. VigilantBear works by terminating your internet connection should TunnelBear VPN service disconnect. This prevents data exposure to ISPs, snooping bodies, Hackers, and other third-parties.
The VigilantBear kill switch makes sure your privacy is not compromised in any way possible. You do not need to worry about data leakage at all.
Access to servers in 23 different countries
At the start, TunnelBear has servers in 9 countries, but presently, TunnelBear has extended its services to more than 23 countries in the world.
You can connect to TunnelBear VPN in any of the 23 locations and enjoy dedicated services from its dedicated servers.
Military-grade Encryption
TunnelBear encrypts users' data using the military-grade AES-256 bit encryption protocol and various other protocols as an added security layer.
When you connect using TunnelBear, you enjoy high-grade encryption that protects your data. Even when your data is intercepted, it cannot be decrypted by any known means available.
No-logging policy
Presently, TunnelBear does not keep a log of users' activities. You can enjoy torrenting or use the Tor Browser without fear as there will be no log for TunnelBear to handover to the authorities should they come knocking.
TunnelBear is quite strict about its no-log policy. Hence it does not keep IP logs, log in and log out times, data traffic, browser history, etc.
Connects up to 5 devices simultaneously
Enjoy protection on five devices simultaneously with a single subscription account. An individual subscription can keep you protected on up to 5 devices simultaneously. Therefore, you do not need to worry about subscribing to other devices or for a family member.
Pricing Packages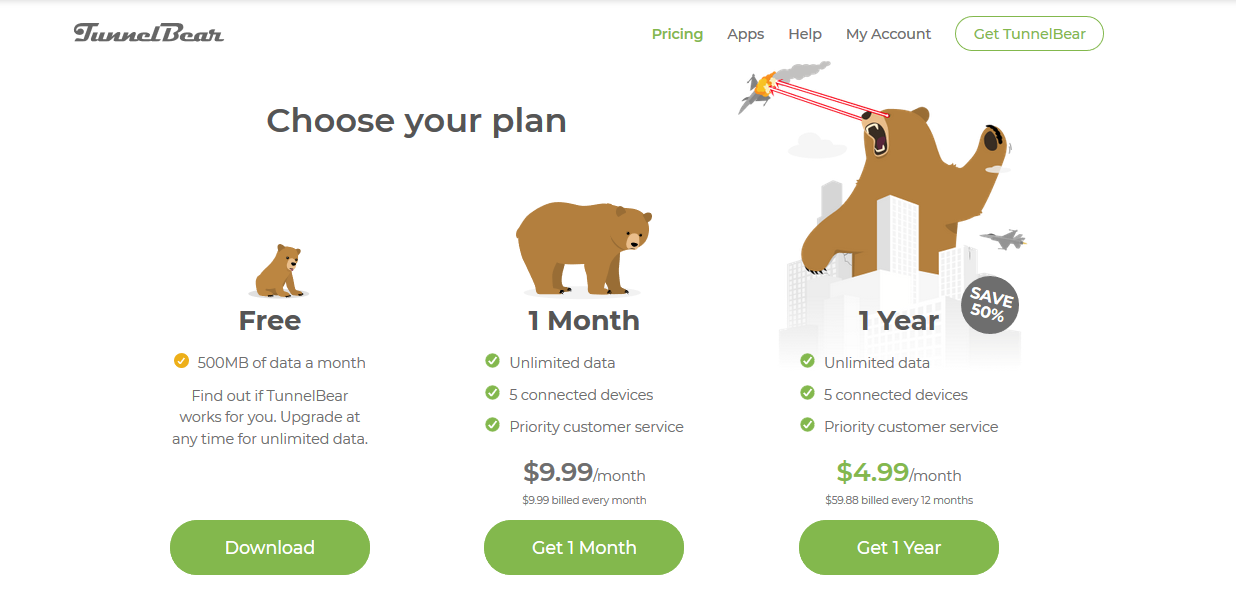 The free plan gives you access to 500MB data monthly. You can also get up to 1GB data by promoting TunnelBear to your followers on Twitter.
The free plan is limited, but it does give you a taste of TunnelBear's fantastic VPN services. Download the TunnelBear app now to enjoy free VPN service.
The one year plan for $59.88/yearly
This plan gives you a fantastic discount of $4.99/month, amounting to a 50% discount at $59.88. this plan offers you the following features
Unlimited data
Five connected devices
Subscribe to this plan to enjoy unlimited data bandwidth at a great discount yearly.
The one month plan @ $9.99 per month
With $9.99 per month, you enjoy, you enjoy unlimited data bandwidth and connection to five devices simultaneously.
Subscribe to the one-month plan to enjoy TunnelBear numerous features.
Supported OS
TunnelBear VPN supports a variety of OS platforms.
Windows
Mac
iOS
Android
Firefox
Chrome
Getting started with TunnelBear
For iOS, follow the prompts to install a VPN profile on your iOS device. All you need do is attempt to connect by tapping the 'ON' button and let TunnelBear handle the technicalities of installing a VPN profile on your iOS device.
For Firefox and Chrome plugins, download the TunnelBear ad-on from the TunnelBear official website.
Subscribe to any of TunnelBear's premium service with your account to enjoy premium TunnelBear VPN services.
Customer support
You can reach out to TunnelBear customer support for technical issues, guidance or enquires via the following channels
24/7 live chat
Dedicated TunnelBear helplines
Email
Social media handles
You can ask questions from TunnelBear's online friendly support by here.
Bottom Line
TunnelBear VPN service offers you some of the best VPN services available at a relatively cheaper rate for you to enjoy the price advantage while also enjoying premium VPN services.
If you're a skeptic as a first-timer, you can try TunnelBear free VPN service that allows you to enjoy its premium VPN features but with a limited 500MB data bandwidth. This is quite enough to convince you about subscribing to TunnelBear VPN services.