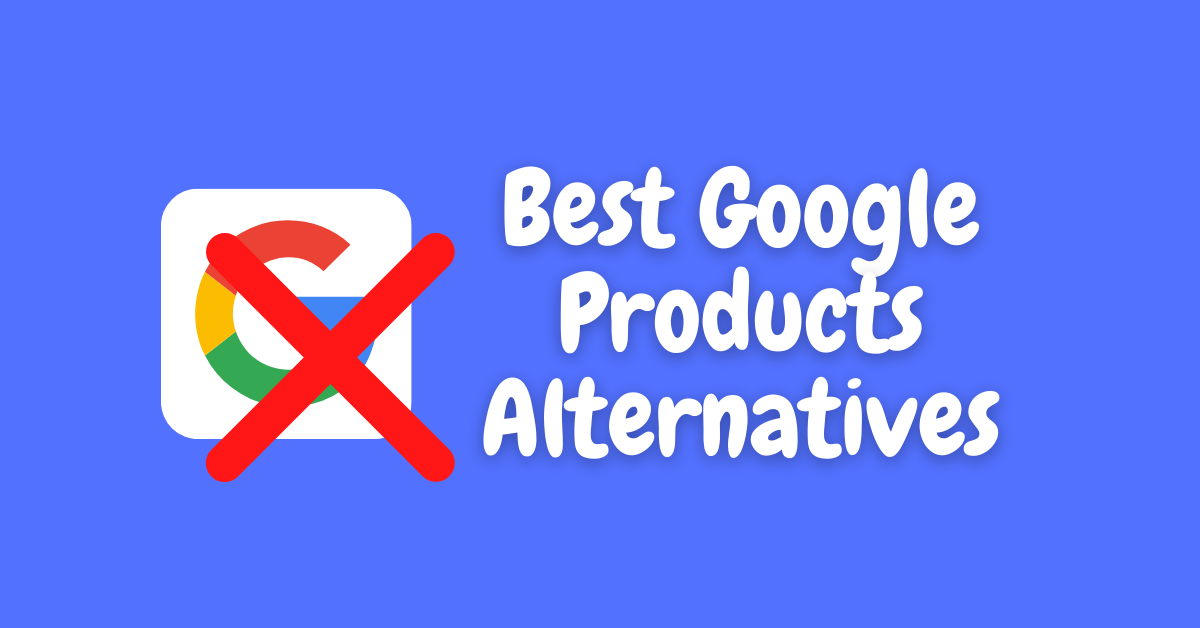 This post will show you the best Google products alternatives.
The age of technology and the internet has eased lives across the globe for many, facilitating individuals, businesses, and enterprises in a way thought impossible by many a few decades back. Today, everyone is familiar with the name of Google, the most widely used search engine in the world.
Google is among the most popular choices and possesses a major portion of the total market share. The company offers a lot more than a search engine to internet users. It is a platform for video sharing, document creation, editing, publishing, analytics, and a lot more. 
However, concerns about the online privacy of this giant browser have been increasing over the past few years. This is why a number of people have taken to reassess the websites they visit as well as the ways that they employ to use the internet.
Although Google offers security against most of the hacks, it generates considerable revenue by simply selling user-data to some third parties. In fact, the firm made a huge sum of $116 billion in revenue the previous year through its advertising and marketing platforms. The primary source of this success is the data volume that Google has got and uses as a marketing tool for third parties.
As far as security and privacy matters are concerned, many people think that using search engines other than Google Chrome can help overcome this issue, but it is not that simple, as they gather user data through different products, raising questions about its security and user confidentiality. 
But it might be difficult for us to be Google-free. This does not imply that you cannot find some good alternatives to these Google products. Here is a list of some of the best Google product alternatives.
Google Search Alternative
Although Google Search is considered the fastest and the most used search engine in the vast world of the internet, it lacks in the sphere of privacy. This has to do with the fact that Google stores a huge amount of information when an internet user uses it. The important data that Google stores are your unique IP address, your user agent, and the search terms that you used. 
Google stores some important data in its database such as your IP address and any search terms that you have searched for. The search engine also has a unique identifier for your searches. All this data is collected in cookies which allows Google to keep a record of your user activity and pattern over time.
Startpage is one of the most suitable search engines as it offers the results same as Google. Searx is also another option as it is much more privacy-friendly and offers versatility. Another alternative is SwissCows, it provides much more security than many of its alternatives.  
Gmail Alternatives
Perhaps one of the most widely used inboxes and mail in the world is Gmail. But there are certain issues with this choice such as the appearance of ads that pop-up in the inbox while in usage, which can be quite frustrating.
However, there are certain alternatives that can be taken advantage of. The most popular of these is Tutanota which delivers considerable security along with private browsing options. Other features of Tutanota include 1GB of free space which is greater than many of the alternatives. Another choice is Mailfence. Although it does come with as much space as Tutanota, it has a sizable 500 MB space which is a significant amount of space as well.
The Google Chrome Alternatives
One of the most popular browsers of all time, Google Chrome has been leading the market for a long time. However, what many people are unaware of is the fact that Google Chrome is also one of the largest data collection sources for companies. 
With the increasing awareness about tracking and privacy, many people are now searching for alternatives. Some of them have shifted to alternatives such as Firefox due to its secure and private features. The Mozilla-owned search option in Firefox delivers much more customizability than other alternatives, with the option of changing the settings whenever the user wants. 
Other than this, the Tor browser has been gaining popularity over the past few years, despite a few limitations. It is similar to Firefox in its working but offers much more security by default as compared to Firefox.
The Google Drive Alternatives
Although it is a relatively new offering by Google, Drive has been quite popular due to its user-friendly features and accessibility. However, like other Google products, these advantages come at the price of privacy.
There are a few alternatives to counter this issue, the most widely-used and prominent of which is Tresorit, a cloud-based storage drive that delivers a significant amount of user-friendly features. Dropbox, ownCloud, Nextcloud, and Syncthing are some of the other alternatives to choose from as well.
The Alternatives Of Google Calendar
Although it might not seem complicated, choosing an efficient and quality-driven alternative is a tough task in itself due to the many options available. While many of these offer a user-friendly interface as well as advanced features, they lack in the spheres of privacy and security.
One alternative which is deemed the most professional is Lightning Calendar, an alternative of Google that has been developed by Mozilla. It has similar functions as Google Calendar as well as compatibility. Other options include Mailfence, Kolab, and Tutanota.
The Alternatives Of Google Docs
There are several numbers of alternatives available for Google Docs, with Microsoft as one of the most significant ones. However, many people may have now realized that Microsoft is not many steps ahead of Google as far as privacy is concerned. This is why a search for alternatives is common.
The most professional and widely-acclaimed of the options is CryptoPad, boasting of a few unique advantages in comparison to other options. The most noteworthy of the advantages is the high encryption that it delivers, which implies that it has the advantage of much more privacy than other alternatives. Other alternatives are OnlyOffice, and Etherpad which offer open-source online editing which delivers a collaborative document editing capability. Other options include OnlyOffice, Cryptee, and Zoho Docs.
Google Photos Alternatives
The ease of use that Google Photos has to offer has drawn a large number of people to use it. Along with this, there are many features that have allowed it to exceed the performance of many of the alternatives available.
Of course,  privacy is not a strong point in this case. One alternative is Shoebox, which has been popular for a while now, but had halted its operations earlier in this year. 
Nevertheless, there are certain options that can be taken advantage of. Cryptee is among the most effective ones. Other than this, Piwigo is a viable Google Photos alternative. Moreover, Lychee is also a great alternative. It is an open-source solution like Piwigo. However, Lychee offers much more privacy and individual benefits that can be taken advantage of. 
The Last Word
Voila! the best alternatives to Google products.
Google may be the leading search engine, but it lacks privacy and security features. With many people now inclined to inspect privacy issues, staying on top of the game has been more difficult for Google than before. 
This is why a number of alternatives are available to solve the privacy concerns as well as to address the security and data confidentiality issues. Of course, an expert opinion will do wonders for you, such as a professional translation partner who understands your requirements and is willing to work with you as well.
Interesting Posts