In this post, we will review GlassWire Firewall software, an extreme network monitoring software for securing your PCs.
The primary function of a firewall is to monitor incoming and outgoing network traffic on computers. Firewalls protect your computers from distrusted external networks which can be from the internet or public Wi-Fi connections. Together with Antivirus systems, Firewalls are very essential for top-notch cybersecurity.
Windows PCs do feature a native firewall software – the Windows firewall. However, other third-party firewall software systems can also be very useful. An example is the GlassWire Firewall software with extreme network monitoring features. If you want to know if the GlassWire Firewall Software is an ideal one for network monitoring, this review will help.
What Is GlassWire Firewall?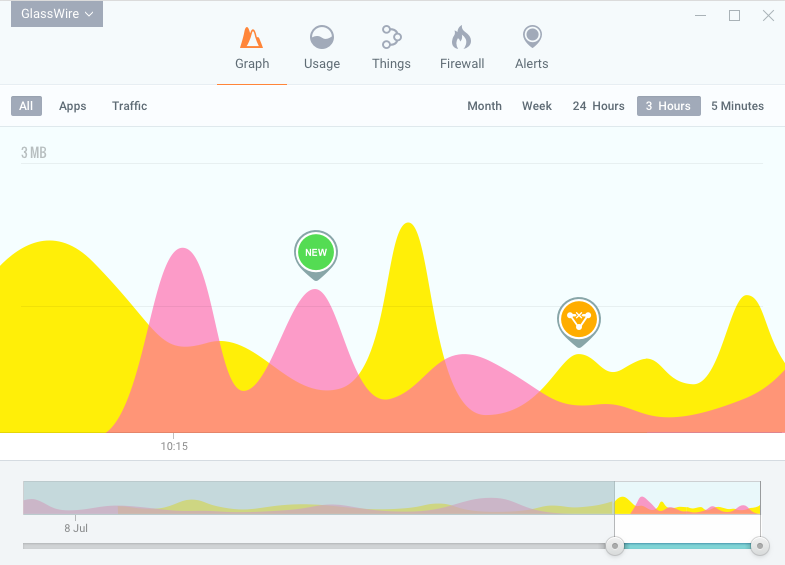 GlassWire is a software system that handles network security. It is a firewall software that can detect malware and help you get rid of malfunctioning applications on your device.
In addition, GlassWire Firewall monitors your device activity providing insights on what applications are running and what devices are connected to your network. You get alerted if there is any change to your network security options.
Besides that, the GlassWire software is available for Windows PCs and Android mobile devices. With GlassWire mobile application, you can keep track of your device's Wi-Fi and data usage activities.
GlassWire Firewall Features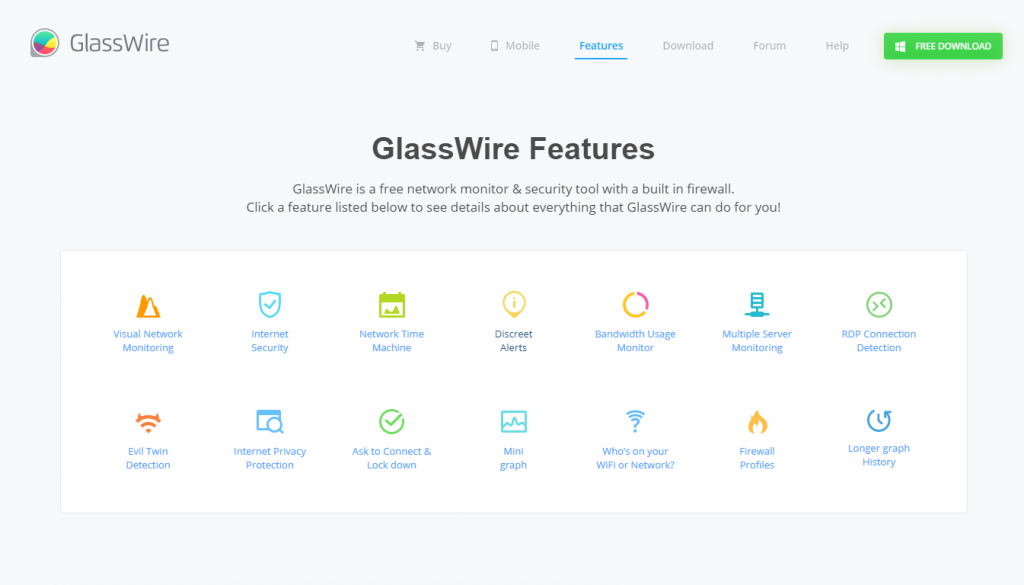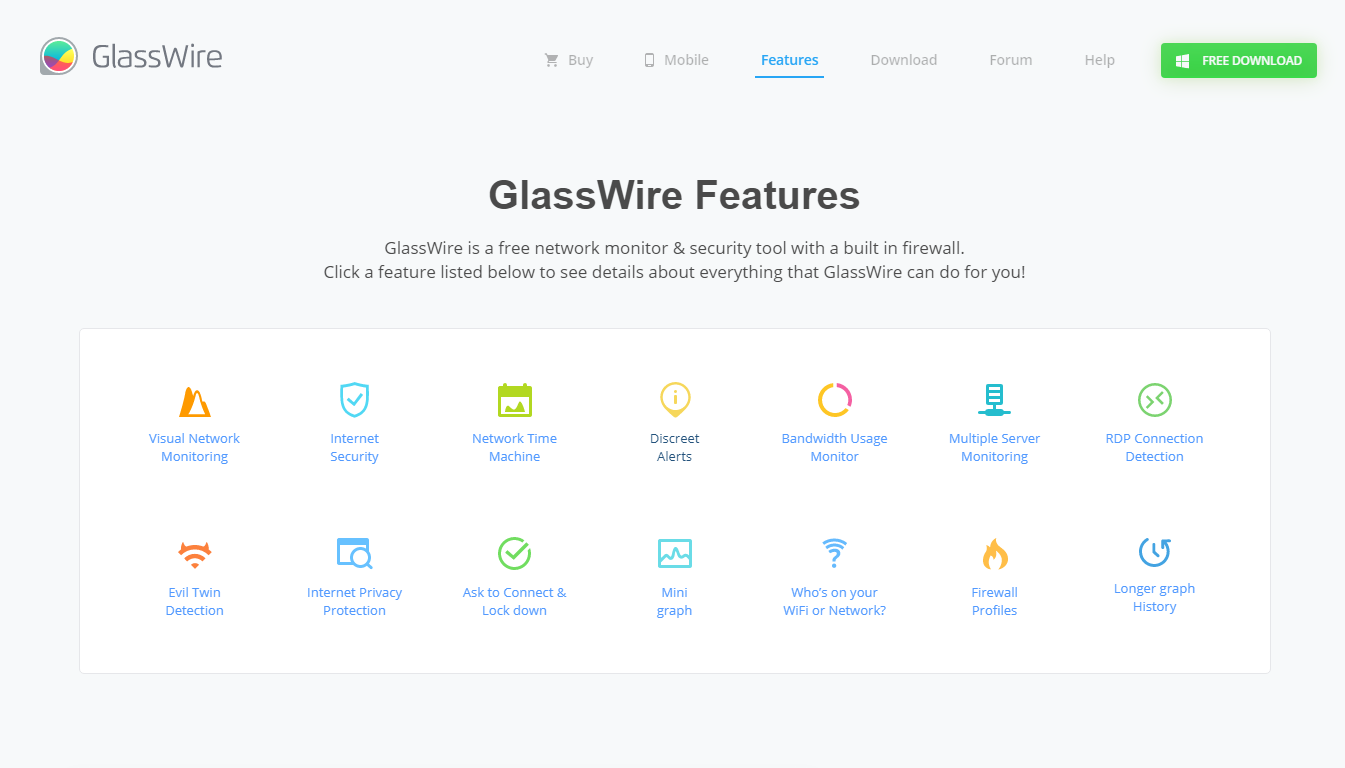 Here are the features of the GlassWire firewall software:
Visual Network Monitoring
From the GlassWire dashboard, you can visually monitor your network via graphs. These graphs display application network connections as well as the host server they connect with. You can navigate both by switching between apps and traffic. Also, you can navigate the time frame from the last 5 minutes to up to a month.
Glasswire updates you on network changes and updates in a discreet way so you don't find them annoying. You can set the alerts to snooze for a particular period; however, the software will give you a rundown of everything that happened while you were away.
Bandwidth Usage Monitoring
Know how much bandwidth you consume on the internet with the GlassWire Bandwidth Usage Monitor. It tracks individual bandwidth of apps, hosts, and also identifies their traffic type. Also, it lays out the total bandwidth – both incoming and outgoing – in pie and bar charts for easy comprehension.
The Network Time Machine lets you keep track of your past and present network activities. You would find it easy to use as the activities are displayed in graphs and all you have to do is to move the sliders to your desired period. It displays activities by days, weeks, and months.
Security

A

nd Privacy Protection
GlassWire provides internet security by detecting all suspicious applications and network activities. This also helps protect your online privacy as you will be alerted before hackers or other cybercriminals do their thing.  The earlier you identify cyber threats, the quicker you get rid of them and your privacy stays safe.
Wi-Fi and RDP Connection Detection
Wi-Fi connection detection lets you know who's on your Wi-Fi and what they are doing. You also view when they joined/leave and you can dismiss whoever you want. RDP connection detection puts you in full control of your PCs' Remote Desktop Protocol.
You can create multiple firewall profiles with GlassWire and browse using different firewall settings. Ideally, you can have separate firewall profiles for local and public network browsing. Switching between firewall profiles is easy.
GlassWire Firewall Pricing Plans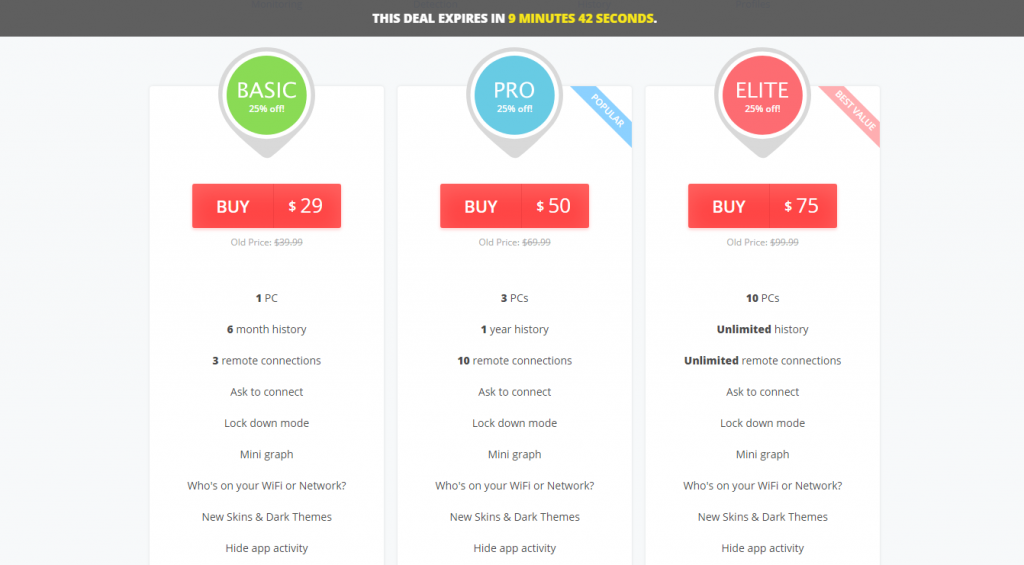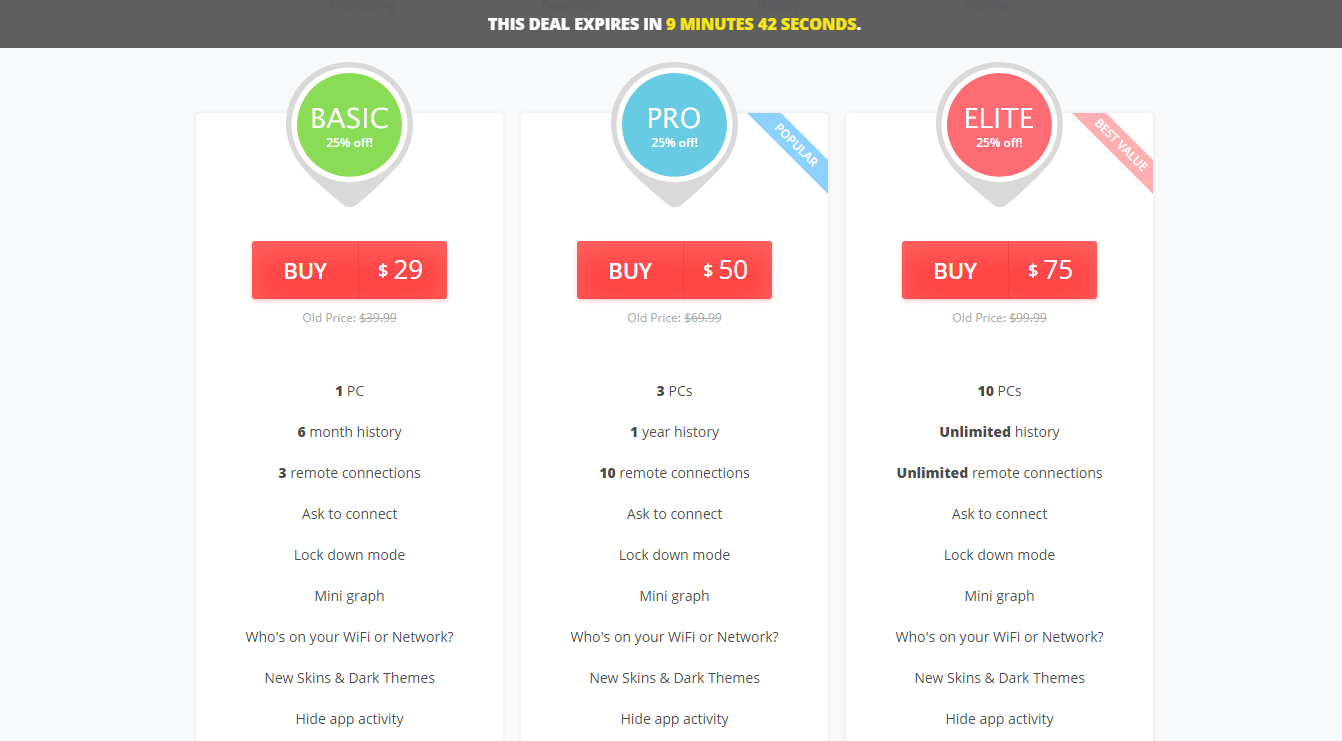 GlassWire is available for Free Download with limited features. Upgrading requires purchasing any of the pricing plans below:
Basic Plan

 –

$29 per year for 1 PC

Pro Plan

 –

$50 per year for 3 PCs

Elite Plan

 –

$75 per year for 10 PCs
There are special pricing plans for bulk licenses that are customized. You would need to contact the support team to discover the cost if you are interested in such plans.
GlassWire Compatibility
For your PC to run the GlassWire software, it has to meet the requirements below:
Windows OS Version

:

7,8, or 10

Windows Bit Version

:

x64 or x84

Processor

:

Intel Celeron 2 GHz minimum

,

Intel Core 2 Duo and higher recommended
RAM

:

1 GB minimum

, and

4 GB recommended
GlassWire Support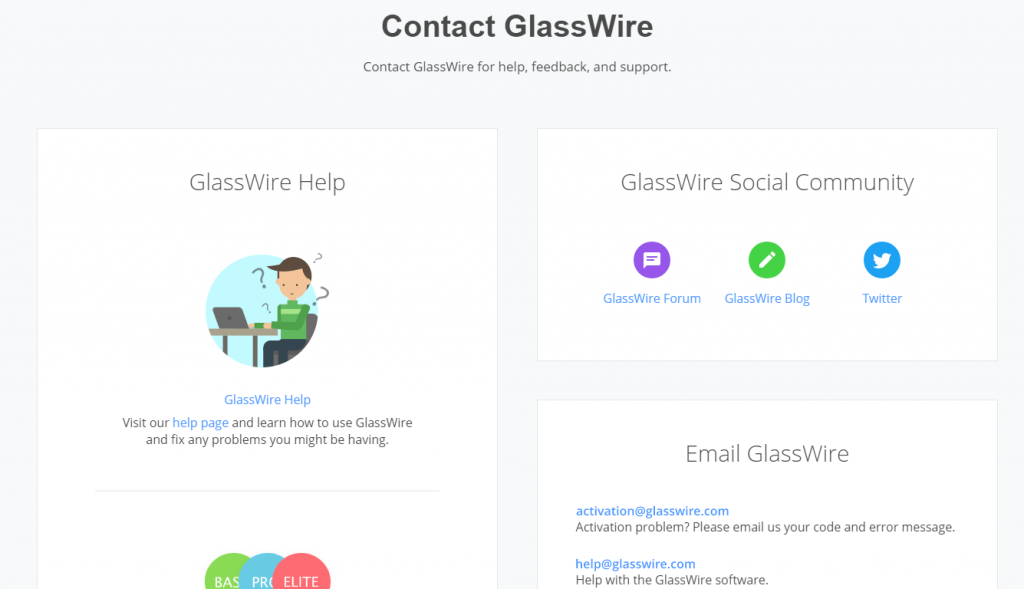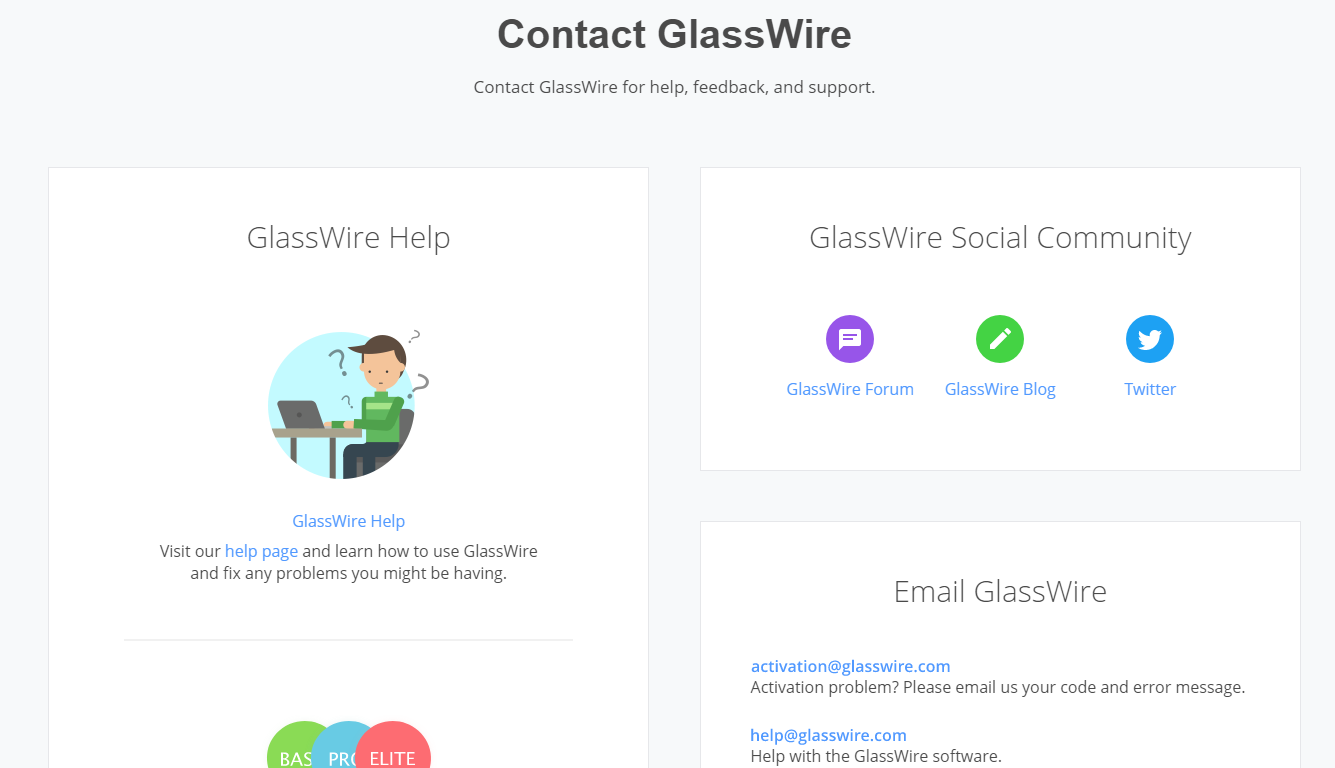 GlassWire users can get support via various channels. There are specified email addresses where you can send queries to if you have any problem with using the software. Also available is a help page with articles, guides, and frequently asked questions (FAQ) on using the software.
Users can interact with one another online via the GlassWire forum and there is a blog with helpful articles and updates. On social media, GlassWire can be reached on Twitter and YouTube platforms.
Final Thoughts
The GlassWire Firewall software was developed for network monitoring and it functions very well in that category. You wouldn't miss any change or unusual activity in your device network so you can get rid of or fix them before they cause any damage. It is available for Windows and Android OS which means you can protect both your computer and phone.
RELATED POSTS