In this post, we will review G DATA Total Security, an intelligent security suite.
G DATA Total security has been offering antivirus protection to millions of users since 1987, thus making it one of the oldest antivirus available. 
Hence, we will take a closer look at G DATA and its fantastic features that make it stand the test of time.
What Is G DATA Total Security?
G Data Total Security is a complete protection suite that offers total security online and offline. The suite includes an antivirus engine, a password manager, firewall protection, device control, and internet security tools. 
Major Features Of G DATA Total Security

User Interface 
G Data Total Security Suite has a user interface with comprehensive features in a well-ordered layout for easy navigation through G Data Security features. 
At the User Interface, there is the status display, which also acts as menus for all protection layers, update details, license information, system messages, etc.
Hence, a click on the Virus protection tab gives you access to run any of the following scan types: 
Quick scan

Full scan

Folders 

Removal device scans

Rootkits
Firewall Protection 
G DATA Firewall allows outbound network traffic but blocks unsolicited inbound traffic. For more control on inbound and outbound traffic, you can enable G Data's interactive mode.
Parental Control
G Data parental control feature does an excellent job of filtering unwanted sites and also limits screen time. Parents would find this feature handy for controlling their kid's access to the internet.
Antivirus Engine And Performance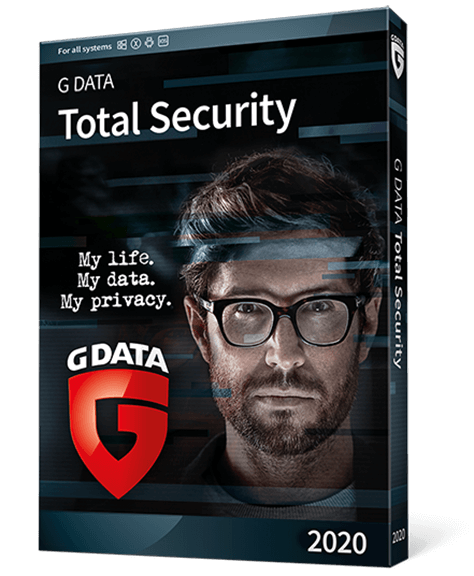 G Data has two antivirus engines for optimal performance, fast scan rate, high detection rate. Both antivirus engines complement each other in operations.
For slow computers, users have the option of selecting one AV engine in 'custom select' to prevent a reduction in speed for such computers. Hence, users can enjoy complete protection at optimal computer performance. Also, the user can scan in monitor mode, which scans and checks only newly added data. 
Autostart Manager 
The autostart manager lets you select which programs automatically startup along with the OS when you boot your computer, thus, giving your computer a faster bootup time.
The autostart manager works by letting you set up a 'delay timer' for such programs. At the left pane, in the startup manager, you use the arrow to move programs between the 'Autostart with delay' folder and 'Autostart without delay.'
Choosing the 'autostart with delay' lets your computer boot up minutes before startup programs boot automatically. You can set the delay timer between 1 and 10 minutes to allow a smooth startup for your windows OS.
Backup Manager
G Data backup manager lets you backup folders securely to G Data cloud by allowing you to schedule backup to daily, weekly, or monthly backup. In the eventual loss of files to hacking attacks, physical damage to hardware, etc. users can restore backed up files and folders using the restore button in the backup manager.
Integration with Windows Firewall and Windows Defender
G Data Total Security integrates well with Windows. After installation, it disables both the Windows Firewall and the Windows Defender, thus eliminating conflicts that may arise due to the use of two parallel AV engines.
Also, G Data integrates well with Windows networking features. Hence, users can easily connect with homegroup computers, send and receive files via the home network, etc.
How To Download And Install G Data Total Security 
You can quickly download G Data Total Security just like other antivirus software solutions. Users can download a G Data installer, which is an executable file program of 15.2 MB. The installation wizard walks the users through clear steps of downloading 700mb G Data Total Security files and programs, starting with a language option. 
After the download and installation, you will have to input your activation key or use the trial version by supplying your name and email address.
Plans and Pricing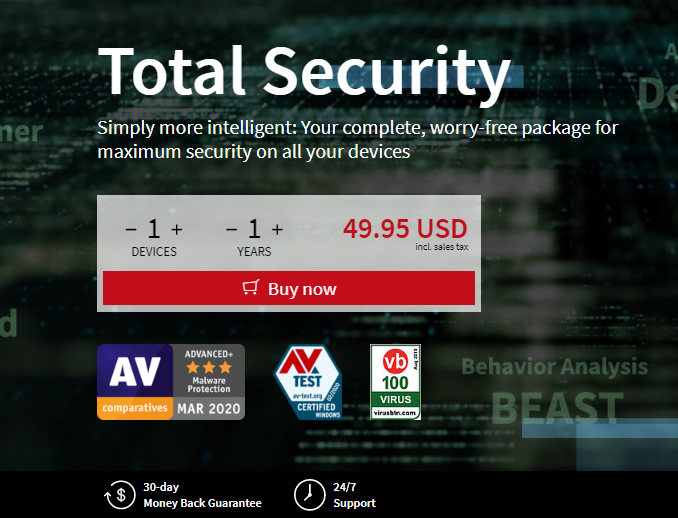 G Data Total Security suite is available in three different plans: 
One year plan:

The one year plan for single computer protection is available at $49.95. Users enjoy a fantastic discount for multiple devices (up to 10) at $121.95.

Two-year plan:

The two-year plan for a single device gives you more discount at $89.95. Users with ten devices can enjoy simultaneous usage at $224.95.

Three-year plan:

The three-year plan is available for a single device at $129.95. Multiple device users are billed $336.95 for ten computers, thus enjoying the best of discounts.
G DATA Total Security Minimum System Requirements and Compatibility
CPU speed:

1Ghz 

RAM

: 2GB Minimum

HDD

: 5GB Minimum

Supported Windows OS

: Windows 7, 8, and 10 (Both 32 and 64-bit)

Supported macOS:

macOS 10.12 and higher versions

Supported Android OS

: Android 4.1 and higher

Supported iOS

: iOS 11 and higher
Support Details
At the G Data support page, users can access more service numbers for G Data customer care support based in their countries. Aside from the service numbers, users can also access G Data's FAQ page, which addresses likely issues that users may encounter while installing and using G Data products.
Conclusion
Overall, G Data Total Security is highly recommended for its ease of use, protection, rich features, performance, and pricing. 
The pricing features a three years plan at quite an affordable rate for single and multiple users. Hence, users can enjoy a long term protection plan.
RELATED POSTS