This post will show you the top 6 hacks to secure your eCommerce site against cyber threats.
ECommerce sites are a lucrative source of personal and financial data for potential attackers. The impact on eCommerce businesses can be devastating. After a major breach, 60% of companies tend to close down for good within six months. The cost of breaches are so overwhelming in terms of both recovery fines, damages and penalties that it's imperative for business owners now to pay attention to shoring up the security of their sites.
More importantly, a dent in customer trust in the case of an attack can also cause long-term damages to your reputation. In a recent survey, 87% of customers indicated that they are liable to change where they shop if the company could not be trusted to handle their data responsibly.
Many businesses (especially, eCommerce) tend to fall into the trap of over-valuing website functionality over cybersecurity, and this can leave them wide open for attacks. Many SMBs also do not have the requisite capital available to shore up their digital security and can fall prey to attackers easily.
Given the over-reliance of their business on their websites, any security breach leaves the whole business impacted with reduced chances of business continuity. For more information on eCommerce cyber-attack prevention, consider reaching out to a reputable eCommerce Marketing Agency.
But eCommerce business owners are well aware of their responsibility towards protecting their own and their consumer's data and are trying to cope. According to the VMWare Carbon Black 2020 Cybersecurity Outlook Report, 77% of businesses bought new security products within the last year and 69% had invested in engaging security staff. With government and legal standards also getting enforced more regularly, most businesses are now trying to meet set levels of security compliance, such as the Payment Card Industry Data Security Standard (PCI DSS). 
In this article, we will explore the Top 6 Hacks to Keep your eCommerce Site Secure Against Cyber Threats. 
What Is eCommerce Security?
Cyber-attacks have reached a new high in the wake of the pandemic and people becoming more and more reliant on digital systems. They have increased not just in volume but also in the degree of technical sophistication involved in the attacks. eCommerce sites happen to be a high-value target for attackers. eCommerce security thus indicates the measures that eCommerce businesses can take in order to defend their data and their customer's data and privacy from attacks.
Kinds Of Attacks Targeted Against eCommerce Sites

There are many kinds of attacks that can be targeted at eCommerce sites, but the majority of these attacks can be divided into:
Distributed Denial of Service (DDoS)
A DDoS attack is an intentional disruption of traffic (server, service, or network) by drowning it in a flood of traffic that can prevent your legitimate customers and partners from accessing your site.
Malware and ransomware
"Malicious software" (malware) is a type of software that attackers try to install on to victims' systems. Ransomware refers to a specific type of malware that can hijack the victims' system until the attackers receive the ransom they ask for.
There are a few telltale signs when your system becomes infected by malware:

Links that are supposed to take you to a set destination redirect you elsewhere.

You receive new installs on your system that you didn't authorize. These can include new toolbars or buttons in your browser, or new folders or icons on your system.

Your browser gets overloaded with a ton of pop-ups including but not limited to offensive ads.

Your system becomes uncharacteristically slow or tends to crash frequently. Your browser can also become unresponsive or set your homepage to a destination you did not set.

Your emails stop getting delivered.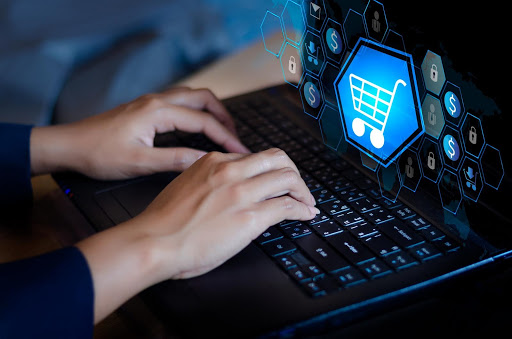 Top 6 Hacks to Keep Your eCommerce Site Secure Against Cyber Threats
1. Check for Vulnerabilities
As stated above, every eCommerce company needs to comply with set industry-level security standards mandated by credit card companies. But compliance does not guarantee the security of your whole eCommerce site.
To ensure holistic security, you need to regularly probe your site for vulnerabilities and patch them as soon as vulnerabilities crop up. It is recommended for eCommerce business owners to conduct regular VAPT to reduce the risk of vulnerabilities.
2. Transport Layer Security (TLS), Secure Sockets Layer (SSL), and HTTPS authentication
SSL is the industry-established standard for safeguarding online transactions. The SSL certificate encrypts links between networked computers (users and the site) as well as in transit and also authenticates the identity of users. That way even if the end-user system is vulnerable, your transaction and the website remains secure under the SSL cover.
For most buyers now, the padlock icon and 'HTTPS' presents a symbol of assurance to enter their personal and financial data on any eCommerce site.
Having an SSL certificate is essential for an ecommerce website. To fight against cyber threat, you should look at different SSL options like standard SSL cert, multi domain wildcard, etc that can fulfill security requirement of an ecommerce business. However, different providers offer low-cost SSL certs to benefit every type of businesses.
3. PCI DSS Compliance
PCI DSS is another industry standard that the credit card information entered by the customer is transmitted and stored securely. 
These standards are set down by the PCI Security Standards Council (PCI SSC) and mandated by credit card companies.
4. Multi-factor authentication (MFA), 2-factor authentication (2FA), or 2-step verification (2SV)
MFA, 2FA, and 2SV also guarantee additional layers of security for users. These ensure that on top of entering required credentials to log into the site, all three methods need users to furnish another method of identity verification before they can log into your eCommerce store.
5. Brand Monitoring
It is important for business owners to realize that their brand is also a digital asset that attackers may try to exploit. You can employ special tools to keep an eye out for malicious usage of brand assets. It can also help you avoid trouble in the long run and shore up against phishing attacks and copyright violations. A local Facebook ad agency in Los Angeles can help you set up your brand monitoring initiative.

6. Educate your customers and employees
Customers and employees can both be your biggest vulnerability, or greatest line of defense against cyber attacks. You can also employ the services of eCommerce Marketing Services to keep your security policies and training updated. Continually keep your customers and employees informed on security best practices and encourage customers to change passwords at regular intervals.
---
Author bio: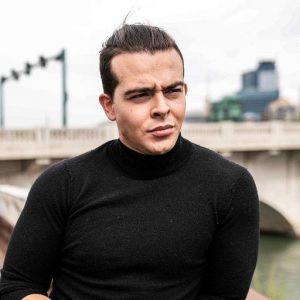 Andrew Viera is the Managing Director & Founder of Viera Media – a full-service digital media agency for sustainable & ethical brand growth. 
In 2013 he made the big decision to drop out of his neuroscience degree and pursue entrepreneurship full-time. He hit the ground running and hasn't looked back since. Andrew recognized that ethical brands need to gain real momentum to shift industries and drive positive change in our economy. To know more about Viera Media, visit https://viera.media/.
---
INTERESTING READS