Are you in search of cloud hosting provider for your accounting operations?
There was a time in most of the industries when each and every type of business was limited to a handful of business solutions. Well, such a situation didn't allow any business to gain a competitive advantage and it also forced most of the businesses to move at the same pace in each and every situation.
For example, when it came to accounting solution then most of the businesses used to have only one option, to carry on their accounting operation only through pen and paper. It didn't matter how big or small your business was, the only way you can deal with your accounting operation was through pen and paper.
But with time and the development of technological solutions, things changed drastically for most of the businesses. Whether it was a small business or a giant business, everyone was thriving on technological solutions. From marketing to HR, everywhere, technological solutions were being used without any second thoughts.
Well, technology has played a major role in giving businesses multiple options when it came to business solutions and the same technology has also shaped the business departments. For example, now in the modern era, recruitment processes have been transformed with the help of technology as in now, interviews can be even done through Skype.
READ ALSO: 4 of the Best Cloud Backup Services for personal use
But if you are thinking that technological solutions shaped only HR, marketing and sales department then you are completely wrong. You should know that technology has played a major role in transforming even the accounting industry. Earlier, accounting was considered a dull and boring process but with the advancement of technology, accounting becomes interesting and tech-savvy department as well. And one of the best gifts given by technology to accounting is cloud accounting.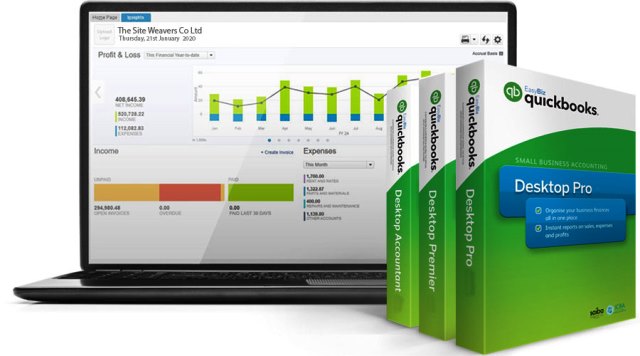 Cloud accounting solutions like QuickBooks hosting for accountants become famous in a very short period of time because it fulfilled the need and requirement of businesses without the need of pouring lots of money. But you should know that even with so much of popularity and with so much of uses, there are many businesses that are still confused between cloud-based QuickBooks and in-house server.
If you also belong to a group of such people who are confused between these two accounting solutions then you have come to the right place. In this blog post, we are going to discuss about the difference between these two so that you can decide which one is better.
MUST READ: Most Effective Cybersecurity Strategy For A Small Business [We Asked 45+ Experts]
Price
If you will look from the price point of view then you realize that the hosted cloud accounting solution is much better than the in-house server. If you will go for the in-house server solution then the first thing that you will need is to install the server on your premise. Well, this means building a complete It infrastructure that will suck a big portion of your budget.
READ ALSO: How to Protect Your SaaS Applications Against Ransomware
You will need many different types of hardware-based technological equipment in order to build a proper cloud server. In addition to this, you will also have to spend money on hiring, training and managing IT professionals so that they can take care of your IT infrastructure and make sure that it is always available for you.
But when you will choose the hosted accounting solution then you will not need to install an IT infrastructure as your accounting software will be hosted on the cloud server of the cloud hosting provider. In addition to this, you will also don't need to hire IT professionals since you will not be having any type of on-premise IT infrastructure to manage.
Management
Well, if you are running a small or medium-sized business then there are maximum chances that you will not have any type of technological background and this is one of the main reasons why such businesses don't want to deal with any type of IT infrastructure management. This type of management will increase the workload on the business owner and they will not be able to deal with their critical business operation. Well, with an in-house server, there comes the obstacle of managing the IT infrastructure on your own. From taking care of the updates to managing the uptime, everything will be dependent upon you.
But when you will use the hosted solution then you will not have to manage anything on your own. You should know that in the hosted solution, you will get round the clock customer support from the cloud hosting provider and that too without paying even a single extra penny. This allows small and medium-sized businesses to thrive on cloud without actually dealing with the hassle of IT infrastructure management.
Scalability
If you are running a small or medium-sized business then there are maximum chances that your business will grow at a very fast pace since you are currently at the initial stage of your business lifecycle. Well, there is nothing wrong with growing in the industry because this is what every business owner expects but you will also need to fine-tune your business solutions in order to match the pace of your growing needs. You should know that changing the need from your in-house server is a very complex process and that's why most of the SMEs don't prefer it.
READ ALSO: 7 Top Cyber Security Plan for Small Business
But when you will use the cloud-hosted accounting solution like cloud based QuickBooks hosting then you will be able to scale up or scale down without any hassle. All the cloud hosting services are highly scalable and just by making a simple request to your cloud hosting provider, you will be able to scale up your cloud hosting needs in order to match the pace of instant growth.
As you can see, cloud hosting services are much better than in-house servers in many ways. There is no denial in the fact that if you are running a small or medium-sized business then it will always be the best option for you to use the cloud-hosted accounting solution instead of preferring the in-house server as it is costly, complex and rigid as well.
READ ALSO: 6 Best Secure Web Hosting for Web Designers
---
Author Bio
Jeff Morgan is currently associated with NetworksGrid as a technical content writer. Through his long years of experience in the IT industry, he has mastered the art of writing quality, engaging and unique content related to IT solutions used by businesses. Topics like network security, NOC services and cloud computing are his favorite.
---
RECOMMENDED POSTS