In this post, we will review one of the versatile security suite for your PC and mobile devices – ZoneAlarm Extreme Security Suite.
ZoneAlarm is a leading security solution for both single and multi-users, small and large business enterprises. It is responsible for protecting millions of PCs, mobile devices across the world from hacking, and other forms of attack.
What is ZoneAlarm Extreme Security?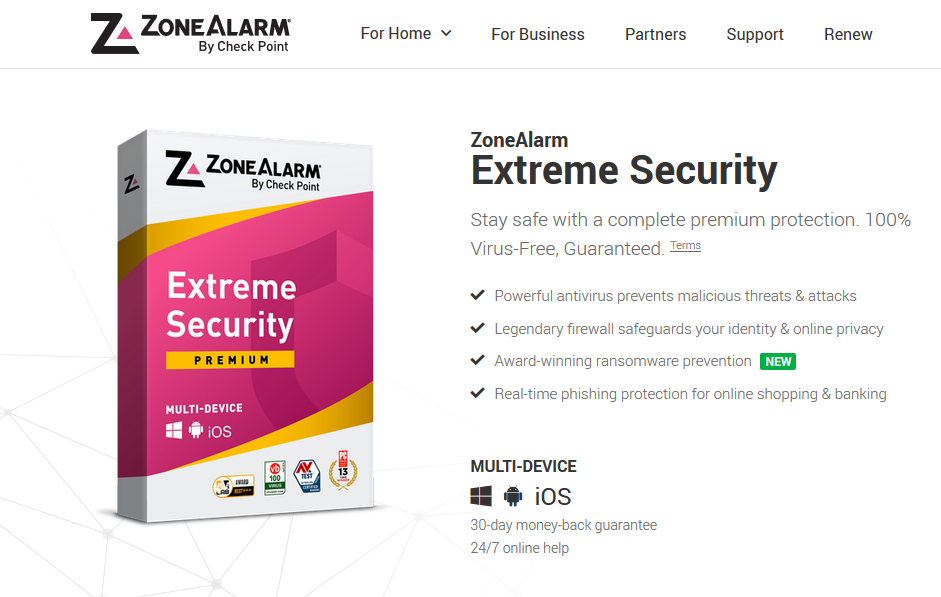 ZoneAlarm Extreme Security is a software suite that includes a robust antivirus engine, free two-way firewall, anti-ransomware, antispyware, threat prevention tools, and advanced anti-phishing technology for maximum security and protection against attackers, thus making ZoneAlarm Extreme Security Suite a mega-suite with high-performing security features.
Benefits of ZoneAlarm Extreme Security
Using ZoneAlarm Extreme Security offers you all-round protection which includes:
Protection from malicious malware threats and attacks

Real-time, and accurate phishing protection

Protection from Identity theft and privacy protection while online

Prevention of ransomware attacks

Hard-drive protection

Parental control feature to protect your kids while online
ZoneAlarm Extreme Security Features
Antivirus and Anti-spyware engine
ZoneAlarm Extreme Security has a robust antivirus and antispyware engine that protects your devices from new and emerging threats. It can detect and remove all forms of cyberthreats.
The Antivirus and antispyware engine has the following features:
Kernel-level Virus prevention which protects your devices' OS from threats and invasions

A scan mode that lets you customize your protection level

A fast-updating virus chest to protect your devices from the latest uncatalogued viral attacks.

Advanced Firewall
ZoneAlarm advanced firewall prevents both inbound and outbound attacks. It monitors your device's behavior to detect new and advanced threats that manage to bypass the antivirus engine and other security features.
ZoneAlarm's firewall has the following features:
OS Firewall which monitors, spots, and stops new attacks that bypass the traditional antivirus engine

Advanced-access Protection protects your devices from advanced and uncatalogued attacks, which can bypass other firewalls. Such attacks include SCM and COM attacks, raw data access, etc.

Zero-hour protection which protects you from new threats that can bypass other security programs without detection

Application control and Early Boot Protection which protects your OS during Startup while other security programs are yet to boot up fully

Anti-Phishing technology
ZoneAlarm's Anti-phishing engine scans all websites for phishing threats to determine if a website link you click on or visit is safe and genuine before letting you insert personal info on such a website. It will also alert you of any phishing attempt, therefore, ensuring that you enjoy maximum security while browsing.
READ ALSO: Best Anti-Pharming Software for 2020
Identity Protection Services
Zonealarm Identity Protection services provide you with daily reports of credit monitoring and fraud alerts via email. You also get prompt notification of changes in your credit reports for immediate action if changes are unauthorized by you.
The Identity Protection Services also offers free telephone counselling services to victims of identity theft in the US to guide them through recovery.
Threat extraction is one of the significant feature of the Web Secure Chrome Extension, which facilitates Zero-Day protection. It works by removing contents vulnerable to attacks from your devices. Such contents can include embedded objects from email messages and downloads. Therefore, Threat Extraction ensures you enjoy a clean work-flow by eliminating potential threats and serving you with threat-free content.
Threat Emulation examines suspicious files on the cloud by using four phases i.e., Inspection – Emulation – Prevention – Sharing.
ZoneAlarm Mobile Security
ZoneAlarm Mobile Security provides your devices with three layers of security which are
Wi-fi protection, which detects potential attacks such as Man-in-the-Middle attacks via the WiFi network

Device shield, which alerts you about suspicious processes on your device

Break Alert, which alerts you if someone has unauthorized access to your OS.

Real-time Security updates
Real-time Security updates offer you round-the-clock protection by providing real-time DefenseNet security updates.
The game mode suspend security alerts, virus definition updates, and automatic scans temporarily, thereby allowing gamers to have an hassle-free experience.
Web Monitor scans every website you visit and downloadable content to ensure they are safe and free from malware.
READ ALSO: Full Review of Kaspersky Antivirus
Technical Details
ZoneAlarm is compatible only with MS Windows Defender. Therefore, to install ZoneAlarm, you must uninstall all other types of antivirus or anti-malware software.
System Requirements
Microsoft® Windows® 7, 8, 8.1, 10 All versions
Web Browser Extension: Google Chrome
Mobile Apps: Android, iOS
Customer Support
Enjoy 24/7 online customer support experience and online access to information resources. You also enjoy a 30-day satisfaction guarantee or money-back if you're not satisfied.
Conclusion
ZoneAlarm Extreme Security is the perfect security suite you need for your system because of the unparalleled protection you enjoy on your devices. It also does not slow down your system while performing a comprehensive system scan.
Other amazing features that give ZoneAlarm edge over other security programs include its Zero-day protection, cutting-edge phishing detection technology, and identity protection. Therefore, offering you total protection of devices and information.
Get ZoneAlarm Extreme Security from the official website