For this Lookout app review, we will be looking at what it is and how it works. We will also be reviewing, its apps, features, customer support and pricing. Furthermore, we will identify its pros and cons and finally ratings.
The Lookout application is not new to the security and privacy market so this might not be the first time you will be hearing about it.
But if this is your first time, this review will give you an in-depth understanding of what Lookout is, what it does and if it is safe for you. You will also get to know what other existing users have said about the application.
Before I proceed with the Lookout App review, let's start by answering the question, what is Lookout?
What Is Lookout?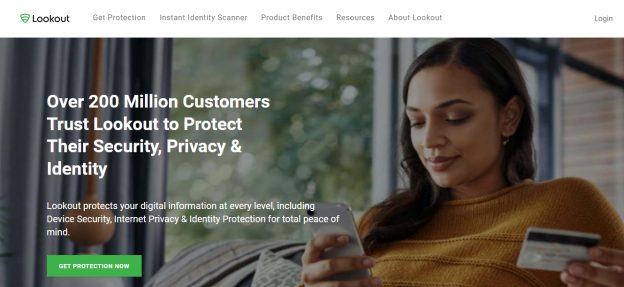 Lookout is an anti-malware, remote management, and data backup application founded by John Hering, Kevin Mahaffey and James Burgess in 2007. It was formerly called Flexilis, but in 2009 its name was changed to Lookout.
The application was created to provide security, ensure productivity and eliminate privacy risks for users of smartphones and tablets. It offers security, identity, and privacy solutions to iOS and Android.
As a company, Lookout delivers integrated endpoint-to-cloud security. It uses predictive machine intelligence to analyze data and then uses the analysed data to predict and stop mobile attacks for individuals and enterprises.
Lookout provides solutions for individuals, researchers developers, small businesses, enterprises, and even government organizations who seek to protect their mobile devices and digital identity.
How Does Lookout Work?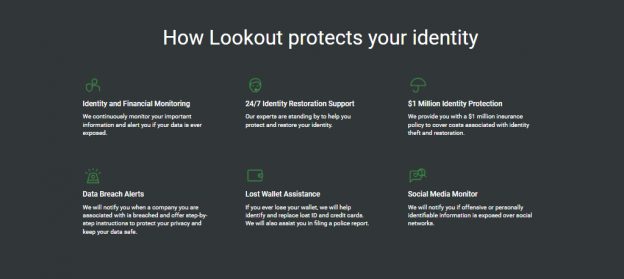 Lookout works like you would expect a mobile security and antivirus application to work. In fact, in this Lookout app review, we purchased its premium plan to see how it works.
We can boldly say that Lookout ensures the security of users' devices and also the protection of their data while online, ensuring that their privacy is paramount and they can't be monitored by service providers and other third parties. It also provides security from malware.
To get started, all you need to do is download and install the free Lookout application on your Android or iOS mobile device. Once installed, create an account with your email address (for your username) and preferred password.
The application runs in the background and it scans all websites that you visit and new apps for different threats or security concerns. Whenever you visit a new website or download an application, you will see a pop-up that informs you that Lookout is scanning the website or application.
Lookout updates its malware definition in the background to ensure that you get only the most up-to-date protection. To set up a manual scan and deep scan of all the apps you download, all you have to do is click on the security tab.
Lookout cloud service allows you to backup your existing contacts, and the missing device tab helps in locating your device if it gets missing. You can set it to make a loud alarm or send out a signal flare. You can also locate the phone on the browser.
Apart from the free app, there is a premium app that comes with a privacy adviser, protects your email and text messages, and monitors data breaches.
Lookout Apps
1. Lookout Personal For Android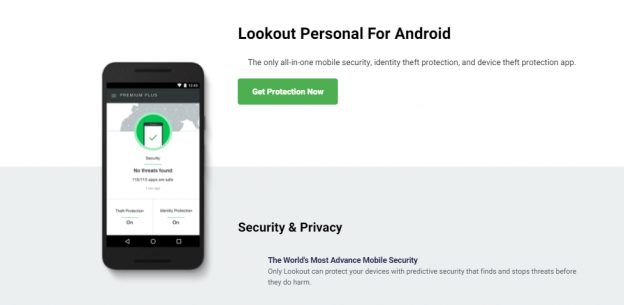 Lookout Personal for Android is a free to download application that contains several features that ensure mobile security and privacy, device theft protection, and identity theft protection for users of tablets and smartphones.
To get the application, visit Lookout Personal For Android and click on Get Protection Now to download the Lookout Android app. Or you can visit the Play Store on your Android device and search for ''Lookout'' to install the application.
2. Lookout Personal For iOS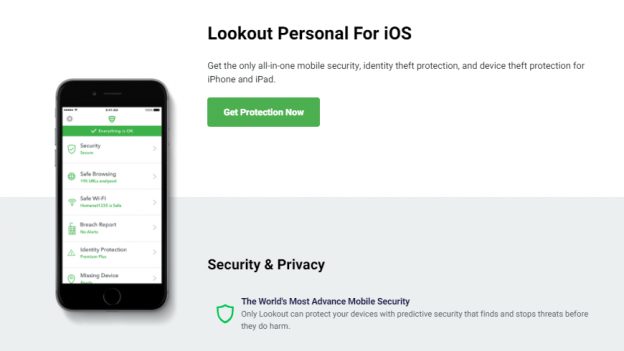 Lookout Personal for iOS, like the Android app, is a free to download application that ensures mobile security and privacy, device theft protection, and identity theft protection for users of iPads and iPhones.
To get the application, visit the App Store on your iOS device and search for ''Lookout''. Or visit Lookout Personal For iOS and click on Get Protection Now to download the Lookout iOS app.
Key Features Of Lookout
1. Ease of Use
Getting started and making use of the Lookout app is easy. Users don't need to worry about interruptions because the application runs in the background. Its features are straightforward and navigation is easy.
2. Predictive Security
The predictive security ensures that all threats and other concerns are found and stopped before they cause any harm to users.
3. System Advisor
Lookout's system advisor ensures that the operating system of your device is properly working. It does this by checking your device for any root detections.
4. Malware, Antivirus, and Software Security
The application scans applications upon download and websites before they are opened for viruses and malware to ensure continuous protection for users and their devices.
5. Signal Flare for Device Recovery
This is useful for recovering your device if it gets missing, or worst, stolen. It also helps you to automatically get your device location because the battery dies, in a situation where your battery is running low. It sends out the flare, in the form of an email to your email address, to let you know where your device was last located.
6. Data Breach Monitor
Lookout monitors data breaches and alerts users timely on breaches with simple yet clear actions to take to ensure continuous protection.
7. Locate and Scream for Device Recovery
If your mobile device gets stolen or missing, you can find out its exact location through the Locate feature. The Scream feature allows it to make a really loud alarm so you can find it. The Scream feature works even when your device is placed on silent.
8. Safe Browsing
Users can confidently surf the web with the Lookout app and not worry about anyone stealing their data or getting affected by malware and adware. The application runs in the background and ensures that all websites are scanned for threats before use.
9. Safe Wi-Fi Connection
Lookout keeps you protected when connecting to WiFi networks and alerts you if it is an unsafe network or when you are under attack.
10. Privacy Advisor
All personal information is kept private and you get to know which application can access your identity information, contacts, location, and messages.
Lookout Customer Support And Resources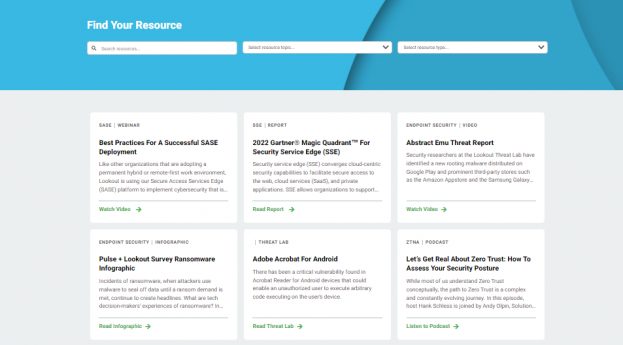 Lookout claims to have the best mobile security support team in the world that helps users and answers all their questions as regards the application. So, for this Lookout app review, we also tested their customer support process.
However, the application has great customer support and resources, plus it provides 24/7 identity protection and restoration support to users.
It provides support for users of Android tablets or smartphones and iOS iPad or iPhones equally. It also provides personal support differently from enterprise support. Furthermore, there are supports for mobile endpoint security, app security testing, and also enterprise support programs. So no matter the issue, you are covered.
Lookout comes with resources ranging from FAQs, blogs, podcasts, threat lab, to analyst reports. There are also on-demand webinars and events.
Lookout Pricing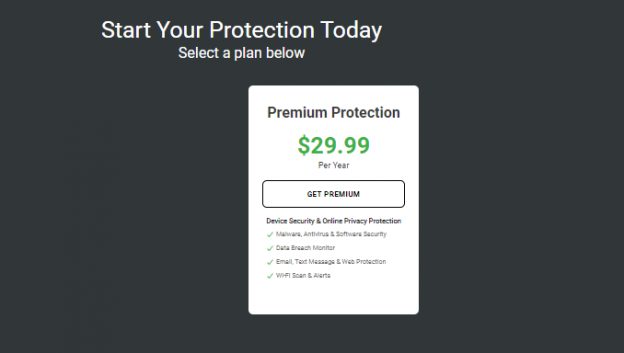 Lookout has three plans: Basic, Premium, and Premium Plus. The Basic plan offers all the essential security, privacy, and device theft protection features while the Premium Plus and Premium plans offer additional and advanced security, privacy, device theft protection, and even identity theft protection features.
The Basic plan is free and its key security and privacy features are predictive security and system advisor. Its device theft protection features include signal flare, locate, and scream.
The Premium Plan is $29.99 per year and its features include all in the Basic plan plus privacy advisor, safe wi-fi, safe browsing (security and privacy) breach report (identity theft protection), theft alerts, and lock & wipe (device theft protection).
The Premium Plus Plan is $99.99 per year and it consists of all the features in the Premium plan and other identity theft protection features including cyber watch, SSN watch lost wallet recovery, 24/7 restoration assistance, social media watch, and  $1M identity theft insurance. However, the Lookout Premium Plus and its identity protection services are only accessible to users in the United States.
Get the Lookout App
Lookout Pros
Easy to use
It works in the background
Good for malware detection and protection
It has a free plan
Great customer support and resources
Data breach monitoring
Online security and privacy
Device security and theft protection
Email and text message protection
Wi-Fi scan and alert
There is no setup fee
Very easy to download and install on all mobile devices
Lookout Cons
No moneyback guarantee policy.
All its identity theft protection features are for the premium and premium plus plans.
The premium plus plan is just available to users in the United States.
Lookout Ratings
For this Lookout app review, we will rate the Lookout application. Also, we will be doing so based on reviews from Reddit, Quora, and TrustPilot. The rating will look at major aspects of the application, including features, apps, pricing, and customer service.
The features available on the Lookout application are exactly what you would find on any security, identity theft protection, and device theft protection application.
Although most of its major and advanced features are available to just premium subscribers, the basic features still ensure adequate security and protection of identity and devices.
So, as regards features, the Lookout rating for features is 4.6/5.
In terms of availability on mobile devices, Lookout is available on both Android and iOS devices with exact features, so none misses out on any benefits. Also, all the applications are easy to use and install.
So when it comes to endpoint-to-cloud security on mobile devices, Lookout meets the requirements. This brings the conclusion that in terms of apps, Lookout has a 5/5 rating.
Lookout, like most similar apps with similar features, has affordable pricing plans. It also has a free plan although it doesn't have a moneyback guarantee policy.
When it comes to affordability, yes, the Lookout pricing plans are considerate and reasonable. And so for pricing, we will give Lookout a 4/5 rating.
The Lookout customer service is good and supportive. Although it doesn't have a live chat or a support community that allows users to make complaints. It has a support page where all questions as regards issues from Android and iOS users, whether individuals or enterprises, can be answered.
It also has a blog and organizes on-demand webinars and events. The articles on the blog cover all aspects of information that users can require.
So, for the customer service, the Lookout app has a 4/5 rating.
Frequently Asked Questions
Is Lookout App Safe?
Yes, the Lookout app is safe. It ensures the security and privacy of users while surfing the net. It also ensures the security of the devices of users to protect them from theft.
However, when downloading the application on any device, ensure that you do so from the right source to avoid downloading an unsafe version created by cybercriminals.
How do I find my lost mobile phone with Lookout?
If your mobile phone gets lost or stolen, you can find it from a computer or another mobile device. All you need to do is visit www.lookout.com and log into your account. You will be redirected to the Locate Device page where your device will be located automatically.
For Lookout to locate your phone successfully, your phone needs to have a data connection and be powered on. The data connection can be through your WiFi or carrier. Once you request a Locate and your device is located, you will receive an email.
Conclusion – Lookout App Review
Whether you use an Android or iOS device, the Lookout application protects your device as well as your identity. As established in this review, the application is safe and comes with plans that suit different users.
Although the advanced features are available to just premium subscribers, its basic features can be used by individuals, small businesses, and even enterprises to meet their security and privacy needs.
If you find this Lookout app review helpful, share it with others. Remember, sharing means you care.
---
INTERESTING POSTS