In this article, we talk about a popular data recovery utility called SFWare USB Recovery Software. The following article provides an insightful review on this USB recovery software features and functionalities. Read more to blunt review on SFWare data recovery tool. 
Universal serial bus or USB are portable and flexible storage devices. USB is popular all across the globe and comes with different storage allocation based on your preferences. However, data loss has been inevitable scenario even for a device like a USB drive. 
I am a regular tech-groovy person, who deals with a lot of data in hand and I understand the seriousness of data loss and what impact it can have on a project or an organization. 
If you are one of the users who has incurred data loss on your USB drive, this write-up will guide you with phenomenal solution on how to achieve the recovery process.
Although there are multiple solutions to recover your data from USB, making use of reliable USB data Recovery utility is exceptional method that not only saves your time and energy, but also effortlessly helps you recover data within a few clicks. 
Understanding Data Loss In USB Flash Drives
Following are the common scenarios for data loss on USB drive:
Accidentally deleting files from USB drive

Abruptly removing the USB drive 

Bad sectors 

Formatting of USB drive 

File system corruption of the USB drive

Physical Damage 

Data loss due to transfer of files 
Irrespective of the reasons behind data loss with the help of an effective data recovery tool, you can easily get back lost or deleted data from USB drive.
SFWare data recovery tool is an outstanding data recovery utility, trusted by a million users to recover their data easily.  The tool comes with a novice and simple user interface to effortlessly restore your lost or deleted data with ease. 
In the below section, let us discuss SFWare Data Recovery tool and the key features of the data recovery utility.
Features Of SFWare USB Recovery Tool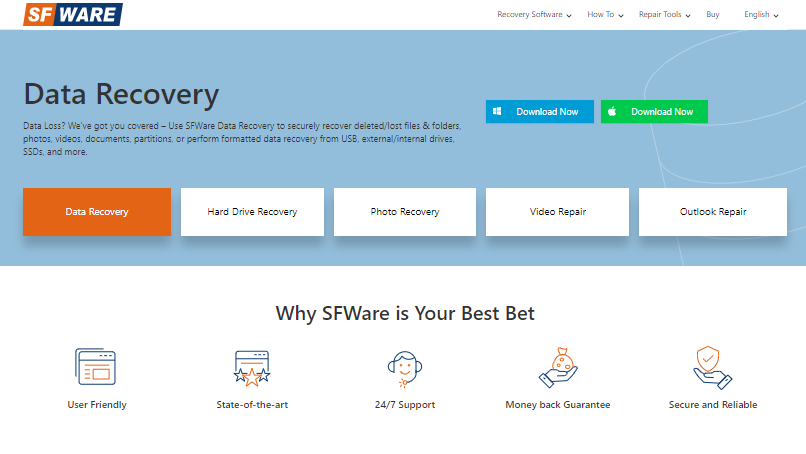 Advanced AI scan engine – The tool is programmed with advanced scanning AI algorithms to effortlessly recover your lost or deleted data from the USB drive. The tool is programmed with 2 scan engines, Quick Scan and Deep Scan which effortlessly scans and restores your lost and deleted data with ease. 

Unique ability to recover formatted / RAW files from USB – With the Deep Scan engine the tool is programmed to automatically recover data from formatted, RAW and deleted USB drives. The tool can also perform recovery from bad sectors also. 

Performs recovery from Virus Infected files – In some cases, you might be wondering if you can perform recovery from USB drives which have incurred virus infection. SFWare USB Data recovery scan retrieves the files which are lost due to virus infection 

Compatible with the latest Windows Mac OS – The tool works well with all versions of Windows and Mac operating systems like Windows 11 and macOS Monterrey

File System Compatibility – The tool has the potential of recovering data from FAT16, FAT32, NTFS, exFAT, HFS, APFS file system.

Location/ partition Recovery – The interface provides you location recovery like your USB drive and also filter out the respective file formats using Advanced Filter option which you wish to recover with ease.

Multiple File Format Recovery – The tool can recover more than 300+ File formats effortlessly from your specific USB drive 

The tool is not only compatible with USB drives, but also to multiple storage device like SSD, HDD, GoPro's etc. The tool can perform recovery on any storage device which has not incurred severe physical damage. 
Here are some above-mentioned features of SFWare Data Recovery tool. However, the tool has more potential and features. In the section below, let us learn more about SFWare data recovery tool with respect to system requirements and specifications 
How To Recover Data From USB Drive Using SFWare Utility 
1. Connect the USB drive to a working operating system
2. Download and install SFWare Data recovery tool to start the recovery process. 
3. Select Recover Drives/Partition from the list of options. From the next screen select the USB drive and run the scan. Wait for the scan to be completed.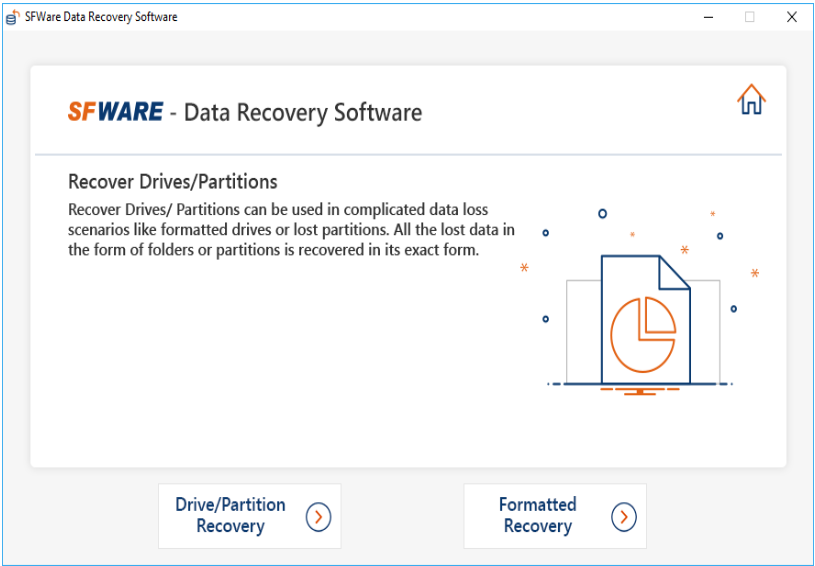 4. The following screen you will be able to see the connected USB drive on your screen. Click on the USB drive and select the Next option.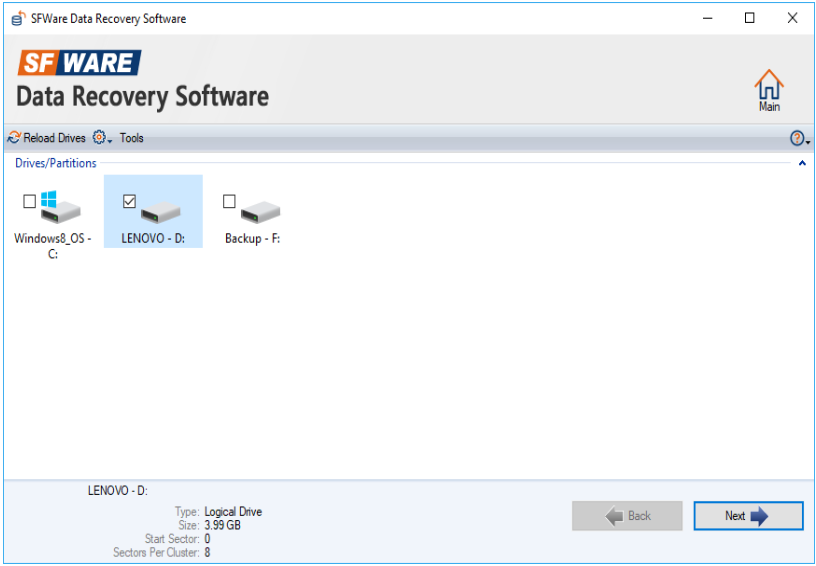 5. Select the list of files you wish to recover from Windows or Mac PC from your USB drive and click on Next option.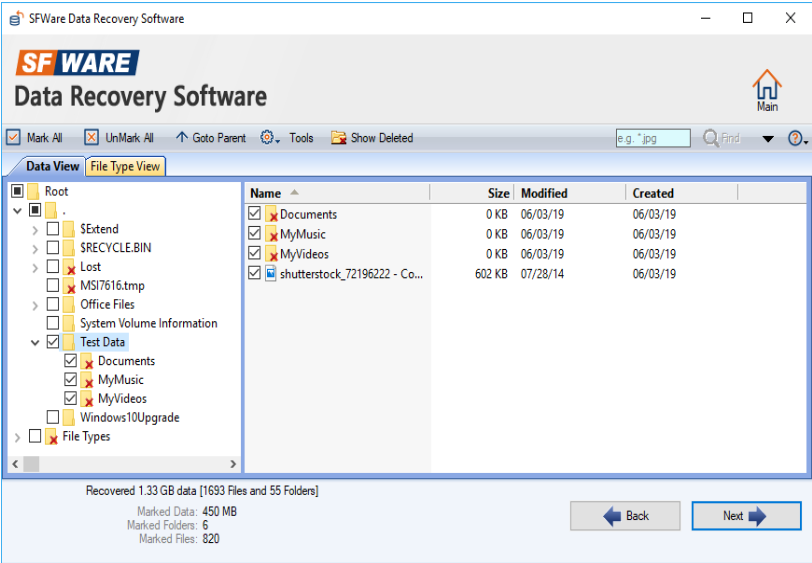 6. Select the location where you would like to save the recovery session.
Note – It is not recommended to save the recovery session on the same USB from where you performed recovery from. We highly advise you to save it in another location.
System Requirements 
All versions of Windows and Mac Operating system

RAM – 512MB for functional recovery (1GB for effortlessly recovery) 

Storage space for installation – 50 MB free space

System Type – 32bit – 64bit 

File systems – FAT16, FAT32, NTFS, NTFS5 APFS, HFS and HFS+
Pricing: Comparatively to other data recovery tool SFWare is economical. You can easily perform data recovery from your USB drive with 69.00 Dollars. 
Conclusion
Looking at its performance and the pricing, SFWare is a go to software if you are looking for a simple data recovery software that can do the job for you without any fuss.
Apart from data recovery software, SFWare also has range of products that can help you repair files like video, PowerPoint file and many more. Do let us know what do you think about SFWare data recovery software and share the word if you like the product.
---
INTERESTING POSTS