In this 1Password review, we will dive into its password manager features, browser extensions, pricing plans, account setup process, and how to manage passwords effectively.
Passwords play essential roles in our lives; for every account created online, we need a strong password to keep such accounts safe and protected. 
It is pretty difficult to remember multiple passwords for different accounts. This is where 1Password comes to play. 
Not to mention, 1Password is a trustworthy password manager that can generate, manage, and store passwords and other credentials. In fact, it eliminates the need to memorize a long string of complex mixture of numbers, symbols, and alphabets as passwords.
Now, without further ado, let's get started with the 1Password review.
What Is 1Password? 
1Password is a trusted password manager designed to generate and store passwords, credit card information, licenses, personally identifiable information, etc. in its encrypted vault. 
Interestingly, it is the perfect solution for password issues and needs because of its highly sophisticated and secured features. That way, users can create and manage their passwords and other essential online credentials.
READ ALSO: Exclusive Interview With Matt Davey,COO Of 1Password
1Password Features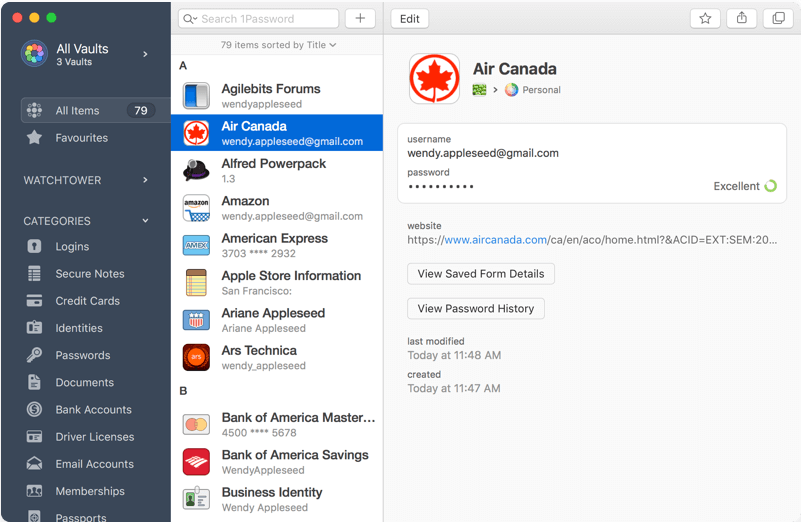 1. Ease-of-use 
It has a simplistic and tidy user interface with perfect arrangement and layout of features. Its desktop app and browser extensions have similar interfaces. Users can easily create, manage, and store passwords, credit card numbers, licenses, and additional private information. Not to mention, both the app version and browser extensions have a similar user-friendly interface.
2. Password Generator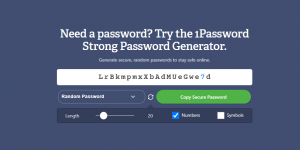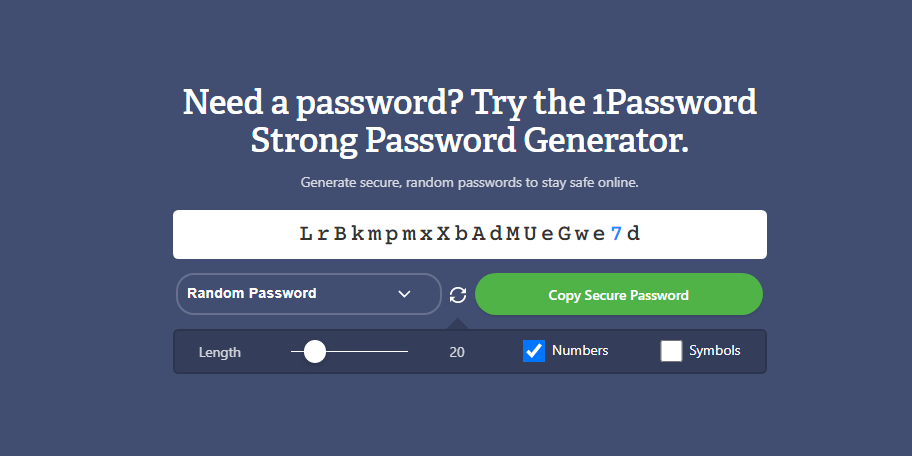 It has a password generator that generates hack-proof passwords for account verifications. Users can customize their password lengths and also adjust other customizable features based on their preferences.
3. Apps and browser extensions for syncing passwords and auto-filling
A master password is all a user needs. With a 1Password account, users can sync their data and passwords across various devices, OS, and browsers, irrespective of the devices used. Users do not have to worry about refilling passwords stored in its vault.
4. Multiple vaults for managing multiple identities 
For users desiring to have and manage multiple online identities, users can create additional vaults to manage each created identity separately. Although this may not be possible on the app; however, users can create multiple vaults from their account page on their official website.
5. Password security
When users register their 1Password account, it generates a secret key which is stored locally on the users' computer. The user can access the vault by using a combination of his/her master password and the generated secret 128-bit key. Likewise, users can choose to print and store this key safely.
How To Download And Install 1Password Manager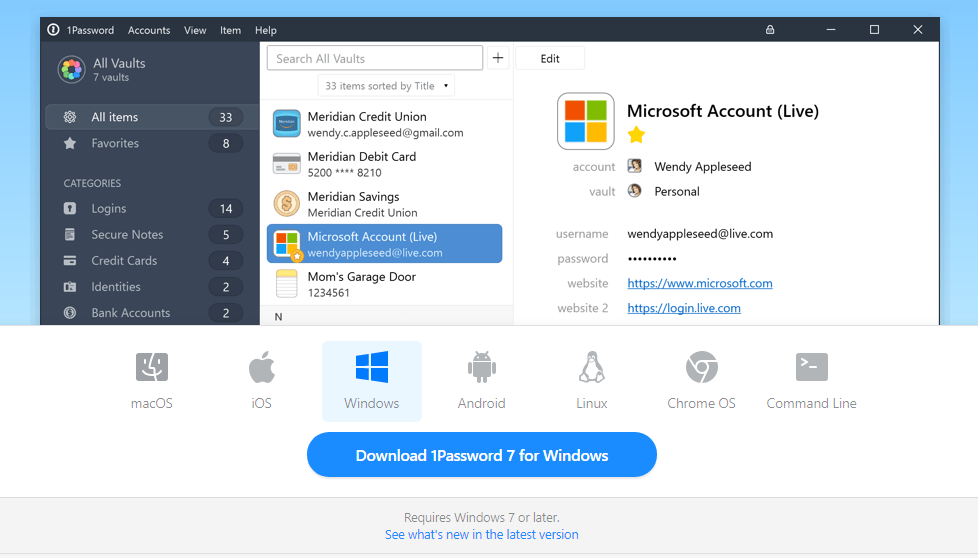 You can download and install 1Password manager app on the following OS platforms:
Windows OS versions 7, 8, and 10 (32 and 64 bit)

Mac OS

iOS

Android 

Linux

Chrome OS 

Command Line tool
Additionally, 1Password has browser extensions that auto-fill logins, addresses, credit card details, etc. from the user's vault.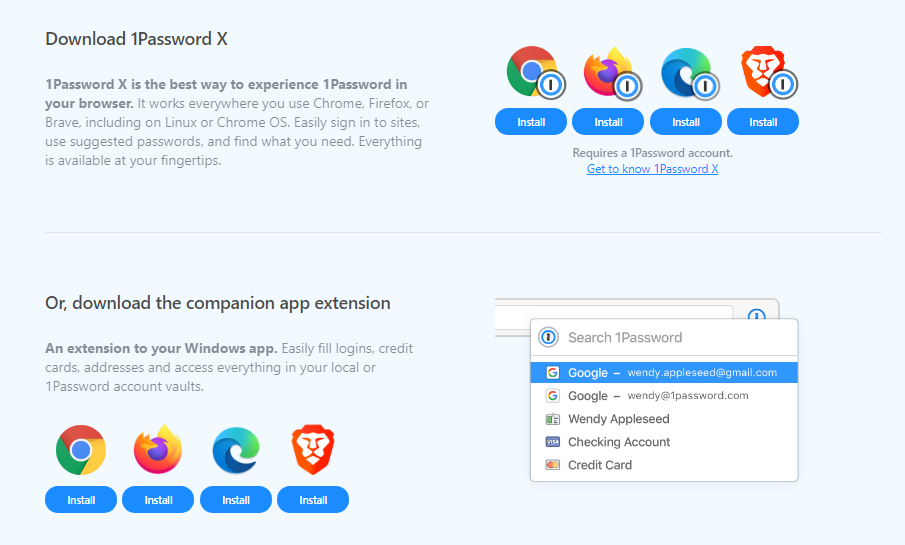 Nonetheless, they have browser extension for the following web browsers:
Google Chrome

Firefox 

Edge Browser  

Brave Browser
Note: For this 1Password review, we also tested this password manager across different compatible devices and all web browsers. So, we can attest that 1Password is a reliable password manager.
Before using any of its browser extensions, users are expected to create a 1Password account for logging in.
How To Set Up 1Password Account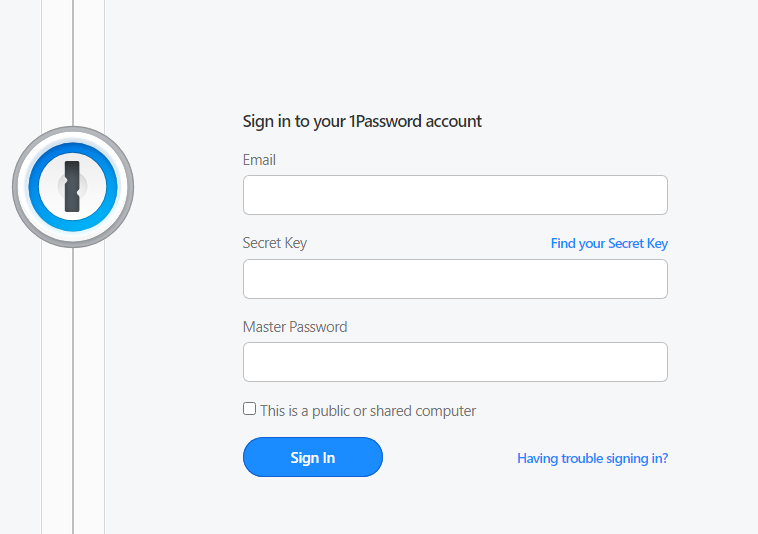 Sign up for a 1Password account. Alternatively, i

nvite other family members or team members to join, or get an invite to join 1Password.

After filling up your details, you will receive a confirmation message in your email box.

Download your preferred 1Password app and login with registered account details

Download and use 1Password extension for auto-filling your information on websites.
1Password Pricing Plans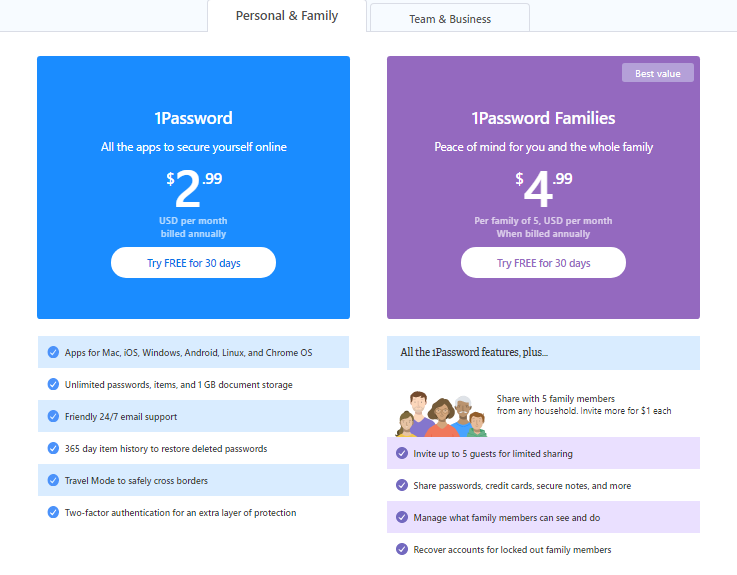 1Password Family

: This plan supports five devices simultaneously for $4.99 per month.

1Password Personal

: This is a single user plan billed at $2.99 per month.

Teams

: This is a business plan which cost $3.99 per month.

Business

: This plan provides flexibility and control for business owners at $7.99 per month.

Enterprise

: This plan covers large enterprises with a dedicated account manager. Pricing is available on request.

Get 1Password Now                                                          
Note: A 30-day free trial is available for all 1Passwords plans except the Enterprise Plan for users to try out its features before committing to subscribe.
Customer Support 
1Password users can enjoy professional support services through the following channels:
Support Forum

: Users can get a quick resolution to their issues and inquiries via support forum. Their technical support team have resolved over 250,000 customer issues and questions, thus making its forum the richest resource for resolving customer issues, complaints, and inquiry.

Email channel

: Response via their email channel may not be as fast as getting answers from its twitter page or support forum, but it does provide users with solutions within 24 hours of inquiry.

Twitter

: users get fast answers to questions and resolve complaints faster on Twitter. Users can tweet @1Password via its Twitter handle available on its support page.

Blog

: 1Password has a blog where users can access a variety of resources. On their blog page, users are sure to find a collection of engaging articles to keep them in-the-know on recent happenings in the IT world.
Rounding Up
As you can see from this 1Password review, it is a unique password manager with high functionality and adaptability. With its cross-platform OS functionality, users can sync their passwords across multiple devices, thus having unhindered access to accounts when needed. 
RELATED POSTS