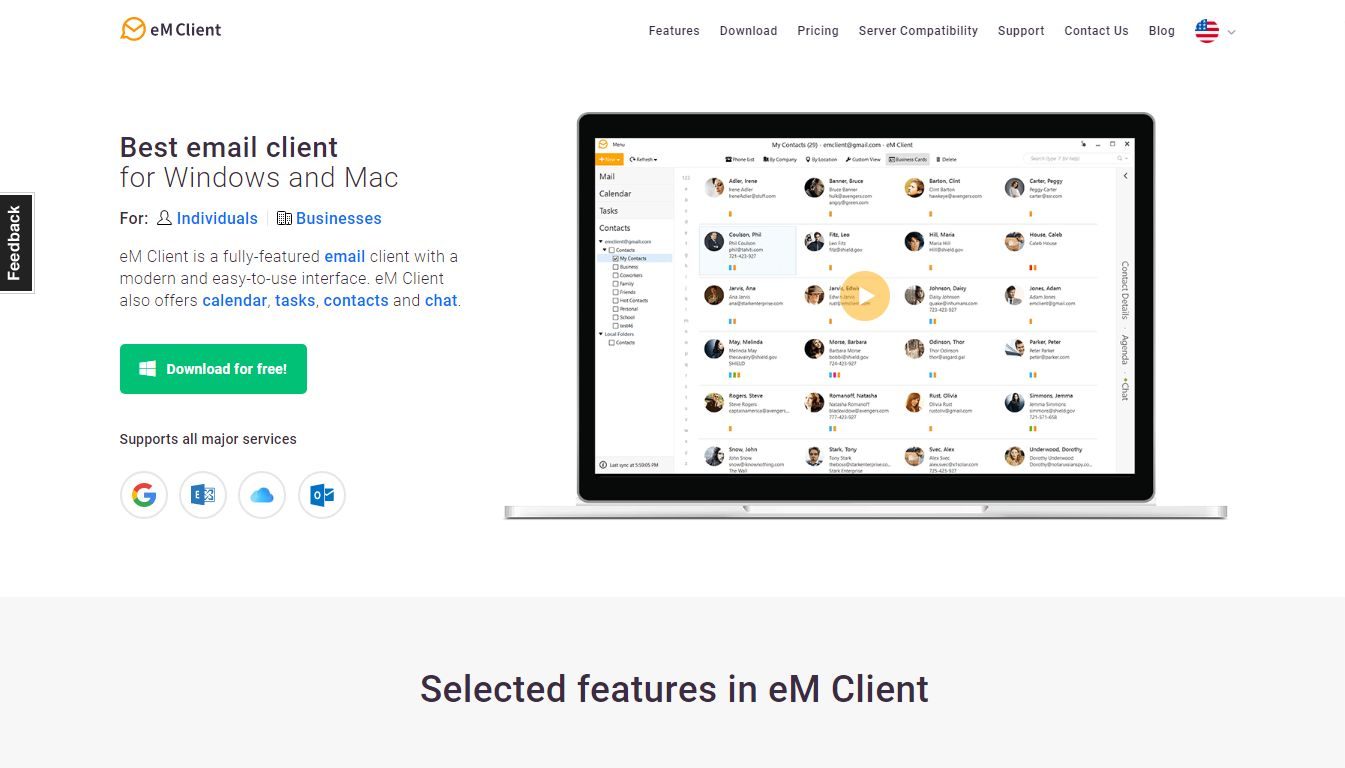 Today, we will review eM Client 8, an upcoming email management application.
Email clients have grown in popularity due to their ease of use and accessibility, which makes it possible to manage more than one email address on an email client. Also, the fact that you can access your emails even when you're not connected to the internet makes email clients more desirable for either personal or business use.
Not to mention, eM Client 8 is also one of several email clients available.
For this review, we will be taking a more in-depth look at the upcoming eM Client 8 email application, its features, and what makes it a preferred email client of choice.
What Is eM Client 8?
eM Client 8 is the next eM Client version. As an email client application, it allows users to receive and respond to emails even when not connected to the internet. Aside from being a full-featured email client, eM client 8 integrates other functions such as calendar, contacts, tasks, and chat management features. Hence, users have an all-in-one app that serves their needs.
Update: eM Client 8 was in the Beta phase until June 30th, 2020. Fortunately, a premium license is now available.
Why You Need eM Client 8 On Your Computer?
eM Client 8 is a time saver  
eM client comes in handy when you need to manage more than one personal or business email accounts without the stress of logging in to separate webmail clients. For instance, you can easily manage your Yahoo, Hotmail, or Gmail accounts all from the eM client's dashboard with a single login. That way, you can save more time and increase your productivity.
Access your email messages faster
It allows you to gain access to email messages and attachments faster. This email management app automatically stores a copy of your past emails and attachments on your computer, thus making it faster and easier to access and retrieve previous messages and folders in your email.
Access your inbox without internet 
Irrespective of your location, you can access your email messages even when offline. Hence, you do not have to worry even when you can't find the nearest Wi-Fi hotspot to connect to.
eM Client Key Features
With this email management app, you enjoy the following features:
Simplified user interface 
It has a simplified user interface that integrates several functions and tasks. Its layout and arrangement make it easy to navigate its various functions and tasks even as a new user. Commonly used features are easily accessible to the users, thus offering users a fantastic user experience.
Also, its touch support makes it easier to manage your emails and tasks from hybrid devices that support touch.
Automatic PGP Encryption
It supports PGP Encryption which is a feature that lets you send messages securely. Thus, you do not have to worry about your messages falling into the wrong hands.
Automatic backup of email messages
This feature ensures the automatic backup of your messages even when the application is running. Therefore, no reason to worry about losing messages or attachments.
Provides support for chats, calendar, and task management
It provides an interface that integrates daily functions such as contact, calendar, chats, and tasks. Thus providing an all-in-one communication hub that serves as an excellent alternative for communicating with team members and clients either by chats or emails.
Automatic image editing features
It has an image editing feature that automatically resizes your images to fit. Also, this feature allows you to manually manipulate your images just as you would with any typical image editor.
Table editor 
It incorporates a table editor that allows you to edit tables. Hence, you can include and edit tables by altering cell contents or adjusting the rows and columns in a table without the use of external apps or programs.
Auto-reply feature 
Interestingly, you can configure automatic response which is useful to keep in touch, especially when you're too busy to respond to email messages. This feature is available for Gmail only.
eM Client Download
eM Client 8 download is available for free on two of the most widely used OS, which includes:
All Windows OS, including Windows 10, 8, and 7.
All Mac OS
eM Client 8 Support
eM Client 8 supports all major webmail and email services such as:
Gmail
Hotmail
Yahoo
MS Exchange
iCloud
Outlook
G-Suite
Office 365
Mac OS server
IceWarp Server
SmarterMail
Kerio
MDaemon
eM Client 8 License 
The eM Client license and online support are available only to Premium users. Users can use the eM Client License Manager to upgrade or renew their premium services. Also, premium users can enjoy a quick response and remote assistance via the Enterprise Online Support Center.
Nonetheless, Freemium users can enjoy support from their Community Support, where they can get assistance from technical support personnel.
eM Client 8 Pricing
Em Client offers one-time premium services, starting from $19.95. However, users can enjoy a free trial version of eM Client 8 without submitting their credit card details.
Does The eM Client Email Application Offer A Student Discount? 
eM Client does not offer student discounts because it offers a generous discount for its pro users with full features starting from $19.95. This is quite an affordable price for students and other individual users.
A Final Word
eM Client 8 is much more than just an email client app. Its simple user interface and unique features give you a single platform for managing your emails, communication, and integrating other tasks and functionalities seamlessly.
RELATED POSTS