Here's the STOPzilla Antivirus review.
The STOPzilla Antivirus has been safeguarding the health of computers for the past 15 years using its proprietary antivirus technology to eliminate threats and protect computers from infection. 
STOPzilla has more than 40 million users, and its recent antivirus version, the 8.0 has one of the most innovative antivirus engines with a robust anti-rootkit available in the market for securing your computers.
In this review, we will examine the benefits, features, pricing plans, system requirements, and customer support of STOPzilla's most recent antivirus version, STOPzilla 8.0.
What Is STOPzilla Antivirus?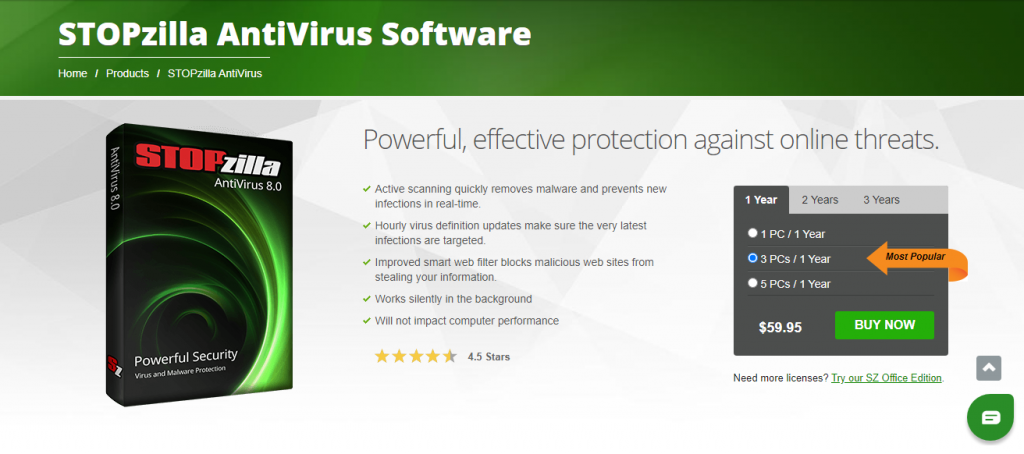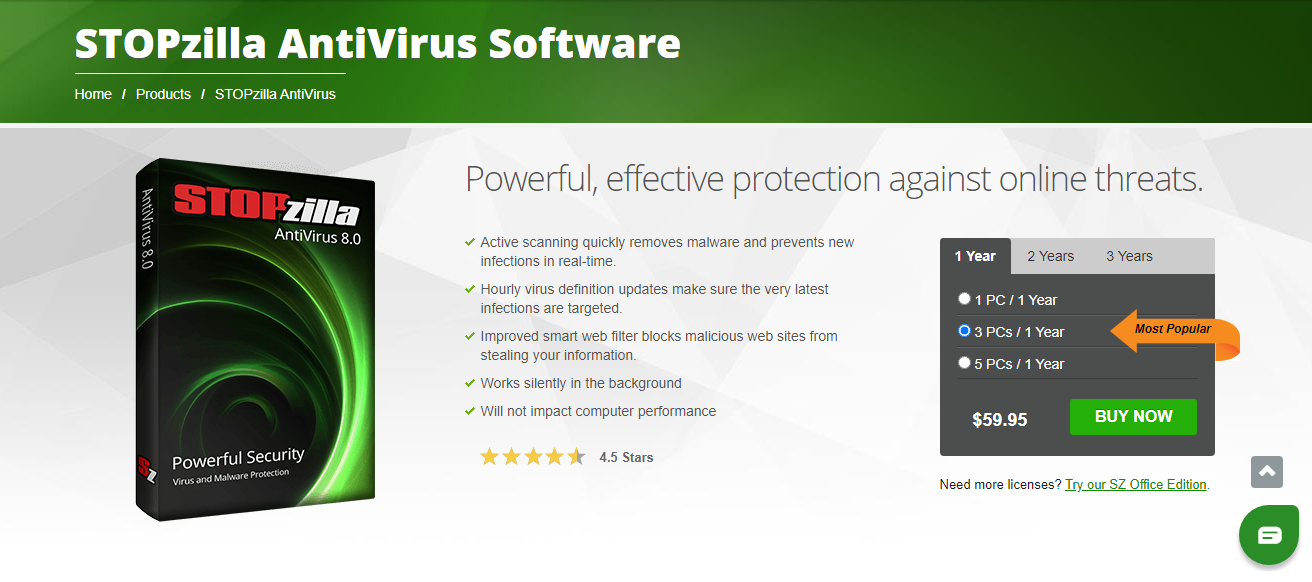 STOPzilla Antivirus is one of the several security products from IS3, a Florida-based cybersecurity company founded in 1991. Its most recent antivirus software STOPzilla 8.0 has a signature-based proprietary antivirus engine that offers systems complete protection from malware and viruses, including worms, trojans, spyware, and ransomware, adware, and rootkits.
Additionally, STOPzilla Antivirus is designed as a standalone antivirus; however, it is compatible with installed antivirus, thus allowing you to retain the former antivirus program without compatibility issues.
Benefits of STOPzilla AntiVirus
Protection from malware, viruses, and other online threats 
STOPzilla antivirus 8.0 has a proprietary, robust antivirus engine that actively scans and removes malware and other cyber threats from your system.
It also updates its antivirus database every hour to ensure that your computer stays protected in real-time against the latest online threat, malware, and viruses.
Protection internet threats 
It actively protects you from cyber threats by blocking them from accessing your computer. It actively prevents spam sites and ads from infecting your system with viruses that compromise your privacy.
Improves system performance
STOPzilla Antivirus 8.0 has an improved smart web filter that protects you from phishing attacks by blocking malicious websites from opening on your system, thus ensuring that your information remains protected at all times.
Scans removable devices for potential threats 
STOPzilla automatically scans all connected removable devices on your computer for viruses, malware, and other potential threats and deleting or quarantining such threats before it hits your computer.
STOPzilla Antivirus Features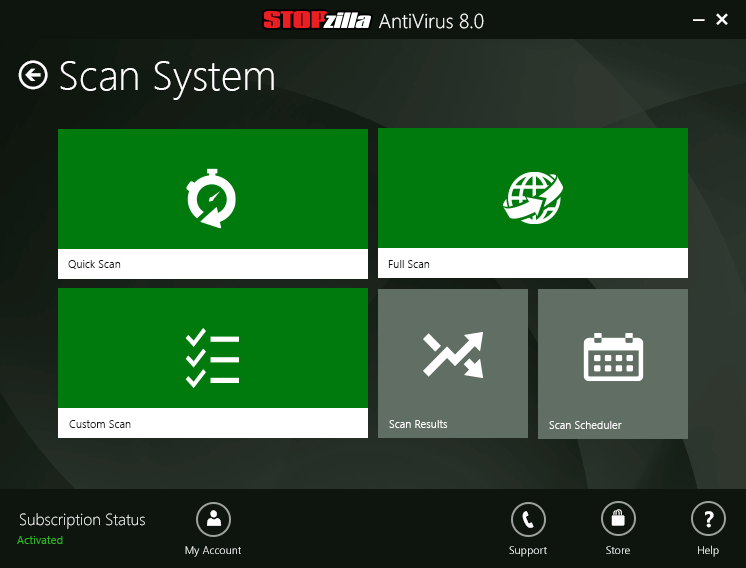 STOPzilla's features enable it to offer all-round protection in real-time. it boasts of a unique blend of features which include:
Its interface has a simplistic design with well-laid out features for a fantastic user experience. Users can easily choose a scan function to perform, check, and monitor scan progress; schedule scans along with a variety of functions.
Robust antivirus engine for faster system scans and active protection 
STOPzilla antivirus 8.0 has a proprietary antivirus engine that offers your system all-round protection. It has a system scanner that can perform a full system scan in ten minutes, making it one of the most effective antiviruses with the fastest scan module. 
It has a cloud-based web filter that actively scans all URLs for threats and malicious websites. Also, STOPzilla updates its cloud-based URL scanning utility every 5 seconds to ensure that you remain protected from new threats.
Also, it can scan emails, file attachments, and download links to ensure that you remain protected from cyber threats.
STOPzilla has one of the smartest antivirus engines that can protect your computer from the most advanced rootkit designed to evade antiviruses' detection, thus ensuring that you stay protected from malicious attacks.
STOPzilla's whitelisting feature prevents false positives during scans by allowing you to whitelist programs that are considered safe on your computer, thus preventing it from identifying such programs as malware during scans.
STOPzilla antivirus algorithm allows it to create a cache on your system for storing file metadata for faster retrieval and analysis during subsequent scans.  
A switch to STOPzilla's gaming mode lets your game run smoothly without interference; this enables you to focus all your attention on winning without distraction.
Minimizes power consumption 
STOPzilla antivirus 8.0 is designed to run on minimal computer resources. This enables you to conserve more power, especially when your system is not plugged into a power source. Also, this makes your computer perform faster since STOPzilla does not compete with other installed programs for significant system resources.
READ ALSO: Review Of G DATA Total Security
STOPzilla Antivirus Pricing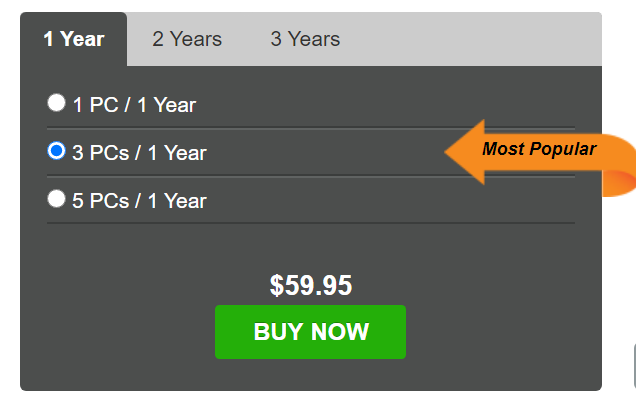 STOPzilla Antivirus has several pricing plans that are ideal for individuals and corporate organizations running multiple computers. 
Its three-year plan gives users a huge discount, thus making it one of the most affordable antivirus of choice with the cheapest long term plan.
1 Year plan
1 Computer: $39.95

3 Computers: $59.95

5 Computers: $89.95 
2 Year plan 
1 Computer: $59.95

3 Computers: $89.95

5 Computers: $129.95 
3 Year plan 
1 Computer: $79.95

3 Computers: $119.95

5 Computers: $169.95
Note: Users can enjoy a 15-day trial version and a 30-day money-back guarantee on any of its pricing plans. 
STOPzilla Antivirus Download
You can quickly download the STOPzilla antivirus installer package from their official website. Moroever, the STOPzilla installation wizard walks you through the installation of the 64MB STOPzilla executable program on your computer without requiring technical assistance.
Compatibility and System Requirements
STOPzilla antivirus 8.0 is compatible with the following Windows OS version
Windows 10: 32&64-bit) 

Windows 8: 32&64-bit) 

Windows 7: Service Pack 1 

Windows Vista: Service Pack 1
System Requirements
RAM size: 2 GB RAM 

Storage space: minimum of 1.5 GB free space 

Processing speed: 1.6 GHz processor

Internet connectivity 
Customer Support & Resources
Users can enjoy the best customer support services from IS3, which include:
LiveChat:

users can use the LiveChat feature available at STOPzilla's official webpage for faster response.

Dedicated helplines:

international users can reach out to STOPzilla's international helpline for customer-based inquires and technical support: 001-877-877-9944.

Email:

users get a fast response via inquiry-based emails by sending direct emails

FAQ page:

users also get help and resources from

their FAQ page

. Here, users can check through a variety of addressed issues as references.
For this STOPzilla Antivirus review, let's take a look at its pros and cons.
What Users Enjoy About STOPzilla Antivirus 8.0?
Runs full system scan in less than 15 minutes

Proprietary antivirus engine that can detect the latest malware and viruses 

Simple User Interface

Enhances system performance

Superb customer care experience 
Limitations
No license and plans for more than five devices 

Not compatible with Mac OS
Conclusion
As you can see from this STOPzilla Antivirus review, it is an innovative antivirus software. Also, it offers complete system protection against the most recent malware, viruses, and cyber threats. Also, their top-notch customer support makes it an appealing antivirus software.
RELATED POSTS