Here is a Line2 review. Read on.
A Voice over IP communication service provides individuals and businesses with flexible means of communication with friends and families, teammates, customers, and prospective clients by offering cloud-based phone systems, calls, conferencing, and call center services.
Therefore, individuals and businesses can maintain a single phone number across multiple devices, make and receive local calls from any part of the world.
This review focuses on Line2, a cloud-based voice-over-IP communication service that provides virtual phone services for businesses.
What Is Line2?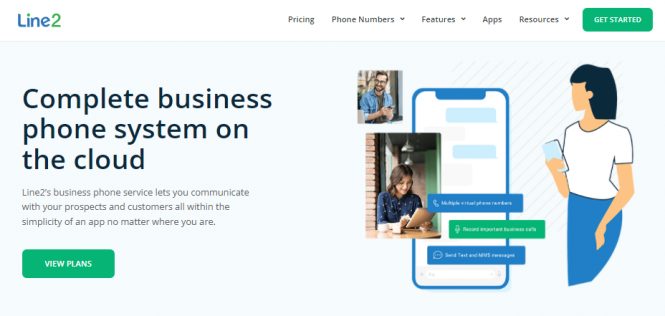 Line2 was established in 2006 as a Voice over IP solution for businesses. It was the first company to offer users a second phone line without needing an additional phone. Line2 was acquired in 2018 by J2 Cloud services, thus giving the company a boost in its services.
Get Line2
For this Line2 review, let's talk about its features.
Line2 Features
User Interface
Line2 has a simplistic user interface with the basic dial pad and other regular buttons like Call, hang-up, Conference calling, Mute, Hold, Transfer, and Merge buttons. The merge button lets you merge up to 99 calls to a single call.
Automated Call Answering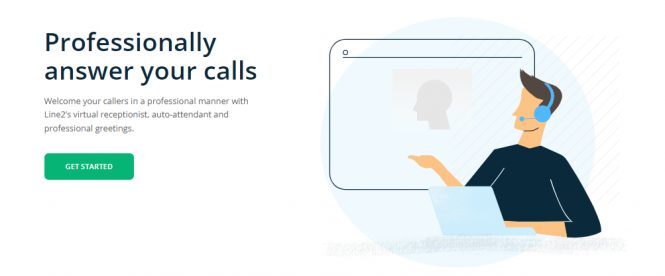 Line2's virtual receptionist and auto-attendant answer your business calls with professional and friendly greetings powerful enough to create a lasting first impression on your prospective clients and customers.
Auto-attendants attend to your customers' needs by providing well-sequenced automated customer services that handle varied customers' needs on your behalf.
Line2's call routing services help you create extensions so your clients can get their needs met faster. With Line2's call routing, a customer can call any department within your organization using extensions created with Line2. This feature also includes voice notes and notifications for created extensions.
Call Handling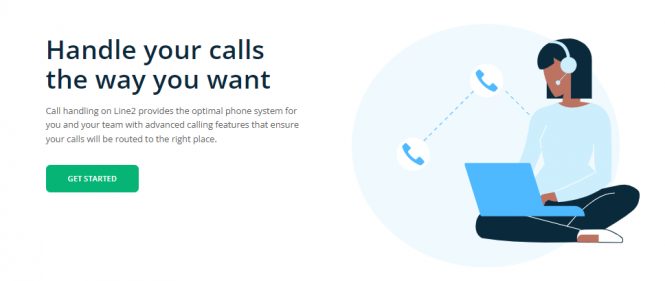 Line2 has an advanced call handling system that includes call forwarding, call screening, caller identification, simultaneous call handling, auto-attendant, and hold music.
The call forwarding feature lets you forward calls to other devices or extensions, while the call screening feature enables you to screen your call by using an answering machine with a pre-recorded message which asks customers for their names and other necessary information. With this feature, you can choose what call to accept, reject, or forward to an answering machine.
The Caller identification feature identifies all incoming calls, thus allowing you to decide what calls to accept or reject. If you're on a call while an important call comes in, the simultaneous caller handling feature lets you answer two calls at once to prevent you from missing out on an important call.
You will need to welcome prospects and customers to your company; the auto-attendant does just that with a polite pre-recorded welcome message to greet callers and provide directions or call forwarding services for sales, technical, or administrative assistants.
While your customers are waiting to be attended to on the phone, Line2's hold music feature keeps them entertained and makes the wait a worthwhile one.
Texting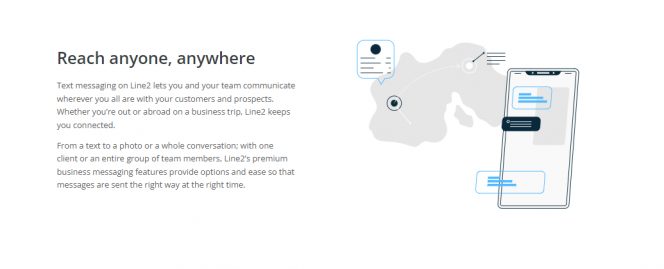 Line2's rich text feature lets you send texts and images to individuals or groups wherever you're at local SMS rates. You have access to unlimited SMS and MMS messaging for US and Canadian residents toll-free.
Even outside the US, you can still send toll-free SMS at no extra cost except for bandwidth usage. Aside from texting, you can also receive faxes that are automatically forwarded to your mailbox.
Voice over IP calling
Line2's VoIP offers you the flexibility you need to keep your business connected to your clients. Wherever you're, you can make calls over WiFi, cellular network, or data. What matters most is keeping in touch with your customers and prospects.
Merged Calling
Merged Calling is a feature that lets you connect with multiple callers up to ninety-nine at a time. This cloud-based service eliminates issues like poor connectivity and audio quality, which can sometimes arise when using the traditional phone system for conferencing. You also have the option of hosting your conference from any device.
Enhanced Voicemail
Unlike traditional voicemail services from telecommunication providers, you can listen, forward, or reply to voicemails from any device anywhere and anytime.
This feature separates your personal voicemails from your business messages and provides you with customized voice notes for your customers and team members. You can enjoy optional voicemail transcription services, which convert all voicemails to texts forwarded to your email address for later viewing.
Call Recording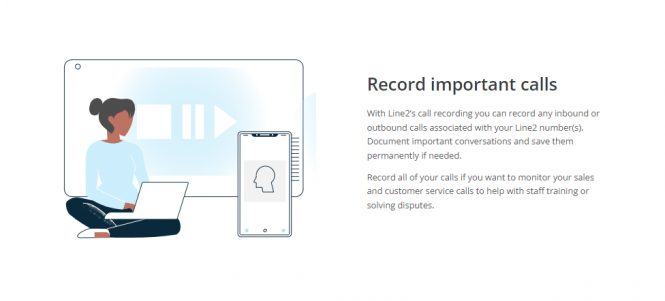 Call Recording lets you record any calls you make or receive with your Line2 number. This feature is vital for sales monitoring, resolving customers' issues, or training customer support agents.
What Are The Line2 Phone Numbers?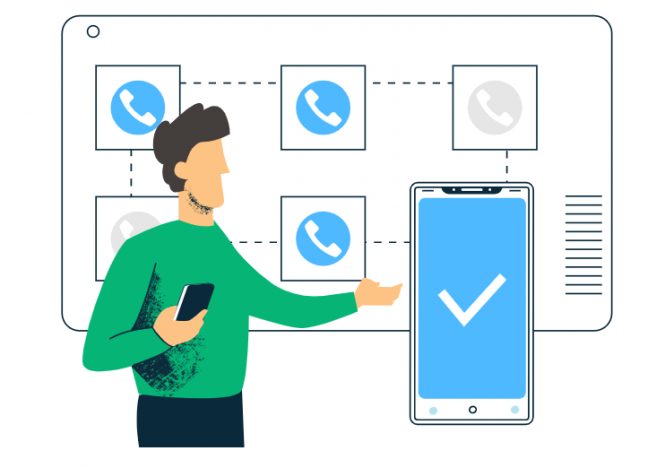 1. Local Numbers
With Line2, you can create local phone numbers for multiple cities worldwide to let your clients call at local rates. This feature is essential to attracting customers outside your region because customers are more likely to call or reply via a known local number.
2. Vanity Numbers
You can also create vanity numbers with Line2. With vanity numbers, your customers can easily reach you by dialing a memorable word, e.g., your customer can contact you via 1-800-GETHELP, thus eliminating the need to memorize numbers.
3. Toll-free numbers
Line2 lets you create toll-free numbers for customers and prospects to reach your business. This feature also helps you manage voluminous call traffic that results from offering toll-free call lines for your services, gives you unlimited call minutes, and unlimited text for messaging outreaches.
This Line2 review is incomplete without talking about its pricing.
Get Line2
Line2 Pricing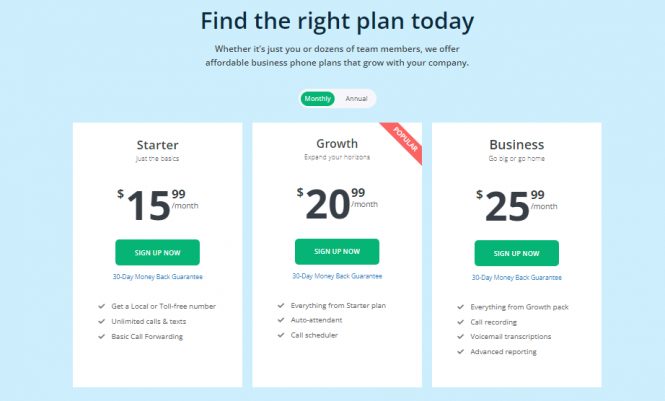 Line2 offers three subscription tiers with monthly and annual subscription packages.
1. Starter Plan
Monthly subscription: $15.99 per month
Annual subscription: $164.99 per year
Features:
A local or Toll-free number
Unlimited call minutes and texts
Basic call forwarding
2. Growth Plan
Monthly subscription: $20.99 per month
Annual subscription: $211.99 per year
Features
All starter features
Call scheduler
Auto-attendant
3. Business Plan
Monthly subscription: $25.99 per month
Annual subscription: $261.99 per year
Features
All Growth features
Voicemail transcription
Call recording
Advanced reporting
Get Line2
Customer Support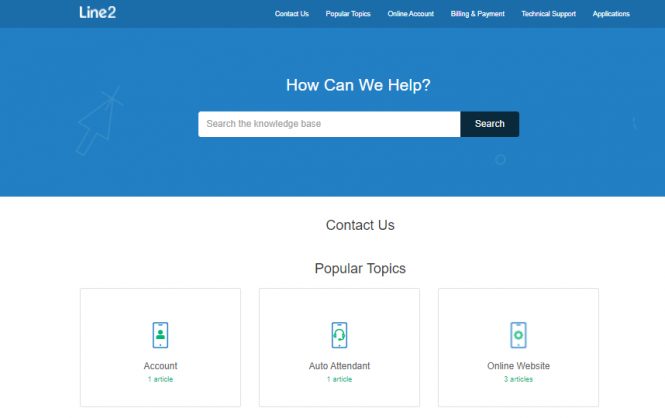 Line2 has rich customer support features that include a rich FAQ page that handles all likely issues ranging from devices and apps to bills payment.
Like other customer-focused businesses, Line2 answers promptly to customers' issues via helplines, LiveChat, and email support.
However, you can only reach out to Line2's customer care from 8 AM-5 PM PST from Mondays to Fridays. This is a downside for Line2 considering customers outside of its region.
A Final Word On The Line2 Review
Overall, Line2 offers robust features to promote your businesses and get the desired conversion rate. Additionally, Line2 offers affordable VoIP services that are sure to keep your overhead cost low while you enjoy premium features.
Therefore, if you require a quality VoIP service, Line2 is a good option to consider. However, I will recommend Hushed as the best Line2 alternative due to its superior service offerings.
---
INTERESTING POSTS