Want the hushed review? In this post, you will learn how to get a virtual phone number for online privacy with Hushed.
Besides enjoying complete online anonymity with virtual numbers, you can also use the Hushed platform to generate virtual numbers for your businesses or online dating, thus separating your business or digital life from your private life.
Why You Need A Virtual Phone Number?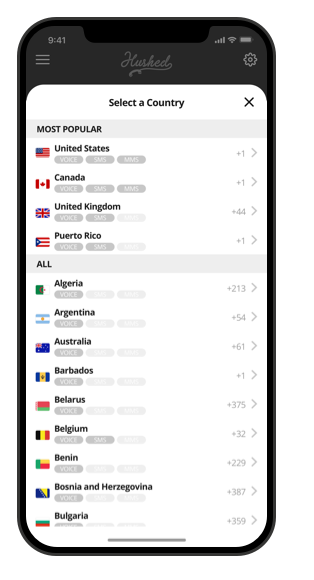 If you're wondering why you would need a virtual phone number, the following will give you reasons to sign up for a virtual phone number with Hushed.
Having a virtual phone number creates an additional security layer by preventing direct access to your traditional line. You can use a virtual phone number as a disposable phone number when you're unsure who you're dealing with.
Cheaper international calls
Making international calls from your traditional line can be quite expensive. Using a virtual private number keeps the international call rate low and takes away roaming expenses when you're on a trip. To enjoy low call rates on international calls or let your contact enjoy a low local call rate while on a long-distance call with you, create a virtual phone number with the same area code as your contact. 
Staying safe while dating online
It allows you to stay safe while dating online. Plus, it prevents strangers from stalking you.
Having a virtual phone number means you can make phone calls on any device without the need for a traditional sim card or the need to buy another phone when in need of a new number.
What Is Hushed

Hushed is a service that provides cloud-based phone numbers (virtual numbers), which acts as an alternative phone number via which you can make and receive calls, send and receive text messages, just like a traditional phone number. 
The Hushed records over 8 million downloads and has a record 450 million calls and over a billion SMS and MMS sent and received. It is also a virtual phone number service with over 300 area codes in the US, UK, and Canada.
How To Get A Virtual Phone Number With Hushed
To get a virtual phone number with Hushed, follow the steps below.
Visit

the Hushed official website to sign up. Alternatively, you can also download the hushed app from Android and iOS stores.

Sign up, or sign in to your Hushed account 

After signing up or signing into your account, you will be able to manage your area code by choosing a code from Hushed vast list of area codes.

Subscribe to any Hushed plan

Start making and receiving calls via your new virtual number.
Hushed Features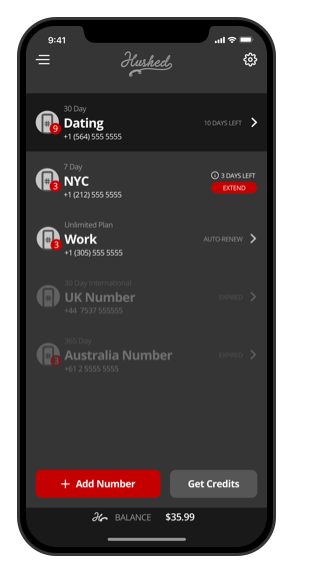 These features make Hushed a desired virtual phone number.
Hush offers you the same calling benefits you enjoy with a traditional phone number. You can make and receive calls from any phone number using a Hushed virtual number.
Send and receive SMS and MMS
You can use the Hushed virtual phone to send and receive text, image, audio, or video-based SMS or MMS the same way you use a traditional phone for SMS and MMS.
Create multiple Virtual numbers
Rather than purchasing a new phone or sim for your business or online activities, you can generate multiple virtual numbers to keep your digital or business life separated from your personal life.
Hushed provides voicemail services. Like a traditional line, Hushed also lets you record and customize voicemail greetings for all of your virtual numbers.
Hushed Pricing Plans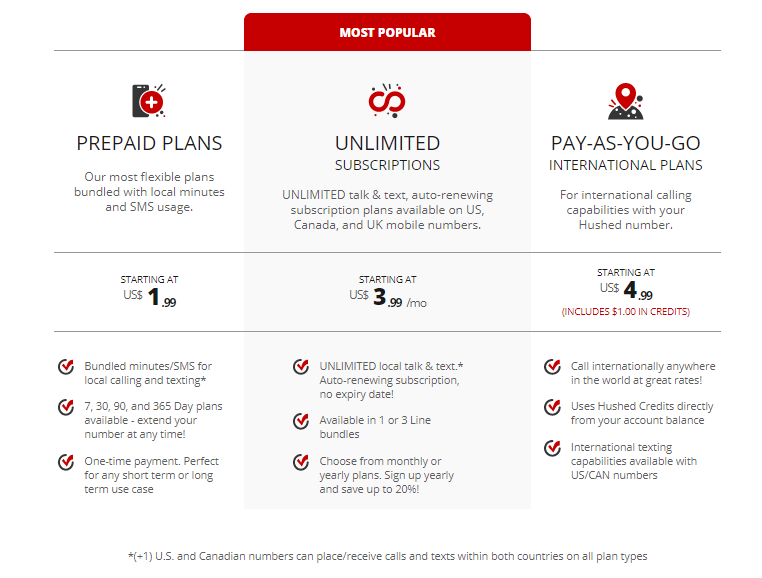 1. Prepaid plans: from $1.99
Available in 7, 30, 90, and 365 days plan

Enjoy bundled minutes for voice calls and SMS

One-time payment options for long or short term use
2. Pay-as-You-Go International Plans from $4.99 
Make and receive international calls at the best rates.

Send and receive international texts with US or Canadian virtual numbers.

Use credits from your Hushed account to make and receive calls.
3. Unlimited Subscriptions: from $3.99 monthly
Unlimited local calls and texts

No expiration date

Two bundles: 1 line or 3 line bundles

Save 20% with the yearly plan.
Get Hushed
Hushed Customer Support & Resources
Hushed has a rich FAQ page that addresses a lot of issues, including:
Number issues

Calling issues 

Texting issues 

Contact issues

Information on privacy, billing, and pricing 
You can also reach out to Hushed via its LiveChat/Help handle available on its official webpage.
Is Hushed Anonymous?
Yes, Hushed is a platform you can use to make and receive calls and send texts anonymously without revealing your actual number to the receiver or sender.
Conclusion
Hushed provides an avenue of remaining anonymous online or creating a dedicated line through which your audiences can reach out to you without violating your privacy.
Get Hushed
INTERESTING POSTS