In this post, we will show you a review of Acronis True Image 2020 – a reliable solution for data protection.
It's a constant for hackers to use cutting-edge technology to make their attacks more effective, but so is the fact that many companies are doing their best to create new ways to counteract such situations. Acronis is one of them. True Image 2020, the latest version of the award-winning personal cyber protection solution, brings more than 100 performance enhancements and multiple new features.
What is Acronis True Image 2020?
True Image is recognized and award-winning. It is an Acronis software that provides data protection for personal users, including backup, archive, access, and recovery for Windows, macOS, iOS, and Android operating systems.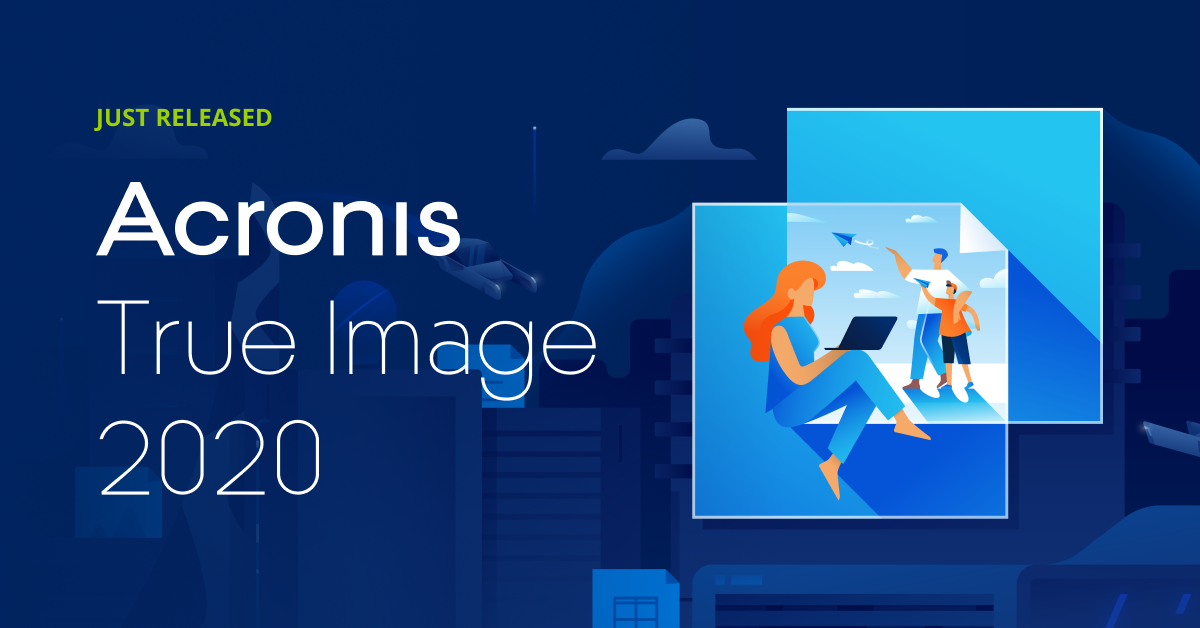 Being a disk imaging software, True Image can restore the previously captured image to another disk, effectively replicate the structure and content to the new drive, and resize the partition if the new disk is of different size or capacity.
New Version: True Image 2020
Acronis has always been a leader by its innovation, performance, and capability in the backup industry, and apparently, this new version is not far behind. Acronis True Image 2020 introduces, for the first time, a personal solution that is automating the data protection strategy that experts say is the gold standard.
Benefits of Acronis True Image 2020
Simple, efficient, and secure. Acronis backup solutions show that comprehensive data protection doesn't have to be complicated.
The user interface is intuitive. In just two clicks, you can initiate a full image backup of files, programs, settings, or the operating system on the storage media of your choice. Both backup and data recovery processes are up to ten times faster than with other software vendors.
As Internet threats continue to grow, Acronis True Image 2020 offers advanced protection against hacker attacks in addition to data protection:
AI Defense Technology: A defense technology based on artificial intelligence can proactively detect and stop ransomware and crypto-jacking attacks. From now on, it blocks attacks that attempt to terminate operating system services without permission. Also, it is specified more precisely why a process is classified as malicious and monitored or blocked.
Double protection: Local backups are automatically replicated to the cloud when you purchase an annual subscription to ensure you always have an offsite copy of your data available for recovery. Once the initial data protection is in place, future backups and replications are performed simultaneously.
Status control: Notifications displayed on the desktop bar make it easy for users to monitor backup status.
Exclusion of insecure or chargeable connections: WLAN users can define connections that they consider trustworthy.
Power management: Backups in battery mode are either wholly disabled or only performed above a definable battery level.
Main Features of Acronis True Image 2020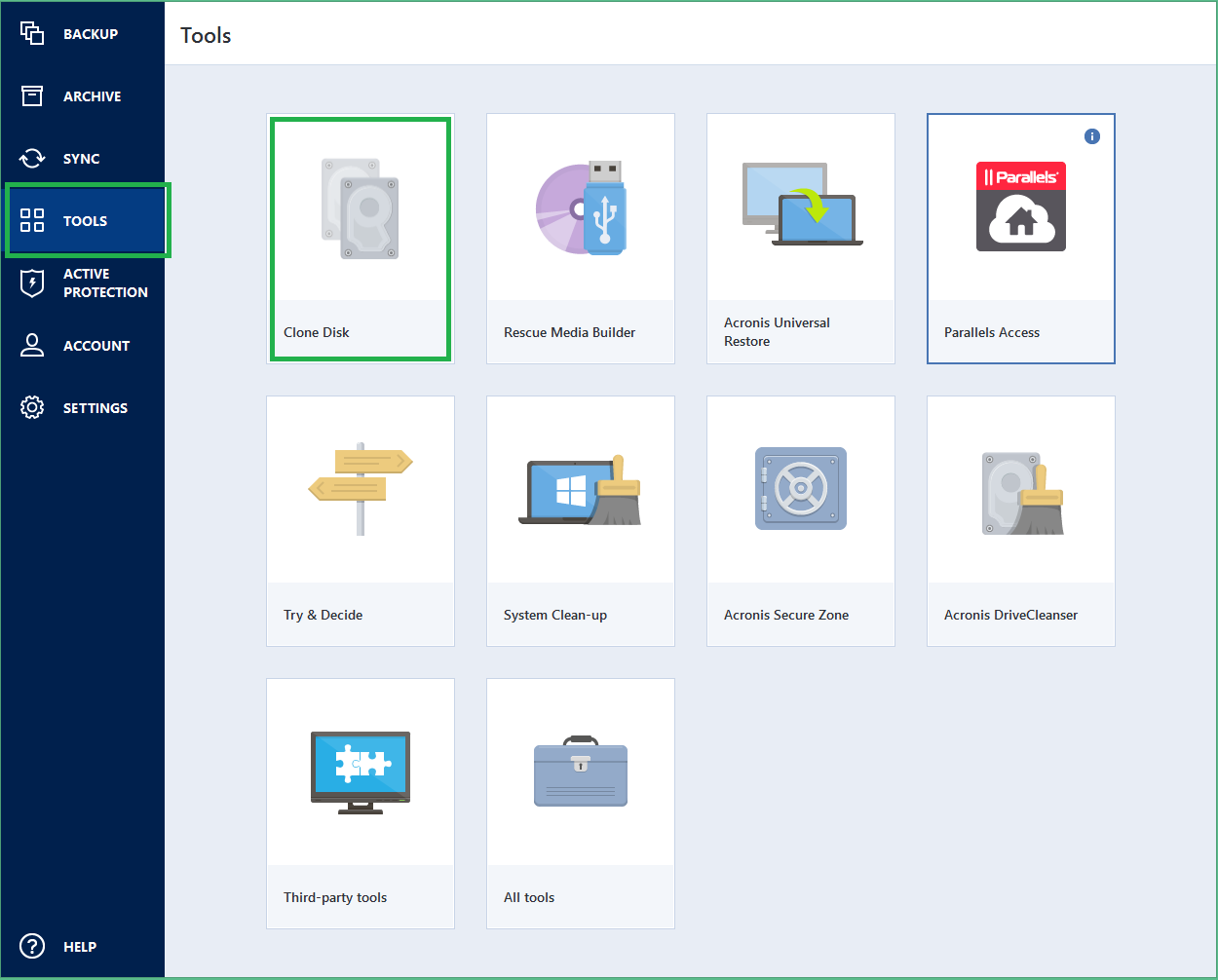 Acronis True Image 2020 is the first personal cyber protection solution that allows people to replicate local backups in the Acronis cloud automatically. Whatever happens, with a subscription to Acronis True Image, the dual protection feature will ensure that a reliable offsite backup is fully available for recovery.
That's right, with Dual Protection or Double Protection, local backup and cloud replication coincide smoothly and efficiently, avoiding managing two copies or wasting time running them separately.
Faster backup is even quicker:
"External tests show that our backup speeds are now at least 50% faster than our previous version, and that has already been proven by independent labs to be up to 10 times faster than the competition" – Acronis
This new copy format allows you to explore the files in the backups coming from the cloud, much faster.
In addition to simplifying the process of automatically replicating local backups in the cloud, this solution has a notification center tray that provides updates on the status of backups so that you can resolve problems efficiently.
On the other hand, several features were also created that give more power to the backups. One of them refers to being able to choose the Wi-Fi network in which it will be backed up by acquiring the possibility of avoiding unsafe public networks that carry data risks and thus better navigate connections that may affect performance.
Security against modern threats:
The new version, and effectively, also stops unlawful end-of-service attacks and informs why a particular process was marked or blocked as malicious.
Along with its new advances and features, Acronis True Image 2020 comes to the industry not only to facilitate the backup process but also protect computers with the highest technology and enable a more specific control of each action that is done.
Acronis True Image 2020 Pricing and Availability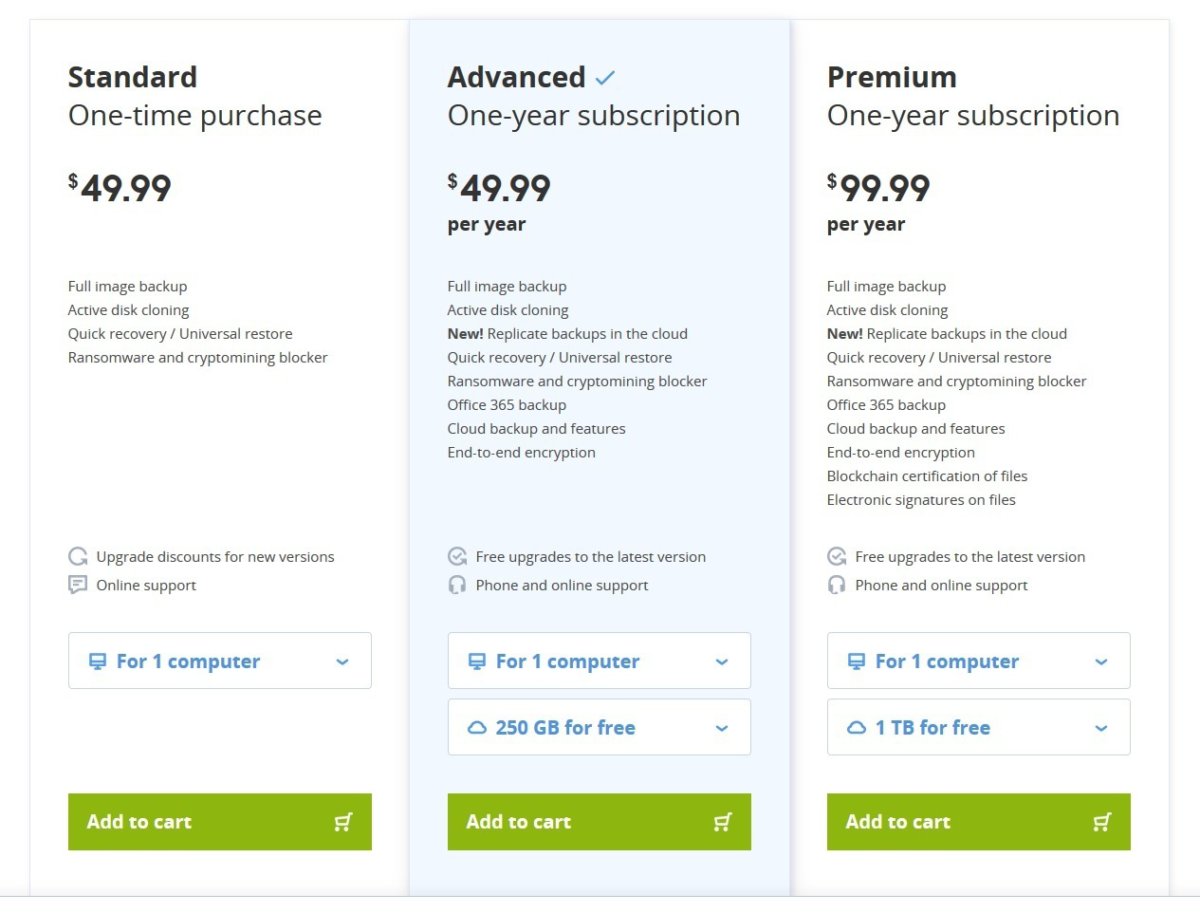 This new version of Acronis True Image 2020 is now available for purchase at the official website. We have a total of three versions:
1) Standard: lifetime license for local backups, no Cloud function. It includes unlimited backups of mobile devices. The price is 50€ per computer.
2) Advanced: 1-year subscription, has Cloud function with 250GB of storage in Acronis Cloud Storage, and access to all cloud-based features. The advanced plan includes unlimited mobile device backups. The price is €50 per computer per year.
3) Premium: 1-year subscription, has Cloud function with 1TB of storage in Acronis Cloud Storage, and access to all cloud-based services. It includes unlimited backups of mobile devices and data certification based on blockchain and electronic signature. The price is 99€ per computer per year.
All versions have Acronis Active Protection technology, to protect against malware, and uses artificial intelligence. An important detail is that customers with Advanced subscription can buy more space in the cloud if they need it.
We recommend that you visit the official Acronis website, where you will find all the details about this backup software.
Bottom line
If we consider our enormous dependence on data today, our digital resources are more valuable than ever. And it also means we manage more data and more devices than ever before.
Protecting all of this from the growing risk of cyber threats is becoming increasingly difficult, and concerns about complexity, security, and costs are growing.
Thanks to simple, effective, and secure cyber protection, Acronis helps people ensure the security of all their data.
The launch of the company's latest solution confirms its vision of cybersecurity, which combines traditional data protection with cyber protection. As a result of that approach, Acronis True Image 2020 is the only technology that addresses the five vectors of cyber protection: safeguard, accessibility, privacy, authenticity, and data security (SAPAS).
This unique strategy allows Acronis True Image 2020 to provide simple, effective, and secure cyber protection to home users, pro users, and home office businesses.
READ ALSO:
Use Utopia P2P Ecosystem! Keep Your Eyes Open!