In this post, we will show you how to hack a smartphone with Xnspy, a well-known smartphone hacking app.
Smartphones have become a necessity for both parents and children in this digital era. Children often spend their whole nights browsing or texting on cell phones. Parents and employees in an office also use mobile phones for constructive purposes; however, both parents and employers can't keep an eye on their kids' or employees' digital activity. Even though Android and iOS phones offer several privileges and benefits, it has also become a necessity to keep a check on these devices to ensure their right use.
Are you a parent who wants to monitor all activities of your children on their smartphones? Do you want to keep a spy on their phones without physical intervention? Whether you are an employer or a parent we have a solution for you to remotely hack an Android or iOS smartphone with a spy app.
These spying apps are hard to resist because kids use texting with an unlimited appetite. Smartphones allow children to instantly send messages to their friends and create social interactions with unknown persons. Moreover, the performance of employees in your office can also decline if they constantly keep texting during work hours. Therefore, smartphone spying is important for vigilant parents and employers.
Can Smartphones Be Hacked Remotely?
According to a PhoneWorld post by Saima Ibrahim, in the United States, 70% of teenagers use smartphones. Nowadays, hacking a smartphone is not that difficult. Gone are the days when only professional hackers and programmers used to hack someone's computer or phone. It is often deemed to be a tough task for a layman, but now it is doable for even a single mom without any technical or coding skills.
Since many hacking apps are available on Google Play, according to Audroidauthority.com, most of them involve in breaking Google's Play store policies. This is the reason many spy apps are only available in APK format.
Undoubtedly, over the past few years, many apps have been designed by professionals to help parents to ensure the safety of their loved ones. Due to the ever-increasing demand for spying smartphones, a plethora of apps have emerged in the market. A few of these apps are listed below:
AndroRat
DroidSheep
Hackode
Network Mapper
zAnti
For example, AndroRat is a free app for remote administration of Android phones. On a targeted device, the app allows seeing call logs, MMS, SMS, and phone calls. However, the app is only designed for Android and has no benefit or use for an iOS device. This means that you can buy or download a variety of apps that pose to work; however, XNSPY is the best smartphone hacking app ever developed for someone with no coding background.
Let us show you how.
XNSPY
Many parents wonder how they can safeguard their children in the digital realm. The only sensible approach that comes to mind is to remotely oversee what their kids do on their phones. XNSPY is just the right tool for parents to monitor the iOS and Android devices of their kids.
XNSPY app comes with 40+ features to keep an eye on your kids' digital activities and screen times. For instance, the best thing you can do with XNSPY is to hack your teenager's Android phone. The app allows hacking phone calls, text messages, videos, and photos on their smartphones. Moreover, you can also hack and monitor all social media accounts using the XNSPY app.
XNSPY works invisibly on a phone. This means that there is no way for your child to know about their smartphone being hacked. So the kids would never be suspicious that all their activities are being monitored.
XNSPY is a smartphone call and text monitoring software that offers discreet spying. Whether your child is using iPhone 12 or a Galaxy Note20, you can hack their phone calls simply by remotely installing XNSPY.
How To Hack Your Child's Phone With Xnspy  
Getting started with XNSPY is extremely simple. It is deemed as the easiest and cheapest way to hack your kids' smartphones. XNSPY is 100% secure and a legitimate app and offers interesting features never seen before on any other hacking app. This means you can hack any Android or iOS phone in your kid's possession without them knowing.
In 2020, XNSPY is the most demanded and popular cell phone spying app among parents around the world. The app is compatible with both Android and iOS. Getting starting isn't all that complicated, click the "Buy Now" tab and choose a basic or premium package to install XNSPY instantly.
You will receive an email after you subscribe to XNSPY. Open that email, and you will find all the instructions to download and install the app on a target device. You will also have access to a web-based account to monitor all the activities on your kid's phone.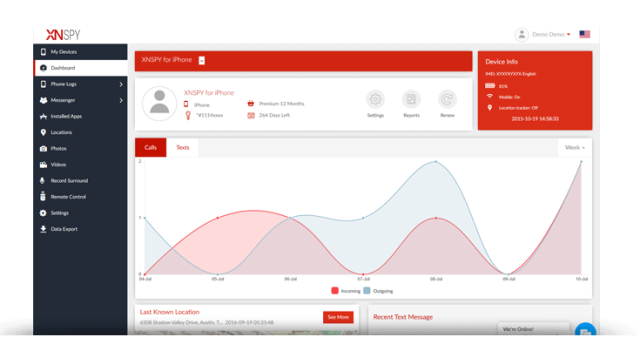 From an easy-to-navigate dashboard, the choices are straightforward and open for you to monitor any activity on your kid's Smartphone. For example, if you want to check their text messages, simply click the "Phone log" menu and click "Text messages."
Once hacked, your kid's Android or iOS device will allow you access to any information including:
Monitor messages and call logs
Read emails
Track GPS location
Monitor social media accounts
Record phone calls
Access multimedia and videos'
Remote control of the targeted device
Wi-Fi Network log
View Internet history and know browsing behavior of kids
The above features demonstrate that XNSPY is an intuitive app that fulfills the purpose of hacking or spying on your kid's phone. It works quietly in the background and does not interfere with your child's iPhone or Android. Unlike other hacking apps, XNSPY never stops an ongoing activity on the targeted phone. However, choosing any other app may require 3 to 5 minutes to launch on your kid's phone.
On a non-jailbreak device, XNSPY does not require any installation. For those parents who want hassle-free monitoring of their kids' smartphones, XNSPY serves as the best alternative that offers strict monitoring of every activity on your child's phone.
The Bottom Line
Now that you have learned about the best Smartphone hacking app for hacking your kid's Android or iOS phone, don't waste your time on useless apps available on the Internet. All hacking apps come with fewer features offered by XNSPY. Therefore, XNSPY reviews on dozens of websites show that it is the only smartphone hacking app that goes way beyond parent's expectations to safeguard their kids' lives. Go with the best hacking app and experience peace of mind.
RELATED POSTS