In this post, we will show you an infographic depicting 9 Shocking Cybersecurity Statistics.
Although cybersecurity is man's greatest threat, it is fast becoming a tool that is shaping our life and future. Hence, we can no longer ignore the resultant effect of cybersecurity in our lives. 
A prominent example of the effect of cybersecurity relating to our daily lives brings to mind Edward Snowden's revelations of how the privacy of human lives is being compromised on a large scale by the government.
Here are nine shocking cybersecurity statistics that are sure to get concerned about cybersecurity issues
1. Attackers had access to more than 1.7 billion records in January 2020 (IT Governance)
Parts of the records accessed by the attackers in January include almost a billion usernames and passwords, over 850GB data leaks, etc.
CHECK OUT: Best Antivirus For 2023
2. 85% of emails sent in March 2020 were spam mails (Talos Intelligence)
It is a known fact that most phishing attempts come through spam mails. Hence, most spam emails are likely to contain infected download links or links to a counterfeit website.
3. Cybercrime is becoming more popular than the illegal drug trade (Cybercrime Magazine)
Cybercrime is fast becoming more profitable than the illegal drug trade. Estimates that over $6 trillion would be lost to cybercriminals by the end of the year 2021.
4. Hacking, phishing, and malware attacks are responsible for data loss in 2019 (Verizon)
Hacking is responsible for 52% data loss, phishing is responsible for 32% data loss, and 28% of data loss is as a result of malware infection. 71% of the Phishing attacks were financially motivated.
5. Cyberattack takes place every 39 seconds (University of Maryland)
A study conducted by Michel Cukier, an assistant professor of mechanical engineering, shows that hackers are continually trying to hack into accounts using 'brute force' once every 39 seconds.
READ ALSO: 20 Best Cybersecurity Memes That Will Make You LOL
6. Revenue from cybersecurity services will exceed $1trillion by the end of the year 2021 (Cybercrime Magazine) 
Cybersecurity ventures predict that spending on cybersecurity products and services will exceed $1trillion by the end of 2021 from $120 billion in 2017.
7. Artificial intelligence plays a vital role in cyber defense and attacks (Forbes Magazine)
While AI is useful for defense in cyberwars, it is also deployed by hackers and cybercriminals as a means of hacking and stealing information. According to Forbes Magazine, 'the race is between hackers, crackers, phishers, data thieves, and cybersecurity experts.'
8. Cloud security will be the organizations greatest cybersecurity challenge (IEEE Computer Society)
Organizations make use of cloud services to store data and sensitive information. Therefore, cloud services will be a significant focus for malicious attacks, data breach, DDoS attacks, and other cloud security threats. 
This has led to massive investment in cloud security by major cloud companies like Microsoft, Google, and Amazon.
CHECK OUT: Best VPN For 2023
9. Attackers will explore known vulnerabilities in attacks (Trend Micro)
Most attacks taking place will rely on known methods of attacks such as phishing, malware attacks, DDoS, etc. Hence, individuals and organizations should focus more on shielding themselves and businesses from known means of cybersecurity attacks.
Other cybersecurity examples you might relate easily with is the rising levels of attacks against individuals and organizations for financial gain.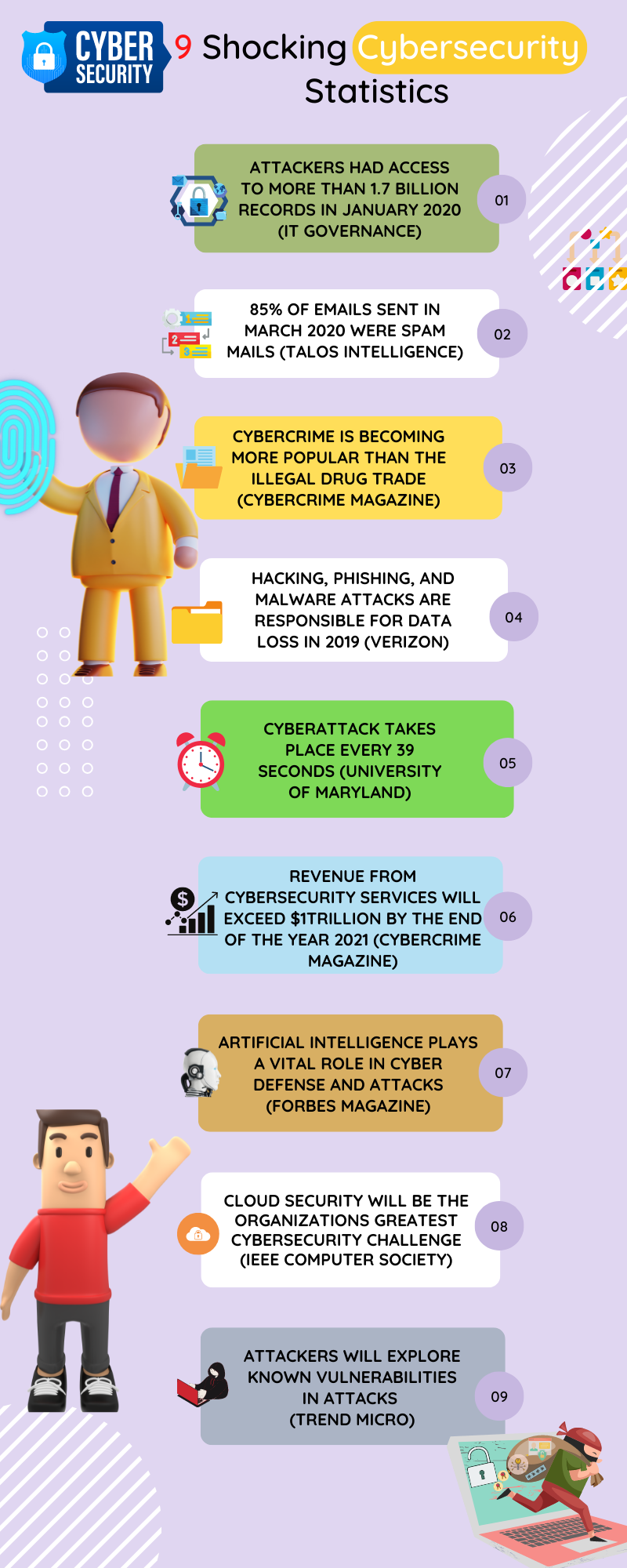 ---
SUGGESTED READS