In this uMobix review, I will talk about its features, pros and cons, and the best uMobix alternatives.
Parents cant really monitor what their kids are doing online; hence modern parents rely on tracking apps to keep an eye on their children's activities online.
There are many child-tracking apps that will help parents keep an eye on their child's online activities; However, uMobix stands out as a preferred mobile child-tracking app. With uMobix, you can monitor your child's phone right from your dashboard. 
As a parent, I have spent time testing this app; hence, this uMobix review will cover everything you need to know about uMobix: my preferred parental monitoring app.
What Is uMobix?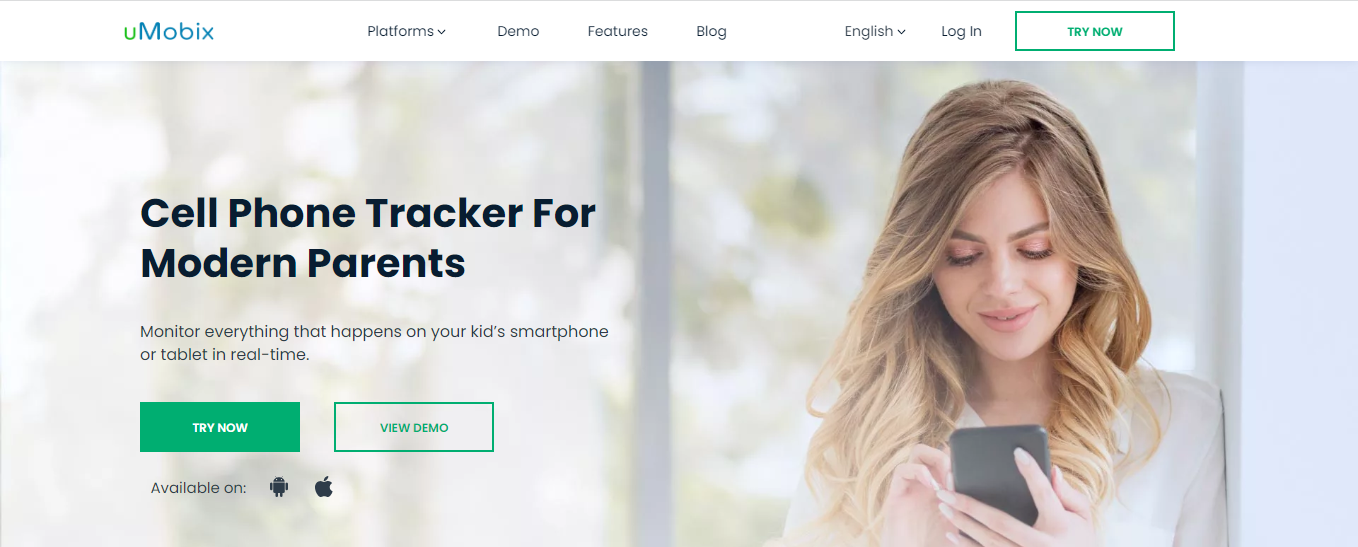 uMobix is a parental control app for Android and iOS devices that lets you keep an eye on your Kid (s).
With uMobix; you can monitor your Kid's calls, read incoming and outgoing mails, delete unwanted apps, regulate screen time, monitor his/her location in real time, and do much more.
4 Best uMobix Alternatives
Qustodio is a highly-customizable parental control app that supports several platforms, including Mac and Windows OS.
Unlike uMobix, Quistodio offers more flexible subscription plans and packages. Not to mention, it offers similar social media tracking functionalities when compared with uMobix.
===>> Get Qustodio
Kaspersky Safe Kid is a worthy uMobix alternative known for its reliability. Aside from monitoring your child's online activities, you can blacklist apps, websites, and unhealthy search requests, as well as manage your Kid's screen time and battery. 
However, It does not provide as much coverage as uMobix in terms of monitoring your Kid's activities on social media platforms.
===>> Get Kaspersky Safe Kid
One of the best uMobix alternatives is the Wondershare FamiSafe app.
In addition to other parental control features that let you monitor your Kid's activities online, you can view your Kid's present location and places he/she has visited and even set up a geofence to alert you if your child is going out of the geofenced area.
However, FamiSafe offers more expensive plans and pricing than uMobix.
===>> Get FamiSafe
ESET Parental Control comes as a package in the ESET antivirus suite. Like uMobix, it monitors your Kid's online activities, geolocation, and the content your Kid is viewing on his/her device. Like uMobix, ESET parental control is affordable and easy to set up. 
However, unlike uMobix, it doesn't offer much social media coverage; hence it is not easy monitoring your Kid's social activities using ESET Parental Control.
===>> Get ESET Parental Control
uMobix Review: How To Install And Set Up uMobix
Installing uMobix for Android and iOS devices require different approaches. However, you need to create a uMobix account by subscribing to a uMobix plan. In the process, you will have to specify your Kid's device type (Android or iOS). After completing your account setup, you will receive your uMobix login details in your registered email.
Installing on iPhone
Installing uMobix on your Kid's iPhone does not require you to have physical access to the iPhone; if you have chosen iPhone during your account setup, all you need to do is provide your Kid's iCloud credentials for remote installation, and uMobix will be remotely installed on your Kid's iOS device; All other settings will be done from your uMobix subscription account. 
Installing uMobix on Android devices
Installing uMobix on your Kid's Android device requires physical access to the device. After gaining access to your Kid's device, go to the device's settings, click on 'Security,' and toggle on the 'Install App from untrusted sources' button, head back to the Google Playstore, download, and install uMobix on your Kid's Android device. Remember to revert the device back to its default security state.
After completing the installation process, log in to your uMobix account on your Kid's Android device and grant permissions such as permitting uMobix's key logger, screen recording, call log, and location monitoring features. 
A unique feature of uMobix is its stealth mode; after installation,uMobix deletes its app icon from your Kid's device desktop, disguises itself with the name 'Play Services,' and uses an icon similar to Google's Play services to prevent detection. 
A screencast icon is displayed at the top-right of the screen while uMobix is active; this can be a source of concern if your Kid is tech-savvy and you've not discussed the option of monitoring him/her at the onset.  
Installing the uMobix parental control app by following the installation guide is a smooth process that can be completed in less than 5 minutes without any assistance. I was impressed at how easy it was; I love it, and you would love it too.
Umobix Key Features
 
User-friendly Interface 
uMobix has a user-friendly interface with well-laid icons for easy monitoring and parental control. Key information such as your Kid's location and places visited is given priority display at the top of your dashboard because of their importance in locating your Kid's whereabouts.
More information like frequently called numbers, last contacts added, frequently used apps, and screen time become visible as you scroll down.
Browser History
The browser history section gives you access to websites visited by your kids. Under this setting, you can blacklist any visited site you consider unhealthy for your Kid.
Keylogger
uMobix's keylogger remotely logs texts from your Kid's device and the app from which the texts are sent. This lets you monitor text messages sent via SMS, email, Whatsapp, Facebook, and other platforms.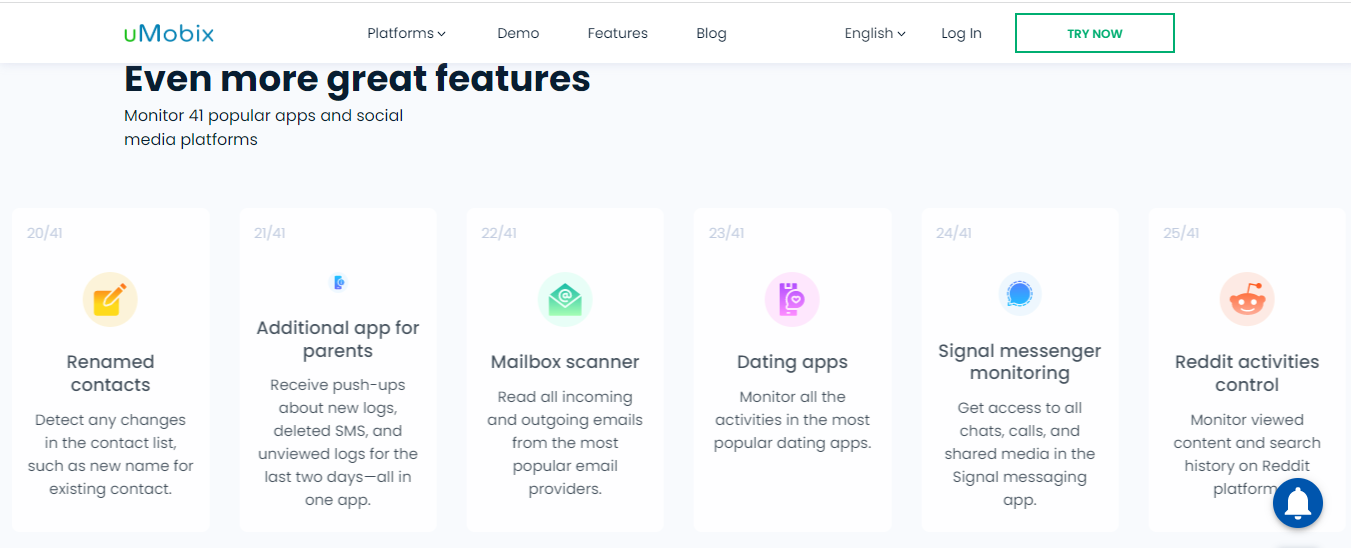 WiFi Monitor
The WiFi feature lets you monitor the WiFi networks your Kid connects to right from your dashboard and gives you the option of remotely blocking any unsecured WiFi network in your Kid's WiFi connection list.
Video Call Tracking 
uMobix's video call tracking records ongoing video calls on your Kid's device by taking screenshots and screen recordings. These screenshots are stored in the video monitoring folder on the left side of your dashboard.
Social Apps Tracking
uMobix tracks your Kid's activities on social media platforms like Facebook, Instagram, Youtube, Twitter, Tinder, etc., by logging messages sent, viewed profiles, comments made, people followed, pages liked, etc.
Application Activity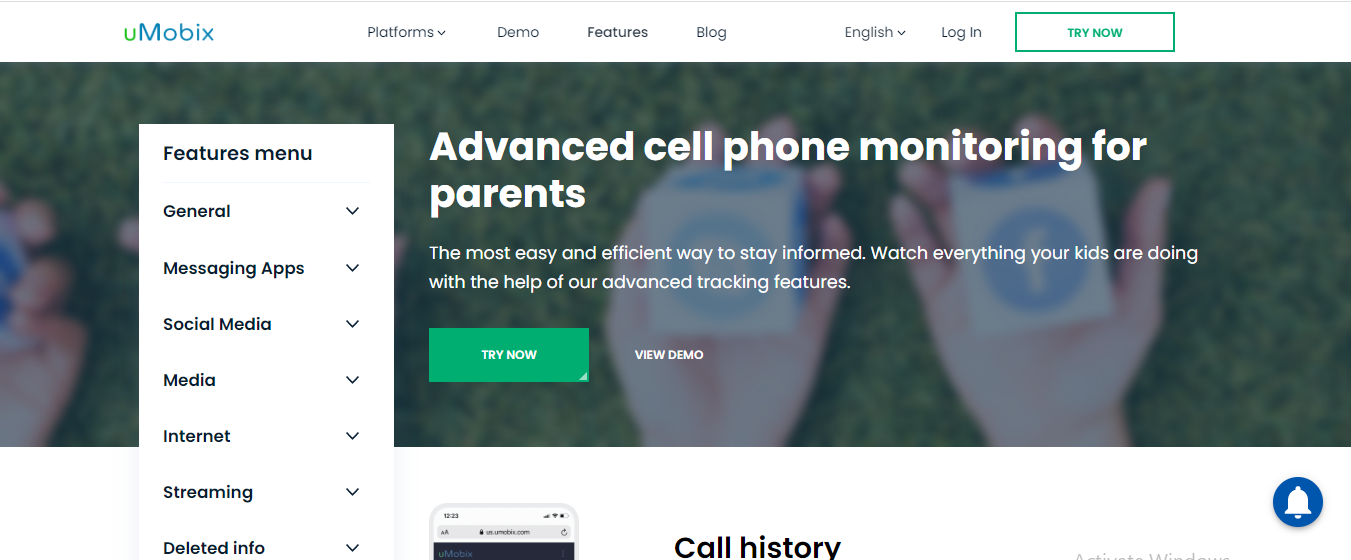 Here, you can view all installed apps with the option of disabling or uninstalling any app you consider unhealthy or harmful right from your dashboard.
It is worthy to note that uMobix works only when the internet is turned on on your Kid's device; hence, you cannot monitor your Kid using uMobix if your Kid has his/her device's internet connection turned off.
Overall, I was impressed with the fact that I can monitor my Kid closely with the uMobix parental control app; the amount of information it is logging from my Kid's device while working on this uMobix review.
Above all, I can tell exactly where my Kid is, places visited, websites visited, and apps presently in use; that's a lot more information than what I thought I would get.
uMobix Pricing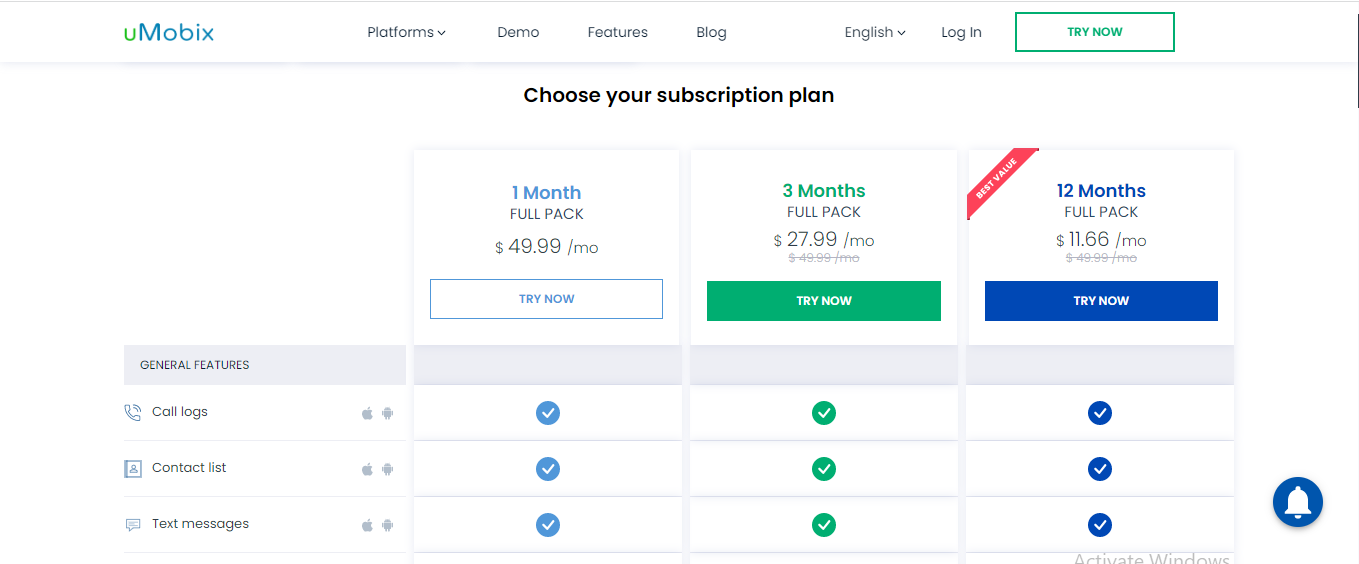 uMobix offers three subscription plans:
Monthly subscription: $49.99

3-month subscription: $27.99 per month

One-Year Subscription: $11.66 per month
You will need to provide your email address and choose the type of device you want to monitor to view available subscription packages.
uMobix Pros and Cons
Pros
Fast and simple setup 

User-friendly interface 

customizable reporting

remote installation for iOS devices

flexible management 

affordable plans

LiveChat support available

Excellent demo
Cons
No free plan

Does not have a call recording features

A subscription works for only one device; hence you will need multiple subscriptions for multiple devices.
How To Deactivate uMobix
When it's time to stop monitoring your Kid, deactivating uMobix on your Kid's device wouldn't be a big deal, the following steps will walk you through how to deactivate uMobix.
Go to 'Settings'>>> 'Accessibilbility >>> 'Downloaded apps'>>> Play services

Toggle on the 'Stop tracking' option to deactivate uMobix.

On your dashboard, go to settings, tap on your name icon at the top-right of your screen and select 'Unlink' to unlink your Kid's device.
A Final Word On The uMobix Review
To wrap up this uMobix review, I will say that uMobix gives you complete control over your Kid's online activities and monitors your Kid's location in real-time. However, I would like to see uMobix add more features, introduce more flexible plans, and support more devices from a single account for parents with more than one Kid.
Overall, uMobix performed excellently well, with all features working perfectly. Therefore, I will recommend uMobix Parental control as one of the best parental control apps for keeping an eye on your Kid.
Alternatively, you can consider other best uMobix alternatives like Qustodio, Kaspersky Safe Kids, FamiSafe, and ESET Parental Control.
---
INTERESTING POSTS