Read on for the Kytephone parental control review.
Kytephone made parenting easier by allowing parents to control their kids' phones. Parents can control access to apps, edit the contacts on their kids' phones, edit images, and monitor their kids' location via GPS.
Once Kytephone is installed, it automatically launches in parent mode, allowing you to configure it, after which it now switches to kids mode. An attempt to exit Kid Mode, shut down the app, or tweak it will require a password. Also, the app runs automatically once the kid's phone is powered on. Therefore, kids have no control over Kytephone's activities on their phones.
With Kytephone, you could monitor and control your child's activities, including time spent gaming; however, the best feature of Kytephone is it is tamperproof; therefore, your child cant mess around with the settings or exit the app except if your kid is a blackhat hacker.
What Is Kytephone?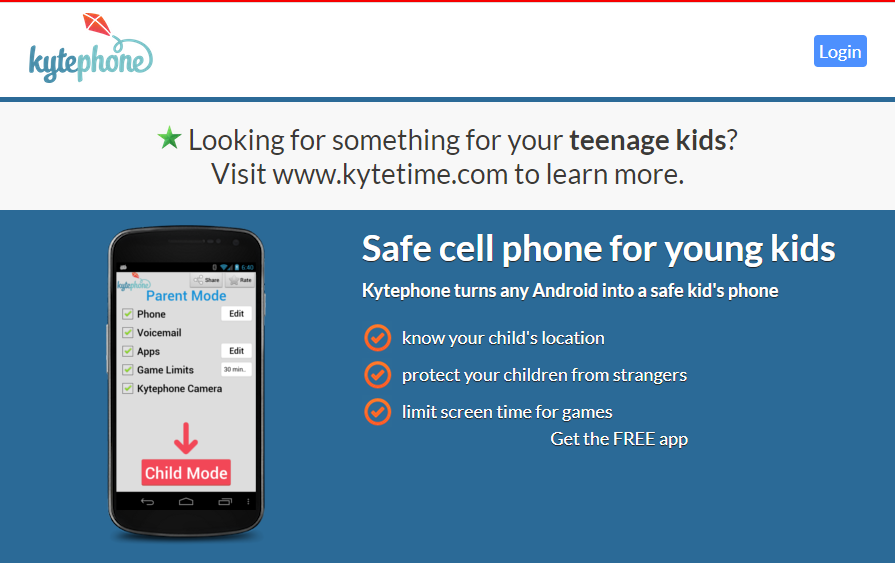 Kytephone was a parental control app that gives you total control of your kids' activities on smartphones (worked only on Android devices).
Kytephone was a simple app much loved by parents and kids; regrettably, Kytephone shut down its operations on August 12, 2014. Parents who signed up for Kytephone got an unlock code to get their kids' phones out of 'Kid Mode' because passwords were deactivated after shutting down its operations.
With Kytephone installed on your kid's device, you can monitor and control what calls your kids can make or receive, the games they can play, how long they can play, the websites they can visit, the apps they can use, and also see their location in real-time from your web dashboard.
How To Set Up Kytephone
Setting up Kytephone starts with creating an account using their web version and validating your email address.
Downloading and installing Kytephone on your kid's app is a no-brainer; after the installation is completed, the app automatically launches in parent mode, allowing you to configure, add and remove apps and contacts.
Once you're done configuring Kytephone in parental mode, the app restarts in kid's mode; any attempt to change the settings or uninstall the app will require a password. Also, an attempt to shut down the app by restarting the device will launch Kytephone automatically; therefore, kids have no control over the app.
Kytephone Features
Kytephone's GPS feature lets you monitor your child's location via Kytephone's web interface. From your dashboard, you can view your child's location in real-time on Google map. This is a useful feature for monitoring your kid's location anytime.
Adding and deleting contacts
Right from the web interface, you can add, edit, or delete contacts on your child's Android device. You can whitelist or blacklist a contact or group of contacts on your kid's device, easily controlling who has access to your kid via call or text.
right from your dashboard, you have access to apps installed on your kid's device. You can select what app to display on your kid's device as well as limit the amount of time your kid spends on each app. For example, you can limit the amount of time your kids spend playing Pokemon Go to 2 hours daily; that's a fair deal.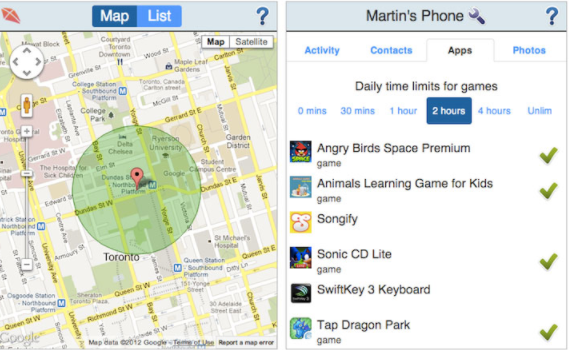 I find this feature amusing, though extremely useful. Imagine being able to view pictures taken with your kid's phone right on your device, what game your kid is playing, or who he is talking with. This feature lets you monitor your kid's activities in real-time.
This app is useful for monitoring kids from 5 to 12 years. As your kid gets older, you can relax the restrictions gradually. As you do this, the app's interface gets upgraded to suit the restriction levels. Kytephone has series of interfaces adapted to suit different age ranges, making it look more appealing to your kid as he/she matures.
In as much as Kytephone is a parental control app loved by parents, it is only available for android users. Therefore, parents intending to use Kytephone were forced to get android devices for their kids. Hopefully, if Kytephone were to make a comeback, I guess they will be available on multiple OS platforms.
Wrapping Up The Kytephone Parental Control Review
There are other parental control apps as great as Kytephone, although they come at a premium, you're sure of getting premium services that give you total control of your kid's activities and his/her location.
Recommended parental control apps you should consider subscribing to include:
OurPact
Screen Time
MMGuardian
---
INTERESTING POSTS