This article is a comprehensive ProtonMail review, an email service with end-to-end encryption.
ProtonMail was established to address the growing privacy and security issues associated with some of the largest email services providers, which revolve around data privacy and violations, data mining for advert-related uses, and access to unencrypted email messages.
Without further ado, let's get started with the ProtonMail review.
What Is ProtonMail?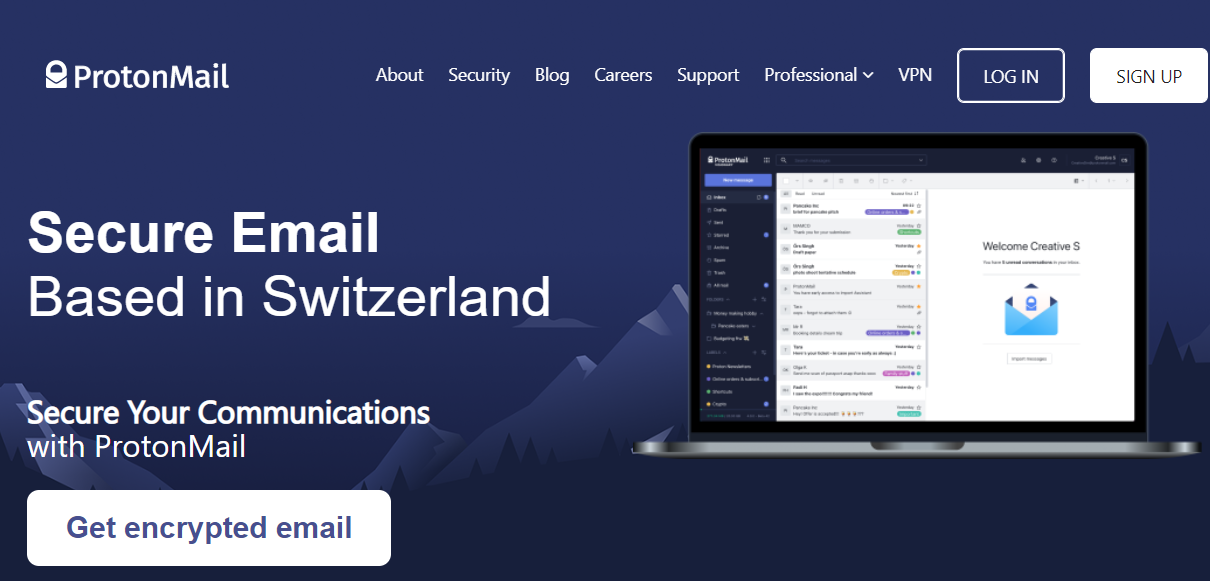 ProtonMail is a secure, end-to-encrypted email services provider established in Switzerland in 2014 by scientists who met at the European Center for Nuclear Research (CERN). It was established out of the need to protect journalists and activists who are usually government targets due to access to secured or classified information.
Creating an account with ProtonMail is easy and can be done in 2 minutes or less. In less than 3 minutes, our technical team had created a ProtonMail account, all you need is a username and a password to create an anonymous email account. Providing a recovery address is optional, but it always comes in handy for password recovery. 
If you're connected to a VPN service or Tor, ProtonMail might require you to go through a verification process. For paid users, you can pay for premium ProtonMail services using anonymous payment methods, including cryptocurrencies.
==>> Get ProtonMail
The Benefits Of ProtonMail
ProtonMail provides end-to-end encryption for email messages, calendars, and contacts. 

It is domiciled in Switzerland, a country with strict privacy and data protection policy

All data are stored in secured, underground facilities in Switzerland

You can import emails and contacts from other email services providers like Gmail, Yahoo, MSN, etc. to ProtonMail

sent email messages are untraceable because ProtonMail strips off IP addresses from emails.

You can send secure messages to non-ProtonMail users.

You can send self-destructing messages with ProtonMail
ProtonMail Features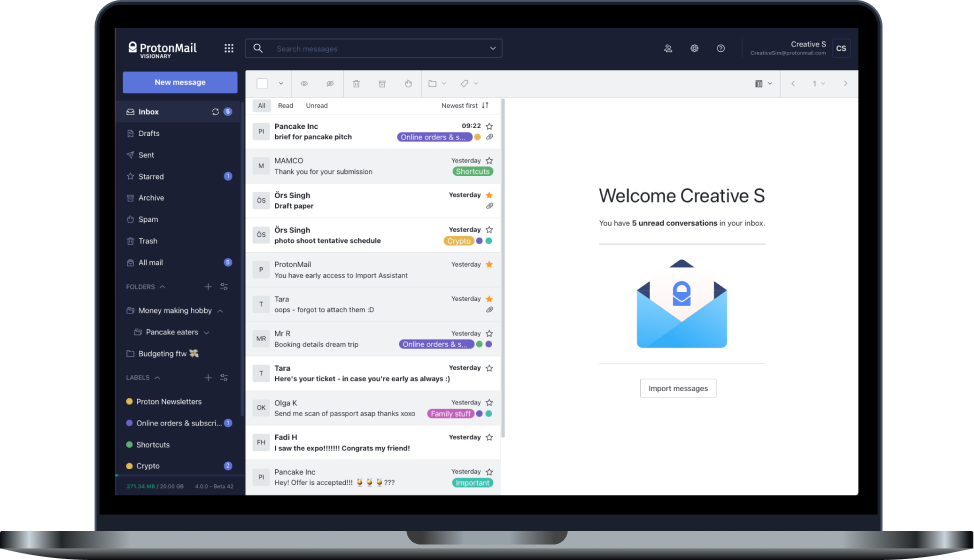 Data Privacy and security
Users' information and messages are secured by Swiss's data and privacy policy which does not permit unlawful data retention activities by digital services providers. Therefore, ProtonMail collects only the data needed to render excellent services to their clients. 
Also, ProtonMail servers are housed in the most secure facilities in the world: abandoned military base 1000meters below ground. This provides the physical security needed to secure users' data.
End-to-end Encryption 
End-to-end encryption means your email messages cannot be intercepted mid-way by hackers, spies, and government agencies. 
In the unlikely event that there's a court order for ProtonMail to hand over clients' email, data residing on ProtonMail servers are encrypted; hence there's no way for such concerned messages to be un-encrypted without the user's encryption keys.
Encryption protocols used by ProtonMail include AES, RSA, TLS, DHE RSA, and SHA 3 encryption protocols, along with OpenPGPjs algorithms.
Self-destruct emails
Clients can send self-destructing messages to both ProtonMail and non-ProtonMail users to prevent sensitive messages from falling into the wrong hands. Self-destruct messages get deleted automatically after a set time interval, after which the recipient can no longer access such messages. This is a feature not available with non-secure email service providers. 
No ads
ProtonMail is an email service dedicated to privacy; hence, it does not collect data from users or serve its users with tailor-made ads. If seeing ads is annoying enough, or you worry about data collection, ProtonMail neither mines users' data nor serves ads.
Calendar & Drive
ProtonMail features a calendar and Drive. An encrypted Calendar encrypts your upcoming events and logs, while Drive provides additional cloud storage. However, the ProtonMail Drive feature is available for premium users only.
ProtonMail Interface
ProtonMail has an attractive and user-friendly interface. Like Google mail, you can customize the look and feel of your inbox by choosing a desirable email template and layout and even change icon sizes. Therefore, you can customize the look and feel of your inbox without compromising your security. 
Advanced Search
With ProtonMail's quick filter, you can search for keywords, addresses, dates, etc., in your inbox. This makes ProtonMail easier to use, much like other non-encrypted email service providers.
Keyboard shortcuts
Keyboard shortcuts give ProtonMail a high degree of flexibility and accessibility. You can open messages, save drafts, send messages, etc., quickly. However, you will need to create custom keys to enjoy ProtonMail's keyboard shortcuts.
2FA
Two-factor authentication gives you an additional layer of protection for your email. Attempting to log into your email on a new device will require you to provide a 2FA pin to ensure your email address has not fallen into the wrong hands.
Proton Bridge free migration tool
ProtonMail makes it easy to migrate your email inbox from other email services providers. Using the Proton Bridge, you can migrate your inbox from Gmail, Yahoo, MSN, etc., to ProtonMail without losing a message.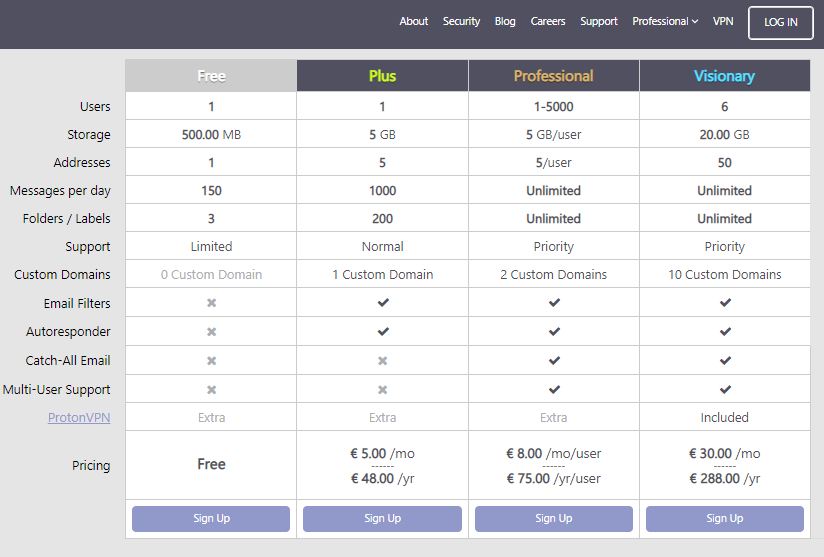 Free 
This plan limits users' inbox storage to 500MB and daily messages capped at 150.
Plus 
This plan offers users 5GB storage, with daily messages capped at 1000 messages per day, a custom domain, and 5 Email addresses.
Price: € 5.00/month, €48 per year
Professional
This plan can accommodate up to 5000 users, and it is the best plan for businesses. Like the Plus Plan, users enjoy 5GB storage per user and 5 user addresses with unlimited storage.
Price: €8 per month, €75 per year
Visionary 
Visionary allows 6 users and access to 20GB of storage for each user. Users also enjoy unlimited messages daily, with 50 addresses and 10 custom domains. This plan also gives you access to free, premium VPN services.
Price: €30 per month, €288 per year.
==>> Get ProtonMail
Customer Support 
Customer support is integrated with the ProtonMail inbox. ProtonMail has a rich FAQ page, contact form, and email support handles. Their support teams have a fast response time and are friendly.
Conclusion Of The ProtonMail Review
ProtonMail remains a leading encrypted email services provider that keeps communication and data secure from third-party interference. Aside from robust security measures, ProtonMail has attractive and customizable features that make it attractive for users who might find it challenging migrating from other email service providers.
What's your take on this ProtonMail review? Comment below.
==>> Get ProtonMail
---
INTERESTING POSTS