In this HotBot VPN review, we will examine its features, apps, pricing, etc. Read on…
HotBot is a VPN service that's marketed as a fast, easy way to unblock websites and protect your privacy online.
The company claims that this app can give you unrestricted access to all of your favorite sites, keep prying eyes out of your browsing history, and help you bypass geo-restrictions on streaming sites like Netflix and Hulu so you can enjoy them wherever you go.
Does HotBot live up to these high standards? Or is it just another gimmicky virtual private network with promises it can't keep? Let's take a closer look at this service and see if it's worth the time or money.
Keep reading this HotBot VPN review to discover if HotBot VPN is ideal for you.
What Is HotBot VPN?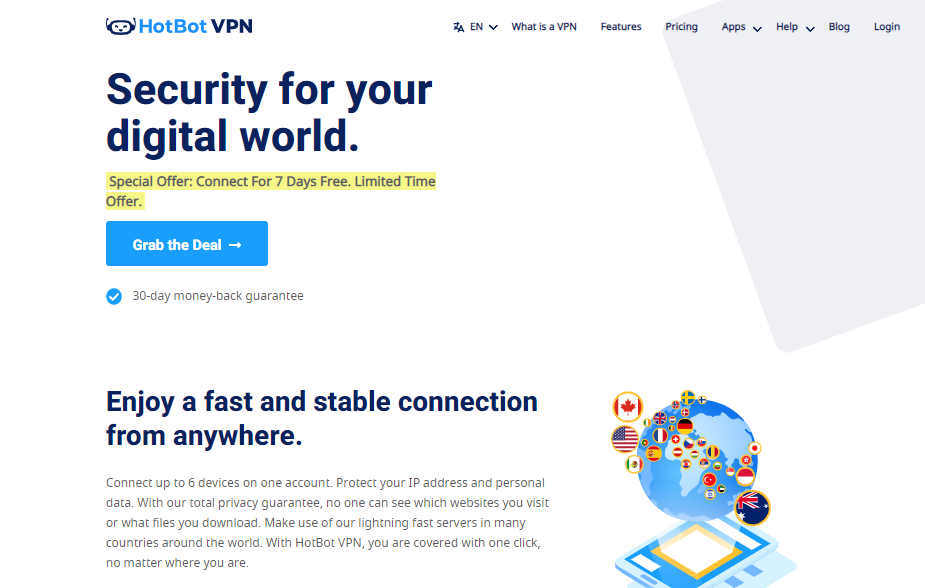 HotBot VPN is a VPN service provider that focuses on providing online privacy for its users through the use of its more than 2000 VPN servers (private networks) to make the internet a safer place.
HotBot wants you to browse the internet without worrying about hackers on your trail or third-party hackers collecting data about your device and browsing activities to serve you with tailored ads even when connected to unsafe WiFi networks.
Asides from making you safe and anonymous online and guaranteeing data safety and security, HotBot intends to become the number 1 VPN for streaming entertainment, news, or sports content from geo-blocked streaming platforms like Netflix, Disney+, ESPN, etc. and also become the first choice for safe torrenting at fast speeds.
That can be a reality if HotBot improves its unblocking abilities to compete favorably with top VPN providers.
==>> Get HotBot
How To Get Started With HotBot VPN
Visit the HotBot official website to select a plan. Selecting any HotBot VPN plan entitles you to a 7-day free trial and a 30-day moneyback guarantee, except for the monthly plan, which entitles you to a 7-day trial only.
Create a HotBot VPN account using your email and select a payment method
Fill in your payment details and 'Start Free Trial.'
Proceed to download the HotBot VPN app and log in with your account details.
HotBot Key Features
User interface
HotBot has a clean, simplistic, and user-friendly interface for all its apps. A centrally-placed connection button automatically connects you to the nearest and fastest server; beneath the large connect button is a connection status that displays information about the location and server you're connected to.
At the bottom of your home page lies the Home, Location, and Menu navigation tabs to navigate between the Home page, Server list, and Settings. The Menu tab gives you access to HotBot's VPN settings, where you can customize your VPN setup, and the 'Privacy" tab, where you can configure your Kill Switch and turn it on or off.
Overall, HotBot has a simple and less-cluttered interface that makes it easy to use even for everybody.
VPN protocol
HotBot uses the IKEv2 VPN protocol, one of the oldest, fastest VPN protocols in use. I was hoping that HotBot would offer a more advanced option that balances speed with security like the WireGuard VPN protocol, or a widely used OpenVPN protocol, both of which are presently the industry's standard.
Security
HotBot uses the military-grade AES-256 bit encryption protocol, which remains the best and strongest encryption protocol in use. This implies that no hacker, spy, ISP, or other unauthorized third parties can intercept and decrypt your data traffic while in transit, even when browsing unsecured public WiFi networks.
Speed and server networks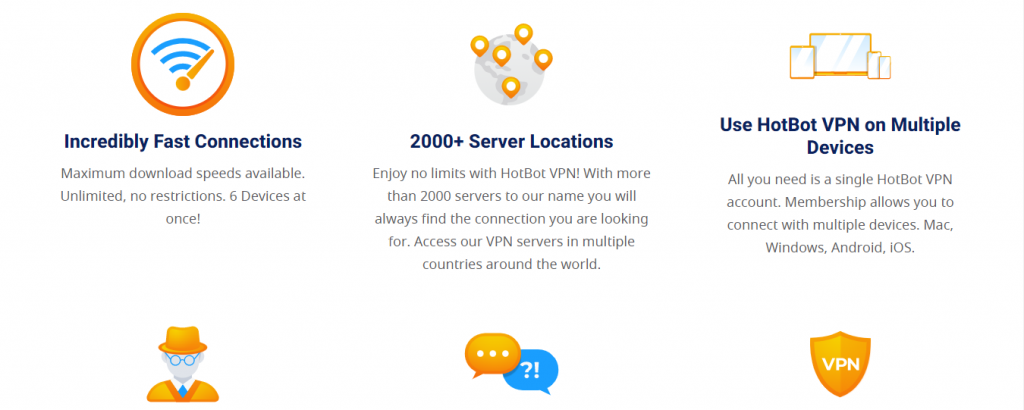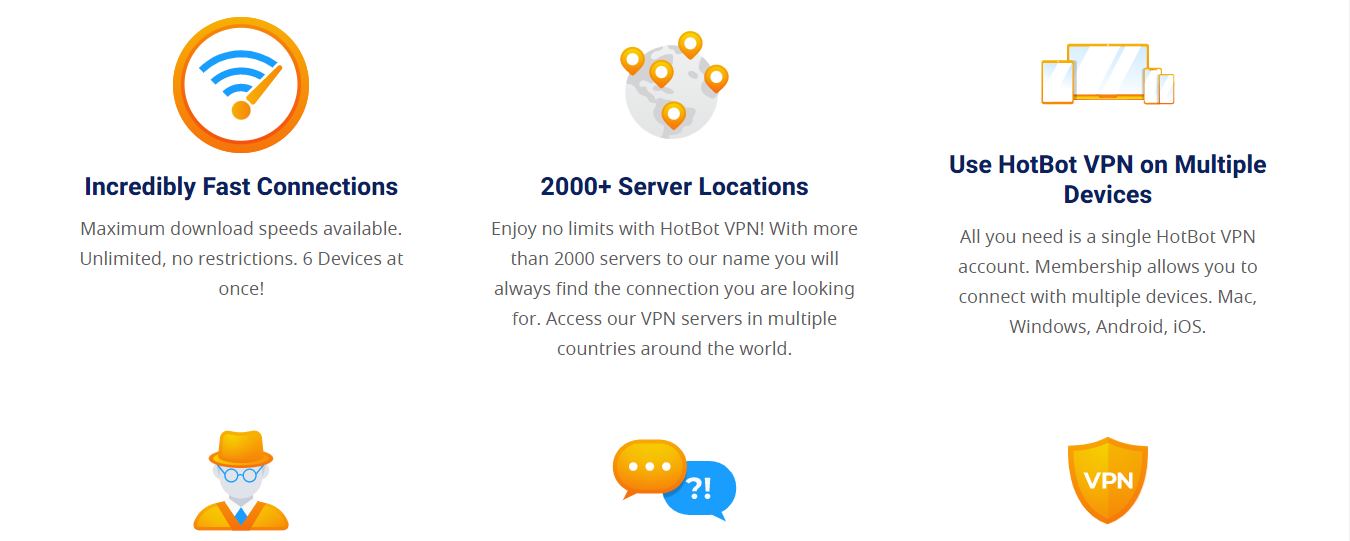 HotBot is a speedy VPN like Surfshark VPN. My speed test results were really impressive. I tested HotBot's servers in 3 countries: The US, UK, and Australia. Except for the Sydney server, which recorded over a 30% drop in speed, I had less than a 15% drop in speed for the US and UK servers.
Starting with a base download speed of 60Mbps, and 10ms ping, I recorded a download speed of 52Mbps and 25ms ping on the UK server, 56Mbps and 95ms ping on the US server, and 36Mbps and 307ms ping on the Australia server.
This result shows that HotBot has a decent enough speed to support fast download, streaming, torrenting, and gaming, although gaming with HotBot VPN on the Australian server may not be a fantastic experience due to the relatively high ping rate, as I admitted earlier, HotBot competes favorably well in terms of speed with top VPN providers.
When it comes to server coverage, having more than 2000 servers spread worldwide makes HotBot a VPN service with a moderate server network, but not enough to compete favorably with top VPN providers with more than 6000 servers in over 97 countries worldwide.
You're sure of connecting to a fast Hotbot VPN server wherever you are, but with a few exceptions like China, where VPN services are blocked by China's Great Firewall.
Streaming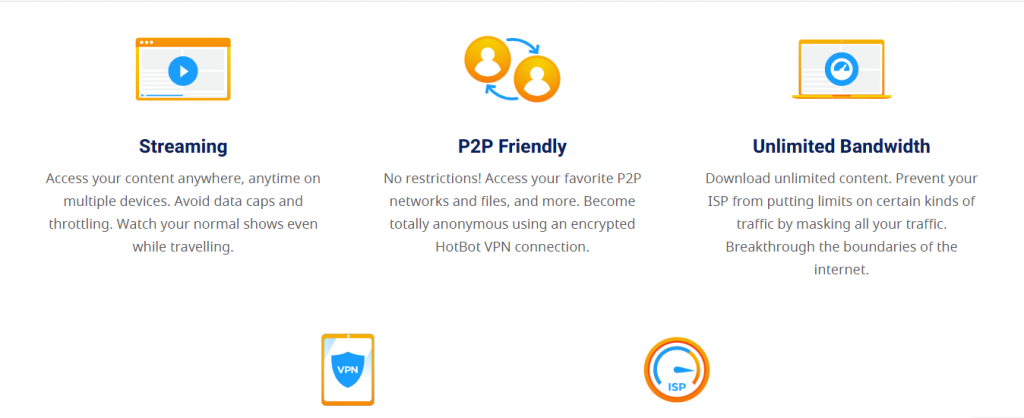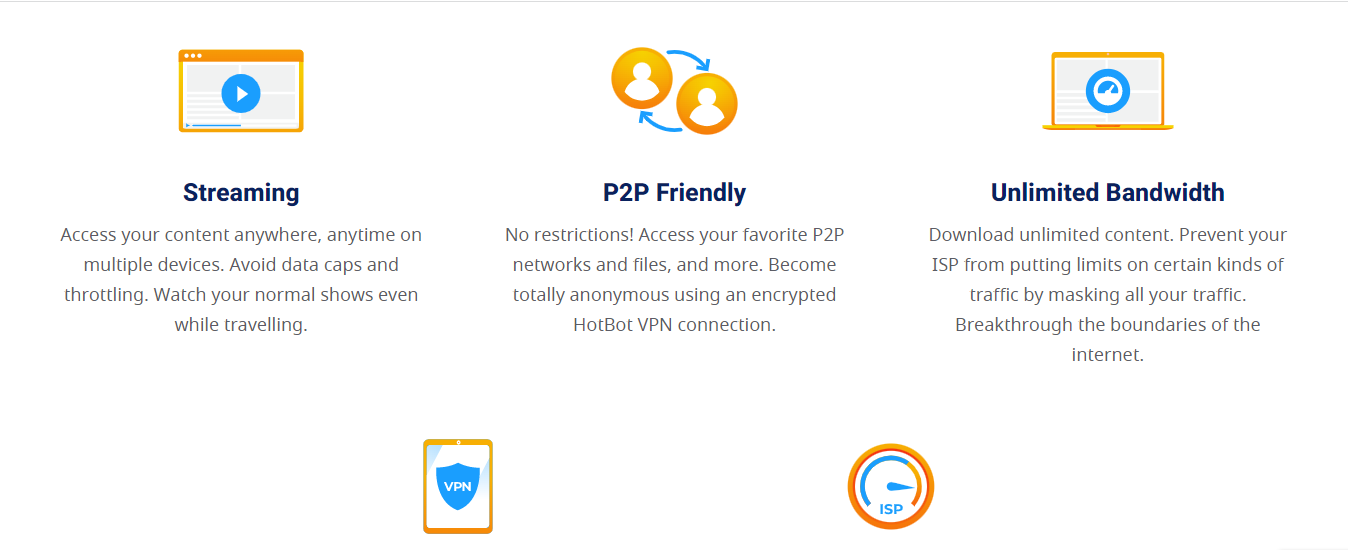 HotBot's streaming test result wasn't impressive. It can unblock popular streaming channels like Netflix US, Hulu, HBO Max, Peacock TV, and Disney+. Also, it unblocked Spotify, BBC iPlayer, Prime Video, Fubo, and other streaming channels, which serve perfectly as alternatives for much-loved streaming platforms.
Torrenting
HotBot is a good VPN for torrenting. Almost all HotBot's servers support torrenting; however, if you're torrenting over a HotBot server that does not support P2P, it will automatically reroute your data traffic to a Hotbot P2P-optimized server.
Overall, you can enjoy fast and secure P2P torrenting on HotBot servers.
Leakproof
My leak test came out negative. HotBot effectively blocked webRTC, DNS, and IPv6 leaks. Hence, no IP or location leaks was detected while connected to the internet over HotBot VPN.
Kill switch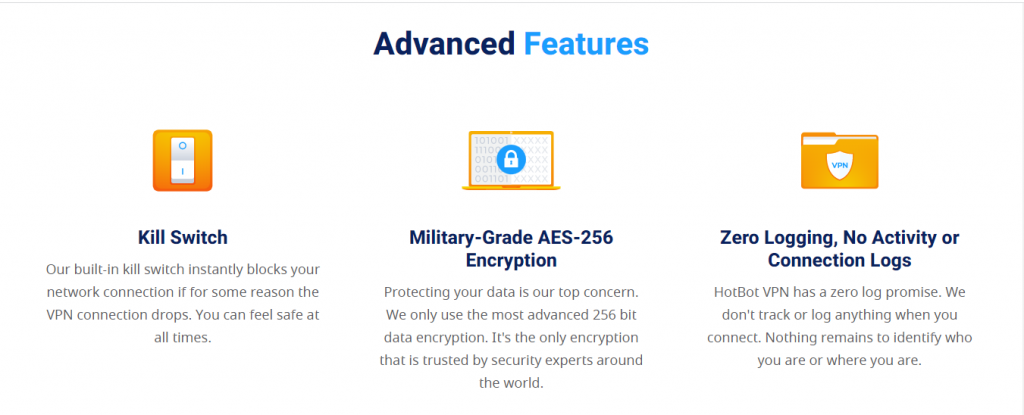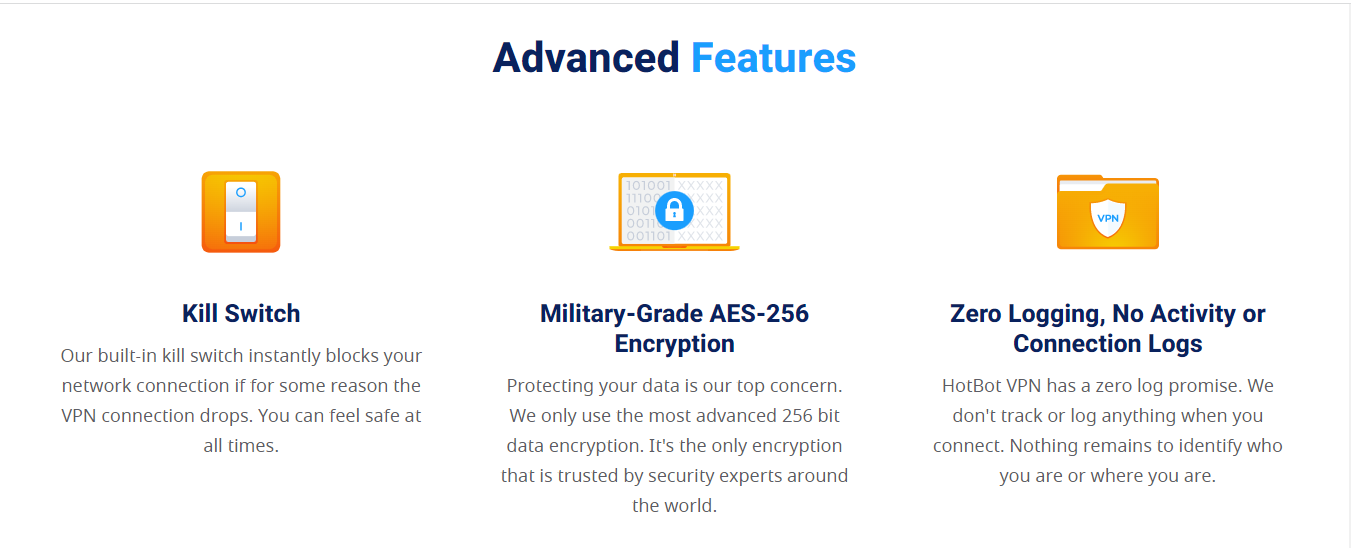 Interestingly, HotBot has Kill Switch for all its VPN apps. This means that your data traffic is protected from accidental data exposure over the unsecured internet by automatically cutting off your internet connection when your VPN connection trips off suddenly until your VPN connection is re-established. However, this feature is off by default; hence you have to turn it on manually under 'Privacy' settings accessible from the menu tab.
Simultaneous device connections
HotBot allows up to 6 simultaneous device connections to a single HotBot VPN subscription. This is fantastic, but I am disappointed as HotBot does not support routers. This means I cannot secure devices on my home or office network, and I have to install the HotBot VPN app manually on all devices, not exceeding six devices per subscription.
No-log policy
HotBot VPN operates a strict 'no-logs' policy. They do not collect your IP, location, browsing history, bandwidth, etc. However, HotBot collects diagnostics and performance data with your permission.
==>> Get HotBot
HotBot Apps
You can download HotBot apps for the following platforms and OS
HotBot VPN Customer Service and resources
You can connect to HotBot's 24/7customer services via the following channels:
Email support: help@hotbot.com
Ticket support
FAQs: HotBot's FAQ is quite helpful in addressing various customer complaints and issues by providing well-categorized FAQs, which include Troubleshooting, Connection, Account, Privacy, and Billing FAQs.
For this HotBot VPN review, I had to reach their support team through several channels. Although I got answers to my inquiries via email and ticket support channels in less than 12 hours, I would like to see HotBot introduce LiveChat and phone support for instant response.
HotBot VPN Pricing Plans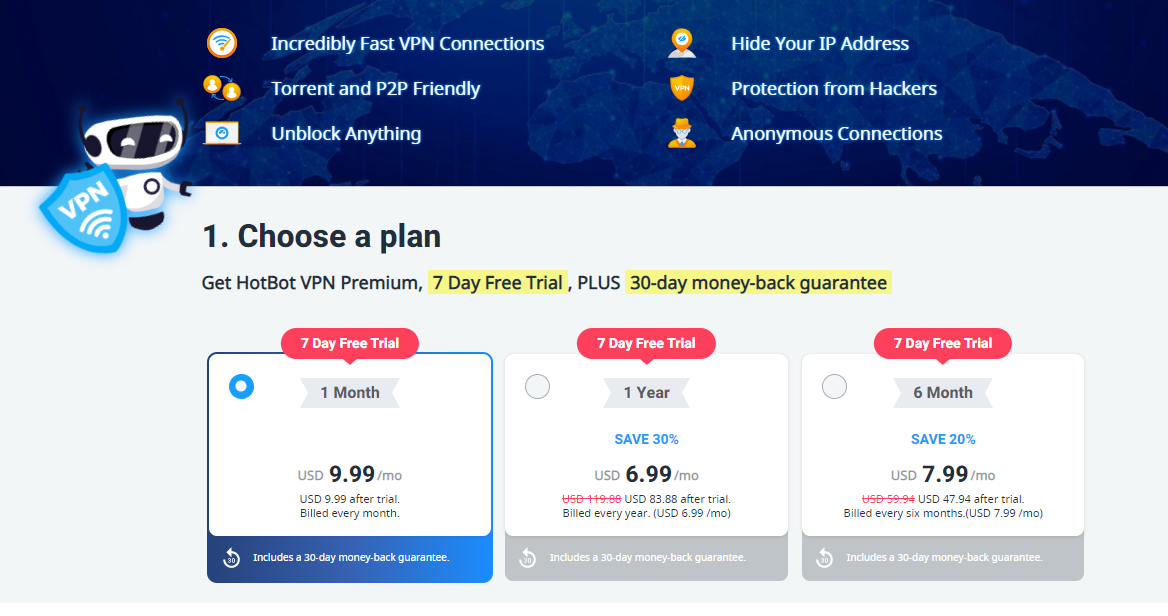 HotBot is relatively affordable compared with some of the top VPN providers. Its monthly plan costs $9.99 while its 6-month plan costs $47.94 at a monthly rate of $7.99, and its yearly subscription plan costs $83.88 per year at a monthly rate of $6.99.
Unlike other top VPN providers, HotBot does not have more flexible pricing options like the 2, or 3-year subscription plans. This means you have to make do with its yearly subscription plan, which is expensive compared with 2, or 3-year plans offered by other top VPN providers.
==>> Get HotBot
Is HotBot VPN Safe?
Yes, HotBot VPN is safe to use on all supported devices and platforms. HotBot uses the military-grade encryption protocol to protect users' data from unauthorized interception, and its kill switch prevents accidental data exposure.
It is a leakproof VPN service that ensures that your IP address and location are not leaked by any means possible while you're connected to its VPN network. Also, its no-log policy ensures that your online activity remains safe and protected even from law enforcement and unauthorized server hijacks.
A Final Word On The HotBot VPN Review
In conclusion, HotBot is a secure and speedy VPN service that guarantees total privacy and data protection while you're connected to any of its VPN servers.
Its simplistic user interface, leakproof feature, kill switch, multi-device connectivity, P2P support, many servers, and secured encryption protocol make HotBot a recommended VPN service. However, I will like to see HotBot improve its streaming ability.
What's your take on this HotBot VPN review?
==>> Get HotBot
---
INTERESTING POSTS