Read on as I show you how to organize your digital life with Desktop.com, an intuitive virtual desktop software.
Basically, virtual desktop software empowers employees to work from anywhere by providing them with a virtual desktop that they can access from any device. Users no longer have to be locked away in their offices or cubicles to get their work done.
With virtual desktops, employees can log in from home, the local coffee shop, or even on vacation, and still access all of their files and programs as if they were sitting at their desk.
Virtual desktops provide several benefits for businesses and their employees: They reduce IT management costs because there's no longer a need for servers or network equipment. They also improve employee productivity by removing roadblocks to accessing files and programs from anywhere.
This Desktop.com review explores the features and benefits of virtual desktop software so you can decide if it's right for your business.
What Is Desktop.com?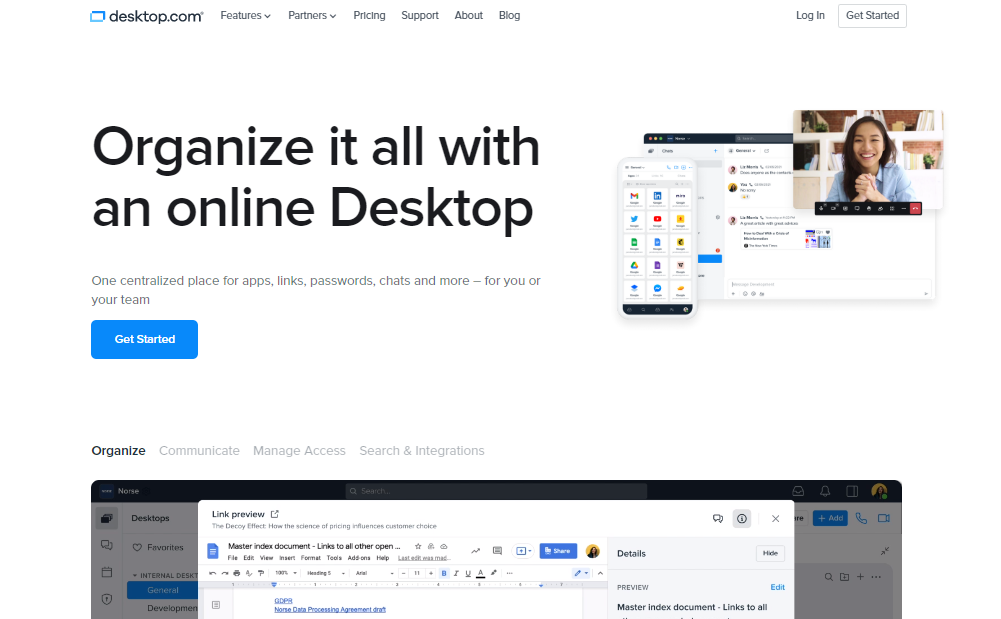 Desktop.com is essentially a cloud solution for remote work, workspace management, project collaborations and teamwork. It is a digital life organizer that integrates organization, resources, collaboration, and management as a cloud-based solution.
Desktop.com integrates essential tools and organizational features that include Password Manager, Identity Management, Multi-factor authentication, Chats, HD-quality video conferencing, and more.
To proceed with the Desktop.com review, let's show you its major benefits.
===>>> Get Desktop.com
What Are The Benefits Of Using Desktop.com?
As a remote solution for managing online resources, organizing digital life and collaborative efforts, individuals and teams can enjoy the following benefits and more from Desktop.com.
A healthy work-life balance is maintained by keeping your digital life organized. Your digital life and devices represent your virtual life and office where you spend most of your time as a remote worker. Hence, it is important to keep your digital workspace organized for increased productivity and efficiency. 
You may consider using Desktop.com to clear all digital clutter from your digital workspace, and organize your apps, tools, projects, and teams on your device and browser for easy access. In the process, you can achieve a high organizational standard and efficiency that guarantees productivity. 
Stay on the same page with your team
Teamwork improves productivity and guarantees success. Using Desktop.com to create multiple workspaces—each with its customized desktop—allows users to stay in tune with team members and monitor projects based on categories or groups.
More so, Desktop.com's integrated chat and HD-quality video conferencing features are invaluable tools that guarantee seamless communication and collaboration for increased efficiency.
Onboard and offboard members for workspace or desktops
As an admin, you can use Desktop.com's friendly access control to add or remove team members from projects, workspaces, or desktops. This ensures that an added team member gets access only to the tools, resources, and information needed to get started.
Import content easily to your desktop

 
Desktop.com makes it easy to import content to your desktop by using its drag-and-drop tool, browser plugin, or adding content directly from Desktop.com. 
You can easily select and add apps to your desktop from several app categories in Desktop.com's AppStore. 
Enjoy seamless app transition 
With Desktop.com's single sign-on and Password Management, you can enjoy seamless transitions across apps without logging in and out from one app to another.
Enjoy additional security layers
Desktop.com's Multiple Authentication and Domain Verification provide extra security layers for personal and team accounts.
Getting Started Using Desktop.com
Onboarding desktop.com is as easy as falling off a log; the following steps will walk you through getting started with Desktop.com.
Get started by clicking

here

to select a Desktop.com plan

of your choice.

Create a desktop.com account by filling out your personally identifiable information, or using your Google, Facebook, Apple, or Microsoft account.

Complete your registration by choosing either a

Free

or

Pro

plan; and agree to Desktop.com's

Ts & Cs.

Tap the

continue

button to proceed to the

payment page

for the

Pro

plan.

Fill in your credit card details to enjoy a

2-week

free trial.

Create a workspace by inputting your workspace name and URL;

then

proceed by clicking the

blue customize icon.

Select the apps you need to get started and click

next

to proceed. You can also add either a Google workspace or Microsoft Office

365

platform to your workspace.

Invite other team members, or you may skip this step

in the meantime.

Proceed to the workspace by clicking

go to workspace.

Set up your Desktop by choosing '

invite people to chat',

create a new desktop, import bookmarks, and apps, make your first call, and much more.
Now, for this Desktop.com review, let's show you its key features.
What Are The Key Features Of Desktop.com?
Collaborative Bookmark Manager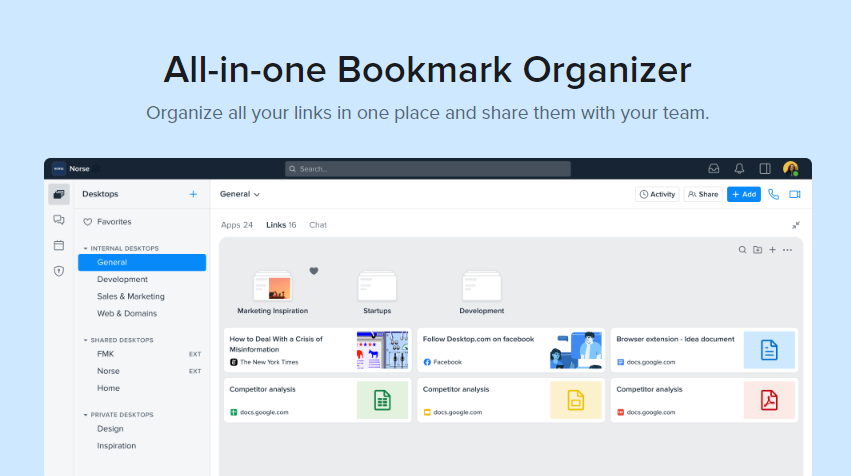 Desktop.com's collaborative bookmark manager gives you easy access to information when and wherever you need it, and it ensures that data remains shareable amongst team members, especially when collaborating on a project, and also by making it easy to organize and share bookmarked links. 
You can organize all your bookmarks by tagging them for easy search and sharing among team members. If it's necessary, you can also arrange them into folders for easy access.
Additionally, you can view your bookmarks in preview mode; import bookmarks using Desktop.com's browser plugin; also save links easily.
Shared Digital Workspaces and Desktops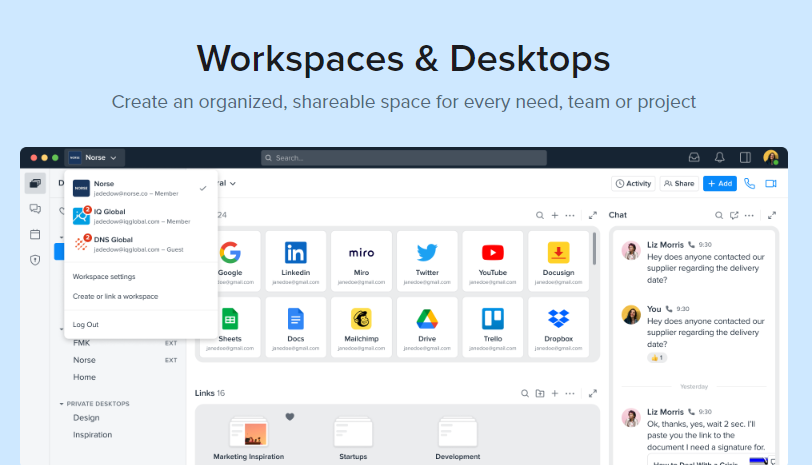 Desktop.com's Shared Digital Workspace feature lets you create a digital workspace and desktop access for every team member.
Hence, you can eliminate digital clutter by having your apps, icons, and folders organized into a central location that unfolds with a single click; distributing tools and information across team members, picking up right from where you left off, and searching across your workspace to find anything effortlessly.
Third-party Integrations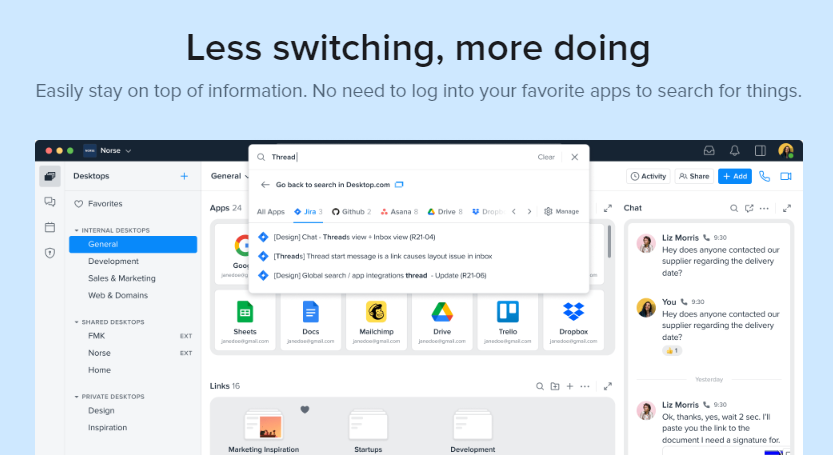 Desktop.com has tons of third-party integrations that let you save time and achieve more. This eliminates the need to switch between accounts, making switching between apps seamless, and providing your team with updated information on collaborations.
HD Video Conference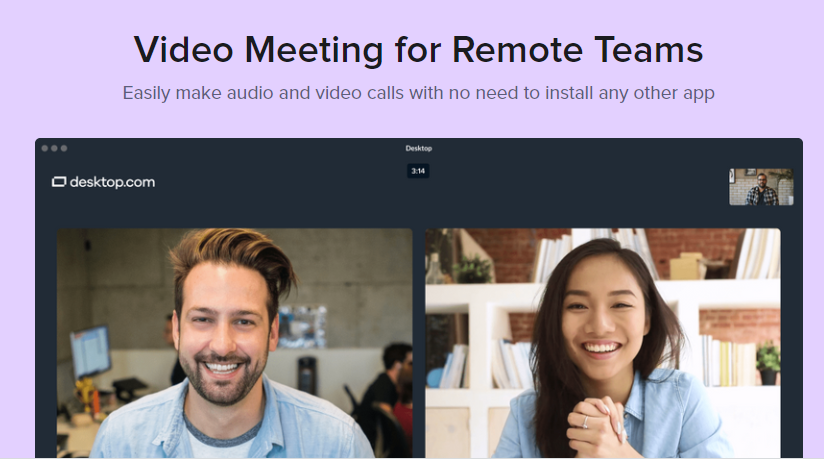 Enjoy seamless, high-density video calls or conferences with your team members without installing a video call application. You can send private messages and share notes and links among participants during calls. Other intriguing features you can enjoy are background, sound, and output quality controls; passworded conferencing; and screen sharing.
Chat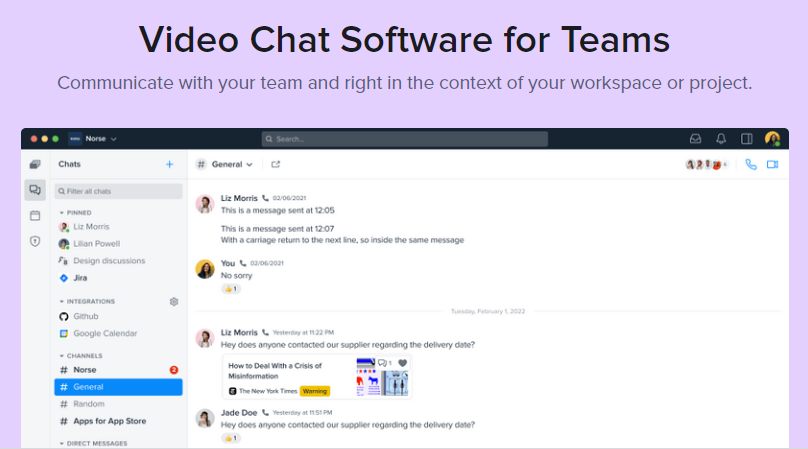 Stay in touch with your team even while on the go by communicating with them privately or in custom groups. An in-app feature like Status indicator shows the status of your team members, whether online, offline or busy.
Also, Desktop.com's Chat has a cross-app feature that lets you send messages to other cross-platform chat apps right from your desktop without the need to switch.
Passwords & Security
Desktop.com's Password & Security feature secures your digital workspace whether you're working remotely or collaborating as a team.
Depending on your level of exposure, you can add extra security layers to secure your workspace and accounts with Desktop.com's security features like SSL to protect you from phishing, botnet, and malware infections. 
Moreover, you might as well add encryption technology to keep your files and communication secure; MFA to authenticate login attempts; SSO to improve access control, and Domain Verification to protect your workspace.
Desktop.com App Store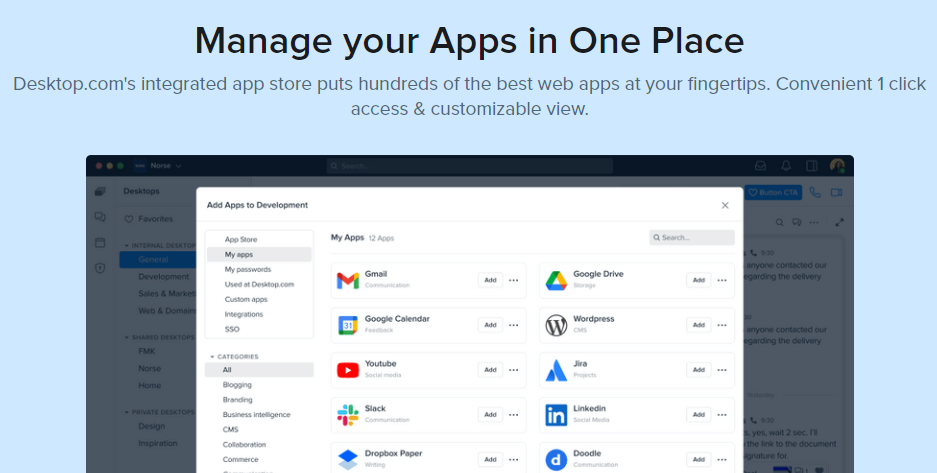 Add all your favorite apps with a single click right from Desktop.com's vast web app repository.
You can improve your productivity by finding any app using the App store's advanced search and filter features, or use the regular add button to add and share third-party apps not in Desktop.com's app store with your team members; while using the single sign-on feature to restrict access to apps on your workspace.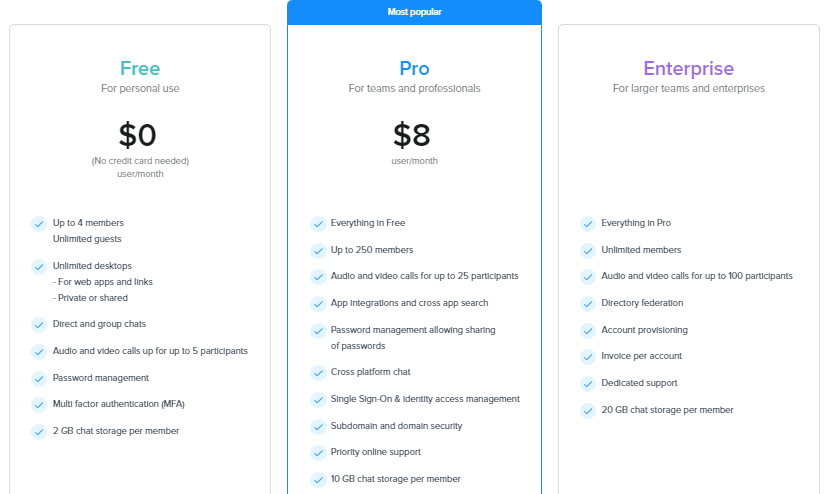 Starting from $8 per month and a 14-day trial, you will get more bang for your buck. If you feel Desktop.com is not for you, the 14-day free trial gives you ample time to downgrade your subscription to the free version, or exit Desktop.com at no financial cost.
===>>> Get Desktop.com
How To Add A Custom App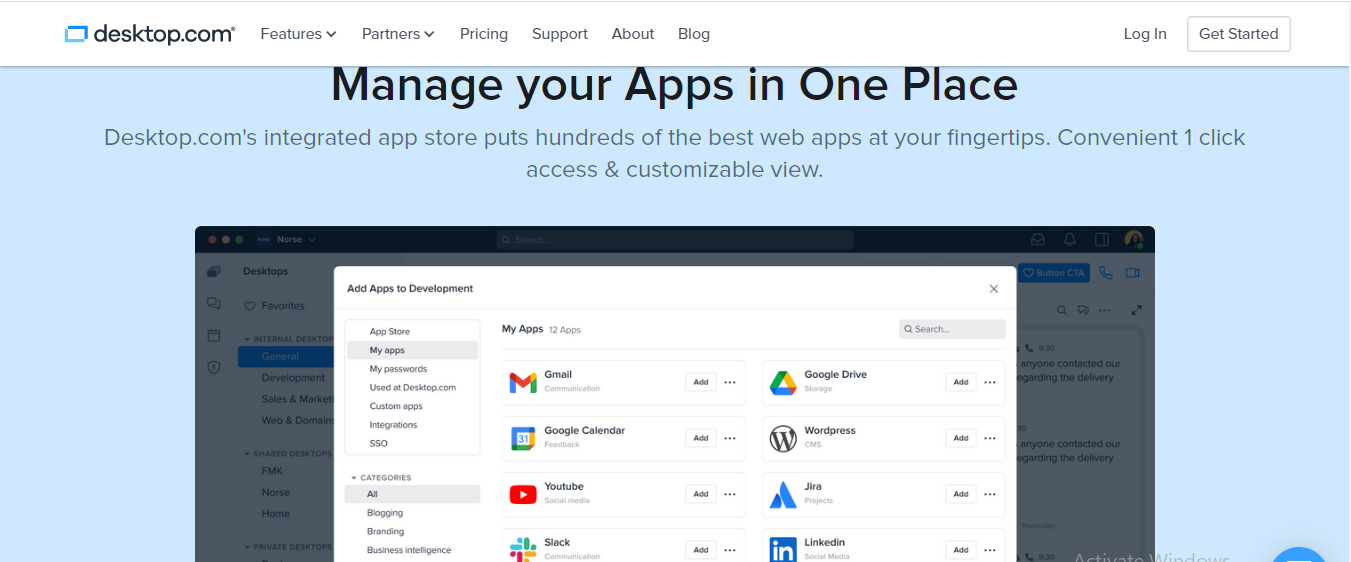 Go to your settings

—

workspace, click the

custom apps

button.

Click

create a custom app

at the top right of your screen.

Fill up the following in the custom app window that pops up on your screen:

App name

App URL

Select a category

Inputting the app URL fetches the app image

Click the

add application

button to add a custom app.
Note: For this Desktop.com review, we tested the custom app functionality and it worked perfectly.
How To Organize Your Digital Life With Desktop.com?
If you're working remotely from home, you will be heavily reliant on your digital devices to get your work done; hence, you will need more applications than you normally need on a regular basis.
Your devices and desktop become your office space, and you're more likely to get cluttered with apps, files, folders, browsers, tabs etc., all of which can result in more stress and less productivity.
By managing your remote work life with Desktop.com, you can improve your productivity, make more profit, cut out stress, and save time. Start organizing your life today by clicking the Get Started button to use the Desktop to organize your digital life.
How Do You Use Desktop.com to Manage Your (Remote) Work and Personal Life?
If you're working remotely, you will need to communicate effectively, and at the same time ensure that you can retrieve data and information easily without compromising your privacy or security. 
Desktop.com helps you manage your remote work and personal life by helping you retrieve information fast; cut out on distractions; communicate seamlessly with your team members; and manage your space. This gives you control over your work and personal life.
===>>> Get Desktop.com
Tips For Using Desktop.com To Organize Your Digital Life
1. Use the right app
Remote work depends on apps; hence, it is essential that you use the right app to get the job done. Desktop.com has a vast repository of apps you will need for remote work, and it also helps you define the specific uses of such apps. 
For instance, you can enjoy quick access to apps like Google Drive, Gmail, Dropbox, Zoom, and Slack.
2. Use a dedicated platform
Desktop.com lets you create a dedicated workspace that is a one-stop shop for remote work. You can boost your productivity by organizing and managing your links, apps, projects, and teams from a central location. 
You can also switch easily between personal life and remote work with Desktop.com.
3. Declutter your workspace
Use Desktop.com's bookmark manager to declutter your browser tabs, tag links, and to organize links into categories for easy sharing and retrieval of information amongst team members and devices.
4. Make communication easy
Communication plays an important role in teamwork. With Desktop.com, you can boost productivity by effectively keeping in touch with your team members via Desktop.com's HD video conferencing and chat; get fast responses and view your team members' status.
5. Organize your workspace
Desktop.com helps you organize your workspace and improve productivity by giving you access to the right tools. It helps in decluttering your workspace; ensuring seamless communication; and managing links, teams, and apps all from one location.
Desktop.com: Frequently Asked Questions
Is Desktop.com Safe to Use? 
To get it straight: Desktop.com is safe to use. It is a remote work solution that helps you organize your digital life to avoid digital clutter, improve communication amongst team members, and give you access to the right tools you need to boost productivity. 
Desktop.com secures your workspace and accounts with multiple security layers, including SSL, File encryption, MFA, SSO, and more.
Is Desktop.com Legit? 
Desktop.com is a legitimate digital workspace solution. It is trusted by millions of personal and corporate users worldwide, and it has earned many 5-star ratings and positive reviews on several review platforms, including Trustpilot, Capterra, Google, etc. 
Is Desktop.com Worth it? 
Yes, Desktop.com is worth it. The free version gives you access to basic Desktop.com benefits, while the pro plan gives you access to more Desktop.com features.
Top Desktop.com Apps by Categories
Here is a truncated list by categories:
Blogging

: BlogIn, CrowdTangle, and more.

Branding

: Audiense, Brandfolder, brandseye, and so on.

Business intelligence

: 9lenses, Amplitude, Archive, and so on.

CMS

: Acqui, Bluehost, Card

Collaboration

: Beekast, Cage, Clariti, and more.

Commerce

: Alibaba, eBay,

Amazon

 

Communication

: Messenger, Whatsapp, Zoom

Customers

: Intercom, Pipedrive, Zendesk, and more.

Culture

: ArtCollection.io, ArtEngine, Artmajeur, and more.

Design

: Canva, Proto.io, Zeplin, and more.

Development

: Confluence, GitHub, Stack overflow, and more.

Domain names

: Dynabot, Godaddy, Sedo, and so on.

Education

: 360Learning, Akindi, Allego, and more.

Entertainment: Netflix, Spotify, Twitch, and more.
Feedback

: AB Tasty, AidaForm, Canny, and more.

Finance

: Expensify, PayPal, Stripe, and more.

Food

: AllRecipes, BigOven, Cookbook, and so on.

Gaming

: Armor, Valor, Brutal, and more.

Health/Fitness

: 8fit, Active.com, DailyBurn, and more.

Healthcare/Fitness

: 75health, CareCloud, CipherHealth

HR

: 15Five, Actimo, AngelList, and more.

Legal

: AccountEdge, Adobe Sign, App4Legal, and more.

Logistics

: 71Lbs, Audit Shipment, Flexport, and more.

Marketing

: Google Ads, MailChimp, Meta for Business, and more.

Management

: Acunote, Autotask, Cascade Strategy, and so on.

Monitoring

: Atatus, Better Uptime, Bugherd, and more.

Music

: Duet, Fit Radio, Fl Studio, and so on.

Network

: Digicert, domotz, egnyte, and more

News

: Crunchbase, Dailymotion, Entrepreneur and so on.

Personal Development

: datacamp, eduCBA, edX, and more.

Productivity

: Lanes, Notion, Pitch, and more.

Projects

: Asana, Jira, Trello, and more.

Real Estate

: Brivity, Brokermint, Buildium

Sales

: Freshsales, GetAccept, Highspot

Security

: Dashlane, Duo, Encrypt.me, and more.

SEO

: Frase, DataForSeo, ContentKing, and more.

Services

: Fiverr, Guru, Freelancer, Escrow.com, and more.

Shopping

: H&M, Lego, Harrods, and so on.

Social media: Facebook, Linkedin, Twitter, and so on.
Sports

: Yahoo Sports, UEFA.com

Storage

: Box, Dropbox, Wetransfer

Tech

: Gizmodo, Engadget, DreamFactory

Travel

: Ezus, Expedia, FareHarbor, and more.

Visual Tools

: Fotor, Genially, Infogram, and more

Writing

: Grammarly, Google Docs, juro, and more.
Wrapping Up…
Now, you should be able to organize your digital life with Desktop.com.
In conclusion, Desktop.com remains the ultimate solution for remote work organization, management, and collaboration. It provides a smarter way of managing your personal and remote work life, as well as managing data safety and security through the use of features like MF, SSO, Password Manager, etc.
Hence, Desktop.com is a much-needed digital life organizer you need to boost your productivity and income while saving time and cutting out stress.
Leave us a comment below regarding this post.
===>>> Get Desktop.com
---
INTERESTING POSTS