Read this ExpressVPN review to learn about its features, apps, pricing, and more.
ExpressVPN is one of the priciest VPN providers, highly-priced for its speed and security. Following this review to the end, you will be able to determine if ExpressVPN is worth its price.
What Is ExpressVPN?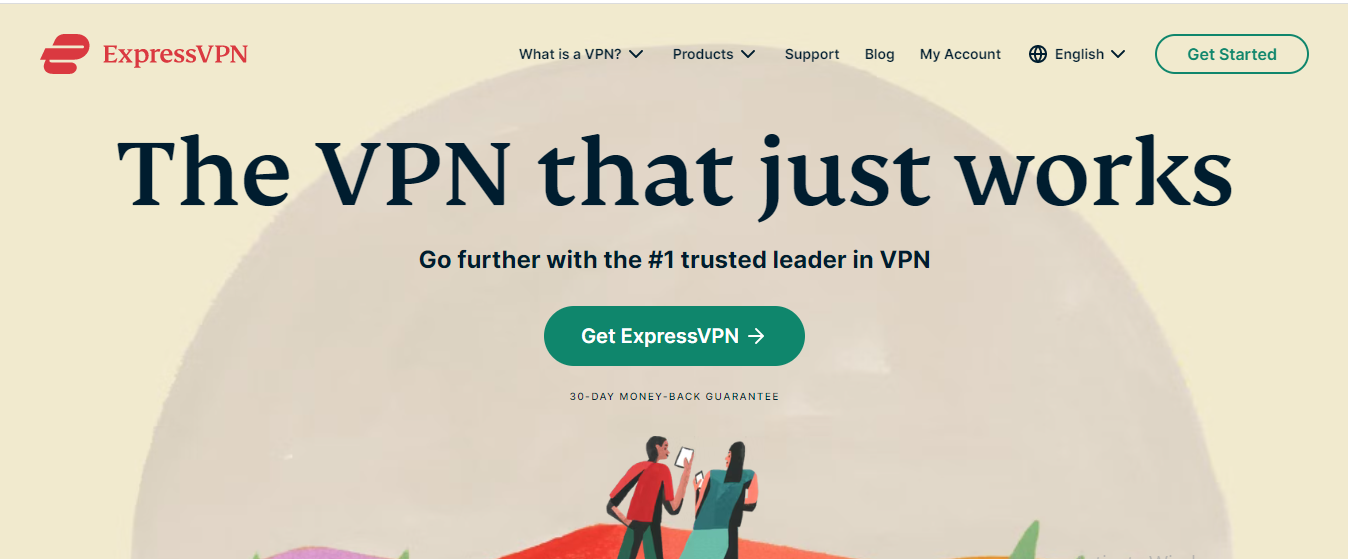 ExpressVPN is one of the most popular VPN providers known for speed, data safety, and intuitive apps. It is also one of the VPN services with the most features and a proprietary VPN protocol.
As the name suggests, VPN-Virtual Private Network lets you connect safely to the internet via third-party servers that act as a buffer, shielding you from cyberattacks and other internet downsides, including unauthorized data monitoring and capturing (hacking). 
ExpressVPN is one of the commercial server owners that offer their servers for use as VPNs. ExpressVPN subscribers can choose from any of its 3000+ servers distributed in over 90 locations to connect and enjoy the numerous benefits associated with the use of VPN
==>> Get ExpressVPN
How To Get Started
The following steps will walk you through getting started with ExpressVPN
Visit ExpressVPN's official webpage and choose a subscription plan

Enter your email address and select a payment method

Make payment and get a username and password

Download and run the appropriate ExpressVPN App for your device 

Launch your VPN app and choose a server to connect to; tap the 'Connect' button to start enjoying VPN protection.
ExpressVPN Key Features

User-friendly Interface
ExpressVPN has a user-friendly interface that makes it easy to use even for technologically less compliant individuals. Unlike some VPN apps, ExpressVPN's mobile apps are feature-rich, easy to navigate, and they also feature the Lightway VPN protocol, which is ExpressVPN's proprietary VPN protocol. However, this feature is not yet available on iOS devices.
Proprietary VPN protocol
Although ExpressVPN automatically sets its VPN protocol, users can choose between any of its four VPN protocols which are:
Lightway VPN protocol: This is a proprietary VPN protocol developed by ExpressVPN. It is optimized for speed, power saving, fast network connectivity, and seamless network transition, making it a better choice for mobile devices.
OpenVPN: This is an industry-preferred VPN protocol for its speed and security. Being open-source means it is continually examined and strengthened.
IKEv2: This is a speed-optimized VPN protocol that prioritizes speed over security.
L2TP/IPsec: This is one of the oldest VPN protocols optimized for speed but is often a poor choice for security-conscious people.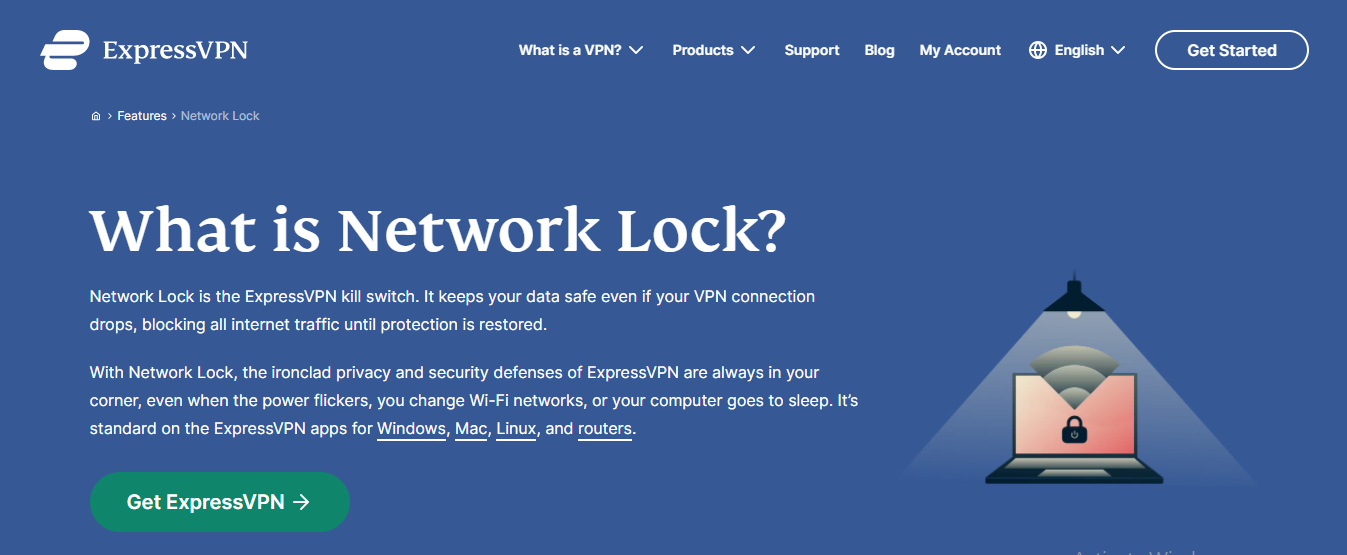 TrustedServer technology
ExpressVPN maintains its no-log policy by operating TrustedServer technology on all its servers. With TrustedSerer technology, all ExpressVPN's servers store data on RAM rather than on a hard disk; hence at every restart, all users' data and OS are wiped from the server, and a fresh reboot reinstalls the OS from a secured, read-only image. This proprietary technology is better because: 
no data is stored on the hard drive, 

data is wiped off from the RAM at every reboot,

the latest security updates are installed with every server reboot

There is software consistency across all ExpressVPN's servers.
Network Lock
This is ExpressVPN's Kill Switch technology that prevents accidental data spillage should your VPN connection goes off. This feature is available on Windows OS, Mac OS, Linux OS, and Routers.
Although this feature is not available on mobile devices as Network Lock, the 'Network Protection' feature on Android and 'Auto-Connect' feature on iOS devices function as a kill switch to prevent accidental data spillage should your VPN connection trip off.
Private DNS 
All ExpressVPN's servers have their private DNS to prevent public DNS servers from logging your activities and or selling your data or tailor-made adverts. This strengthens ExpressVPN's security and also speeds up your browsing speed.
Split tunneling 
The split tunneling feature lets you choose what apps to exempt from VPN connection. This is useful for accessing local channels and services. To use this feature, go to ExpressVPN's settings on your device and select Split Tunneling, check any of the following and configure as necessary: 
'Do not allow selected apps to use the VPN.'

'Only allow selected apps to use the VPN.'
With this feature activated, you enjoy the benefits of VPN while also enjoying local, location-sensitive services on your device.
No Logs Policy
ExpressVPN is a verified no-log VPN service provider. It has undergone several third-party audits to verify its 'no logs' claim, and the 2017 server seizure by Turkish authorities also verified ExpressVPN's 'no logs' policy since they could find any users' data logged on the seized ExpressVPN.
Servers
ExpressVPN has over 3000 P2P-supporting and obfuscation servers spread in 160 locations in 94 countries. 
Irrespective of your location worldwide, you're sure of finding a nearby ExpressVPN server to boost your connection speed, and if you find yourself in China or other countries that censor VPN usage, you're sure of enjoying VPN services in such locations thanks to ExpressVPN's obfuscation servers. 
Encryption Protocol 
ExpressVPN uses the Industry-standard 256-bit military-grade encryption protocol to encrypt and protect inbound and outbound users' data traffic from third-party interception, even when connected to unsecured public WiFi networks. 
ExpressVPN Review: Speed And Performance test
It's no surprise that ExpressVPN performed well in our speed test. I would attribute this performance to ExpressVPN's vast servers spread across the world, its proprietary speed, and network-optimized Lightway VPN protocol. 
Speed tests were conducted on local and distant servers; although a higher download speed up to 582Mbps was recorded on a local server, distant servers in the UK recorded a 353Mbps download speed. Similar speed was obtained for streaming, torrenting, and gaming, although with a slightly higher ping which does not offer any significant speed reduction.
ExpressVPN Review: Censorship bypass and geo-blocked streaming
ExpessVPN works in countries such as China, Iran, Russia, Saudi Arabia, Indonesia, and Cuba with heavy internet censorship that prevents users from accessing the internet over a VPN connection, and social media restrictions.
ExpressVPN can unblock more than 40 streaming platforms, including Netflix US, HBO Max, Disney+, Hulu, Peacock TV, Spotify, Discovery+ Pluto TV, CBC Gem, ESPN+, UKTV, BBC iPlayer, etc., from any region, with any browser. 
All the streaming websites I tested with ExpressVPN began playing immediately, streaming high-density content smoothly, buffer-free, not minding whether I am using Mozilla Firefox, Chrome, or other browsers.
==>> Get ExpressVPN
ExpressVPN Apps
ExpressVPN has the following app versions
Windows OS

Mac OS

Android

iOS

Linux

Router 

Chromebook support

Browser extensions for Chrome, Firefox, and Edge browsers

SmartTVs including Roku, Chromecast, Samsung SmartTV, FireTV, and Android TV

Game Consoles include Xbox, Nintendo Switch, and Playstation.
Customer Service And Resources
ExpressVPN does not offer phone support; however, you can enjoy friendly, fast, and professional customer service via the following channels:
Email support: support@expressvpn.com

24/7 live chat that connects you to a human agent in less than 30 seconds; I was impressed by the fast and friendly response.

Video tutorials

Extensive and well-structured FAQs and troubleshooting guide that covers all issues and inquiries you're likely to encounter or make.
ExpressVPN Pricing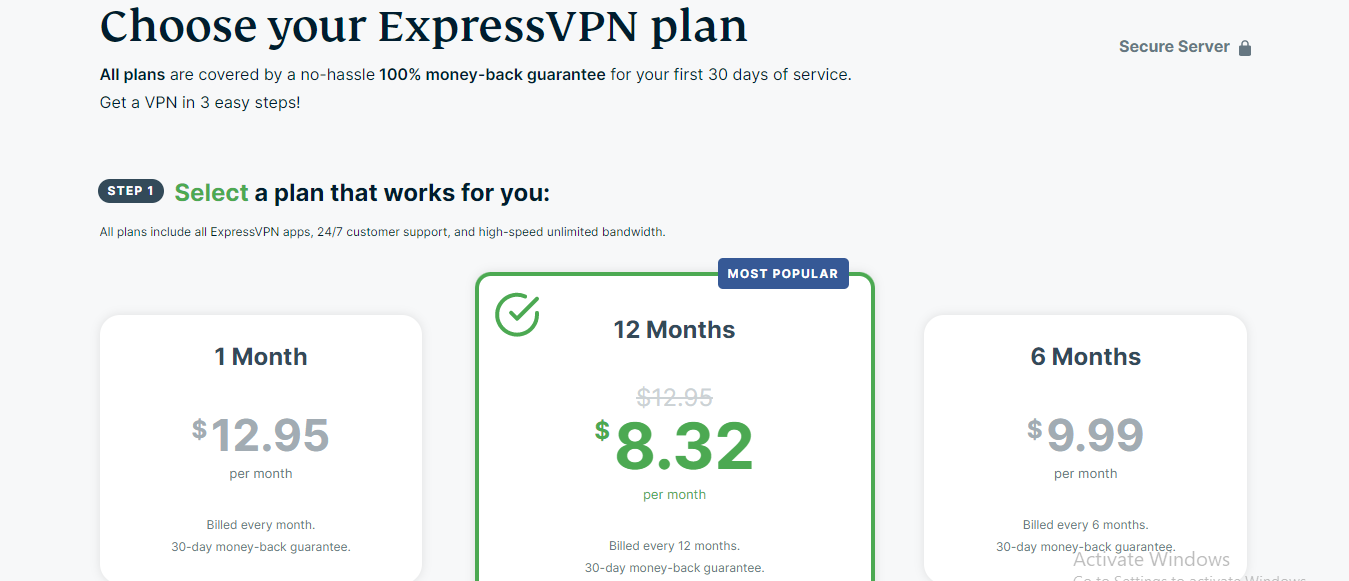 Here aare the ExpressVPN pricing as at the time of this writing.
Monthly: $12.95

6-months: $59.94

12-months: $99.84 (35% discount)
All price comes with a 30-day moneyback guarantee
Although ExpressVPN is a bit pricey, the price is commensurate with the features and services you will be getting from ExpressVPN.
==>> Get ExpressVPN
ExpressVPN Review: Frequently Asked Questions
Is ExpressVPN Worth Getting?
Yes, ExpressVPN is worth getting. It's one of the best performing VPNs on the market, and it's a great choice for anyone looking for a reliable and affordable option. ExpressVPN has a strong network of servers in 94+ countries, and it offers fast speeds and strong security. It's also easy to use, and it has a great money-back guarantee.
Is ExpressVPN Safe?
Yes, ExpressVPN is safe. ExpressVPN offers you more data safety and protection features than any other VPN provider; its safety features include a robust encryption protocol, kill switch technology, TrustedServer technology, and a strict, verified no-logs policy.
Is ExpressVPN Legit?
Yes, ExpressVPN is a legitimate provider of VPN services. Founded in 2009, the company is based in the British Virgin Islands and offers a wide range of features and capabilities. Also, ExpressVPN is outside of the jurisdiction of the Five Eyes intelligence-sharing agreement.
In addition to being one of the most popular VPN providers, ExpressVPN is also one of the most trusted, with a strict no-logs policy and robust security features. If you're looking for a legit VPN service provider that you can trust, ExpressVPN is a good choice.
A Final Word on The ExpressVPN Review
To conclude this ExpressVPN review, I will say that it has high-end features that make it worth every penny. You will agree that its military-grade encryption technology, Lightway VPN protocol, TrustedServer technology, obfuscation technology, vast P2P-optimized server networks, a strict no-logs policy, and a user-friendly interface make ExpressVPN protocol a recommended VPN top on our list.
==>> Get ExpressVPN
---
INTERESTING POSTS