Is the award-winning TotalAV really worth your buck? No worries, you will find out in this detailed TotalAV review.
TotalAV is an antivirus software that offers users complete protection from malware, viruses, and spyware. The software aims to protect your system at all times with minimal impact on performance and disk usage by using minimal CPU and RAM for scanning.
With this comprehensive virus protection, you can rest assured knowing that your files are safe from harmful threats.
What Is TotalAV Antivirus?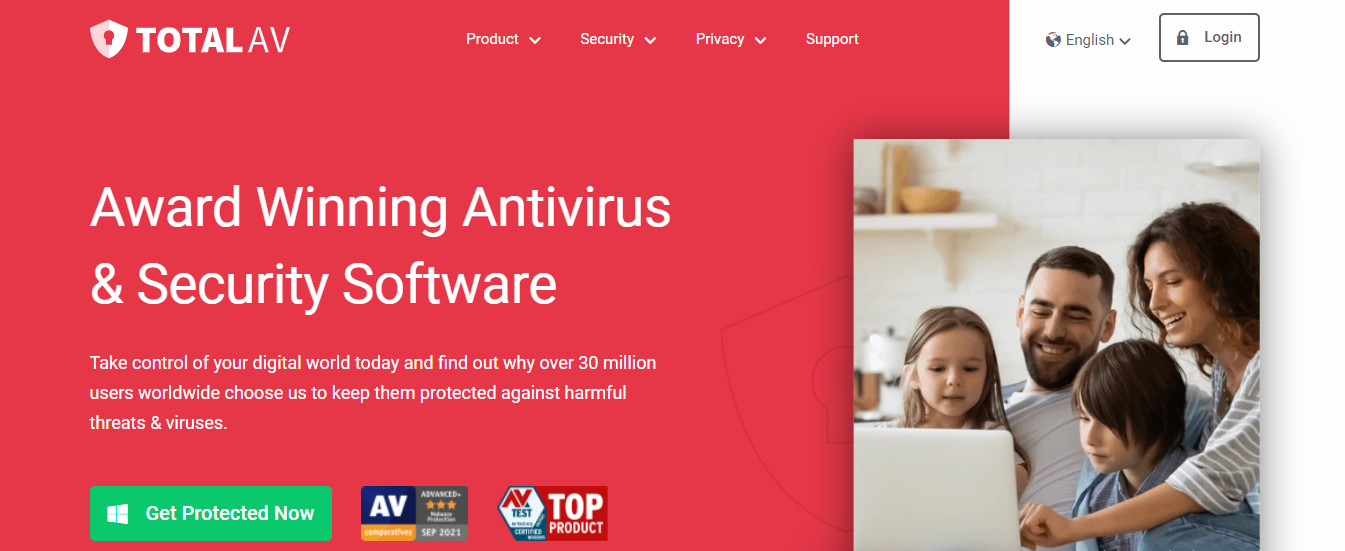 TotalAV is a popular and affordable antivirus tool that offers protection against malware such as viruses, backdoors, rootkits, spyware, Trojans, ransomware, etc., using advanced AI, Machine Language, and other advanced processes to protect, detect and remove malware. 
In addition, TotalAV's premium suite includes Real-time antivirus monitoring, phishing protection, cloud-updated virus database, VPN, Remote Firewall, Password Manager, and other tools that expand TotalAV's functionality beyond malware detection and removal.
==>>> Get TotalAV
Steps To Get Started
Click

here

to get the best TotalAV deal.

Make Payment for the TotalAV license key using PayPal or

any

other

acceptable methods of payment.

Download and run the TotalAV antivirus client on your device.

Sign in to your TotalAV account to activate the premium version of TotalAV.
For this TotalAV review, let's take a quick look at its major features.
TotalAV Key Features
User-friendly Interface and Ease of Setup
Setting up and getting started with TotalAV is quite fast and simple—you're probably going to finish setting it up in less than 4 minutes. The interface has a splendid design: it's quite intuitive with all features well-laid out for easy navigation. 
Essential tools such as Malware protection, Internet Security, System optimizer, Password Manager, User Profile, and Settings will be rightly depicted on the left side of your dashboard. 
Clicking on each icon will promptly display its embedded features and other functionalities.
Overall, TotalAV has an intuitive interface that makes navigating all its features and functionalities a smooth walk even for less tech-savvy users.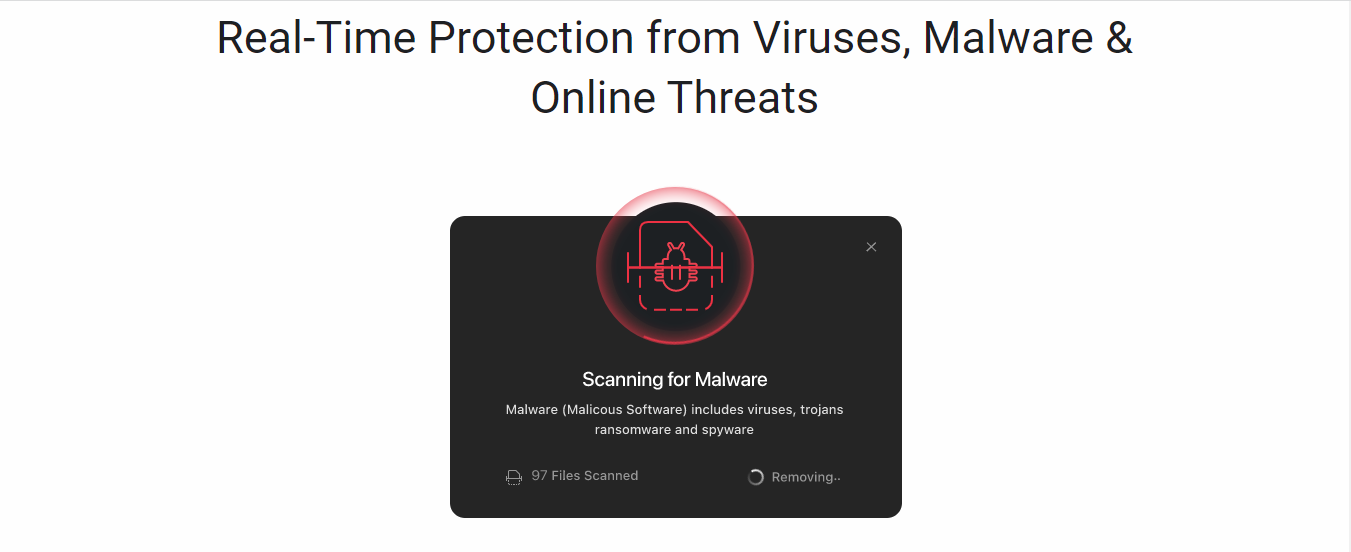 TotalAV Antivirus Engine 
TotalAV essentially has a robust anti-malware engine with four scan options:
Quick Scan:

Contains

file registry and other locations where malware can be found.

System Scan:

Performs a complete system scan for malware detection.

Smart Scan:

Scans the system for malware, trackers, and junk files.

Custom Scan:

Lets you scan a specific location, folder, file, temporary or permanent storage device.
It basically lets you put the TotalAV Antivirus Engine to the test: our malware test scans performed on Windows, Mac, Android, and iOS devices showed an impressive result.
In general, TotalAV has doubtlessly recorded a 100% detection rate so far; it has been successfully detecting all viruses, worms, backdoors, rootkits, Trojans, ransomware, keyloggers, and spyware downloaded without any false positives. 
Now, that's particularly impressive, isn't it?
TotalAV Real-time Protection
TotalAV's Real-time Protection tool runs in the background analyzing programs and scanning downloads for malware. I was rather impressed by its spectacular real-time protection as it spontaneously detected and quarantined the malicious file I downloaded before I ran it. 
Additionally, it alerted me immediately after I tried extracting infected files from a downloaded compressed folder.
Ransomware can no doubt be a real pain in the neck; surprisingly, TotalAV's real-time protection detected my ransomware simulator's file encryption process and prevented the simulator from encrypting and locking any files on my PC in no time.
Another thing I consider impressive is its real-time protection feature; it's a top-notch feature that puts TotalAV at par with top antivirus suites.
Phishing Scam Protection (Anti-phishing)
Phishing scams are common means of collecting vital details like personal identifying information, passwords, credit cards, and other financial details from unsuspecting internet users. 
Users are usually directed to duplicate websites (phishing sites) from phishing links in their email, webchats, or SMS, where data is maliciously harvested as users input their login details, credit card pins, etc., on such fake websites. 
TotalAV's Phishing Scam protection usually blacklists phishing sites along with its AI-based system of detecting potentially harmful sites.
In addition, TotalAV relatively has the ability to block out all tested phishing sites which can be downloaded for free, and users might as well like to see it becoming a highly sought-after antivirus for its exceptional phishing scam protection feature just like other top antivirus programs suites.
Safe Browsing VPN
Although TotalAV's VPN may not compare well with top VPN providers in terms of speed and added features, it does offer decent internet speed that makes streaming excellent.
With TotalAV's VPN, you can watch Netflix US, Disney+ ESPN, HBO Max, Hulu, Peacock TV, and other popular streaming platforms, and also enjoy P2P support for fast torrenting; this essentially makes TotalAV Antivirus VPN stand out among other antivirus with VPN programs.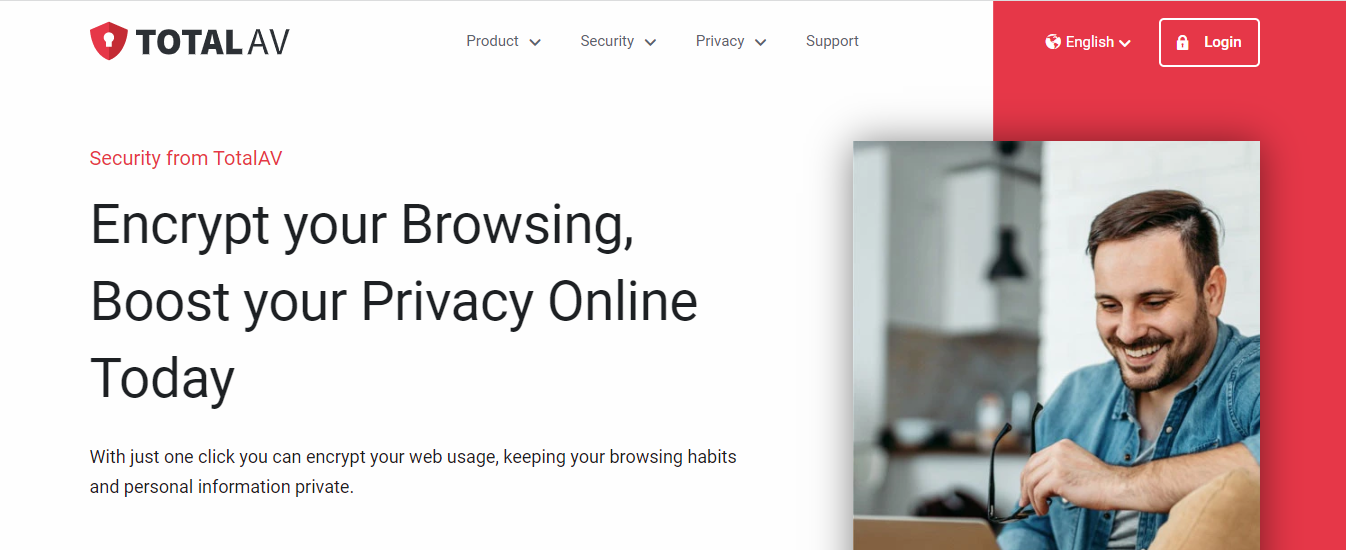 Password Manager
As much as TotalAV's Password Manager does not necessarily compare well with other standalone Password Manager because it lacks other essential features, it performs basic functionalities such as generating strong passwords, storage, and auto-filling saved login details.
Nevertheless, realizing that TotalAV does not have Password Manager for its mobile version can be a huge subject of a disappointment for users since more than half of the total internet users access the internet from their mobile devices.
READ ALSO: Unbiased CyberGhost Password Manager Review
System Tune-up 
TotalAV's system tune-up tool is one of the most remarkable system optimizer tools that one could think of.  It has more features than some top antivirus software. The system tune-up includes the following:
Startup Manager:

This lets you manage programs that automatically start up when you boot up your PC.

Application Uninstaller:

This frees up more space by uninstalling old or unused programs on your PC.

Browser Cleanup:

This tool helps you keep your browsing private by cleaning

out

all

tracking

cookies and other digital footprints that can be used to serve you tailored-made ads.

Junk Cleaner:

TotalAV's junk cleaner deletes junk files left after uninstalling or updating a program.

Duplicate File Finder:

This tool frees up additional space on your PC by finding and deleting all duplicate files.
TotalAV's System Tune-up tool works perfectly to boost users' PC performance by speeding up boot time; removing unwanted programs and actually freeing up valuable disk space on the user's PC.
A user need not worry about browsing in incognito or private mode since TotalAV's Browser does a cleanup of all tracking cookies and other information collected and stored on the browser for advert purposes.
That essentially makes online activities private.
TotalAV Apps
TotalAV is available as an app on the following OS platforms:
Windows OS

Mac OS

Android

iOS
TotalAV is well-optimized for mobile devices with features like Malware scanning and app locker uniquely customized for Android devices only—while device tracking runs on iOS only.
Other desktop features run extremely well on mobile devices except for Password Manager, which is not available for TotalAV's mobile version.
TotalAV Customer Service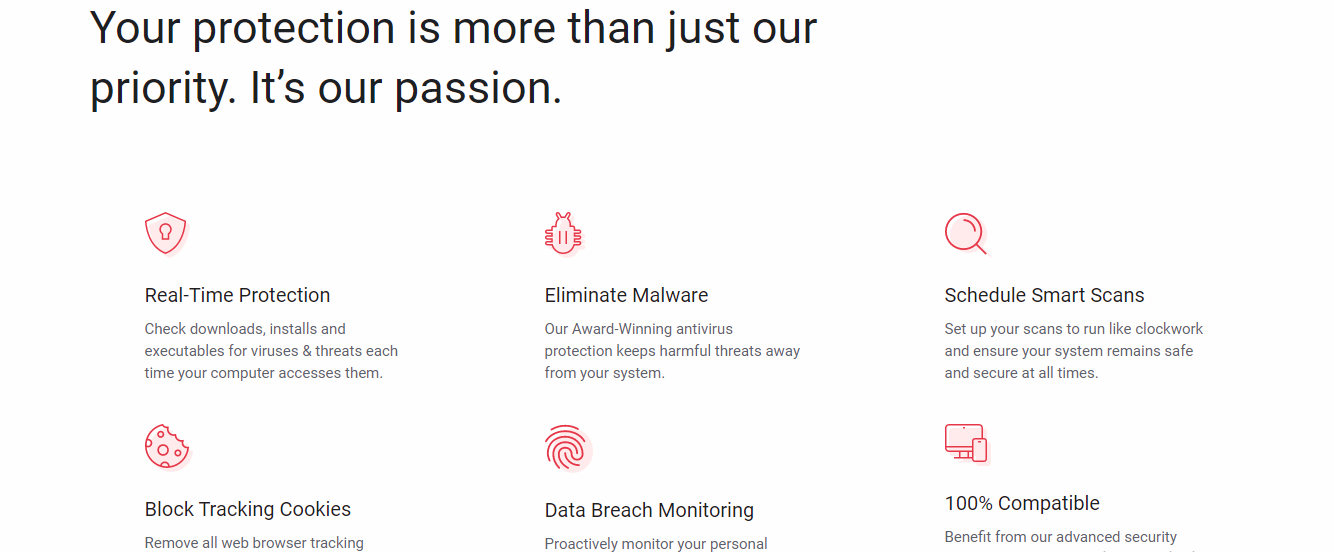 Available Customer support includes:
24/7 dedicated helpline

Email support

Live chat
TotalAV is reputed to have had a fast response time on its live chat and helpline handles, while its email support had the slowest response time. A user would have to wait for about 24 hours to get a response from them via email.
For this TotalAV review, we contacted their support team through various channels. I will say that TotalAV customer support deserves an 'A' rating for its fast, friendly, and professional response time and support services.
TotalAV Antivirus Pricing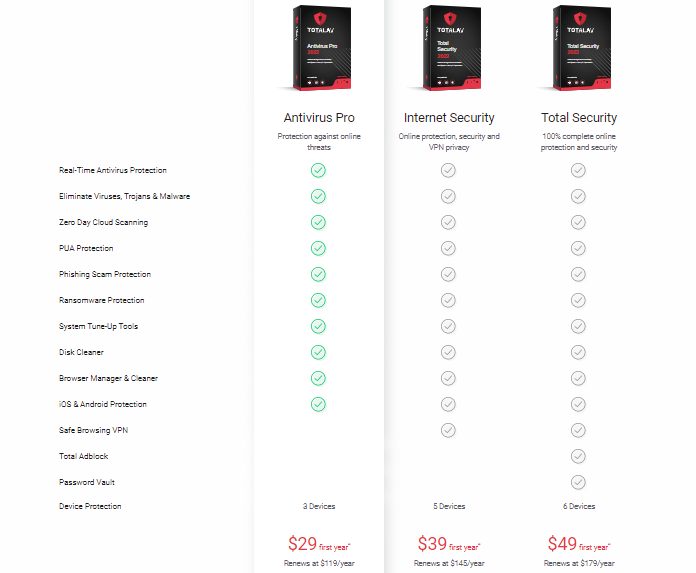 TotalAV is considered one of the most affordable, and yet robust antivirus suites starting at $29 per year for a single license. However, it's apparently not particularly appreciable that most of TotalAV's features do not come bundled together.
While you're at the payment stage, you can get several pop-ups asking you to add more features at a cost; you will even get a pop-up for an antivirus ebook at a startling cost! 
Check out TotalAV's pricing page for more flexible offers.
==>>> Get TotalAV
TotalAV Review: Frequently Asked Questions
Is TotalAV Safe?
TotalAV antivirus is 100 percent safe. We can confidently say that TotalAV is a safe and reliable antivirus software. It is a great choice for anyone looking for comprehensive protection from online threats, including viruses, malware, spyware, and phishing attacks.TotalAV is also easy to use and has a wide range of features to keep your devices safe.
In addition, TotalAV is available for both Windows and Mac devices. TotalAV is a reliable and trusted antivirus software that has been tested and verified by independent labs.
Its great features which include an AV scan engine, VPN Password Manager, Phishing Scam Protection, System Tune-up, etc., protect you from malware; optimize your PC, and make your digital devices safe on the internet.
Is TotalAV Legit?
TotalAV is a legit software company that offers a variety of computer security products. The company's main product is its antivirus software, which is designed to protect users' computers from malware, viruses, and other online threats.
TotalAV also offers a variety of other security products, including a password manager, a web browser extension, and a mobile app. The company has a good reputation and is known for its excellent customer service. Also, it is the best antivirus for 2023.
A Final Word On The TotalAV Review
Well, to wrap up this Total AV review, I will say that the TotalAV Antivirus suite is essentially a highly recommended choice for users at homes and offices. Its intuitive user interface, impressive malware detection rate, real-time system protection, password manager, fantastic web security, and data privacy protection feature make it all especially exciting.
==>>> Get TotalAV
---
INTERESTING POSTS