Can iTop VPN offer you all that and more? Find out from this iTop VPN review.
A good VPN should be able to unblock Netflix and other streaming platforms, have a good connection speed, verifiable and strict no-log policy, a kill switch feature, and DNS leak protection.
What Is iTop VPN?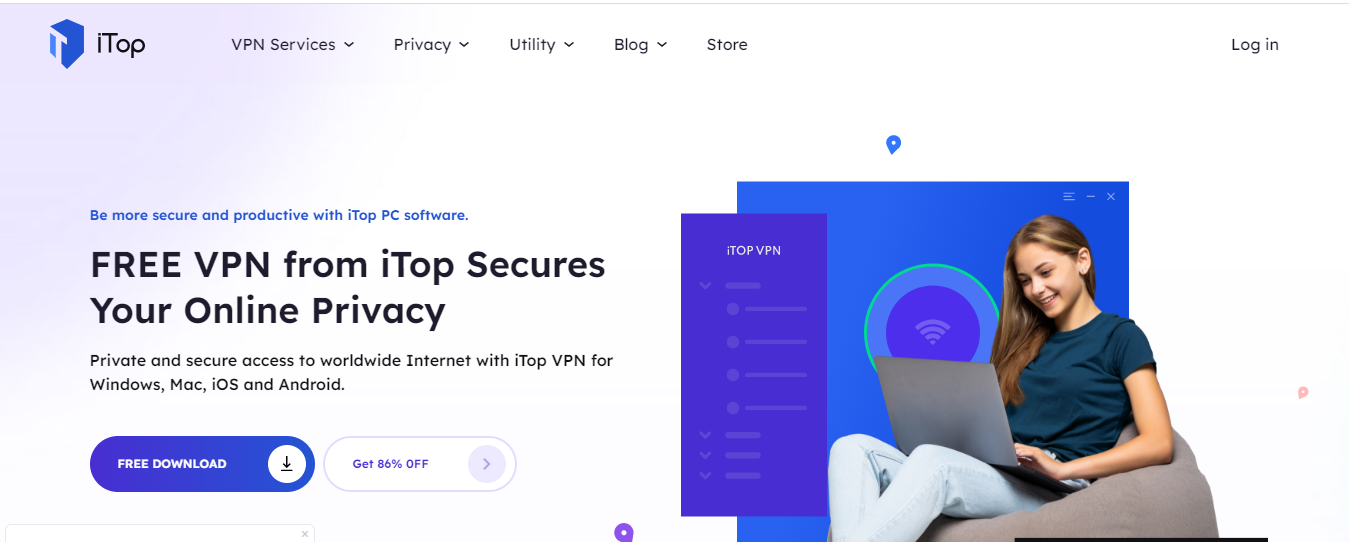 iTop VPN is a virtual private network service that allows users to encrypt their internet connection to prevent third parties from viewing your browsing activity, and to avoid being tracked by advertisers and websites.
iTop VPN provides a secure environment for users to bypass censorship, overcome geo-restrictions, and maintain their privacy.
iTop is a VPN service much like premium VPN providers like Express VPN, NordVPN, CyberGhost, and the like. 
The VPN service gives you the ability to secure your internet connection by encrypting and redirecting all of your internet traffic through a dedicated server. 
Hence, it offers the following benefits as a VPN service: 
To provide you with private and secure channels for connecting to the internet as an anonymous user with no real IP address and location; 

To protect you from data theft by encrypting all incoming and outgoing data traffic to and from your device; 

To pprotect you from annoying ads and malicious websites

To give you access to your favorite TV shows, movies, music, and much more on Netflix, or other geo-blocked streaming platforms.
How To Get Started With iTop VPN
If you're using iTop's free VPN, getting started is as simple as downloading and installing the appropriate VPN client from your device and tapping on the large, circular, and centrally-placed 'Connect' button to automatically connect you to the fastest and free iTop server available. However, you're limited to 16 servers and 700Mb data per day.
Getting started with iTop's premium VPN plan gives you access to more than 1800 VPN servers in more than 100 locations, unlimited bandwidth, access to streaming and gaming servers, browser privacy protection, and more. 
The steps below will walk you through how to get started with iTop premium VPN service;
Click here to get the best iTop VPN plan

Provide your email address, select an ideal payment option, and make a payment

You will get a download link, username, and password from iTop VPN 

Download the iTop VPN client and

Click on the 'Already Purchased?' icon at the bottom left, and log in with your iTop username and password.
Alternatively, you can download iTop's free VPN client and click 'Activate Now' to get started with payment processes.
iTop VPN Features
AES-256bit Military-grade encryption protocol
iTop VPN uses the Industry-standard 256-bit military-grade encryption protocol to encrypt and protect your inbound and outbound data traffic from third-party interception, even when connected to unsecured public WiFi networks. 
Be rest assured; there's no way your ISP, spies, hackers, and snoopers can know the website you're visiting, intercept your data traffic or collect data from your device.
Streaming
iTop VPN has servers optimized for streaming Netflix, beIN Sports, Crunchyroll, Pluto TV, Sling TV, Formula One, 7plus, Hotstar, ITV, Peacock TV, Paramount+, HBO Max, Hulu, Xvideos France, Xxxn hub Australia, Xxxn hub United Kingdom, Xxxxn hub United states, Disney+, Amazon Prime Video, BBC iPlayer, etc.
These servers were tested for their unblocking abilities, and in no time, I was already connected to Netflix US. 
Overall, it wasn't challenging to unblock and access any streaming channel, thus making iTop VPN an ideal VPN optimized for entertainment.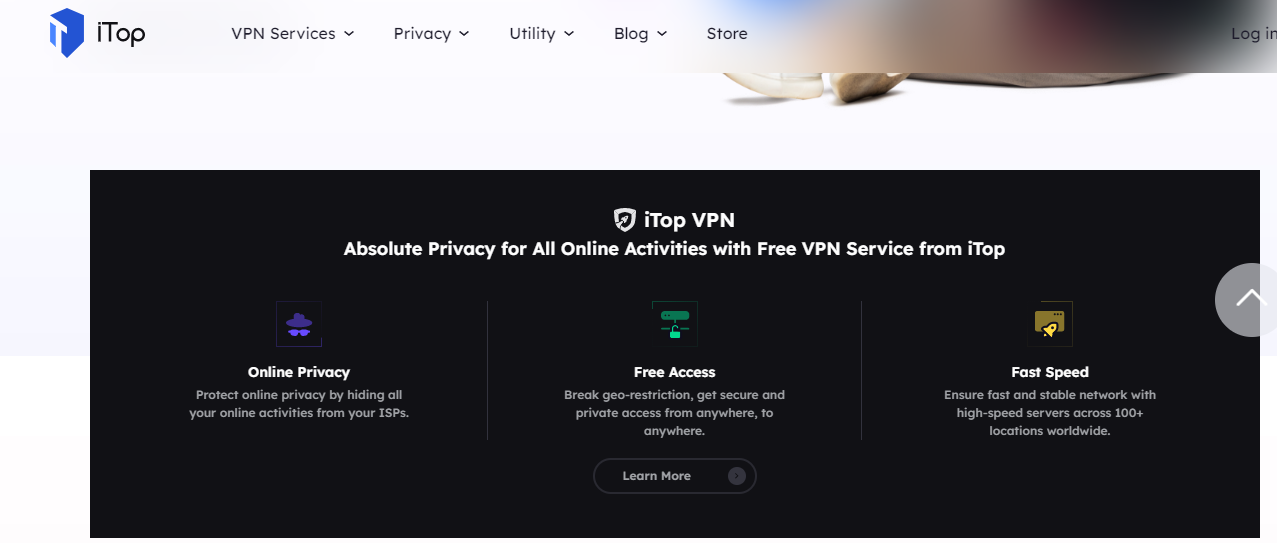 VPN Protocol
iTop VPN runs on two VPN protocols: 
OpenVPN: OpenVPN protocol is an industry-standard VPN protocol that runs as either UDP or TCP, depending on your choice of connection.

PPTP: This is an older VPN protocol that has suffered several security breaches. 
Generally, iTop auto-selects your VPN protocol; for manual connection, you can select TCP, UDP, or HTTPS protocols depending on your internet needs.
Kill Switch 
In the case that your VPN connection accidentally trips off, your data traffic is no longer hidden; as such, your ISP can see what you're doing, the site you're visiting, etc.; hackers likewise can intercept your data traffic if you're browsing with an unsecured WiFi connection. 
A Kill Switch will automatically cut off your internet connection to prevent 'accidental data spillage' should your VPN connection trip off, thus preventing your ISP from viewing your online activity or stopping hackers from intercepting your data traffic.
iTop VPN has an automatic kill switch you can bank on to keep your data safe should there be an accidental VPN disconnect.
Split Tunneling
iTop's VPN split tunneling allows you to exempt local apps and data traffic from VPN connection. i.e., you can choose what apps and services on your device connect to VPN.
Multiple Device Connectivity
iTop VPN  allows up to 5 simultaneous device connections to a single subscription. That means you can connect your desktop, laptop, two smartphones, and any other compatible device without experiencing lag or a drop in speed.
Gaming and Torrenting
An ideal gaming server should have a ping of less than 100ms. From my test results, iTop's gaming server had pings ranging from 22 to 75ms, which makes it ideal for MMO and MMORG games like COD Warzone, Roblox, PUBG, Minecraft, New World, Lost Ark, etc.
Torrenting on any of iTop's five torrent-optimized servers was seamless, and it took me just about 25 minutes to download 50GB of data.
Server Networks
Premium subscribers have access to 1800 servers in 100 locations, while freemium users have access to 16 servers. 
iTop has its servers organized into four categories: Download/Torrenting, Streaming, Social, and Gaming. This makes it easy to navigate iTop's dashboard and connect to the right server optimized for specific purposes.
iTop VPN Ad Blocker
iTop's adblocker effectively blocks ad traffic and malicious websites to prevent infection. This feature also allows you to whitelist selected websites and is available for both freemium and premium users.
iTop VPN Review: Performance Testing
Speed Test 
I recorded high speeds on iTop's PUBG-optimized server, Whatsapp, and New York's server. There wasn't a significant drop in speed, and I had about a 10% increase in speed from 25.8 to 35.5Mbps, although I recorded a significantly higher ping from 22ms to 120ms.
DNS leak test 
iTop has leak protection tools that protect you from DNS, IPV, and WebRTC leakages. It also has an IP address checker that shows your IP address in real-time whenever you connect to a server network. These leak protection tools are very effective; I didn't detect any IP leak in all of the leak tests I conducted on iTop's servers.
Privacy Policy
iTop's privacy policy may be a bit cloudy; although iTop claims to have a strict privacy policy, it does log the following info: browser cookies, payment data which includes email, phone no, credit card info, etc., customers data, and device data including OS type, IP address, browser type, etc.
iTop's App Compatibility
iTop is compatible with the following device types and platforms
Windows OS

Mac OS

Android OS

iPhone OS
iTop VPN Pricing Plans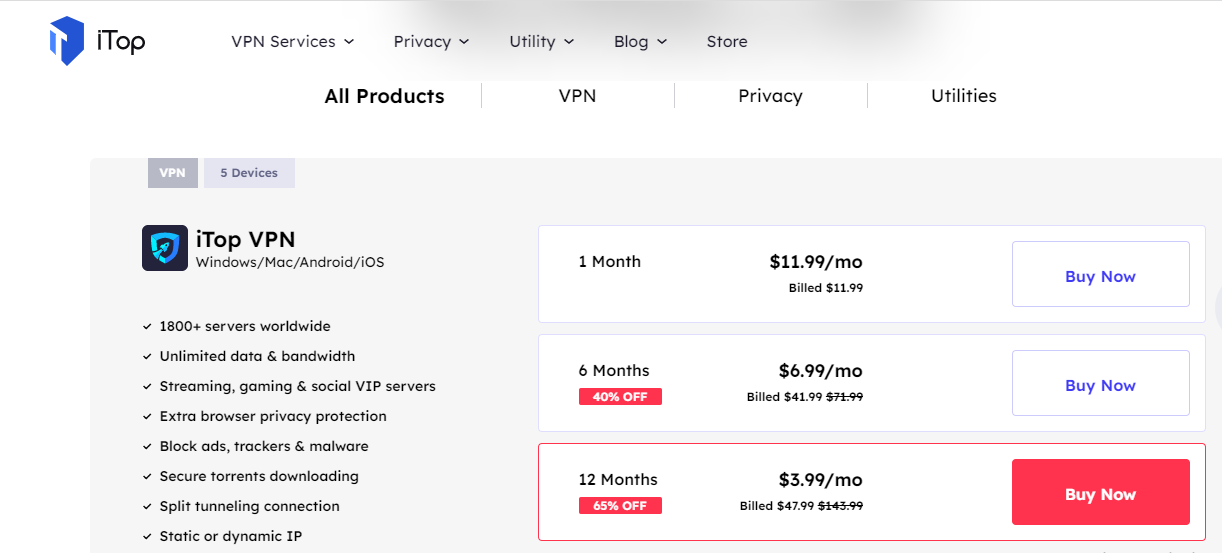 iTop VPN offers the following subscription plans:
Free plan: This plan entitles you to 700MB daily bandwidth and access to 16 servers, one of which is a streaming-optimized server.

3-year plan: $1.66 monthly, billed at $59.99 for three years. 

2-year plan: $2.31 monthly, billed at $55.44 for two years. 

1-year plan: $3.99 monthly, billed at $47.99 per year.
All plans come with a 15-day moneyback guarantee.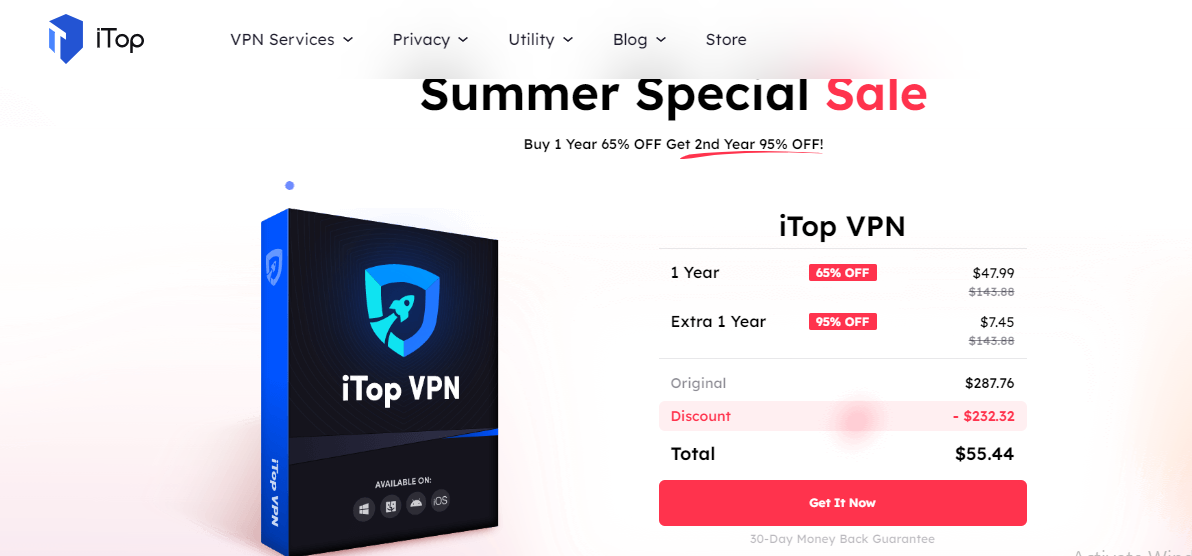 iTop VPN Customer Support
During this iTop VPN review, we observed that they do not offer live chat. Support is via online feedback page, FAQs, and blogs. However, you're sure of getting feedback within 12 hours after contacting iTop's online feedback page.
Is iTop VPN Safe?
iTop VPN is safe; it has high-level privacy protection features like military-grade encryption protocols, ad-blocker, kill switch, and DNS leak protection tool.
A Final Word On The iTop VPN Review
iTop VPN is recommended as one of the best VPNs for streaming, torrenting, gaming, social media usage, and affordability. However, there is a need for iTop VPN to increase its device compatibility and also improve its customer service support. 
To conclude this iTop VPN review, I will like to see iTop VPN become compatible with Smart TVs, Routers, Linux, and many other apps and devices to make it a truly cross-platform VPN.
---
RECOMMENDED POSTS