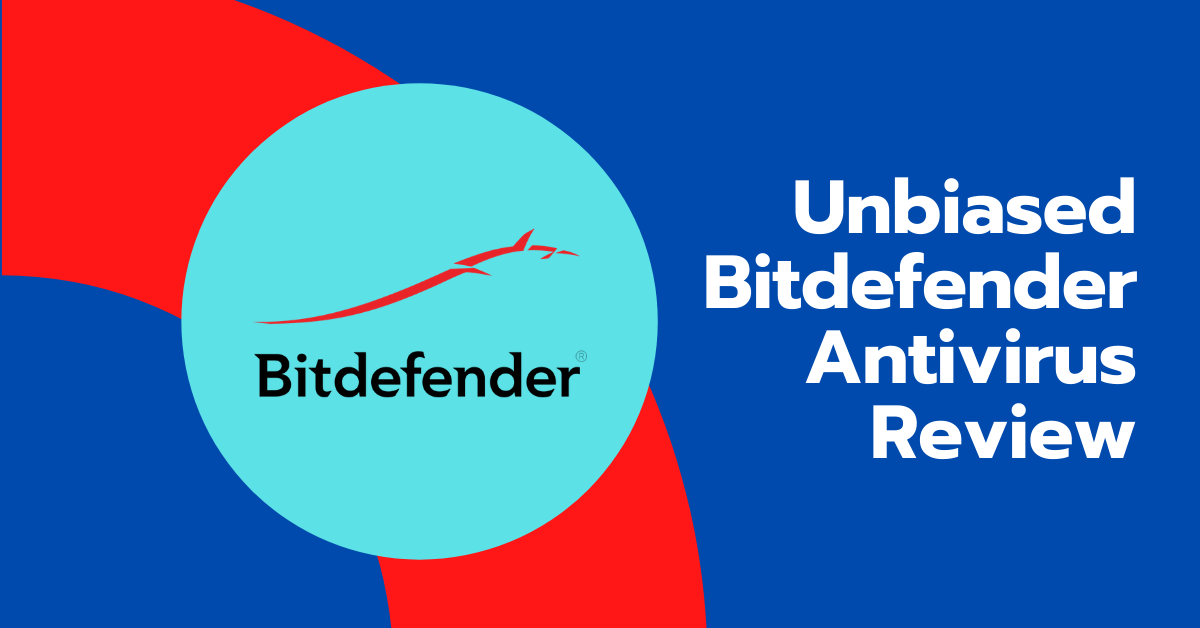 It's no surprise that Bitdefender is rated as one of the best antivirus for 2021; the Romanian-based antivirus packs a whole lot of functional features for complete device protection while remaining affordable. 
Therefore, this review focuses on the key features that make Bitdefender the best antivirus for 2021.
What Is Bitdefender Antivirus?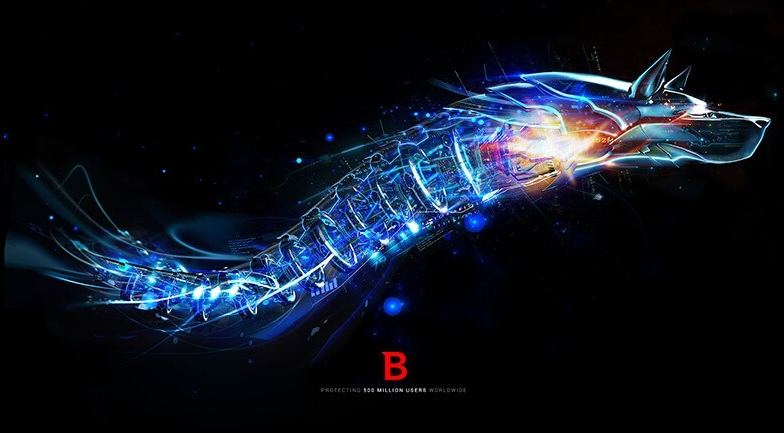 Bitdefender is a Romanian-based Cybersecurity company established in 2001 by Florin Talpes, its present CEO. 
Bitdefender antivirus is one of Bitdefender's cybersecurity products leading the antivirus revolutionary trend with patents in Machine Learning algorithms relating to malware detection and cybersecurity protection.
Bitdefender Antivirus suite offers users basic privacy and security protection features, including a revolutionary antivirus engine, VPN, dedicated browser for safe online banking, antiphishing, game mode, etc.
Key Features Of Bitdefender
User Interface
A good antivirus software starts with a user-friendly interface with well-laid out features for easy navigation. We see this in Bitdefender's interface, which displays a default layout of essential tools and operations at the right and a menu of additional/secondary functionalities. On the dashboard, you have the quick scan, system scan, vulnerability scan, VPN, and the Safeplay icons. You can also customize your dashboard by adding any feature.
Robust antivirus engine
Bitdefender's AV Engine performed exceptionally well by scoring perfect scores in several lab tests. Based on the tests I conducted, Bitdefender's scanner proved it is worth the rating it got by detecting every malware infection loaded on my system. These malware numbered about 690, including viruses, Trojans, worms, ransomware, spyware, cryptojackers, rootkits, keyloggers, etc. 
With a single Full system scan, Bitdefender detected and removed every piece of malware on my system in less than one hour. I would attribute its lightning speed to its Cloud-based antivirus engine, which uses advanced AI, and ML to identify threats. Also, since it is lightweight, it doesn't slow down system performance. 
Overall, Bitdefender's AV Engine performed impressively well because it is fast, doesn't slow down system performance, and has a powerful AV scanner with a perfect malware detection score.
Antiphishing functionality
Phishing sites are common cyber threats that threaten internet safety. Bitdefender has a powerful phishing detection feature that compares the sites you visit with an updated list of phishing and other dangerous sites and automatically blocks access to such websites. In the test conducted, Bitdefender's blocked filtered all phishing and malicious websites I tried visiting. Overall, Bitdefender's antiphishing feature is 100% effective at identifying and filtering fake websites; you also get a notification of the websites it has blocked; hence you can easily whitelist a false positive.
Bitdefender Shield (Real-time protection)
Bitdefender's active shield offers you real-time protection by scanning the files and email attachments you access in real-time. I ran a test on Bitdefender Shield with over 150 infected samples, including text files, executable programs, and compressed files. 
I also ran network attacks from other systems; surprisingly, Bitdefender's shield prevented these infected files from downloading and protected me from every network attack I had launched from other systems. Overall, Bitdefender Shield is effective against Network attacks, Boot sectors, unwanted applications, keyloggers, etc. Additionally, you can customize this feature to include scripts, applications, and archives.
READ ALSO: Best Antivirus For 2022
Bitdefender VPN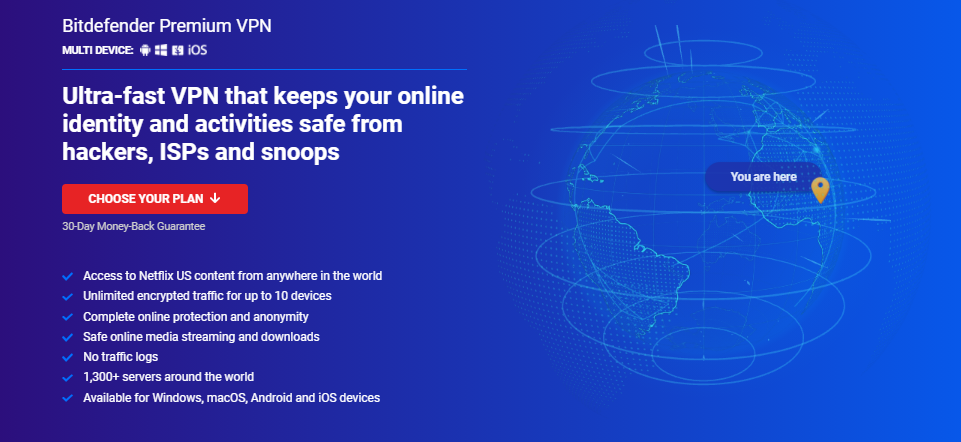 Bitdefender's VPN isn't as robust as premium VPN providers but does offer a no-log policy, strong encryption, unblocks geo-blocked and restricted websites, fast download speed, kill-switch technology, online safety, and anonymity. However, the 200MB bandwidth limit prevents you from doing so much more with Bitdefender's VPN. To bypass the 200MB bandwidth limit, you can subscribe to Bitdefender's premium antivirus suite with unlimited Bandwidth or subscribe separately to Bitdefender's VPN plan.
Also Read: Bitdefender Family Pack Vs Total Security
Password Manager
Although you won't enjoy additional features offered by premium password managers, you're sure to enjoy basic features, including secure password storage, password generator, auto-save and auto-fill, and multi-device sync. I find Bitdefender password manager efficient and robust enough to meet my password needs without the need to subscribe to a premium Password Manager service.
Other tested features include:
Parental controls

Webcam and microphone protection

Firewall

Wi-Fi protection

Additional

features
Pros 
It is a top-rated free antivirus based on its performance in lab tests

Cloud-based antivirus engine

Discounted price for multiple devices 

Offers protection for 15 devices for a family subscription

VPN
Cons 
200MB bandwidth limit for fast VPN. However, users can subscribe to a separate Bitdefender VPN plan. Premium security subscribers enjoy unlimited VPN bandwidth.

Mac OS support for paid plans only 
Technical Details
Supported devices and OS:

Windows, Mac, Android, iPhone

Pricing model:

Yearly subscription packages

Customer types:

Individuals, businesses, and corporate organizations

Mobile applications:

Android, iOS
Pricing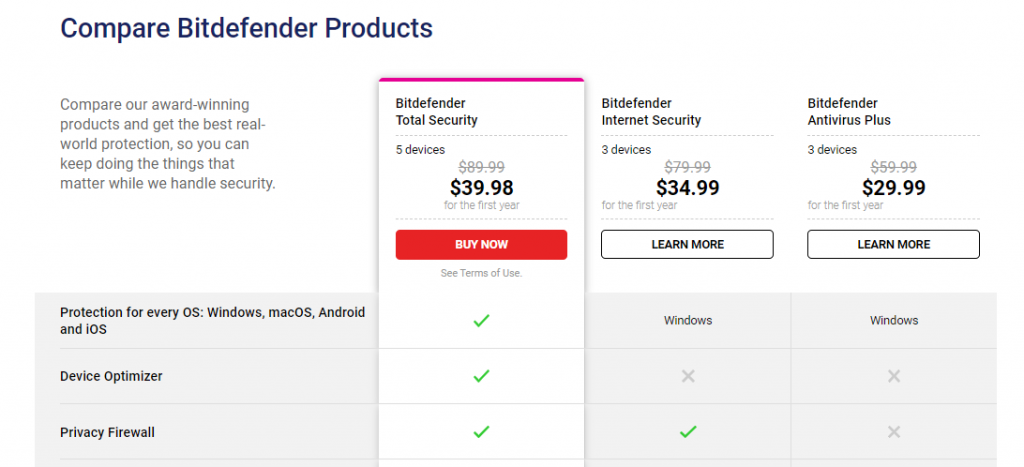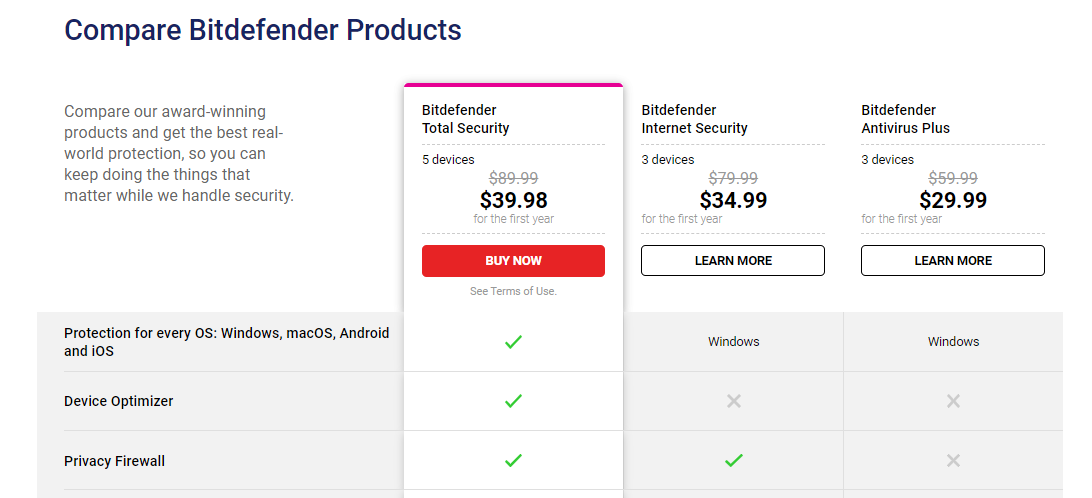 What makes Bitdefender great is its affordability combined with robust features. Even with VPN service, Bitdefender is very affordable when compared with other antivirus programs. 
Below is a summary of Bitdefender pricing plan.
Bitdefender Plus (basic Windows protection package): $29.99 per year, offers protection for 3 Devices.

Bitdefender Total security (complete protection for Windows, Mac, iOS, and Android): $39.98 per year, offers protection for 5 Devices.

Bitdefender Internet Security (advanced protection for windows): $34.99 per year, offers protection for 3 Devices.

Note: You enjoy

more discounts

 if you're subscribing to multi-year plans.
Is Bitdefender Security Suite Safe?
Yes, BitdefenderSecurity Suite is safe to run on your system; their lightweight feature doesn't take much space and system resources; therefore, you wouldn't notice any difference in system speed and performance while performing a full system scan.
Conclusion 
Overall, Bitdefender is one of the best-recommended antivirus programs with 100% detection, robust features that deliver as promised, and affordable plans covering all use cases.
---
INTERESTING READS