Is KingoRoot Safe? That is a common question that I will endeavour to answer in this KingoRoot review. Also, I will show you the best KingoRoot alternatives.
After reviewing KingoRoot, in the end, you will be able to determine if it is safe or worth it. I will also be looking at its cost, features, pros, and cons based on personal research.
Is KingoRoot Safe?
Yes, KingoRoot is safe but it is necessary that you consider its cons before opting for it. With the KingoRoot app, users get to root their Android device and they can perform operations that are not normally accessible to Android users like replacing or altering system applications and settings. Also, they can run specialized apps with administrative-level permissions.
The original version of KingoRoot doesn't contain any malware so beware of clones and only download the software from the official KingoRoot website.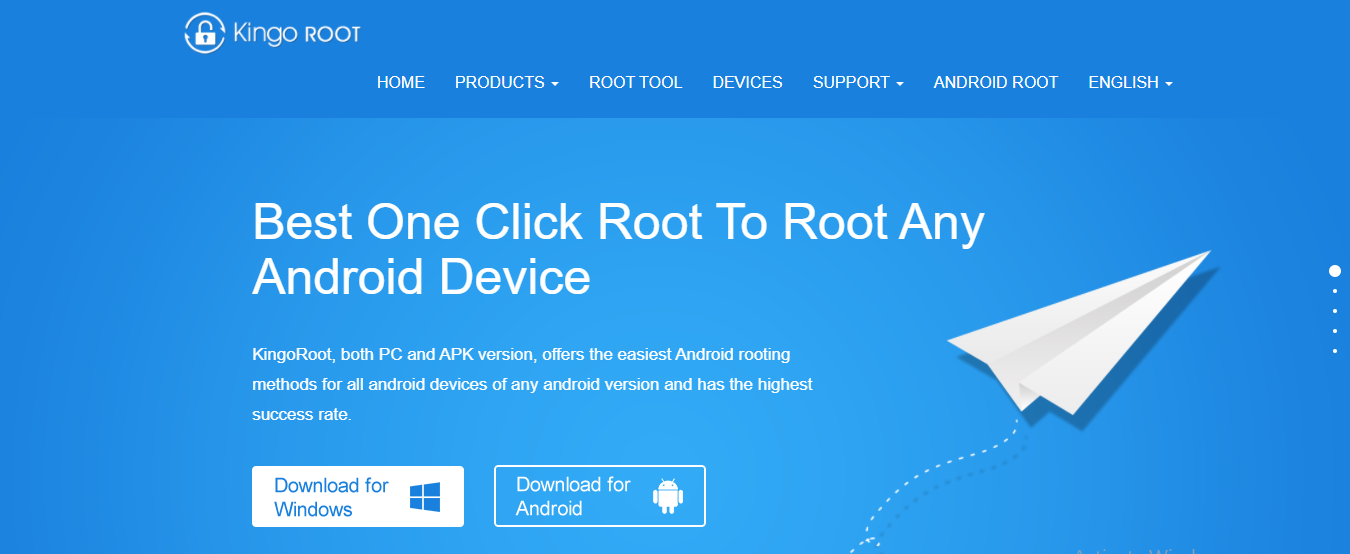 What Is KingoRoot All About?
KingoRoot is free, open-source software that offers root solutions for smartphones, tablets, and so on, of any version of the Android operating system.  It is described as the "Best One Click Root" for rooting any Android device.  
When it comes to the Android mobile operating system, rooting is the process whereby users are allowed to attain root access, or in other words, privileged control over various Android subsystems. 
It gives users access to administrative permissions and helps to overcome limitations that hardware manufacturers and carriers have placed on devices.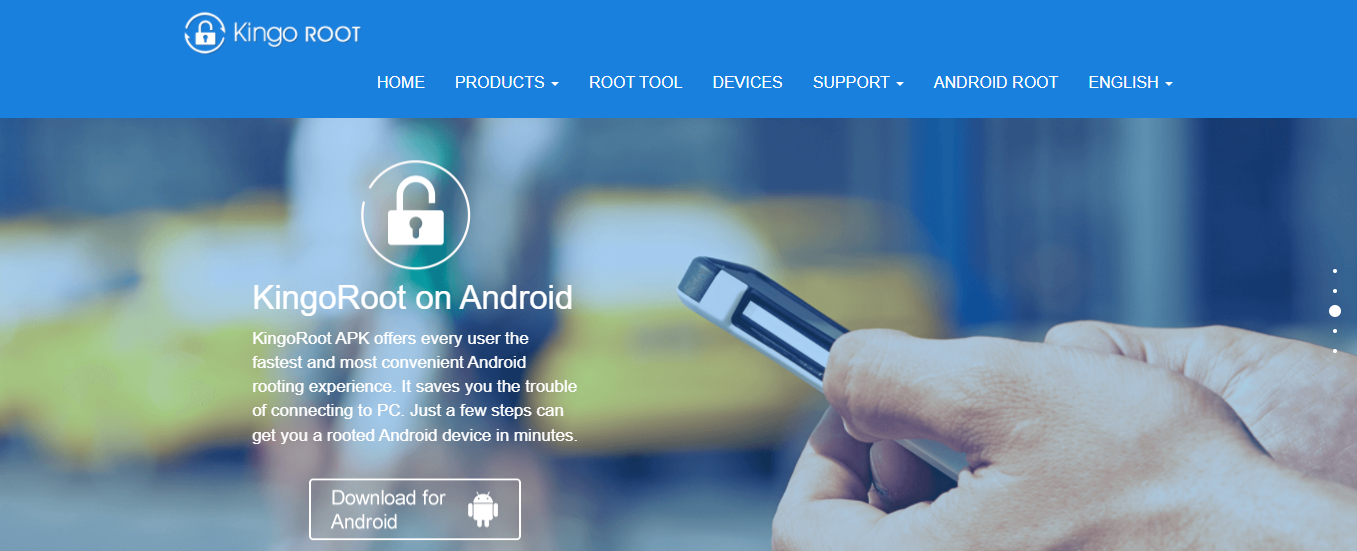 How Much Does KingoRoot Cost?
KingoRoot costs nothing at all. It is an entirely free-to-download and use software that helps users to root their Android devices.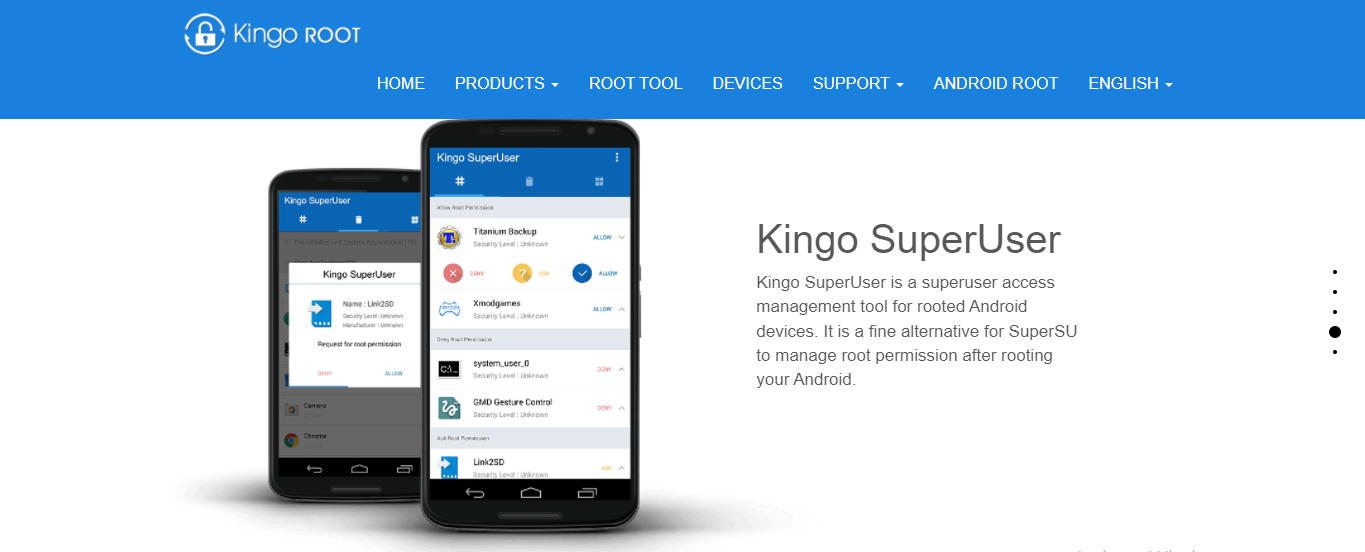 Best KingoRoot Alternatives
For this KingoRoot review, I assume it is essential to list other KingoRoot alternatives that are worth mentioning.
1. KingoRoot vs KingRoot
Here is the top entry on the list of the best KingoRoot alternatives.
KingRoot has a simple user interface and supports Android rooting with just one click like KingoRoot. These two software applications are similar and are most times mistaken for each other. 
However, KingRoot existed before KingoRoot. It is also free but proprietary. Furthermore, its benefits are similar to KingoRoot; it removes bloatware, blocks ads, allows full customization, and can root Android with or without a Windows PC. 
2. KingoRoot vs Magisk
Just like KingoRoot, Magisk is free and open source. It prides itself as the most secured rooting solution on the market and works in a systemless interface. It doesn't interfere with system files or partitions and your device gets to acquire ready-to-use OTA updates and security patches. 
It also has a SuperSU for managing roots called MagiskSU, it regularly accepts and denies root permission and users get to custom ROMs. The app is installed directly on the Android device; no need for a PC.
3. KingoRoot vs SuperUser 
SuperUser is a software by ChainsDD and it is a free and open-source KingoRoot alternative. It has elevated permission and can modify and manage Android devices at the same time. It doesn't require that you connect with a PC before you can root your device. 
It can root multiple and major Android devices. Its features include complete unroot, temporary unroot, ghost mode, and wake-up prompt.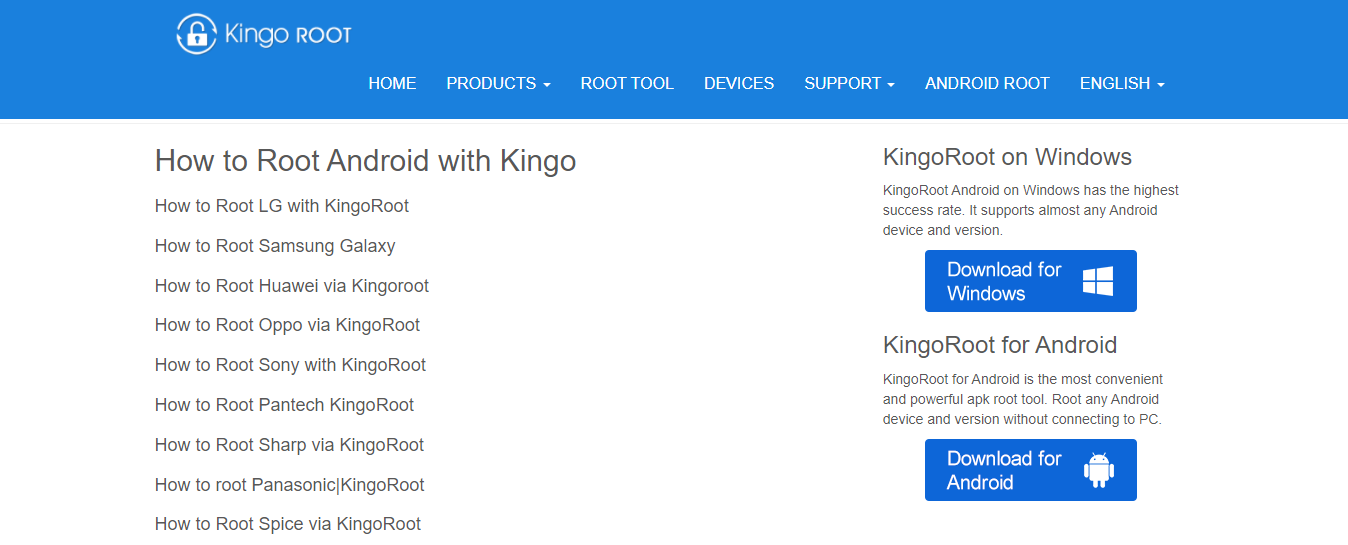 KingoRoot Features
One-Click Root
Rooting your Android device with KingoRoot requires only one click on the Root icon. Other functions on the app are also carried out with just one click.  
Blocks Ads
KingoRoot blocks and removes ads from rooted apps. This helps to avoid being redirected to shady and malicious websites.
Customization
With KingoRoot, there are a lot of customization and options available to users. They get to install any custom-built ROMs.  
Available for Major Android Devices
This software can be used on Android devices like Samsung, ASUS, Acer, Moto, Sony, Google, LG, Lenovo, HTC, and HUAWEI.

KingoRoot Pros and Cons
Pros 
It has a user-friendly interface.

Can be used to root Android devices with and without a PC.

Roots almost all Android versions.

It has an unroot option.

It doesn't leak or spy on users' privacy.

Works for major Android devices like Samsung, Moto, Sony, Google, LG, Lenovo, HTC, and HUAWEI.
Cons
It doesn't work for all Android devices.

It uninstalls apps on your Android device during installation.

It takes a lot of time when rooting devices.

Slows down Android devices' performance.

Deleted roots usually have leftovers. 
How to Get Started With KingoRoot
Visit the official

KingoRoot website

and double click on either the Download for Windows or Download for Android icon to download the KingoRoot Android PC version or the APK version.

If you are downloading it on your Windows desktop, install it and then launch it. Using a USB cable, plug your Android device into your pc and enable USB Debugging mode on the Android device. 

For the APK version to be installed on your Android device, allow installation of apps that are from unknown sources from the Security page under Settings on your device. 

After downloading KingoRoot on your Android device, on the main interface click on One Click Root and wait for a few seconds for results to appear.

For whatever version you are downloading, read notifications carefully and click on ROOT to enable you to root your device.
How To Delete KingoRoot 
KingoRoot works as a root manager in place of SuperSU and deleting it or uninstalling the app after rooting is difficult as it installs a SuperUser app after rooting. This gives it permission to apps and allows root access.  
To delete KingoRoot, you have to unroot your device.
Open the KingoRoot app on your device.

Click on the navigation dots (three dots) on the top right of the app.

Click on Setting and then scroll down and select Remove Root.

Select Continue and your device should reboot.    
Is KingoRoot Worth It?
Yes, KingoRoot is worth it but has its disadvantages as mentioned earlier in this KingoRoot review. It doesn't work on all devices, can be slow, and slows down users' devices. However, it is free and allows you to root your device giving you access to do anything with your Android device.  
Wrapping Up The KingoRoot Review
If you want to get your Android device rooted so you can alter system applications and do other things with your device that seems impossible, opting for KingoRoot may not be a bad idea.
However, there is a need for you to know what you are getting into and we hope this KingoRoot review goes a long way to helping you make the right decision. In fact, you can use any of the best KingoRoot alternatives that we mentioned in this post if you are not convinced.
---
INTERESTING POSTS