This review post will show you all that you need to know about Defencebyte Antiransomware.
There have been over 600 ransomware attacks between 2017 to 2021, and this figure is increasing, hence the need for robust anti-ransomware to mitigate against growing ransomware attacks.
Defencebyte anti-ransomware is a cybersecurity solution that offers total protection against ransomware and other malware attacks. 
This Defencebyte Antiransomware review is carefully curated to include everything you need to know about Defencebyte anti-ransomware, its features, pricing, installation process, pros and cons, customer support, Reddit comments, and more.
What Is Defencebyte Antiransomware?
Defencebyte anti-ransomware is an anti-ransomware solution developed by Defencebyte, an Australian software development company focused on making internet surfing safe and free from malicious activities using the latest advancements in cybersecurity technologies and the best technical know-how in the industry.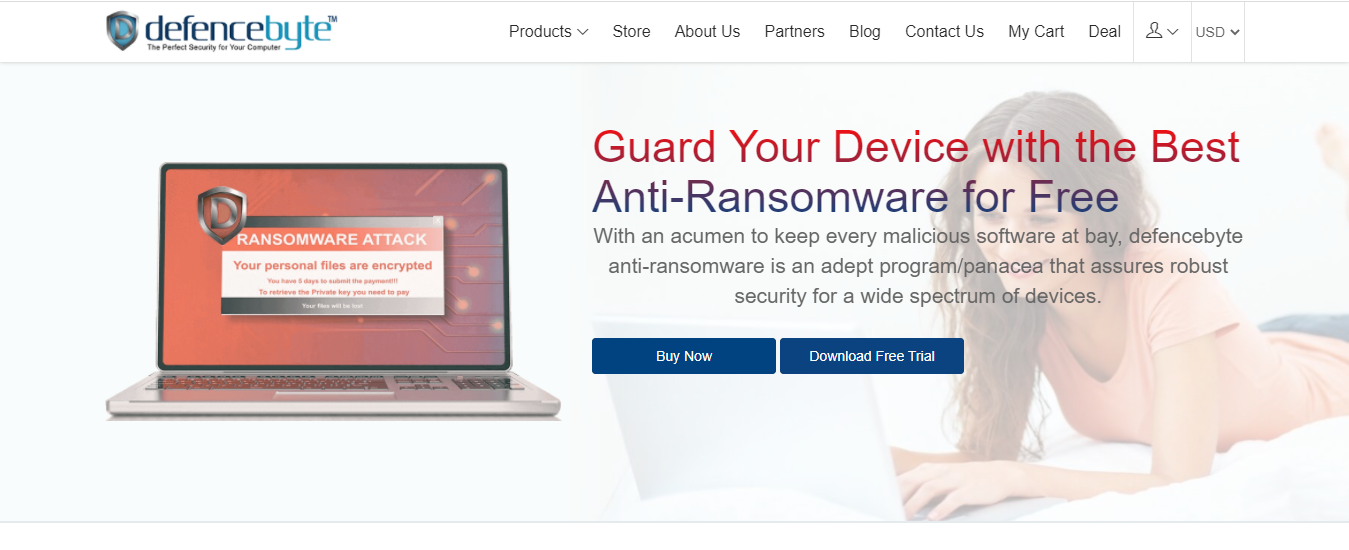 How Does It Work?
Defencebyte anti-ransomware is a 3-layered malware with all three layers working simultaneously to detect, prevent, and remediate your PC from malware attacks.
It protects your PC by keeping track of running processes such as file encryption, read/write functionalities, registry modifications, and more. It also detects changing ransomware signatures and patterns, thus preventing ransomware attacks in real-time.
Aside from detecting and protecting PCs from ransomware attacks, Defencebyte can terminate and roll back all ransomware attacks, restoring your PC to its previous uncompromised state.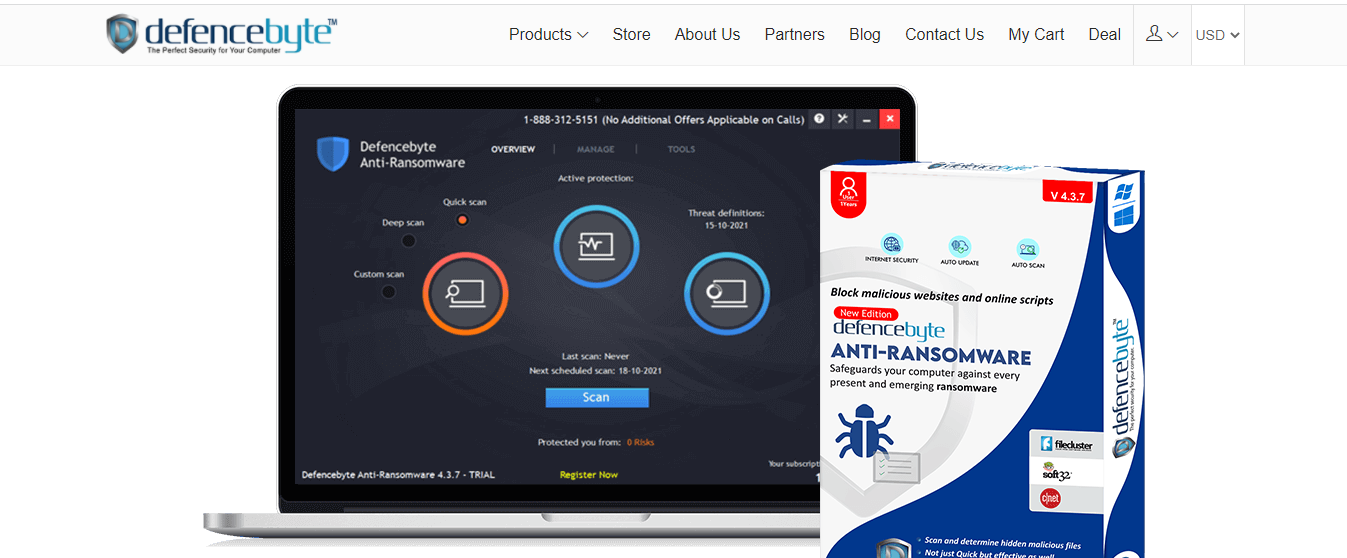 How To Install Defencebyte Antiransomware 
Installing Defencebyte anti-ransomware is a simple process that does not warrant you being a tech-savvy person; with a few mouse clicks, you're sure of getting Defencebyte up and running on your PC.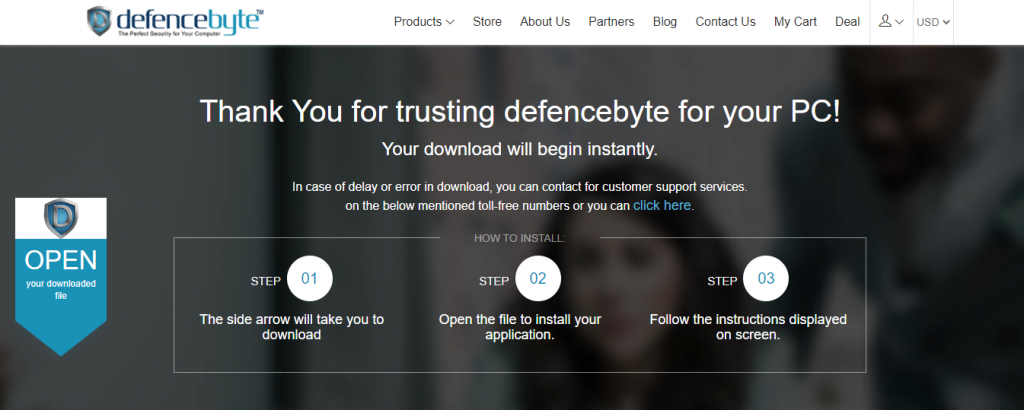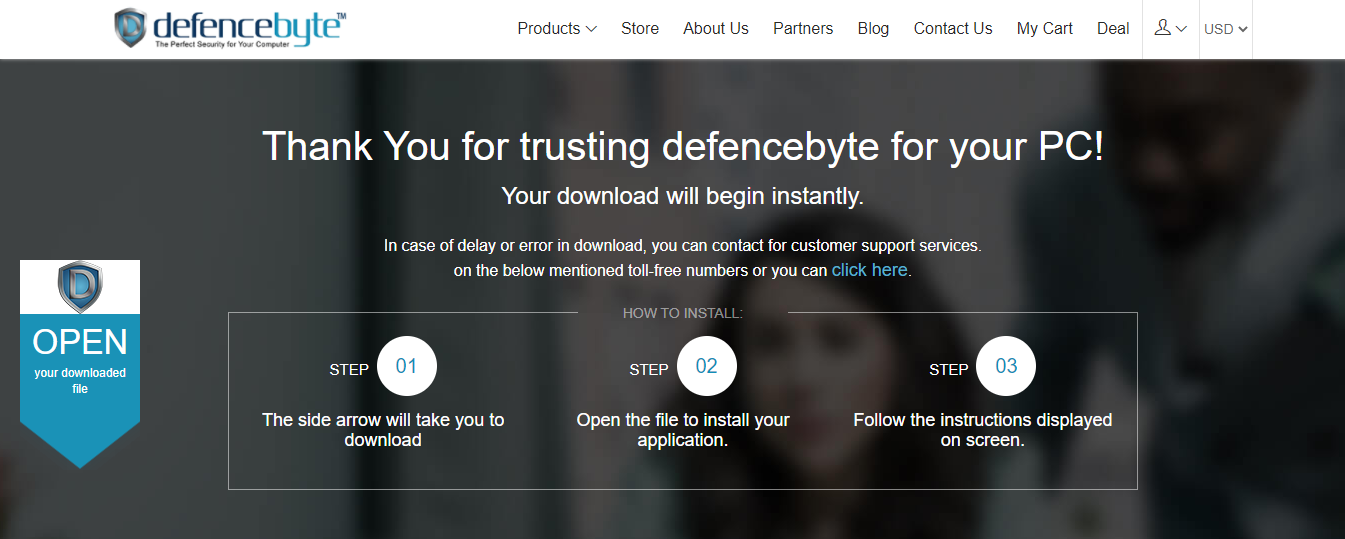 Step 1: Purchase a premium license or download the free version of Defencebyte anti-ransomware at this link; double-click on the downloaded software to start the installation process.
Note: For this Defencebyte Antiransomware review, we purchased a license for extensive testing.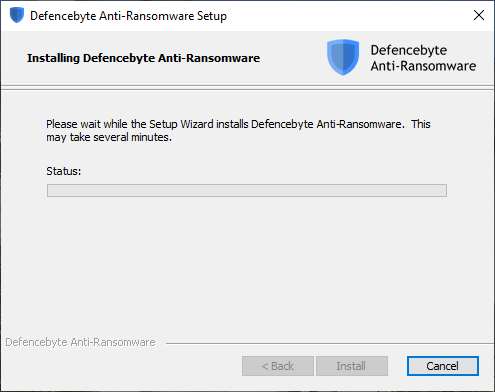 Step 2: Click yes to allow Defencebyte anti-ransomware to make changes to your device; make sure you have an active internet connection to connect and download installer packages from the cloud.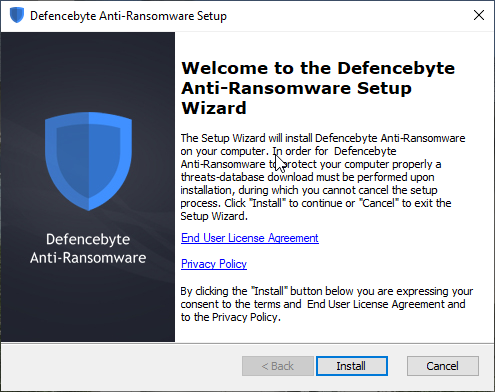 Step 3: Upon successful loading, Defencebyte's installation wizard pops up, click on 'Install' to allow the installation wizard to proceed with the automated installation process.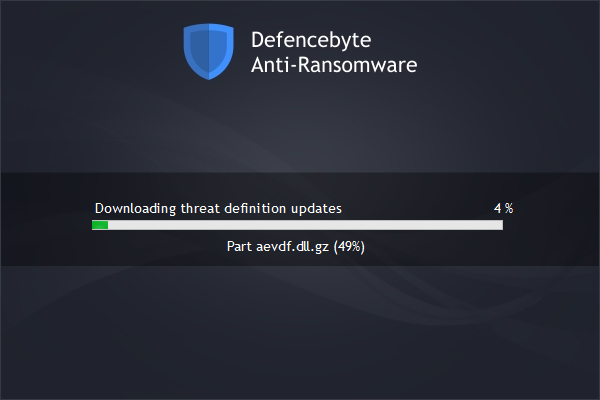 Step 4: Wait while Defencebyte anti-ransomware downloads its threat definition base; this step can take several minutes to complete.
Step 5: After completing its malware threat definition database download, Defencebyte's interface pop-up automatically; you can now perform a deep, quick, or customized system scan right from the Interface.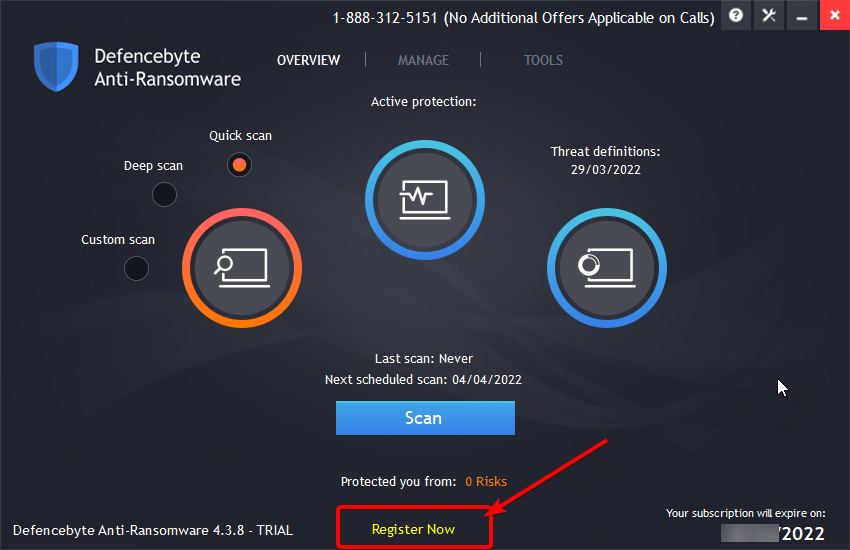 Step 6: Click on the Register Now to enter your license key.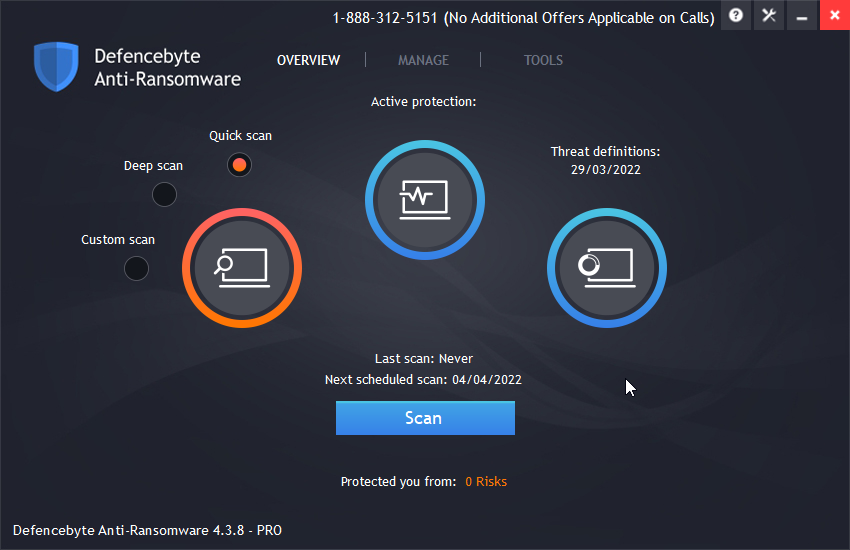 Step 7: Your Pro status will now appear after entering your license key, you can then proceed to start a quick, custom, or deep scan. Also, your PC will be protected against all forms of cyber threats.
===>> Get Defencebyte Antiransomware
Defencebyte Antiransomware Features
Three Scanning mode
Defencebyte has three scanning modes: quick scan, deep scan, and custom scan. 
Quick scan performs quick system scan of PC memories, file registries, internet files, operating system directories, and other common areas of the hard drive.
Deep scan performs a comprehensive scan of PC memory hard drives.
Custom scan lets you choose what files, directories, and programs to scan for malware.
User-Friendly Interface
Defencebyte has a simple and clean user interface; The icons are well-laid to make navigation easy even for non-tech savvy individuals. 
The Interface has three sections for ease of navigation: Overview, Manage, and Tools. 
Overview: in this section, you can choose to perform 'Custom,' Deep,' or 'Quick scan;' you can also enable or disable protection with a click on the 'Active protection' protection icon, and also manually update your threat definition database by clicking on the Threat definition icon. A click on the centrally-placed 'Scan' icon initiates your choice of scan.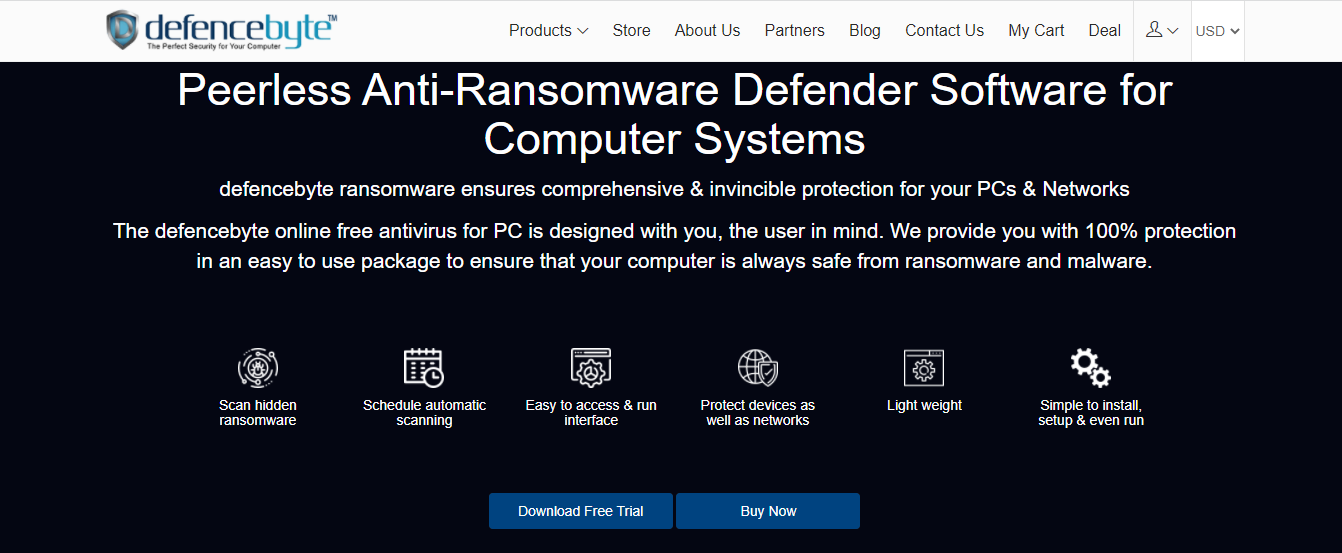 Manage: This section includes the following:   
History: view and manage your scan history, quarantine, blocked risks, and other information relating to scanning.

Quarantine: Click to view all quarantined items

Allows allowed: Click the icon to view allowed risks

Schedule scans: Click to enable, disable, edit, delete or add new scan schedules.

Defencebyte Anti-Ransomware update: Click to view or check for available updates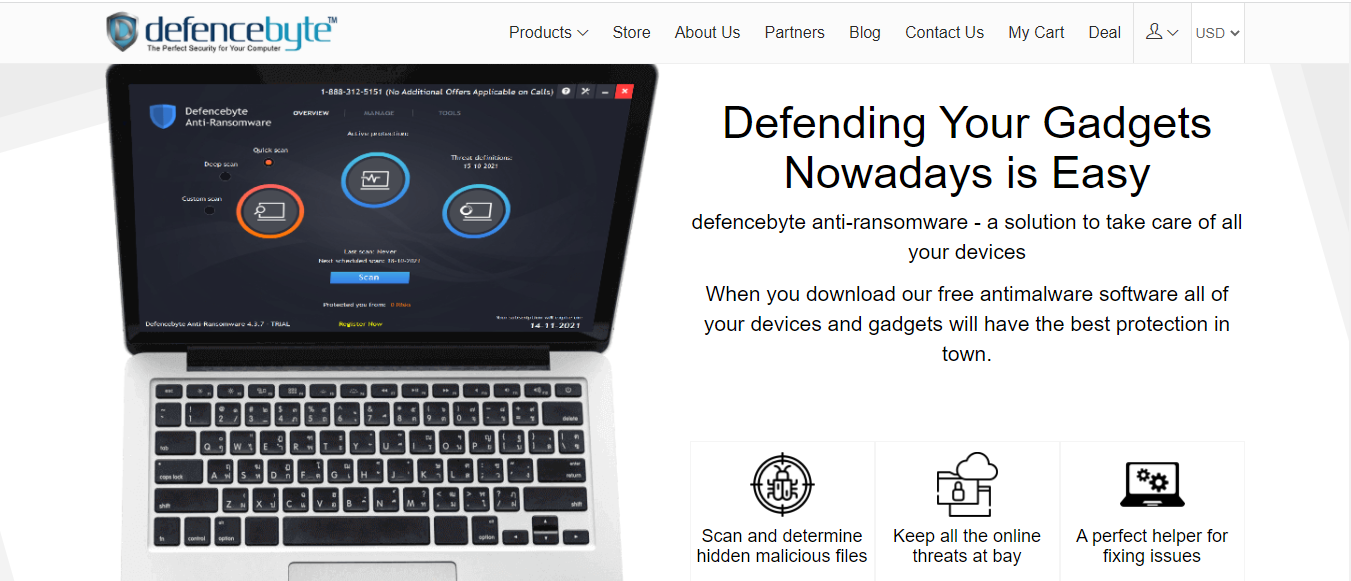 Tools: This section contains a collection of system tools for managing your privacy and optimizing your PC. Available tools include:
History Cleaner: A click on the history cleaner presents you with a list of history items to clear. You can 'Select/Unselect all history items and 'Clear' selected history with a click.

Secure File Eraser: This tool lets you delete or erase files completely and securely from your PC. Check the 'Erase Files' option to add this tool to your Windows Explorer menu.

Startup manager: Click to enable or disable applications that run automatically at Windows startup.
Real-time Protection
Defencebyte's 3-layered functionalities protect your system online and offline in real-time from ransomware and other malware, including viruses, trojans, worms, rootkits, etc.
Other Features
You get a comprehensive scan report and actions to take after the scan is completed.
Defencebyte anti-ransomware lets you schedule daily or weekly system scan depending on your needs
updates from Defencebyte are timely and are automatically downloaded and installed without requiring any action from you.

Defencebyte Customer Support & Resources
Defencebyte has a friendly and professional support service that provides 24/7 support via live chat, email, and helplines. You can also get additional customer support services via Defencebyte's 'contact us form, which you have to fill by providing details such as your name, email, phone no, subject and questions.
Helpline: 1-888-312-5151
Email support
Defencebyte's FAQ 
Defencebyte offers a rich FAQ page that helps users resolve issues without reaching out to customer support. Its FAQ page tackles issues relating to malware infections, PC optimization, privacy, payment, and general inquiries. 
Defencebyte Anti-Ransomware Pricing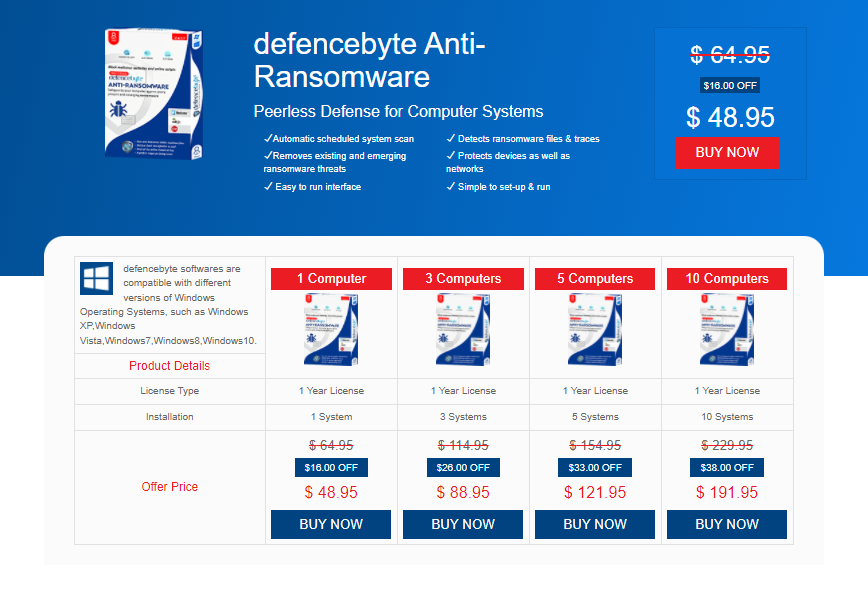 Here are its pricing plans:
1 Computer – $48.95 per year
3 Computers -$88.95 per year
5 Computers – $121.95 per year
10 Computers – $191.95 per year
Note: You can also test it for a 30-day trial period. 
===>> Get Defencebyte Antiransomware
Minimum System Requirement
OS Requirement: Defencebyte supports 32 and 64-bit versions of Windows XP, Windows Vista, Windows 7, Windows 8, Windows 8.1, and Windows 10
CPU requirement: Pentium 233 MHz or above 
RAM requirement: 128 MB or above 
Storage: Minimum 500MB storage space
Note: For this Defencebyte Antiransomware review, I tested it on a 4GB RAM laptop and it didn't slow down my PC. Nevertheless, it seems to be a lightweight solution for both old and latest Windows PC based on its specs.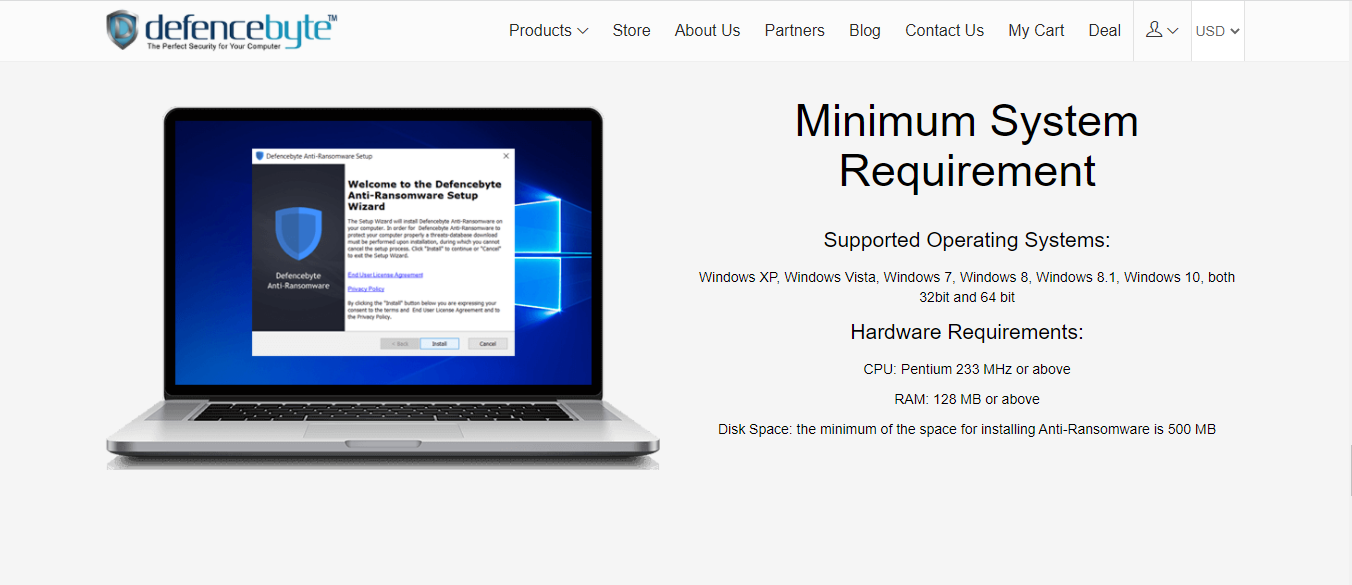 Defencebyte Antiransomware Pros 
Multi-layered cybersecurity solution 

Fast and robust scan engine

Impressive file shredder

Clears your history and digital footprint by removing all traces of recently used files and apps

Clears all online and offline browser records

Protects your online data and identity

Clears all chats and cookie data from archives
Defencebyte Antiransomware Cons 
It is not compatible with Mac or other OS aside from Windows OS

No mobile version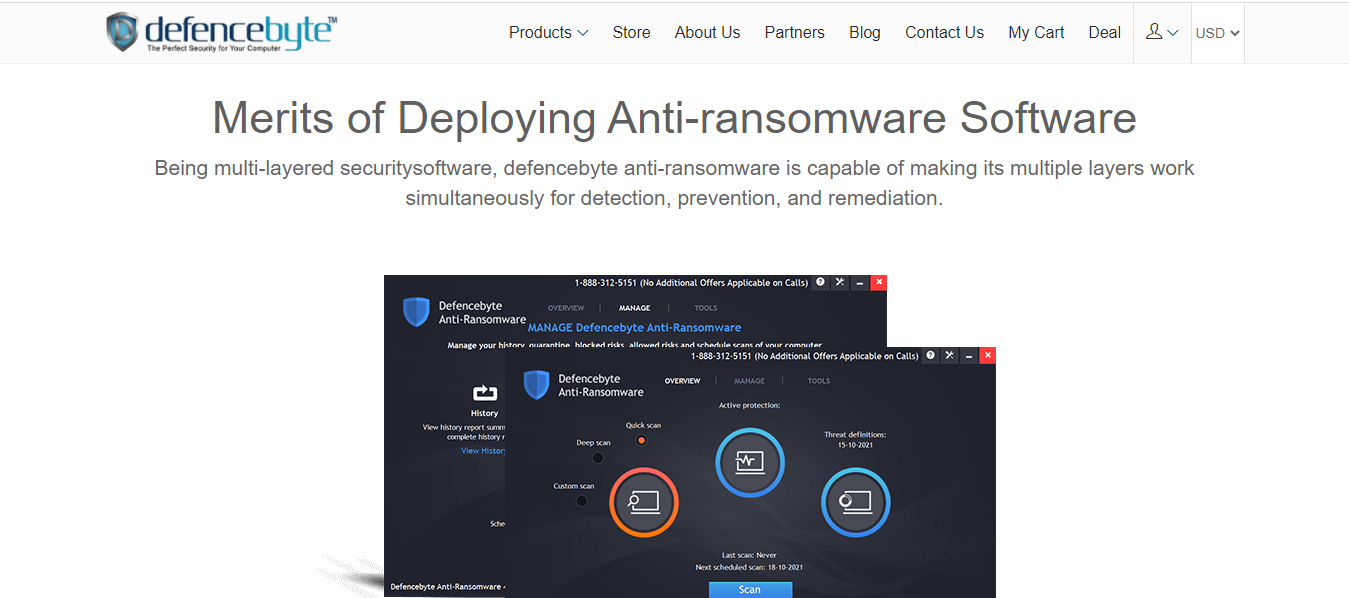 Frequently Asked Questions (FAQ) About Defencebyte Antiransomware Review
What does ransomware do?
Ransomware restricts you from accessing programs, files, directories, and other valuable data on your PC using a secure encryption mechanism. If your PC is infected with ransomware, it will display a message asking you to pay a ransom using private cryptocurrencies such as Monero before regaining access to your PC. Hence the name 'Ransomware.'
Is Defencebyte Antiransomware Free?
Defencebyte anti-ransomware is not free, but you can enjoy a 30-day trial period, after which you will have to subscribe to its yearly plan. As you can see from this Defencebyte Antiransomware review, it has affordable pricing plans for both individuals and enterprises with multiple computers.
Is Defencebyte Antiransomware Legit?
Yes, Defencebyte anti-ransomware is Legit; it is a cybersecurity solution from Defencebyte LTD, an IT company based in Australia. It is a popularly used anti-ransomware tool with millions of users worldwide. Defencebyte focuses on providing a safe world wide web where every user can surf the net safely and enjoy an awesome browsing experience safe from malware infections and security issues using the latest technological advancements and professional and reputable cybersecurity teams and personnel.
Does Defencebyte Have an Antimalware solution? 
Yes, they do. Defencebyte antimalware is a powerful malware solution that protects your PC from malware infections, including ransomware, viruses, trojans, cryptojackers, rootkits, worms, etc. Defencebyte Antimalware lets you scan system files, locations, and URLs for malicious activities of malware types like viruses, trojans, ransomware, spyware, worms, etc.
===>> Get Defencebyte Antiransomware
What is the best defense against ransomware?
The best defense against ransomware is to have Defencebyte anti-ransomware installed on your PC to detect, prevent, and erase all ransomware files present on your PC. Additionally, you should carry out the following steps to ensure the safety and accessibility of your data. 
Regular backup

Use robust passwords and 2-Factor Authentication

Practice policy of least privilege 

Train your employees of the risk associated with data recklessness 

Inform your security team of any suspicious activities
Can Defencebyte Antiransomware Get Rid Of Ransomware?
Of course, Yes! Defencebyte anti-ransomware is developed to detect, protect, and mitigate ransomware attacks. While your PC is running, Defencebyte anti-ransomware is active, running in the background to keep your system protected round the clock.
You can schedule a daily or weekly system scan, depending on your needs. Above all, Defencebyte Antiransomware updates itself regularly and automatically to keep abreast of evolving malware threats to prevent system security compromise.
What's the difference between malware and ransomware?
Malware encompasses all malicious programs intended to steal data, disrupt system functioning, hack devices, log keys, steal important data, and other malicious activities while running on your PC. Viruses, ransomware, trojans, worms, rootkits, cryptojackers, and spyware are common types of malware.
Ransomware is a type of malware designed to lock you out of your device remotely by encrypting files and programs on your device and asking you to pay ransom to its creator to access your device and files using a private key that will be released after the payment.
Why is it called Antiransomware and not Antivirus?
Anti-ransomware and antivirus perform essentially the same functions; however, anti-ransomware are developed to mitigate against a broader range of evolving malware attacks, including ransomware, virus, spyware, rootkit, trojans, worms, etc. 
The word 'Antivirus' remains a popular term for antimalware tools, but anti-ransomware remains a preferable term due to its broader range of targets and the ability to mitigate against evolving ransomware attacks which is growing more in popularity compared with other malware types.
What kind of files contain ransomware?
Executable files (.exe) are common file types that contain ransomware. However, hackers love to use ZIP and RAR files to attempt to evade anti-ransomware tools. e.g., the ZIP file 'Love_You0891 was used to spread ransomware on Val's day. Other file types used include .doc, .docx, .xls, .xlsx, .xlsm, .pdf files, images, and ISO disk images.
You should not open suspicious emails from unknown senders; if you have to open such emails attachments, you should avoid clicking on links embedded in such emails, and you should run a comprehensive scan of attached files before proceeding to open such files. You shouldn't click on any links that do not offer you genuine reasons to access such files, neither should you click on links embedded in such files.
How does a computer become infected with ransomware?
There are several ways by which a computer can become infected; however, the common ways include opening phishing emails, use of infected external drives, visiting infected sites, downloading from untrusted sites, use of web-based instant messaging apps, vulnerable web servers, and other newer ways of spreading malware.
How do I know if my system is infected with ransomware?
A ransomware infection locks your desktop or web browser, only displaying a message containing instructions on the amount of ransom to pay, payment mode, and other instructions.

Your file directories may contain a  .txt ransom note. 

All files on your PC will have new file extensions appended to their names. Common ransomware file extensions include .1999, .vault, .HA3, .toxcrypt, .magic, .SUPERCRYPT, .CTBL, .CTB2, .locky  .ecc, .ezz, .exx, .zzz, .xyz, .aaa, .abc, .ccc, .vvv, .xxx, .ttt, .micro, .encrypted, .locked, .crypto, _crypt, .crinf, .r5a, .XRNT, .XTBL, .crypt, .R16M01D05, .pzdc, .good, .LOL!, .OMG!, .RDM, .RRK, .encryptedRSA, .crjoker, .EnCiPhErEd, .LeChiffre, .keybtc@inbox_com, .0x0, .bleep, other random extension characters.
What do I do if my system is infected with Ransomware Infection?
If you suspect your system is infected with ransomware, you should carry out the following steps:
Disconnect from the network by turning off your WiFi, switching to airplane mode, or unplugging from the ethernet to prevent further spread of ransomware to other devices on the network

Disconnect all attached devices

Report to the appropriate authority, or engage the services of a professional cybersecurity technician

Erase all data on your PC and restore a backup.
However, the best step to prevent ransomware infection is by installing Defencebyte ransomware on your PC to detect and prevent ransomware attacks.
Wrapping Up The Defencebyte Antiransomware Review
Defencebyte anti-ransomware is a robust antimalware tool that is easy to use. Its robust anti-ransomware engine detects ransomware and other types of malware like viruses, worms, trojans, spyware, keyloggers, rootkits, etc.
Also, its added features, which include File Eraser, History Cleaner, and Startup Manager, are very effective at keeping your data and identity private and optimizing your PC. These unique features make Defencebyte antimalware solution one-of-a-kind in the antimalware industry.
Trying Defencebyte's 30-day trial is a risk-free way of proving if Defencebyte's antimalware solution is truly worth its salt.
===>> Get Defencebyte Antiransomware
---
INTERESTING POSTS