This is a comprehensive ClevGuard KidsGuard Pro For Android review, a phone monitoring app. As a parent, you oftentimes wonder what your kids are up to when they are out of your sight and control; you're not alone in this; for that reason, there's been several parental control/monitoring app to help parents keep an eye on their kids' locations and activities. 
One such monitoring app that has grown in popularity due to its stealth mode is ClevGuard's KidsGuard Pro for Android; hence this review will focus on all you need to know about KidGuard Pro, including how to install and get KidGuard Pro running in stealth mode on your kids' devices.
ClevGuard Company Overview
ClevGuard is an IT company focused on cybersecurity solutions. We see the knowledge of anti-spyware production coming to play in the design and production of KidsGuard Pro as it quickly gained ground as a monitoring app that can remain undetected on your target's phone due to its stealth mode. You can also learn how to hack mobile call history online using KidsGuard Pro.
Hence their products are designed to protect you from the ills of the internet, which include spyware that monitors your camera and microphone and collects and transmits data from your keyboard. 
What Is KidsGuard Pro?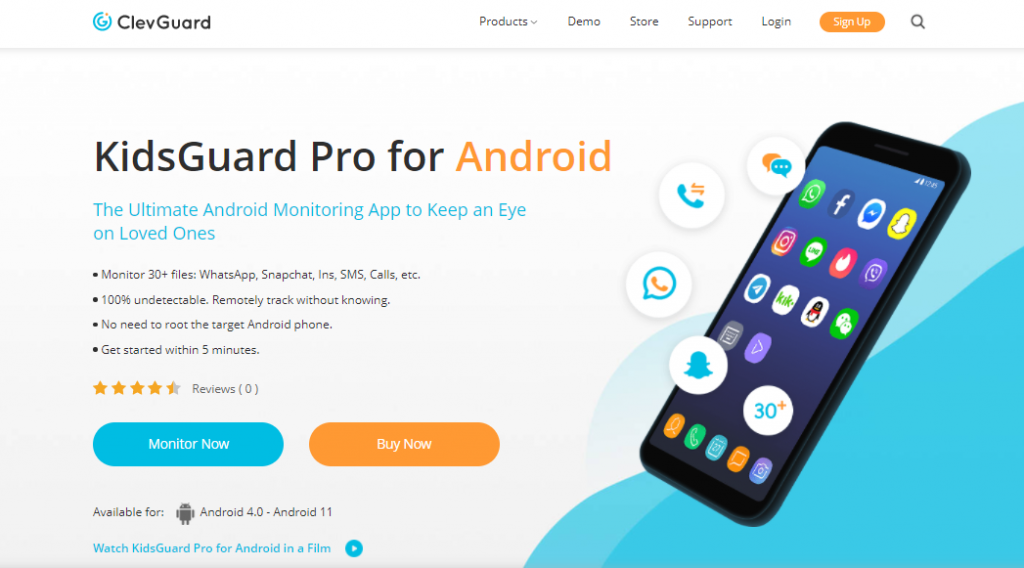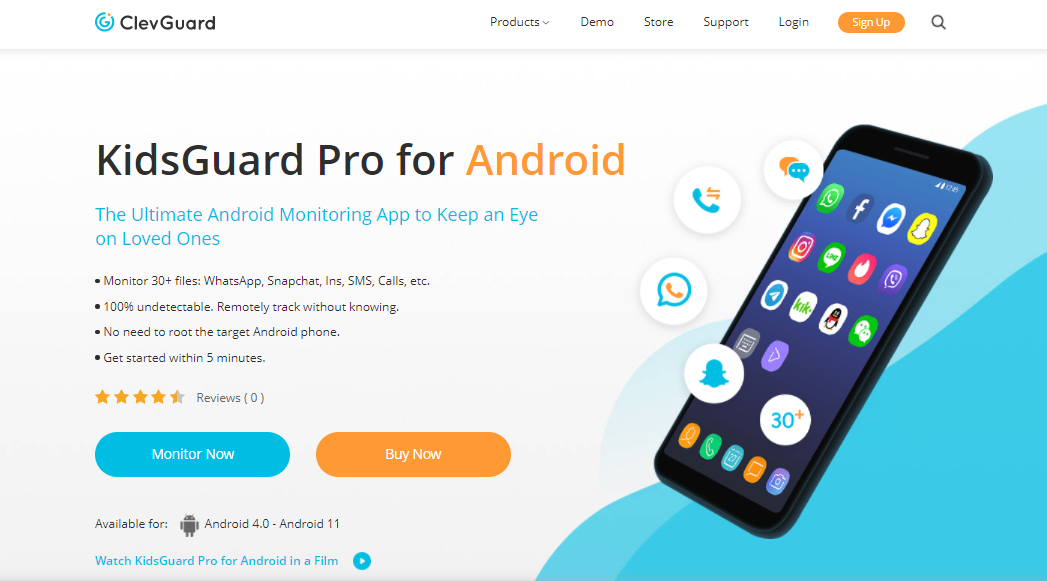 KidsGuard Pro is a kid's monitoring solution that lets you monitor your kids' social media usage, phone calls, location, etc., and also lets you remote control the camera and microphone on your kid's device to take snapshots and record conversations secretly. 
Overall, KidsGuard grants you remote access to your kid's smartphones without you leaving any clue that they are being monitored.
Features of KidsGuard Pro
Installation without rooting an Android device 
When installing KidsGuard Pro, our team didn't need to worry about rooting an android device which can be quite damaging or possibly result in irrecoverable phone brick.
So, not worrying about rooting your target's Android device is a big relief; thus, having access to your kid's phone once for 5 minutes or less is enough to set up KidsGuard Pro on your kid's device without raising any suspicion or getting caught.
Monitor your kid's social media usage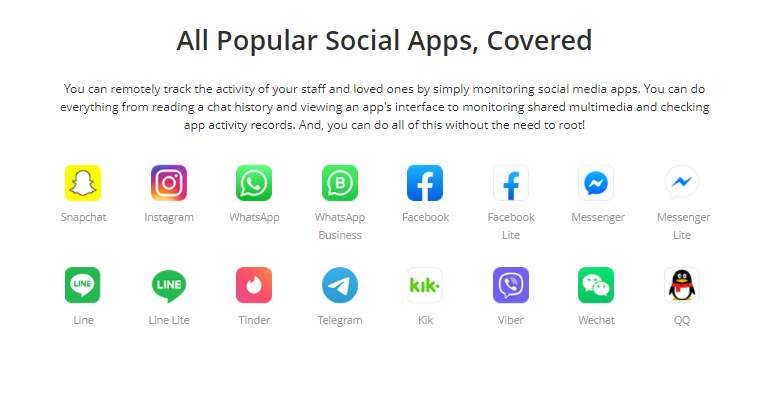 KidsGuard Pro boasts of monitoring more than 16 social media apps. Interestingly, this is a verifiable claim proven by our software testing crew, who have successfully used KidsGuard Pro to monitor popular social media platforms including Whatsapp, Telegram, Instagram, Facebook Wechat, tinder, and Viber.
If You choose to monitor your kid's WhatsApp conversation, you can view your kid's sent and received messages.
Monitor Location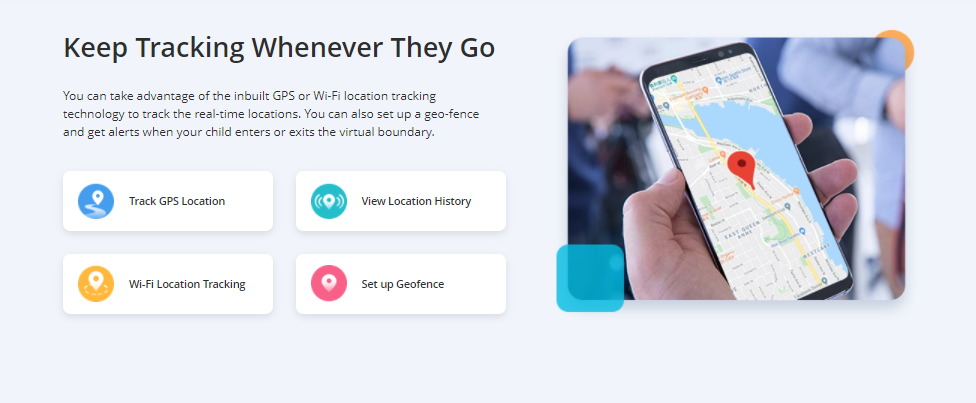 All parental monitoring apps can monitor locations, but what sets KidsGuard pro apart is its geofence feature. When you set a geofence by circling off areas that are off-limits to your kids, you get an email/SMS notification when your kid crosses the geofence. 
Remotely gain access to your kid's device
KidsGuard pro lets you remotely control your kid's camera, microphone, Phonebook, Message, browsing activities, etc., from your device.
Our team was able to take screenshots remotely, take photos, record calls, and monitor browsing history remotely. This implies that you can keep abreast of what your kid is up to at any point in time by gaining remote access to their Android device. 
Export Data
The downside to this feature is that you can export data from your dashboard but in CSV format only. To generate and export data, navigate to the left side of your dashboard and select the required data module. Our team is hopeful that soonest, KidsGuard users will be able to export data in PDF, HTML, or Excel format.
How To Set Up KidsGuard Pro On An Android Device
Setting up KidsGuard Pro on a target device is super fast and easy without needing any special IT skills. The following steps will guide you through how to get KidsGuard Pro running in 5 minutes.
Sign-up with KidsGuard Pro and subscribe to a suitable Plan. KidsGuard has flexible plans and subscription packages, and sometimes it can be a little confusing choosing a subscription package that fits your needs and budget.

After signing up and subscribing to a subscription package, you get a device code to activate KidsGuard monitoring on your target device.

Use your kid's phone browser to launch KidsGuard Pro's official website, and download and install KidsGuard Pro to your kid's device.

Grant permission to install applications from an unknown source when prompted to do so during installation.

After a successful installation, use your username and code generated in step 2 above to activate KidsGuard Pro on your kid's Android device to enable you to monitor your kid's device from any device and browser.

Clear your browsing history, and delete KidsGuard pro APK file to erase all traces of your activities and KidsGuard presence on your target's device.
READ ALSO: 6 Online Security Tips for Kids
KidsGuard Pro Plans And Pricing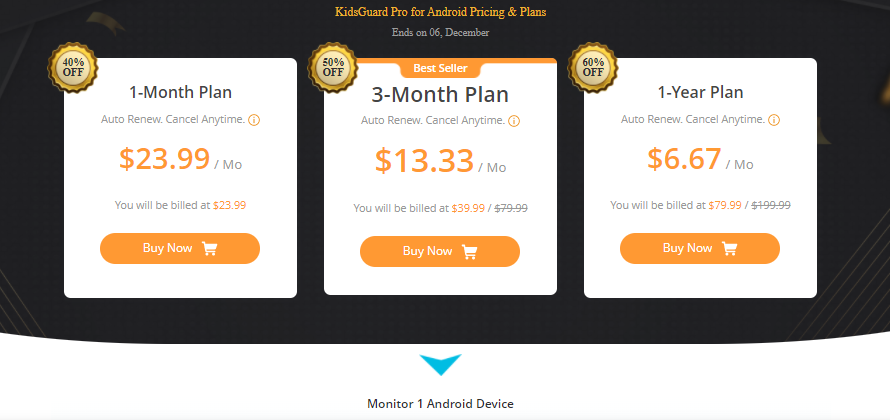 Here are its pricing plans:
Month Plan:

$23.99 per month, gives you access to all premium KidsGuard features

3-Months Plan:

$$39.99/3-months, billed at $13.33 per month.

1-year Plan:

$79.99, billed at $6.67 per month.
At $6.67 per month for a yearly plan, KidsGuard Pro is quite inexpensive. Also, you enjoy a 30-day moneyback guarantee during which you can ask for a refund if you're not satisfied with KidsGuard Pro.
Note: The system requirement for this parental control software is Android OS version 4.0 and higher.
Customer Support
24/7 customer support and correspondence are available for all customers and prospective users via email and LiveChat. The Speed and ease of correspondence by email beat my imagination, but the fact remains that you cant get instant technical support offered via dedicated helplines. 
KidGuard's Pro LiveChat feature grants you access to customer support personnel for immediate resolution of issues, if any, but without the advantage of voice.
KidsGuard Pro's FAQ page is a rich assortment of issues and resolutions that have helped to make users' experiences an awesome one.
Is KidsGuard Pro Safe To Use?
Based on this ClevGuard KidsGuard Pro For Android review, I assure you that the app is safe to use. It doesn't have any adverse effect on the device on which it is installed, and you can uninstall Kidsgard Pro completely whenever you change your mind. Also, KidsGuard is a virus-free app that encrypts and protects users' data.
Conclusion
The above ClevGuard KidsGuard Pro For Android review shows that it is an exceptional parental monitoring app that offers you more for less. 
With KidsGuard Pro, you can monitor your kid's outdoor and indoor activities and whereabouts without raising any suspicion. You can record calls remotely, read SMS and monitor social media activities, and more.
Based on this, I will be recommending KidsGuard Pro as one of the best parental monitoring apps that lets you monitor all your child's activities in stealth mode.
---
INTERESTING POSTS