Although, you can use Thunder VPN only on your Android phone; however, in this post, I will show you how to download it for your PC.
A VPN or virtual private network is a piece of software that helps to create a tunnel between your network and a private VPN server. This VPN helps to hide your IP address and encrypt the web traffic form the snoopers. Thunder VPN is also a VPN app that does the same work for the device. You can download it for PC or your android device to protect data and other information from hackers. This article will help you to download Thunder VPN for your PC.
What is Thunder VPN?
Thunder VPN is a free proxy app for an android device to protect your IP address and secure the connection from snoopers or fraud people. This app contains lots of features including free uses with unlimited bandwidth. Thunder VPN doesn't require any registration fees or log in process, so you can use it on your android device as well as on your PC easily.
Why Do You Need Thunder VPN For Your PC?
You might be wondering why do you need to use "Thunder VPN" when you can use the Wi-Fi or broadband connection easily.
Here are some reasons to use thunder VPN for your PC:
You can secure your physical location and hide IP address from other users or hackers.
Easily enter into any websites that are blocked by your government or have some geographical restrictions.
You can stop ISP throttling and torrent safely by using Thunder VPN on your PC.
Thunder VPN will protect your PC data from stealing or hacking.
Advantages & Disadvantages of Thunder VPN
While you start using thunder VPN for your PC, you will face lots of problems and also get befitted from this app. Some of the main advantage and disadvantages are given below-
Advantage of Thunder VPN
You can stream BBC iPlayer with this thunder VPN.
The app provides you with a secure and private line and also protects the data from hackers.
Disadvantages of Thunder VPN
Download Speed of this app is very low that will slow the connection.
This app provides a bad log in policy with zero customer support.
How To Download and Install Thunder VPN For PC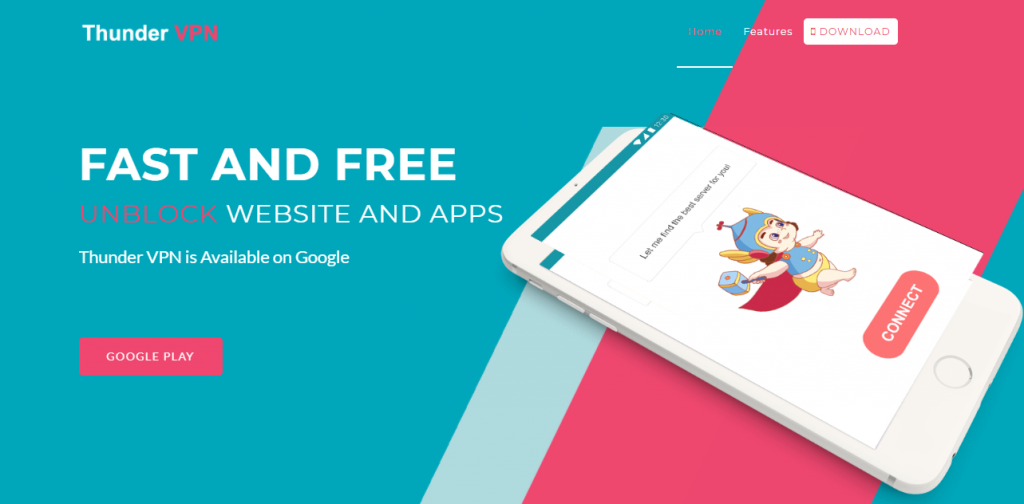 Thunder VPN is one kind of protection app that keeps your data safe and sound from snoopers. There are many free VPN apps available in the google store for your device. You can choose the best one and install it on your PC.
Thunder VPN is an android app that can install into your android device easily. If you want to install the Thunder VPN app on your PC, you will be needed an emulator to convert the android app into a software. For all kinds of android apps, Bluestacks is the best emulator among others. Follow the steps by using an emulator for your PC and enjoy a free internet service with access to all sites.
Step 1: If you don't have an emulator installed in your PC, first install an emulator to your PC. To do that. Go to your browser and type "Bluestacks free download". They will show you the latest version according to your PC. Download it for PC and wait for the installation process.
Step 2: After installing Bluestacks on your PC, go to the main menu to find out the Google Play Store. After clicking the google store, they will ask you to log in. So, log in with your Email Id that is existed on your computer or browser.
Step 3: Complete log in process will help you to download the app for your PC and you can run it from there.
Step 4: Now. You are ready with a Bluestacks app. On-screen, you will see a search bar at the corner of apps. Write "Thunder VPN" and press enter. You will see a pop-up window on your screen.
Step 5: A lot of free VPN apps will appear on your screen. Select "Thunder VPN" and download it from apps. Wait for sometimes and it will download on your PC.
And you are done with the download process of Thunder VPN on your PC.
Now, come to the Installation part. Here are also some steps to follow:
Step 1: At first, click on your downloaded "thunder VPN" app to open. You will see an install button; click on this button.
Step 2: Agree with terms that will be asked by a VPN app. Click on the Ok button and wait for some moment to install it.
Step 3: It will automatically install on your PC and you are ready to use it.
Click on "Thunder VPN" to open the app and you are ready to use it. As this VPN is completely free, there are no extra settings required. If you have any loading issues due to connection problems or regarding Bluestacks software, simply use the Microsoft.net framework software and enjoy the service.
Conclusion
The VPN user is increasing day by day for its reliability and security purposes. Also, this VPN will get you access to those sites that are restricted by authorities or governments. You can use Thunder VPN for its free services with unlimited bandwidth. But this app decreases the download speed.
Still, you can choose the Thunder VPN and download it for PC.  A good VPN app will protect the data and hide your IP address and give you access to all sites. Just, download apps from your Bluestacks software and enjoy the service of a VPN app on your PC.
SUGGESTED READINGS