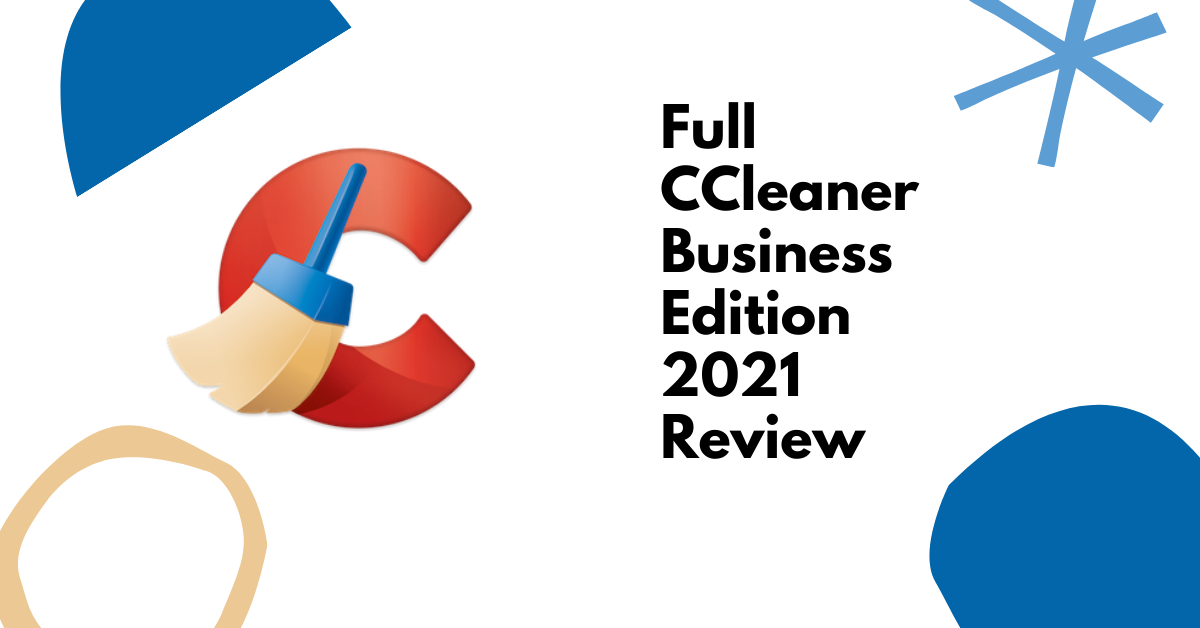 Here's the CCleaner Business Edition review.
PC optimizers do an excellent job of maintaining and optimizing a PC's performance over time. System crashes, longer boot time, slow response, and longer output time are some of the resultant effects of low memory space, malware infection, disk fragmentation, low storage space, etc.
The purpose of a PC cleaner is to ensure that a PC performance stays optimized by cleaning the PC memory, storage, and registry of junk files and programs, prevent disk fragmentation, guard against malware infection, manage startup programs, control running processes, etc.
What Is CCleaner?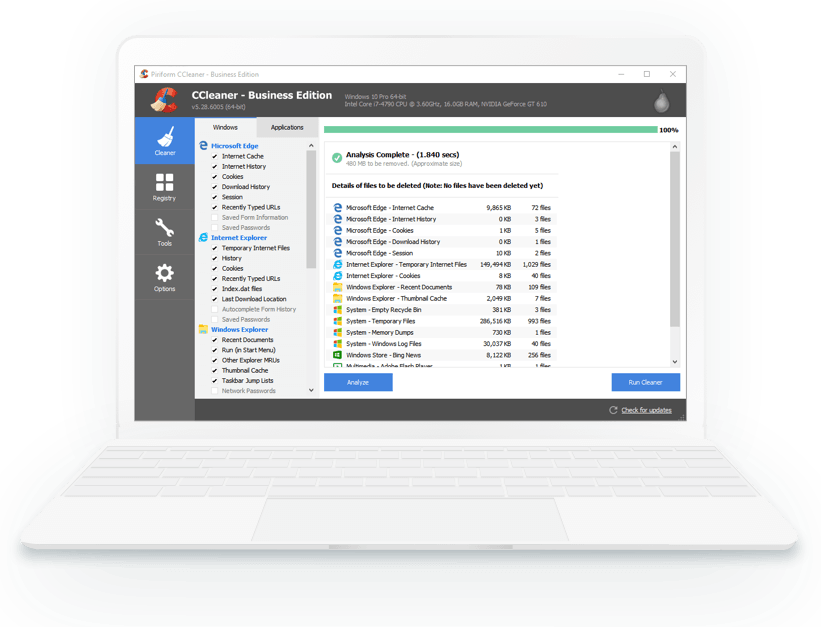 CCleaner is a PC optimizer suite that optimizes system performance, repair system registry and glitches, clean out junk files, defragment disks, scans system memory and storage continually for non-essential system files, etc.
CCleaner is available in over 55 languages and has been installed on more than 5 million desktops and more than 2.5 billion downloads, making it the most widely used PC optimizer. 
On the other hand, CCleaner Business Edition is the enterprise edition of CCleaner.
CCleaner Business Features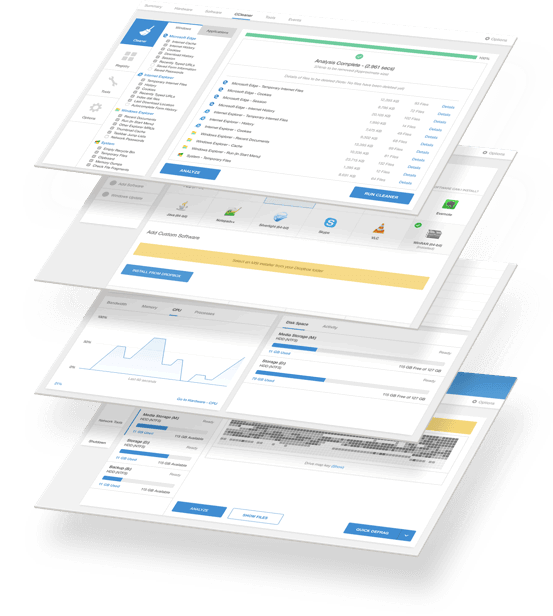 User Interface and scanner
CCleaner has an intuitive interface with tabs and icons for easy navigation. The most prominent is the basic scan. CCleaner clears out logs, junk files, program logs, etc. The scanner performs fast scanning, which cleans up system files, cookies, junk files, etc. 
CCleaner cleans the following: 
Temporary files, histories, cookies, index files, etc. from browsers

Recycle bins, temporary files, log files, error reporting, memory dumps, DNS Cache, etc.

CCleaner cleans old entries, file extensions, ClassicIDs, Uninstallers, Shared DLLs, Fonts, invalid shortcuts, etc., from System Registry.
You can also schedule CCleaner to run regular scans or configure CCleaner to run on specific user accounts if you have multiple users on your PC.
CCleaner auto-updates itself, thus ensuring that you the latest version of CCleaner installed at all times. CCleaner automatically downloads updates in the background without obstructing running processes.
The Registry Cleaner is a unique software toolset in the CCleaner Business suite. It can find and delete corrupted program entries in the Registry automatically. Plus, you get a notification from Registry Cleaner asking for permission to remove infected entries by letting you select or deselect such entries. 
Also, Registry Cleaner makes a backup of your Registry for easy restoration should cleaning up your Registry cause any issues.
CCleaner's Software Uninstaller displays more installed applications than the traditional Windows Program Manager. With the Software Uninstaller, you can easily view and uninstall any unwanted program from your PC. After uninstalling such unwanted programs, CCleaner cleans your PC of uninstalled program files, thus freeing more space and optimizing system performance.
The Startup Manager lets you manage startup apps, which slows down system booting. With the Startup Manager, you can remove unwanted Windows bootup programs and optimize your PC boot uptime.
CCleaner's Plugin Manager is effective in cleaning up unwanted or corrupt plugins from your browsers. A corrupt plugin can make your web browser behave strangely, but having a CCleaner installed keeps an eye on your browsers for abnormal or corrupt browser extensions.
CCleaner's Drive Wiper removes all sensitive documents from your device beyond recovery. Thus, if you plan to sell or gift out your PC, using Drive Wiper will delete all unwanted files beyond recovery. Additionally, you can set the Drive Wiper to overwrite deleted files after deleting such.
Technical Details
For this CCleaner Business Edition review, let us also show you its technical details.
Supported devices and OS: Windows, Mac, Android, iPhone, Web-based
Pricing model: monthly, annual subscription, 3-year plan 
Customer types: individuals, businesses, and corporate organizations
Mobile applications: Android, iOS
CCleaner Business Pricing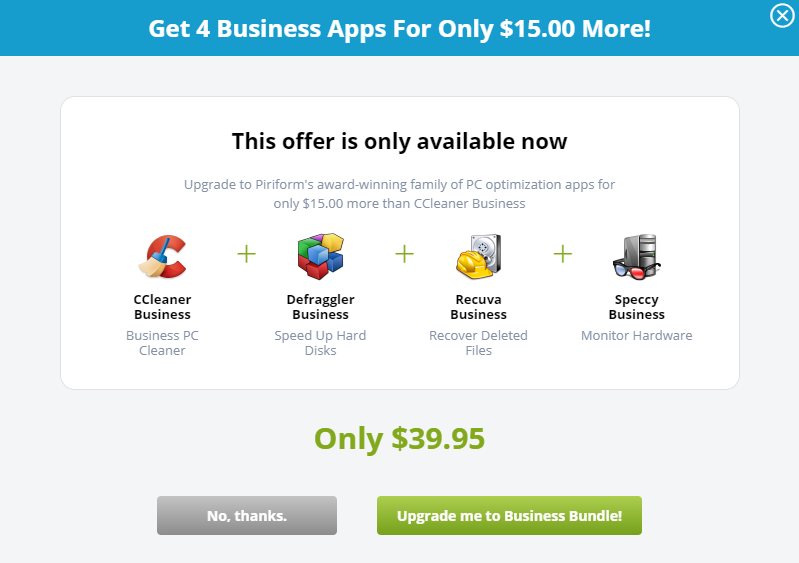 CCleaner has plans suitable for individuals, businesses, and organizations. Users also enjoy a 14-day free trial and moneyback guaranty when subscribed to any of CCleaner's plans.
CCleaner Business
Price: $24.95
Features 
System optimization tools

Multiple profile cleaner

Auto-updater

Startup manager  
CCleaner Network
Price: $100 yearly subscription for five workstations, $20 per additional workstation unit added; $125 annual subscription for Network Professional for 5 Workstations, and $25 per unit workstation added.
Features 
All Business features

Remote management

Multiple endpoint optimizations

Disk defragmenter 

Audit report generation 

Active directory support
CCleaner Cloud
Price
Monthly – $200 monthly for 100 endpoints, and $2 per added endpoint
Annually – $167 monthly for 100 endpoints, $1.6 per extra endpoint; billed annually
3-year plan – $139 monthly for 100 endpoints, $1.39 per extra endpoint; 3-year payment. 
Features
All features of CCleaner Network except Active Directory Support

Remote software installation

Hardware and Software info

 Customizable email alerts
CCleaner Technician 
Price 
$10 per month for 5 endpoints, $2 for an additional endpoint.
Features
All features of CCleaner Business
Is CCleaner Safe?
CCleaner is safe for use and can effectively remove unused, temporary, or junk files from PCs. It is also useful for clearing caches and cookies for web browsers. CCleaner's Registry Cleaner does an excellent job of cleaning out unwanted files from the system Registry. Overall, all software tool in CCleaner Suite is considered safe for use.
Conclusion 
So, let's wrap up the CCleaner Business edition review.
CCleaner remains one of the best PC optimization tools you can lay your hands on to keep your system clutter-free, thus optimizing system performance. Also, you enjoy a variety of tools and features which keep your PC in perfect shape and fit for handling any tasks.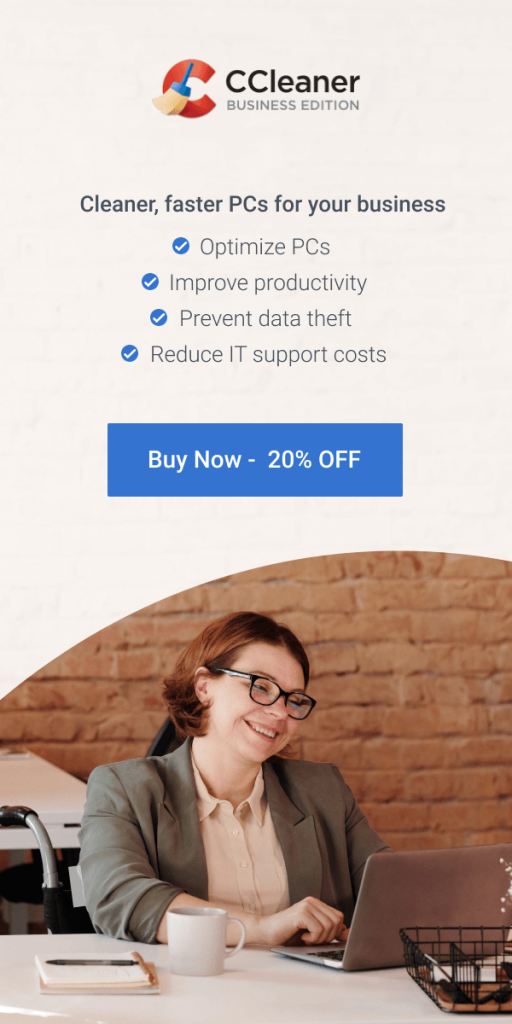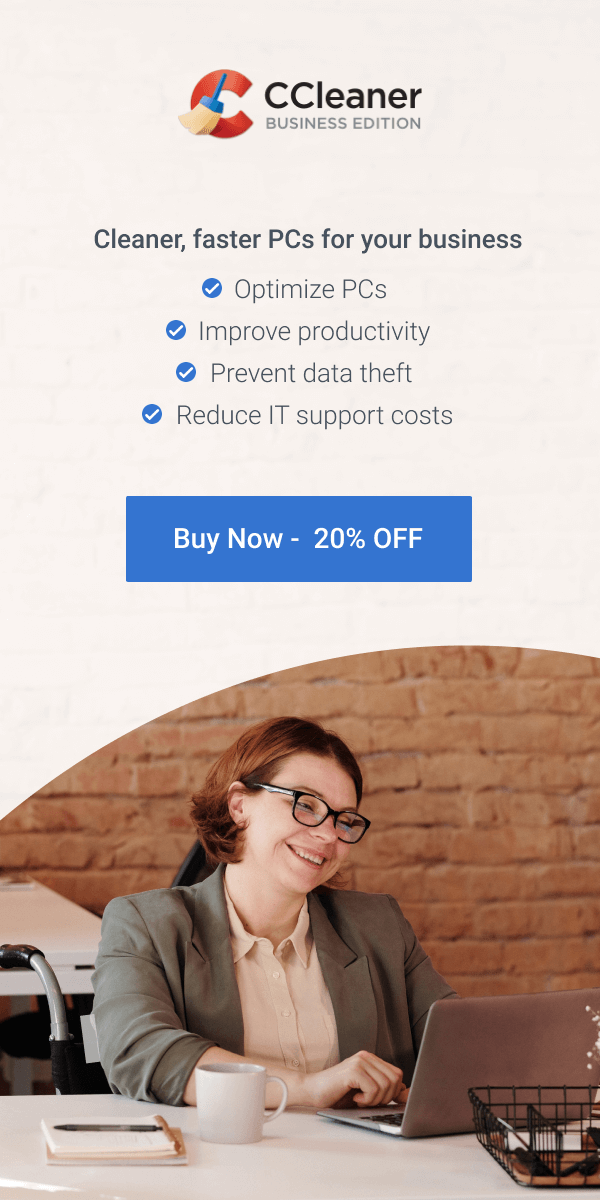 ---
SUGGESTED READS