Here's the CCleaner Business Edition review.
In today's fast-paced digital landscape, maintaining the optimal performance and security of our computers and devices is crucial for any business.
With a myriad of files, applications, and system clutter accumulating over time, it becomes essential to have a reliable solution that can efficiently clean and optimize our systems.
This is where CCleaner Business Edition steps in, offering a comprehensive set of tools designed to streamline operations, enhance productivity, and bolster cybersecurity measures.
PC optimizers do an excellent job of maintaining and optimizing a PC's performance over time. System crashes, longer boot time, slow response, and longer output time are some of the resultant effects of low memory space, malware infection, disk fragmentation, low storage space, etc.
The purpose of a PC cleaner is to ensure that your PC performance stays optimized by cleaning the PC memory, storage, and registry of junk files and programs, preventing disk fragmentation, guarding against malware infection, managing startup programs, controlling running processes, etc.
In this CCleaner Business Edition review, we will delve into the powerful features and benefits that it brings to the table.
Whether you're an IT professional responsible for managing a network of devices or a small business owner looking to keep your systems in top shape, this review will provide valuable insights to help you make an informed decision.
What Is CCleaner?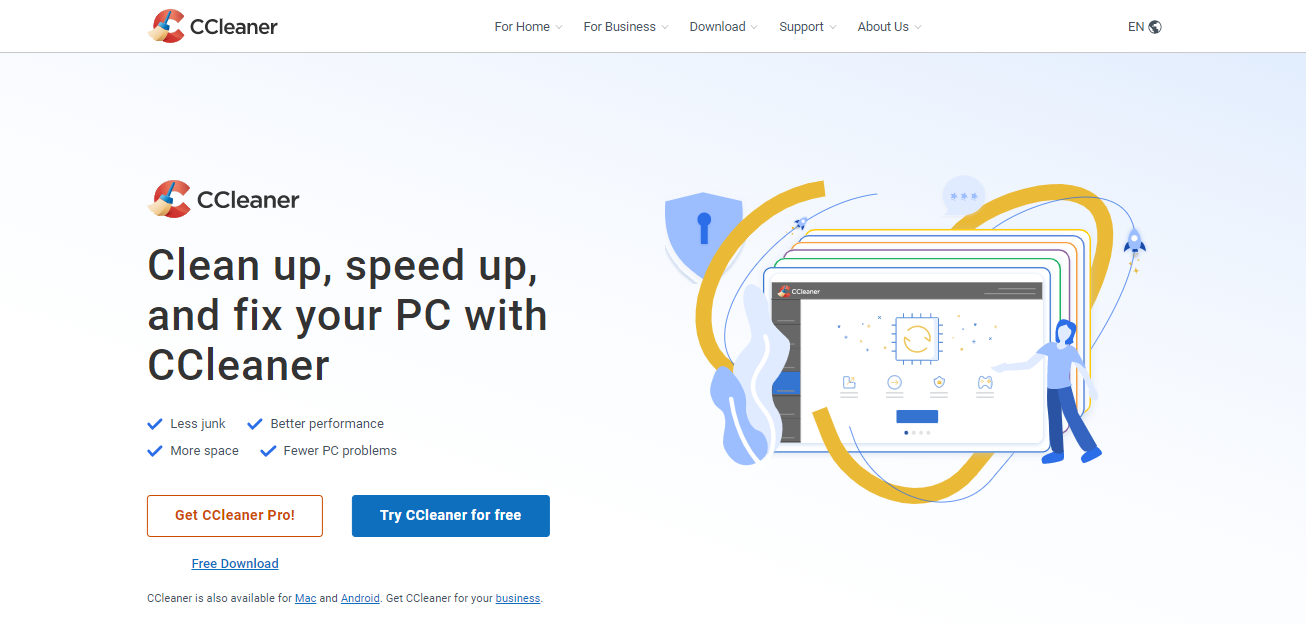 CCleaner is a PC optimizer suite that optimizes system performance, repair system registry and glitches, clean out junk files, defragment disks, scans system memory and storage continually for non-essential system files, etc.
CCleaner is available in over 55 languages and has been installed on more than 5 million desktops and more than 2.5 billion downloads, making it the most widely used PC optimizer. 
On the other hand, CCleaner Business Edition is the enterprise edition of CCleaner.
CCleaner Professional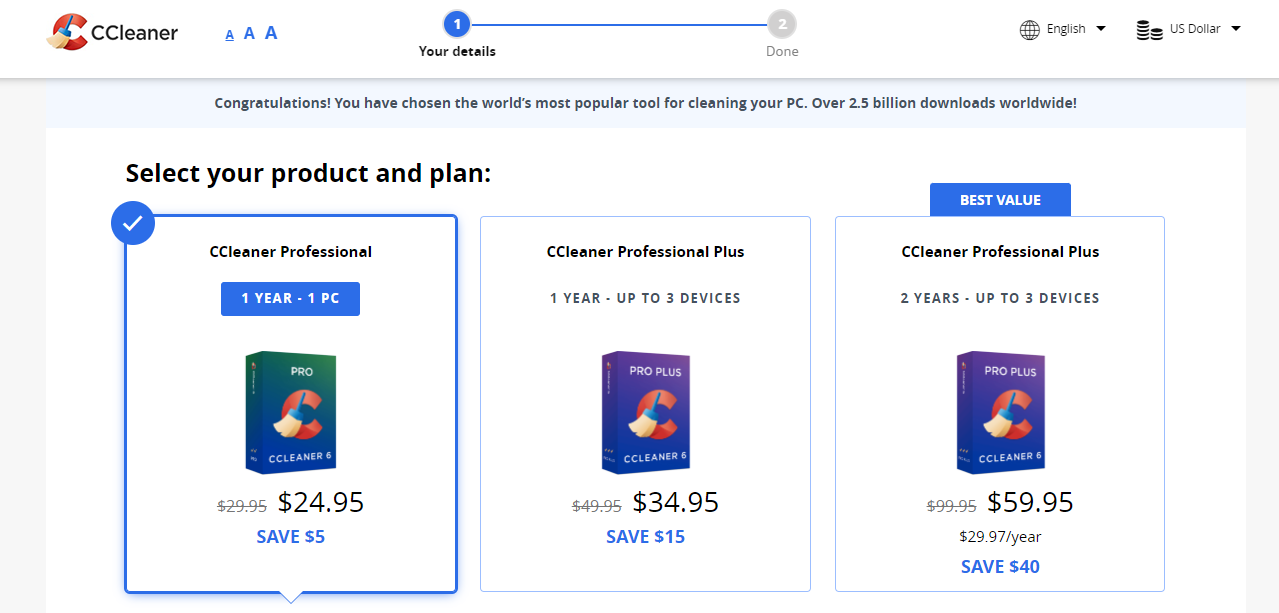 CCleaner Professional is a paid version of the popular utility software CCleaner, developed by Piriform. It offers additional features and functionalities beyond what is available in the free version, making it a comprehensive solution for optimizing and cleaning computer systems.
Here are three key aspects of CCleaner Professional:
Advanced Cleaning Capabilities: CCleaner Professional goes beyond the basic cleaning functions of the free version. It provides users with advanced cleaning options that allow for more thorough removal of unnecessary files and data. This includes the ability to clean up system restore points, old Windows updates, and unused system files, helping to reclaim valuable disk space and improve system performance.
Real-Time Monitoring and Automatic Updates: CCleaner Professional offers real-time monitoring of the computer system, allowing users to stay informed about the health and performance of their devices. It provides insights into system resources, such as CPU and RAM usage, as well as notifications about potentially unwanted programs (PUPs) and tracking cookies. Additionally, CCleaner Professional automatically updates itself to ensure users have the latest features, bug fixes, and security enhancements without any manual effort.
Priority Customer Support: CCleaner Professional users receive priority customer support, ensuring that any queries or technical issues they encounter are promptly addressed. This level of support can be crucial for businesses or individuals who rely on CCleaner to maintain their systems' performance and security. The dedicated support channels provided by CCleaner Professional help users troubleshoot problems and receive guidance on how to maximize the benefits of the software.
Overall, CCleaner Professional offers an enhanced experience compared to the free version, providing advanced cleaning capabilities, real-time monitoring, automatic updates, and priority customer support.
It is designed for users who require more comprehensive system optimization tools and are willing to invest in additional features to further enhance their computer's performance and efficiency.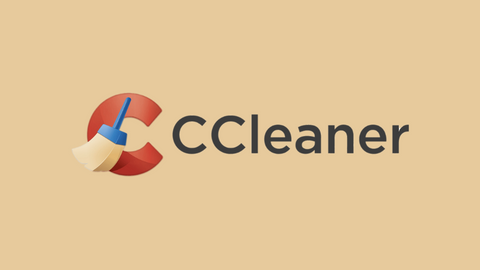 CCleaner
The world's most powerful PC cleaner for system optimization.
CCleaner Business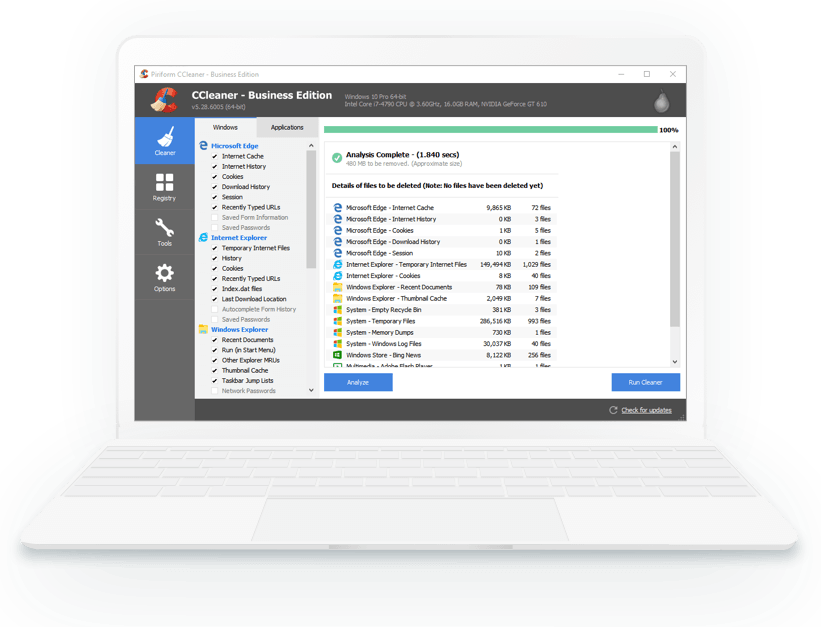 CCleaner Business is a version of the popular utility software CCleaner that is specifically tailored for businesses and organizations. It offers a range of features and functionalities that cater to the unique needs of managing multiple devices within a business environment.
Here are three key aspects of CCleaner Business:
Centralized Management and Deployment: CCleaner Business provides businesses with a centralized management console, allowing IT administrators to efficiently manage and deploy CCleaner across multiple devices within their network. This feature enables administrators to control the cleaning and optimization processes, customize settings, and ensure consistent performance across all managed systems. The centralized management capability streamlines the maintenance and optimization of devices, saving time and effort for IT teams.
Customizable Cleaning and Scheduling: CCleaner Business allows administrators to customize the cleaning options and set up scheduled cleaning tasks according to their organization's needs. This flexibility enables businesses to tailor the cleaning and optimization processes to their specific requirements, ensuring that critical files and applications are preserved while unnecessary clutter is removed. The ability to schedule cleaning tasks at convenient times helps minimize disruption to workflow and ensures that systems are consistently optimized without manual intervention.
Licensing Options and Business Support: CCleaner Business provides flexible licensing options designed to accommodate businesses of different sizes and requirements. Whether you have a small startup or a large enterprise, CCleaner Business offers scalable licensing models that align with your organization's needs and budget. Additionally, CCleaner Business prioritizes customer support for businesses, providing dedicated assistance for any inquiries, concerns, or technical issues that may arise. This level of support ensures that businesses can rely on CCleaner to maintain their systems' performance and security with confidence.
In essence, CCleaner Business is a specialized version of CCleaner that offers centralized management and deployment, customizable cleaning and scheduling options, and dedicated business support.
It is designed to meet the specific needs of businesses, enabling efficient management of multiple devices and providing the tools necessary for maintaining optimal system performance and cleanliness across the organization.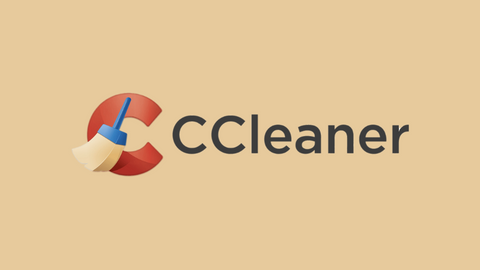 CCleaner
The world's most powerful PC cleaner for system optimization.
CCleaner Business Features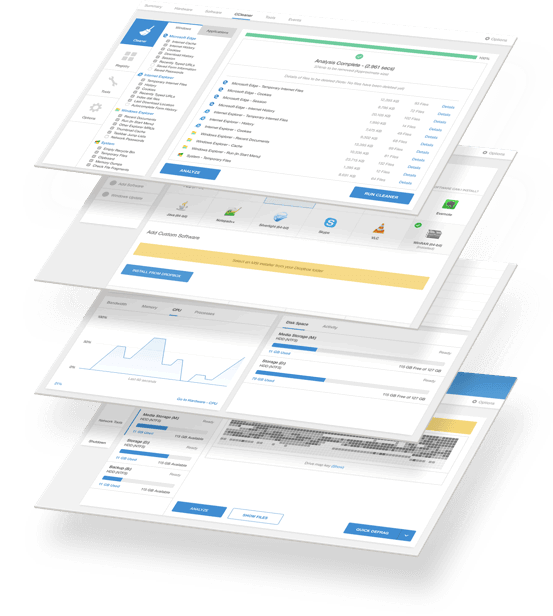 User Interface and scanner
CCleaner has an intuitive interface with tabs and icons for easy navigation. The most prominent is the basic scan. CCleaner clears out logs, junk files, program logs, etc. The scanner performs fast scanning, which cleans up system files, cookies, junk files, etc. 
CCleaner cleans the following: 
Temporary files, histories, cookies, index files, etc. from browsers

Recycle bins, temporary files, log files, error reporting, memory dumps, DNS Cache, etc.

CCleaner cleans old entries, file extensions, ClassicIDs, Uninstallers, Shared DLLs, Fonts, invalid shortcuts, etc., from System Registry.
You can also schedule CCleaner to run regular scans or configure CCleaner to run on specific user accounts if you have multiple users on your PC.
Efficient System Cleaning and Optimization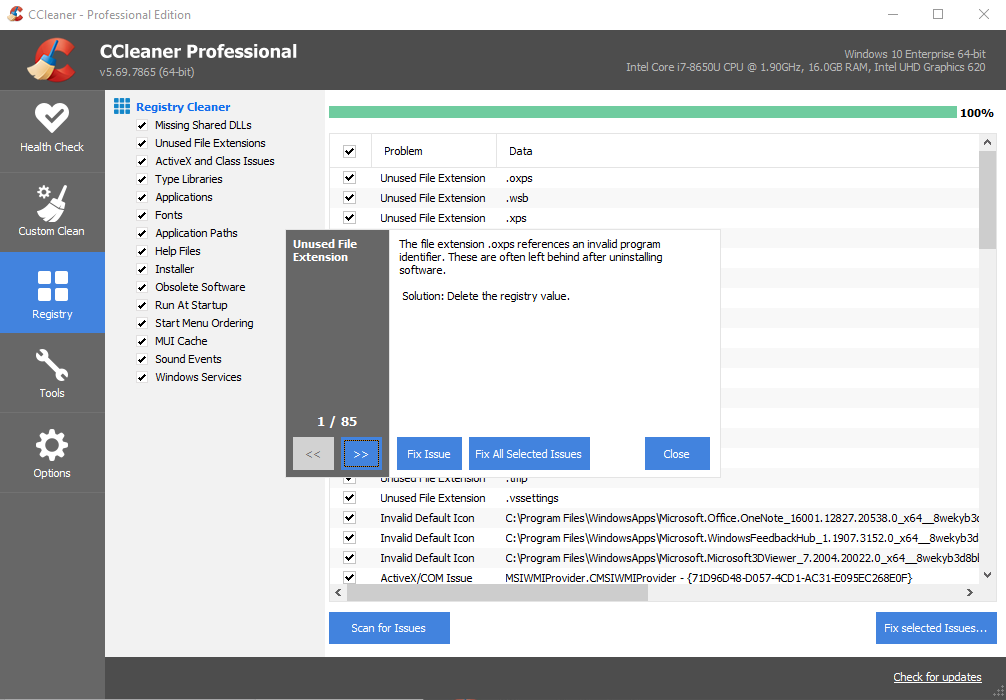 One of the core functionalities of CCleaner Business Edition is its ability to clean and optimize computer systems, thereby improving overall performance.
The software boasts an intuitive interface that allows users to scan their systems for a range of issues such as temporary files, broken registry entries, and unnecessary applications.
With a simple click, CCleaner Business Edition efficiently removes these items, freeing up valuable disk space and enhancing system responsiveness.
Moreover, the program offers a customizable cleaning process, enabling users to specify which areas of their systems they want to target. This level of control ensures that critical files and applications are not inadvertently deleted, providing peace of mind while optimizing system performance.
Auto-updater
CCleaner auto-updates itself, thus ensuring that you have the latest version of CCleaner installed at all times. CCleaner automatically downloads updates in the background without obstructing running processes.
Registry Cleaner
The Registry Cleaner is a unique software toolset in the CCleaner Business suite. It can find and delete corrupted program entries in the Registry automatically. Plus, you get a notification from Registry Cleaner asking for permission to remove infected entries by letting you select or deselect such entries. 
Also, Registry Cleaner makes a backup of your Registry for easy restoration should cleaning up your Registry cause any issues.
Software Uninstaller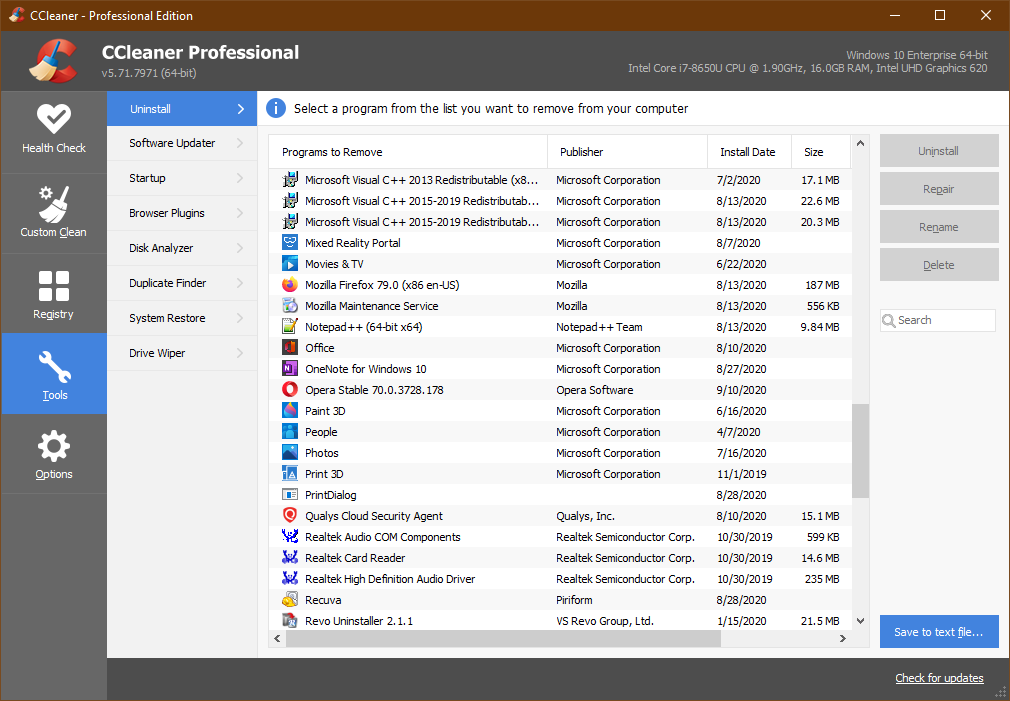 CCleaner's Software Uninstaller displays more installed applications than the traditional Windows Program Manager. With the Software Uninstaller, you can easily view and uninstall any unwanted program from your PC.
After uninstalling such unwanted programs, CCleaner cleans your PC of uninstalled program files, thus freeing more space and optimizing system performance.
CCleaner Startup Manager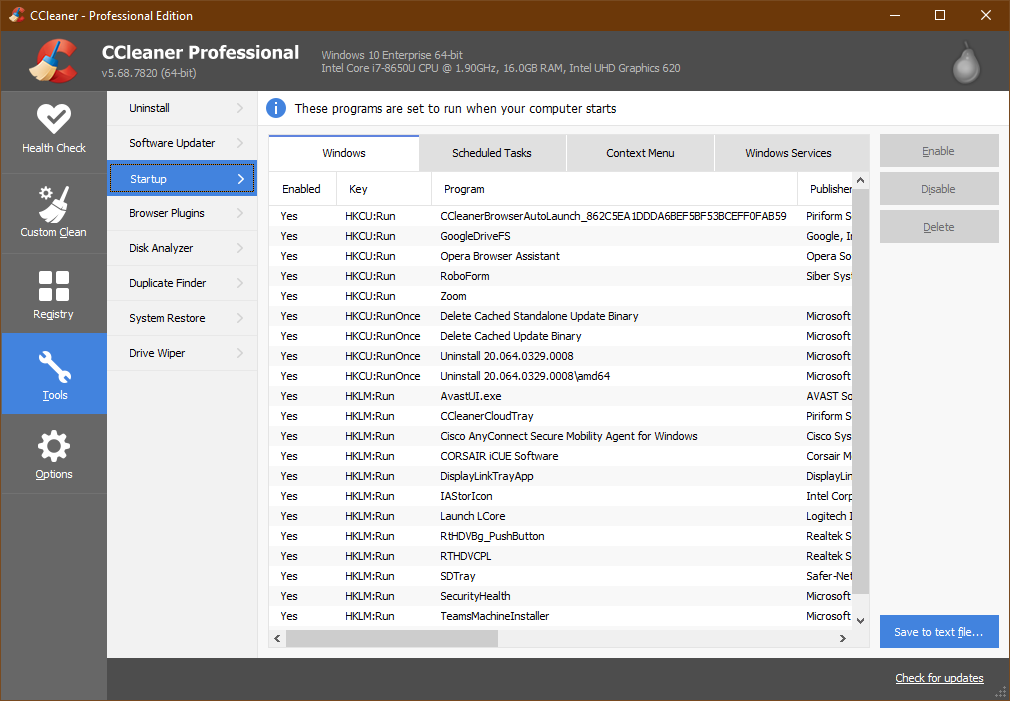 The Startup Manager lets you manage startup apps, which slows down system booting. With the Startup Manager, you can remove unwanted Windows bootup programs and optimize your PC boot uptime.
Plugin Manager
CCleaner's Plugin Manager is effective in cleaning up unwanted or corrupt plugins from your browsers.
A corrupt plugin can make your web browser behave strangely, but having a CCleaner installed keeps an eye on your browsers for abnormal or corrupt browser extensions.
Drive Wiper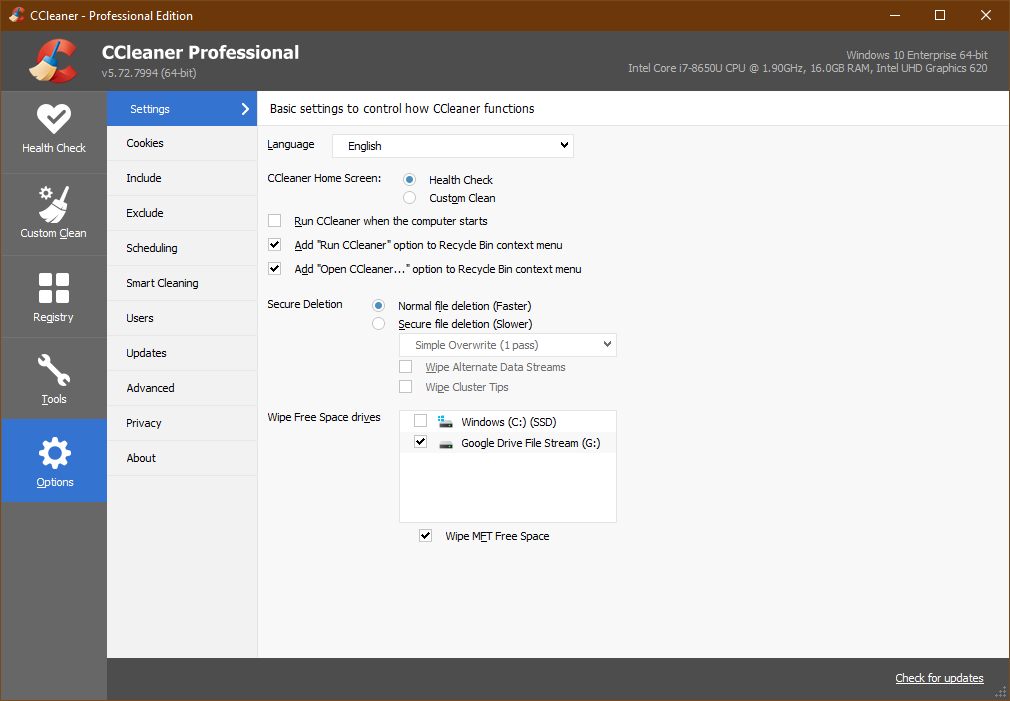 While preparing this CCleaner Business Edition review, I discovered that CCleaner's Drive Wiper can remove all sensitive documents from your device beyond recovery.
Hence, if you plan to sell or gift out your PC, using Drive Wiper will delete all unwanted files beyond recovery.
Additionally, you can set the Drive Wiper to overwrite deleted files after deleting such.
In-Depth Registry Cleaning
The Windows registry plays a crucial role in system operations, but over time, it can become cluttered with invalid entries and errors. CCleaner Business Edition tackles this issue head-on by providing a comprehensive registry cleaning feature.
By scanning and repairing registry issues, the software helps to stabilize system performance and minimize crashes or errors.
Automated Maintenance and Scheduling
For this CCleaner Business Edition review, I tested it for several days and I can bold say that CCleaner Business Edition takes system optimization a step further with its automated maintenance and scheduling capabilities. Users can set up regular scans and cleaning processes to occur automatically, eliminating the need for manual intervention.
This feature ensures that systems are consistently optimized and running smoothly, without any disruption to daily operations.
Enhanced Privacy and Security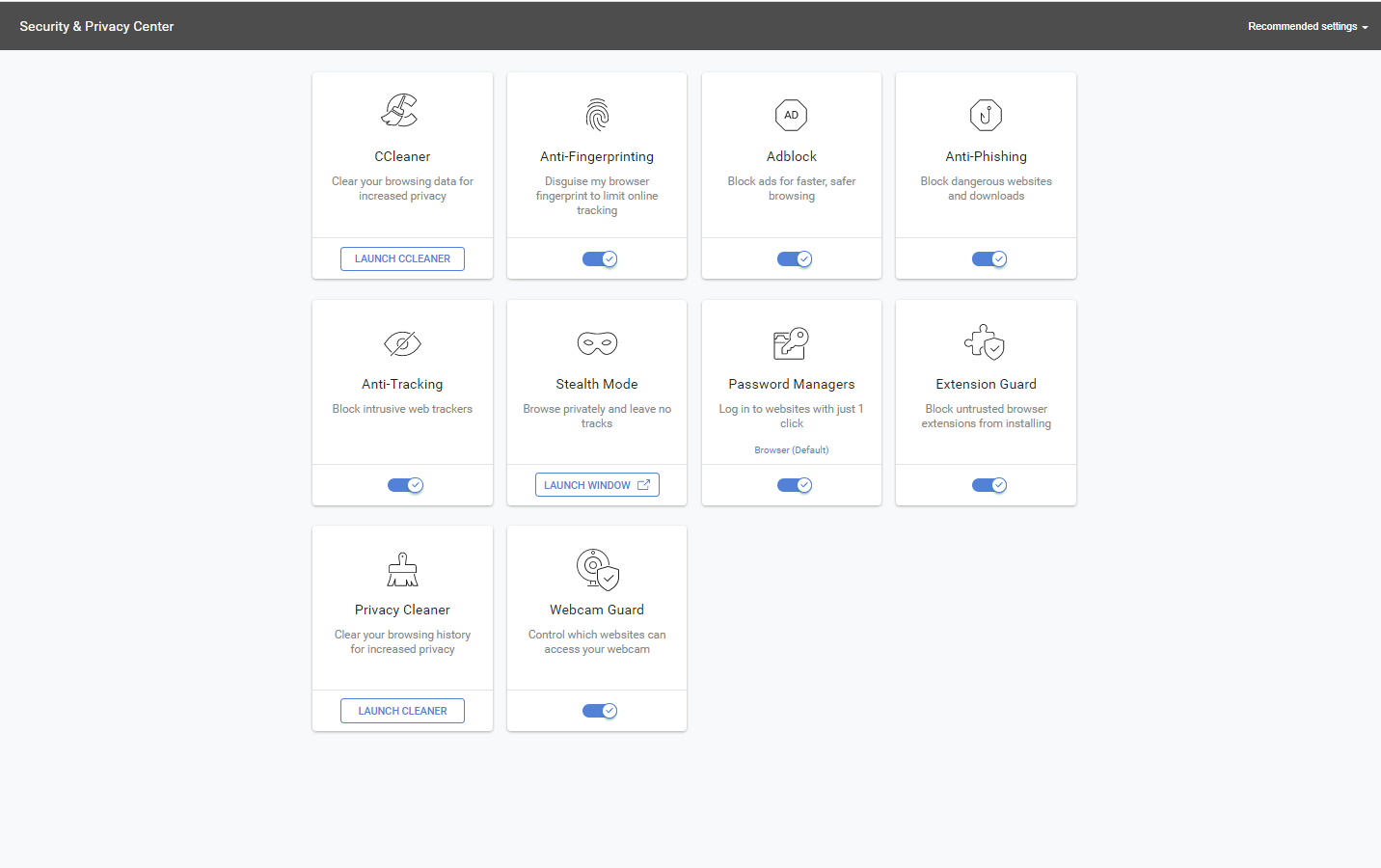 Data privacy and security are paramount concerns for businesses in today's digital landscape.
CCleaner Business Edition prioritizes these aspects by offering secure deletion of files, ensuring that sensitive information cannot be recovered by unauthorized parties.
Additionally, the program removes traces of online activities, such as browsing history and cookies, thereby safeguarding user privacy and minimizing the risk of data breaches.
Tailored Licensing Options
CCleaner understands that businesses come in all shapes and sizes, and their licensing options reflect this understanding.
CCleaner Business Edition offers flexible licensing models, accommodating the needs of small businesses as well as larger enterprises.
Whether you have a handful of devices or an extensive network, you can choose the license that aligns with your specific requirements, ensuring cost-effectiveness and scalability.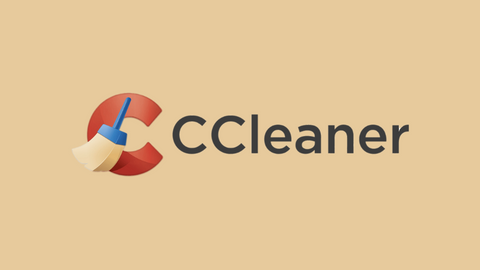 CCleaner
The world's most powerful PC cleaner for system optimization.
Customer Support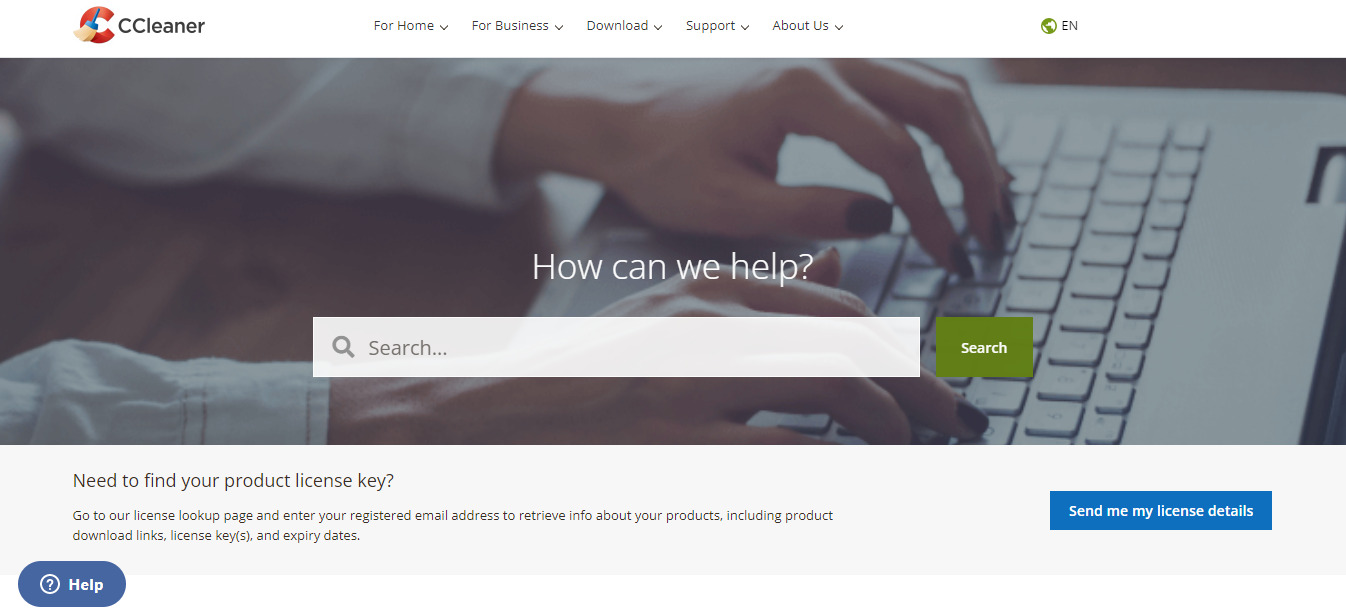 When it comes to software solutions for businesses, having access to reliable customer support is crucial.
CCleaner doesn't disappoint in this regard, offering dedicated customer support channels to assist users with any questions, concerns, or technical issues they may encounter.
The CCleaner team is known for their prompt and helpful responses, ensuring a smooth user experience and peace of mind.
Technical Details
For this CCleaner Business Edition review, let us also show you its technical details.
Supported devices and OS:

Windows, Mac, Android, iPhone, Web-based

Pricing model:

monthly, annual subscription, 3-year plan 

Customer types:

individuals, businesses, and corporate organizations

Mobile applications:

Android, iOS
CCleaner Business Pricing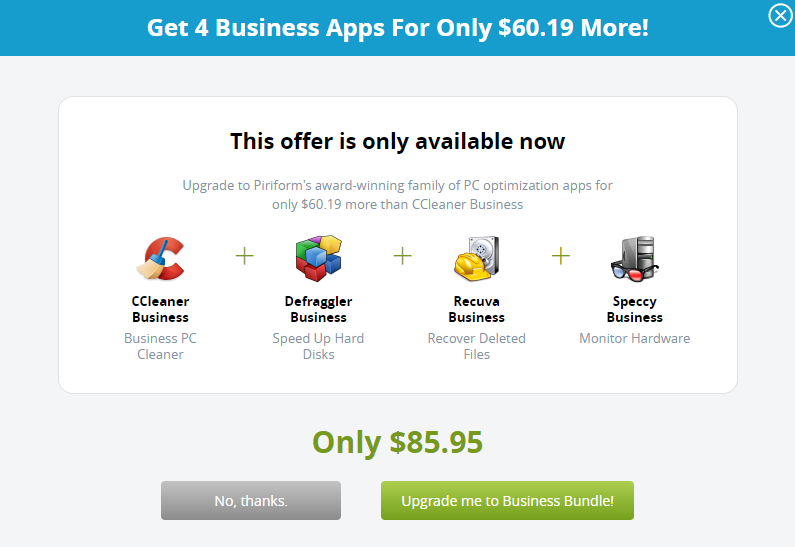 CCleaner has plans suitable for individuals, businesses, and organizations. Users also enjoy a 14-day free trial and moneyback guarantee when subscribed to any of CCleaner's plans.
CCleaner Business
Price: $85.95
Features 
System optimization tools

Multiple profile cleaner

Auto-updater

Startup manager  
CCleaner Cloud
Price
Monthly – $10.75 monthly for 5 computers,
Annually – $107.50 for 5 computers; billed annually
3-year plan – $258 for 5 computers; 3-year payment. 
Features
All features of CCleaner Cloud

Remote software installation

Hardware and Software info

Customizable email alerts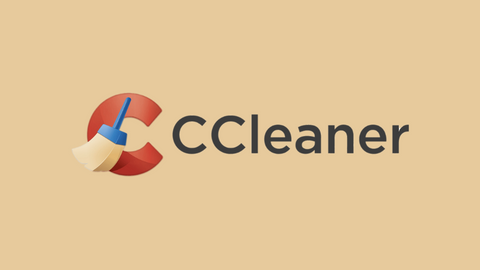 CCleaner
The world's most powerful PC cleaner for system optimization.
CCleaner Pros
Effective system cleaning: CCleaner efficiently removes temporary files, cache data, and unnecessary files, freeing up disk space and improving system performance.
Registry cleaning: The software includes a registry cleaner that scans and fixes issues within the Windows registry, which can help enhance system stability.
Customizable cleaning options: Users have control over which areas of their system to clean, allowing them to target specific files or applications while preserving important data.
User-friendly interface: CCleaner provides an intuitive and easy-to-navigate interface, making it accessible to both IT professionals and non-technical users.
Cross-platform compatibility: CCleaner is compatible with various operating systems, including Windows, Mac, and Android, catering to a wide range of device environments.
Flexible licensing options: CCleaner offers tailored licensing models suitable for businesses of different sizes, ensuring cost-effectiveness and scalability.
Reliable customer support: The CCleaner team provides dedicated customer support, promptly addressing inquiries, concerns, and technical issues.
CCleaner Cons
Potential for unintended file deletion: Users should exercise caution when using CCleaner, as selecting the wrong options or cleaning settings may result in the deletion of critical files or applications.
Limited functionality in the free version: While the free version of CCleaner provides basic cleaning features, advanced functionalities are available only in the paid versions.
Need for periodic updates: CCleaner requires regular updates to stay up to date with the latest system configurations and ensure compatibility with new software releases.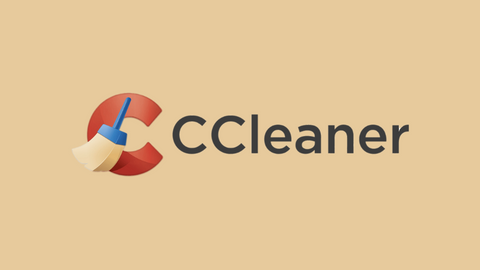 CCleaner
The world's most powerful PC cleaner for system optimization.
Best CCleaner Alternatives: System Optimization Tools
Here are other alternatives to CCleaner:
CCleaner Business Edition Review: Frequently Asked Questions
Is CCleaner Safe?
CCleaner is safe for use and can effectively remove unused, temporary, or junk files from PCs. It is also useful for clearing caches and cookies for web browsers. CCleaner's Registry Cleaner does an excellent job of cleaning out unwanted files from the system Registry. Overall, all software tool in CCleaner Suite is considered safe for use.
Is CCleaner Business Edition suitable for businesses of all sizes?
Yes, CCleaner Business Edition is designed to cater to businesses of various sizes. It offers flexible licensing options, allowing both small businesses and larger enterprises to choose the package that aligns with their specific requirements.
Whether you have a few devices or a network of systems, CCleaner Business Edition can be tailored to your needs.
Can CCleaner Business Edition improve system performance?
Yes, CCleaner Business Edition can significantly improve system performance. It effectively cleans temporary files, cache data, and unnecessary files that accumulate over time, which can consume valuable disk space and slow down system responsiveness.
By removing these files and optimizing the system's registry, CCleaner helps enhance overall performance, leading to faster and more efficient operations.
Is CCleaner Business Edition secure for sensitive business data?
Yes, CCleaner Business Edition prioritizes data privacy and security. It offers secure file deletion, ensuring that sensitive information cannot be recovered by unauthorized parties.
Moreover, CCleaner Business Edition removes traces of online activities, such as browsing history and cookies, helping to protect user privacy and minimize the risk of data breaches.
However, it is always recommended to follow best practices for data security and have additional cybersecurity measures in place to safeguard your business data.
Is CCleaner Worth It?
CCleaner has gained popularity over the years for its system cleaning and optimization capabilities. Whether or not CCleaner is worth it depends on individual needs and preferences.
Here are a few factors to consider when assessing the value of CCleaner:
System Performance: If your computer is experiencing sluggishness or reduced performance due to accumulated temporary files, cache, or registry errors, CCleaner can help improve system responsiveness and overall performance.
Disk Space Management: If your device is running low on disk space due to unnecessary files, CCleaner can efficiently clear out those files, freeing up valuable storage space.
Convenience and Time Savings: CCleaner's automated maintenance and scheduling features can save time by performing routine system cleaning and optimization tasks automatically. This convenience can be particularly beneficial for users who want to maintain their systems regularly without manual intervention.
Additional Features: CCleaner offers other features beyond system cleaning, such as managing startup programs, uninstalling applications, and analyzing disk usage. If these functionalities align with your needs, CCleaner can provide added value.
Support and Updates: CCleaner has a reputation for providing reliable customer support and regular updates to address any issues and keep the software up to date.
Ultimately, it's important to evaluate your specific requirements and assess whether the features and benefits of CCleaner align with your needs. In fact, many users find CCleaner to be a valuable tool for system optimization.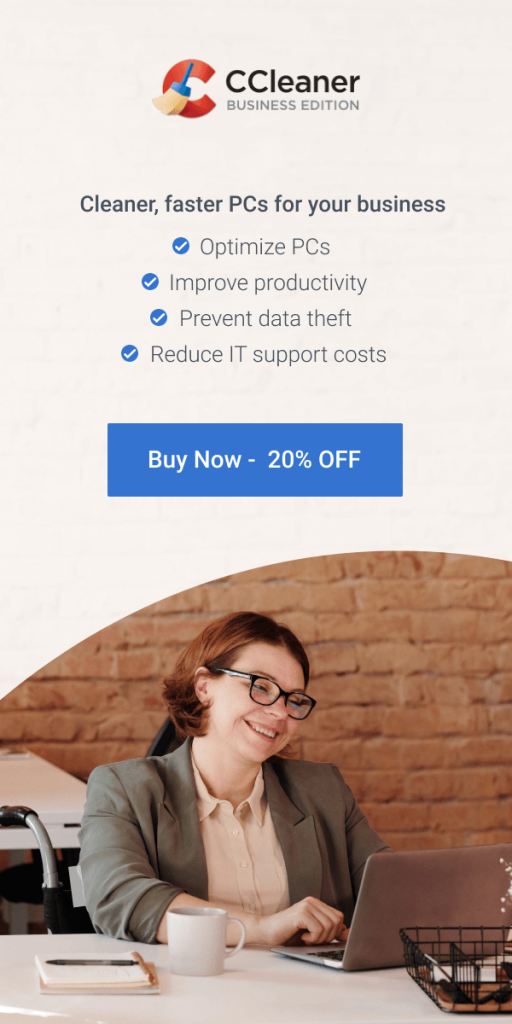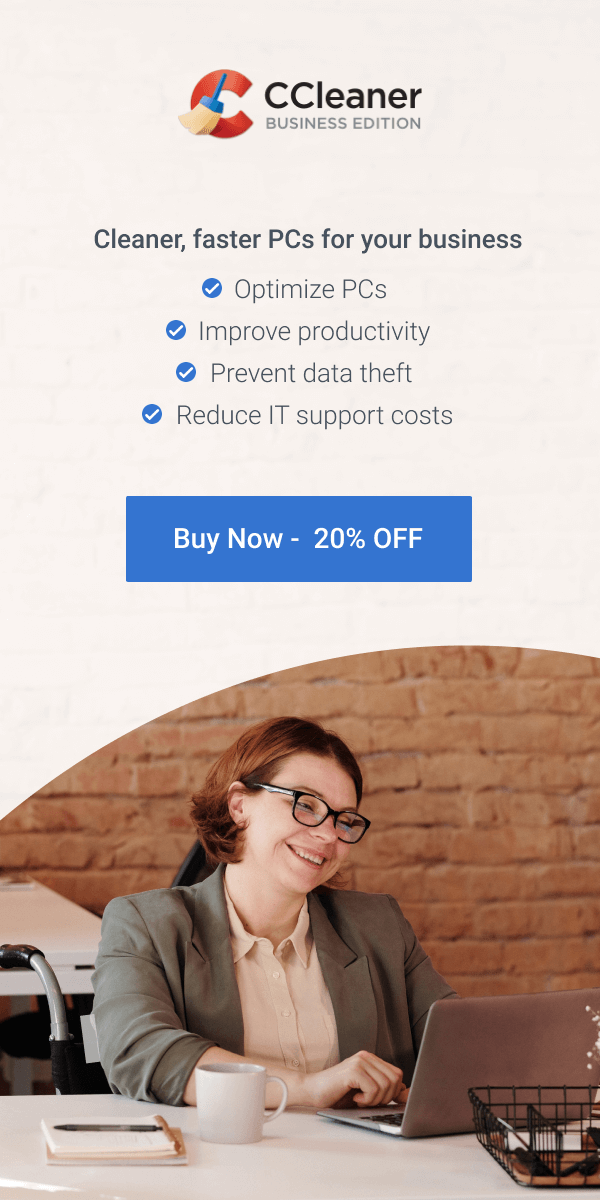 Is CCleaner Legit?
Yes, CCleaner is a legitimate software developed by Piriform, a well-established company that is now a subsidiary of Avast. CCleaner has been available for over a decade and has gained a solid reputation in the industry. It is widely used by individuals and businesses around the world to optimize and clean their computer systems.
However, it's important to note that in 2017, there was a security incident where a compromised version of CCleaner was distributed to users. The issue was promptly addressed, and steps were taken to enhance security measures. Since then, CCleaner has maintained its commitment to user privacy and security.
As with any software, it is crucial to download CCleaner from the official website or trusted sources to ensure you are using the legitimate and secure version. It's also recommended to keep the software up to date to benefit from the latest security enhancements and bug fixes.
Overall, CCleaner is a reputable and widely recognized software solution, but as with any tool, it's essential to exercise caution, practice good cybersecurity habits, and verify the authenticity of the software to ensure a safe and legitimate experience.
A Final Word On The CCleaner Business Edition Review
So, let's wrap up the CCleaner Business edition review.
CCleaner remains one of the best PC optimization tools you can lay your hands on to keep your system clutter-free, thus optimizing system performance.
Also, you enjoy a variety of tools and features which keep your PC in perfect shape and fit for handling any system optimization tasks.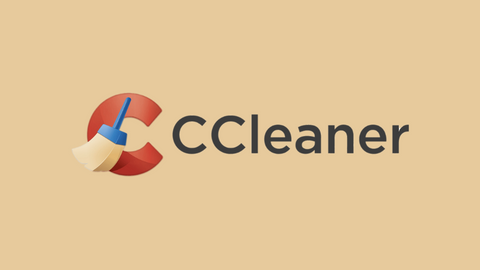 CCleaner
The world's most powerful PC cleaner for system optimization.
---
SUGGESTED READS