Follow me as I show you the BullGuard Premium Protection 2021 Edition review…
BullGuard announced its latest suite of security solutions – The BullGuard Premium Protection 2021 Edition on the 30th of September, 2020. 
The new security suite features an antivirus engine with Dynamic Machine Learning abilities and enhanced protection capabilities to meet its users' needs. It also includes other privacy and security tools intended to protect users' data and safety while online.
This review gives detailed information about BullGuard Premium Protection 2021 Edition, its robust suite of security and privacy tools, including a Game Booster, and how to get the best out of these features and tools.
What Is BullGuard Premium Protection 2021 Edition?
BullGuard Premium Protection 2021 Edition is an enhanced security and privacy tool designed to keep users' devices and data safe irrespective of their online or offline activities. The security suite also includes an improved Game Booster feature, ensuring that users enjoy an uninterrupted gaming session while still keeping Gaming devices and data safe and protected.
For the 2021 edition, we see BullGuard introducing enhanced features for its AV engine, firewall, parental control, secure browser, and the likes to make it a next-gen security software. For users staying connected via Wi-Fi networks, it's an opportunity to enjoy privacy and security protection while connected to unsecured Wi-Fi networks. 
https://www.youtube.com/watch?v=gGAdeCrmnCg
BullGuard Premium Protection 2021 Edition Features
User Interface
BullGuard has one of the most intuitive User Interface with easily navigable features making it suitable for tech-inclined and less tech-savvy users. Although users would have to get familiar with the Interface to find their way around pretty easily, it does feature a drop-down menu from which users can access every of BullGuard's features within a click away.
Antivirus Engine with Dynamic machine learning and multi-layered protection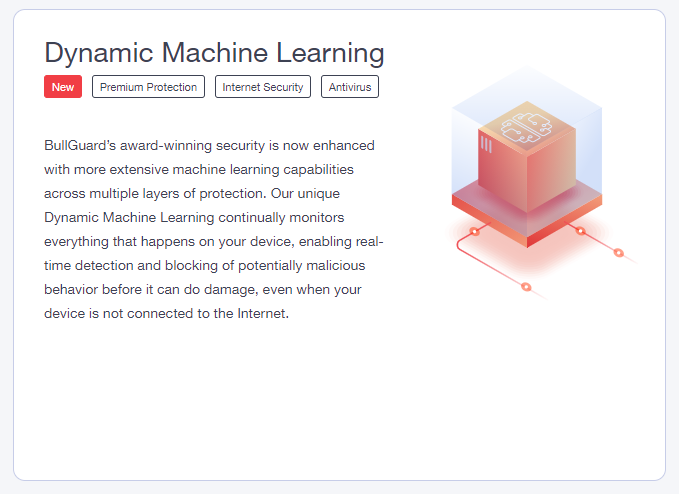 Testing BullGuard's antivirus engine against new and existing threats, its Dynamic Machine learning features keep it ahead of the pack in protecting users' devices. We see BullGuard scoring high in its performance as an antivirus engine in all AV lab tests. Its high-performance features can be attributed to its Dynamic Machine Learning capabilities. This enables its AV engine to continually monitor users' devices in real-time, enabling it to detect potential threats before they can harm users' devices. 
Aside from Dynamic Learning Capabilities, the signature-based BullGuard AV engine protects users' devices against threats even without running a full system scan or the need to update its virus signature. When connected to the internet, BullGuard's cloud detection can detect new threats in real-time, thus eliminating the need to update its antivirus engine manually.
Game Booster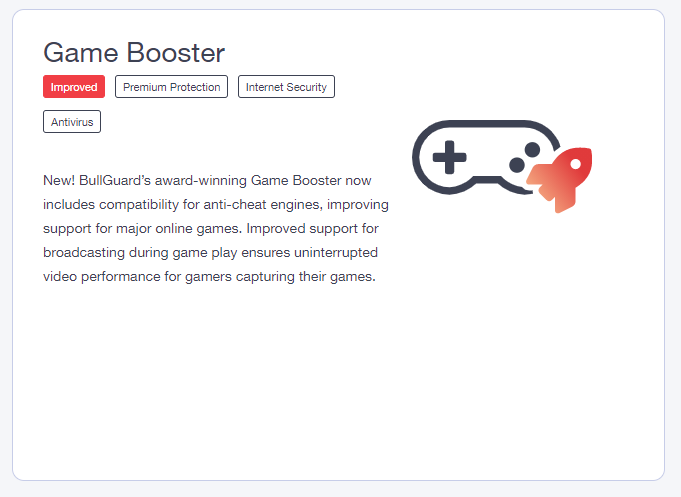 Its Game Booster is my favorite BullGuard feature. When playing games like PUBG, Minecraft, or Starcraft 2, BullGuard's Game Booster prevented pop-ups and other game interrupters while still keeping my device protected. For this enhanced Game Booster feature, I give BullGuard a thumb's up as a Gamers antivirus. The new Game Booster features include an anti-cheat engine and broadcasting support, which makes gaming time something I look forward to. 
Built-in Browser
Most users have cause to worry about their browsers' security. With BullGuard's inbuilt browser, users no longer have to worry about browser security. Its custom-built browser establishes a secure connection to protect users' information and protect them from web-based attacks. Test-running the browser, it requested permissions to load cookies and browser extensions. This implies that users would not have to worry about third-party cookie trackers and malicious websites anymore since the browser can screen out such effectively. 
Firewall Protection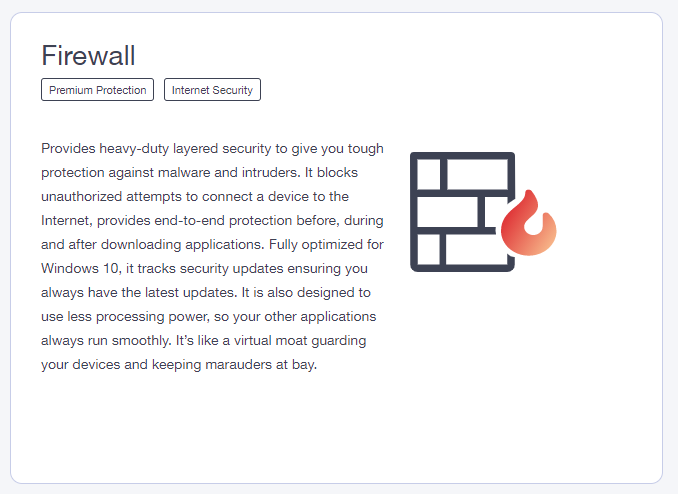 BullGuard's Firewall protection has a host of unique protective features aside from its inbound and outbound traffic monitoring functionality. Its firewall monitors and protects all ports, blocks out unauthorized connectivity attempts, keeps track of security updates, protects the device during downloading, etc. I also find this feature quite impressive for its minimal resource usage, which does not get in the way of other running applications.
Parental Controls 
This feature is ideal for users who want to monitor and protect their kids online. Playing around with this feature, I can set search filters to prevent access to censored web content, limit screen time, block websites and apps not fit for children usage or consumption, monitor kids location, and a host of other features designed to ensure children' safety.
Vulnerability Scanner
Downloading is part of everyday internet life. There is a need to download media files, applications, drivers, etc. BullGuard's vulnerability scanner automatically scans downloads to verify their sources. As expected, its vulnerability scanner lived up to its expectation of keeping my device safe from malicious downloads. Also, I get alerts for security issues needing updates. 
Other BullGuard Premium Protection 2021 Edition features include:
Optimized performance 

Identity protection 

VPN (separate subscription package)

Home security scanner

Multiple device compatibility

Auto-updates 
Technical Details 
Supported devices and OS: Windows, Mac, Android, iOS, SP1+
RAM: minimum 1GB 
Storage: 850MB minimum free space
Internet connectivity: Needed
Languages: English, Danish, Dutch, French, German, Italian, Norwegian, Portuguese, Spanish, Swedish, Brazilian Portuguese, Chinese, Arabic, Vietnamese
Pricing model: 1-year subscription, 2-year subscription, and 3-year subscription supporting 10-15 devices. 
Customer types: individuals, businesses, and corporate organizations
Mobile applications: Android, iOS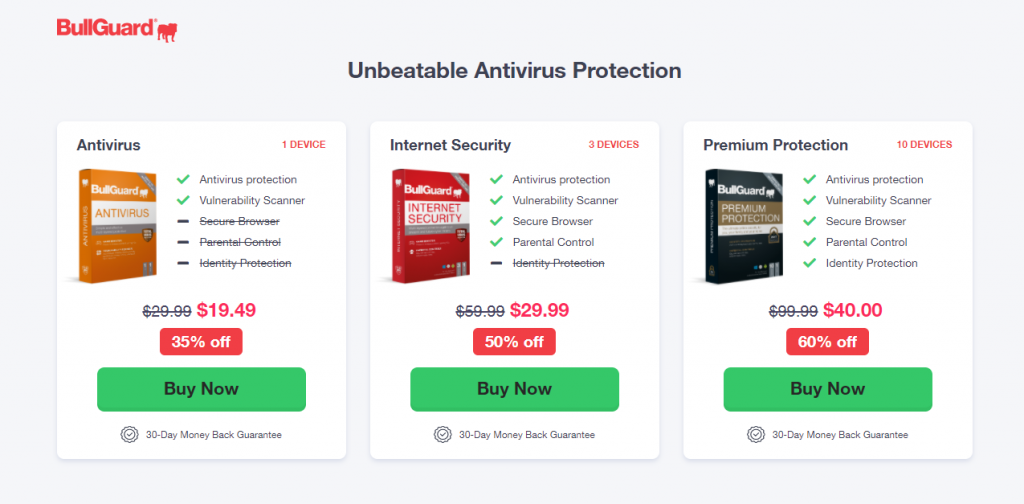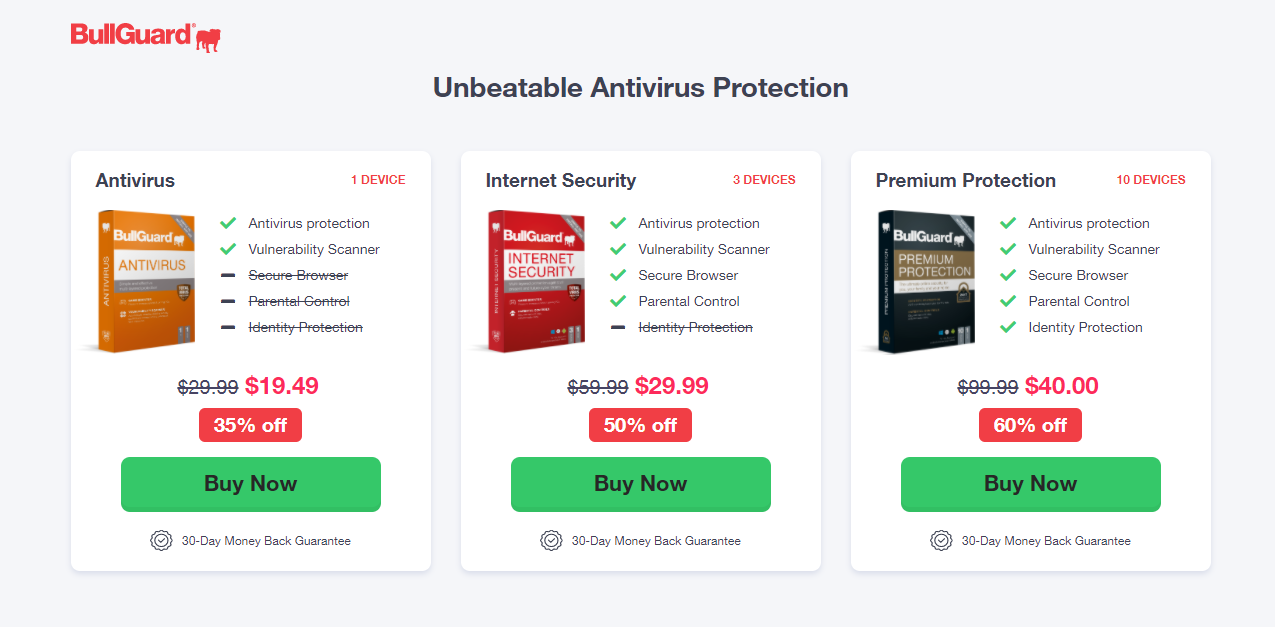 BullGuard Premium Edition 2021 is a next-gen privacy and security suite designed to offer total protection for all classes of users.
BullGuard offers its subscribers one month trial and a 30-day moneyback guaranty. Thus, users have the privilege of enjoying BullGuard's premium features free for a whole month. Additionally, for users who may feel BullGuard does not meet their needs, they can call for moneyback within 30days. 
Available plans 
1-year subscription
10 Devices: $99.99

15 Devices: $139.99
2-year subscription 
10 Devices: $159.99

15 Devices: $223.99
3-year subscription 
10 Devices: $199.99

15 Devices: $279.99
Is BullGuard Safe?
BullGuard is 100% safe for use by individuals, families, and organizations. Users enjoy a variety of protection features, including anti-phishing, antimalware, Wi-Fi protection, etc. Gamers also enjoy using BullGuard due to its Game Booster feature, which allows for uninterrupted gaming sessions. 
Its Dynamic Machine Language feature makes it able to keep users' devices safe and protected by continually scanning for new and existing threats.
Wrapping Up The BullGuard Premium Protection 2021 Edition Review
BullGuard's 2021 edition takes privacy and security protection to the next level. It is built to protect users from existing and emerging malware threats. Hence, users enjoy a wide range of protective features with BullGuard. 
In terms of price comparison, BullGuard may be on the high side, but it does make it up by offering subscribers protection for 10-15 devices depending on subscribers' choice. Hence, this makes BullGuard Premium 2021 edition a recommended choice of antivirus for individuals, families, and organizations.
Get BullGuard Premium Edition 2021
---
RELATED POSTS