What are the SimpliSafe packages? Read this post to find out…
SimpliSafe is one of the most well-known brands in home security. They offer a variety of packages that meet all your needs. To help you decide which package is best for you, this blog post provides information on both their various plans and what's included in each plan.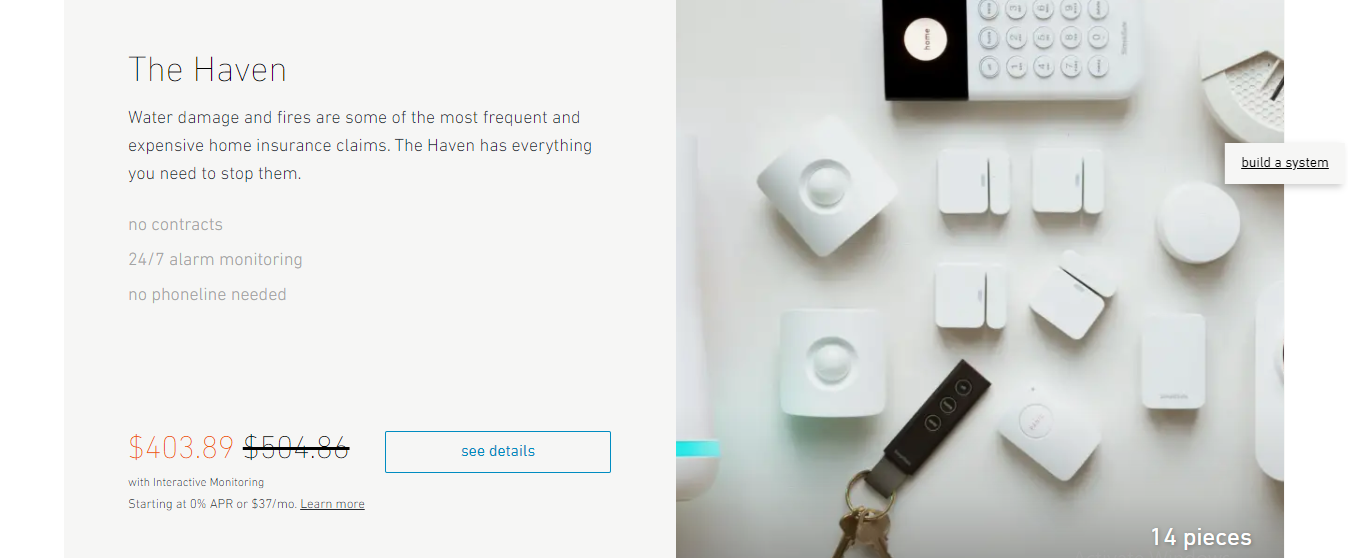 The Haven SimpliSafe Package is a home security system that includes 24/7 professional monitoring, an infrared motion detector to detect movement in your home, a remote keypad for easy arming and disarming of your system, and a built-in siren. It also includes an SOS button and a keychain remote with a panic button.
There is nothing more expensive and more frequent than a water damage claim or a fire claim. The Haven has everything to prevent them. Haven SimpliSafe package cost $403.89, it includes;
1 Base Station

1 Keypad

4 Entry Sensor 

2 Motion Sensor

1 Panic Button

1 Smoke Detector 

1 Temperature Sensor 

1 Water Sensor

1 Keyfob

1 Wireless Siren
All of these components work together to keep your home safe with 24-hour protection and instant alerts. The system even sends out emergency messages when the worst happens. The Haven package also comes with an Interactive App so you can arm and disarm your system while away from home.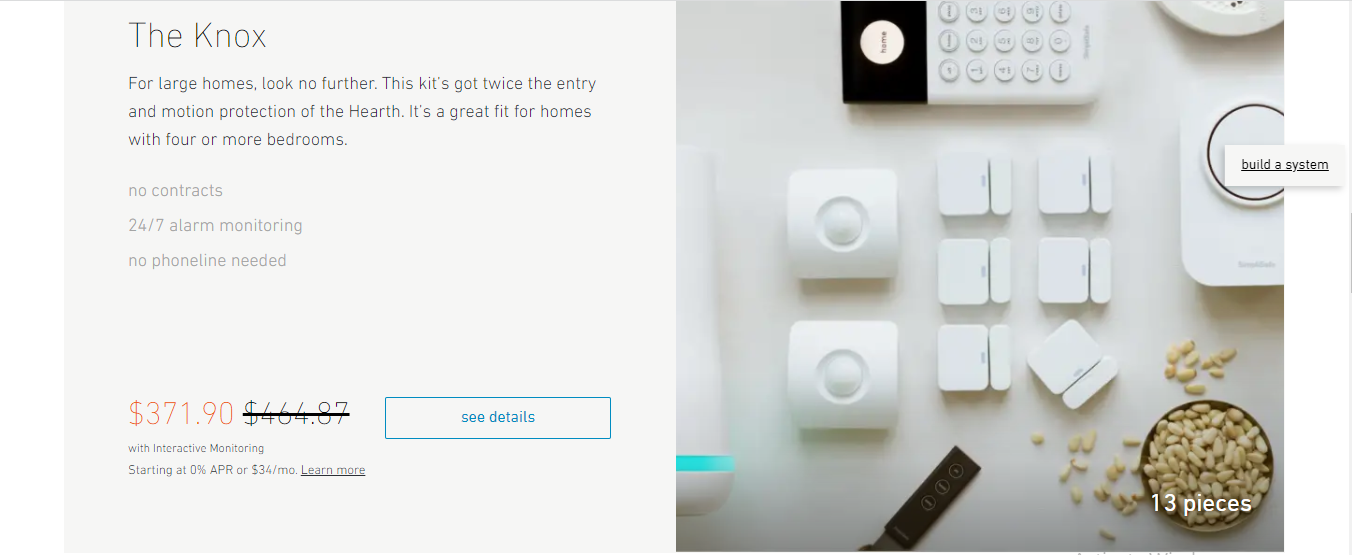 The SimpliSafe Knox package is the most popular. It provides a combination of motion sensors, window and door sensors, a keypad, and an acellular interface. The system can be expanded with additional packages for your needs. 
The Knox SimpliSafe package also provides you with an interactive personalized web portal where you can manage all of your devices.
If a sensor is triggered, the company will call or text you to let you know. You can then view live videos of what's happening in your home while you contact law enforcement. 
It also has a panic button that can be used with one touch, which will notify emergency contacts and send them your location and a personal message.
If your home has four or more bedrooms, consider this package. It offers twice the entry and motion protection of the Hearth package. The components include 13 pieces which cost $371.90 and include;
2 Motion Sensor

1 Smoke Detector

1 Keyfob

1 Wireless Siren

1 Base Station

1 Keypad

6 Entry Sensor
===>>> Get SimpliSafe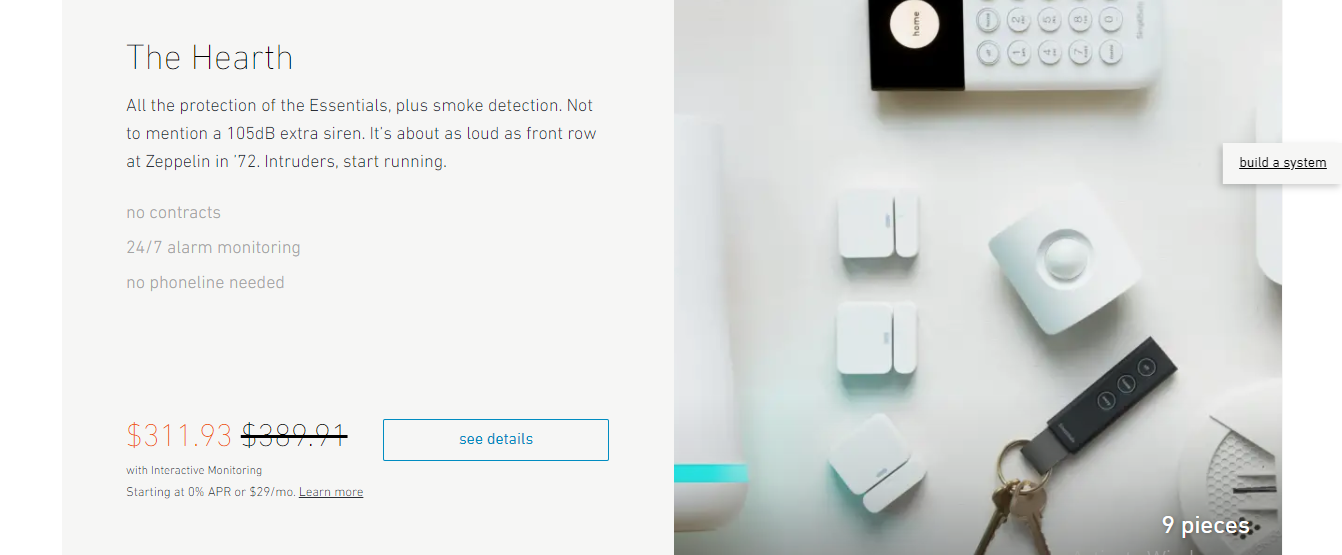 The Hearth SimpliSafe package is a home security system that combines technology and protection. The Haven SimpliSafe package has a door panel, motion detector, glass break sensor, smoke alarms, water leak detectors, and an alarm siren. 
The system can be personalized to fit the needs of anyone who buys it. It also has 24/7 monitoring services available with a professional response team.
It comes with all the protection of the Essentials, as well as smoke detection and an extra siren that is 105dB louder. This package cost $371.90 and it includes;
1 Base Station

1 Motion Sensor

1 Wireless Siren

1 Smoke Detector

1 Keyfob

1 Keypad

3 Entry Sensor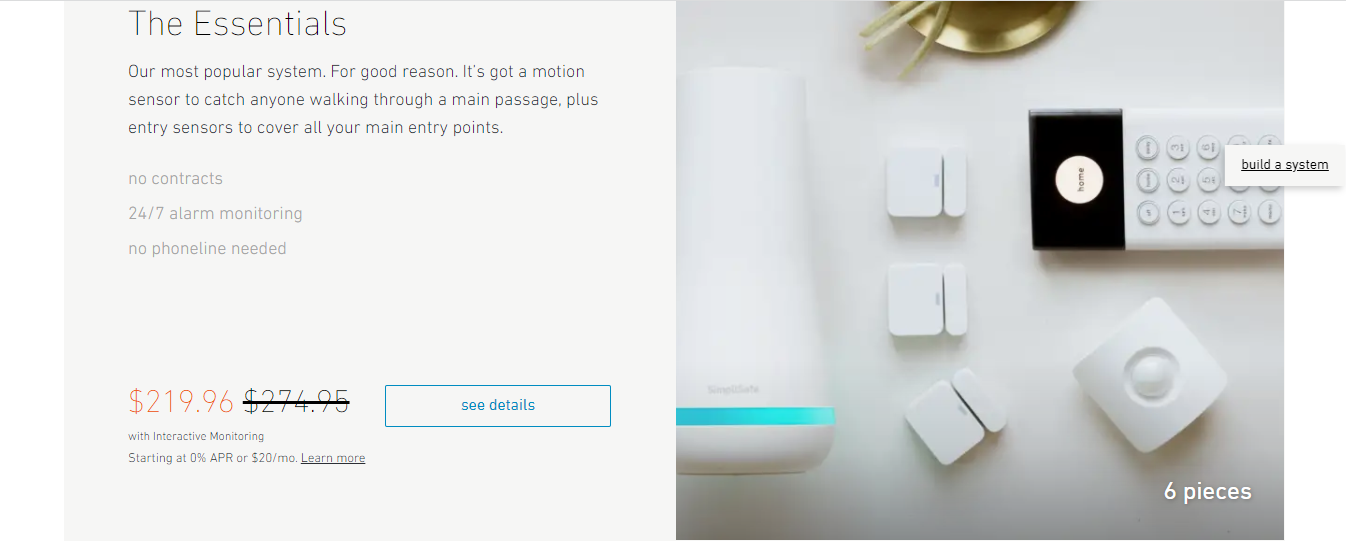 The Essentials package is the most basic package available. It doesn't include any of the advanced features, but it does come with a few nice extras, such as an Entry Sensor and a Smoke Detector with Voice Alarm. 
The Essentials package is perfect for light sleepers and people who want to be alerted to emergencies right away.
It covers all your main entry points with entry sensors and a motion sensor. The Essential package includes 6 pieces which cost $219.96;
1 Base Station

1 Keypad

3 Entry Sensor

1 Motion Sensor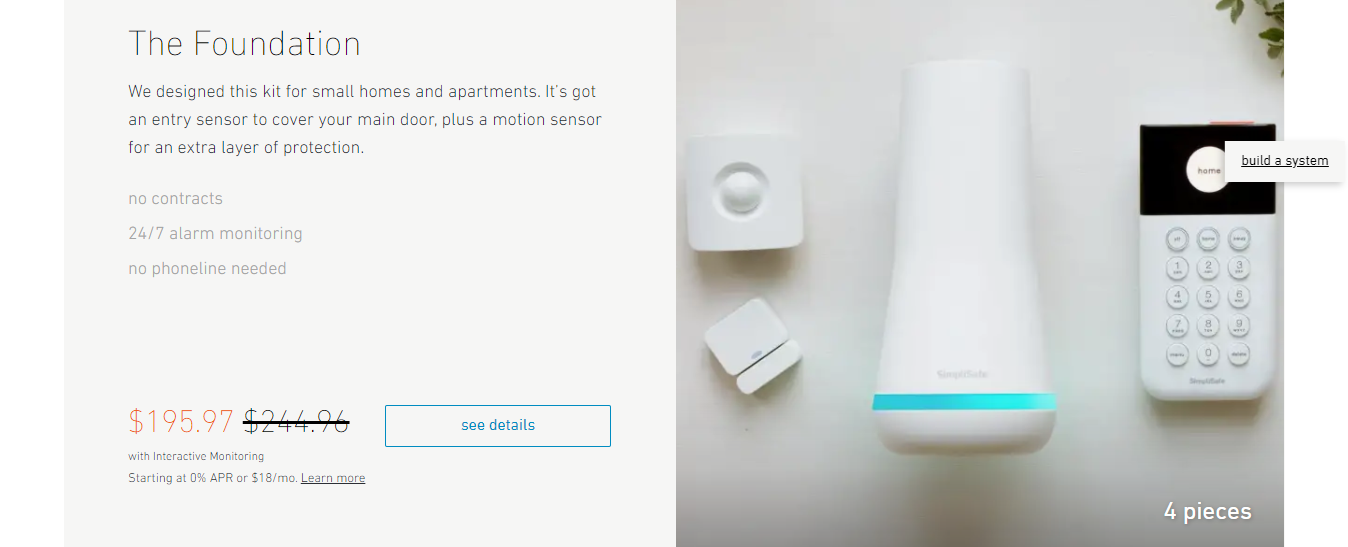 The foundation package is perfect for homes and apartments with a small entranceway. It features a door entry sensor as well as a motion sensor for extra safety. The Foundation package is a great way to get the keypad and base station before adding extras at checkout for those with more than one door or window to worry about. 
The SimpliCam is equipped with a heat-detecting sensor that detects human heat signatures, and it has night vision and a 120° field of view.
This plan costs $195.97 and only includes 4 pieces which are;
1 Base Station

1 Keypad

1 Entry Sensor

1 Motion Sensor
The SimpliSafe Build my Home System package is one of the most popular packages available. It includes a base station for your home security system, three entry sensors, one motion sensor, and two key fobs. You can add components like smoke detectors or panic buttons if desired.
SimpliSafe offers a variety of security packages to suit the needs of all customers. The SimpliSafe Build my Home package is a complete home security system that includes a base station, keypad, motion sensors, and door and window sensors. It also includes professional installation and 3 months of service.
You can find the SimpliSafe Build my Home package on their website for $159.98 with free shipping, when purchasing the package with interactive monitoring you get 24/7 Monitoring & Dispatch, Built-in Cellular Connection, 24/7 Fire Monitoring and medical response, Unlimited Camera Recording, On-Demand Video Recording, Visual Alarm Verification, Advanced Phone Alerts, Private Notifications, Smart Home Integration, Water Damage Monitoring, and Temperature Monitoring.
===>>> Get SimpliSafe
How Do I Purchase SimpliSafe?
SimpliSafe offers a wide variety of home security products. An individual can buy the system and start paying off the cost monthly. The customer also has the option to get a cash discount for paying upfront for the entire system upfront. SimpliSafe is one of the cheapest options out there and it has a lifetime guarantee to boot.
There are two ways to purchase SimpliSafe: either online or through one of their authorized dealers e.g Amazon. You can also sign up for a free trial of SimpliSafe to test it out before making your decision.
Step 1: Go to the SimpliSafe website here.
Step 2: Click on the "Shop Now" button.
Step 3: Choose the package you want to purchase.
Step 4: Choose your home address and enter your billing information.
Step 5: Click on "save changes" and then click on "checkout".
Step 6: You will then receive a confirmation email with order details, as well as an order number. 
If you want to change any information about your package or need more help, contact SimpliSafe customer service by phone (1-844-357-2743) or email.
Which SimpliSafe Package Is The Best?
SimpliSafe offers a few different packages for people looking to upgrade their home security systems. The Haven package includes everything a homeowner would need to keep his or her home safe from intruders.
The Haven is the best SimpliSafe package for those who want to be alerted in the event of a break-in. It includes an outdoor camera, indoor camera, and motion sensor so you can monitor your home from anywhere.
The Haven comes with a one-year warranty, which is more than enough time to see how well it works for you. It also has a cellular backup so you can still get alerts even if your WiFi goes out. With the Haven package, homeowners get an installation of a base station and wireless keypad, one entry sensor, one motion sensor, and two window decals.
It includes a smoke alarm, and CO detector as well as an emergency siren. The Motion Detector has been upgraded to a Smart Motion Sensor that can detect movement in any direction: up, down, and sideways.
A Final Word
Here, we answered the question – what are the SimpliSafe packages?
As you can see, SimpliSafe offers several affordable home security packages for homes, offices, NGOs, and even industries.
===>>> Get SimpliSafe
---
INTERESTING POSTS